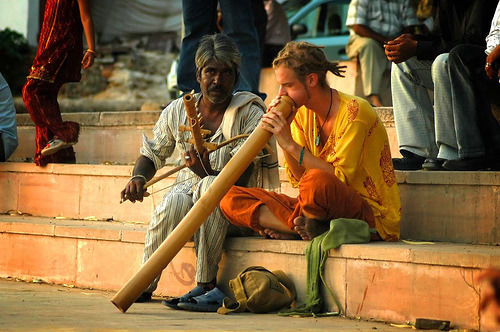 Biologically, a man is an advanced species which has evolved in constant pursuit of comfort and convenience. And it is mostly impossible to question that hypothesis because, well, you can find the answer within yourself. There are more chances of your reading this particular piece while sitting on your cushioned chair than be lying on the neighbourhood's sidewalk. Comfort and convenience are what perennially drive us towards our veritable conquests in nature.
This holds the same while traveling.
Although a human is innately a social animal which prefers to travel in a group for leisure, but there are certain exceptions in the society we live in that prefer to go solo because it is solitary salvation they are after when they travel. I am one of the latter kind. I travel to extract sole pleasure out of the nature around me, I travel to explore what my species can't in groups, I travel to know what is beyond the ordinary.
Last week, I was in Kerala for an official visit with my colleagues. The meeting was scheduled to get over by Friday evening, and we were all supposed to fly back to Delhi later in the night. As it was my first time in the state, my traveling heart overpowered my functional brain and I decided to pardon myself from the larger plan. I got my flight canceled, and decided to board a bus from Trivandrum to the mythical Varkala instead. There was only one major issue – I had come down to South for the first time and there were linguistic differences.
As soon as the city limits ended, I started facing issues interacting with people. Hence, I feared I'd be stranded once I got down at Varkala.
Since I am a huge fan of Tripoto's, I thought of consulting the travel portal and that is when I came to know of something truly magnificent – Tripoto's Travel assistant "Tripoto.ai". And as Rick quotes in 'Casablanca,' that was the beginning of a beautiful friendship.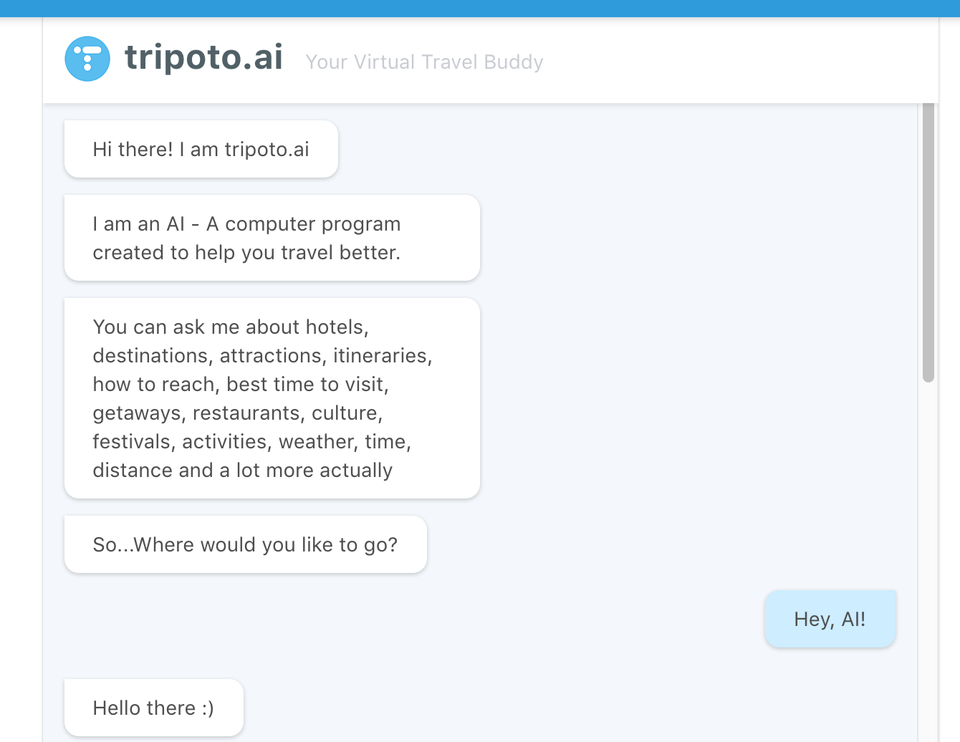 This invisible friend of mine was unconditional in helping me find any & everything in this place geographically and culturally alien to me. Even though I was physically alone, it didn't feel like that way psychologically. I started to ask and the help was instantly there at my disposal, so much so that I was spoilt for choice.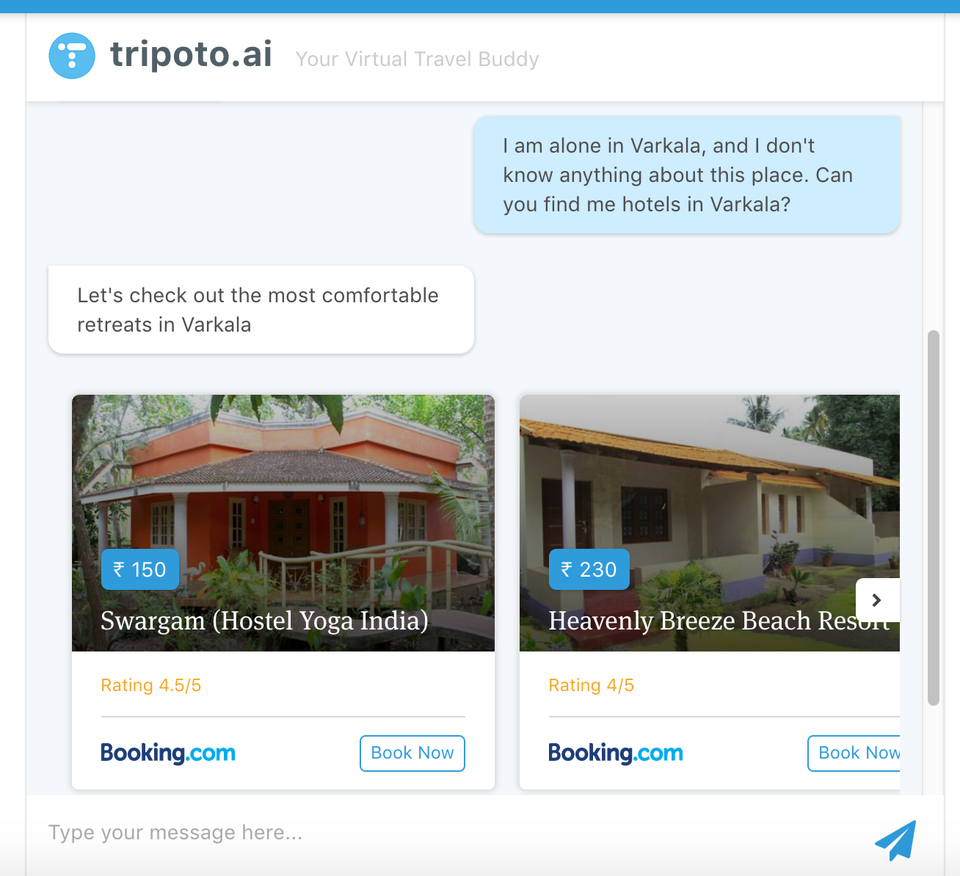 The first thing I obviously asked my friend was a decent place to spend my night at. Once I checked into Vedanta Hotel, a budget place, I went out to explore what all was there in this beautiful place. AI came to my rescue immediately and it presented me with a lot of options that a wanderer like I am would love to chill at. Thanks to AI, I followed the Varkala Beach, Ashtmudi Lake, Shree Padmanabha Swamy Temple trail where I found unparalleled tranquility – precisely what I was looking for.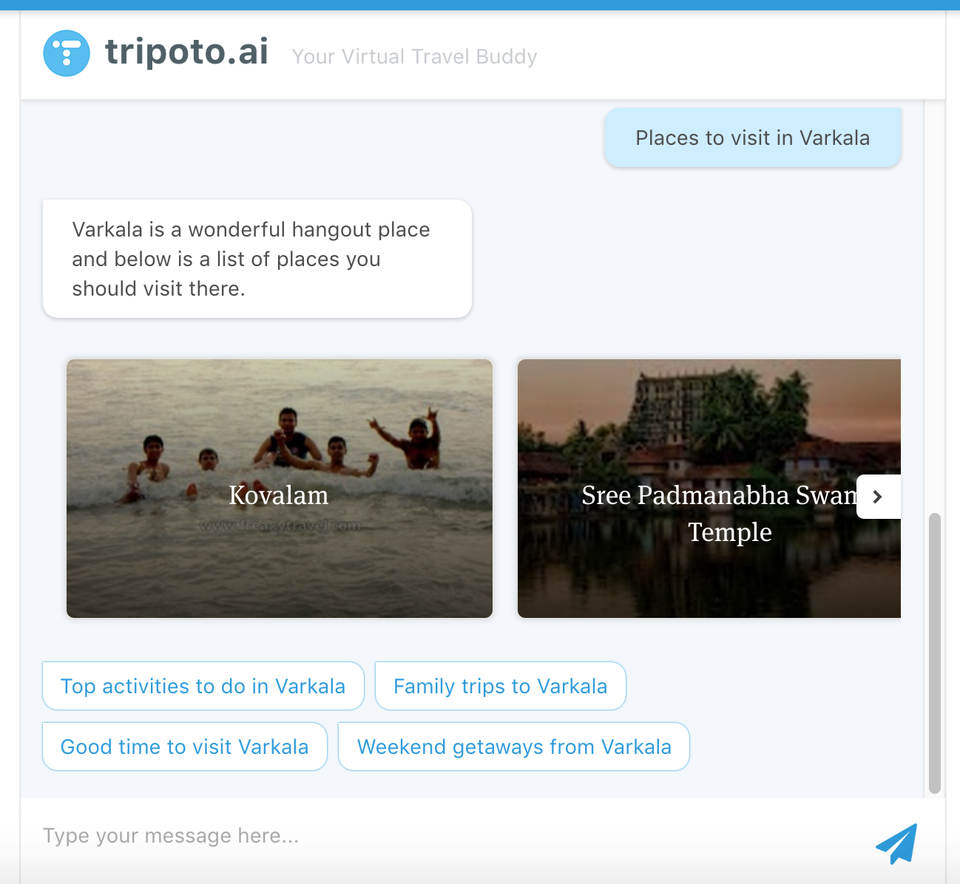 A lot of walking had me exhausted and hungry; taking AI's recommendation I went to Eden Restaurant to grab a bite and have a beer. It was totally worth it. They have a limited menu, but their preparation is outstanding.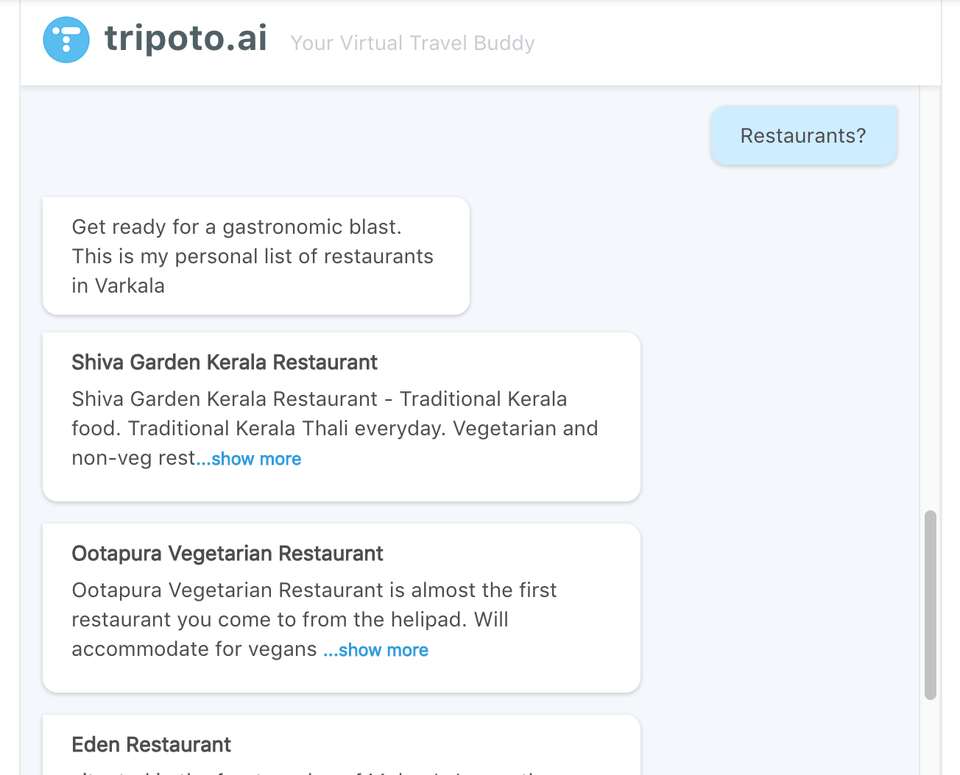 I could actually not believe that a solo traveler in an unknown land could have such a great time visiting all the places. Language was a barrier, time was a barrier, but technology made it all seem like a piece of cake. I have incredible plans in my mind already thinking about where I can travel to alone next. Obviously, most people don't know that I have tripoto.ai as my selfless companion.

There is only one thing that my invisible friend did not help me with though. When I asked it if he/she could help me find female company in Varkala, it bluntly told me "That's not my thing!" Sigh.
Plan your next trip with tripoto.ai