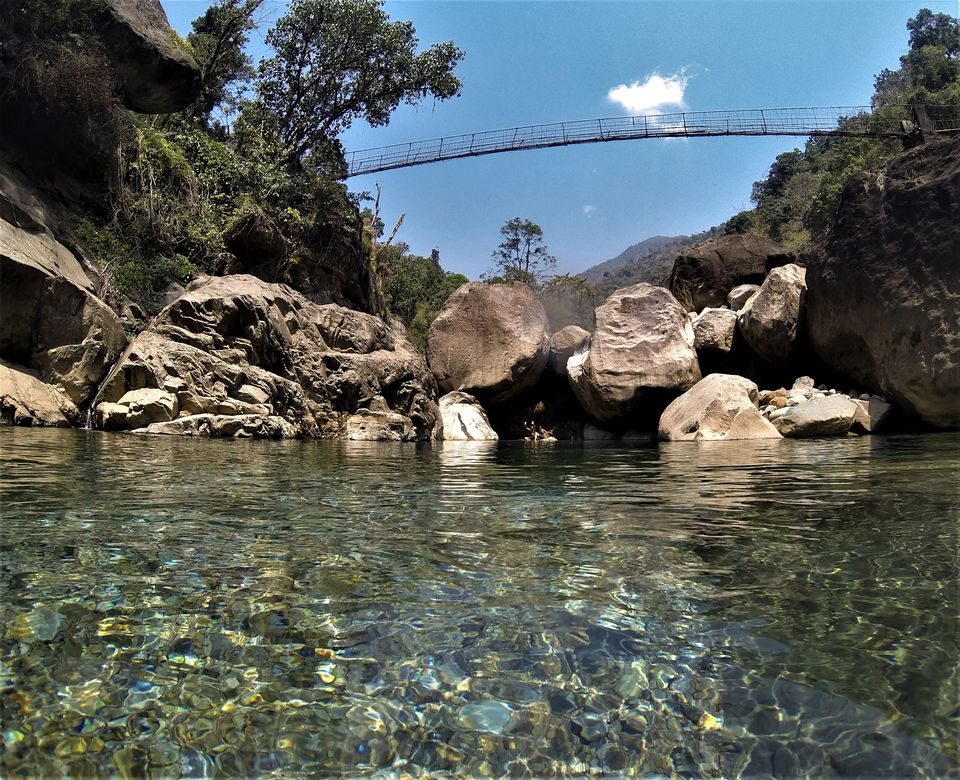 We traveled to 'Benaam-Tal' (that's what I have decided to call it) after hearing about it from our couch surfer friends and decided to see it for ourselves. A month later, we packed our backpacks, added some more days to an already long weekend and started our journey. Rumors were true! We agreed this place did complete justice to all the hype it had going for it.
Now usually I would come back from a trip like this and pour out all the information for the world to go check it out. But when I was leaving Benaam-Tal I felt I should not disclose any information about this place, for the lack of trust I have on human race on their sheer capacity in exploiting any such amazing destination for that matter. Strangely enough it does not appear on google maps and I am very happy about it.
So, a decision was made that I'll not tell you about this place. I will not give you details of the only guide who takes you there. I'll not tell you how cheap it is or about the number of waterfalls there were on the way. Or the fact that it was full of wild animals and birds you haven't seen before. I will not tell you more about the flimsy tent we spent the night in, which had foxes walking on the roof and sniffing around. You are not getting any more information of the only family that lives there and cooks the best lentils soup you have tasted. You are not getting the name or address of this place which had no other tourists. And you totally deserve it!
I am not being unreasonable, you have given me enough reasons to hide this lovely lush green place from you.
You are that newly wed couple who laughed when I asked you to not throw plastic on that trek to Triund!
You are that group of guys who brought loud speakers to the hill top loaded on a pony and played loud Honey Singh songs when all we wanted to do after that 9 hours trek was to lie down and gaze at the stars!
You are that man who threw an empty beer bottle in front of that stall and got up to punch that local when he stopped you!
You that family that asked for Butter Chicken when you visited the world's cleanest village tucked in the north east of India!
You are the mob of 300 people that started a mela at this beautiful river on the Bangladesh border that I used to dream for its clear water only to regret it when I reached because of you!
You are one of the campers who did not put off the fire which burned down half of Dzukou valley!
You are that insensitive teenage group that trekked all the way up and brought crackers while we escaped there to get rid of the choking Delhi pollution and the deafening honks!
You threw those pipes in the sea that got stuck in the turtles nose in that heart breaking video!

You are also one of the numerous pseudo travellers and flash packers who disrespect the local traditions, make fun of their culture and language!
You are lazy, disrespectful, insensitive and arrogant. You are the brand ambassador of 'Dooshit Bharat'. So, I will not tell you about Benaam-Taal cause I would like to save it from you.
You totally deserve it!