When I was researching and planning my Bhutan trip with my mother, I knew that I want to visit not only the popular cities but offbeat locations as well. So, I searched a lot and came upon a few suggestions like Bumthang, Phobjikha Valley, Haa Valley, and so on.
But I had to consider the transport and the feasibility of my trip as well. So, instead of trying to fit as many places as I could in the trip, I decided to slow travel with my mom.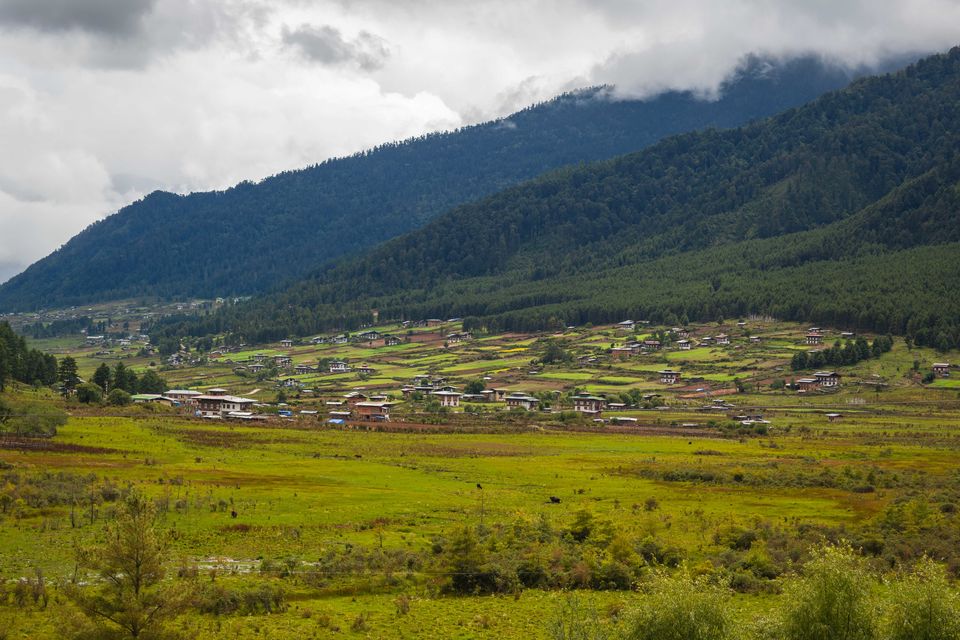 And so, out of all the offbeat locations, I included Wangdue, Phobjikha, Jigme Dorji National Park, and Haa Valley in my itinerary.
Although Haa and Jigme Dorji National Park got cancelled because of different reasons, I still spent a day in Phobjikha valley. Trust me, it was one of the best decisions as well because this valley was complete love!
About Phobjikha Valley
Phobjikha Valley is a beautiful, bowl-shaped valley which has the Black Mountains as the backdrop. It is considered as the happiest place in Bhutan and is also one of the few glacial valleys existing here.
If you are lucky then you will come across the beautiful black-necked cranes here along with some other wildlife like leopards, red foxes, Himalayan black bears, and so on. As a result, this valley is also seen as an important wildlife preserve.
How to Reach Phobjikha Valley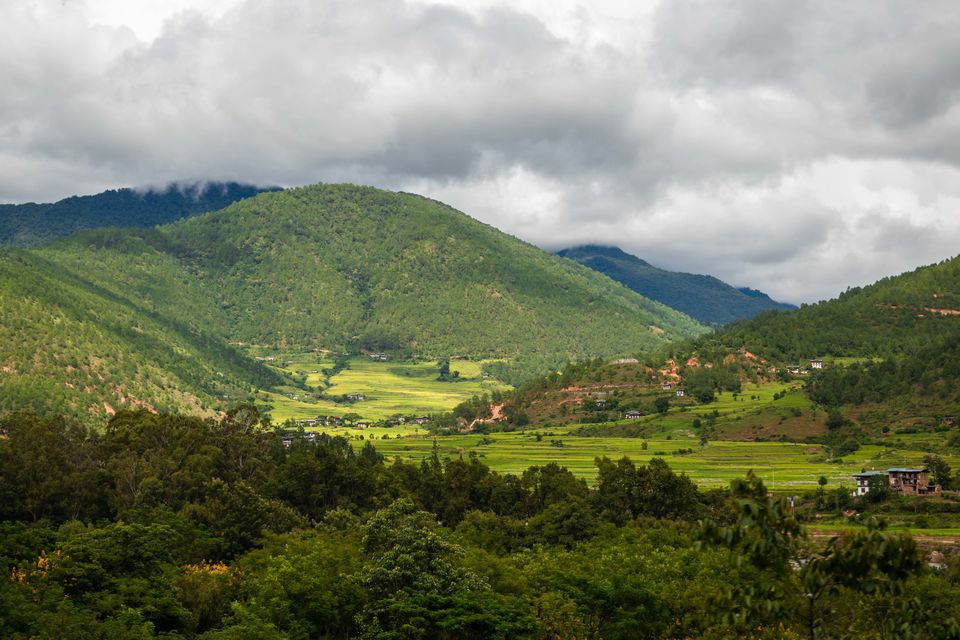 Well, there are two ways for you to reach Phobjikha Valley.
Private Taxis
If you are traveling from Punakha to Phobjikha Valley then your only option is a private taxi. This is because very few people head to Phobjikha valley so there aren't any people for the shared taxis.
You can get a private taxi for 4 people in 4500 - 6000 INR for Phobjikha day trip. If you wish to get dropped at Phobjikha valley then you will need to pay 4500 for the one-side trip.
Local Buses
But if you are on a budget, then it would be a better idea to check about the Phobjikha valley buses at the Thimphu Bus Station. There is a single bus which leaves every Saturday at 9 a.m. from Thimphu.
This bus will at most cost you 300-350 INR but you will need to book the seats in advance.
Where to Stay in Phobjikha Valley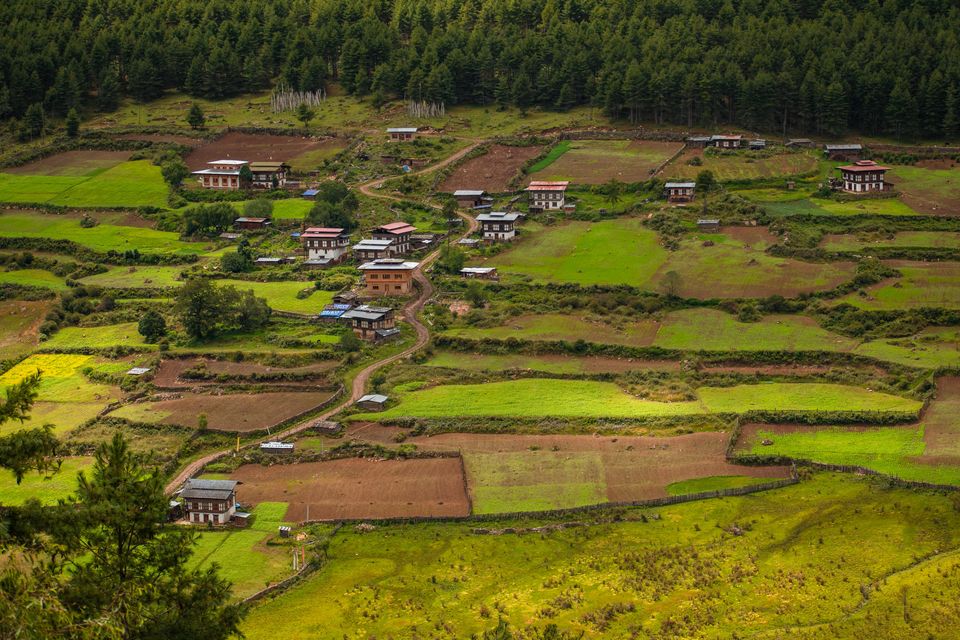 Although this place is still unexplored, there are a couple of hotels and home stays here. So, you can easily find a hotel for 1500 - 2500 INR per night here.
If you wish to get a local touch, then you can stay in one of the villages with the locals as well. It might be cheaper and you will get the rural feel as well.
Things to Do Here
Although this valley is quite hidden and not many people come here, there are many interesting things to on your day trip to this place.
Enjoy the Scenic Ride to Phobjikha Valley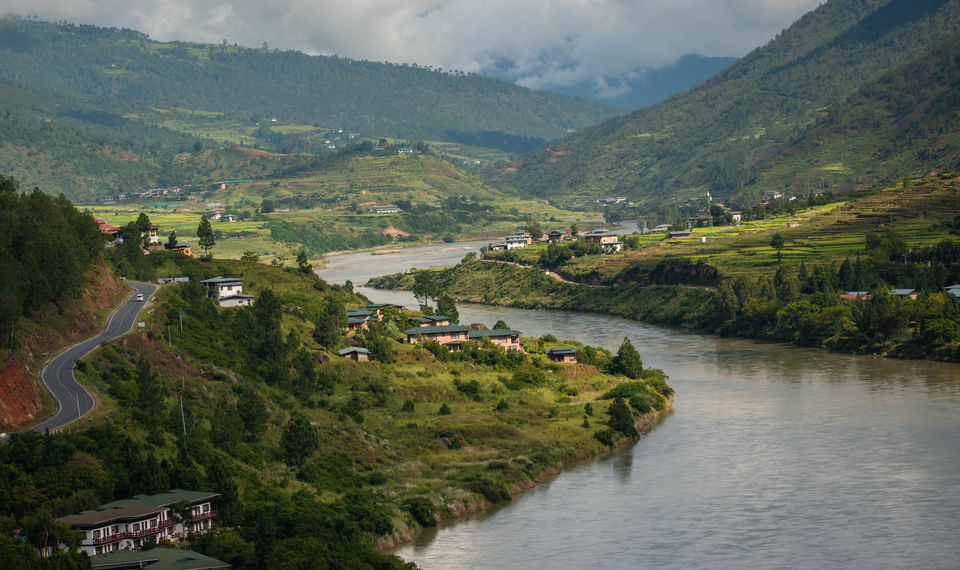 Honestly, if for not the valley then you should visit Phobjikha just for the ride. It is one of the most scenic routes in Bhutan. And since not many vehicles pass this way, you can actually enjoy the unobstructed views of the mountains and villages on the way.
I am not kidding but I literally wanted to stop my taxi 15-20 times on the way to Phobjikha. It was just so beautiful and it felt so satisfying to just watch the views with some nice road trip music in the background.
Make a Stop at Wangdue On the Way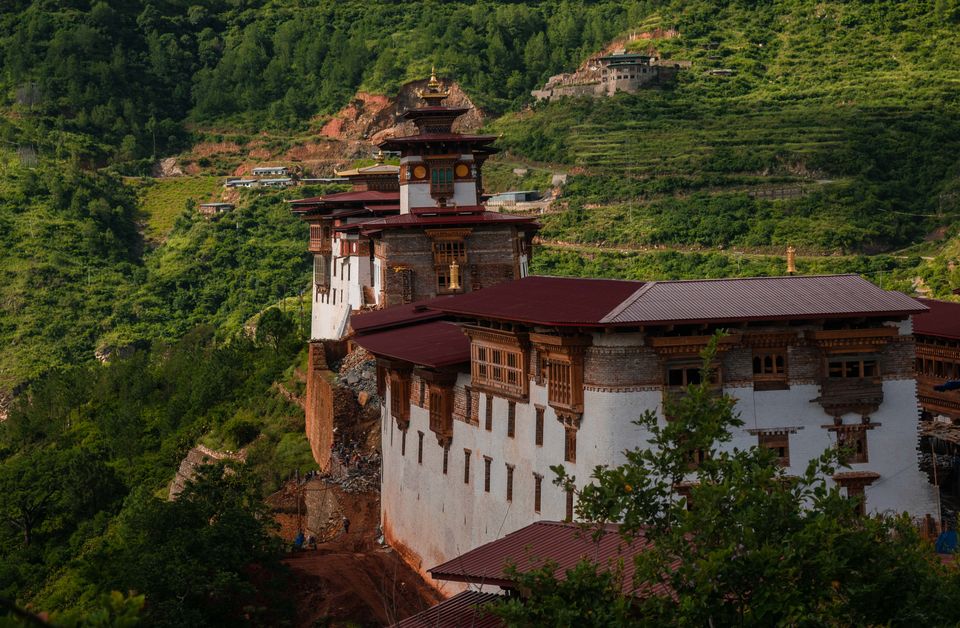 Another top thing that a lot of people do on their trip to Phobjikha Valley is to make a stop at the Wangdue Dzong. Home to around more than 200 monks as well as a monastic school, Wangdue Dzong is the largest wood-roofed dzong in Bhutan.
The architecture and the building style of this dzong is really amazing. You can even enter the monasteries and watch the traditional prayers and rituals going inside here. Trust me, this is one stop that you won't forget on your way to Phobjikha Valley.
Enjoy the Scenic Valley View of Gangtey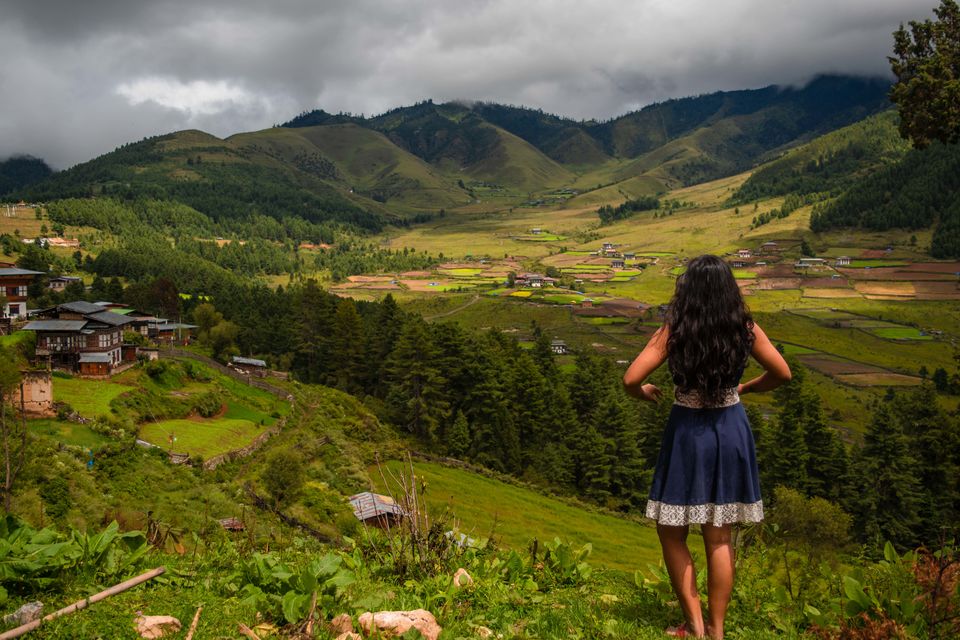 Honestly, if you choose to do nothing also in this valley, that is completely fine. Because the gorgeous landscape and the colors are going to completely blow your mind.
The minute I reached the valley, I was spellbound by its beauty and simplicity. With black mountains as the backdrop, this gorgeous bowl-shaped valley looked quite magical.
So, you can simply sit and relax and take in the sights and the fresh air here. And that would be more than enough.
Go on Short Hikes or Learn More About the Rural Lifestyle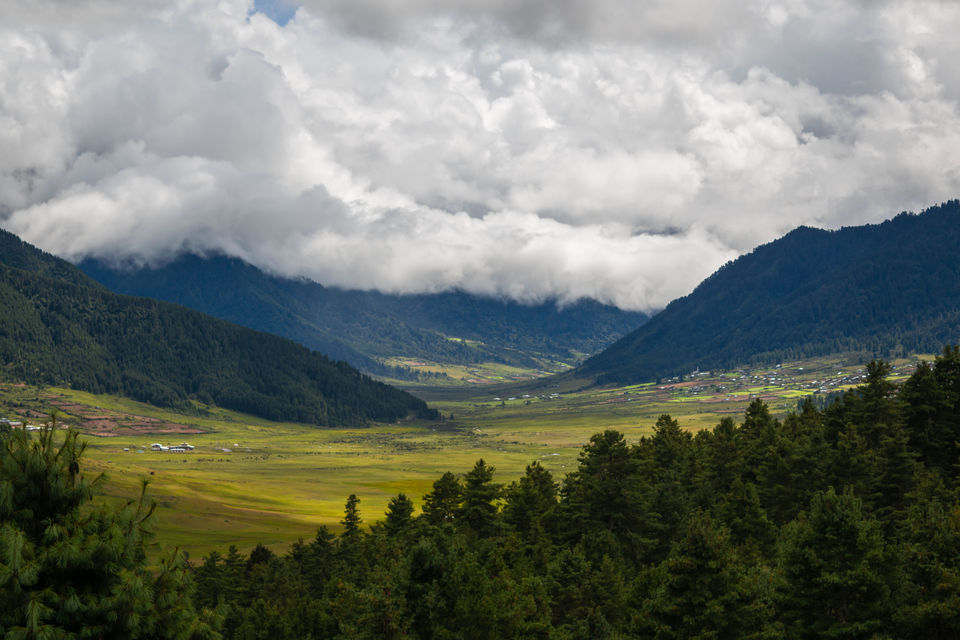 This place is also great for hikers and nature enthusiasts as there are many walking and hiking trails to explore here. You can easily spend a day or two in the valley and go on walks or treks to discover more of the region.
And if you are intrigued by the Bhutanese culture, then what best way to explore than staying with the locals? You can try communicating with the locals and learn more about their daily life and routine. And maybe, lend a hand too?
Explore the Famous Gangtey Monastery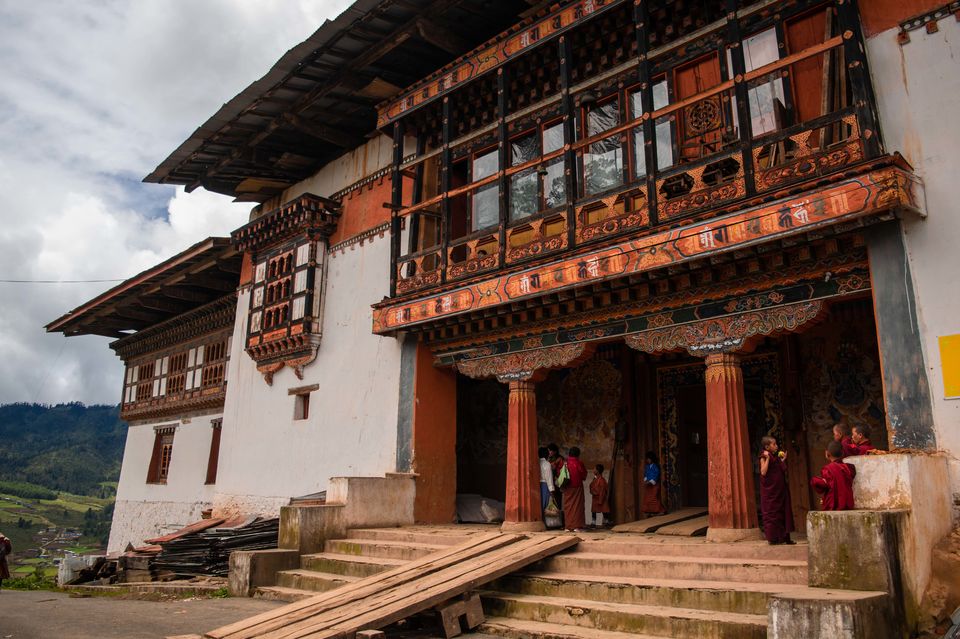 Finally, make sure that you visit the Gangtey Monastery, aka Gangteng Monastery, in the Phobjikha Valley. It was established in 1613 and was actually built as a community effort. The local timber trees were used in the construction of this monastery. Also, the building stones for this monastery were taken from the local hills too.
The entire monastery is carefully designed with intricate designs and patterns and is quite colorful at the same time. Trust me, you will feel a sense of peace and warmth the minute you set foot in this monastery.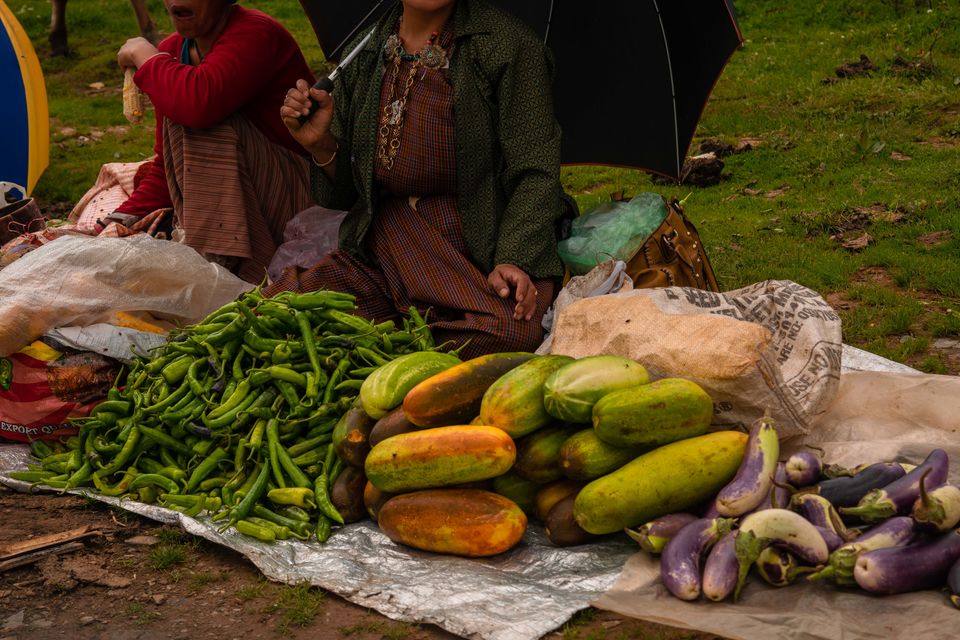 You will easily find delicious food at the hotel or the home stay that you are staying in. Apart from that, there are a couple of food stalls and restaurants in the area here.
You can expect to find Ema Datshi and Kewa Datshi in abundance here. Apart from that, butter tea and the local liquor named ara will be easily available too.
There are a few stalls near the Gangtey monastery as well where they sell wai wai, fruits, vegetables, and all. And in the village, there will be a couple of places which serve momos and other local Bhutanese dishes.
ATM Availability in Phobjikha Valley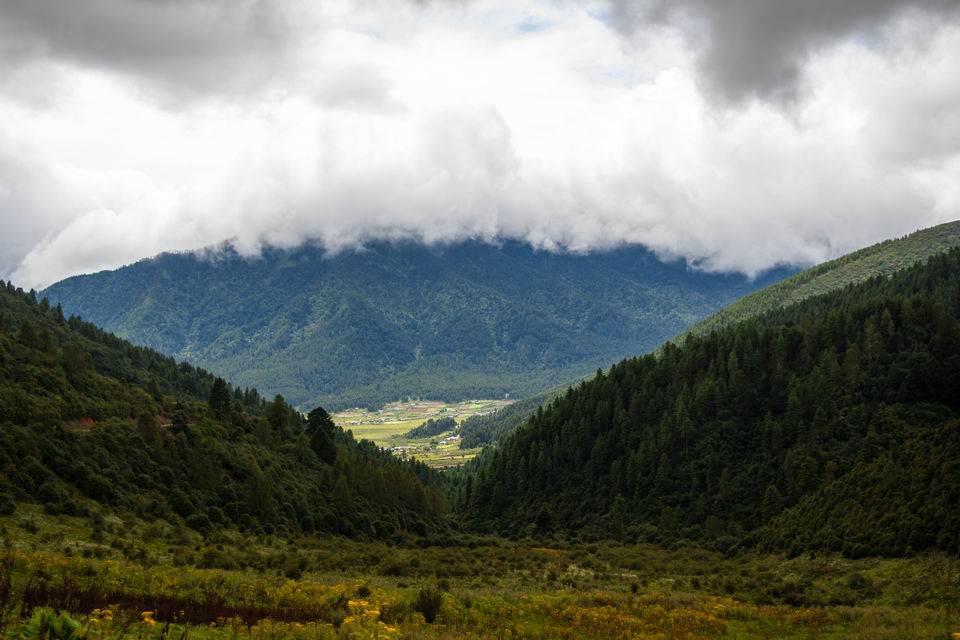 There is no ATM in the Phobjikha Valley, although you will come across a couple of local bank ATMs on the way. However, it won't work for your International credit/debit card.
So, withdraw sufficient cash from big cities like Punakha, Wangdue, etc. before reaching Phobjikha Valley.
Network Availability in Phobjikha Valley
One thing to note is that the Network is barely available in Phobjikha Valley. So, make sure you inform your family and friends when leaving for this place. You might get Network for calls but weak Internet connection.
And make sure you buy the B-mobile Sim Card in Bhutan as it gets the better network signal.
Watch travel stories come to life with Tripoto on Youtube!
Get answers to all your travel related queries on the go with Tripoto Chat!