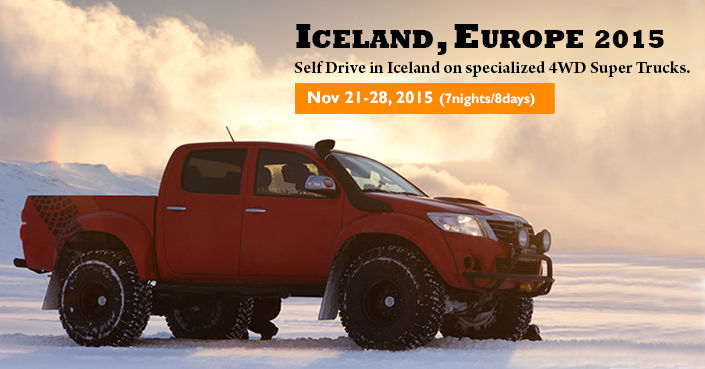 Self Drive in Iceland on specialized 4WD Super Trucks,the same ones used by Jeremy Clarkson in Top Gear on his drive to the North Pole !
                                            

Join us on this unique expedition to Iceland where you will sit behind the wheel of modified 4WD vehicles which are specially designed for use in rough environments, in the mountains, on glaciers or in the desert used by rescue teams, military units and police forces.

Iceland is one of the most unique countries in the world, it might as well have been picked out of a fairy tale! Look around and you will see volcanoes, glaciers, waterfalls, lava fields and if the sky gods are kind enough, the Northern Lights!

Our team will teach you how to drive in different conditions of snow, airing down the tires, driving through rivers and in other off-road conditions. You will sleep in luxury hotels and just for the fun of it, we will make you sleep in a mountain hut too!

A journey through Iceland will push your limits, will make you experience a world that is hard to imagine, will make you realise your own strengths and weaknesses and will surely put you in a rare group of travelers!

Maximum Group Size is limited to 20 people. Call us, email us, find us, no matter how to get in touch.. "Be There or Be Square"