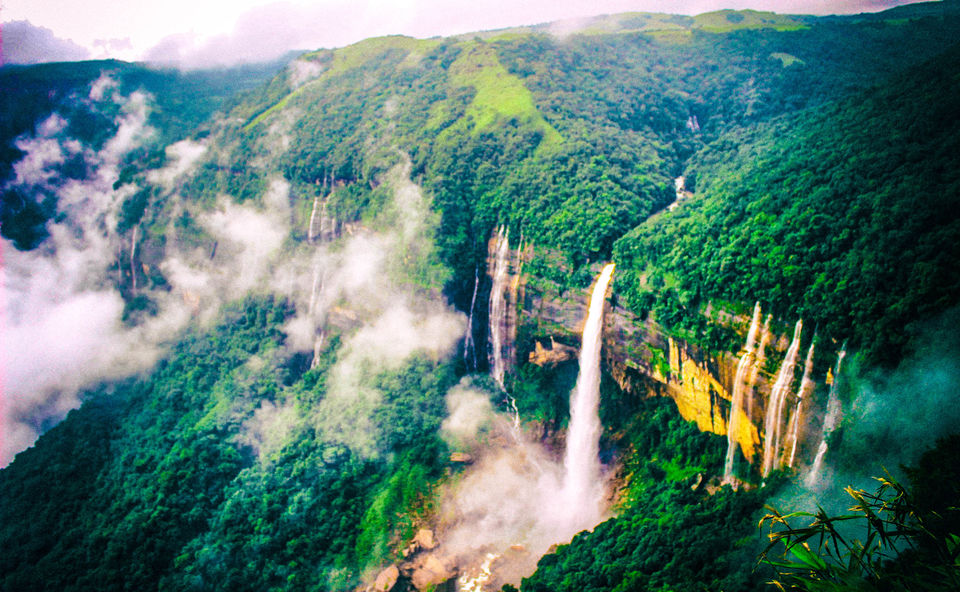 The person who said "If there is heaven on Earth, it is in Kashmir", probably didn't pay a visit to North East India.
Meghalaya, truly abiding by its name, 'Abode of Clouds'.
As soon as we stepped down from our flight at Guwahati Airport, we could feel the calm and soothing air of that region.
In the month of July, we booked our flights from Delhi to Guwahati as Shillong Airport only intakes smaller flights coming from Kolkata. Also, the highway from Guwahati to Shillong is worth traveling on.
Guwahati to Shillong by Private Taxi: Around Rs 2000
By Public Transport: Around Rs 200 per person by Bus
As soon as we started our journey from Guwahati to Shillong, we were mesmerized to see the clouds and how the sky was blooming with them. Highway was very well made. Clean and well-built roads.
Our flight had reached early in the morning to Guwahati so we had the whole day to explore the whole way and then reach Shillong. Otherwise it's just a 3 hour drive.
During the journey, comes a beautiful and well known lakes of North-East India, Umiam Lake.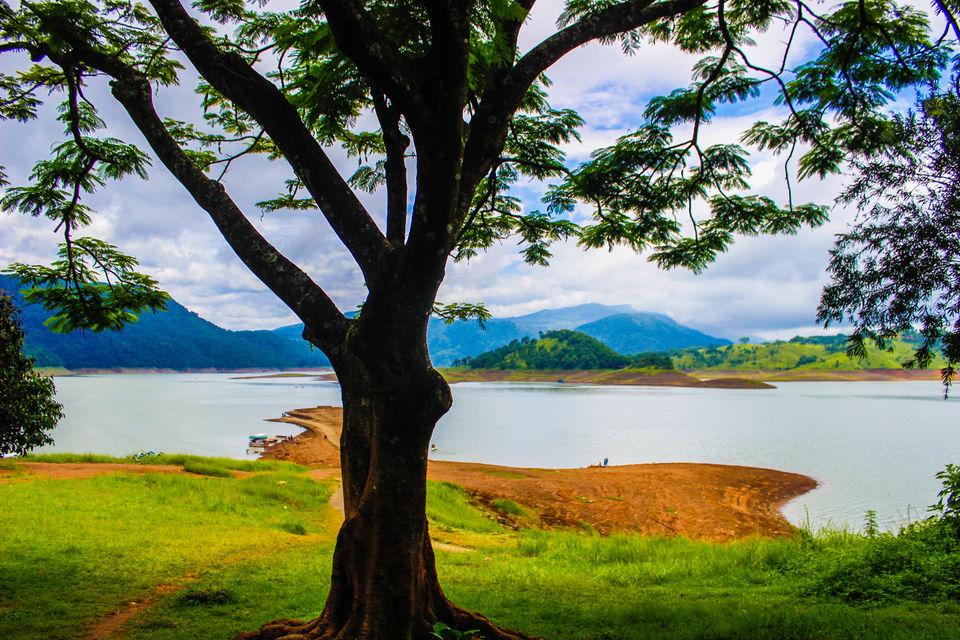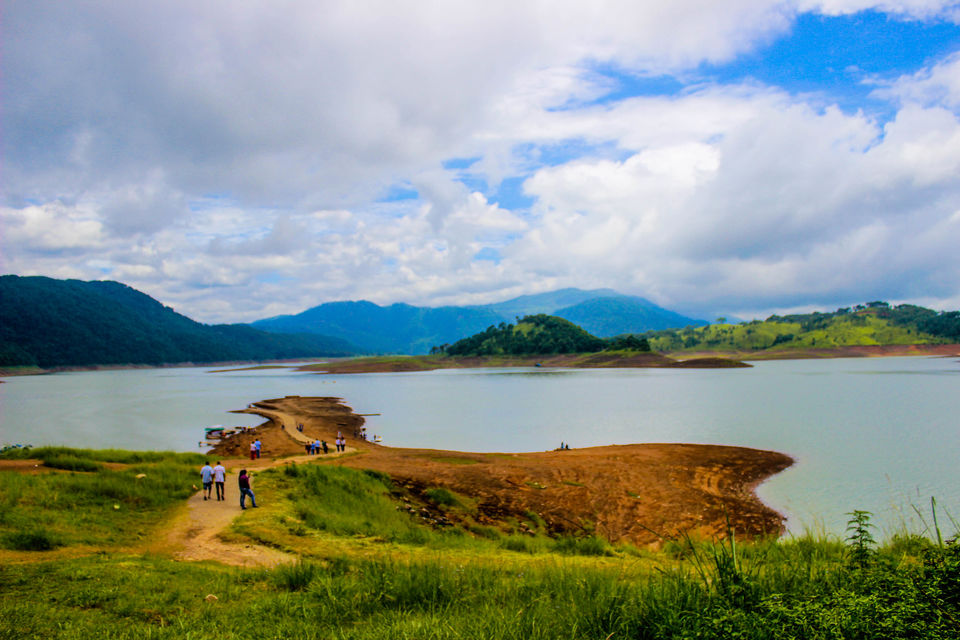 It definitely was one of the most beautiful lakes I had ever seen. It was a very wide spread lake and you could spot some local fisherman wandering with their boats. Since Meghalaya's sky is always filled with clouds so there was no problem of sunlight constantly hunting you.
The most interesting part of the journey was that our taxi driver had all English songs on his playlist. It was the time of July'16. Euro 2016 was going on. He had played the David Guetta theme song on repeat and was definitely friendly and courteous enough to transfer me that song via bluetooth.
We reached Shillong around 4 p.m. We had booked a guest house for around Rs2500 which was handled by few care takers.
We had our evening tea at the terrace and waited for the most magical sunset to happen. With all the clouds and the amalgamtion of colors of sky, the sunset was definitely one of the best sights of Meghalaya.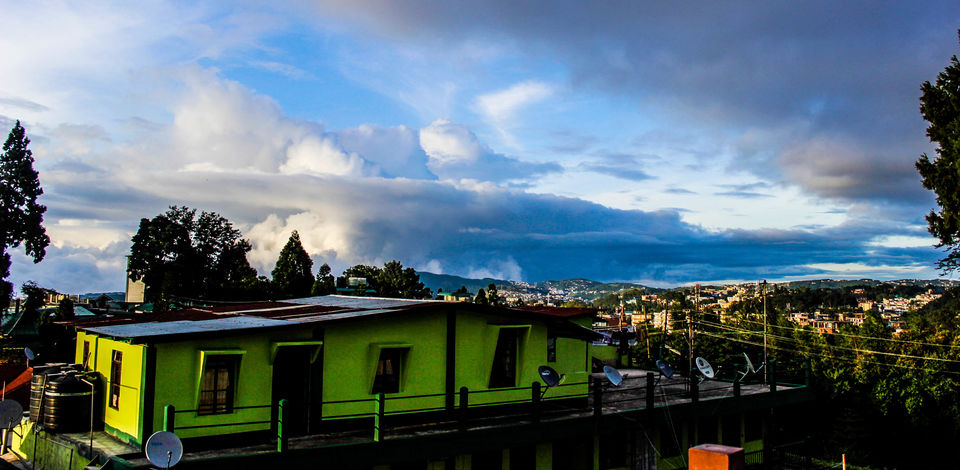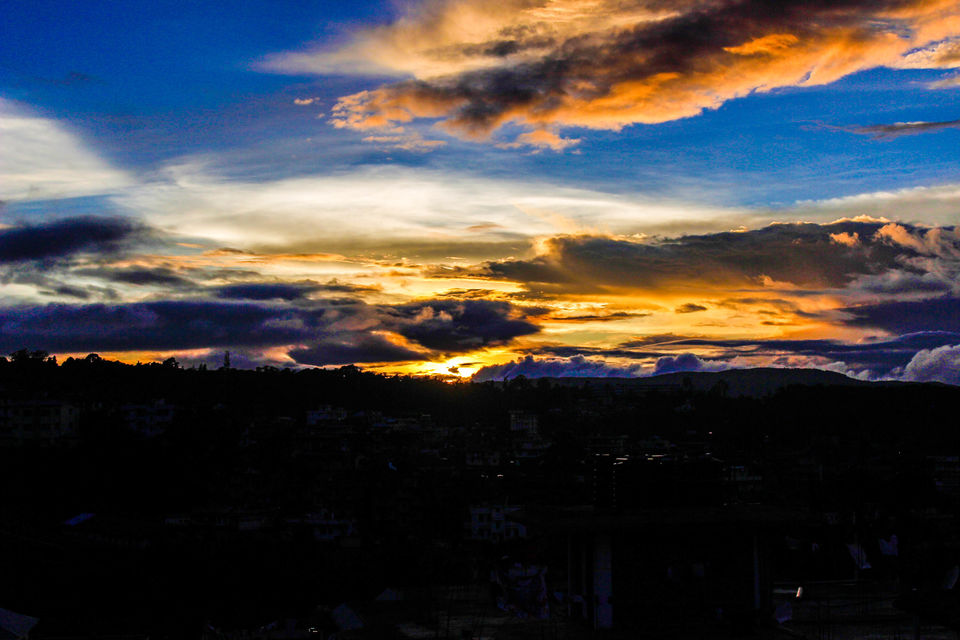 After giving a treat to our eyes, we headed to treat our stomach at the famous Police Bazaar of Shillong. It is the most famous and busy market (one of the main) of Shillong. From Pizza Hut to the local momos shop, you could find anything and everything.
We had booked our taxi for sightseeing of Shillong for the next day.
I tried star gazing and capturing the same but obviously, the sky studded with clouds didn't allow me to do so. So, I tried capturing it with the clouds.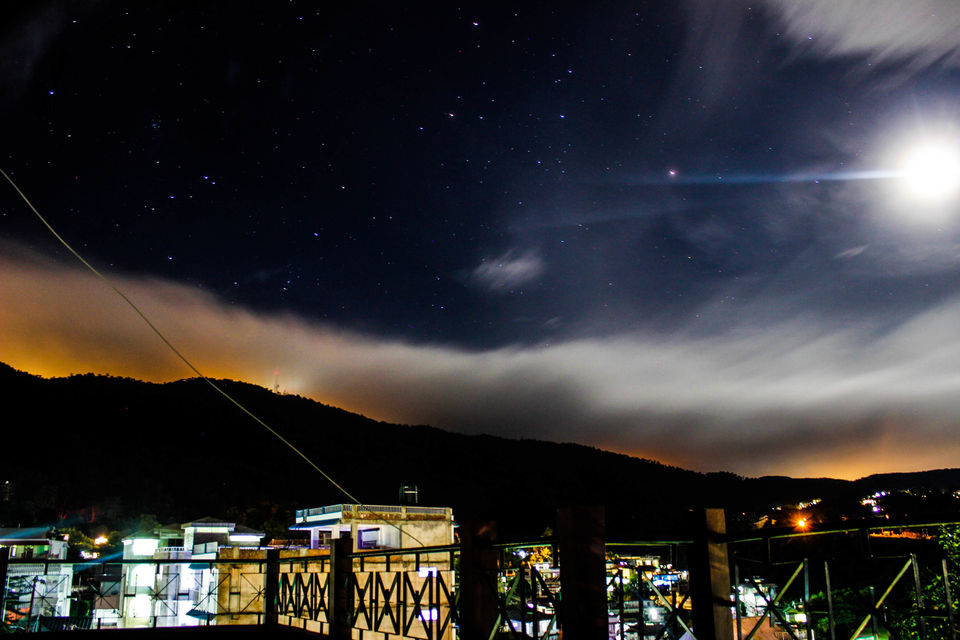 Next day was definitely an adventurous one.
It's fascinating to see that Shillong still has majorly Maruti Suzuki 800 as the black-yellow taxi. We covered different points of Shillong.
Shillong is not a very big town but has many different aspects to it. You'll find traffic at some places and some places with very few cars. People are really helpful and cheerful. Your driver will also be your guide and will keep on striking interesting conversations to keep the mood up. One could easily spot small gardens at distant intervals where maximum kids would be playing football. Tourist places remain less crowded in the monsoon months as people don't prefer to travel to these places when it rains heavily. But, in fact these are the best months to visit North-East India as it brings out the actual beauty of this place and also fills up the waterfall with all its potential.
Every other tourist point is a must visit, including the museum, falls, parks and everything, but my personal favorite was the Shillong Peak. It gives you a panoramic view of the city and also if it's a less cloudy day you could also spot Bangladesh from there. It offers one of the most scenic views from and of the city.
You can also enjoy picnic at one of the gardens of the city where you could just sit amongst the lush green grass and enjoy the sunset.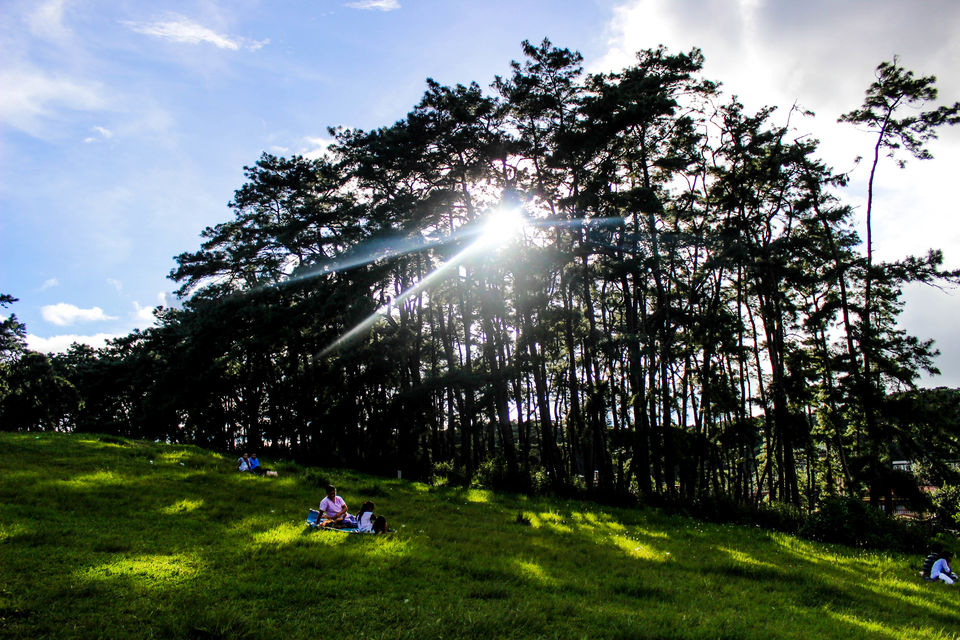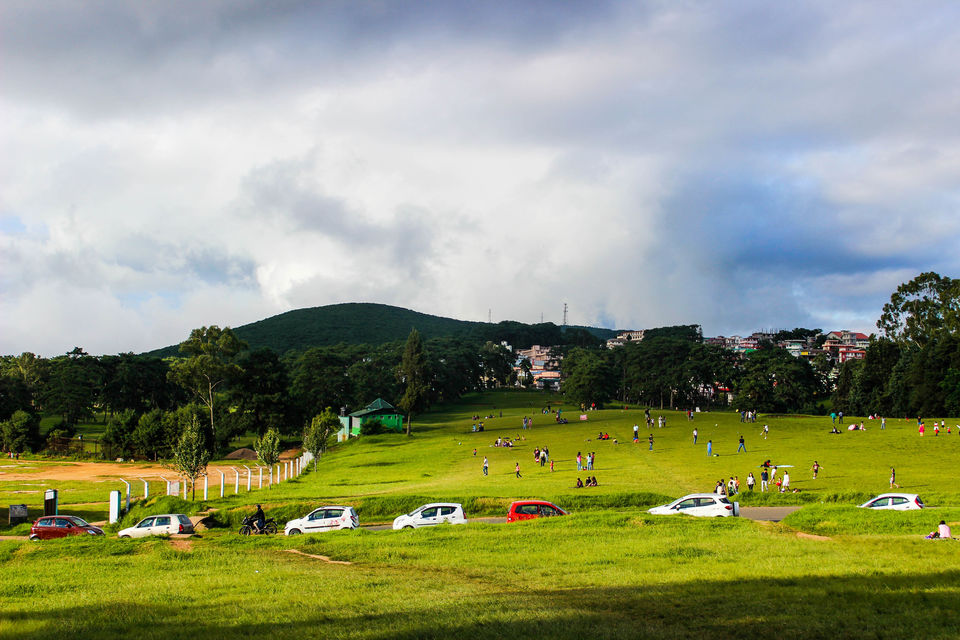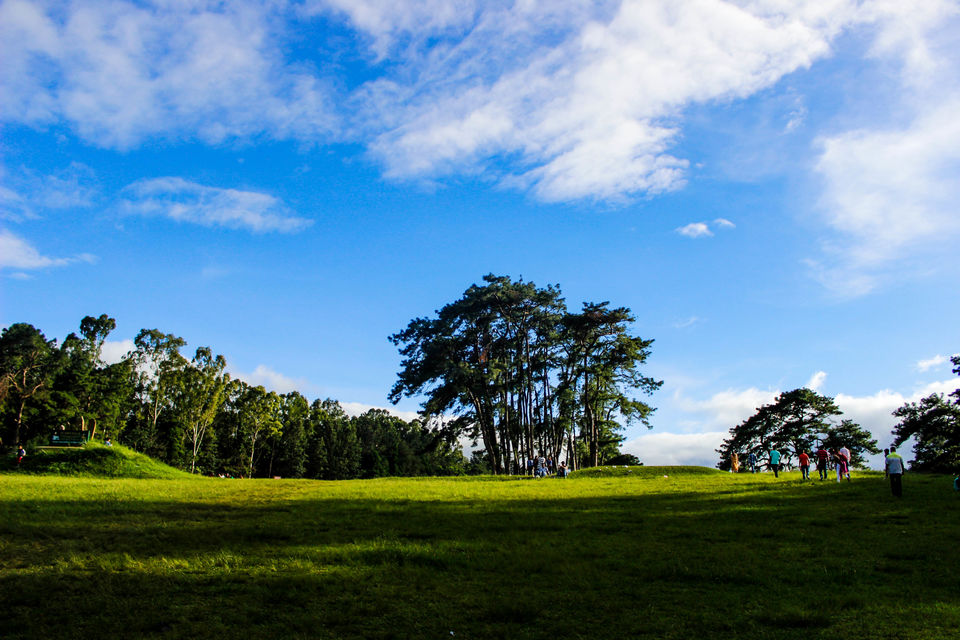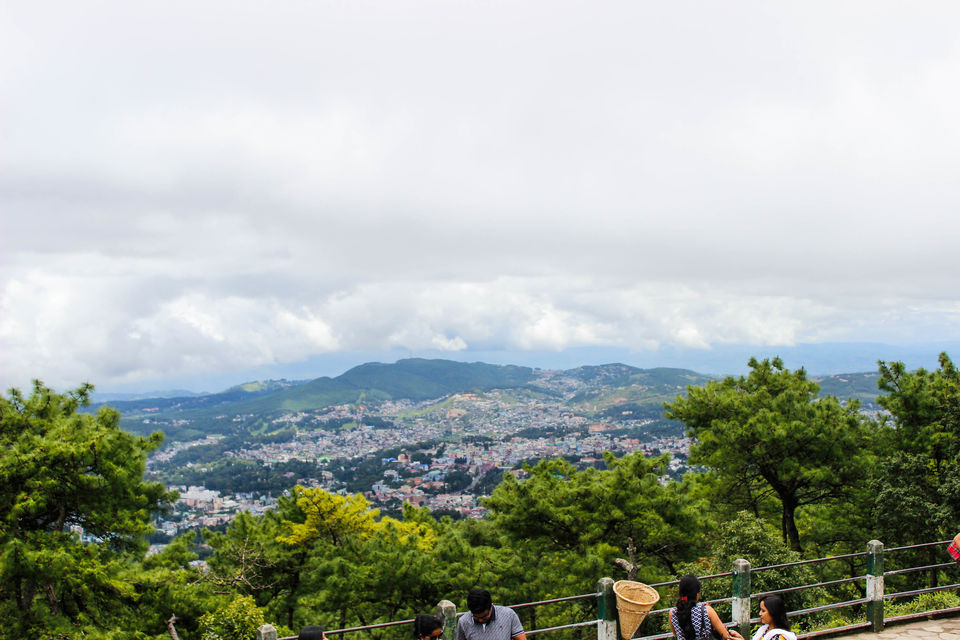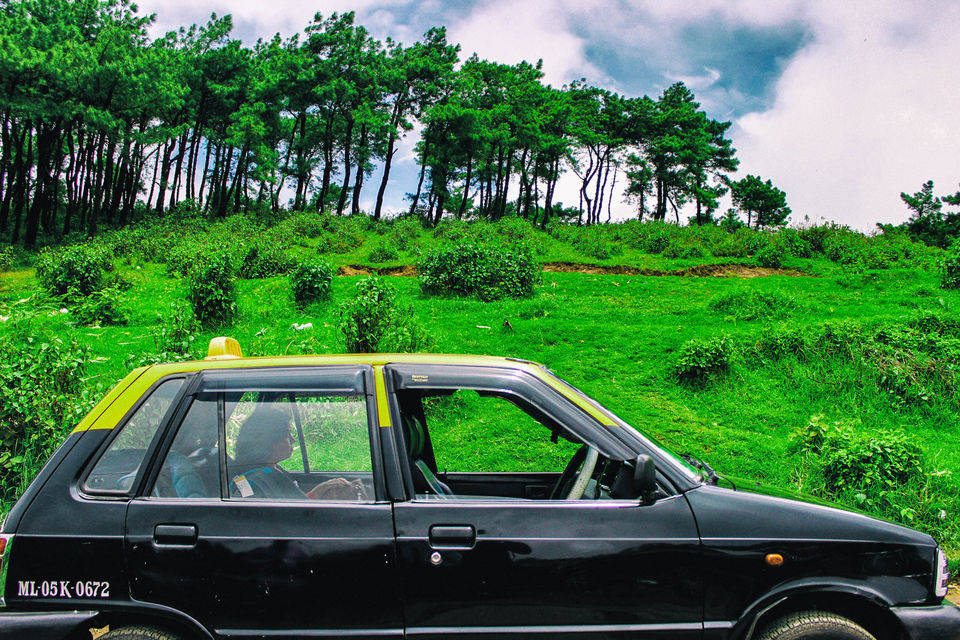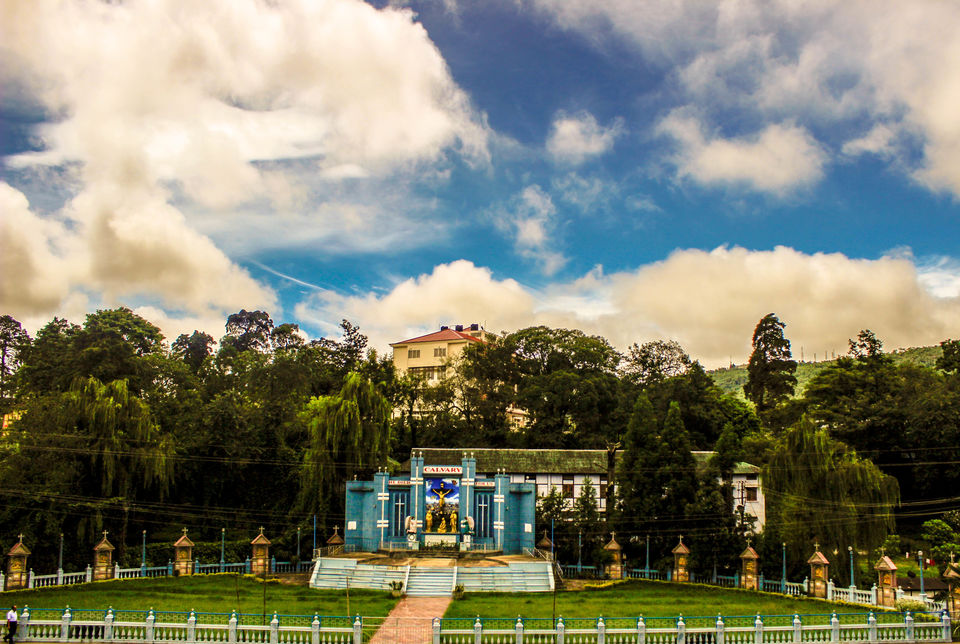 A pretty hectic day ahead, we retired early to our guest house and enjoyed the dinner served by the care takers.
The night did not ended at this note. It was the final of Euro 2016 and they were equally excited and enthusiastic about the match. I watched the match with them and also played a bit of football with them at night.
People generally plan a day trip to Cherrapunji, but we planned to stay a night over there and leave directly to Guwahati the next day. It's not a very long drive from Shillong to Cherrapunji but definitely one of the most beautiful highways I had ever seen in my life. These were small mountains with roads excellently built and green grass on both sides of the roads giving you a perfect calm and serene view.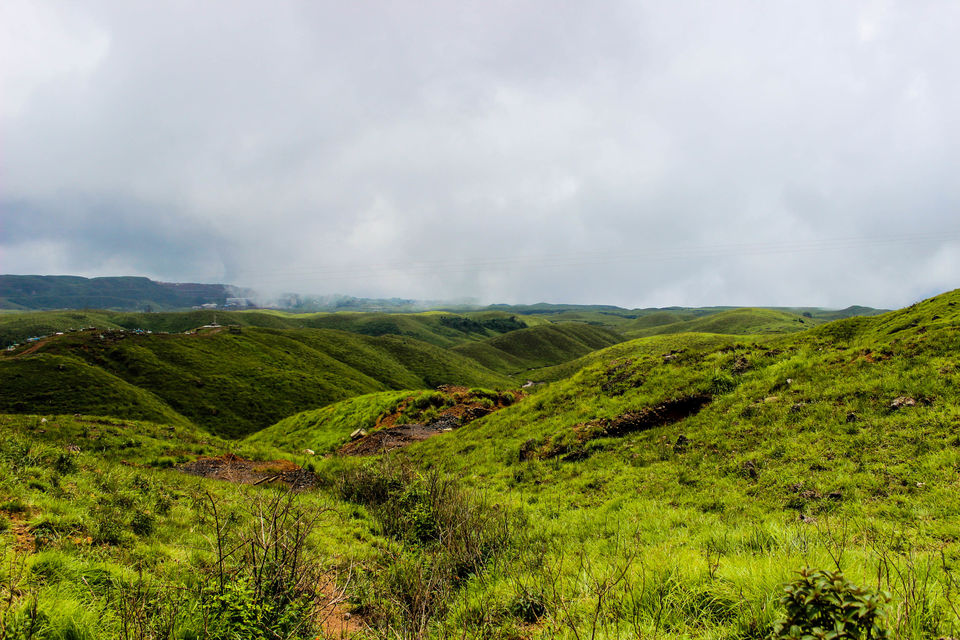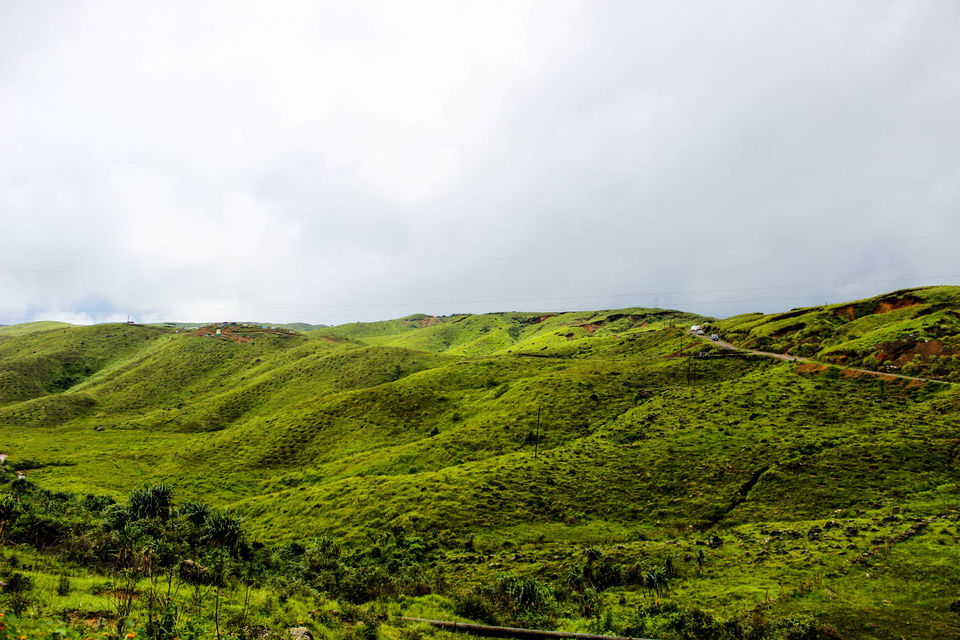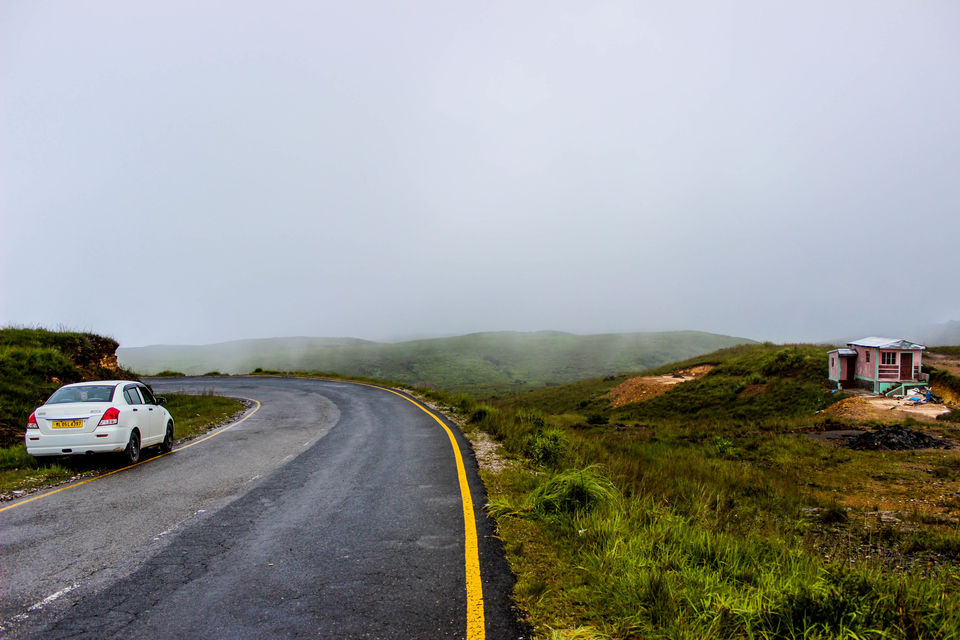 When people ask me what is one of the most magical moments of your life? I tell them my below mentioned experience of Cherrapunji. During the journey from Shillong to Cherrapunji there are some small break points where there are around 2 or 3 shops offering snacks and other necessary items, also washroom facilities are also available. We stopped at one of the points and I went to freshen up myself. As soon as I came out what I noticed was that rain was pouring below my waist. Clouds were right beneath my waist and under me. Rain was just pouring below my waist and I was totally amazed by what had just happened. It was definitely one of the most beautiful moment of my life.
Keeping in luck, we were only experiencing slow and light rains during our tour to Cherrapunji. We then arrived to Nohkalikai Falls, the 3rd highest waterfall of India. When we arrived, we could just hear the sound of the waterfall and not actually hear it. It was all cloudy and the waterfall was hidden because of the amount of fog and mist it was creating. Then a shopkeeper nearby told us to wait for some time and then see. We waited for around half an hour and then what we saw was a treat for our eyes. The clouds and the mist started clearing and we saw the wide and third highest waterfall portraying its magic.
Some waterfalls were to be witnessed from the above, which in itself gave another adventure to experience. Seven sister falls was also one of the magical falls and we just sat there for a while and had a cup of tea with some thoughts on how beautiful the world can be.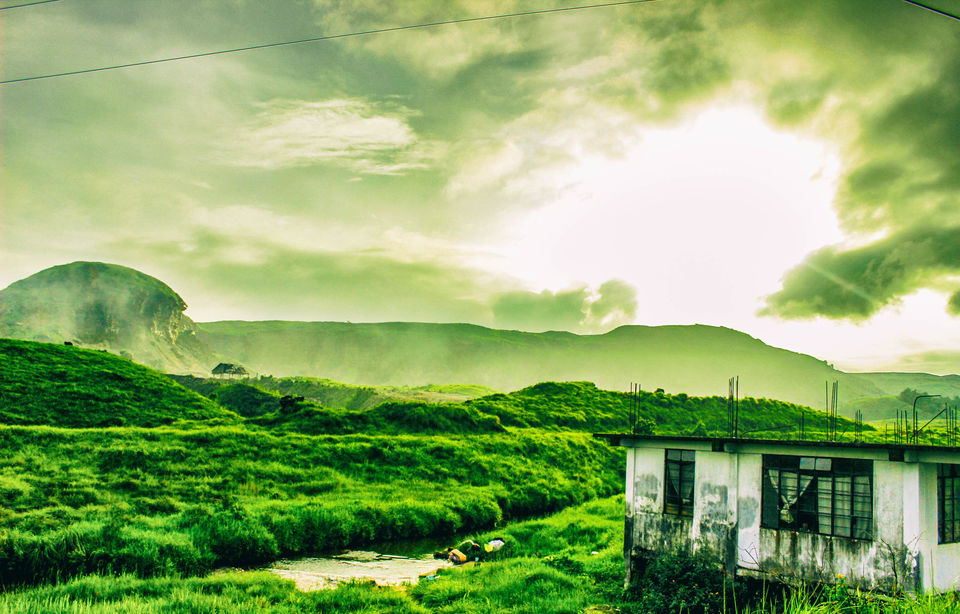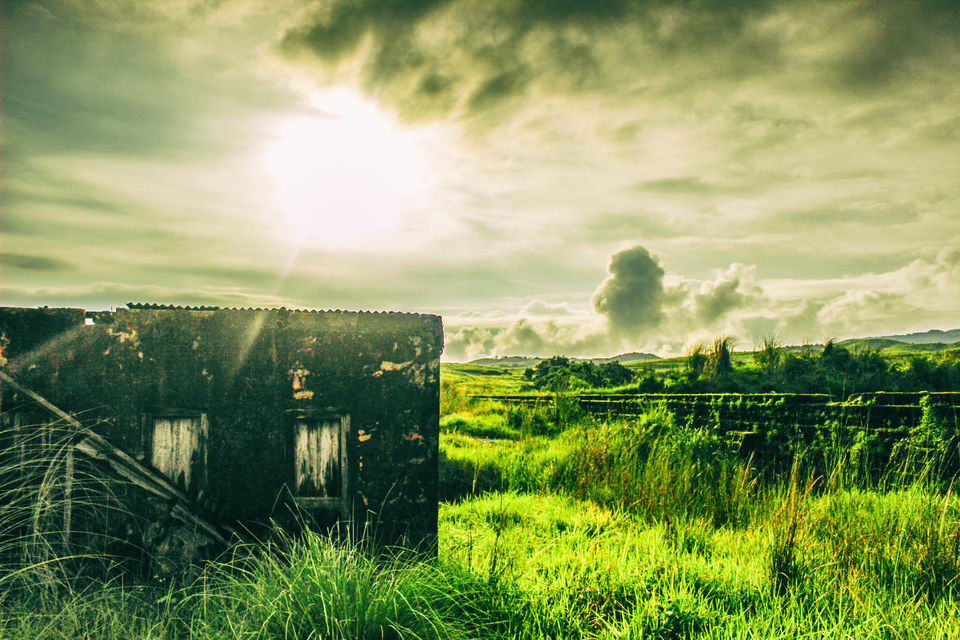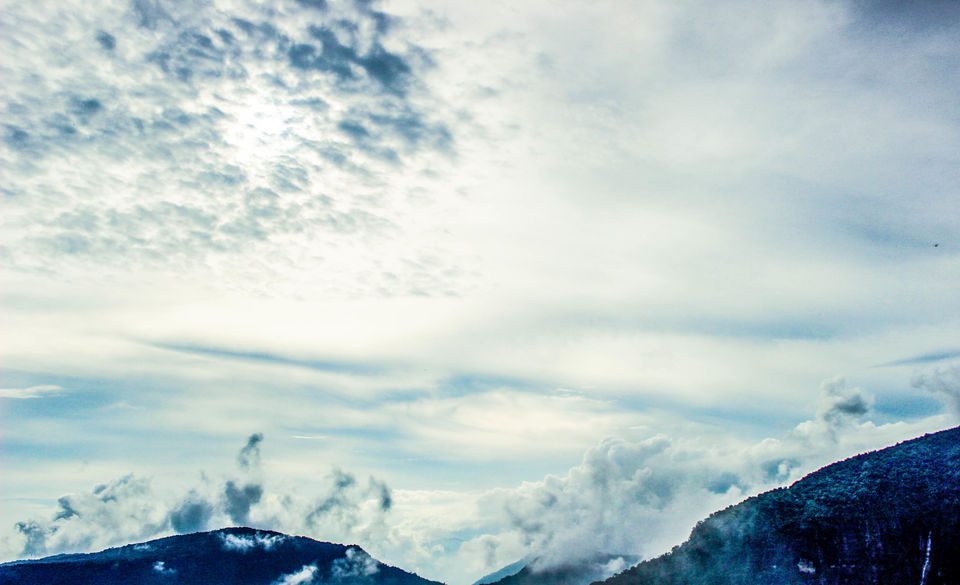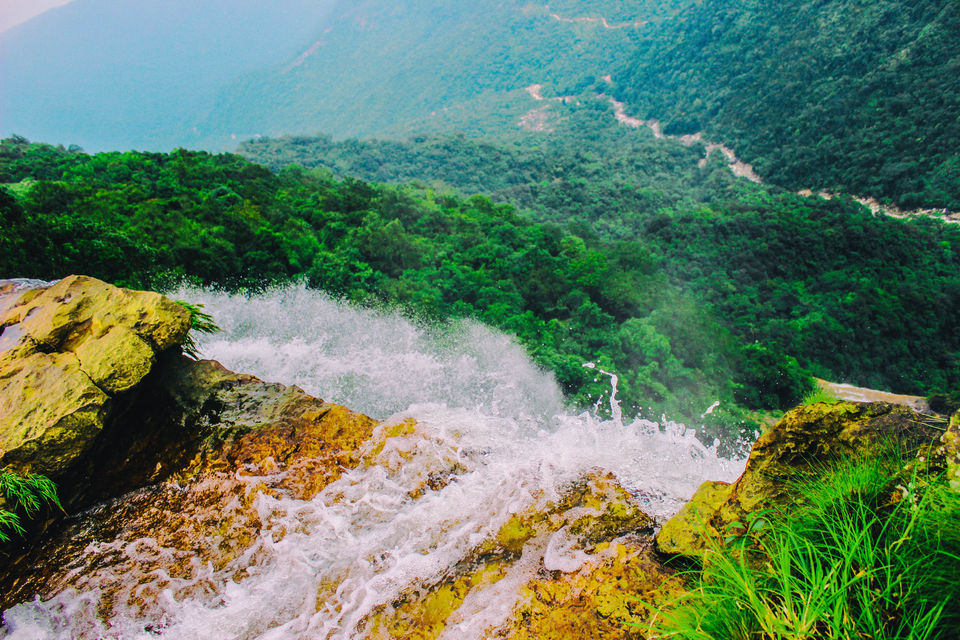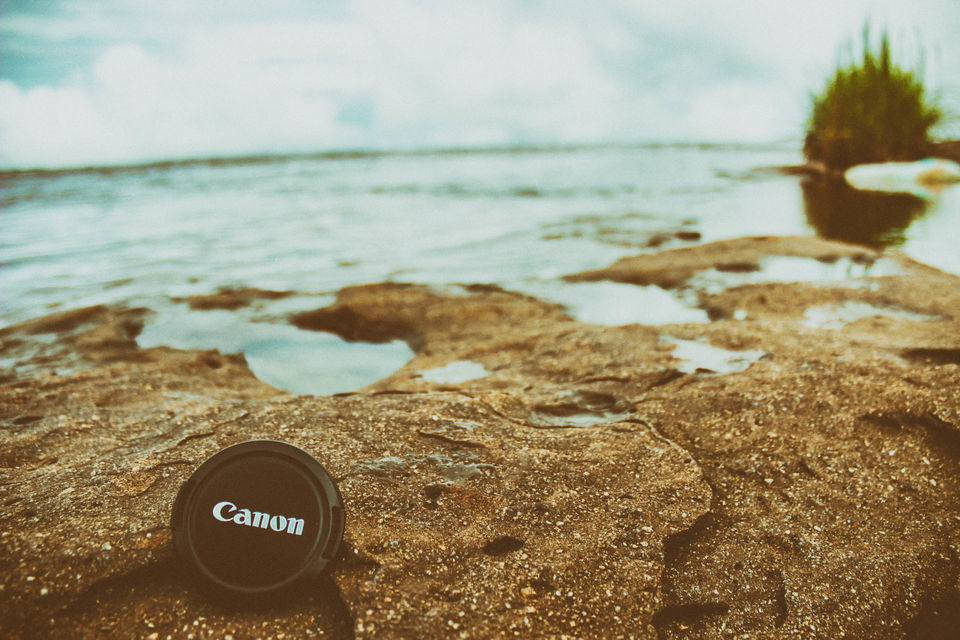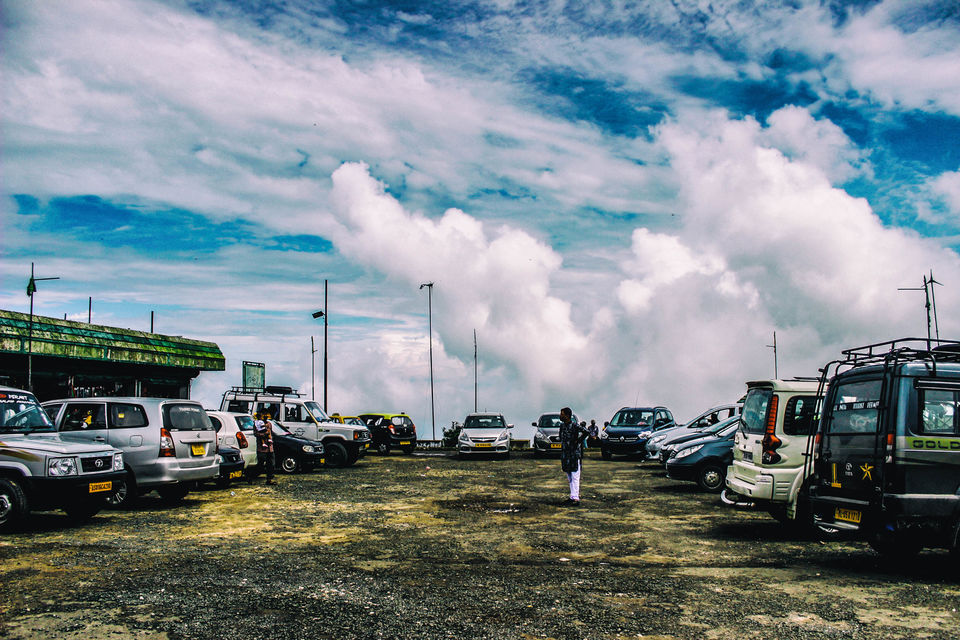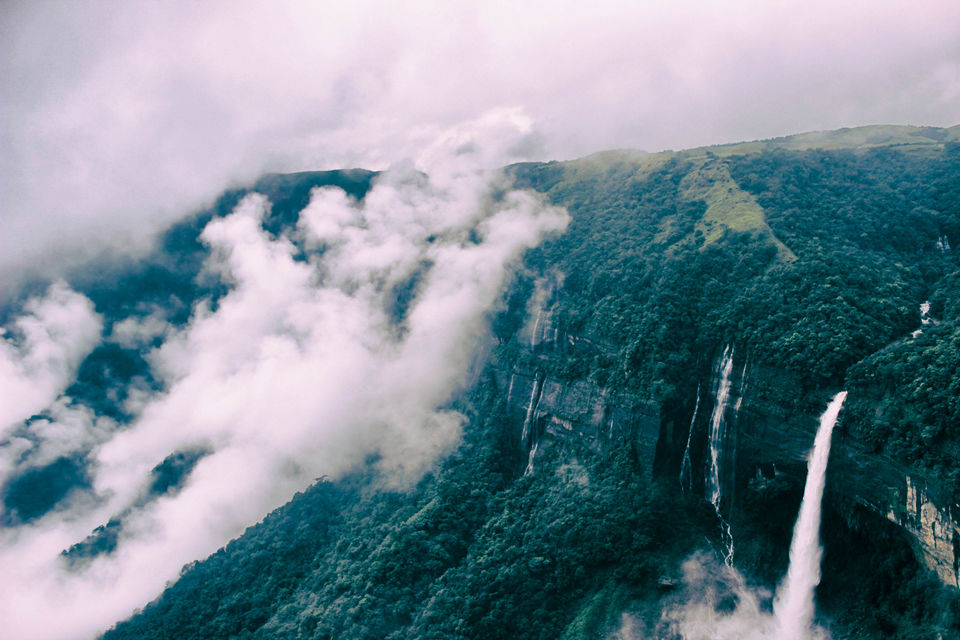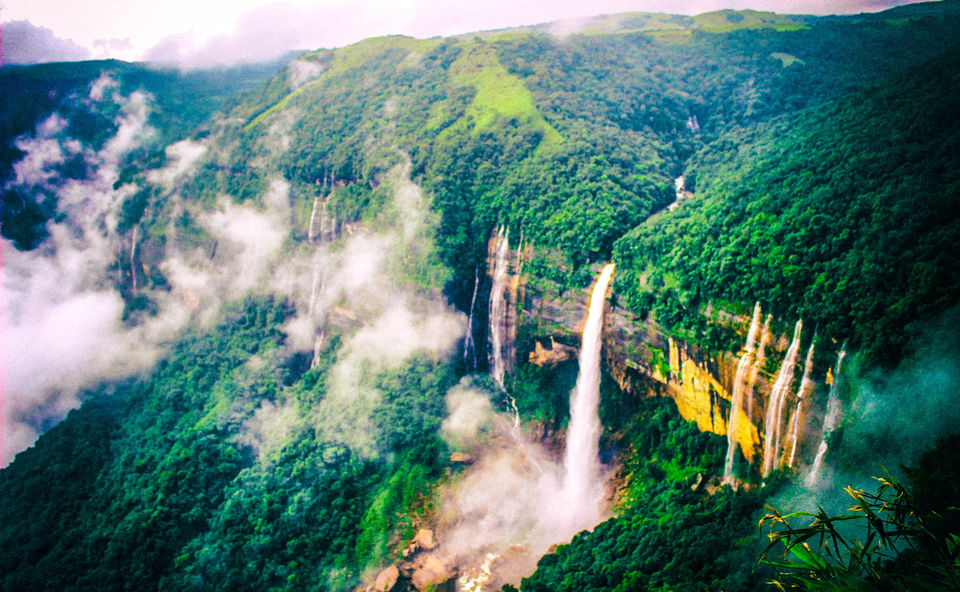 There are very few hotels in Cherrapunji and don't expect them to be very luxurious ones. We reached our hotel in the evening and to our surprise we had a small waterfall just adjacent to our hotel where they had made a small snack-tea having place. Our last night in Meghalaya, it rained in Cherrapunji the whole night and the morning views got even better.
We took a taxi to Guwahati directly from Cherrapunji which was a 4-5 hour drive and visited the main market of Guwahati which was quite busy and crowded. We ended our trip by buying some souvenirs and keeping the memories forever.