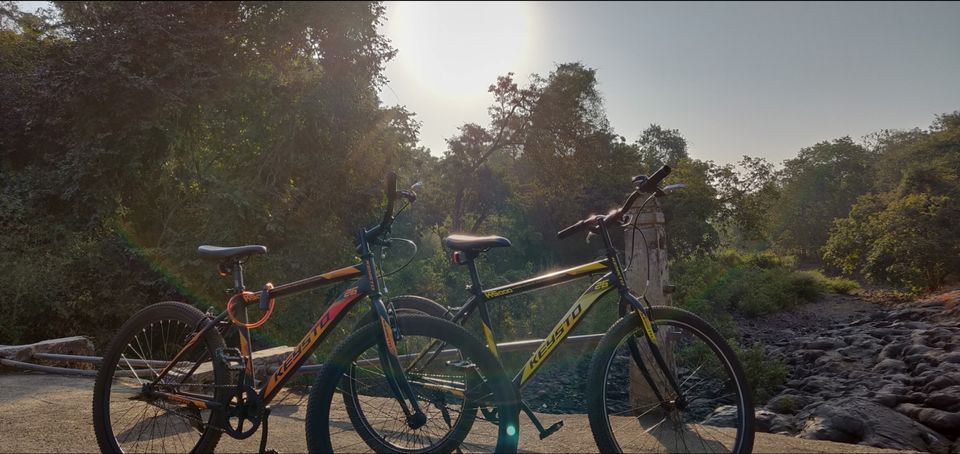 Not long back I and my friends had decided to go for a small day out but after searching for days we couldn't find a good place to go to in Mumbai.
We desired for peace as we all were tired of the chaos of Mumbai and suddenly we got this idea of going cycling at Sanjay Gandhi National Park, Borivali.
We strated early in the morning and boarded local train to Borivali. By the time we reached National Park it was 7 in the morning and the park being adjoining with highway was filled with traffic.
Outside the park there were various stalls selling breakfast ranging from vadapav to upma to poha and sheera.
Now we had to rent the bikes but thanks to the luck lady being Monday the bike renting was closed. Soon a guy approached us, he told us about private bike renting. There were people from whom we could rent bikes which was obviously pretty expensive comparatively but the bikes were worth the charges.
We decided to go for it. The rent as he had said was expensive but all we cared about was cycling.
Renting the bikes we started with the trip, though Mumbai is known for the lifeless winters with a lowest temperature of not less than 20, the roads through the forest were chilling.
The refreshing breeze hitting our faces while we cycled on the quite roads through forest was one of the best feelings and I didn't know Mumbai could offer these feelings.
To our astonishment at a cross road we met a family of deer enjoying the greens, they were elegant and the sight was appealing.
We soon were offroading which was a different experience altogether and atlast we reached the peak, Kaneri Caves.
Climbing the stairs we reached to the top of the mountain from where the whole city looked amazing, the skyscrapers touching the sky and fighting to be on the top was mesmerizing.
We sat there in calmness of peak while the winds were heavy.
The ride down was amazing, we came down speeding on the slope and atlast the whole trip ended, it was 1:30 already. The whole thing hardly took 7 hours and it was hell refreshing.
I would highly recommend you to take one day out and do this!
Best time - Winters
Distance - 20 km (roughly)
Happy Traveling!!