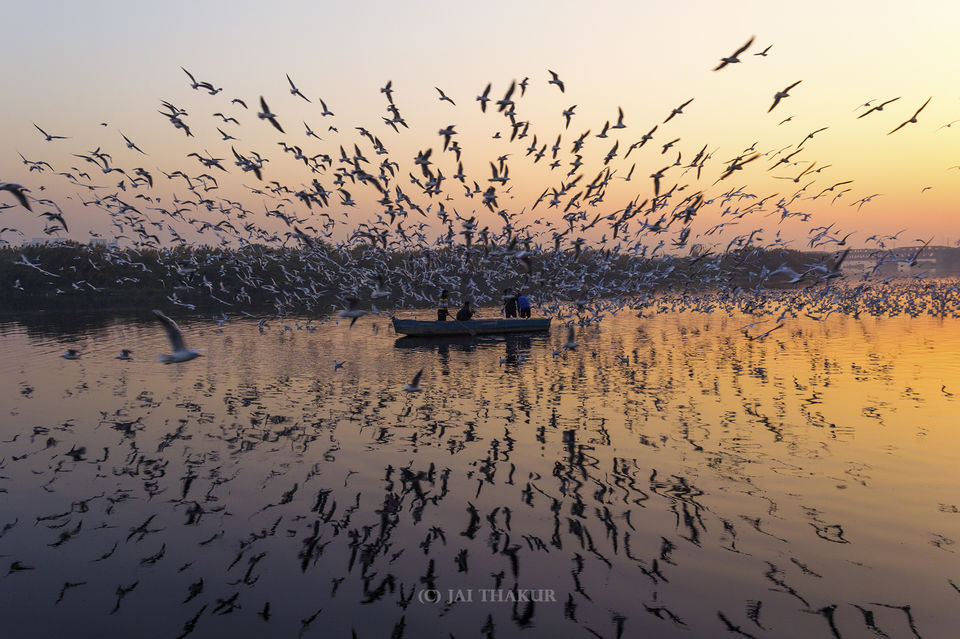 "Smells good around me as if winter is here". There are so many things to explore in Delhi ranging from heritage to culture to food. However, one thing that came into picture very strongly from the last few years is beauty of Yamuna Ghats and chirping seagulls around it. Every year between October and March, thousands of seagulls migrate to Delhi. Locals come to feed them, believing that it will bring good luck.
Initially, I got inspired by few online pictures which showcased the beauty of this place during winters. I got so excited that I decided to visit the place as soon as possible. Since, I love shooting alone so I decided to visit these Ghats only on weekdays before office. It was 7th November 2017, 5:30 am when I first visited Ghat No. 24. Since, it was very dark I was little scared and apprehensive of the fact whether I will be able to witness those magical moments which brought me here. Ohh, I forgot to share that I was not carrying my regular camera, courtesy my wife's travel project which made me carry an old camera. The moment my friend Ganesh Bhaiya came and shouted, we started to see few birds. I unhesitatingly asked "why are you shouting?" and he said "wait and watch" and this is how we started conversation for the first time. It was around 6:30 when for the first time I saw seagulls. They were few initially and with the passing time grew to thousands in number and then came their magical swirls along with their unstoppable chirpings. I was so mesmerized that I did not click even a single picture at that moment. Then, it was time for sun to come and throw its reflection on the stagnant water of river Yamuna. With the sunrise, I saw an old boatman rowing a small boat and coming from the direction of sunrise. That beautiful view shook me out of my mesmerized state and made me finally press the shutter. It was all in one frame – sunrise, river, boatman and these magical birds. It was indeed a dream sequence in which I was living at that time and wanted to transfer the same feeling through my frames.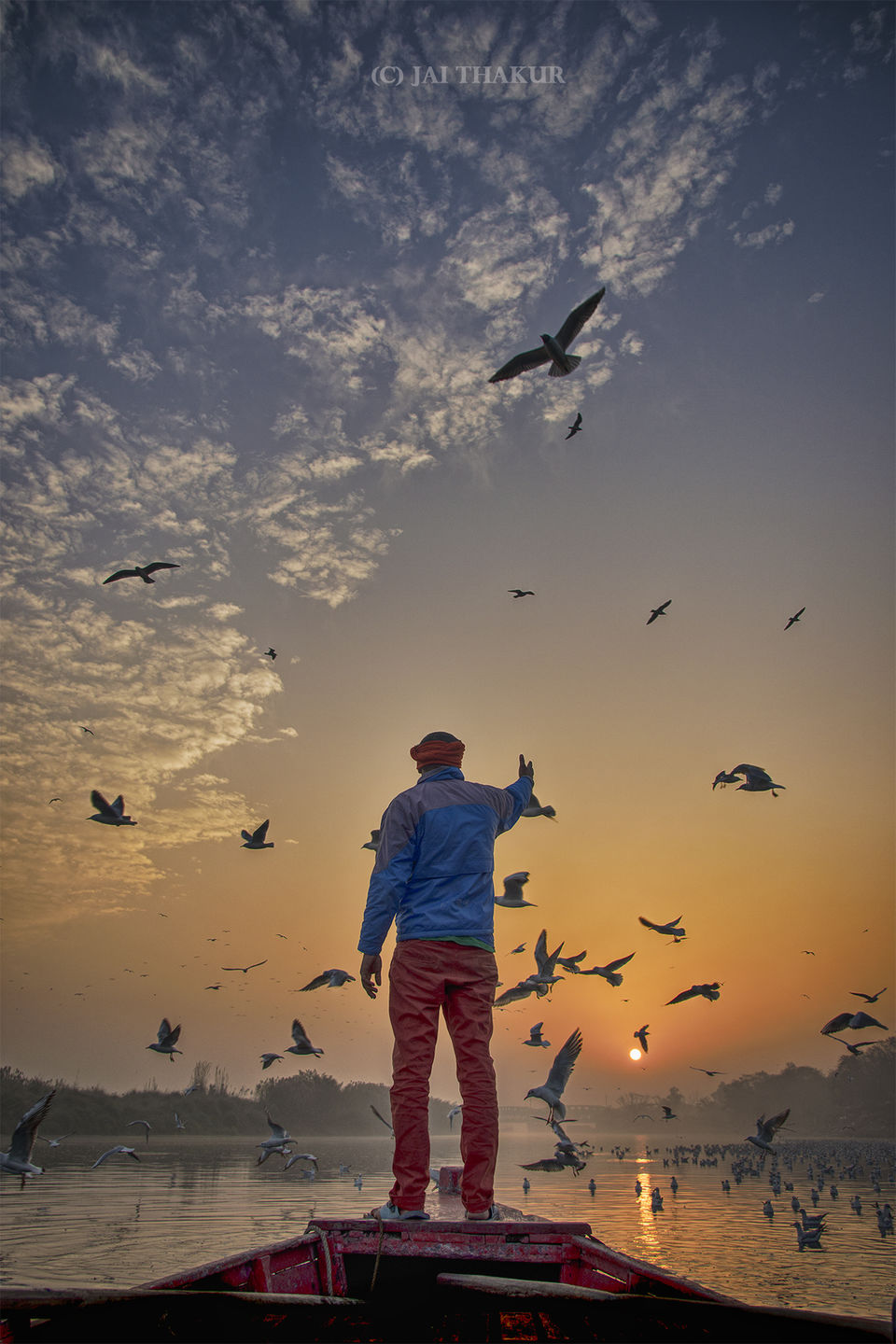 Post this incident I kept on visiting this place and started exploring other things like people offering prayers to river Yamuna and the Sun God while others completing the last rituals of their beloved ones, few others in the process of cleaning the banks as per their resources etc. On the other side of the ghats, I noticed birds flocking on the heavenly misty horizon of the river. Amidst of all these, I realized that the old boatman, whom I had clicked for the first time, never used to interact with anyone except to get clicked. One fine day, I initiated conversation just to figure out that he did not understand Hindi and can communicate only in Bengali. Since I also speak Bengali, I started conversing with him and finally he was able to reveal his identity. He said, "Probably I am the most photographed Boatman on the ghats of Yamuna. I am 90 years old and my name is Sikander. I came to Delhi 30 years ago with my wife and am still here. Originally I am from West Bengal. I live on the other side of the bank in my little jhopdi (hut). For my survival I row this temporary boat and collect prashads from the people visiting ghats to offer prayer. Just sharing that I don't understand Hindi and that's why I avoid communicating with the tourists and the photographers. Since, you figured out my language that's why I am sharing and that's all for today's morning. Request to all, please come regularly if not to photograph us then at least to help us in off season". After this conversation, I went into complete silence and gave him some money as a token of love and support.
So, here is a question for you "as a tourist or as local have you seen this side of Delhi yet?"
To buy prints visit my website http://www.jaithakur.in Pictures (c) All Rights Reserved