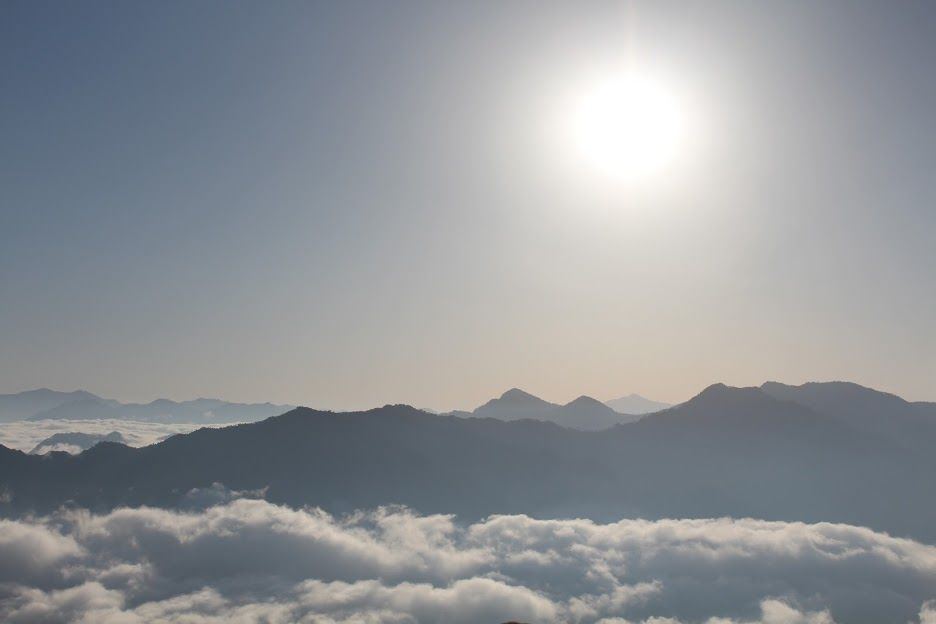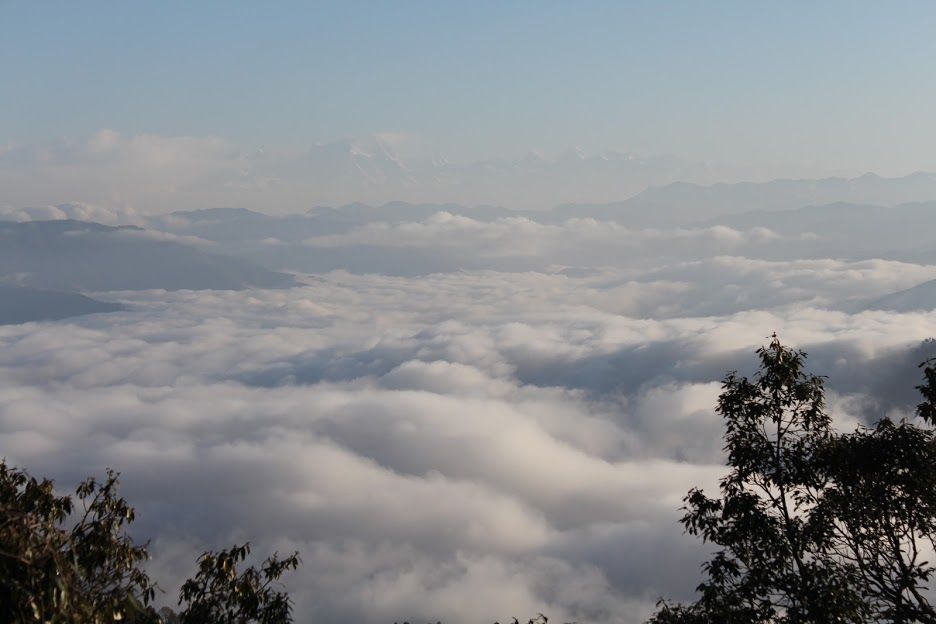 Life as we all know it, is tedious, specially in a metro city like Delhi.
You wake up only to get ready to run, whatever it is that you are running after. And in all that running, the one thing you leave behind is peace. Peace of mind, body and soul.
The only thing that can heal a man from robotic monotony is travel. But only a few lucky beings are capable enough of traveling at their will, others at their boss's and their bank statement's. The constraint of time is almost unparalleled than any other.
In that case, a weekend escape to the hills can rejuvenate you in a way no clubs, pubs or hubs can. A couple of days of life away from routine, technology and old faces can do wonders, and a laid back day with mountains in sight and good food is like the best icing on a cheesecake.
Two of the closest such destinations from Delhi are Rishikesh and Lansdowne. I am really lucky to visit both these places in one awesome road trip. It all started a week before the trip, when two of my friends, Tushar and Vaisakh and I were having a drunk discussion about travel (like every time) and suddenly decided to leave for a road trip. We were psyched as ever and after a little argument, unanimously finalized that the destination is going to be Lansdowne, a small town in the foothills of lower Himalayas in Uttarakhand, which is also an army cantonment and is scenic, quiet and less crowded, all the things that we desired. It is also only about two hundred and fifty kilometers away from Delhi. Being this close, it is also one of the highest elevated hill stations in the radius, situated at about 1700 meters above sea level. It is also very moderate in rates and is easily affordable. So the destination was final but being responsible citizens that we are, drunk driving is not something we could have done, specially for such a long journey. The trip was hence postponed.
The coming week saw us getting busy with our lives and nearly forgetting about our plan. But not before I checked the weather forecast for Lansdowne which said -2 degrees over the weekend that we were bummed again. The trip was back on.
Day 1 - (Delhi - Lansdowne, 260 km, 6 hours)
We left from Indirapuram, Ghaziabad at three in the morning on Saturday, the 11th of March. I had not slept the night in excitement. This, after all was going to be only my second trip with friends. I have traveled the whole of Kashmir with my family when I was really young and did not bother to care. We found minimal traffic, given the time and were soon cruising at 80 kph on NH 34. We had planned to have breakfast in Meerut but at the time it was still dark and deserted. Please note that you stay on NH 34 after Meerut and pass through Mawana to save 35 kilometers. There were also minor disruptions in our route as the traffic was diverted at many places due to the vote counting of Vidhan Sabha elections. We finally made our first stop at Kotadwara at 7 AM , and had little breakfast in terms pakoras and samosas. It is also the place which tells you about the arrival of mountains. It is still an hour drive from Kotadwara to Lansdowne and the road is breathtaking. Pine trees welcome you with an amazing view and the cold wind is like nirvana. When we reached Lansdowne, it was like any other army cantonment, except on a hill. You need to get your vehicle checked and get a permit slip to enter. The town is small with budget stays and common eateries. We negotiated and got a room for INR 900 for three people. The guy was friendly and got us extra blanket and pillows. We freshened up, made a few drinks of rum as it was a cold day, lay in blanket for sometime and the left for strolling. After having breakfast, we decided to walk to Tip and Top, the highest point of the town with an amazing view, overlooking the valley. It is around three kilometers and takes around an to hour walk. After spending sometime we decided to walk back to our room only to get the best surprise, snowfall! It was completely sudden and unanticipated. We were overjoyed. Even the locals were looking stunned as snowfall in March was almost unheard of there. We played with snowballs with the locals and our hotel staffs till our fingers went numb and we could not feel them anymore. It was almost evening and we decided to take some rest but all of us fell into sleep. When we woke up the whole place was covered in snow and looked like a scene out of a Bollywood movie. The night was even colder and Google was indeed right, it was -2. We took a walk down the market, had our dinner, played with mountain dogs and quickly headed back to our rooms as we were not accustomed to such cold. After drinking some more rum and talking about how great the day turned out to be, we fell asleep in the warm blanket.
Day 2 - (Lansdowne - Rishikesh, 100 km, 4 hours)
We had planned to wake up early to catch the glimpse of sun rise from Tip and Top. When we woke up the next day, most of the view was still all white, but it was 7 AM and the sun was already shining bright. We took quick turns to the washroom and got ready for tea and soon were on our way to Tip and Top. Upon reaching the place, the view was nothing like what we had seen the previous day. It was supremely manifolds better. The whole valley was covered in a thick blanket of clouds below us and surrounded by snow clad mountains. It was awe inspiring to watch. We just stood there and allowed ourselves to lose in the moment, it was surreal and definitely the high point of our trip, like literally. We clicked some pictures and I literally destroyed the other two guys in a snow fight. After playing with some more dogs we walked back to the town because hunger was taking a toll. We ate at the same place where we had dinner because the food was good there and we did not want to experiment.
During our eat, we were really low as we had to leave soon and get on with our lives, but clearly no one wanted to go back. And only 5 minutes into the food and we decided, without any argument that we are staying one more night, as it is Sunday anyway and the next day is also gonna be a holiday because it was Holi. But there was nothing more to do in Lansdowne so we needed to explore one more place and Rishikesh it was, because after a quiet night we wanted a happening night to end the trip.
We left at 11 AM and took the Neelkanth road to Rishikesh out of three routes, which is also the shortest but the most adventurous because it goes through rough mountains and the road is trippy and less taken. There was literally no one on the road for almost a two hour stretch and the drive was tricky. It took us around 5 hours to cover 100 kilometers and we reached Rishikesh at 4 PM. As the next day was Holi, we decided not to go in the main city because of the big crowd but take a river side camp on the Neetkanth-Rishikesh road itself, some 5 kilometers before the city. After much negotiations we managed to get a camp at a very good location at INR 1100 per person per night which included snacks, dinner and breakfast and also 9 kilometer white river rafting. As soon as we reached the camp, we were really impressed with the ambiance. We settled fast, and went to the riverside and sat there in peace till night fall. After freshening up, it was snack time in the evening followed by bonfire. I must say there were a few good singers in crowd with guitar and stuff and they really lifted the feel with their singing. We chit chatted with people and also played group antakshari which was fun although I'm not a singer at all. Then came the loud speaker part and people started to dance on Punjabi tunes. We took an excuse and went to the riverside again and it was a different feel altogether in the night. Taking a daring step, we stripped down our clothes and took a bath in the river in pitch dark night, as the water was below our knees and the flow was minimal. It was a bucket list moment. I felt brave after coming out of the water since I'm hydrophobic. We went back to the camp, feasted on delicious dinner and went to bed.
The next day we got up late as usual and for a forest walk, which had nothing to do with forest but a general camp group walk along the river. The breakfast that was served next was good. Next was our schedule for river rafting but we decided to skip it since we had to reach Delhi in time for Holi. We bid adieu after playing with dry colors at the camp and left Rishikesh at 12 noon. The roads were empty due to Holi and we reached Delhi in four hours and were back to the glamour of the city.

Trip cost : Around INR 3,000/person, including petrol charges (if traveling by your own conveyance), accommodation, grub.
Hope you enjoyed reading.
Happy traveling,
Prynce.