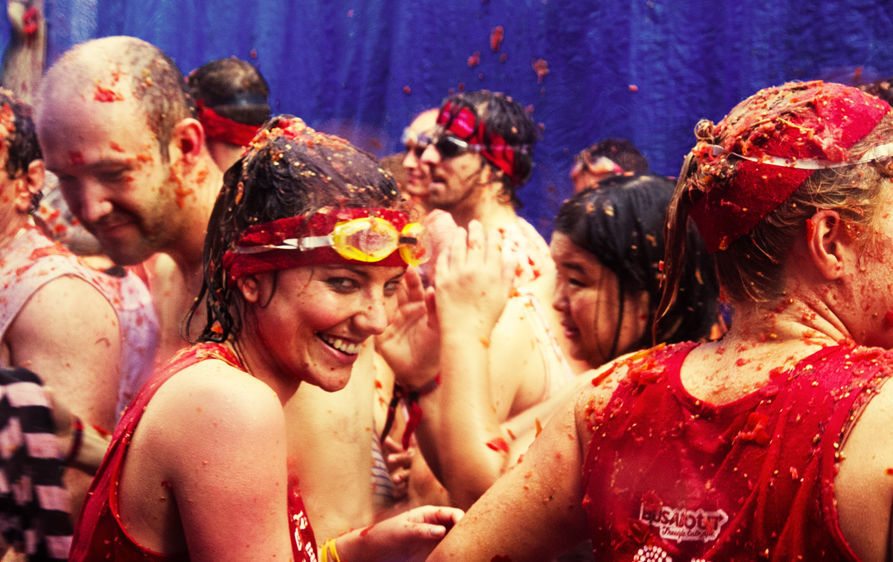 If you live in a faraway country and are missing your beloved India's Holi, simply book a tripto tour to one of places of 13 festival around the globe , whichever is nearby and celebrate the Firang version of Holi!
1. La Batalla Del Vino
The Spaniards not only believe in drinking a lot of wine, but also in throwing it at one another at the La Batalla Del Vino.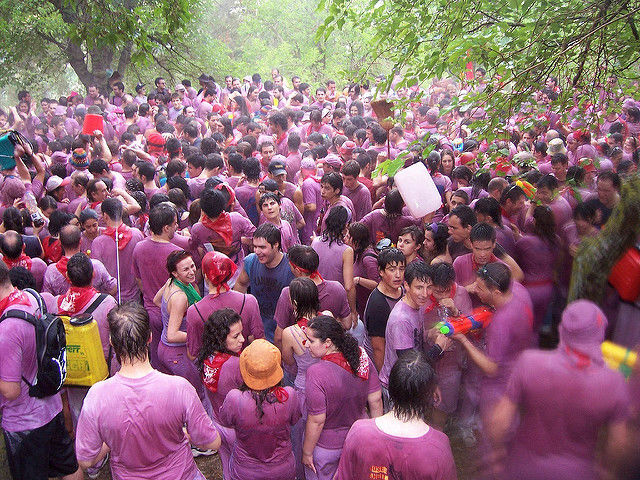 The festival, where people throw buckets of wine at each other, takes place in the Spanish town of Haro during the annual Haro Wine Festival.
Everyone early in the morning, dresses in white and participates in the parade behind the mayor who during the parade rides on a horse, after that, the fun begins.
When: Each year between the 27th and 30th of June.
Where : Haro, Spain.
2.Galaxidi Flour Festival
Don't be surprised if you see people dancing on the streets covered in coloured flour.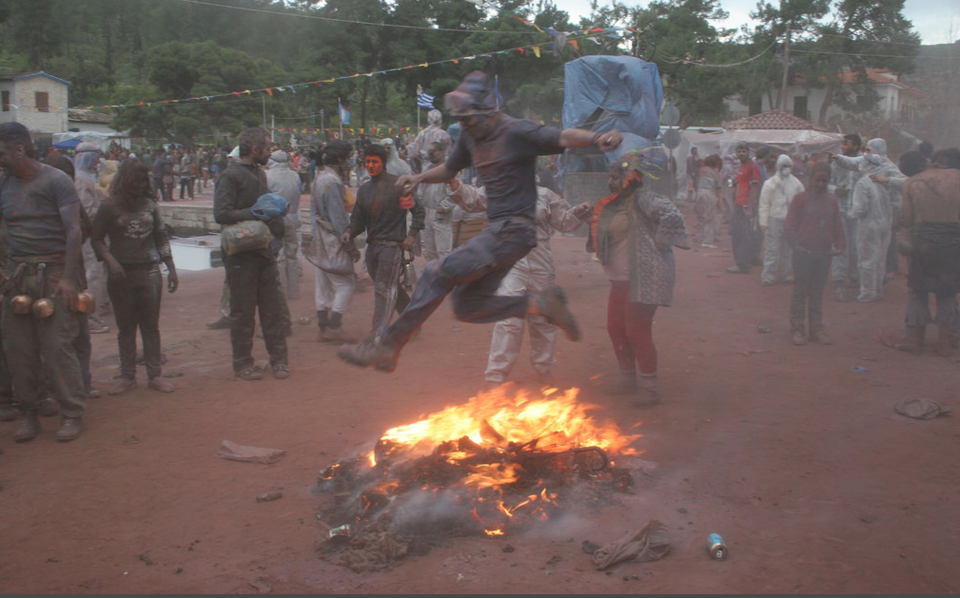 Every year, this small town in Greece, Galaxidi is covered with over 1.5 ton of coloured flour.
Over hundreds of people gather around to attend this insane battle of throwing flour at one another.
This event is also ironically known as Clean Monday.
Where: Galaxidi ,Greece.
When : Monday , 19 Feb 2018.
3. Battaglia delle Arance .
Commoners rise up against an oppressive ruler. At the Carnevale di Ivrea, however, the battle isn't waged with guns and swords—oranges are the weapon of choice.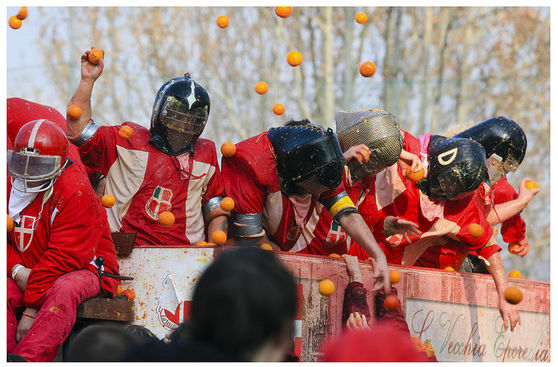 Every year, the tiny northern city of Ivrea in the Turin province stockpiles 500,000 kilograms of fresh oranges for Battaglia delle Arance (Battle of the Oranges), a re-creation of a historic fight between townsfolk and a ruling tyrant.
Teams wage a full-on fruit war, and not even a red-capped declaration of sovereignty can protect you from getting juiced.
when: the Sunday, Monday and Tuesday (Mardi Gras) before Ash Wednesday.
where : Throughout Ivrea| Ivrea, Italy.
4. La Tomatina
'World's Biggest Food Fight' where more than one hundred metric tons of over-ripe tomatoes are thrown in the streets.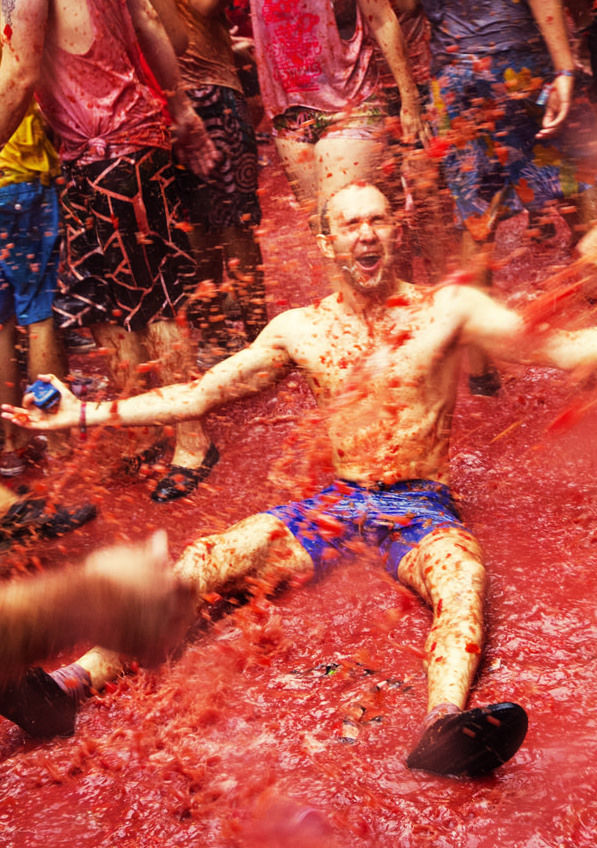 Make sure you squish the tomatoes before throwing them for safety reasons, but doesn't it make it all the messier.
When :La Tomatina 2018 , 29th of August
where : Valencia just 38km to Bunol by bus or train| Valencia,Spain.
5.Songkran
The Thai people believe in celebrating their New Year's Day in a unique manner.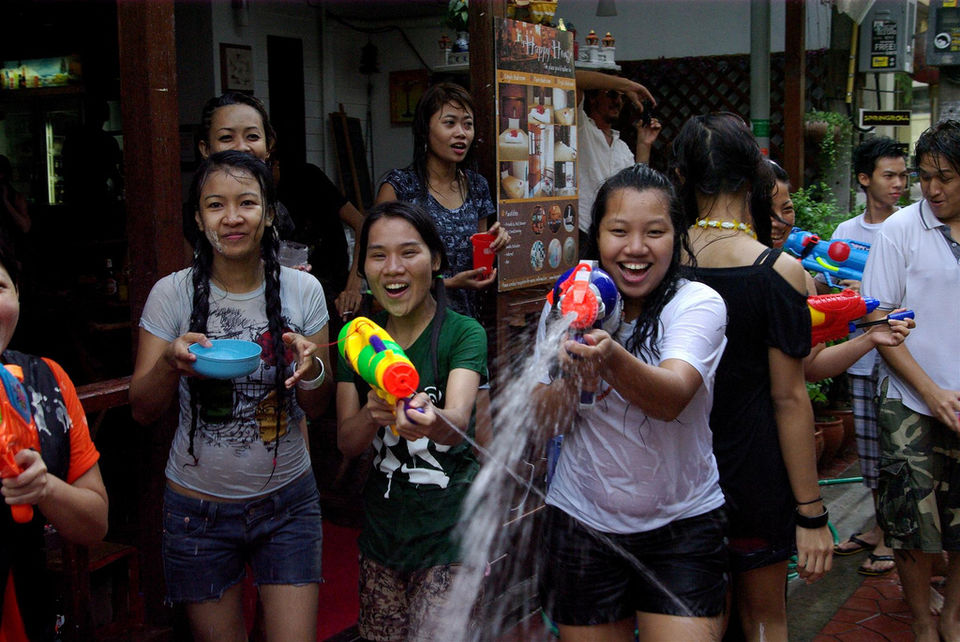 What adds to the unique factor is that people throw ice cold water on each other around the streets and put beige coloured paste on anyone's face they come across.
when:Songkran 2018 , Friday, 13 April
where : Thailand
6.Els Enfarinats
The Spanish version of April fool's Day is celebrated as Els Enfarinats, the citizens throw flour bomb as well as eggs at each other.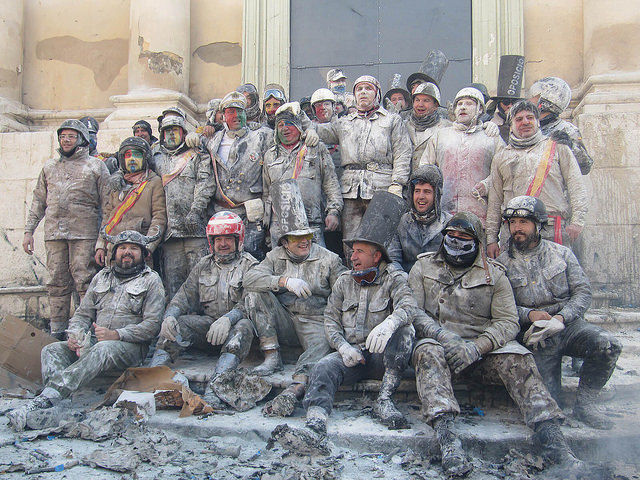 A little less colourful but even messier than Holi. The cloud of thick flour makes it look like a blizzard.
Go ahead, make your childhood fantasies come true.
when: Els Enfarinats, Dec 28.
where : Ibi,Spain
7.La Raima
If Spaniards can throw wine at one another, how could grapes be left behind.
Crowds gather in the La Plaza de la Cooperativa where 90 tonnes of grapes are delivered by half a dozen trucks.
Rush to the nearest truck, grab as many as you can and aim.
The battle ends only when the last grape has been thrown
where :Just an hour away from Valencia,Spain
8.Wasserschlacht
Germans celebrate the onset of summer in an entirely different manner.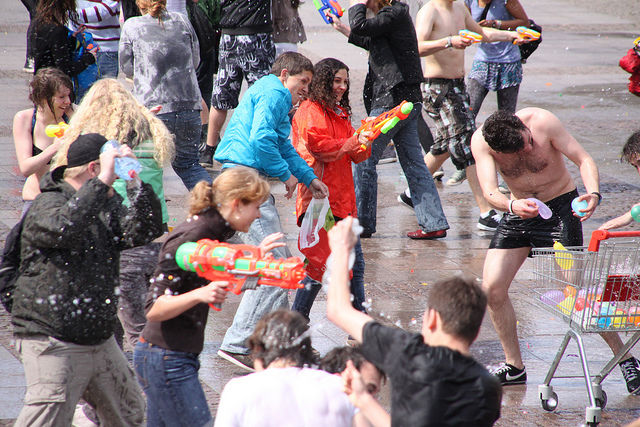 During the season, two districts in Berlin gear up and stand up against each other in a massive water fight. Fruits, eggs and flour soon adds up, taking the spirits even higher.
This fun event takes place on the Oberbaumbrucke Bridge which for long has been feared to collapse taking into account the large number of participants and onlookers that turn up on this day.
9.Batalla de Caramelos
Spaniards know how to create hot mess, don't they? From oranges to tomatoes, they leave nothing behind. How could sweet nothing be left far behind?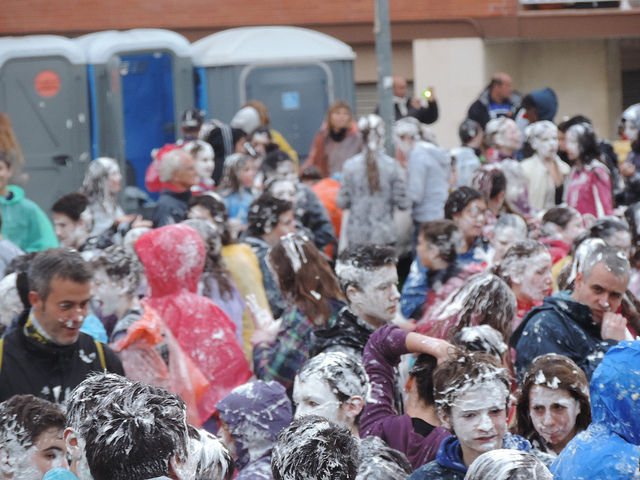 The Batalla de Caramelos also known as Candy Fight takes place every year on Fat Thursday in a small town near Barcelona.
People usually eat cod fish with red pepper sauce and after that throw their meringue dessert at each other. Once the meringue is finished, the candy starts to fly.
10.Boryeong Mud Festival
It is the largest messy festival in the entire world, where as many as 1 million people mark their presence.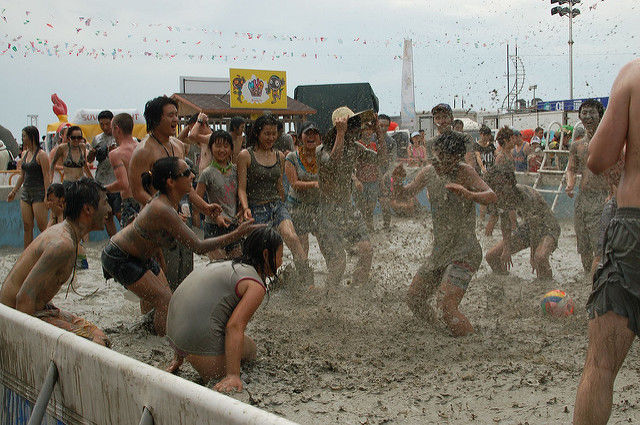 The best part about this messy fest is that the mud is great for your skin, so you do get a mineral facial for free along with having the time of your life. What more do you need?
where :South Korea
11.Gloucestershire Cheese Rolling Festival
This event, which takes place in Gloucestershire is not messy for simply one reason.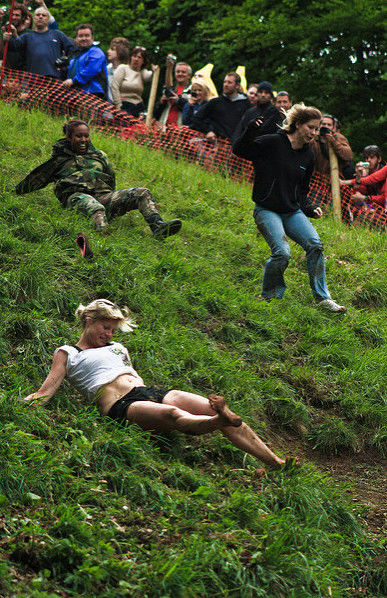 The cooper hill cheese rolling involves getting messy when rolling down the steep hill. What's the big prize, it is Double Gloucester cheese.
where :Gloucestershire,England
when: the last Monday of May.
12.Glastonbury Music Festival
One of the greatest music festivals in Britain, the crowd, the music and the atmosphere simply makes you fall in love with the event.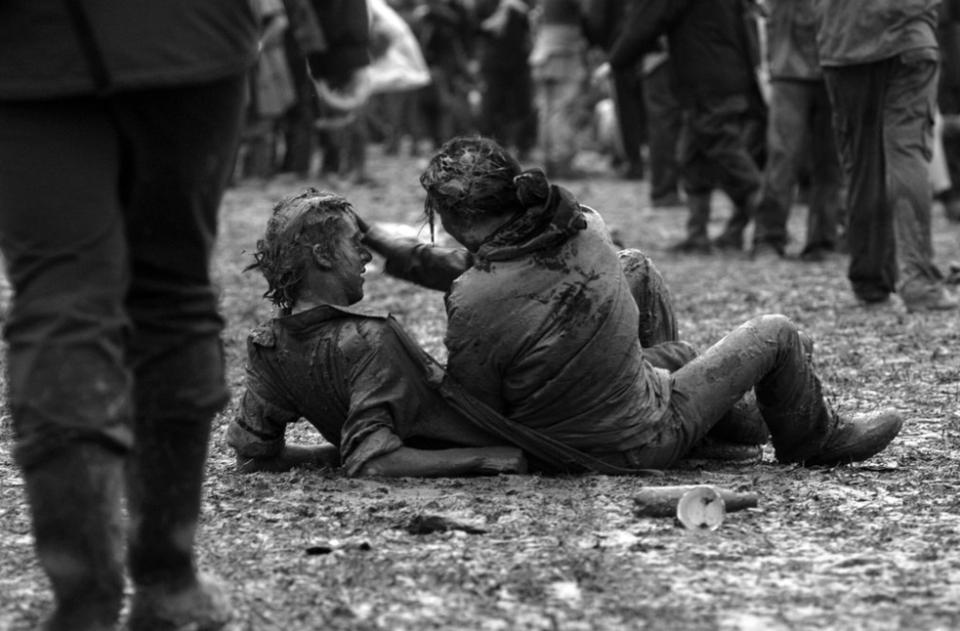 What's the best part about the event, it's mud. The messiness along with good music is simply an icing on the cake. You don't need to buy a cool outfit to attend this festival, at the end of the day, it is going to be covered by mud.
13.Switzerland Mud Festival
The largest open air music festival in Switzerland, Paleo attracts a large crowd. . Mud adds as an added dose of fun, making the event even more exciting. July is not too far away, isn't it?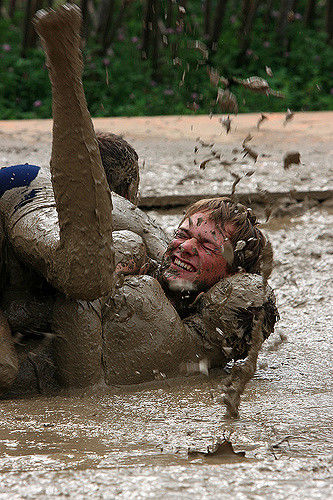 Have Fun!