My days in Rome, Italy started at 9 a.m. and finished at 10 p.m. It was more than 12 hours of endless walking through cobbled streets. I stopped in-between only for food and drinks. Roma, as Italians call it, is without a doubt a beautiful city with pale white walls and history at every turn.
It is not just the Colosseum and Roman ruins that make Rome unique. If you are wandering in Rome, there is a high chance that you will come across disintegrated castles, ruined theatres built centuries ago or dilapidated churches in the middle of the city. This is what I Iiked about Rome. You get your dose of history without paying for it.
But hardly anyone goes to Rome just to roam around, do they? For such tourists who come on a week trip with an itinerary to cover length and breadth of Italy, the Colosseum and Roman Forum are obvious attractions. For 12 Euro, valid for two days, you can visit both places and that is money well spent.
As history goes, the Colosseum was a place where gladiators fought and people as well as royalties thronged. Now, centuries later its fate has not really changed. It still draws people from across the world. Within the monumental building you have a museum that displays excavation findings of the Colosseum. These findings tell you that it was a place where men and women gathered to enjoy gladiator games making it sort of like a picnic. Information about how it was built, its architecture and seating arrangements are available there. If you have enough patience to read, these historical findings will tell you much more than that. They show you what it was like to be there during 80 AD when gladiators fought each other to death.
When you enter into the seating area of the Colosseum that overlooks the grand centre stage, forget the crowd and just close your eyes. You could hear shouts and cheers of close to 50,000 people on stands. Their tension is palpable even centuries later. When you open your eyes, sometimes you are left with an illusion of what you just imagined and come out with goosebumps. That is the Colosseum for you.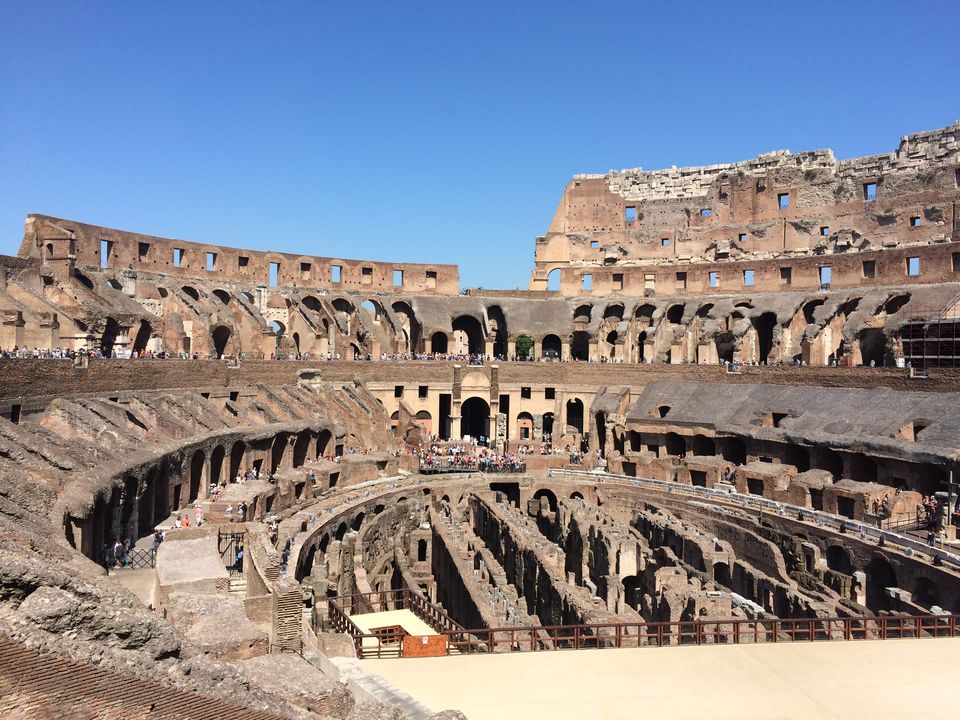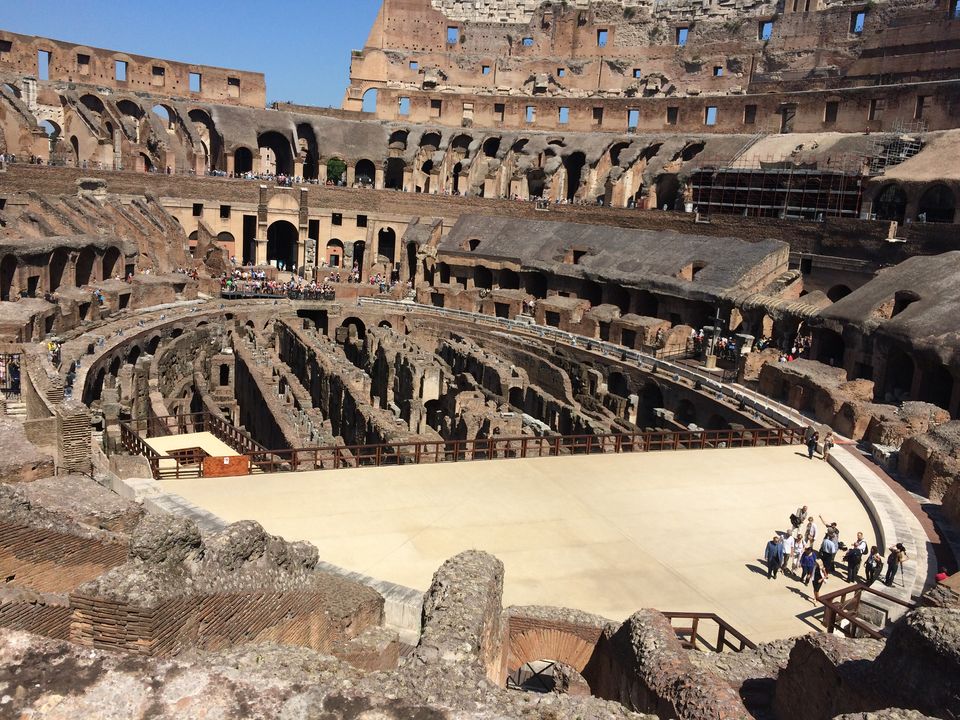 After I visited Colosseum, the Roman Ruins was next on my list. It was around 2 p.m. when I entered the ruins of imperial Rome. If a glimpse of the ruins fascinated you, it was nothing compared to when you actually enter the ruined imperial Roman town to sight see. A google search will tell you that the ruins amidst the Piazza Venezia and mount of Campidoglio was a business centre of ancient Rome. It was where the royals resided amidst the Farnese gardens that spanned acres, priest quarters, churches, vineyards and small villages.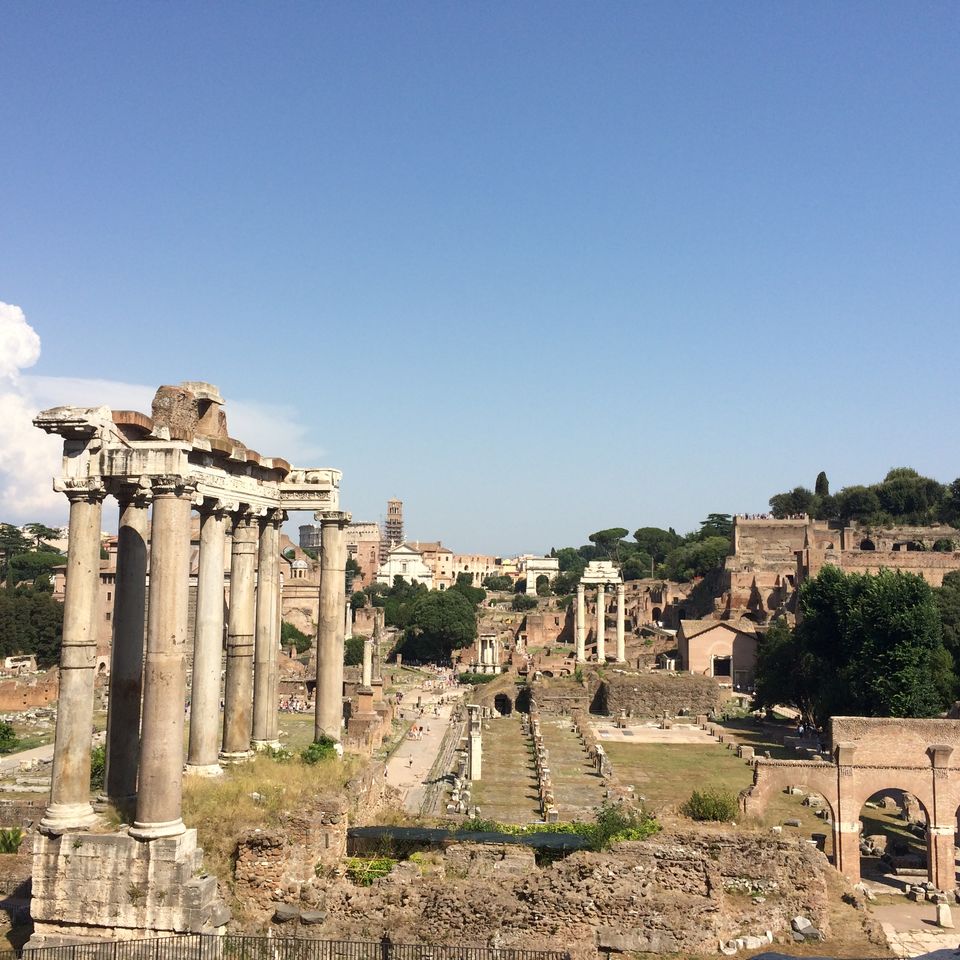 Along with the ticket you will get a map with over 50 locations marked. Do not be fooled by the way it looks once you enter. It spans acres and you might want to take some time to explore if you are a history junkie. Since directions given in the map are not accurate, it takes time to figure out few marked locations. There are options to hire an audio guide or tour guide for 20 euro but I feel it takes the fun out of exploring.
I made the mistake of exploring the ruins on the same day as the Colosseum. It was enervating. So it is better to get an early start, around 8.30 a.m. when the Roman Forum opens for public viewing and finish it by lunch time. It is advisable to pack snacks and water bottles to keep up your energy levels. For, depending on your interest, it maybe anywhere between 3 hours and 6 hours. I could hold out only for 4 hours and had to miss few locations due to sheer exhaustion.
Despite the handicap of summer heat, I could immerse myself in the atmosphere of what once was. The charm of the ruins was irresistible. It was the city the brothers Romulus and Remus created after their descend from the Palatine hill. It is the remnant of what I have only read in history.
Rome the way it is now, is a tourist hub and has embraced modernity. But the broken-down churches and disintegrated imperial city are very much a part of it. It is this picture of perfect harmony that I took with me when I left Rome after five days.