Arrive at least 20-30 minutes early for your train to allow plenty of time to get to it. A coolie (the Hindi name for railway porters) is useful not only to carry your bags, but also to get you to the right car on the right train. If you get to the station only a few minutes before your train, he can keep you from missing it. If you are traveling in unreserved class, a good coolie can wriggle through the crowd and (usually) get you a seat while you follow comfortably behind. This is extremely helpful because many people traveling in unreserved class don't get seats, and they may end up sitting on the floor or even standing the whole way.
Reservation lists for each long-distance train are posted on the notice board at each station 2-4 hours before departure, showing the name, age and sex of each passenger along with the wadi and berth numbers. If your reservation is not confirmed, your ticket will have "W /L's and a number, which indicates your position on the waiting list. To find out whether your reservation is confirmed, call the railway enquiry number. The reservation list will also be posted on each coach of the train.
The departure time printed on the ticket is not absolute. the correct departure time on the day of the journey (at the station or through the railway enquiry number printed on your ticket). Tickets are printed up to 60 days in advance, so schedules can change; and, of course, the train may simply be late, sometimes by as much as 18-20 hours if there has been a serious accident.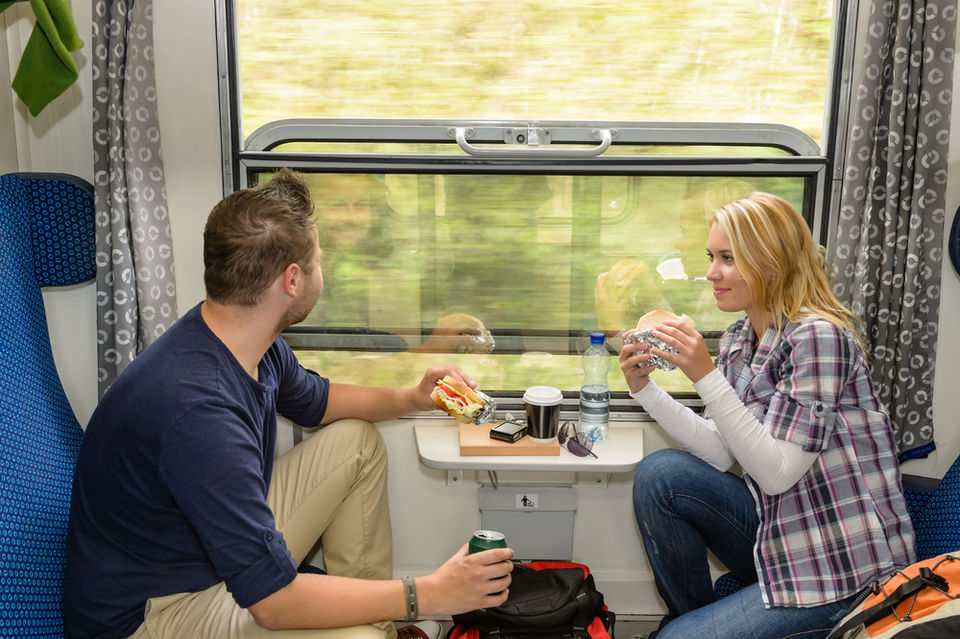 Food for the Journey
If you are traveling by Rajdhani or Shatabdi (except the Jan 5hatabdi), meals are included. On other trains, itinerant vendors board the trains at many stations with food and beverages for sale. The kitchens in which these meals are prepared often have very questionable hygiene, however, so it's safer to pack your own meals. You just need to do a bit of advance planning. If you are taking an overnight train, you can often have dinner before you leave and breakfast after you arrive, eliminating the need to bring anything but water and a snack or two. Restaurants can usually pack a meal for you. Just refrain from ordering wet preparations that may leak all over everything. At long stops, you can get off and buy snacks, etc. on the platform. If you do get off, of course, be sure your luggage is secure so it doesn't disappear in your absence.
If your journey is very long, be sure to bring extra food. Bananas and oranges are good, as are biscuits, dried fruits, nuts, juices that don't need refrigeration, etc. Never accept food or drink from strangers, no matter how nice they seem. Instances of passengers being drugged and robbed are not uncommon.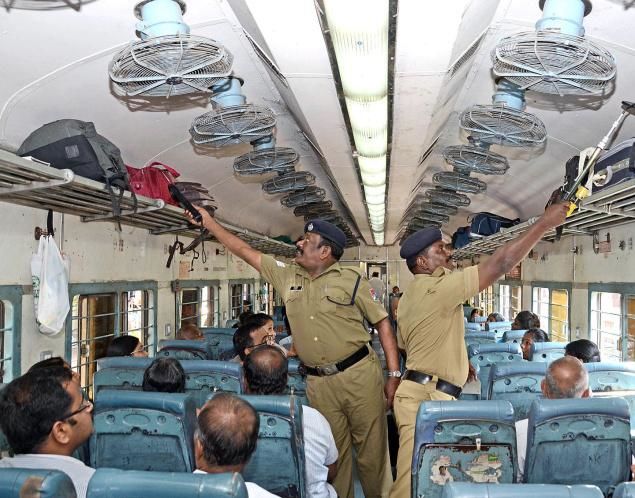 Security on Board
The more expensive classes are more secure, especially 1AC, which has attendants and lockable compartments. Don't rely on other passengers to watch your bags. If you are traveling in unreserved or sleeper class, you have to be extra careful.
Always secure your luggage to the racks or luggage loops below the berths with a good lock, especially if you are going to sleep or if you will be leaving your baggage unattended for any reason. And do lock all the pockets and zippers. While securing your luggage, keep your day bag and valuables on your person or right in front of you, not on the seat where someone could snatch them as they walk by, which happens fairly often, especially in the lower classes of travel.