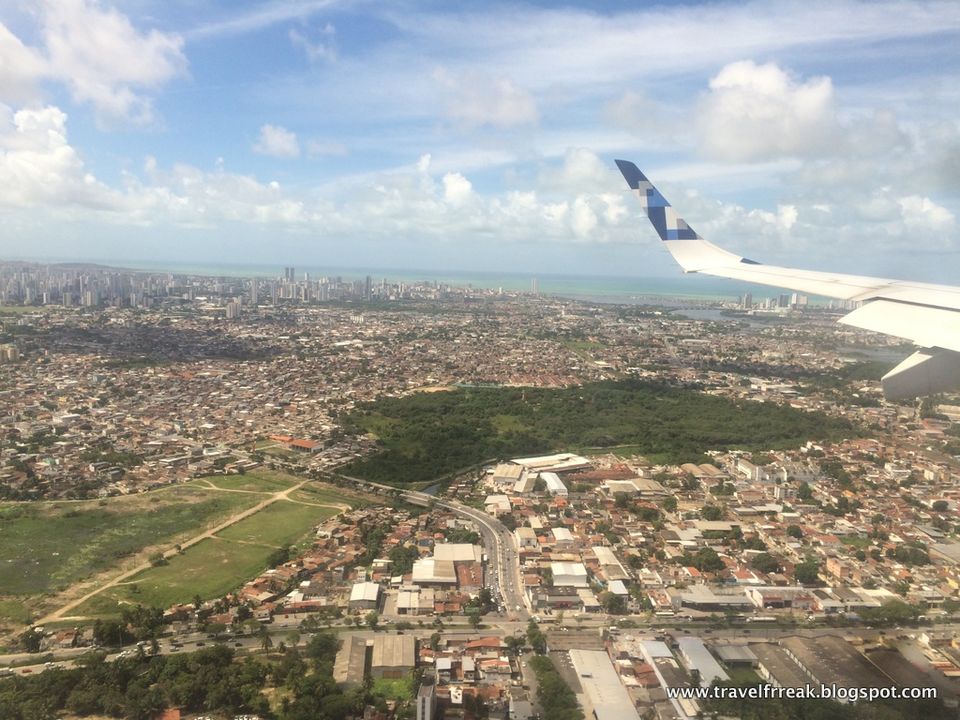 This trip was originally published on travelfreak
I have wanted to visit Brazil for a long time (actually go to South America itself) and finally booked an 11 day vacation for summer this year. It was actually quite cheap (relatively!) to go there in Brazilian winter when supposedly its the low season. I wonder why that is so especially since the weather is quite comfortable and pleasant during winter. I would think summer would be worse with temperatures going up to 40 degrees but thats how it is. Anyways it meant lesser crowds and better weather for us and I am not complaining. 
Where to go 
When I started planning the trip, I realised that 11 days were not enough at all! Brazil is a huge country with diverse places across its length and breadth. The culture, landscape and weather varies a lot depending on where you go and hence you need to pick the right places based on your interests. My final itinerary was as follows, I picked up two very different nature based experiences which were specific to Brazil - diving and wildlife:
1 day - Rio de Janeiro
5 days - Fernando de Noronha (an island off the North-east coast of Brazil)
4 days - Pantanal (wetlands in South-west Brazil, an easier alternative to Amazon forest)
We also spent a lot of time travelling between the places as distances and flying times were quite long.

During my research, I read about many other places which deserve a visit if you are there longer. Here's my list:
Near Rio - city of Paraty known for its colonial history and culture; island of Ilha Grande for relaxing on a remote island away from the city; Buzios for a fun relaxing seaside town about 2.5 hours drive from Rio
Iguazu Falls - supposedly the best falls in the world and require a two day trip from Rio (potentially Argentinian visa too)
North-east Brazil - Salvador, the African cultural hub of Brazil; Recife, a beach resort in the north; Olinda, another colonial town in the north
And of course the Amazon forest, but that needs at least 5-6 days to make that trip worthwhile
Travel within Brazil 
Throughout our travels we crisscrossed the country multiple times, landing and changing planes at multiple cities and seeing the changing landscape from above. We spent two days flying within Brazil and spending so much time in the air looking down made me feel I knew the country a lot more than just the three places we stayed in!

For our fight from Rio to Fernando de Noronha, we landed in Belo Horizonte first and then Recife. As soon as we left Rio, the landscape became green and mountainous, and had clouds trapped between them. From the top, it looked like cotton spread all around, and this view continued for a long time. And just before Belo Horizonte, we flew over wetlands where the rivers made funny shapes on the landscape below, like bows. When we landed at Belo Horizonte, the land became flat and we could see farmlands as far as the eyes could see.
From Belo Horizonte, we flew to Recife and I can't forget the first view of the city. Emerald green waters all along the coast, white sand beaches next to it and the high rises stretching all along. And behind the high-rises, the city filled with slums till wherever you can see. The difference between the two faces of Recife was very stark! I have never seen so many high rises in a single city other than New York, but then behind them, 80% of the city was covered by shanty houses. Its a scene which I cannot forget. And you can see it only when you fly. For people visiting Recife, they will never get to see the real city, the 80% of the city. All they will see and know is the emerald green sea and the posh high rise hotels just next to them. But thats how it is!

Anyways, while flying from FDN to Cuiaba, we again stopped at Recife and then Campinas. We also had to stay in Campinas overnight in some airline hotel as our flight got late and we missed our connection. The hotel was outside the city, so we did not see anything there. Once we reached Cuiaba, we did get a chance to drive through its small streets and lanes and realised how terrible driving could be in Brazil:). When flying from Cuiaba to Rio we stopped only at Brasilia, the unknown capital of Brazil. Don't remember much of it other than it was huge and you can see lights till wherever the eye can see.

We flew with Azul from Rio to FDN and then FDN to Cuiaba. I must say, we were very impressed with their service. Even with two very short transfers for each flight, everything was well managed and our luggage was duly shifted on time. And once when our connecting flight was getting delayed, we were again impressed by how they reached out to us, helped us change our tickets and then plan the whole change efficiently. The only not so great fact was that they don't serve proper food on the flights. Only snacks - gummy bears, muffins, nuts and so on - irrespective of whether its time for lunch or dinner. 
History and culture 
Brazil has a very interesting history. It is the only Portuguese speaking country in South America, sharing its border with old Spanish colonies. An interesting part of its history is that when Napoleon had attacked countries in Europe, the Portuguese king had shifted his capital to Brazil, to Rio!! So for 13 or so years, the seat of the Portuguese empire, was not in Portugal but in Brazil! I haven't heard of any similar situation in any of the other colonies.

Everyone in Brazil speaks Portuguese, but apparently its different from the original Portuguese and its tough for one to understand the other. Also, English is not spoken widely and this can be a bit of a problem for tourists. Brazil was ruled by the military in the 60s and the 70s when they had banned learning any language other than Portuguese - this could be one of the reasons for that.

People in Brazil are quite mixed. People who are white (from Italy, Germany, Portugal and so on), the African slaves who were brought from Africa and then people of all shades between the two. I don't think I can guess looking at someone if they are Brazilian or not. It made it very easy for us to blend in too, we were not that different from all the others around.

The biggest wave of immigration happened about 450 years ago when Germans, Italians and the Japanese shifted here. They all got free land from the Portuguese government to come to Brazil and start agriculture here. Most of the whites settled in the south of the country which is less "warm" in more ways than one than the rest of the country. The Africans who came here mostly settled in the north which is warmer. And hence within the country you have two different cultures, the warmer culture in the north and the whiter colder culture in the south (or so I heard).

Overall, Brazil felt much more developed than India. It got a head start as it got independence in the mid 1800s and has moved fast since then. I did feel that the culture was a bit lacking - I did not see anything which I felt was different about Brazil. Maybe its because of the places I visited, which were not really the culture capitals but more the nature capitals. But still I felt it the entire time. Maybe its the fact that everyone here is from elsewhere that might have contributed to it. But Brazil is definitely not a Mexico or Tanzania or Vietnam with deep centuries old history of its own.

Other random titbits
Getting a visa for Brazil is easy - it had a relaxed visa process and not too expensive either (other than if you are an American, and I can't say I find any fault with that)
Winter is a great time to visit Brazil. The weather is quite warm, always above 20 and mostly above 30
There are 4 time zones within Brazil and its a good idea to check before flying or making any bookings
Like the US, food portions are generally too much, so you need to be careful when ordering!
Mangoes are common here and apparently they were imported years ago from India
You need to be careful with your cash and cards. Cash was taken out using our debit cards, even though we used them very carefully and only at safe locations
This trip was originally published on TRAVELFREAK.