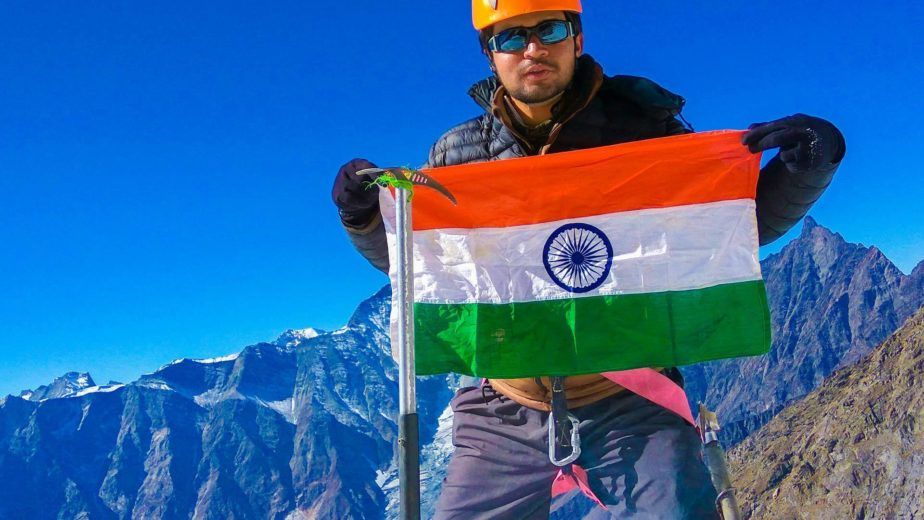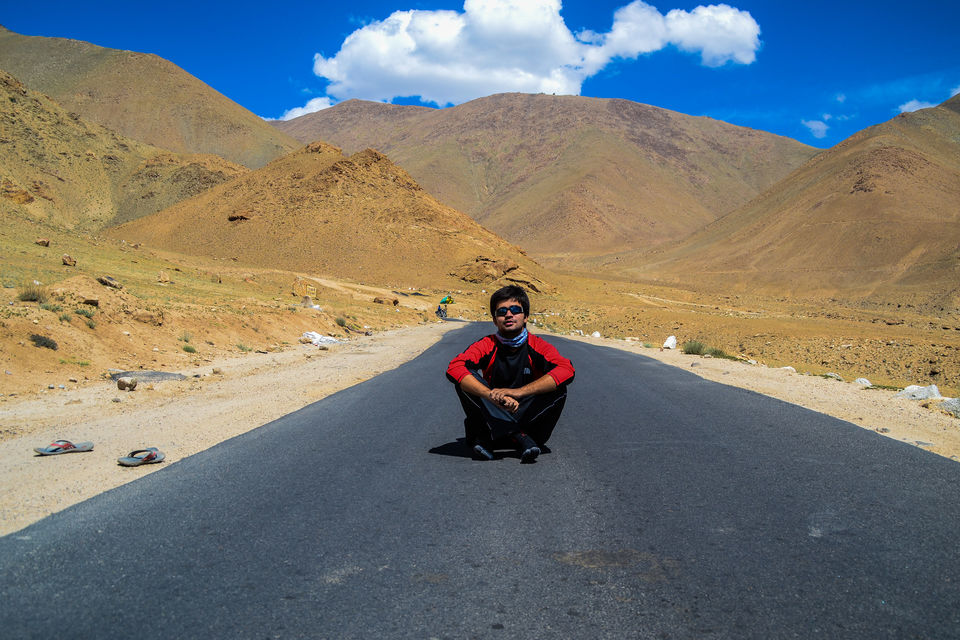 I am more than a buff when it comes to Social Media, I am online 24 hours a day. I guess I read status updates even in my sleep. Being a Travel geek myself, I have a lot of people cluttering my feed with #Mountaindiaries, #storiesfromthehimalayas, #stargazing, #tigerwatching and so on and so forth. I genuinely fall in love with some stories and photographs while to show a spontaneous aversion to some I unfollow or block them instantly. The reason behind admitting all this is to give a back-story as to how I came across Parth Upadhyay. Not every day I come across updates from someone who treks Stok Kangri this week and Friendship Peak the next; when he isn't trailing the Himalays he's watching a sunset atop somewhere in the Western Ghats, the most un-adventurous thing he ever does is maybe sitting in Mumbai and researching and/or planning new treks. In times when everybody is so stuck with Higher Education, Jobs and deadlines this guy lives and earns from exactly what he loves to do. Though this isn't anything unique but quite rare, really! So I went into a conversation with him to know a few things I, personally was curious about but as and how the conversation proceeded I was left with more than just an Inspiring tale of dream chasing.
Parth Upadhyay is just 21 years old, currently living in Mumbai and working as a Trek Leader in an adventure company named Darkgreen Adventures. He organizes and leads treks around Maharashtra, backpacking trips in the Himalayas, Bhutan and in the south. Having led 50 treks as of now and been on 150 treks spanning terrains like the Sahyadri, South India, Deserts (Rajasthan) and a few Himalayan Passes, his dream expedition is something to know about.
So here is the Q/A type conversation I had the chance of having with him while he was still in the plains (something he very rarely does) -
Q - What did you do your higher education in?
Parth - I have completed my graduation in Aircraft Maintenance Engineering from Ahmadabad. I graduated in June 2016.
Q - So basically you are trained to fly? Didn't your parents object you choosing to climb Mountains instead of an Airline job?
Parth - Obviously there was a lot of resistance when I first revealed my desire to take up trekking and travelling as my profession. Before the end of my last semester, I had good paying job offers from 3 major airlines of India but I rejected them all without even discussing it with my parents. When they got to know about it, they weren't very happy. Their major concern was how climbing mountains will earn me money, which is a very genuine concern. But I was very clear about my ideas and was very persistent with my actions and work. I used to travel to Mumbai on weekends from Ahmadabad just for 2 days trek. They saw my dedication and passion for it. Eventually when I started organizing treks, they saw that I am earning enough to at least fend for myself which gave them a little assurance.
Q - To take up Mountaineering as a profession, did you do any specialized courses or training procedures?
Parth - I have not done any 'specialized full time course' per say but I have had many mentors who have given me one on one training in the mountains over the years and I believe one on one training by an experienced person is much more effective than being part of a course with 120 students. I have done around 150 treks in the past 6 years. That surely was a course by itself. Mountaineering is a sport like any other which demands very high level of physical fitness. My training regime consists of running, a lot of cardio and muscle strengthening and endurance based exercises. I train for around 4 hours a day.
Q - Was dedicating yourself to the mountains a decision that suddenly strike you or a decision made over prolonged visits to the mountains? (What old were you at the time of making the decision?)
Parth - It all happened after my 10th board exam. It was the vacation time and my dad was watching the news. He called me in to see the news of a 16 year old boy from Noida who had climbed Mt. Everest. Knowing that, made me surprisingly restless, a spark was ignited in me and I felt even I should try trekking. The very next day I was browsing online and found about a group who had organized a trek to Kalsubai in Maharashtra the coming weekend. I signed up for it and went for the first trek which changed my life and got my soul hooked to trekking.
Q - What all are your fields of action/knowledge?
Parth - As of now, I specialize in trekking, mountaineering and backpacking though I would love to expand my horizons when time comes.
Q - The one most memorable moment for you in all the treks till date?
Parth - My first ever trek was on Mt. Kalsubai after I saw the news about Arjun Vajpai, one of the biggest mountaineers from India. 6 years later I was able to invite Arjun Vajpai for an 8 day long trek in the Sahyadri's. I made sure that we begin the trek with Kalsubai. Standing on the summit of Kalsubai with the only person responsible for getting me hooked to mountains, was priceless. A very important circle had ended for me. I got to tell him this story on the summit and I will remember that moment for the rest of my life
Q - I actually got to know you through your updates from The Stok Kangri trek and the Friendship Peak Expedition. Tell me a little about your experiences from those two of the most 'awaited expeditions' as you say.
Parth - Stok Kangri had been an obsession since 3 years. In June 2016 I finally got the opportunity to attempt it. This would be my first major expedition and I left with mixed feelings. I got the first glimpse of the massive peak after reaching Leh and the first thought that crept into my mind was 'what did I let myself into? How on earth will I climb this?' But at the same time the beauty of it gave me the much needed inspiration. The trek till the base camp was pretty simple but extremely scenic. As we gained altitude, I only felt stronger. Our summit push began at 21:30. We climbed all night in subzero temperatures, crossing glaciers, negotiating crevasses, climbing steep slopes, traversing sharp ridges. All night I kept speaking to myself that 'This is what you wanted to do and this is where you wanted to be. You are one of those few people who get to live their dream. So don't you dare give up; Just keep the one step after the other'. At 8:30am, I finally stepped onto the summit fulfilling my dream and an obsession of 3 years. I looked around and saw the view which I was longing to see for a long time. Tears rolled down my cheeks and I could feel my soul satisfied.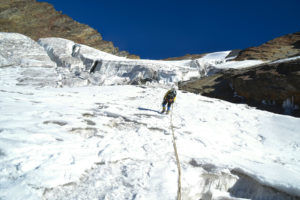 Mt. Friendship peak lies in the Pir Panjal range near Manali, Himachal Pradesh. After Stok Kangri, I was looking for a peak technically a bit more challenging to climb so that i can push my game upwards. A mountaineer friend recommended me to attempt Friendship peak in October. October, because it was the most difficult time due to its snow and ice condition. I always wanted to do an alpine styled expedition and this time I felt like I should give it a shot. I called up a friend in Manali and convinced him to tag along as my climbing partner. For the success of an alpine styled expedition, planning was the most crucial bit. Each an everything needed to be in 'the perfect' place; Ration, equipment's and gears, stove and cylinder, utensils, medicines, clothes, tents and sleeping bags etc. So after reaching Manali, I did some last minute shopping. After doing the final packing, I weighed my bag and it came to a whopping 35 kg. I had no idea how will I be able to carry this much load on my back in an altitude where each step requires the energy of 10 steps. The first 3 days of the trek was relatively easy. We could see the terrain change from trees to grasslands and to lifeless lands of black rock and snow as we climbed higher. After 3 days of trekking, we reached the final camp called Lady leg. We camped the whole day as we were to do the summit push at 12am. I stepped out in the evening and I could see raging clouds over the summit. If the weather didn't improve, we would have to wait for another day at least. I went into my sleeping bag to catch few hours of sleep and hoping the weather to clear up. My alarm rang at 11:30pm and I sprung out of the tent to see if the weather had cleared up. I saw the most spectacular sight. The sky had cleared and everything was so calm. The summit slope was reflecting an intense blue moonlight. It was heavenly. I felt the mountains calling me and I was charged with energy. We set out for summit wearing huge climbing boots and 5 layers of clothing with ice axe in my hand. My thermometer read -25 Celsius but I was sweating from inside due to the efforts I was putting in climbing up. Sudden chills would hit if we stopped even for 10 seconds so we had to keep walking slowly and steadily. We reached the glaciers starting point and put on our crampons. The glacier made continuous cracking sounds coming from different direction every time. It was so scary to think that the ice below my feet can open up anytime and swallow me right in leaving no trace of my existence. We tried to cross the glacier as quickly as possible. After crossing the glacier I decided to drink some water only to realize that the water in my bottle was just a frozen solid. The dry air up there was at its brutal best and we were rendered waterless, until sunrise. We reached the shoulder by sunrise. I was extremely tired and dehydrated. I needed a long break now that it was a bit warm. I drank some water that was now fortunately, water. I had some dry fruits and biscuits. The toughest bit of the climb lay ahead of us. There was a huge glacier with deep open crevasses, a climb on a smooth vertical rock and a steep walk up the summit slope. We started the final push. When we stepped onto the glacier, we saw a massive avalanche below us. It gushed down the slopes we were on only 30 minutes ago. Had we been in the way of the avalanche, we would have been churned and buried in the snow. The ice was getting less stable with the rising sun. It meant we had to hurry up. We reached the base of the red rock which we had to climb. It was one of the toughest climb I ever did so far. Now I could see the summit not very far. I started walking on the final steep slope before the summit and even before I could feel it, I had summited Friendship peak. It is a very small summit and is hard to stand on with both feet on it. I unfurled the national flag, devoured the view and breathed some life!
Q - I was so hooked all this while that I could feel each and every step that you took. Dude, thrilling would just be a word in-front of your experience. So two high altitude treks couldn't have gone without any disaster, right?
Parth - Of course not, I had my share of accidents. On the summit day on Friendship peak, at around 5:30 in the morning we were about to reach the shoulder when I suddenly took a wrong step and fell into a 40 feet deep crevasse. I was able to somehow slow my fall down using my legs and back on either side of the wall but I had hurt my ankle badly. After reaching the bottom of the crevasse, I tried to climb up using my ice axe and crampons but the walls were just so hard and slippery. It was impossible to find grip. It was like a soapy glass wall. Soon all the stories which I had read about people dying in crevasses started to flood my mind and I gave up trying. I could hear the ice cracking around me and was filled with sudden fear. The crevasse was so claustrophobic, dark and wet, it felt like death. I heard my friend shouting from above and he got me out of the trance I was in. He had anchored two ropes on the top and passed it in. One rope was attached to my harness on which he would pull me with and on other rope; I attached a jumaar (ascender) to help me climb out. After a lot of trying, hard work and combined effort of the both of us, I was out. We both lay on the floor silent for a while. I was unable to move my sore hands. He told me that we should go back. I looked at him and said my hands and my legs are working and we are much ahead of time so I am not going back until I give it one more shot and so we continued onwards. Not many people get out of crevasse alive and I count my blessings and I don't take it for granted.
Q - Do you have your lucky charms when completely alone out there in the cold wild?
Parth - I've never believed in the concept of God that I see around me but I do believe in a Supreme Power. I had gotten a prayer flag from a Lama in the form of good wishes and luck in Leh before my Stok Kangri expedition. I always keep it tied to my bag before going to any trek. When I had fallen into the crevasse, I touched the flag and asked for strength to get out of here. It gives me a strange sense of protectiveness.
Q - What is the next big step you are looking forward to?
Parth - I have set my eyes on Mt. Elbrus, the highest peak in Europe and have started training hard for it. Mt. Elbrus has been a dream for a long time and now I feel confident enough to attempt it. The expedition is scheduled to take place in July. With each drop of sweat I pour during training, I'm getting closer to it
Q - What is the Everest of your career plan? (The ultimate place where you see yourself)
Parth - Ultimate goal of my life is to climb all of the 14 peaks which rise above the altitude of 8000 meters or at least die trying.
Q - How would you distinguish between group and solo treks? Or would you prefer distinguishing at all?
Parth - Being someone who has done both group treks and solo treks, I would say solo trekking is much better if you know what you are doing. In solo treks, you have the company of nature and even better, company of yourself. I got to know myself so much better in the solo treks when I got to spend uninterrupted time with myself. In group treks one is always busy interacting with each other that we miss out on the amazing connection nature has to offer. One is bound by rules made by humans when trekking with a group but that's not the case when you are alone. You make your rules. But trekking solo can be very dangerous when things go wrong so one has to be prepared for all the possible outcomes.
Q - Something you would like to say to us who wish to make it in trekking and travelling but are held back by thoughts like money and stability?
Parth - I am no one to be giving advice, I am just 21. But speaking from my experience, following passion is simple but chasing only money is a little tough. Unfortunately in this world, money is important and it is good to have big houses and fancy cars so why not create a way instead for us to earn money by doing what we love. There will be obstacles on every step but one has to be very strong mentally. You have to love your dream and your love will be tested every day by people do not believe in you. It is your dream and you have to protect it. If I could do it, anybody can. Find the Everest of your life and dare to climb it, make your dreams worth their while.
Connect with Parth on Facebook and Instagram
No copyrights for the Photographs intended and have been submitted by Parth Upadhyay
This a 31 minute documentary of The Stok Kangri Expedition made by Parth Upadhyay.
This blog was originally published on 'SOHAM BISWAS'