I strongly believe that the world is full of good people. With all the negativity around, this belief serves as my daily dose of positivity. And with this very same idea in my mind, I planned my 12 day long solo trip to Rajasthan.
Solo trips have both the good and the bad sides. Though I was only looking forward to the good out of the trip, my parents were a bit disturbed with this decision. They felt, it wasn't a wise decision to travel solo for so long. So, when I told Baba, not to worry, as things will be fine; I hardly knew that I will live up to my wish so well.
With this blog I will introduce all those amazing souls who touched my life during the Rajasthan trip. A subtle way to thank them and share across the memorable moments I had in the places that I visited.
Udaipur
Let me start by talking about Hari aunty and uncle. They were the host to my quaint, cozy, homely, and extremely pleasant home stay of Udaipur. From sitting with me for the morning tea, to sharing her secret recipes, feeding me with her own cooked food; aunty and uncle, made me feel like home.
The second day at their place was my birthday. The moment they heard it, I knew a surprise was waiting for me. Off she came with a cute birthday gift. As I came back after visiting Mt Abu that evening, she treated me with the most gorgeous dinner ever. Just like Ma would do back at home. My tears couldn't hold back when she brought me a bowl of rice-kheer. Away from home, I spent my birthday with a new family.
Right in the heart of Udaipur, near the Pichola Lake, lies many intersections of narrow lanes, numerous shops, temples, and the way to the various tourist places. With each junction looking like the last one and every corner resembling the other, I could hardly mark a landmark on the first day. Who came to my rescue then? Not one but many smiling faces; the shopkeepers, the localities, and the policemen. Each time I asked them a route, they stopped by, smiled at me and showed me the way. These guys in the picture were one such group whom I stumbled upon more than once. "Kya madam ji aap fir se raastey bhul gaye...Yeah lane pakar k sidha chalte jao...."
Those who have visited Udaipur for once, would know that you find artists in every lane there. But then what makes the truest of artists different from the group. Having met one very talented person, I now know what separates him from the rest. Shyam uncle of Gothwal Art, you are an inspiration. Humble and true at his work, with a smile on his face he keeps creating something unique every single day. He has a story behind every child that he has so patiently crafted. I visited his shop for the three days that I stayed in Udaipur. Not always to buy a piece, but to hear him, watch him, or just for a glass of water. The glass of cold water that Vimla aunty handed over every time, was the sweetest gesture I came across during my entire trip of Rajasthan.
Pointing at all the paintings on the walls, he asked me which my favorite was. I pointed at two. Taking out two small sheets of paper and his special brush, within a minute he sketched them to me. That is a true artist; always ready to share.
Jodhpur
Only if I could dedicate a diary full of emotions for Jodhpur, I would feel satisfied. Ahh, not satisfied; cause the experience I had there was way above all. My stay at Sadar Haveli in Jodhpur, was one of its kind. Firasat bhaiya, the host of my homestay at Sadar Haveli; I haven't seen a more humble and helpful person as him. Want to know why? Here I go:
• He coordinated with me from the very moment that I made the booking.
• I was on my solo trip in Rajasthan. So, he took extra care of my safety and comfort.
• He himself came down to pick me up from the bus stand.
• He arranged for an auto to take me around the city. The auto bhaiya too was a very genuine person.
The plate of mirchi bara and bread combo that he welcomed me with, the hour-long story session I had with his father (uncle ji), every time he accompanied this solo traveler me for food, the special dishes that he asked his wife to make, and the numerous acts of generosity that he showed; a big thank you for all of them.
P. S. Did I tell you that bhaiya gave me company for every cup of tea and meal I had? Giving company to a solo traveler, to ensure that boredom cannot get in.
Rajasthan being the land of music, I met and heard numerous folk singers. But the two singers I met in the Mehrangarh Fort of Jodhpur, made a special place in my heart. The first singer sat right at the entrance of the fort. I caught him smiling and playing the violin to the soulful tune of "Udja Kale Kawank …. Oh Ghar Aaja Pardesi Ke Teri Meri Ek Zinddee". Being a popular song, I heard almost every artist playing or singing it, but there was something special to his tune. I sat beside him as he repeated the tune seeing me all lost. As I stood up, we bowed at each other and he smiled at me. My day was made.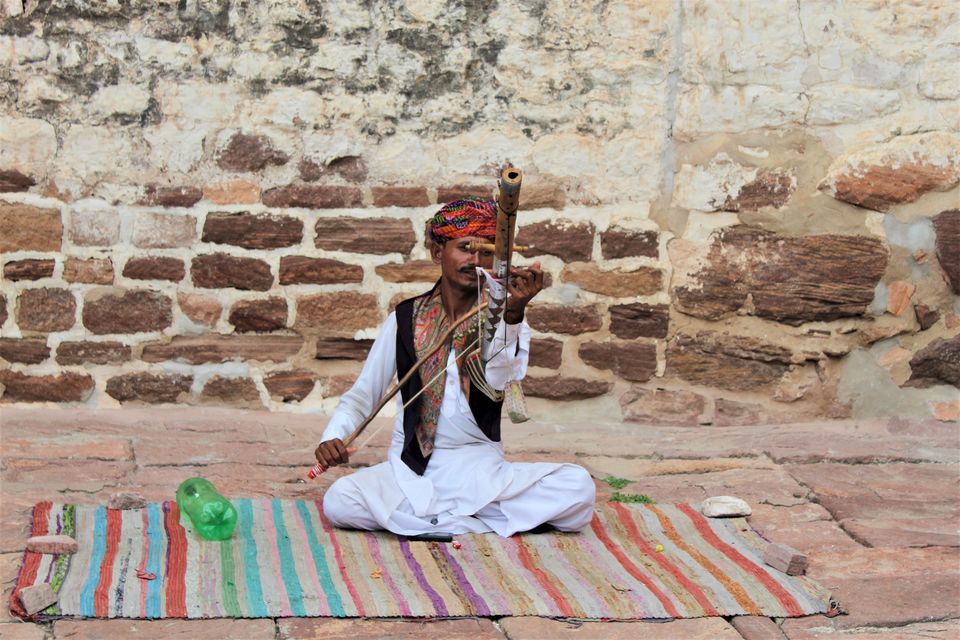 The second singer sat at the main door of the fort. He happened to be someone who knew at least 20 Indian languages. Getting to know that I am from Kolkata, he sang me one of the happiest of Bengali folk songs. He was so happy to hear me sing along with him.
A couple of more people in Jodhpur, whom I want to thank.
• The auto bhaiya who took me around Jodhpur. Places that were more crowded or extremely secluded, he stood there protecting me for anything unsafe.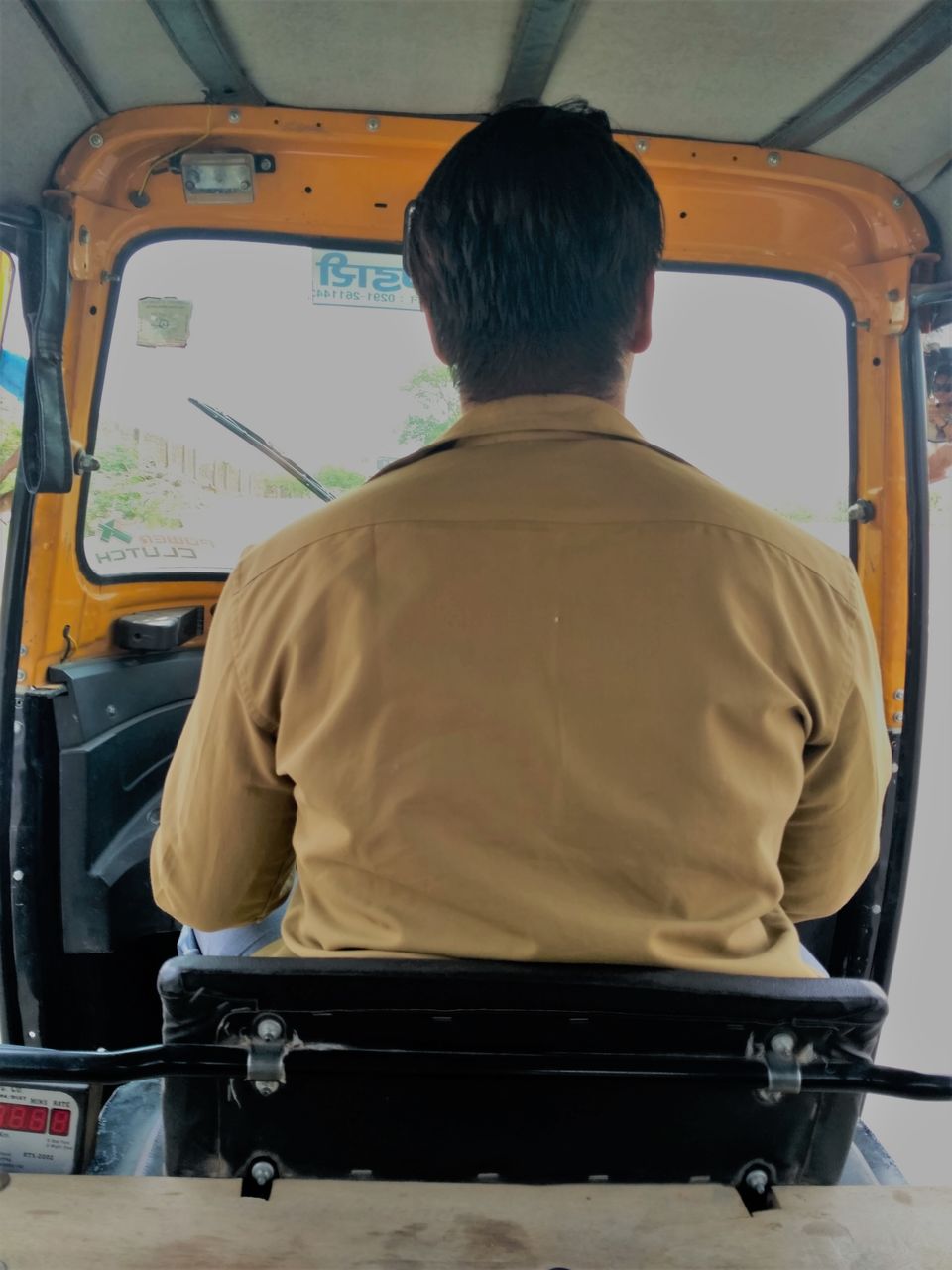 • The lady cleaning the grounds of Umaid Bhavan, who offered me a glass of water as she drank one. A motherly affection that you just can't expect a woman to let go off.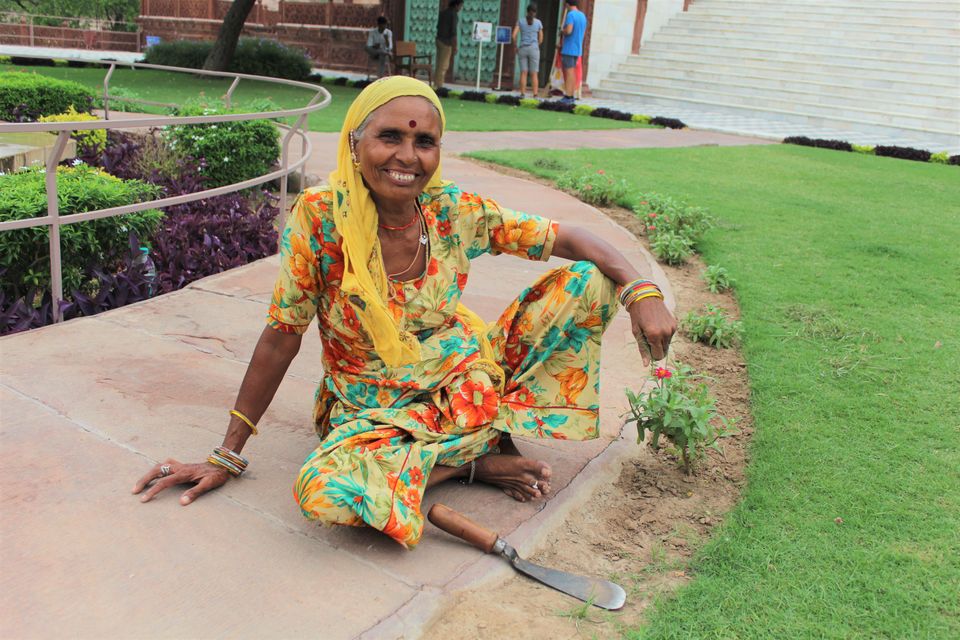 • The waiter uncle at the restaurant inside Mehrangarh Fort. He patiently stood beside me instructing me with the way to eat Dal-bati-churma. All done with eating, as I stepped out paying the bill, he came after me to hand over something wrapped in an aluminium foil. The churma that I couldn't finish, he had parceled it for me. "Beti, yeh desi ghee ka ban hua hai…aap le jao….raat ko bhukh lage toh kha lena….."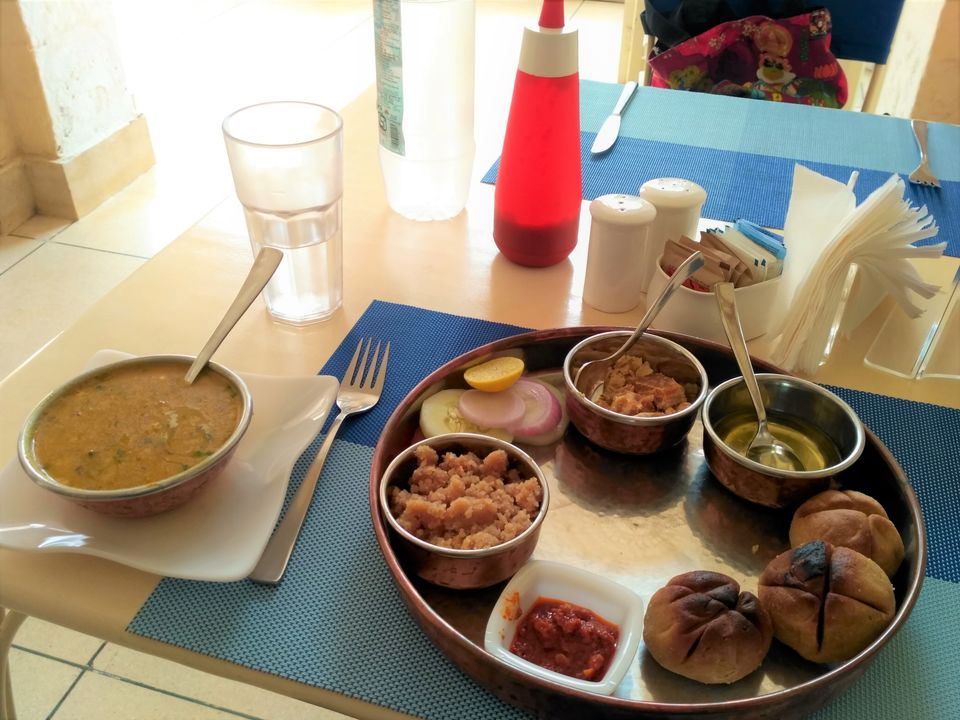 Jaisalmer
Thank you Helsinki House, for arranging the dessert safari. Money can't buy happiness all the time. But this time, I bought both happiness and an experience of a lifetime. Why I mention money here is because the great change it brought to the life of the camel herders who were an integral part of the safari that I experienced.
Few years back, with a plan to arrange a unique experience in the dessert, that would be different from the more commercialized ventures, Helsinki House started this initiative. A portion of the money they charge for it, actually goes to the family of camel herders who are an integral part of the safari. In it, I got to stay right in the middle of the dessert, ride the camel, listen stories from the camel herders, told them mine, and experienced nature at its best. As I sat there having tea with them, watching and helping them make us dinner (rice, roti, and a mixed veg) I experienced life. Life at this most virgin form, away from the city, amidst nature, and yes, full of hardship.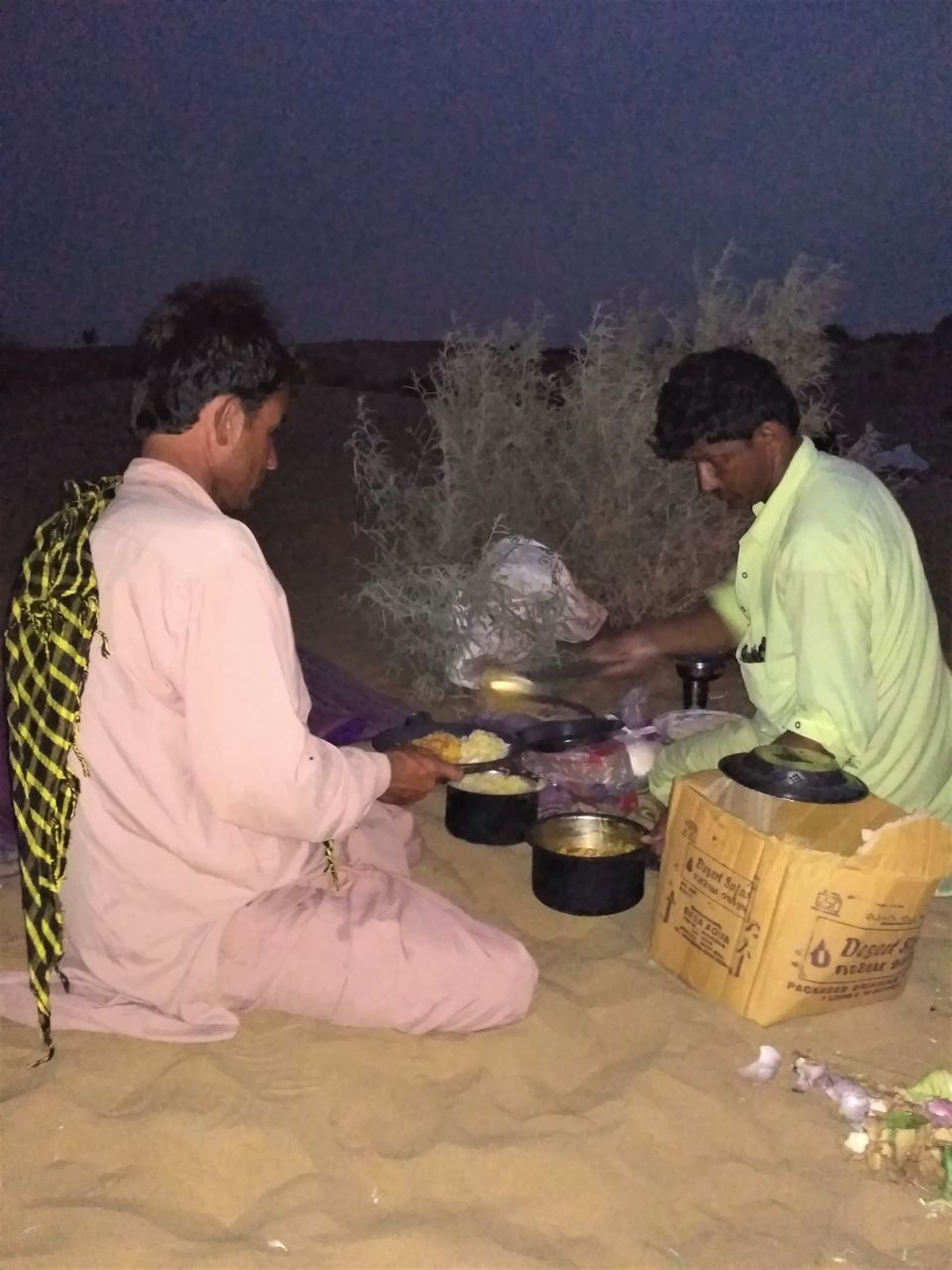 Jaisalmer gifted me a brush of heavy shower on the last evening. It rained for a good two to three hours, sweeping away all the dryness in the air. The yellow sandstone structures around got drenched in the rain, waiting to shine like real gold the next morning. I couldn't have asked for a better monsoon than this. Rain in the dessert is like that mirage effect that you would have experienced sometime, somewhere, in the middle of a long-lost highway. Only to be realistic this time and not a dream.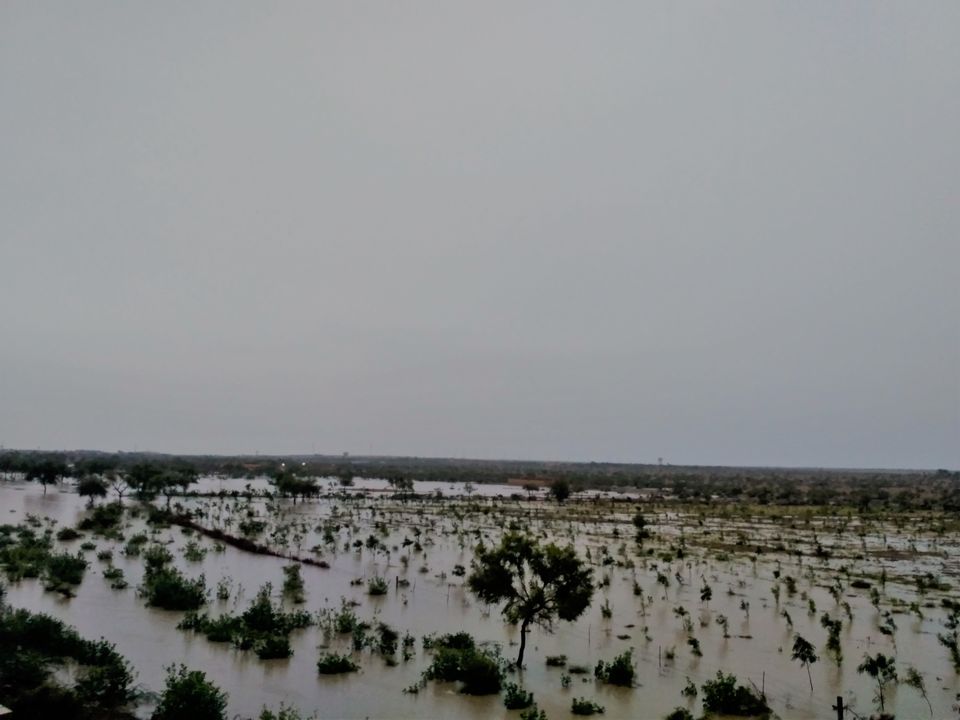 Chittorgarh
I was welcomed in Padmini Haveli in the most charming way. Mr. Sudhir and his wife had already made all arrangements for me. So much so that it felt like a breath of fresh air as I stepped inside after a day long journey by train. It was their son, a ten-year-old boy, who made me feel like home from the very first second. He showed me the entire property, took time off to go and finish his homework and came back to give me company in the evening. Satisfied with all the touching experiences for the last 12 days, I wasn't expecting anything more from Rajasthan. But Rajasthan was waiting to gift me more. And there it came in, wrapped in the energetic vibes of a positive little soul of mere ten-year-old.
Few more people to thank
Before I end my list, here are a few people I forgot mentioning about:
• The taxi driver at Udaipur who took me to Mt. Abu. We shared quite a lot of time talking about our common connection, Kolkata. And how he loves the food we get there.
• The guide at Patwon ki Haveli—he not just took me around but also reminded me of the unique places for the perfect photographs. The day after, while returning from the Jaisalmer Fort, I stumbled upon him. Recognizing me, he stopped by, gave me a lift to the auto stand, and asked the auto driver to charge me appropriately.
• The guide inside the Jaisalmer Fort—to be very honest, I wasn't very keen on taking help from them. Mostly because I was running out of cash for the day. A group of guides sat there watching me, trying to figure out my issue. One of them dialed a number and called this bhaiya for me. He was there in quick five minutes and immediately took me around. He even took me to some places out of the fort, all in his bike. And when done, as I handed him a small amount; he didn't accept it. With a smile he said, "next time de dean madamji…aap toh abhi hamare hi log ho gaye ho…firse aana family ko leke"
• The numerous people who gave me lift around Udaipur, Jodhpur, Jaisalmer, and Chittorgarh, in their bikes. Not even once with any other intention apart from helping a solo traveler.
• The auto driver who volunteered to be my guide in the magnificently huge Chittorgarh Fort.