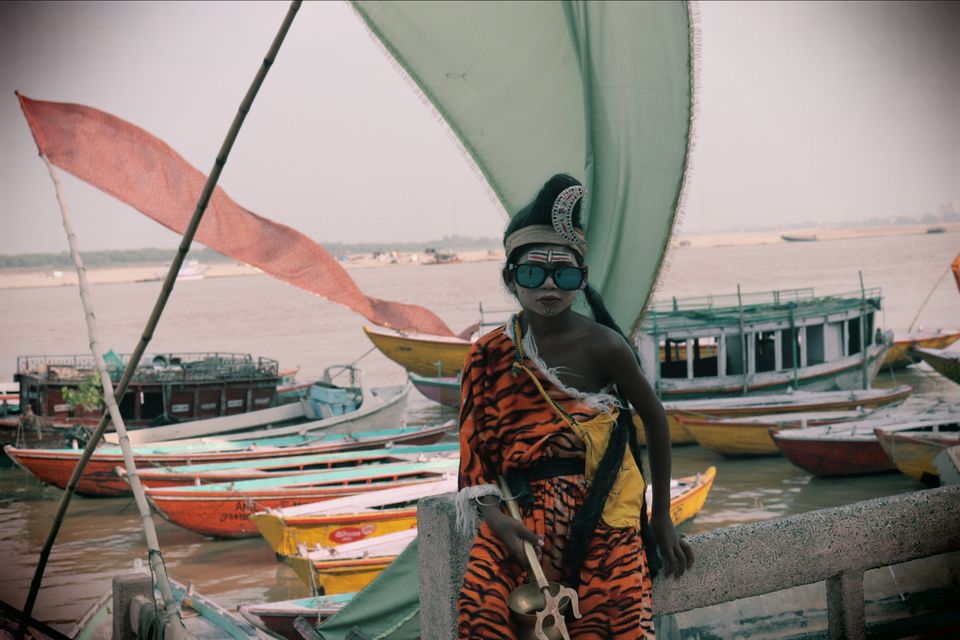 " Benaras is older than history, older than tradition,older even than legend and looks twice as old as all of them put together "
                                       - Mark Twain
Benaras - Kashi- varanasi
The beauty of Kashi is that this the place where people all around travel to die. There are so many mythology, spiritual, scientific things that holds the Kashi.
           People believe that they can be free from the cycle of rebirth if they die in Kashi or if there ashes are been dissolved in the holy water of Ganga.
       I would like to share my experience in Varanasi
   My  first day of Benaras
When I departed from the railway station I decided to take a walk through the city to the temple ... I  felt surprising...to be very frank it didn't match to the place which I had already imagined in my head by reading all those about Kashi and those videos that I had watched
        It's not like what you have seen in all those videos... it's a very well developed city...I could see tall buildings, IT parks, malls,5 Star hotels, colleges and universities... the roads were too good and it just looked like a metropolitan city... I'm not wrong it's... but later I realized all those videos and other things I have read are all only about the temples but why don't they talk about these too... I have always heard people saying varanasi.. it's too dirty...and peoples here are always splitting paan masalas....
How can anyone say like so... because they have only visited the temples in Varanasi and they are assuming everything will be like so...
When I reached the temple i just checked in one of the hostel near by . The room where cheaper than I imagined it was just 150/night..I was given a bed in a 8 sharing domentry and was also given a locker you wouldn't believe it's a AC room
So it was Monday.... Shiva day... people all over India come Yatra to varanasi. The Vishwanath temple is the core of Kashi. People have been travelling there from across the world for thousands of years.
Every Yatriga prefer Monday to visit Kashi visvanath so it's always rush on Mondays.... but visiting temple from 2-4 is always a good time because there won't be much rush. It would just take about 15-20 mintus for the darshan. Or else you need to stand in the queue for about 2-3 hours for the darshan, but special darshan tickets are also available it costs around 300 rupees.
   The Vishwanath temple is covered by many number of shops and the place is called as Vishwanatha gali. Gali is nothing but street. you are not allowed to take any type of digital products inside the temple so it's good to leave all those in the room. If not you can also leave them in any shops around the temple, they don't charge for them but you have to buy something in the shop.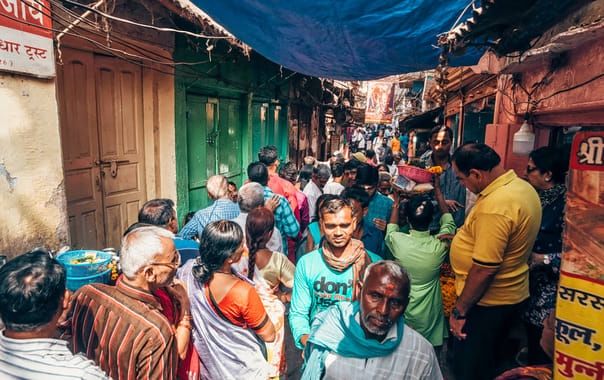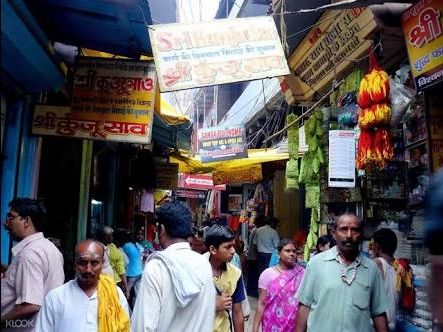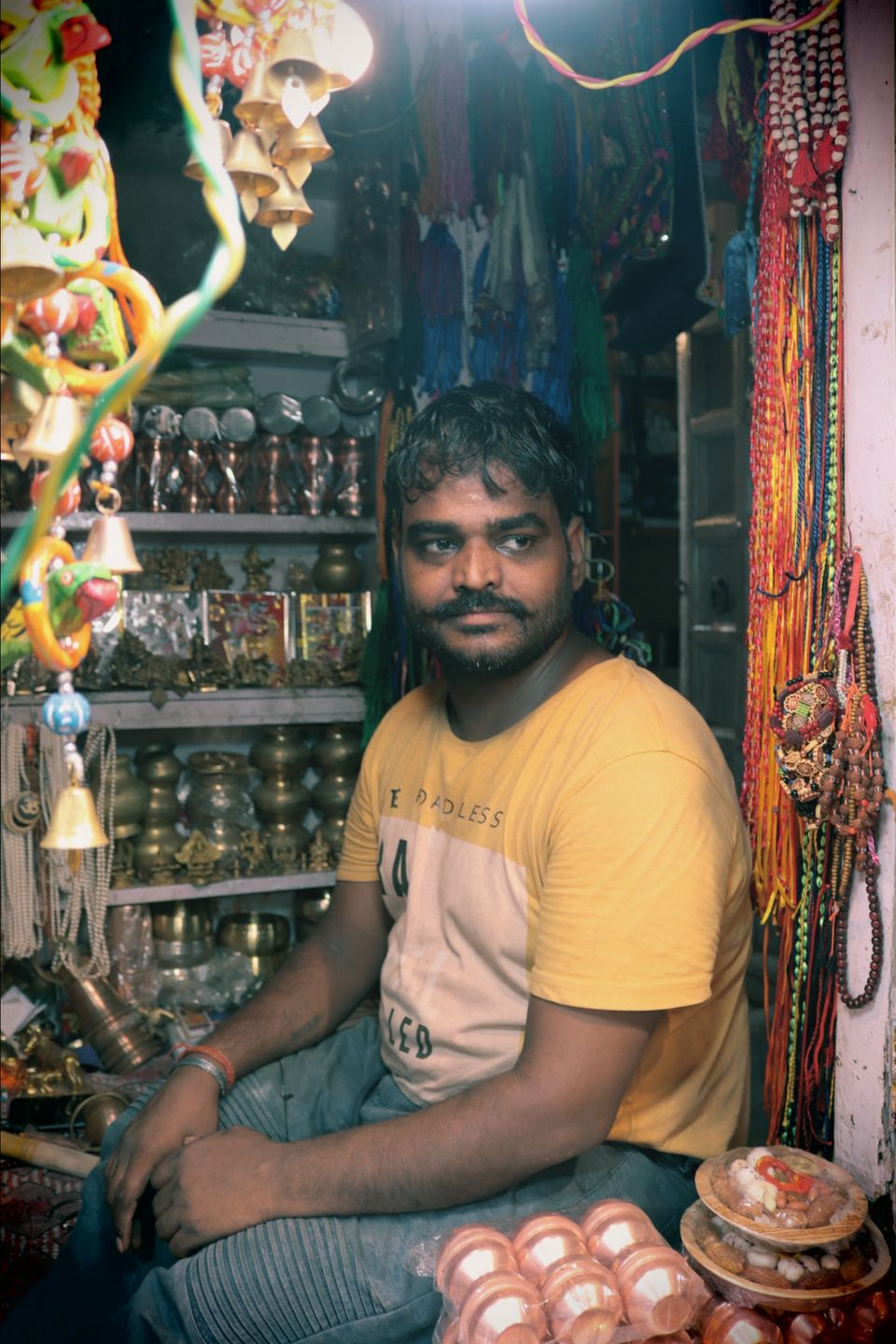 The Ghats of varanasi      
         Ghats are nothing but the steps leading down to the river. There are numerous ghats in bank of river Ganga    
      I could feel there is something magical rowing across the 88 ghats of Varanasi.... you could see the death, the fishermen, the pusari, the tourist, and so many other at a time.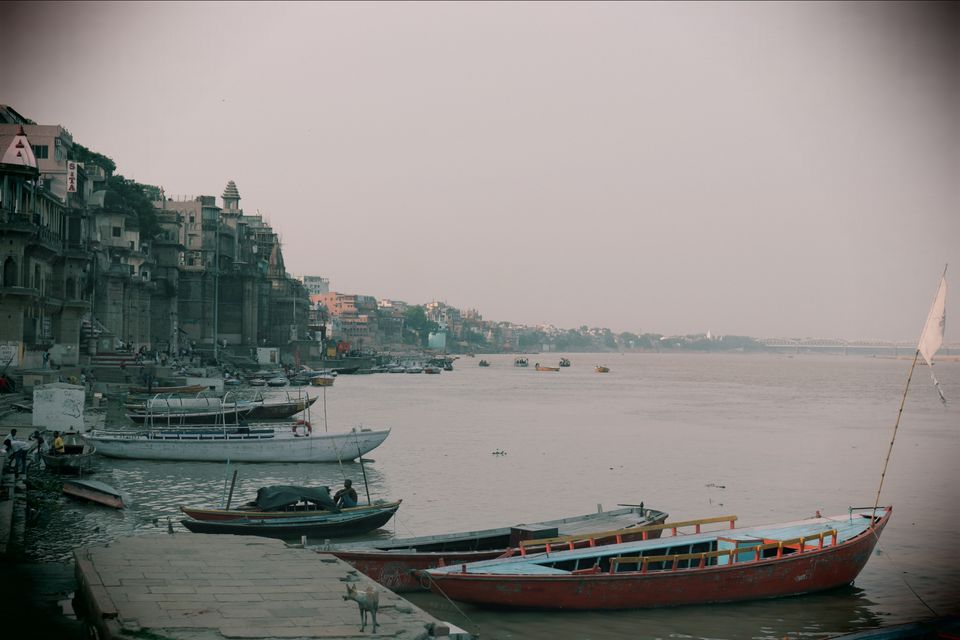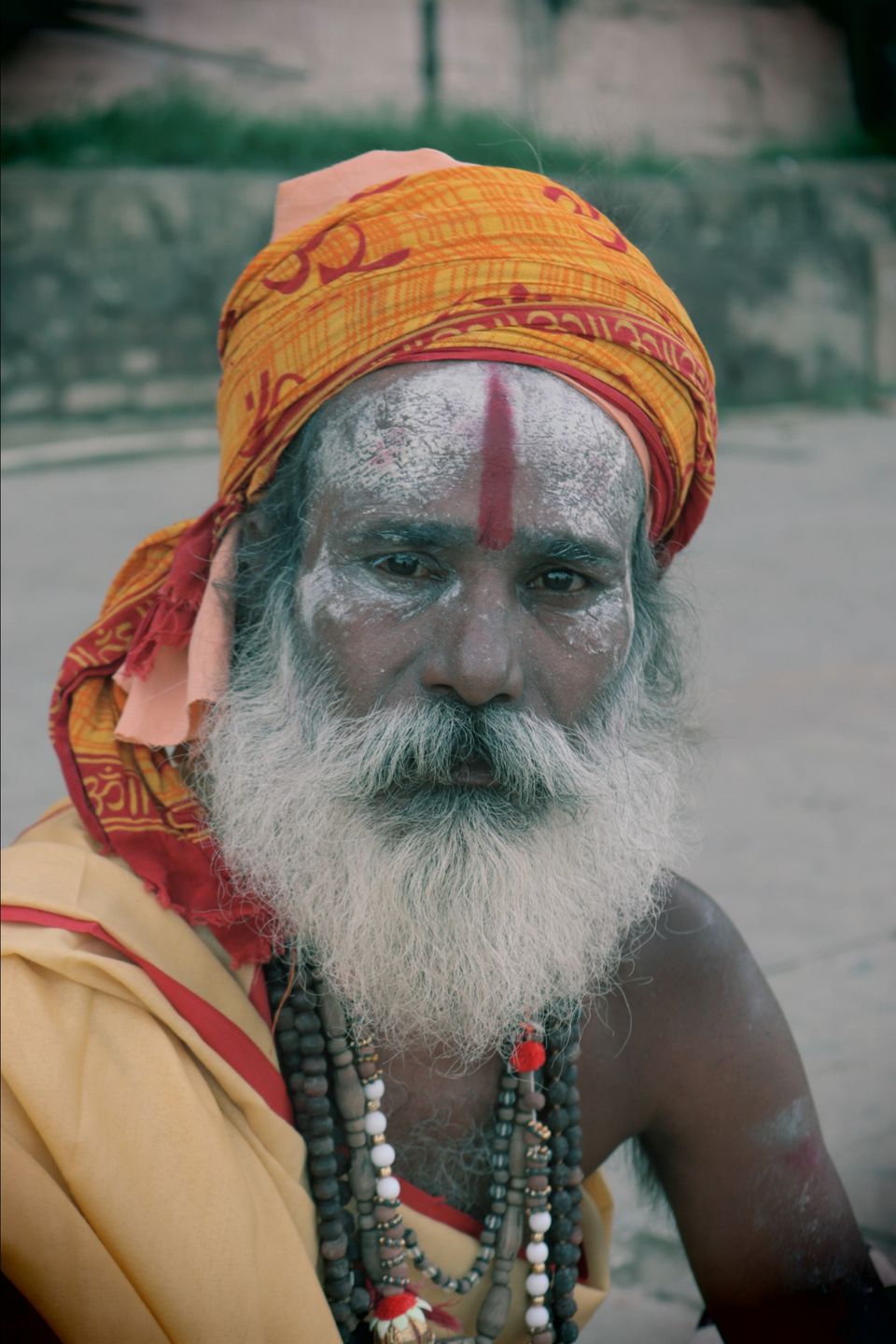 As the river flows, 88 ghats all in one line, these ghats are specific to different rituals. Two of them are exclusively for Hindu cremation they are MANIKARNIKA GHAT,HARI CHANDRA GHAT and the other two namely ASSI GHAT,  DASHASHWAMEDH GHAT are for Ganga aarti and the rest are usually for the people who come to dip their heads in river Ganga which is said to wash away your sins.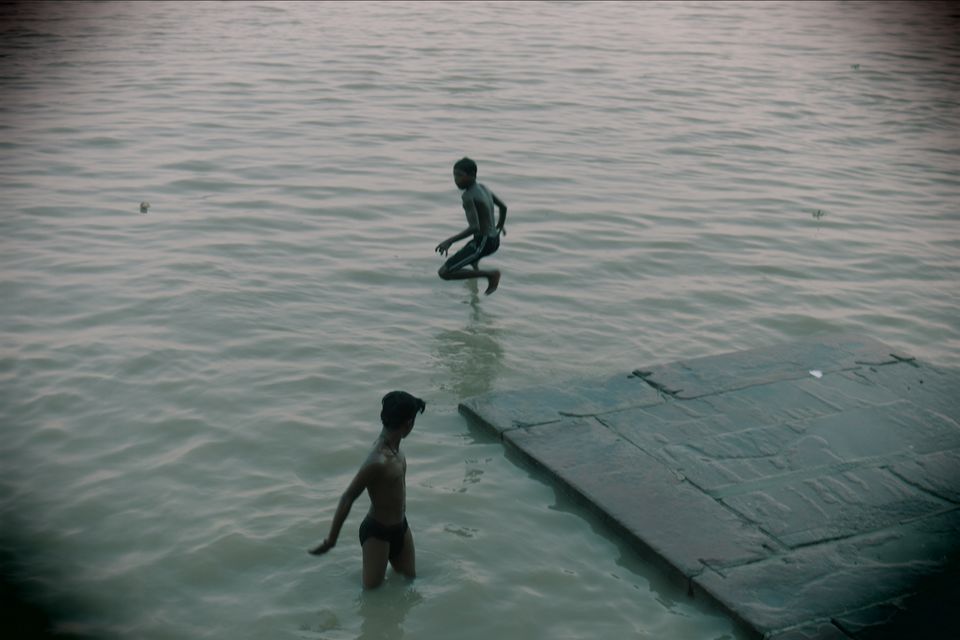 Dasashwamedh Ghat
This is the main Ghat, close to Kashi Vishwanath temple and one of the best ones to see. Although this Ghat is mostly famous for the Aarti, it is also an important one as it is in the middle of the 88 ghat structure. This Ghat is said to be made by Lord Brahma for sacrificing ten horses. This ritual was conducted to welcome Lord Shiva to Varanasi.
Assi Ghat
This Ghat region is filled with foreigners, students and tourists. Around 300 tourists and locals visit this Ghat, every day. This Ghat is the spot where Goddess Durga threw her blood-bathed sword after slaying Shumbha Nishumbha, a demon. The sword was said to fall into the ground with deforming force and it caused the formation of Assi River. The Ghat is located in the spot where River Ganges and River Assi join.
Ganga Aarti
     Gange aarti is performed daily in the evening by a group of priests at the DASHASHWAMEDH and ASSI GHAT. Through the aarti, Agni Pooja is performed in which a commitment is made to the Lord Shiva, Mata Gange, Surya, Agni (Fire) as well as the whole universe made by the Lord Shiva.
           This beautiful ritual makes every moment of the evening period special and fills with the spiritual thoughts. It is performed by the brass lamps which accompanied with the mantra chant in the presence of the huge crowd.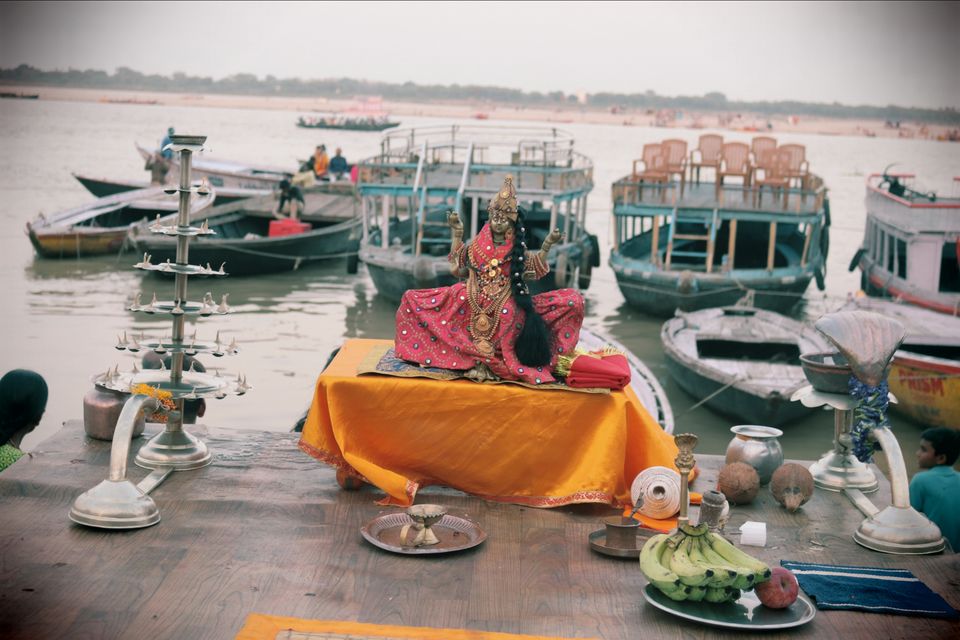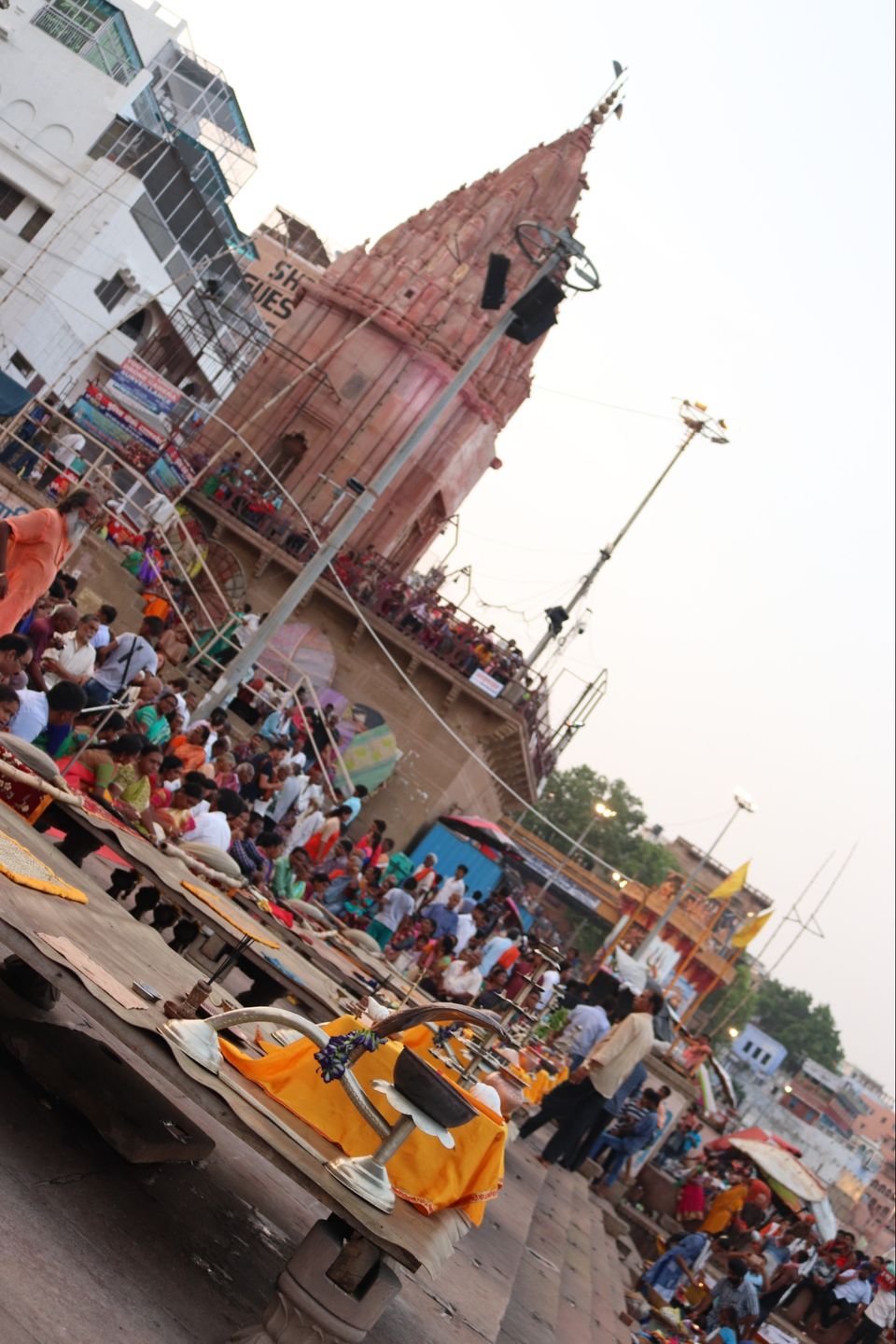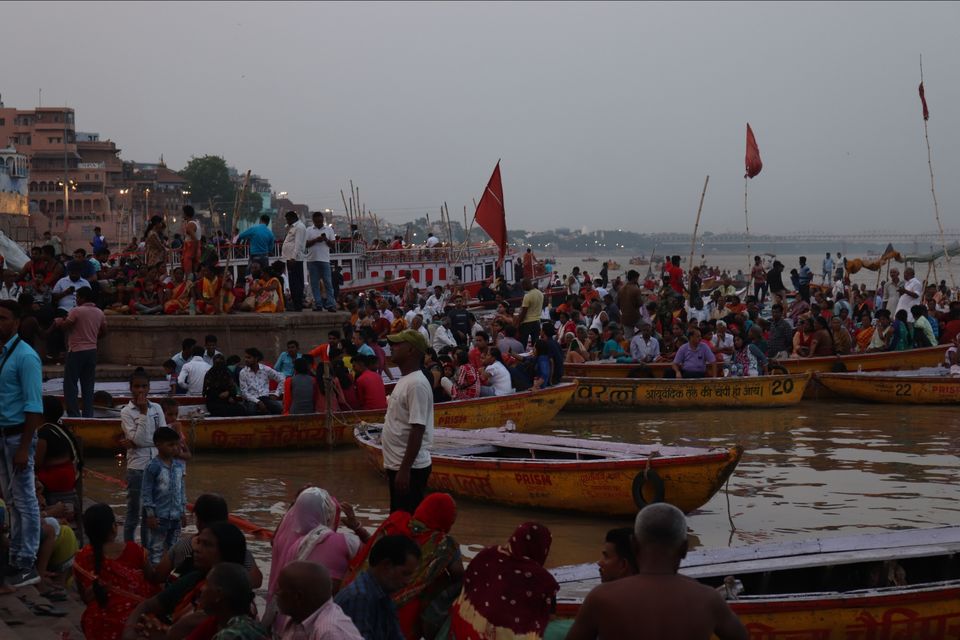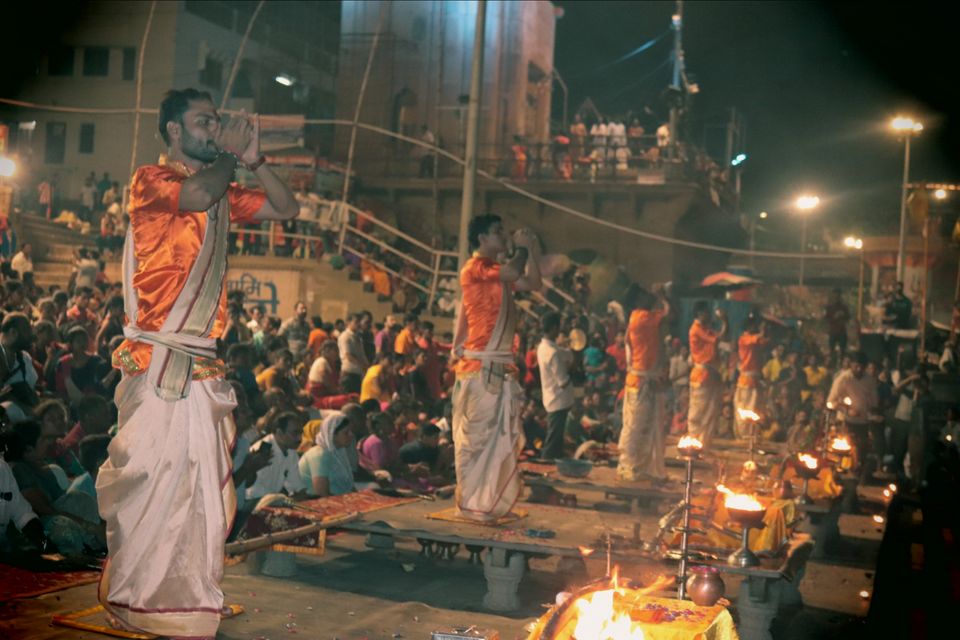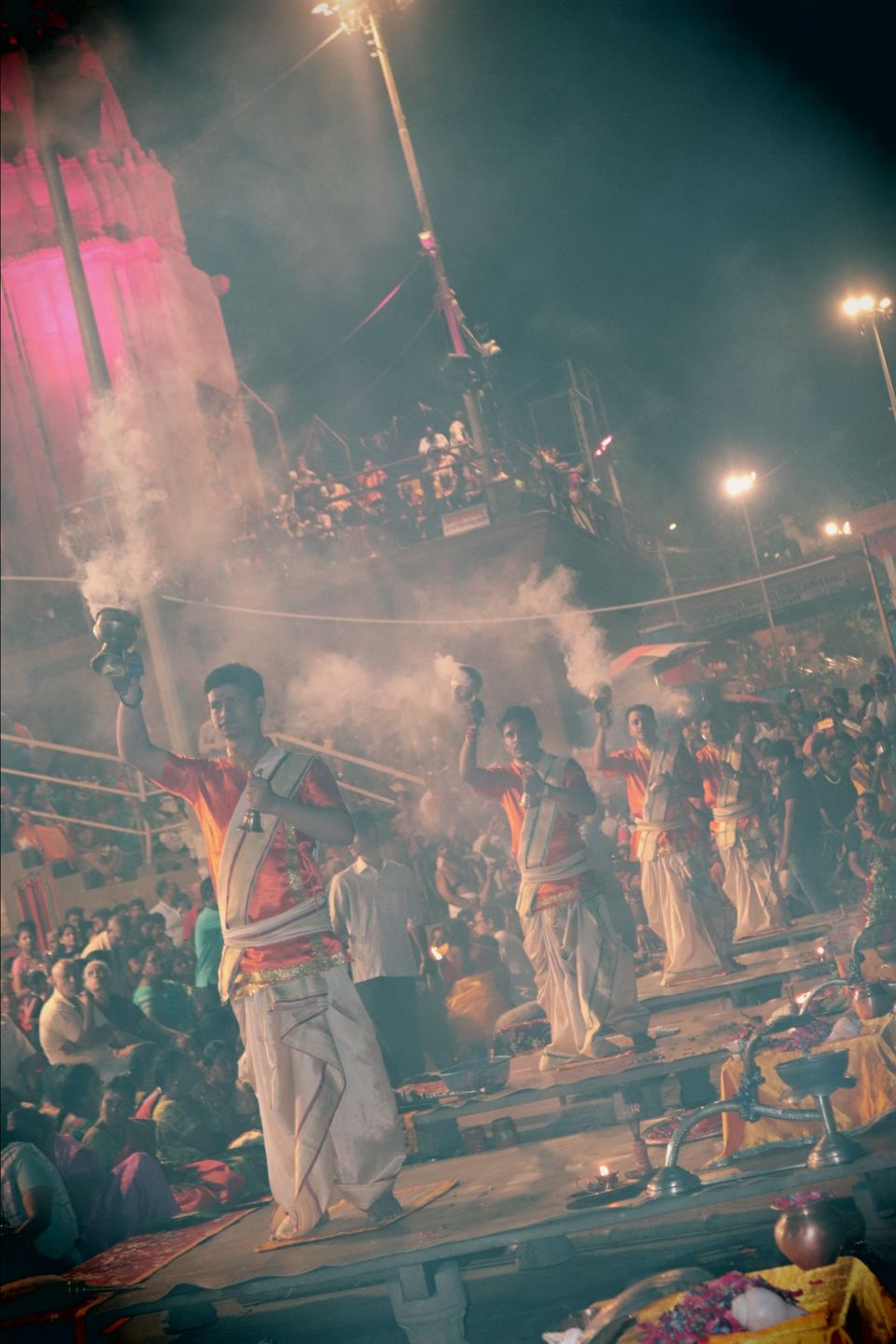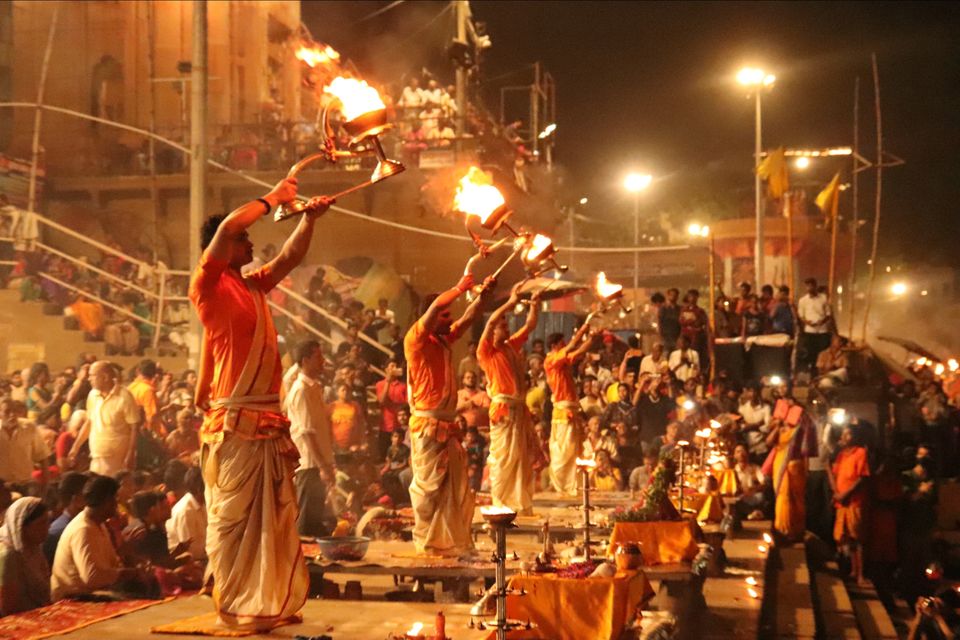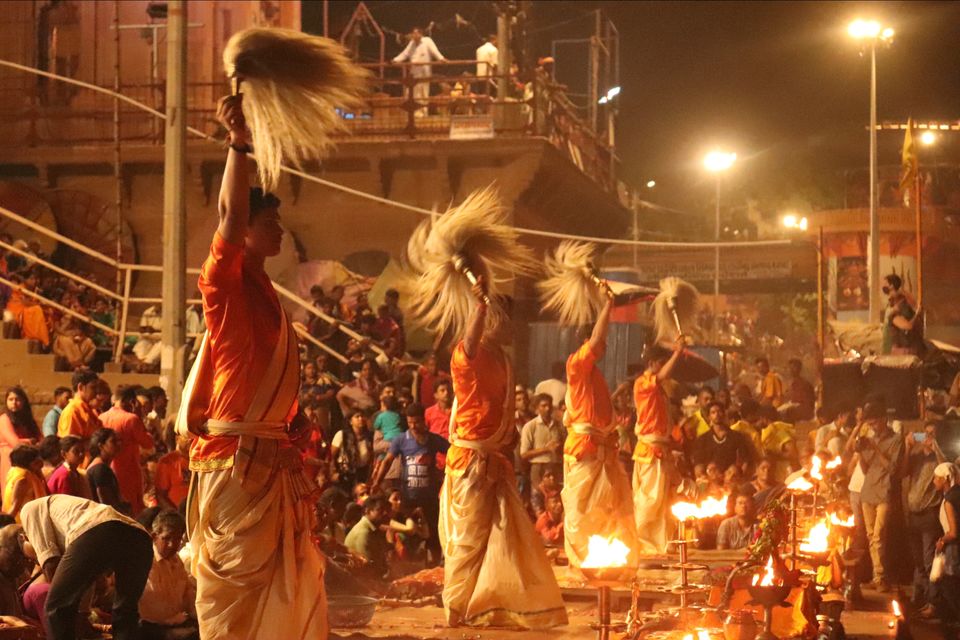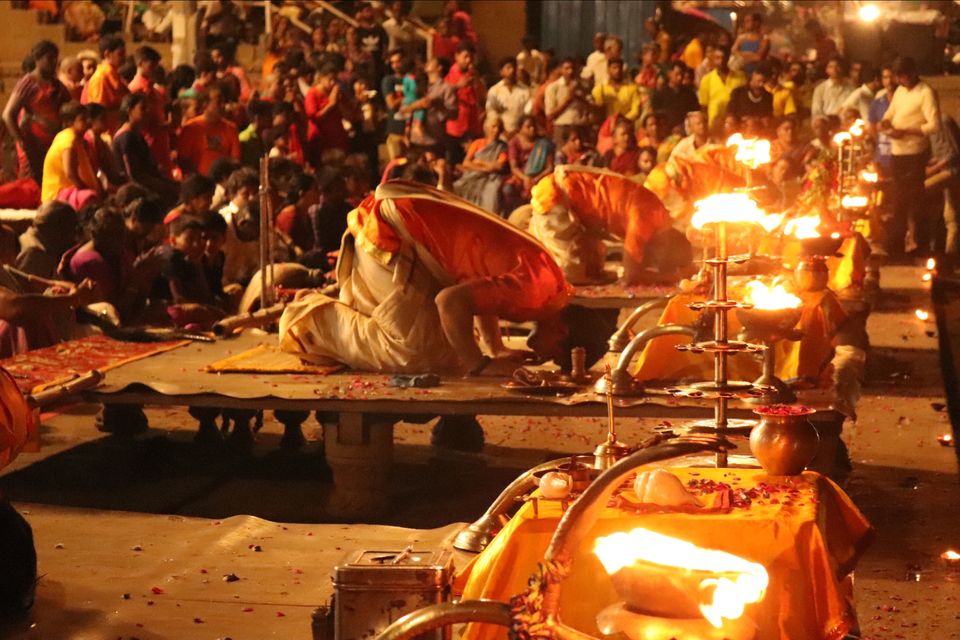 The Aarti goes on for about 45 minutes and starts at sunset. One should reach a little early in order to get a place to sit with a good view. The boats line up in front of the Aarti and charge a couple of bucks for a seat depending upon the view. If you do not require a place to sit, the sight it free of cost.
      Once the Aarti is finished, the head priest pours a bowl of water into the Ganges after which people offer small lamps with flowers that float on the river.
MANIKARNIKA GHAT
The reason for this GHAT to get this name is because Lord Shiva is said to be bathing here while one of his earrings fell and that's how this Ghat got its name- Mani (jewellery)/karnika (ear) and it became the Ghat for the Last bath for any Hindu body.
      It is also said that Sati sacrificed her body to fire after her father humiliated her husband, Lord Shiva. It is said that Lord Shiva took her burning body and walked throughout the world. Parts of her body were said to have fallen at different places and a temple is erected at each destination. Manikarnika is the spot where her earring fell. It is one of the oldest Ghats of the city. Today, it is the main cremation ground. You can always spot a cremation ceremony here.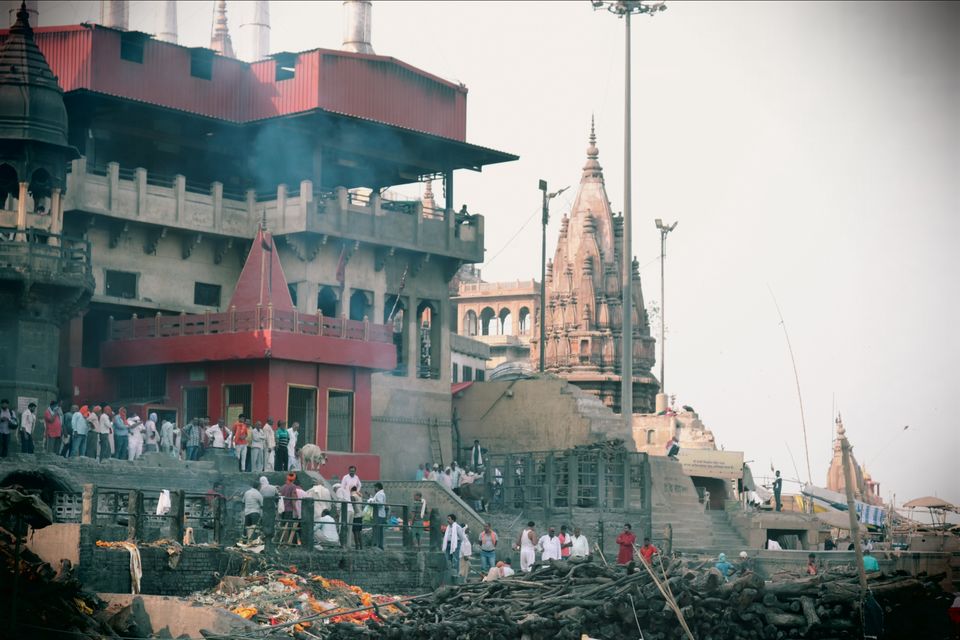 And Mythology says that Lord Vishnu prayed to Lord Shiva to grant a blessing to the city of Kashi to be never be destroyed. Lord Shiva came with his wife Goddess Parvati to grant the wish as a result of which any soul that departs here shall attain Moksh (salvation).
There is a saying that" Beneras the place where people celebrate death". But I don't think so I could see people crying around. Death can never be celebrated... every day there are about 200-300 body that are been burnt here.
It's also said that this ceremony place was first lit by Lord Shiva so that's why you could never see them blown down even in rain and heavy wind it keeps on burning all throughout the year until now...and lord Shiva says "Rama manthra " in the ears of decended people and make them attain salvation.
Harishchandra Ghat
There lived a king named Harishchandra, who refused to lie at any point of his life. Gods decided to test his promise of truth by putting him into a series of misfortune, while caused him to work in the cremation grounds, which is now called as Harishchandra Ghat. It is said that the soul, which is cremated in this Ghat would attain salvation.
Apart from all those ,my experience can never be shared with words I think the above are just a information about the places but to experience it you have to come here to Beneras
To me Kashi is place where I can't take many photos as everyone told the city of colours ... it's but I didn't feel to take my cameras out for a perfect click...as I was totally confused to take which view as everything was beautiful
"Sometimes you need to experience it live and you will understand that no cameras could freeze you the beauty of Beneras"
                                               - Jai Hind