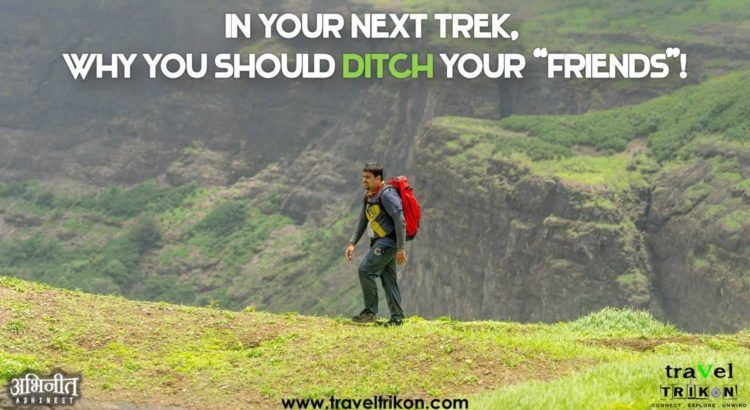 In your next trek why should you ditch your friends!!
How many times have you tried coaxing your buddies to accompany you in your upcoming trek? A smile of relief crosses your face when they finally agree and decide to join you saying "Dost ke liye kuch bhi karega!!" All was going well, but then, something doesn't meet their expectations during the episode. Horror strikes. Trust bubble breaks. Hell breaks loose. Err… Very familiar story, isn't it?
Give yourself a break, will you?
You may be someone who is in love with the tall mountains, the blue skies and the long trails to the top but your current friend circle is not in the same mind-zone yet. They prefer going for movies, hanging out in pubs and spending a lazy weekend instead of seeking contact with nature. Clearly preferences differ and that's absolutely okay!
Let me tell you that this shouldn't stop you from pursuing what's your calling.
– Believe it or not, trekking is a great way to make friends for a lifetime. This is because the circumstances in which people climb mountains or travel together bring out the most true side of an individual. If you are able to relate to that side and there is a click, the bond is going to last forever.
– Remember that you are going somewhere where none of your friends wanted to go but a host of strangers wanted to, like you. Therefore, you are bound to meet people with interests similar as yours. How can you not make new friends whose interests/preferences match with yours?
– It never harms to increase your social circle a bit. When you step out of your comfort zone by going alone, you invariably expose yourself to a gamut of unique personalities who have the potential to influence your inner growth. Go out alone and get enriched!
– Don't you ever think that there will be moments of boredom if you are trekking with strangers! Well, initially you might feel a little awkward. But once the ice is broken, there is no looking back. You will be smiling, laughing, posing and pouting with them in pictures and creating memories for the keeps.
So just take the plunge, even if you are alone. There will be someone to catch you before you strike the ground!