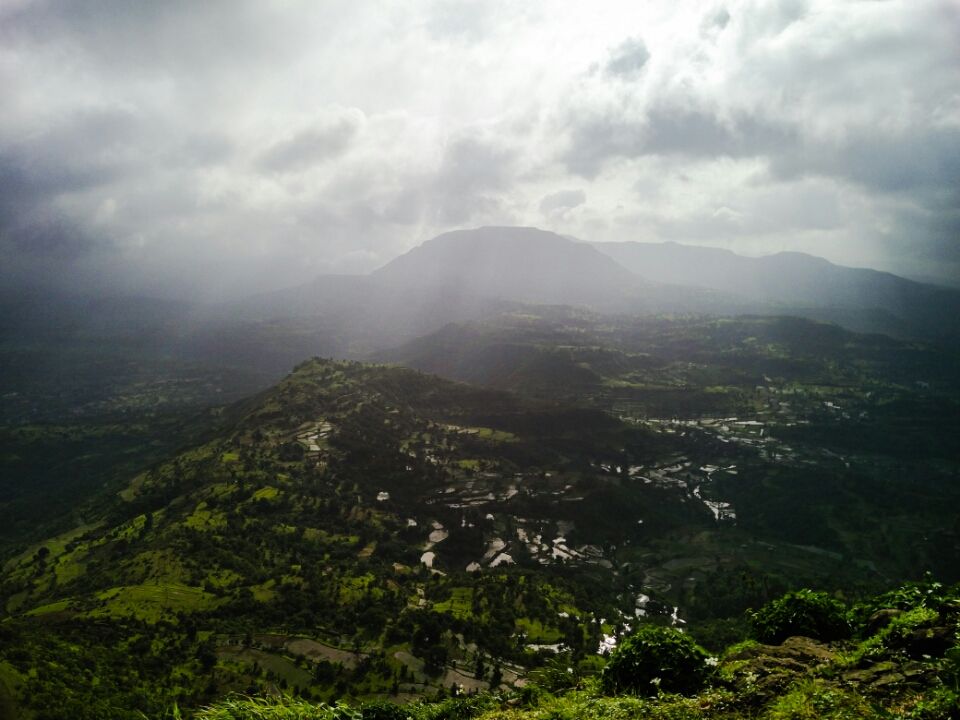 Me and my friend Varun were planning for some adventurous weekend getaway since a long time, only to postpone it again and again. Finally after continuous nagging for almost 3-4 months, we decided to go for the Kalsubai trek. He managed to gather 3 of his college friends as well, so we were finally a group of 5.
To tell something about Kalsubai, it is the highest peak in the Sahyadri range with the height of 1,646 m (5400 ft). As none of us had ever been to Kalsubai, we didn't get to plan our trip as such. All of us had read some blogs and had the basic understanding of the route and other related stuff. So, we just decided to atleast start our journey from Mumbai and embrace it the way it unfolds.
We packed the minimum required items and took off. It was decided to board Nandigram express which would drop us at Igatpuri by 1900 hrs. After getting down from train, we started enquiring about the ways to reach Bari (the base village of Kalsubai), which is about 31 kms from Igatpuri. After weighing our options, we decided to board the bus which was scheduled at 2115 hrs. We had our dinner in the town itself and were eagerly waiting for the arrival of bus and start our trip.
After reading some blogs, we had initially planned for the night trek and enjoy the sunrise from the summit. But, we were advised by a number of localites not to trek at night, as it was rainy and most of the track would be slippery. Some of them even advised to spend the night on Igatpuri itself and board the early morning bus to Bari, as there won't be any place to stay in Bari if we reach there at midnight. But, we anyhow boarded the bus at 2130 hrs not knowing what our next plan was.
Luckily, we met one guy in the bus, who was the native of Bari. He had a tea and Maggi stall near the peak as well. So, he offered to provide us shelter for the night and even accompany us in the early morning trek. We readily agreed.
But the catch was that his house was on the back side of the mountain and not on the usual trek route. Some of us were hesitant to trust this guy, but we had no other alternative as such. So, when we got down at Bari at around 2330 hrs, we followed him to his house. It was around 1 hr trek to his place. We reached by around 0030 hrs and almost immediately went to sleep in the verandah. There were drizzles going on in between and the weather was perfect.
We woke up a bit late and started our trek at around 7 in the morning. As we were climbing from the back side of the mountain, it seemed we were alone doing the trek. But the view was mesmerizing. The sun was playing hide & seek behind the clouds with some passing light showers. As we climbed up the fog got thicker and the wind got heavier. The splash of greenery, freshness in the air, the excitement to reach to the top were the forces that were driving us to keep moving, in spite of intense physical exertion.  
Finally at around 1000 hrs, we were at the summit and everything was worth it. The feeling was divine and incredible. No matter how tired we were, the chilly wind that was nipping at our faces instantly rejuvenated us. It was fog everywhere with visibility of less than 10 feet. We just sat there admiring the beauty of the nature and its tranquility calmed our minds. As it was the Independence day, a trek group hoisted the flag at the top and we had our little Independence day celebration. We sang our National anthem and that was the most patriotic I ever felt.
Later, we clicked some pics and started our descent. And believe me, descent is not as easy as it seems. With the surface being extremely slippery, I myself had some embarrassing falls on our way down. We followed the regular trek path during our retreat as our path of ascent was too difficult to climb down. We came across around 5 to 6 almost vertical ladders (close to 80° elevation) on our way back. So, if you have freight of height by any chance, this is the place to overcome it.
We were at the base location at around 1300 hrs and it was when we sensed a waterfall nearby. We were tired and equally dirty, so we were raring to take a dip in the pond at the base of waterfall. The water was so fresh and cold that it instantly took away all the fatigue out of our bodies.
After getting fresh, we started our return journey. We had a 3 kms walk to Bari bus stand and booked a shared jeep to Kasara station. It was a 1 hr journey. We were extremely hungry, so we had some refreshments at Kasara station. We boarded a return local to Mumbai and headed home.
"No one realizes how beautiful it is to travel until he comes home and rests his head on his old, familiar pillow"