Plane:
Expectation: if you think you are the only light skin person flying to the most exotic place on the planet - India, you will be disappointed.
Reality: in the plane going from Moscow to Delhi with approximately 200 passengers there were 3 Indian nationalities.
Airline:
Expectation: I had such a great memories from "Aeroflot" airline, therefore, I insisted on flying with it.
Reality: do not fly with this airline, travellers! For 5,5 hrs long distance flight, we have got: careless stewardesses, small tasteless meal, sealed, smelly, covered with hair blanket, tiny short distance aircraft with the only one WC and tiniest aisle. If you needed to use the washroom you would need to wait in front of at least 8 people and constantly bothering slow stewardess with the trolley.
Indira Gandhi Airport:
Expectation: same airport as everywhere else. The same careless level of services.
Reality: the first time you are startled that you are actually somewhere really far from home, far from European "hospitality".
Airport is huge. It is fully covered with fluffy, colorful carpet. You go to the toilet and ... there is Indian pretty lady whose duty is to show you where the cabin is and even to give you hand towel.
In the airport people are very helpful, cheerful and smiley.
City of Delhi:
Expectation: I had no idea about the city except what our media fed us with: cows, dirty streets, miserable, homeless people, all sort of animals, hot weather and baboons.
Reality: Delhi is as commercial as all other capitals in the world. Big wide streets, plenty of beautiful British architecture state buildings converted into summer residences, wide parks, astonishing venue of Indian Parliament and President House, Connaught Place (huge central construction in Delhi), too many roundabouts, tall skyscrapers, gigantic monuments, many flyovers, congested traffic. Delhi is an extremely green city. No cows, no homeless people; all of that is just imposed media.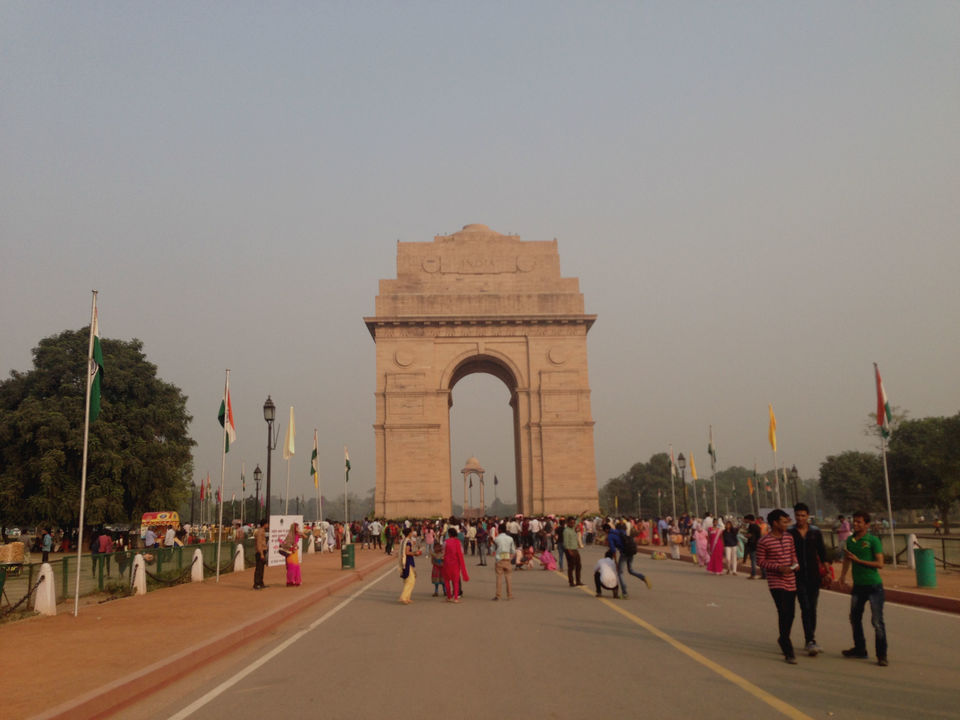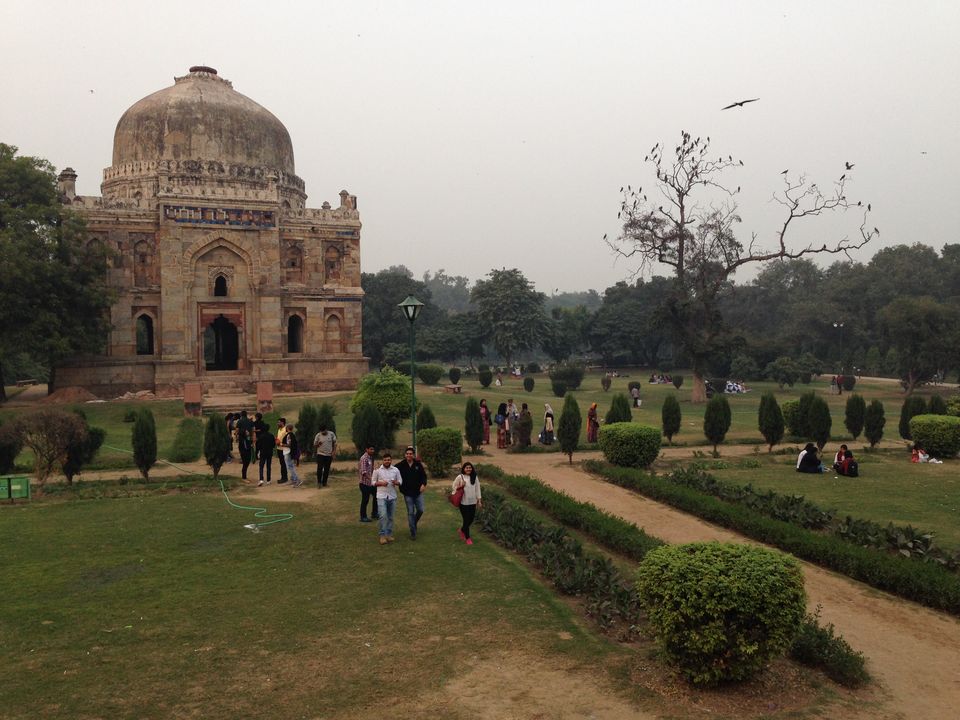 Diwali festival:
Expectation: I was told it is main holiday in Hindu world, it is so colorful, vivid and entertaining. It is like Christmas or New Year.
I wasn't expecting anything extraordinary until I experienced it myself!
Reality: Diwali is the Hindu festival of lights, celebrated every year in autumn. It falls between mid-October and mid-November. We have stayed for the last and most important night - 30th October 2016.
Diwali is one of the major festivals of Hinduism, it spiritually signifies the victory of light over darkness. All the people decorate their houses, offices, buildings, shelters, trees with lots and lots of lamps and candles. They release fireworks, sparkles, and petards for the whole period of Diwali.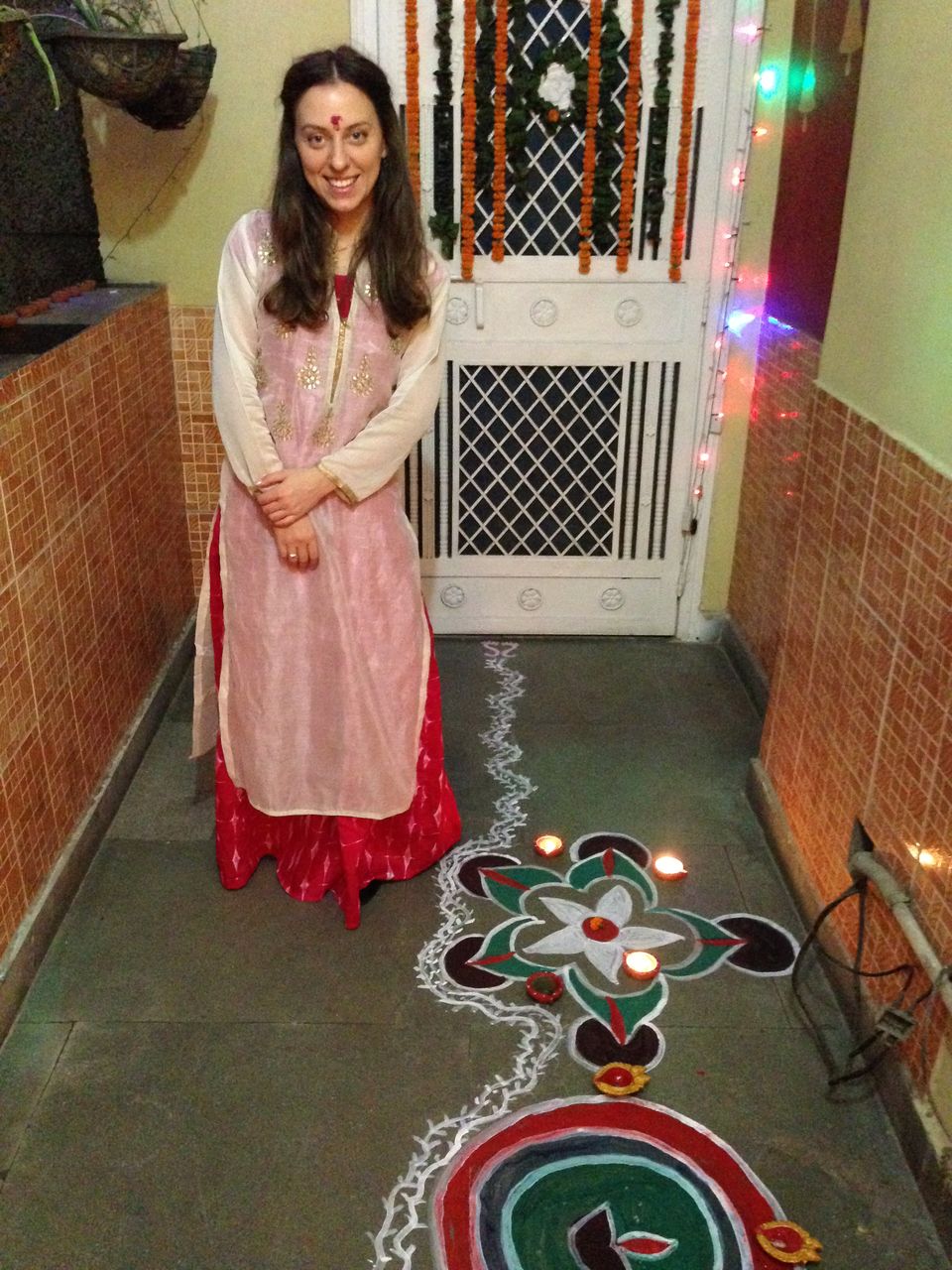 All India is lightened with colors. There is unforgettable beauty around! You feel like you have New Year's Eve just in November! I haven't seen that saturation of lights anywhere else on New Year as I have seen it in India at Diwali time.
Some inside tips: at this time all the offices are closed. Everybody is celebrating. You should be aware that during one week of Diwali there is a big layer of haze and smoke in the air, it is very difficult to breathe due to oversaturation of pyrotechnical gases in the air.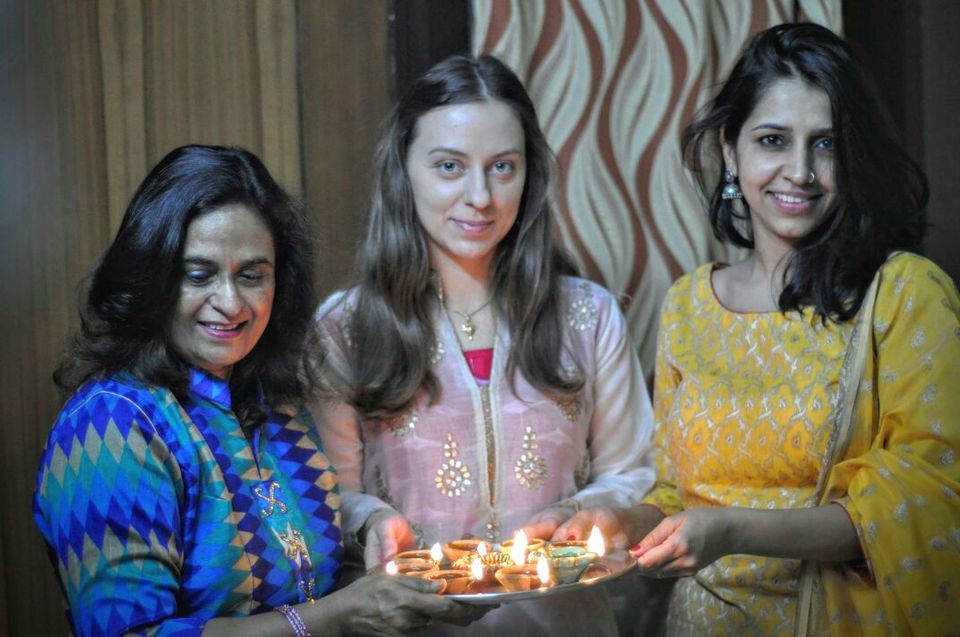 Akshardham Temple:
Expectation: I didn't know much about the temple. I have only read the information stating that when you go to India you should visit Taj Mahal like no other temple exists.
Reality: wow!
Akshardham is a huge spiritual-cultural campus in New Delhi. It is the complex displaying millennia of traditional Hindu and Indian culture, spirituality and architecture. It was built in honor of central figure in a modern branch of Hinduism known as Swaminarayan. Followers believe that he is a manifestation of God.
The complex was built very recently e.g. 6th November 2005 but the fundamental rule was to construct it in a traditional Hindu system of architecture, which literally translates into "science of architecture.
In other words, the temple was built in such a way that during tectonic activity its' blocks interlock. It is supernatural construction without a gram of glue or cement. It is marvelous complex from inside and outside, with its' thousands of hand carved figures where not a single one is repetitive.
Inside of the temple you feel superior tranquility and calmness. It is majestic place! And if you feel like going beyond what you thought you knew about India it is definitely the place to visit for many reasons:
1) the temple is the place of supreme serenity and simplicity.
2) boat tour will take you through astonishing history of Indian civilization which media doesn't leak outside the borders of the country for obvious reasons: such as Newton wasn't the first one formulated the laws of universal gravitation, Euclid wasn't "the father of geometry" and Egyptians weren't the first ones in studies of herbal medicine, etc.
3) musical fountain night show.
It is an unforgettable performance with thousands of light projectors piercing water and fire. It is extraordinary modern yet at the same time authentic.
4) last but not least India is a country where by paying a little bit more (still is much less than regular price in Europe) you will get V-VIP service. By knowing "the person who knows the person" or paying more you will be the king in the country. We got V-VIP tour in Akshardham and we got up level service: in the long queues there was always "a door" to be the very first before the frontline, at the boat ride - there was a different entrance. We had private tour guide, there was no queue, VIP service for photo shoot in front of the temple, presidential seats for musical show and at the end of the tour we had a private security guy who was walking with us, taking to private restaurant and carrying our belongings.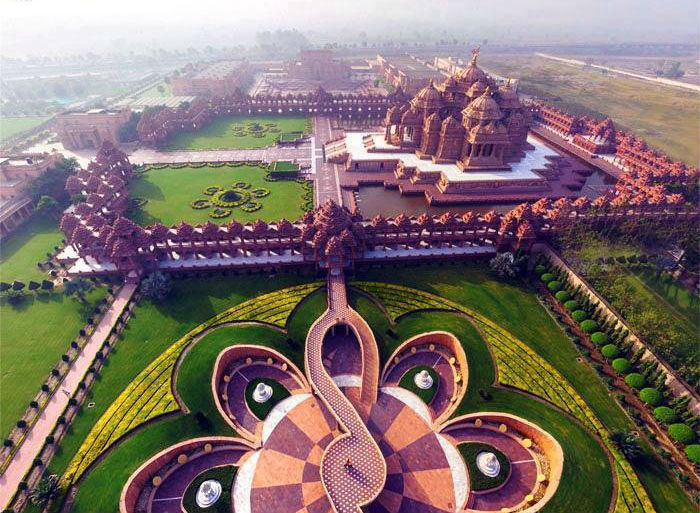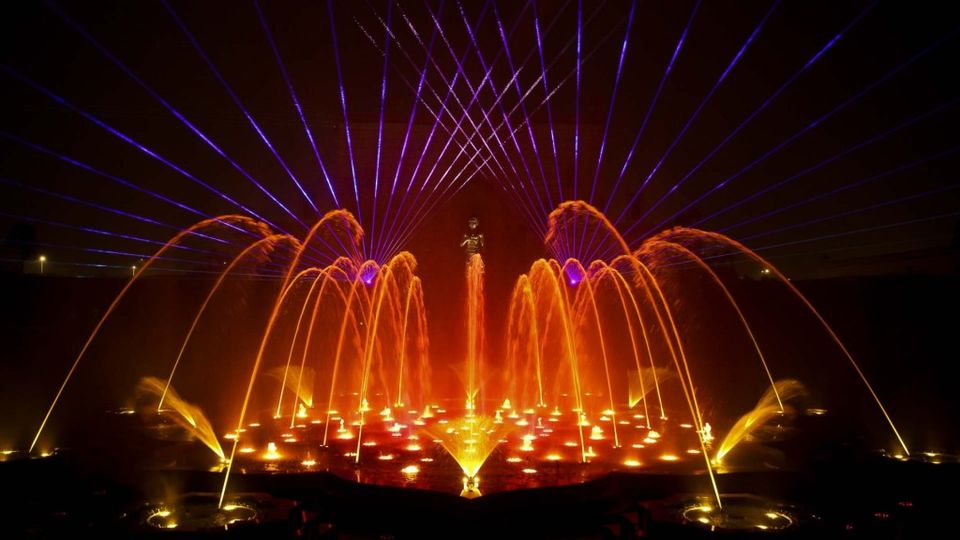 Security:

Expectation: homeless, beggars, cows, dirt, crime, robbers, unsafe streets...
Reality: not like that!
All public places in India; from small offices and to shopping malls are highly secured. There are always several scanners and persons (separated women and men) for checking your belongings.
Do not even think of entering airport building unless you are the passenger with the ticket.
Speaking of traffic, it is true its highly jammed, overcrowded, there are no rules. People and vehicles are all in one melting pot. Despite this fact, if you take taxi or uber, drivers are super skilled! If you go by tuk-tuk you feel super safe, as you would be a passenger in Formula1 with Schumacher as a driver.
On the streets, people will look at you very extensively but that is it!
Taj Mahal. Agra:
Expectation: definitely one of the top place in India to see. Visit card of India. Astonishing symbol of one-man love.
Reality: for introduction: Taj Mahal is located in Agra city, it is 230 km from Delhi. The fastest and most comfortable way to get there is by train, which cost 1500 rupees (22 USD). There you may expect cozy super fast train, a variety of food served by a very pleasant conductor in very funny traditional uniform. Newspapers, drinks, etc. are at your disposal.
Passing by train you can see the whole contrast of this country - sitting in an expensive (by Indian standards) train you look through the window and you see another reality, sad reality. People have their settlement along the railway track. You see lots of shelters alongside, you see kids playing completely barefoot on the tracks, you see young guys gathered together in a circle discussing something, you see housewives cooking nearby on the fire, you even see people having a shower right where the train passes.
After leaving the train station you will be surrounded by dozens of taxi drivers offering their service. Good point is that they are all government registered, means they all pay same taxes, means they all have equal fares. For small amount we have got big van, driver and out of nowhere appeared guide, as our driver said: "We are in package". For half of the day we have got: amazing helpful driver (who was even buying water for us so we wouldn't be stepping out of the car), entertaining knowledgeable guide, who didn't leave us even for a second and knew all tricky moments of tourist traps (we were passing first in every long line of tourists), private photographer at Taj Mahal (who was kicking absolutely everyone out of spots where he wanted us to be taken photos of).
We have visited Taj Mahal. It is indeed the most marvelous and unimaginable place on the planet. It has its own energy. It is so simple yet too grand. I won't write about history (you may google it) but its' architecture, elegance, resplendence and positive energy just astonishing you. It is so simple, geometrically preciously proportional yet full of precious gems and very complicated. Whatever science was behind the intention of Mughal emperor, Shah Jahan to build this mausoleum for his beloved wife it is definitely worth paying a visit.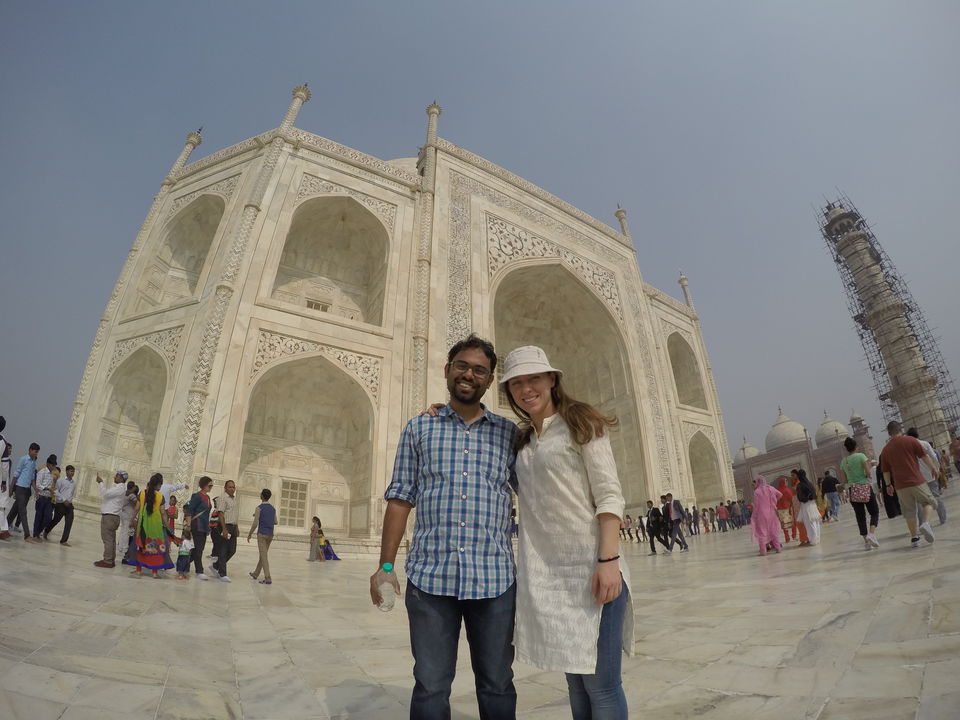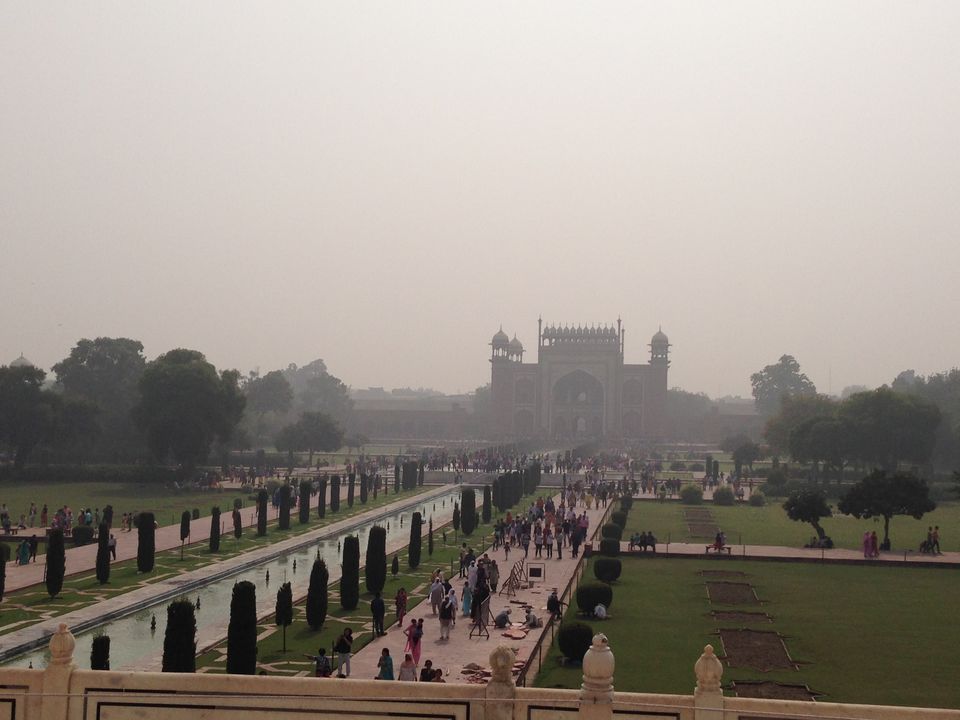 If you are interested in the full story of Taj Mahal creator's you should also visit Agra Fort, the residence of Mughal's dynasty. The magnificent sight where all emperors were living and where eventually was imprisoned Shah Jahan for 8 years in his room facing his reason of his life - Taj Mahal.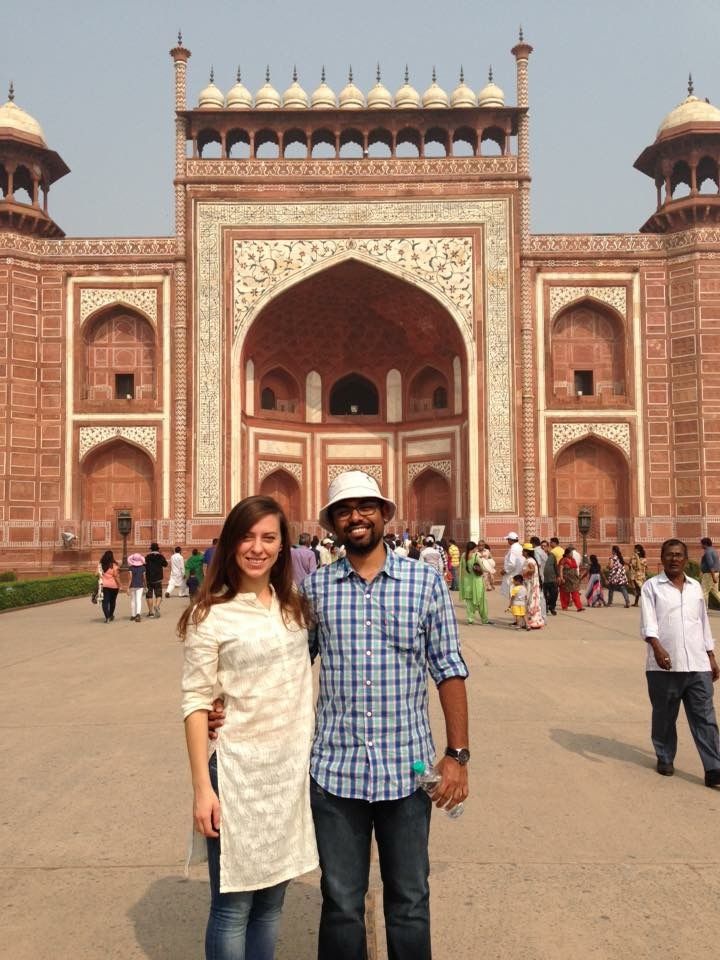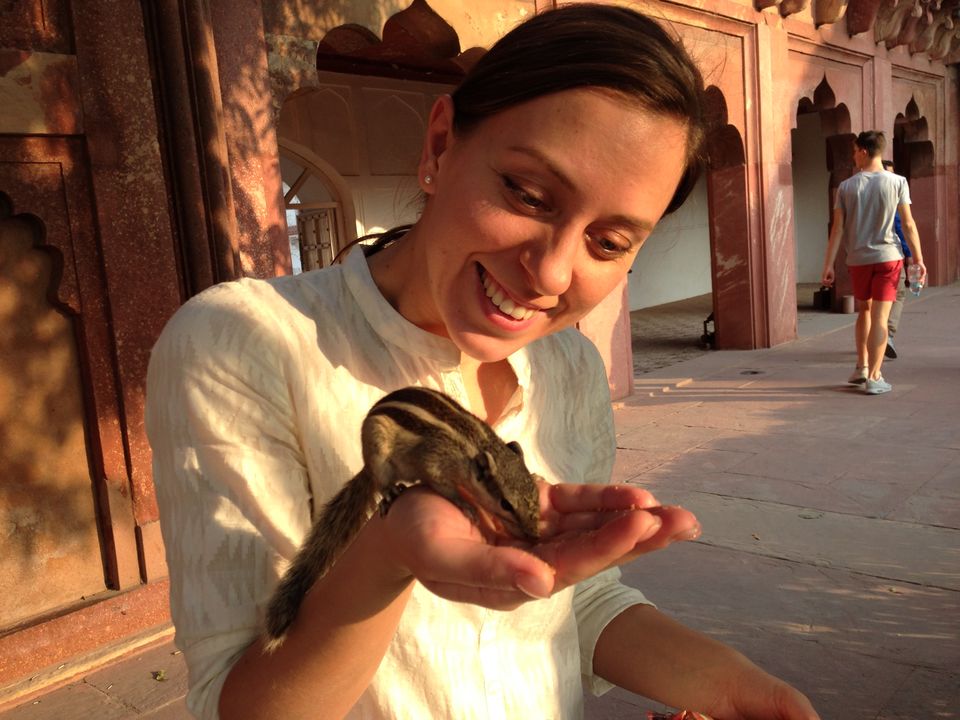 Indian wedding:
Expectation: colorful, joyful celebration with lots of spicy food, eccentric attires, customs, dance and fun.
Reality: the image of the real Indian wedding which I happen to attend is following: first of all it isn't about newlyweds as we used to think, it is about relatives and relatives of the relatives who has got an opportunity to gather together. They gossip a lot, they eat a lot and they show off in front of each other. For women it is an opportunity to sparkle with their best attire, combined with kilos of jewelry, dozens of bracelets on henna painted hands.
Indian wedding process lasts from 3 to 5 days and includes lots of rituals. It is an extremely tiring process for newlyweds. I had a feeling that they are mannequins on the stage pushing their smile and trying to keep a posture while being exhausted.
Apart of that, Indian wedding is indeed too luxury, colorful, joyful, grand and too expensive procedure.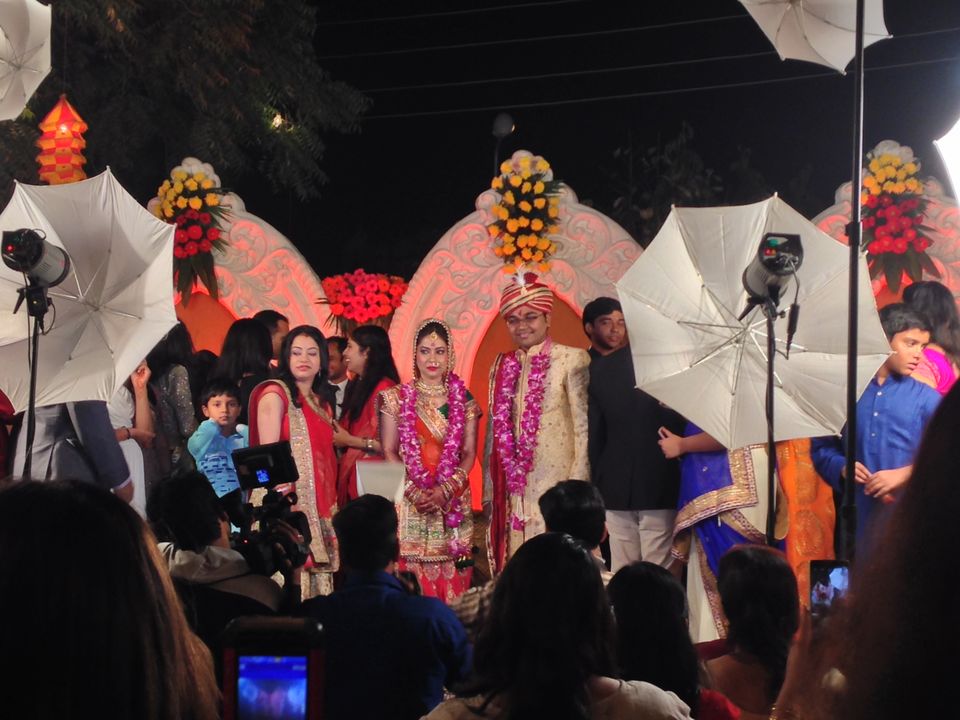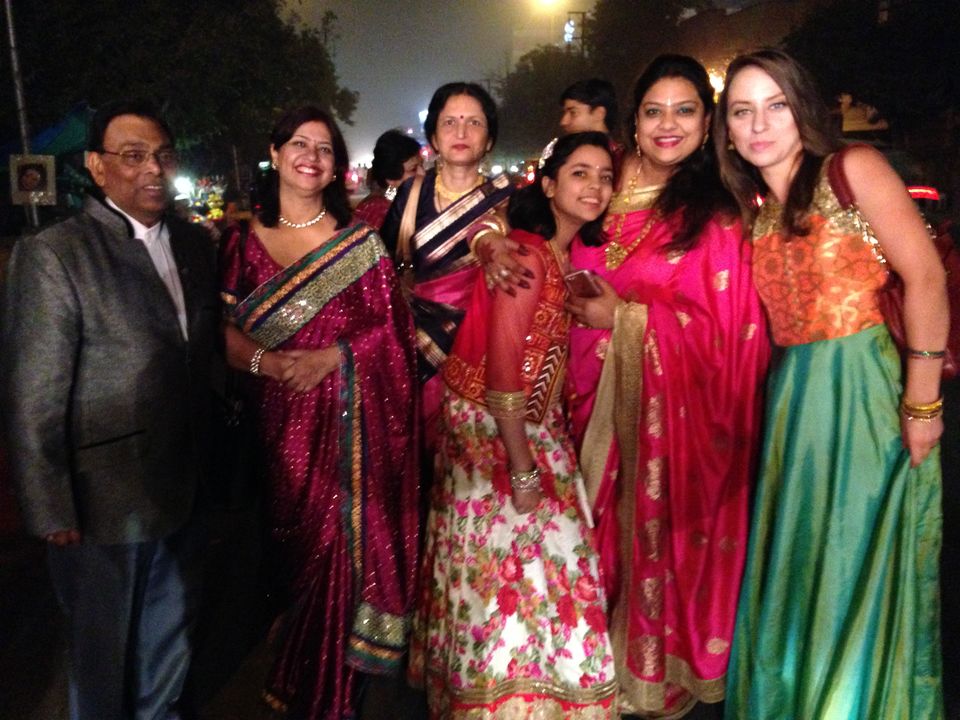 Kerala region (city of Kochi/city of Kumarakom):
Expectation: Kochi is a southern city, with green flora, famous fishing nets, backwaters and nice cottage accommodations.
Reality: Kochi is the biggest port of India thus it is industrial. Flora and fauna are just splendid. Very welcoming hospitality and the guesthouses are fairly pretty.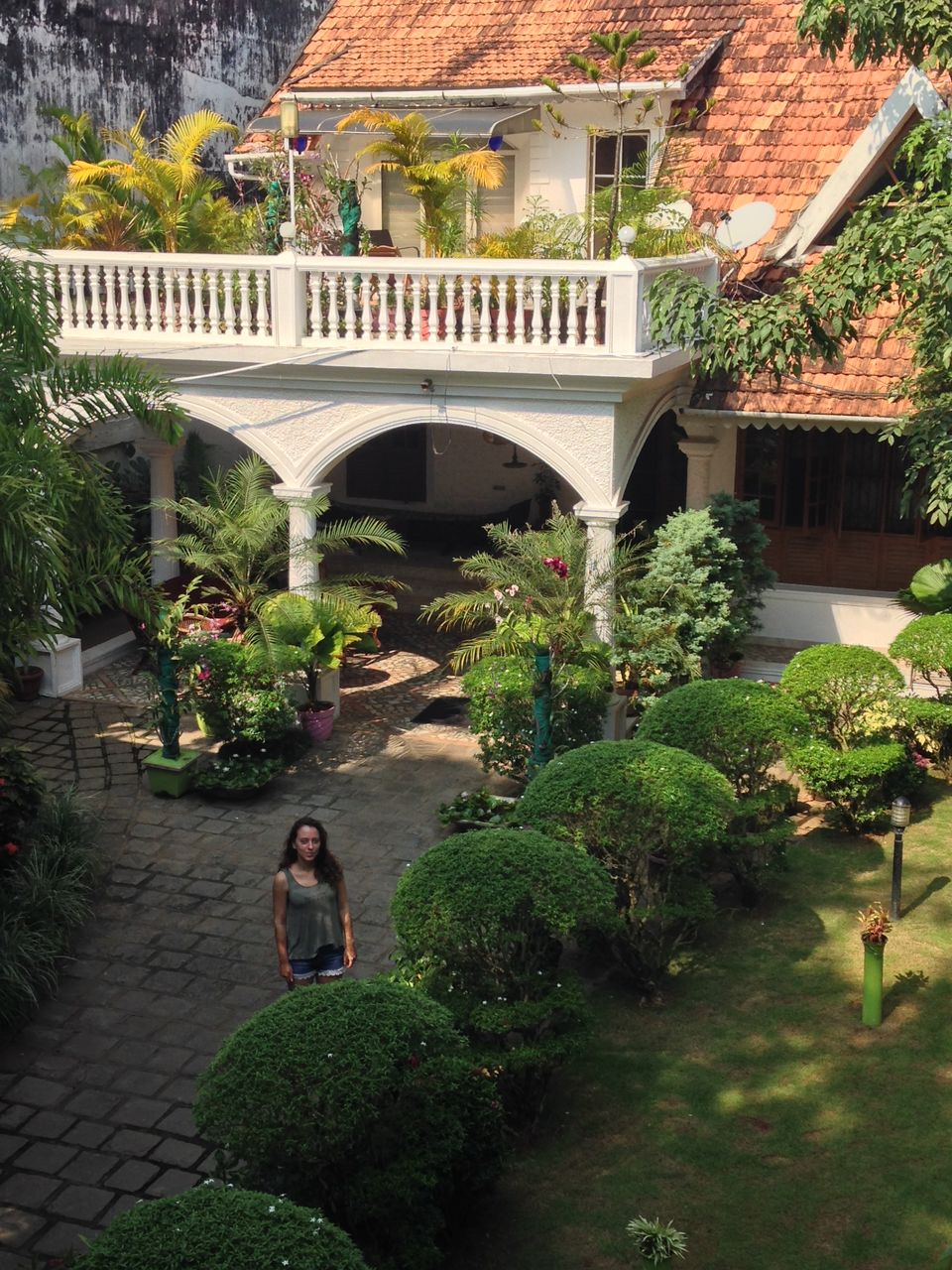 Beyond its' unique cuisine, the exotic bay just like in the Jungle book story, Dutch palace, famous Chinese fishing nets and the best airport exterior I have even seen, something was bizarre about the city:
- it is extensively littered, there are hundreds and hundreds of tourists. At every corner traders imposing you absolutely unnecessary items.
- Kochi's marvelous Jungle book bay has bad smell and the water of Arabian Sea is pretty dirty.
- Chinese nets are entertaining but with time passing it looses its value; traditional fishermen do pull some fish only for sake of tourist' attraction.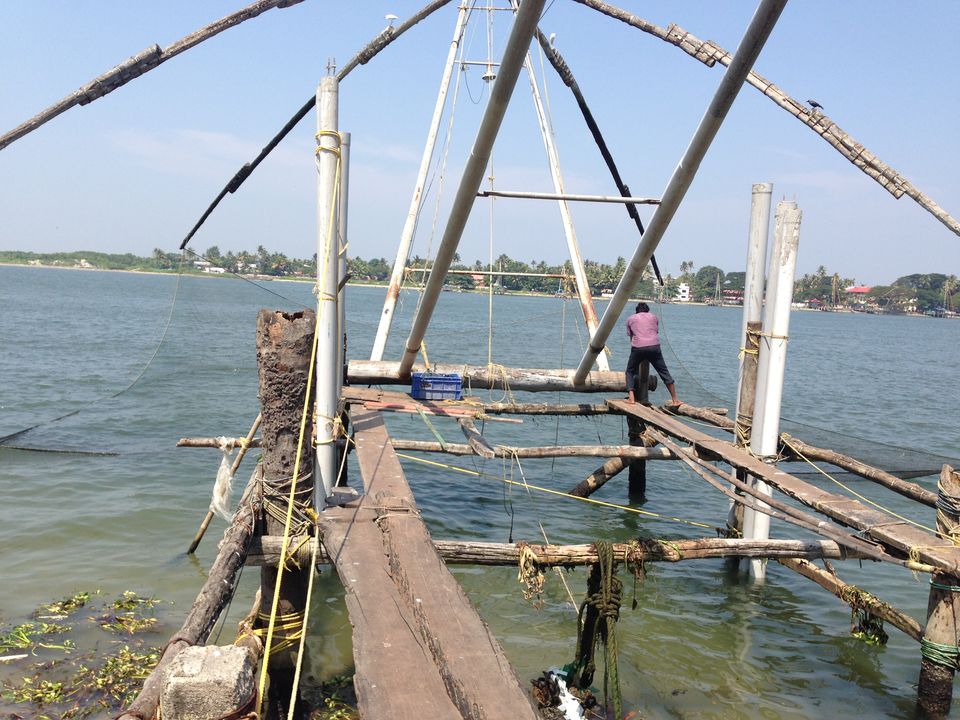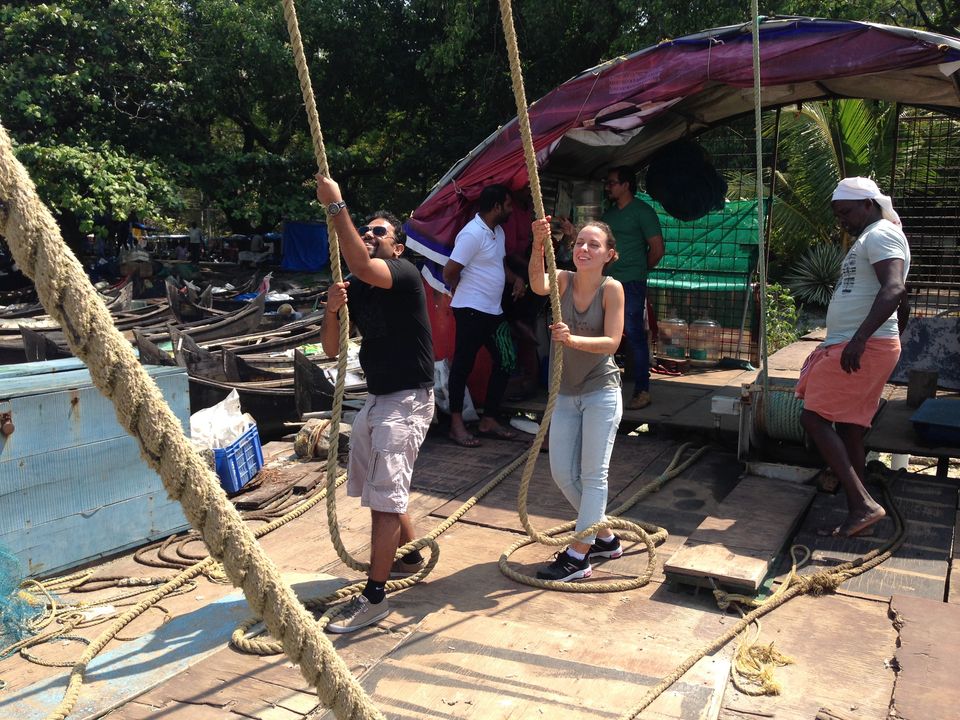 Kumarakom. Expectation: I possessed quite mere knowledge of the state. It is green; it is hot, lots and lots of backwater canals. It has famous floating boatels (mini hotel on the water with its' own staff). It is tranquil. It is the birthplace of Ayurveda science.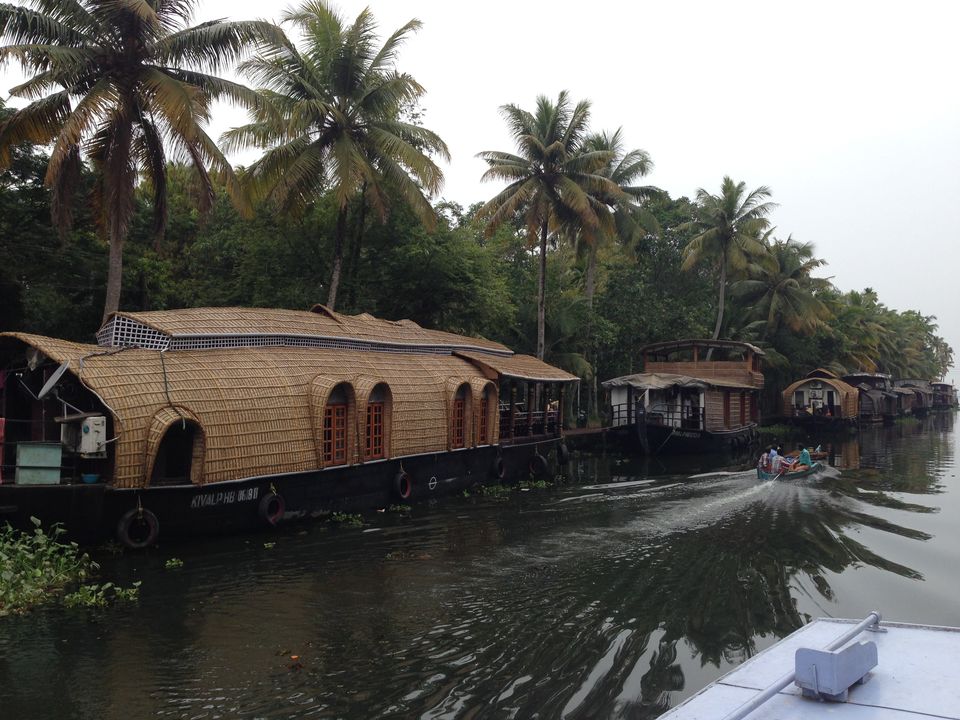 Kumarakom. Reality: I fell in love with the city right from the plain. I have never seen so green area anywhere before. It is absolutely different India: language is different, people are different (dressing customs, skin color, traditions), religion is different (40% Hinduists, 30% Muslims, 30% Orthodox), food, air, flora, fauna and the weather.
While in Prague was 3 °C on 6th of November, in Kumarakom there was 28 °C. We stayed in splendid 4* hotel in a private cottage facing infinity pool.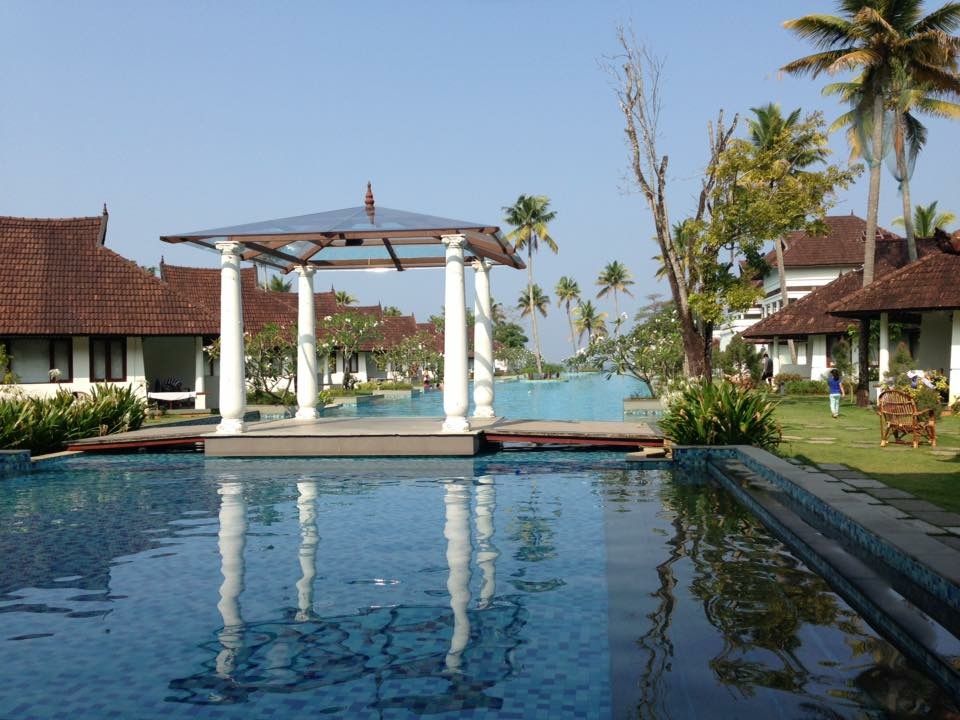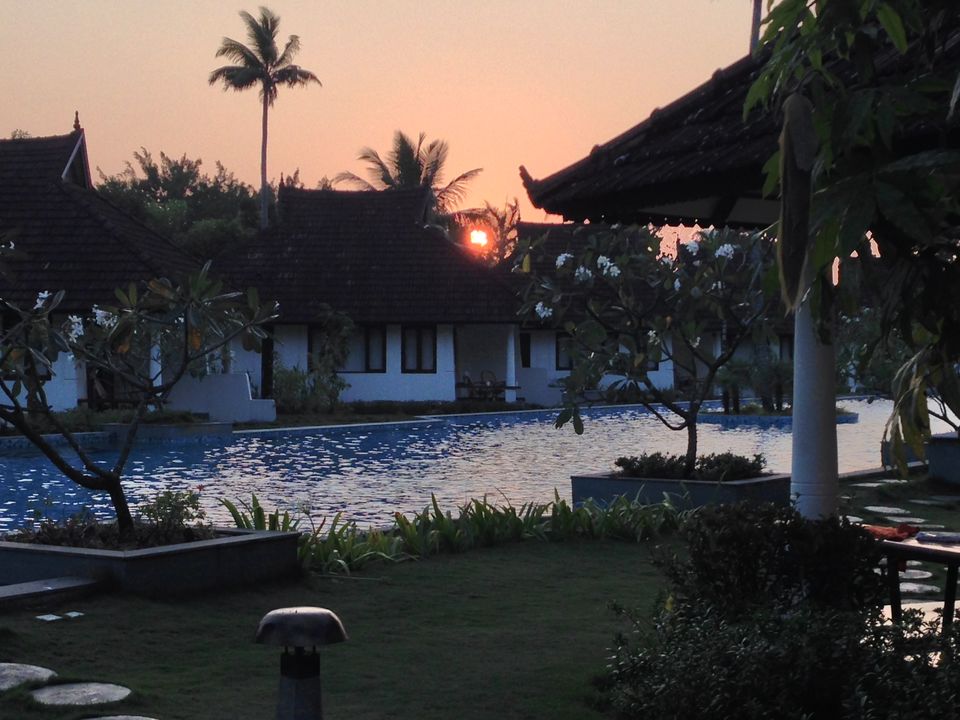 We enjoyed the paradise of extraordinary Indian service, sunset cruise starting from the spot where infinity pool ends, traditional music performance during dinner time and of course 3 days of Ayurvedic massages. It was paradise. Strongly recommended.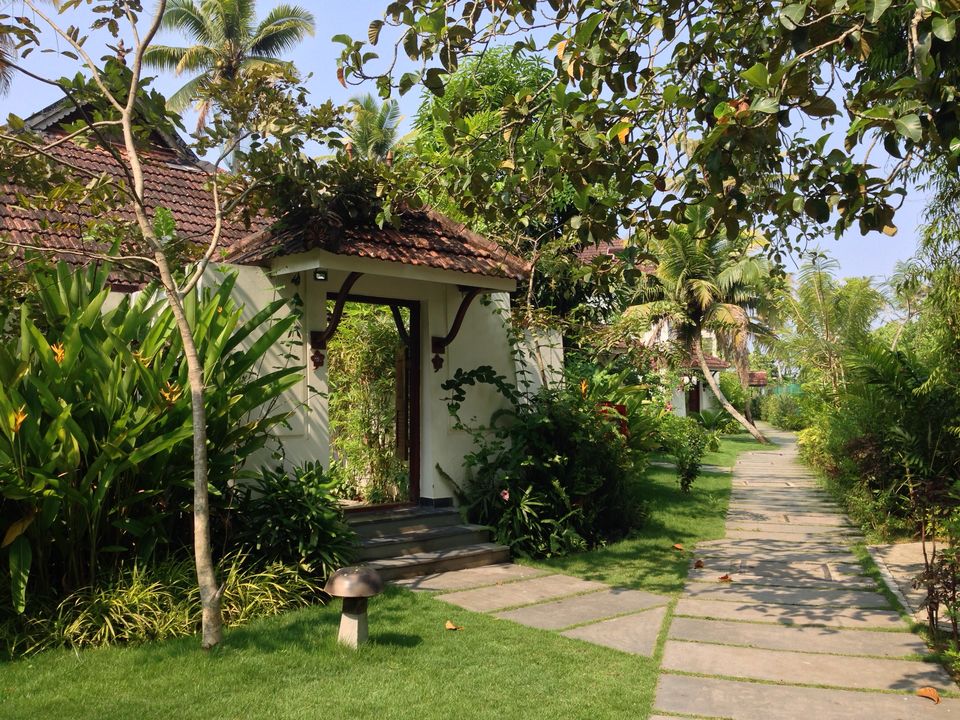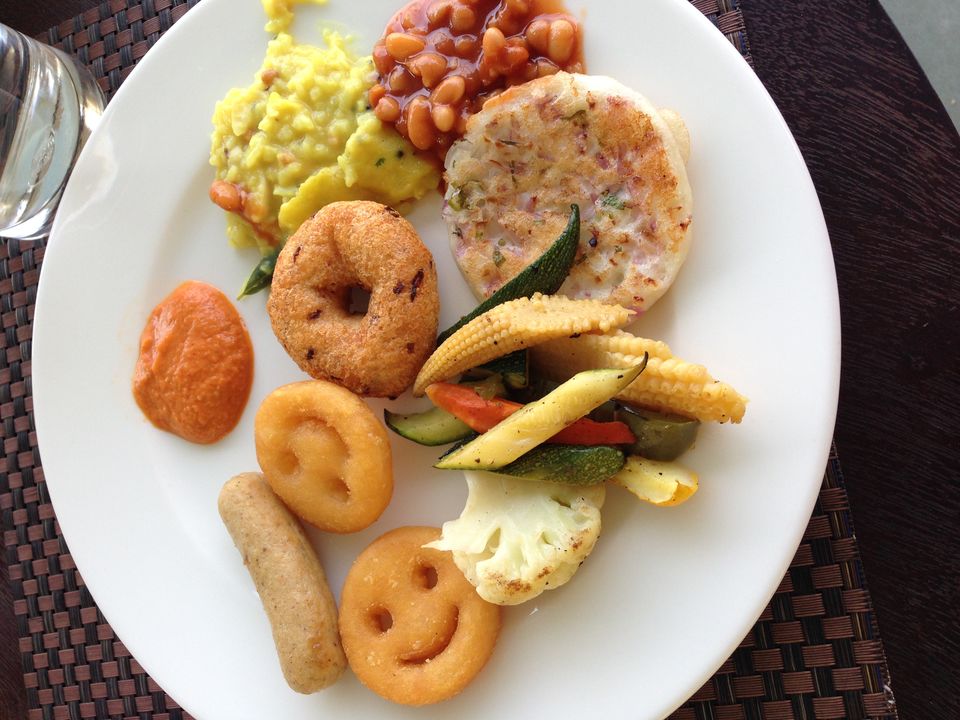 There are some helpful advises for those who is staying in Kerala backwaters:
- find an elephant ride on the website.
It is quite funny and vivid experience. We have spent 50' searching the place where elephant lives. It was the day when elephant had "off working hours". Eventually, he was pushed out of his cozy home because the owner wanted to gain some extra money. Our tuk-tuk driver didn't know how to get there which gave us an opportunity to watch daily life of villagers, where kids dressed up in uniform attend their schools, where housewives maintain very small households, where men wrapped in traditional white skirts just chat and rest. The whole trip reminded me the scenes of Indiana Jones searching for adventure.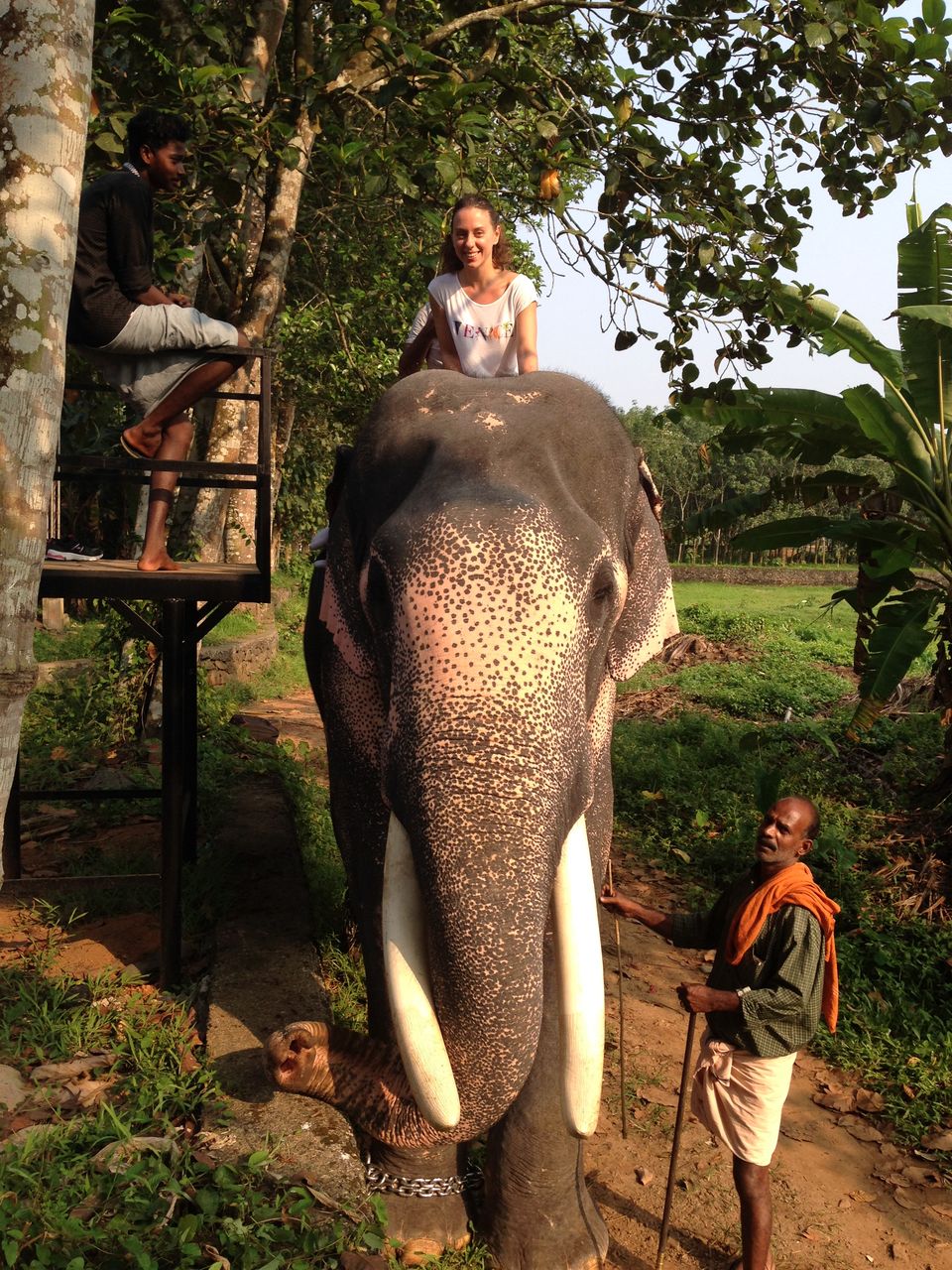 - small tip for Europeans who want to relax by their accustomed lifestyle and sip some alcoholic cocktail in the evening at the hammock. Do no ask hotel staff where to buy alcohol. First of all, they will tell you there aren't such places but then if you insist there will be a guy who will illegally offer his hidden item but 15 times more expensive. The trick is you just have to take a tuk-tuk, don't ask but tell the driver to take you to the liquor store, go there, wait in the line of rice field workers and once you will reach your turn buy alcohol from the guy who sits in the metal cage with some bottles of booze on the shelves. It sounds hilarious but it is how it works.
- try Kerala food.
The most popular food is steamed, fried, boiled or just wrapped fish in banana leaves. It tastes exotic delicious. Big note for Europeans: before ordering inform the waiter that the food should not be spicy at all. With all the tolerance to spicy food even northern Indians cannot stand spice level of Kerala cuisine, now imagine how it is for Europeans.
- take a boat ride.
For 600 rupees per hour (9$) we had huge 20-seated boat, which took us to open river first and incredible small canals along tiny, wild villages at the end. It reminded me national geographic - you observe everyday lifestyle of offbeat civilization; villagers cook the food on fire, cut banana trees, little kids play on rice fields, women make laundry in canal water. Regardless all the obstacles and difficulties of their life they are so welcoming, smiling, greeting, waving their hands to you. It is absolutely different world!