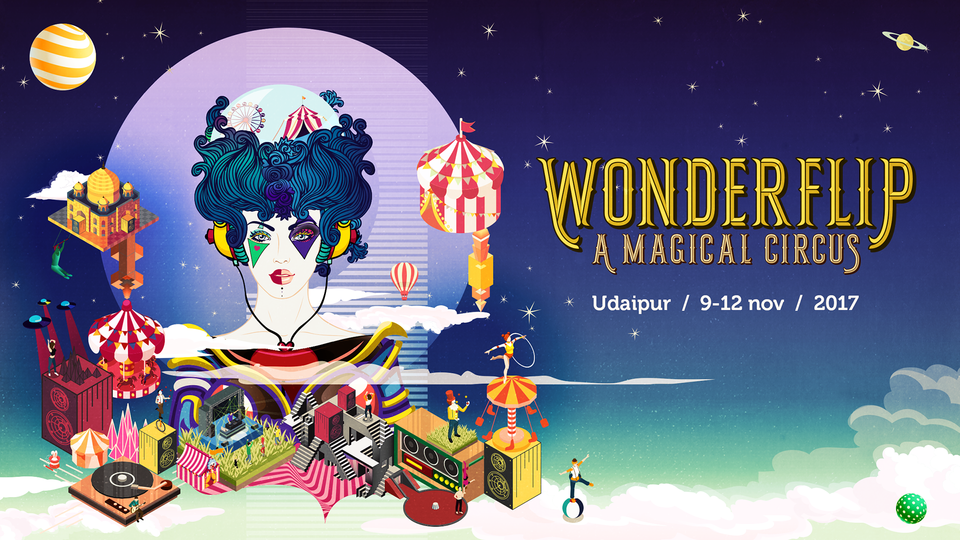 India's first immersive performing arts and music festival, 'WONDERFLIP', will be held in rustic, rural Khempur, a 45-minute drive away from Udaipur. Three nights and four days in a fantastical world will have guests meet characters out of fairytales, be absorbed in a world of experiential art, hear some of the greatest live and electronic artists from around the world, and dance the nights away under the stars with abandon.
The festival has revealed the internationally renowned DJ's and Live Bands who will be raising the rafters with incredible sound on the grounds of the Haveli known from the Hollywood blockbuster "The Best Exotic Marigold Hotel" from the 9th-12th of November 2017.
Two music stages, 'The Big Top' and 'The Marquee' will host outstanding artists, both live and electronic, from India and abroad. The international DJ Line-up includes the likes of Patrice Baumel, the internationally renowned DJ from Amsterdam known for its electronic music; Eagles And Butterflies, known for downtempo to techno to house, with releases on Innervisions, Exit Strategy and his new imprint Art Imitating Life, remixing artists like Underworld, RY X, Moby and Ludovico Einaudi, he continues to be the toast of the underground; Frankey & Sandrino, received the award "Track of the season" at the Ibiza DJ Awards and their remix of "The Idea" (by Hyenah) on Freerange Records is the most charted track on Resident Advisor; ATMOS with his 20 years of experience will turn on the groove with his version of progressive trance and electronica; VAAL's stirring, emotive productions have crushed dance floors across the globe, delivering spine-tingling melodies and morose atmospherics to hundreds of thousands of loyal followers; DOP (Live), ranked the third best live act of 2010 by Resident Advisor, the French trio (Clement Zemtsov programming beats, Damien Van de Sande playing keyboards and horns and Jonathan "JoJo" Illel on vocals) will reinvent dance floor music and will be joined by Aeden and Kimou.
The Indian DJ line up is geared up to amp up the dance floor with Ankytrixx, winner of DJ OF THE YEAR & ranked No.1 in India for Electronic Music (2012,2013) on the MyFavDj Poll; Bullz Eye, who started DJ'ing in 1999 at the age of 16 under the influence of Sasha, Paul Oakenfold, Bedrock, Siddhanth has blasted many clubs in Mumbai with his tunes; 8-Bit-Culprit, definitely a hidden gem is a valuable asset to the growing Indian electronic music culture; Calm Chor, the co-founders of Jalebee Cartel, co-founder at Soupherb records and one half of electronica duo Bit Of Both; SHFT aka New Delhi-based techno DJ and producer Vipul Angirish makes music that is boundless, with a versatile sound that's both clean and effervescent. Hamza featuring Manu Idhra, his diverse international sound is influenced from his strong musical background as well as growing up in India and traveling the world, living in Paris, Boston, and New York; will only add to insanity.
The Live band line up at Wonderflip features some of the most experimental and captivating artists. The international live bands line up features Gipsy Sound Revolution, as wild as the wind, as raw as the Rajasthani desert, as sultry as only the south of France can be - Gipsy Sound Revolution celebrates gypsy migration out of India; Gaudi Live featuring Danny Ladwa's past career highlights include working alongside 'Supa Mc TC Islam' (son of Afrika Bambaataa) at 'EcoSystem Festival' in Brazil, joining Hip Hop fusion band 'NOU' (One Little Indian Records) in Brighton for their UK tour, and winning a place in the UK Beatbox Championship Final; The Indian live band line up will feature The Funcolos, whose set is a mixture of high energy SKA, dub, reggae, funk and even more high-energy SKA! The main focus of this 5-piece band is live performance, audience interaction, good times and just general Fanculery. Singers, songwriters and producers Hari and Sukmani have been creating fresh and eclectic sound, fusing traditional punjabi folk music with ambient electronica embodying their powerful, singular and independent spirit. Komorebi, Delhi-based Indo-Canadian pianist - Tarana Marwah does an interesting mix of electronic music, with Suyash Gabriel on drums; Clown with a Frown set out to redefine dance music, by revolutionizing sounds from the 70's disco era. The band draws influences from a wide array of artistes like Chic, Jamiroquai, Earth Wind & Fire, Kool & the Gang, Steely Dan, Tower of Power and many others; GRAIN aka Gaurav Raina is one half of India's biggest electronica export – Midival Punditz. After over a decade and a half of Midival Punditz, Gaurav's solo project – GRAIN is about going back to the roots and producing quality music; The Chizai Quartet - More than being a band, Chizai is a group of friends that came together to cheer on the spirit of life and spread good vibes.
OTHER HIGHLIGHTS
What is a circus without its performers? Well, not a circus. At Wonderflip, be prepared for mind-blowing, world-altering, jaw-dropping, stuff-dreams-are-made-of shows all through the festival. Renowned dance company Natya Nectar Dance, will stage their talents in an experience that will stay with you forever. The Wonderflip themes in the order of the three days are "Vintage Circus", "Salvador Dali" and "Fairyland". Be there all three days to see the stories come to life as incredible performances get played out in costumes that will truly bedazzle.
There is going to be an incredible display of death defying stunts by Royal Enfield.
There is going to be a 20 feet tall girl installation by Gaurav Gupta. The sculpture will be placed on a pedestal and will be lit up at night. This would be coupled with projection mapping as well. The Room of Reflections and Illusions by Klove Design Studio is essentially a room that is like the old school maze of mirrors.
Nicobar's signature home, a canopy of ivory decked out in a selection of our goodies, branches out to include two new additions: a tea lounge with a pick of teas from the heart of the Himalayas, and a stopgap massage parlour, for a weekend of relaxation.
Lulu & Sky will be showcasing a capsule collection curated for the festival. There will be a pop up shop at the festival as well. Rockabella by Pia Pauro and Label Kiss by Archana Vijaya are curating exclusive circus looks for the festival. Dryad, is a handcrafted jewelry brand that is creating whimsical products with love for Wonderflip.
Decathalon is conceptualising a "Festival Survival Guide", highlighting up to 15 key products that add a value to the festival experience and that will be shared among the festival ticket holders.
In addition, there is a haveli spa for people to unwind and get an afternoon getting a massage.
Outdoor activities like off-road cycling to the nearby lake and horse-safaris –Wonderflip has tied up with a company called "Let's Trip". It's a cycling tour company based out of Jaipur. They are going to be doing cycling excursions out into the near land and forest to a close by lake. Also, Hemant Deval, the proprietor of Ravla Khempur, is an avid horse breeder and specialist on hosting safaris in the nearby forest. Round-the-clock gourmet food restaurants, cocktails and drinks and so much more!
The early bird tickets are out and priced at INR 10,500 and Mughal inspired Luxury tents are priced at INR 26,500 for two and INR 30,500 for three. So, What are you waiting for…. Book your tickets at www.wonderflipcircus.com to experience the fantastical world.