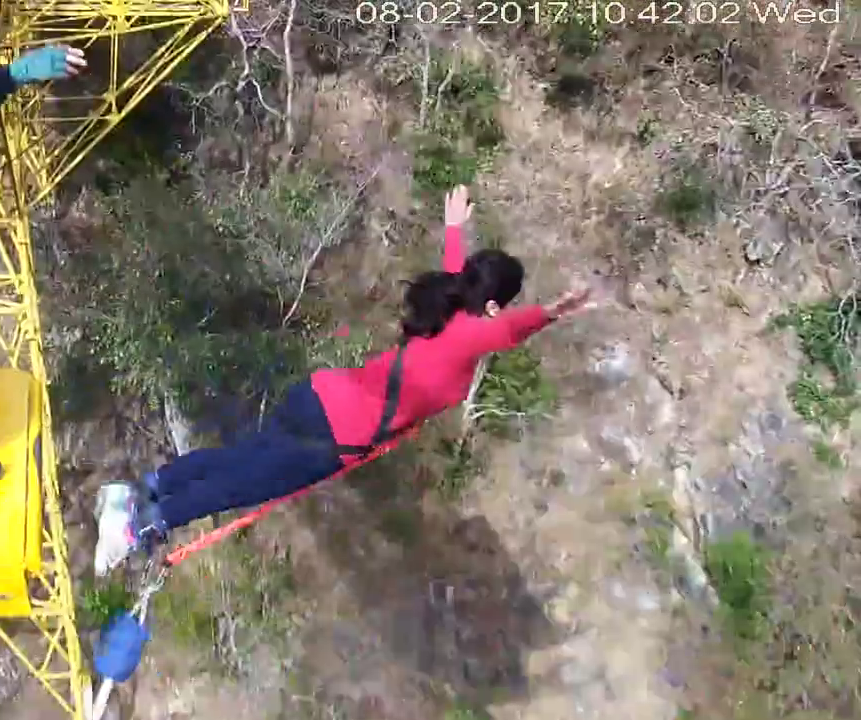 For all those adrenaline junkies out there , if you want to get started with your adventure journey or if bungee scares the hell out of you but you still want to do it, Rishikesh, India is the best place to get started with it.
Around 20 - 25 kms from Rishikesh , in MohanChatti is Jumping heights which offers Bungee, Giant swing , Flying fox all under one roof! Here is India's highest fixed platform bungee , 83 mtrs! Whoaa!!
A day before the jump :
While in Rishikesh , you have a lot of stay options. There are numerous camping sites along the Ganges , these sites aren't very far off from Jumping heights or you can choose to be at Zostel , Rishikesh. The links for a camping site and zostel is as below :
https://www.zostel.com/zostel/rishikesh/
http://www.aspencamp.in/
All these are around 20 mins drive from Jumping heights. Suggest to spend the night in any of these and start early the next morning. As the day progresses , the queue gets longer, on weekends especially.
The day :
Waking up with this thought of jumping from 83 mtrs itself is so exciting ! Plan to reach around 9 - 9.30 am at Jumping heights. Once you go in , you will be asked to keep your bags etc in a locker. You will asked if you have had any medical conditions in the recent past and then they walk you through a video of all the 3 rides. After watching that video , either you will get tempted and excited to do all of it or you will be scared to death!Trust me , go with the first option! Its worth it. Also doing the combo of all 3 is cheaper than doing just one of the 3.
So now you are done with the formalities , which will easily take around 30 mins and you are standing on one end of the bridge for your turn for Bungee. Standing and walking to the other end of that bridge for your jump is when you'll realize the height. Don't look down , if you have acrophobia. Just keep walking.
You reach the platform , the ropes will be changed as per your body weight. The team of 3 getting you ready for the jump are really cool people. They will make sure you don't panic , give you all the necessary instructions, do's & don't and there you go , standing on the edge and 3.2.1 Bungee !!
Don't you already feel like doing it ? watch the video below & just go for it :
https://www.facebook.com/neha.kothari.351/videos/1425168954200425/?l=8155628912928222967
Its a few secs free fall , followed by a few mins oscillations , after which you are lowered down and the rope is untied from the ankle. They say time once gone will never come back , but these few mins of your life , the heart beating faster and the moment when you know you are still alive , these moments will be with you forever!
PS : Giant Swing and flying fox are equally exciting , but for me it was Bungee that I always wanted to!