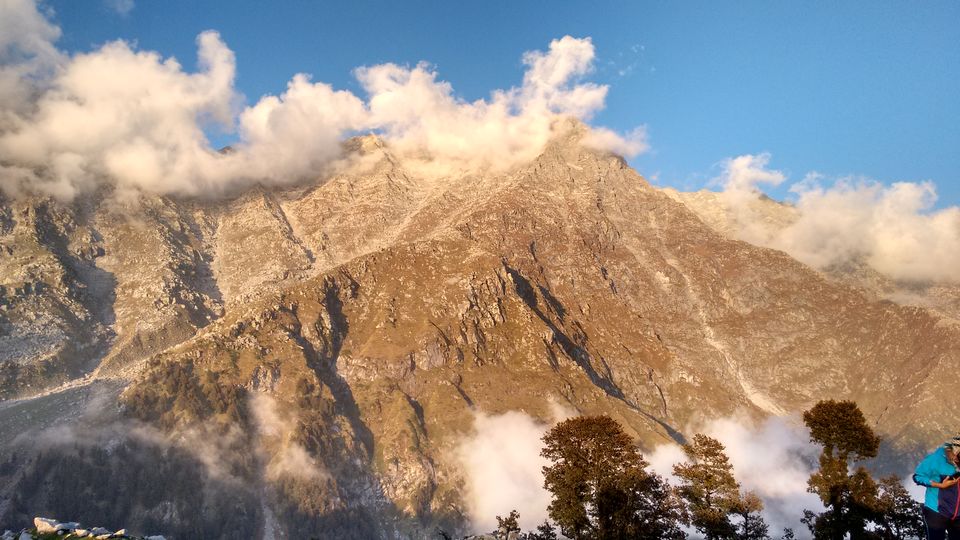 "The journey only requires you to put one foot in front of the other, again and again.
And if you allow yourself opportunity to be present throughout the entirety of the trek,
You will witness beauty every step of the way, not just at the summit".
Well accordance with the above quote , me and my friend Harsh Jain started our trip for Indrahar pass on 7th Oct till 11th Oct '16 from Delhi.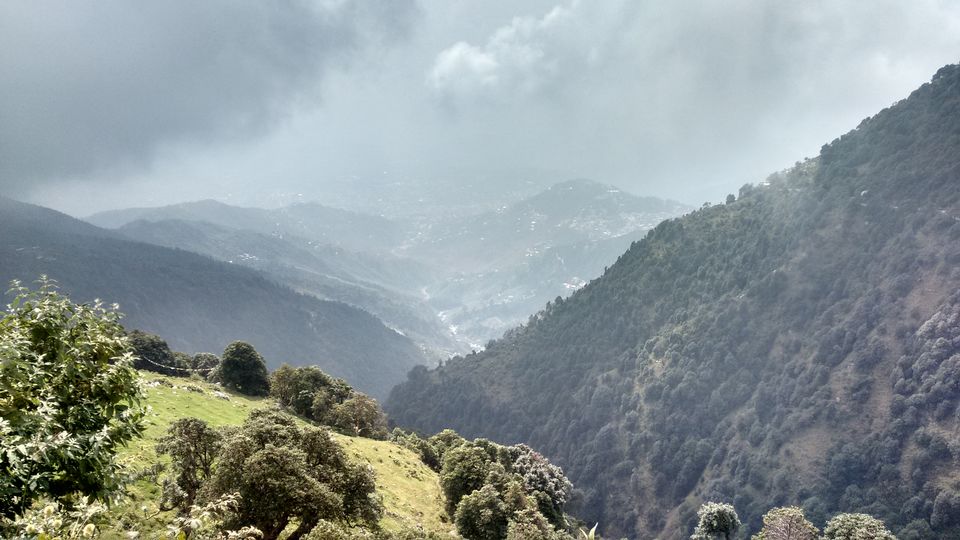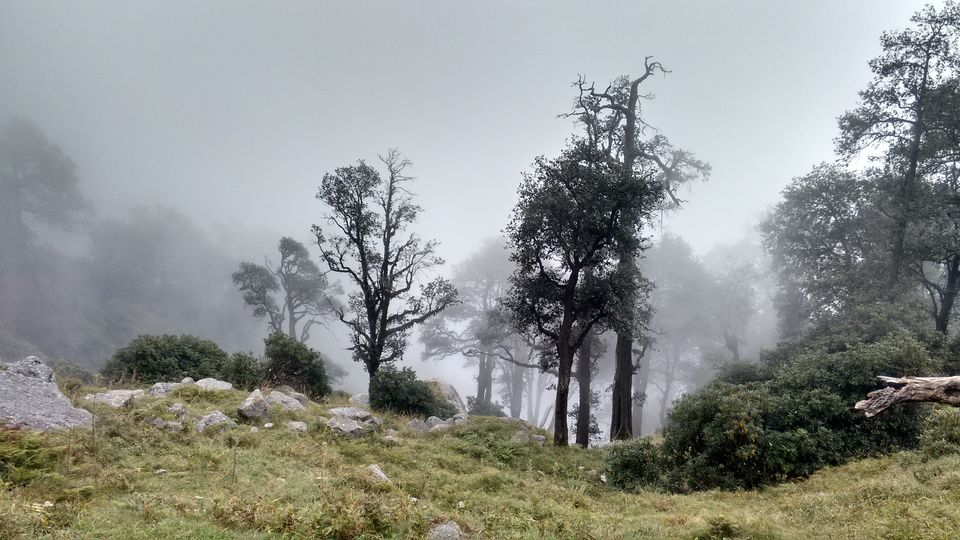 Normally Indrahar Pass require 4 days to complete the trek and the usual checkpoints are
Day 1 : Galu Devi Temple - Triund.
Day 2 : Triund - Ilaqa Got.
Day 3 : Ilaqa Got - Indrahar Pass (In between Lahesh Cave).
Day 4 : Ilaqa Got - Galu Devi Temple.
But since both of us have already done other high altitude trek prior to this, so thought of completing in just 2 days.
Our plan was like this :-
Day 1 : Galu Devi Temple - Snowline Cafe.
Day 2 : Snowline Cafe - Indrahar Pass - Snowline Cafe - Galu Devi Temple.
So as planned we started on 8th oct 2016 from Galu Devi Temple by 11:00 AM with guide and on the way we met two australian women whose name are "Dawn Meaders" & "Michelle Symes", who were our companion till Snowline cafe and they were really inspiration for us, because both were of 50+ age.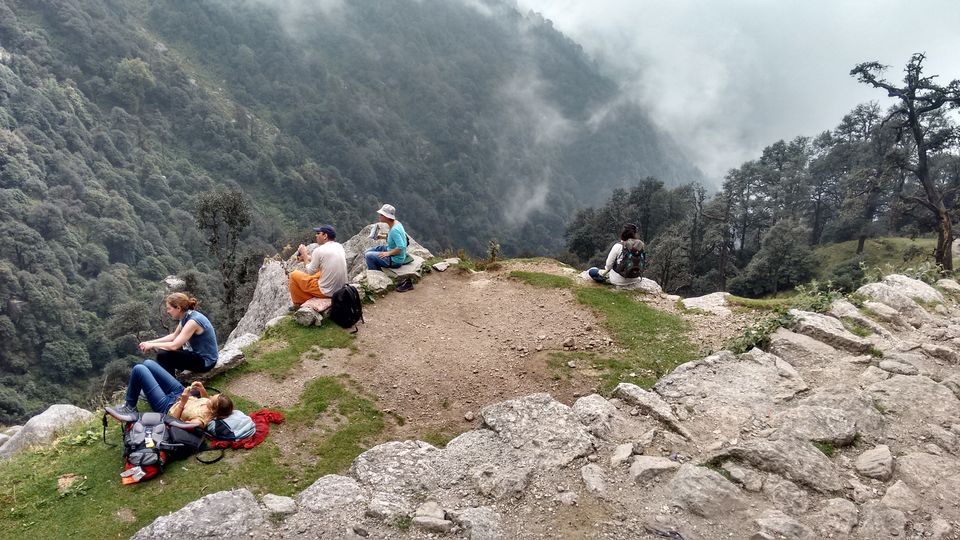 We reached Triund by 2:30 P:M and had lunch there rested for a while and then again started for Snowline Cafe and reach Snowline by 4:00 P:M.
The weather was superb and we came across flock of sheeps spreaded across the meadows, which added beauty to the views.
Few of the Pics are :)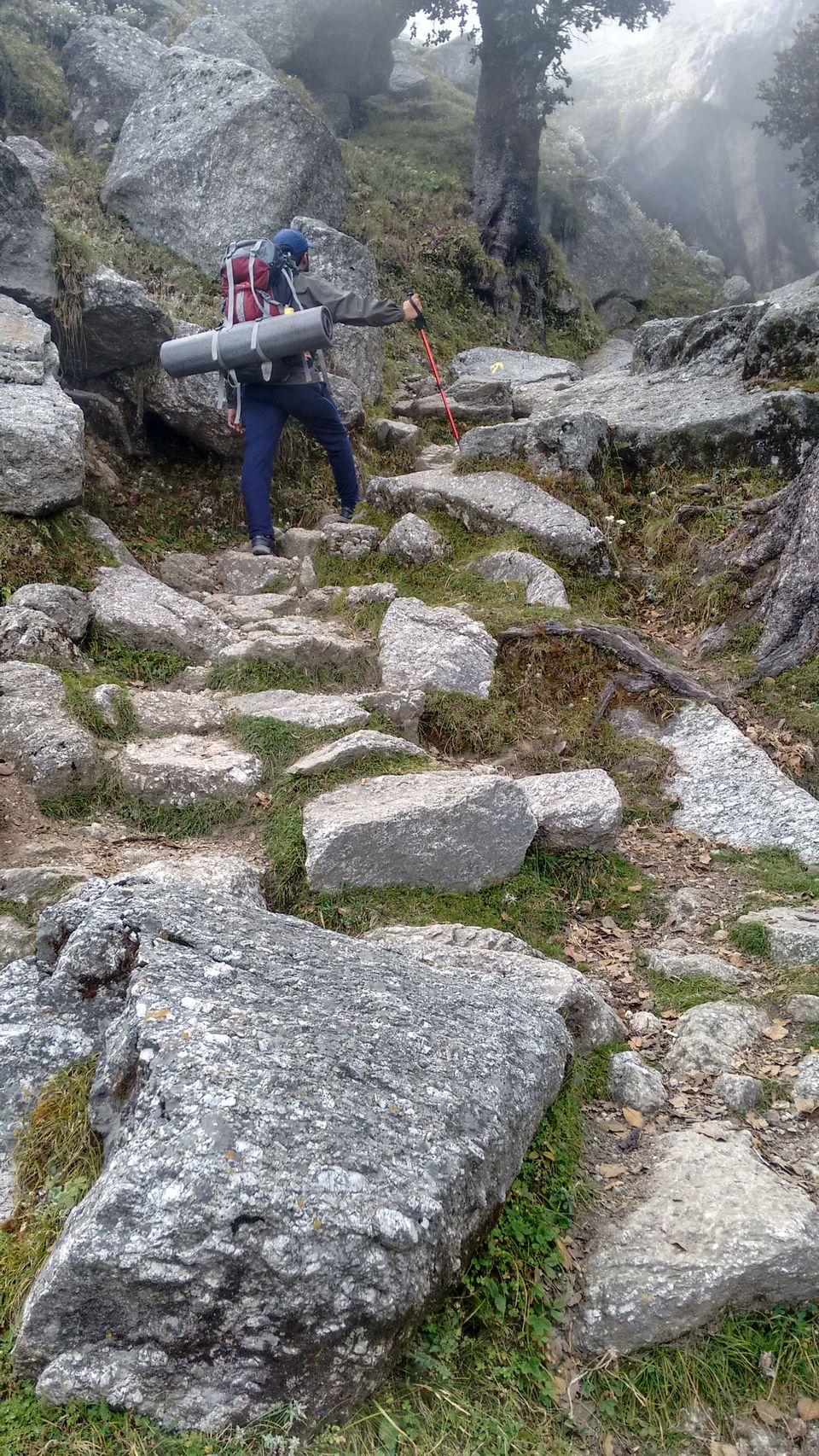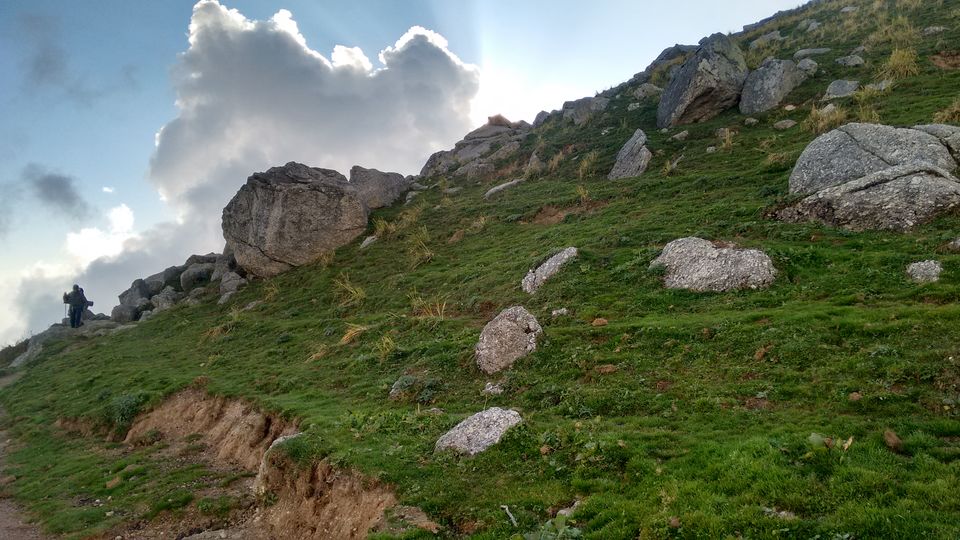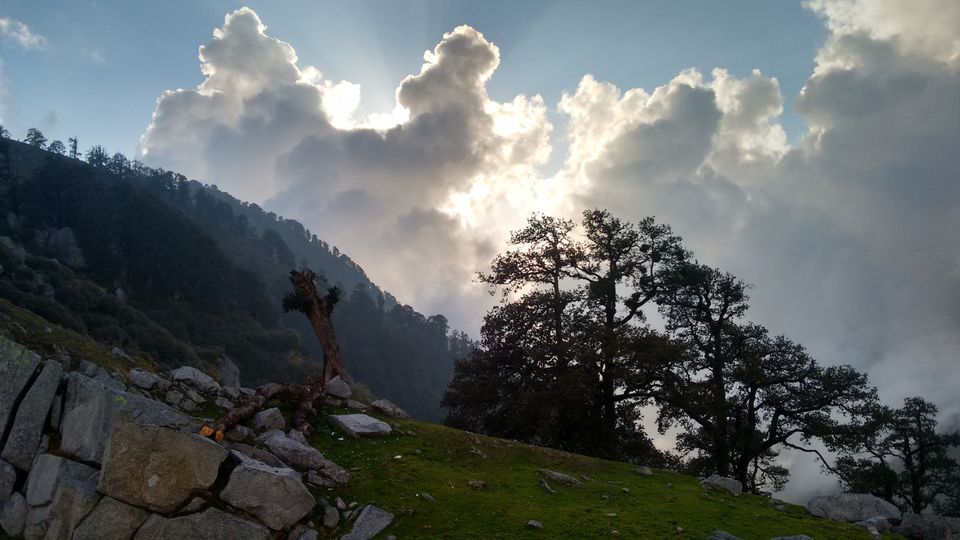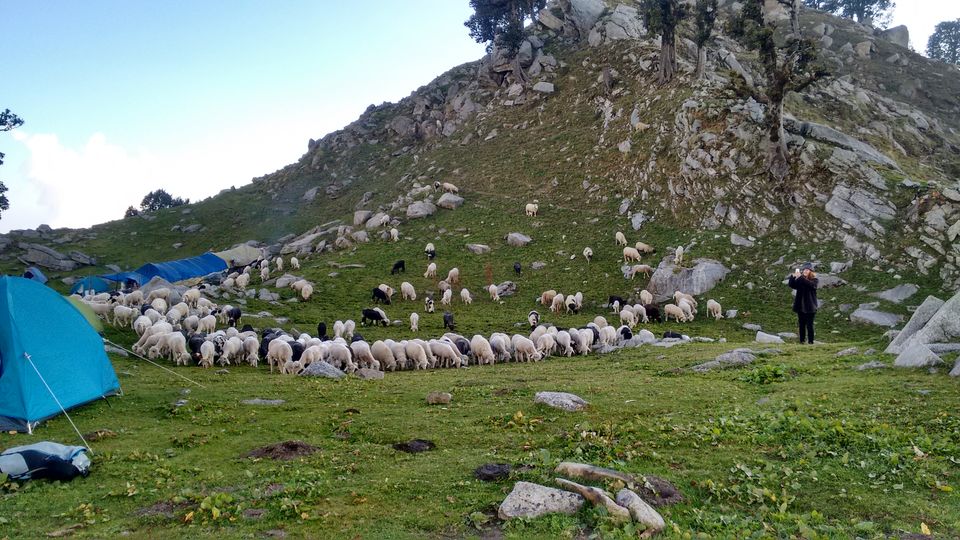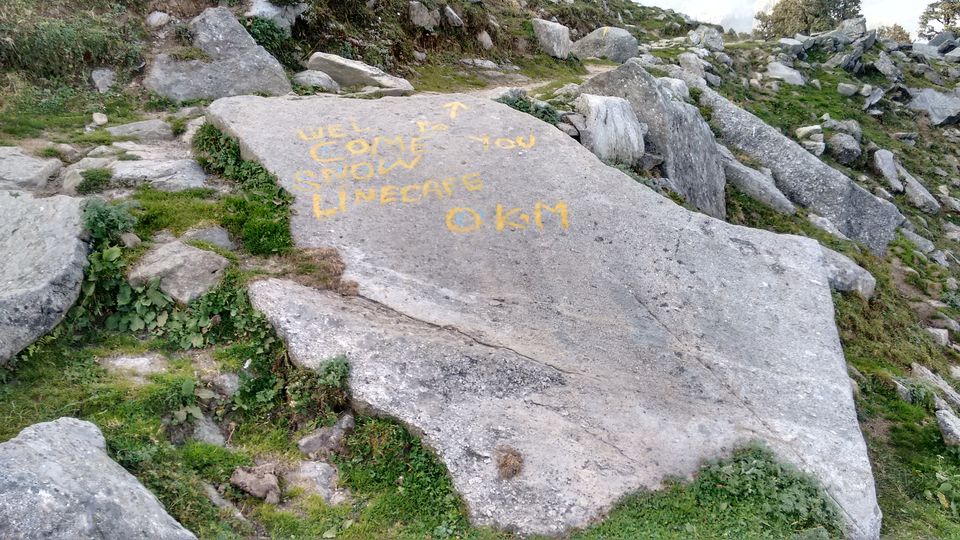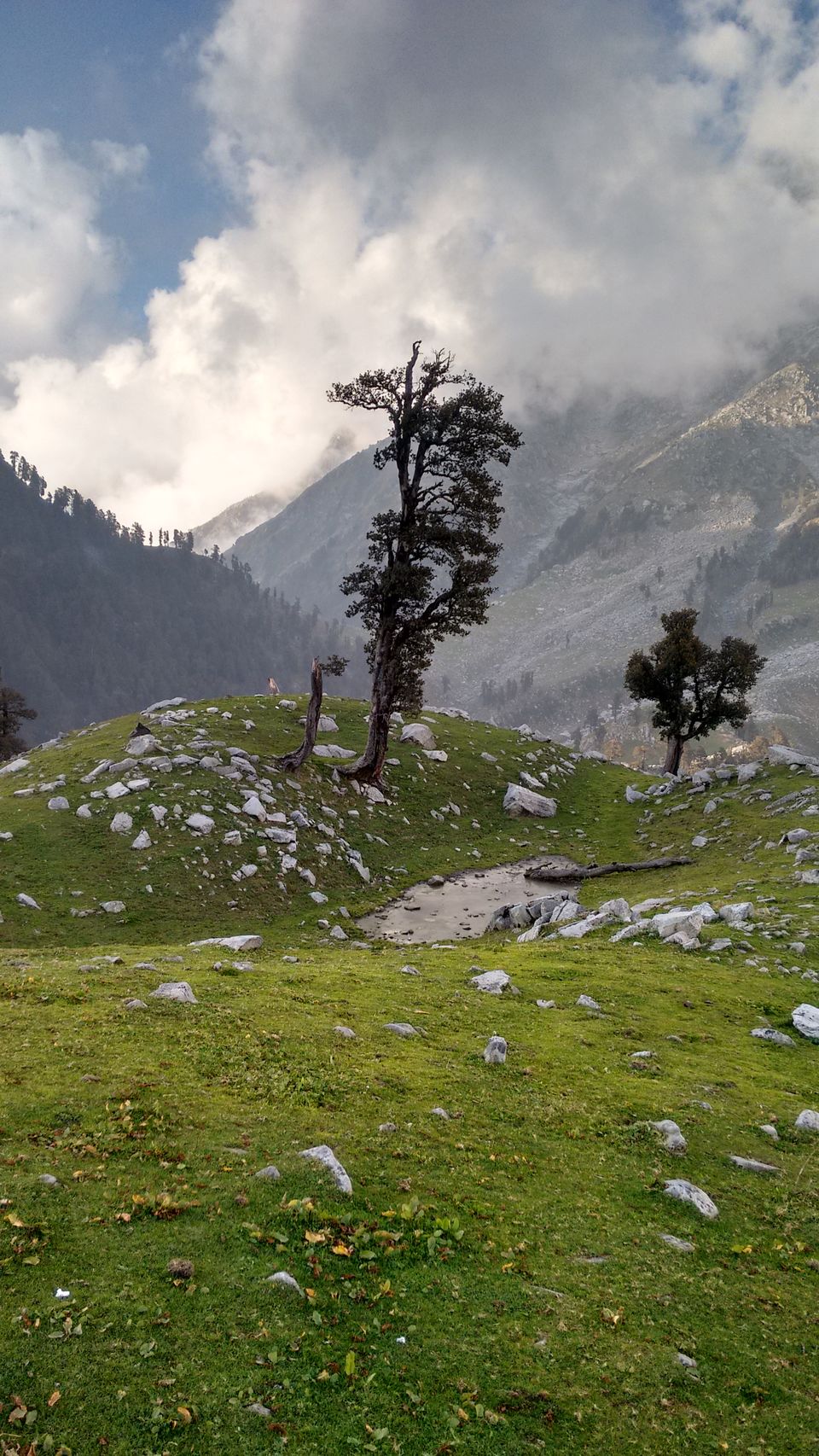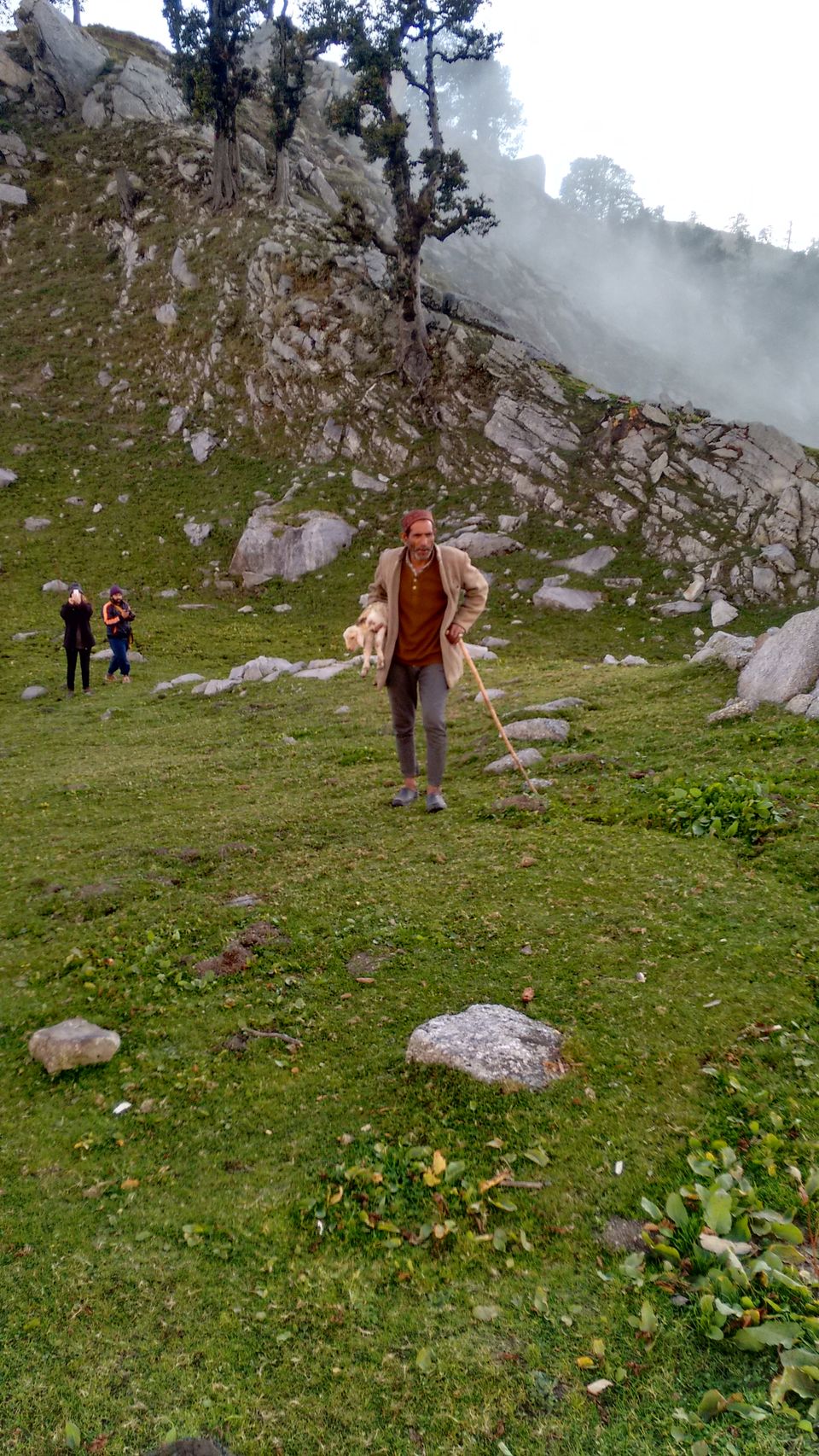 Some moments just amazed you, well this was one of them, where just new born baby was able to find her mom and standing on his feet.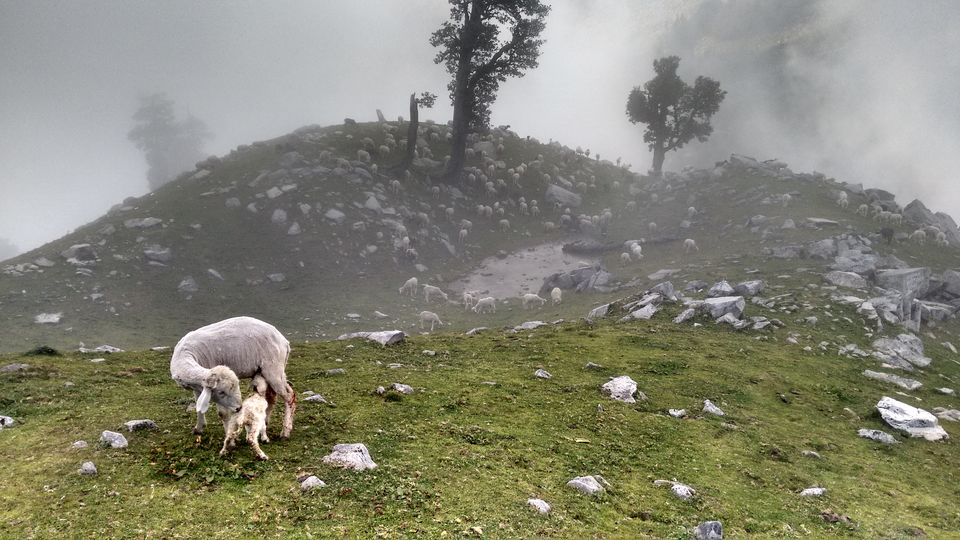 Whole herd is scattered across the fields and making it more scenic with the patches of white and black goats, fumed in the midst of the clouds.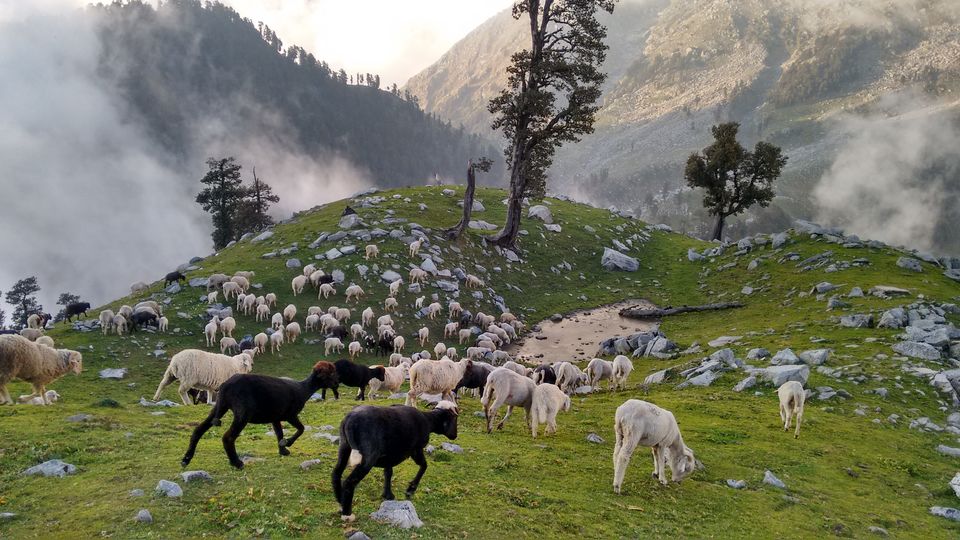 The moment we reach there, our guide told us that tomorrow early morning we have to start our ascent for Indrahar Pass which is just in front of our eyes and Harsh was sceptical about the Trail, as it is very challenging and we were asking is there any other trail which we can do to reach the Pass and he nodded no, this is the only trail and last 300 meters are very tough.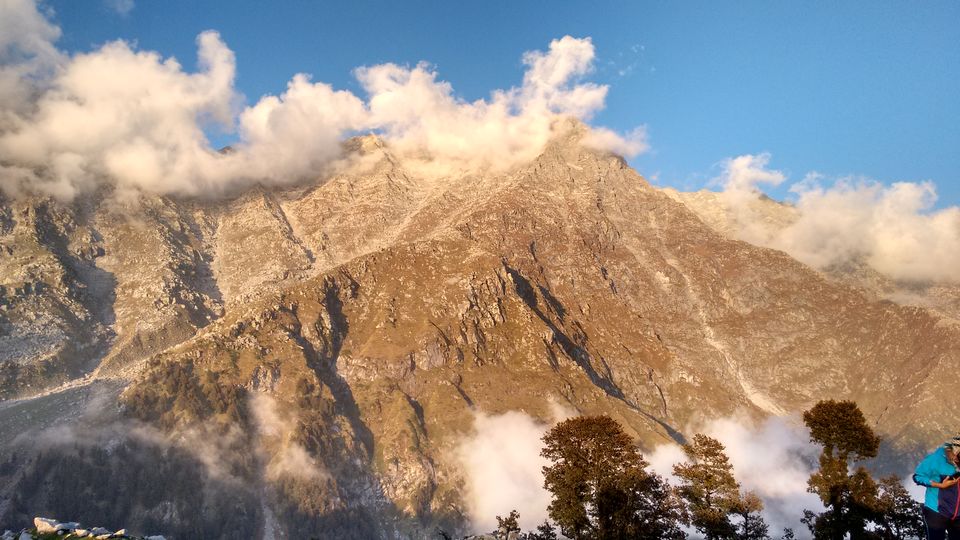 Then in the evening we sat for a bonfire and there were various people discussing about their trekking experience and i heard 4 out of 5 people who were doing for second time or third time only few of the people were there for first time.
I was trying to convince Harsh that we will be able to do it, just focus on legs and eyes and keep the momentum, but he was saying we will see in the morning.
Then we went to sleep, but to be honest, i was not able to sleep, because i planned this trek for both of us and i wanted to complete it with Harsh, since he was my trek buddy since my First trek and it feels special when you are with your best friend on the top of the pass.
I woke up around 3:00 AM for washroom and i found one man from the group who was clicking few galaxies photos, and i helped him at few instances to get the best shot but on return, i got a piece of advice , because he was a local from Himachal and he know much about the surroundings.
He told me that he has done this trek more than 10 times and being a fat guy, he was able to do it, and both of us were being in good shape, so i convey the same to Harsh and that talk works out and he joined me for the Trek to Indrahar Pass.
Day 2 - Snowline - Indrahar - Back to Snowline.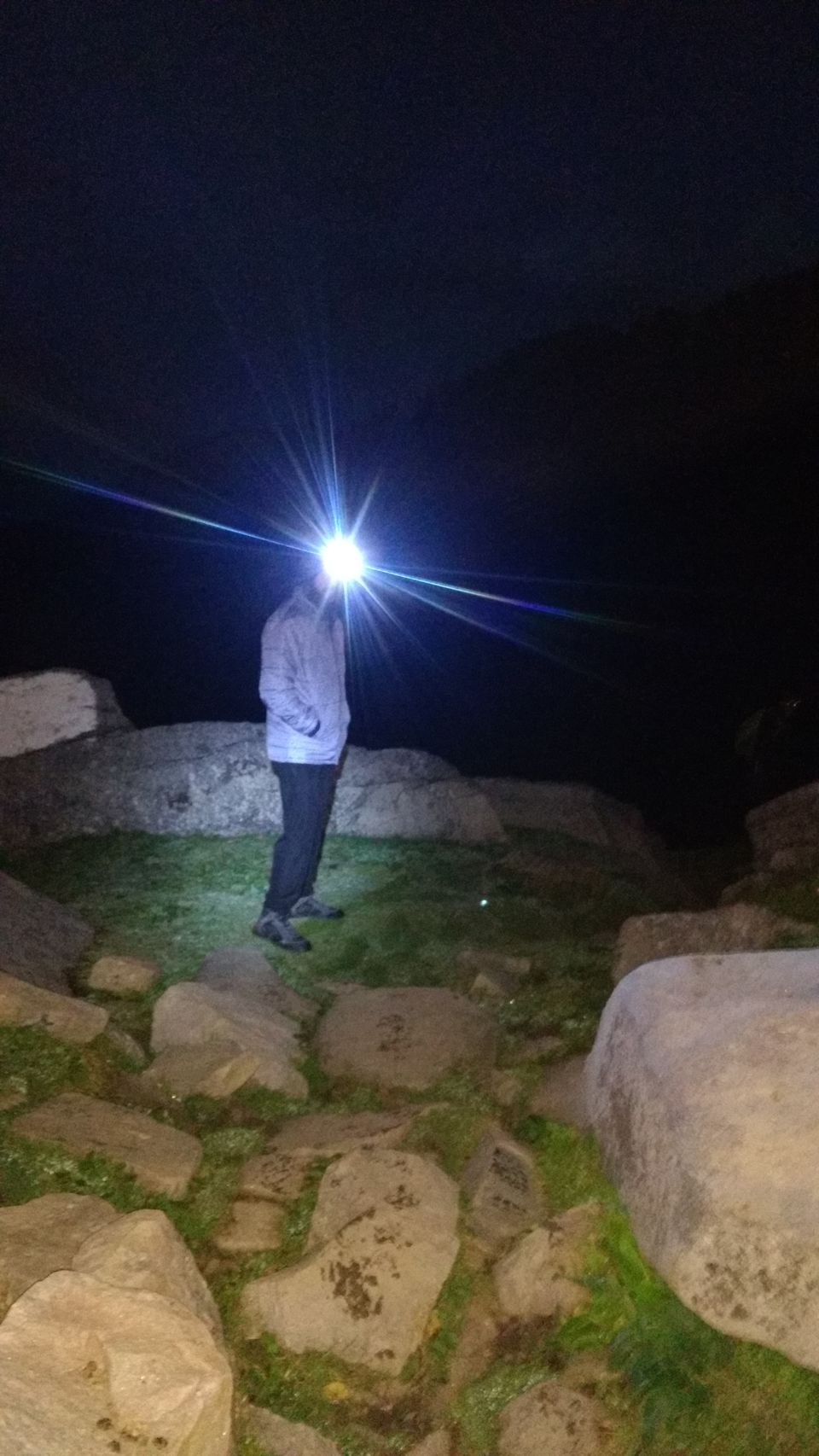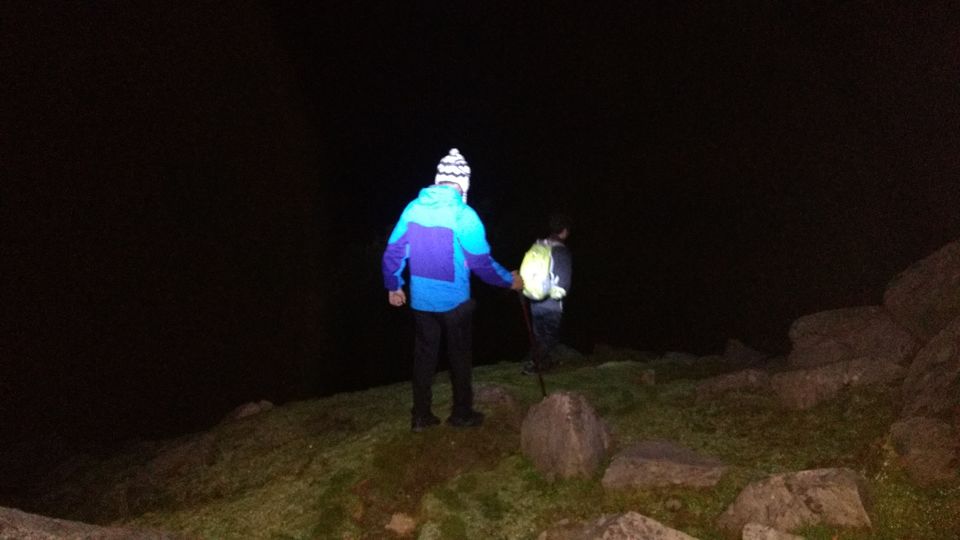 I heard from the locals that Indrahar Pass changes 14 colors a day and we were experiencing lively the same while doing ascent towards it.
Our guide told us that we have to reach Pass by at most 11:30 AM because weather is unpredictable at the top. So we follow accordingly but in between Harsh was experiencing extreme cold due to this we got little delay and reach Lahesh Cave by 9:30 AM.
At one point i was thinking to hold with Harsh but seeing his state of health, i was sure that he won't be able to reach on time, given a stretch of time, he might do, but this would be very late for all of us and weather will get worse after 12:00 AM.
So after lot of discussion my guide said that, if he can't do then we have to step back towards Snowline Cafe, but i was looking at the pass and i just had one thing in my mind, to reach the apex anyhow.
"Here comes the Twist in the story"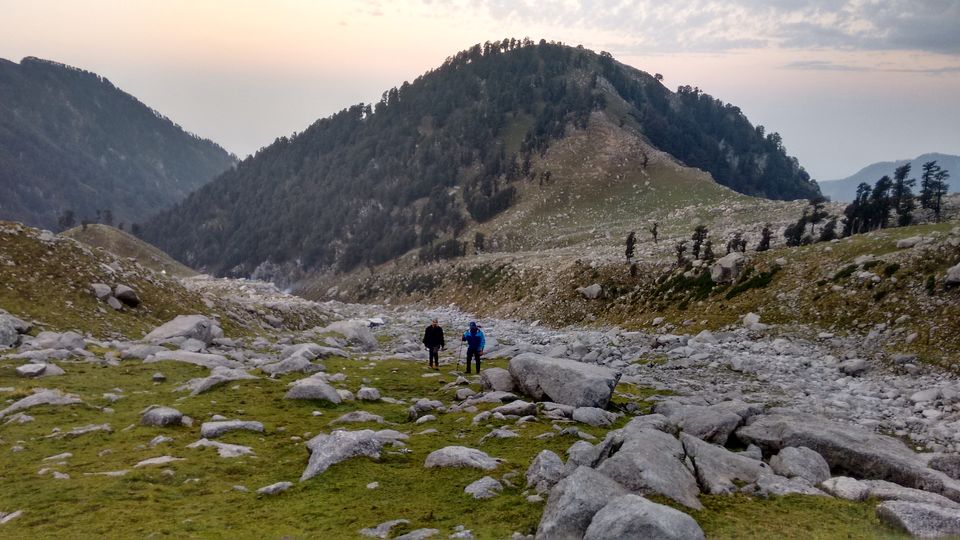 I was carrying souvenir with me and i had just one wish to place the souvenir at the top among the tridents of Trishul, being a Sikh, we believe in one God, but when you are on mountains, you experience the profound silence of voices which is emanating from Mountains and i do believe that god resides in them too, So hearing this my guide got convinced and from there Harsh and the fellow guy moved back to Snowline Cafe and me and my guide went further towards Indrahar Pass.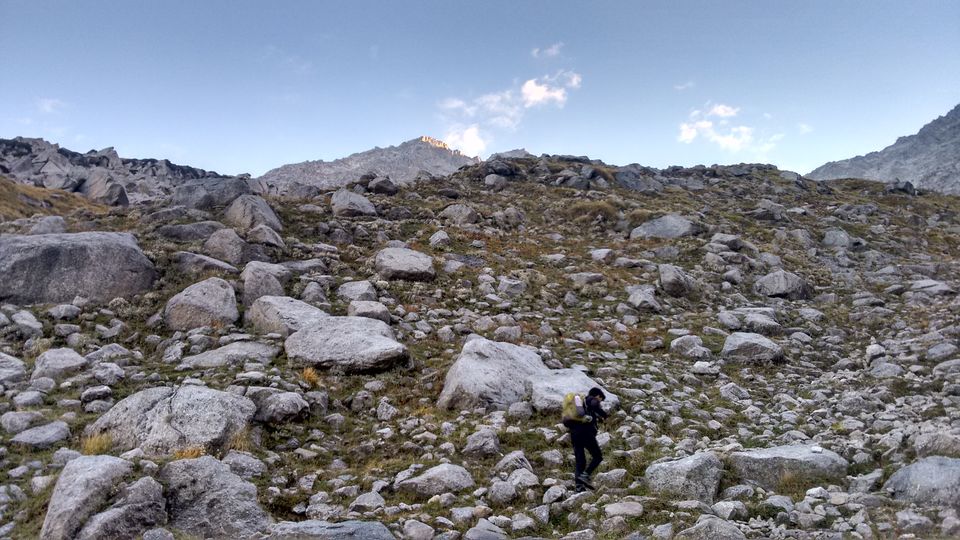 What i listened from fellow locals can be seen, the Mountains have started to change it color and this is the first kiss of the sun on the mountain, at that point i was just gazing at the Sun and it was so relief to see our Biggest star on the earth waving smile from other end, i know it sound weird, but on the trail, it was cold in the morning and getting the warm rays gives us a relief.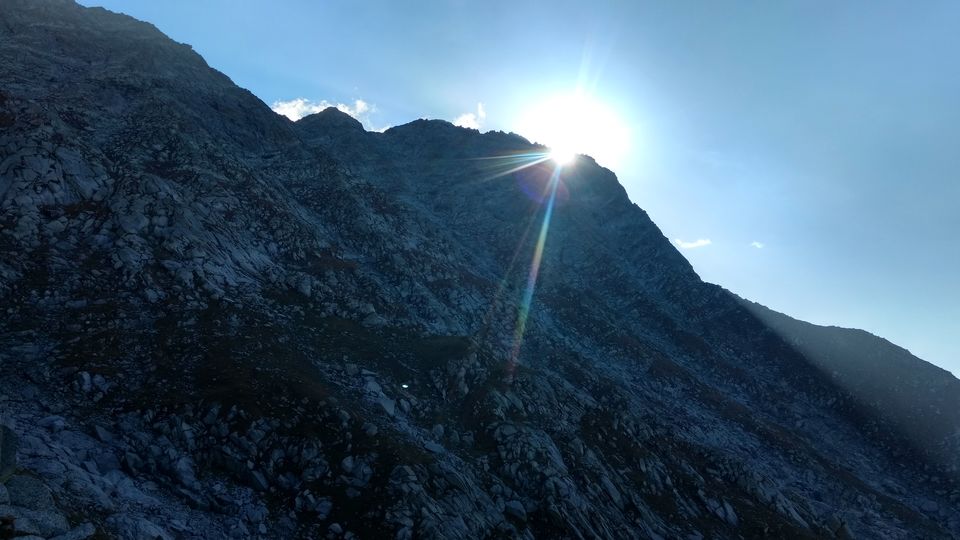 As said the weather has started changing with in few seconds, the whole rays are wiped out and it was covered with clouds over us, since we were near to Pass.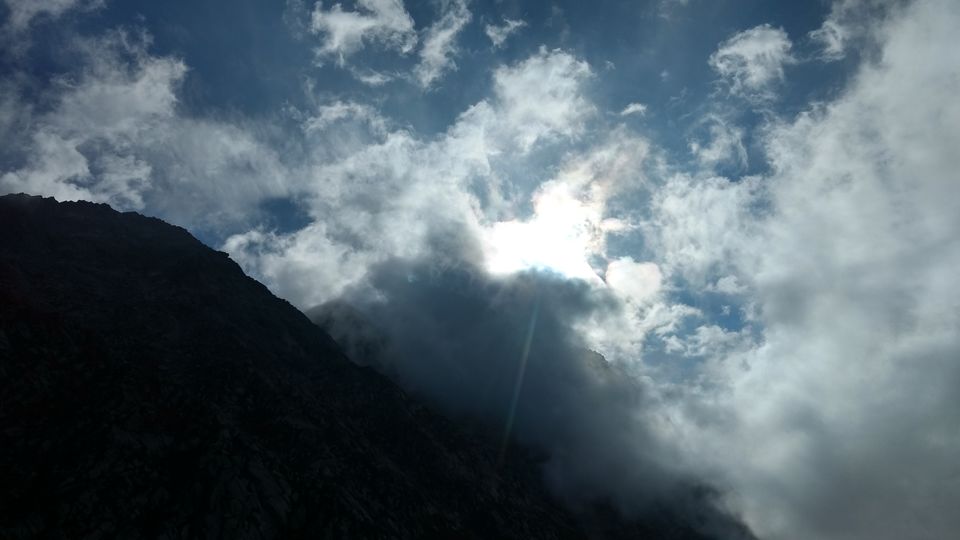 The trail is getting treacherous as we are moving ahead ,the last 300 meters can be seen, it is tough and i have seen people moving back from last few 100 meters, but i was just holding souvenir in my hand and praying to god, just give me the power to place this among the Tridents of Trishul and i was moving like an ant towards the Pass.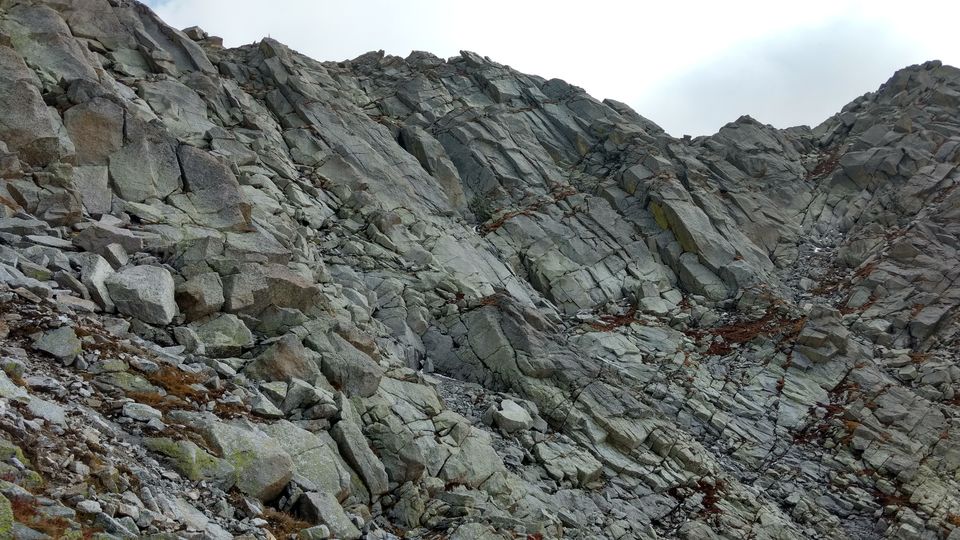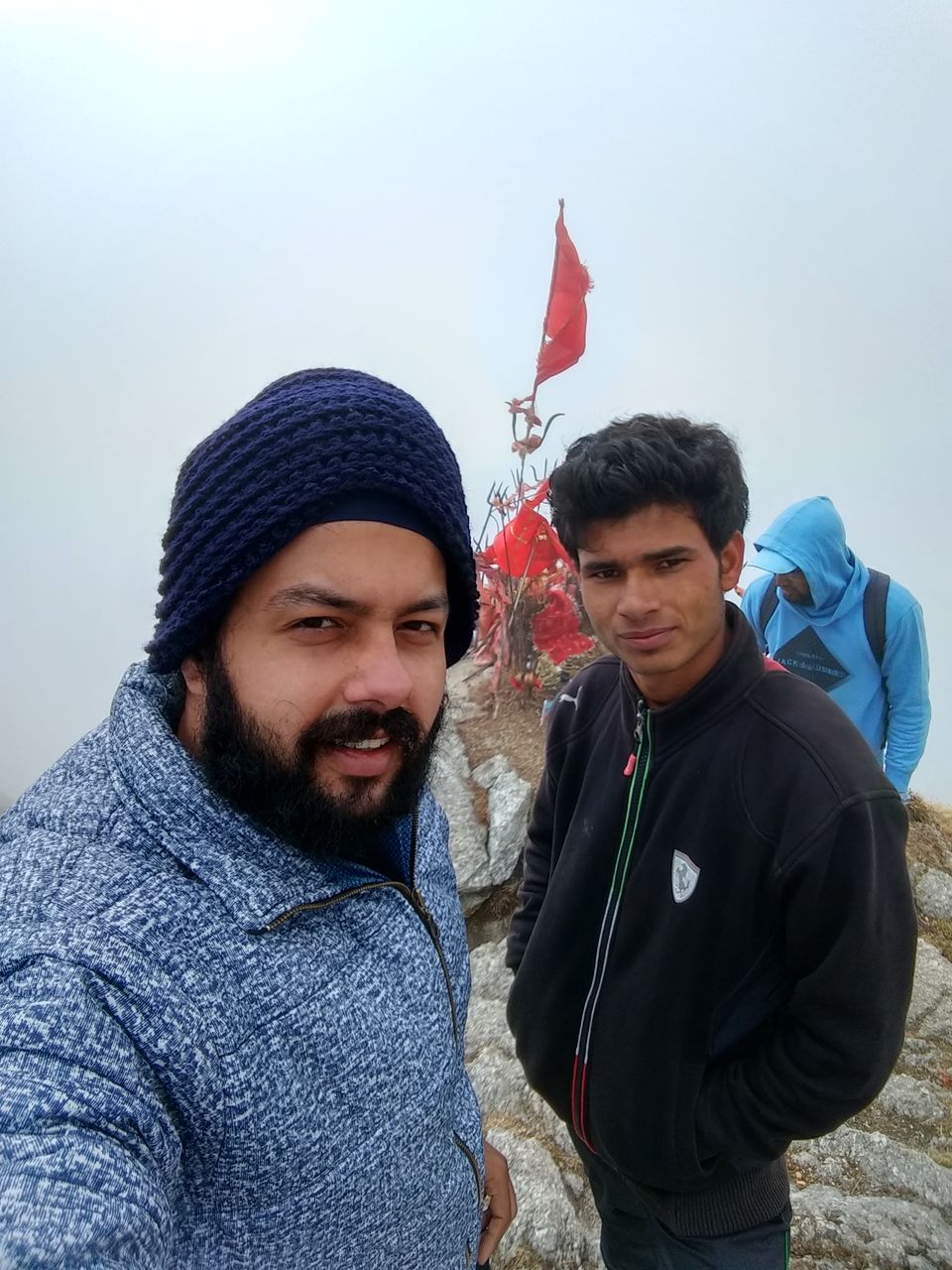 Finally after half an hour by 11:29 AM, we were at the top and i was missing Harsh,
But i know, he will come again and will complete it all the way up to Chamba. Without wasting any moment i placed the souvenir at the top and gave a big thanks to God for giving me power to complete it all the way up to Indrahar Pass.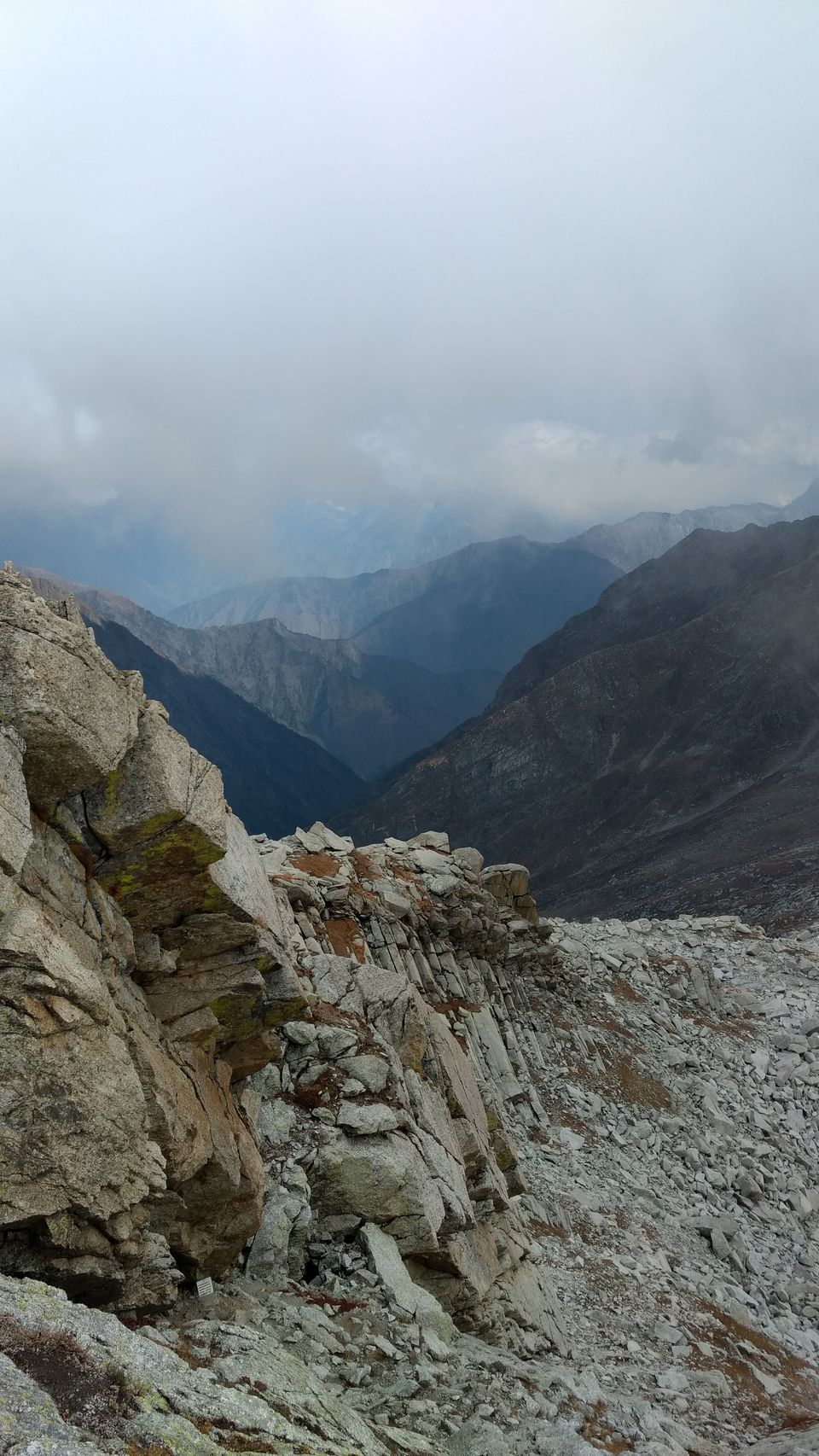 The other side of the valley (Chamba) from the top of Indrahar Pass and i know Harsh is down there so after half an hour, me and Guide started descent towards Snowline Cafe.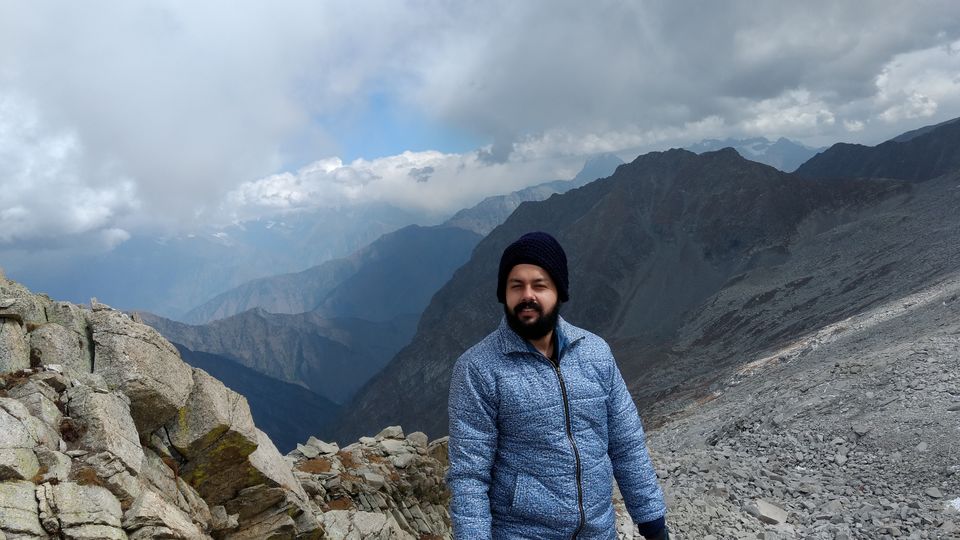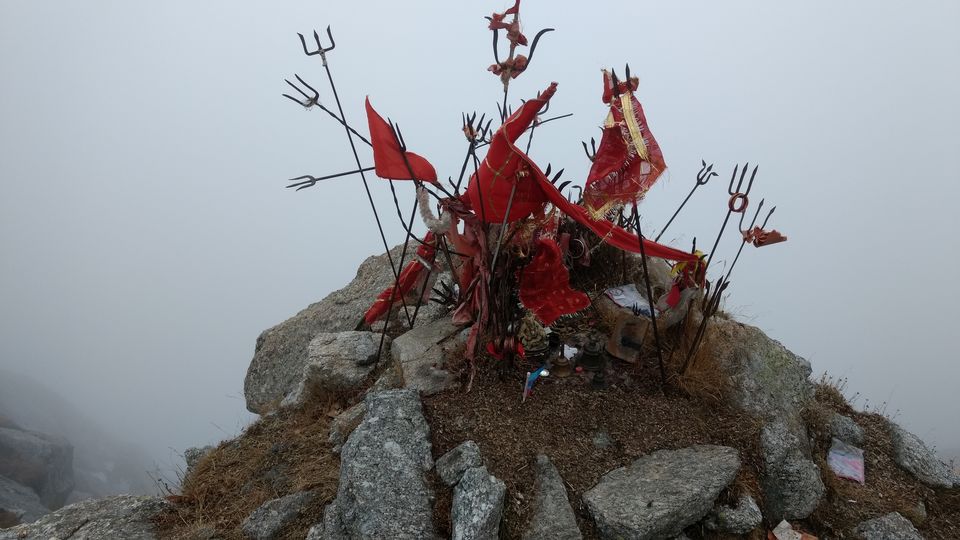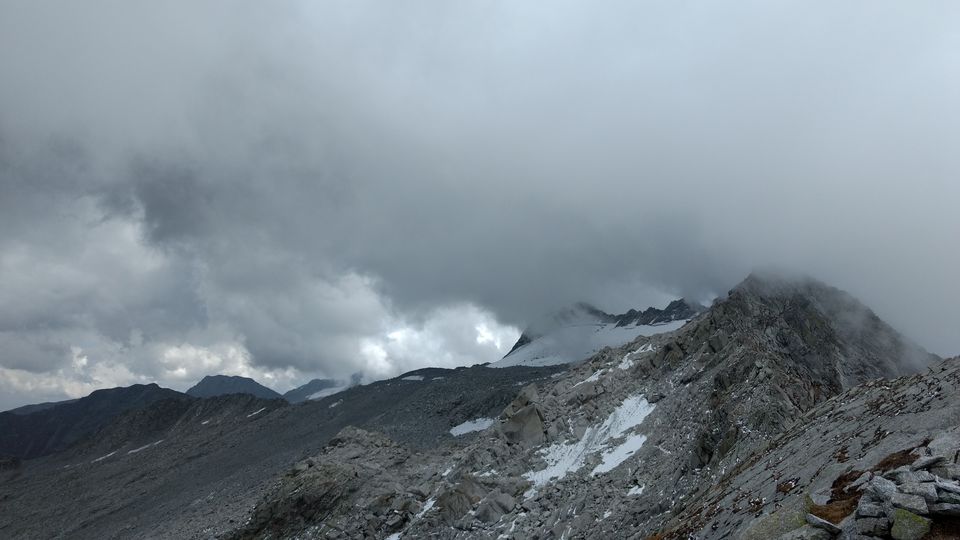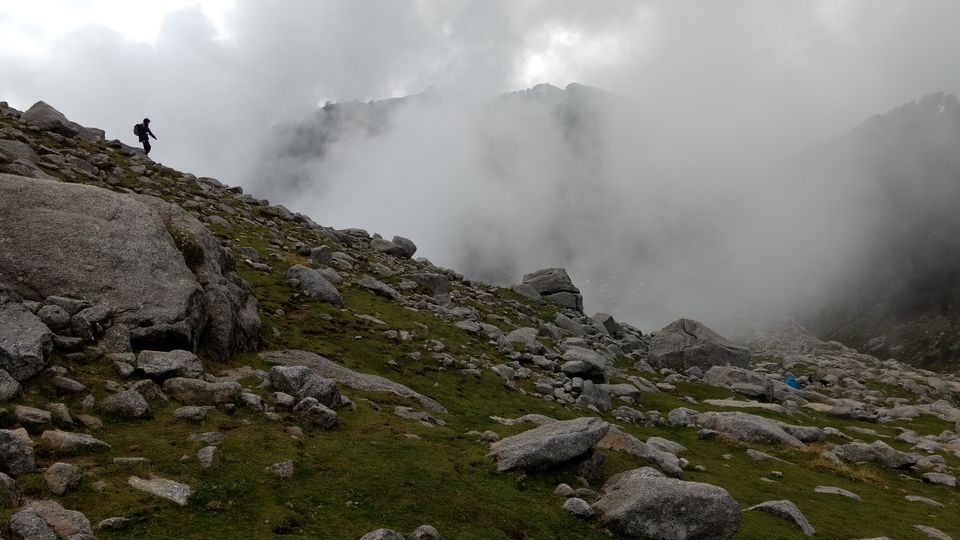 Now after coming back to Snowline Cafe ,i was just looking for my tent, because i was so tired and just want to sleep for few hours.