"Bhaishaab" (brother), and a pair of hand was behind me asking for a hand shake. A man, bending to greet me with a smile on his face. Though, the face wasn't clearly visible in that poor light of bulb fighting all the way to lit up the dark kitchen room. I put off the glass of tea I was holding, and turned a bit more to be comfortable to accept the greet with my pair of hands. As I turned aback to catch again my tea, I heard him saying "Pio-Pio bhaishaab, thand hai" (please continue your tea, its cold), and a laugh followed from both of us. I wasn't surprised at all by this unknown greet, as people in Himachal (especially remote villages) are quite friendly, and make a point to greet all people around no matter they know them or not. He entered the kitchen, shut the doors, and took off his heavy long jacket. The military green coloured denim jacket, though was heavy and long enough, but not waterproof, and was slightly torn from few places. There were several stitches as well. It was quite evident that he didn't went to a tailor to get it stitched as they were not very professional stitches. His greet followed towards the cook, the bus conductor who was standing right beside me, and the bus driver, next to the cook. By the time, he was behind the big stove, catching some heat for himself.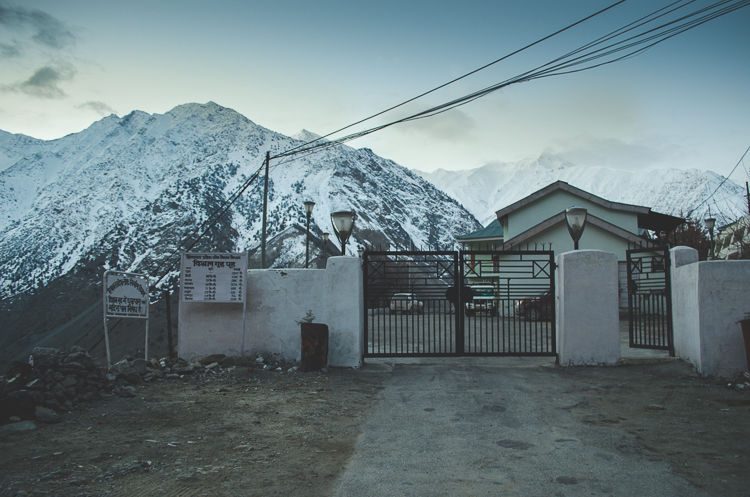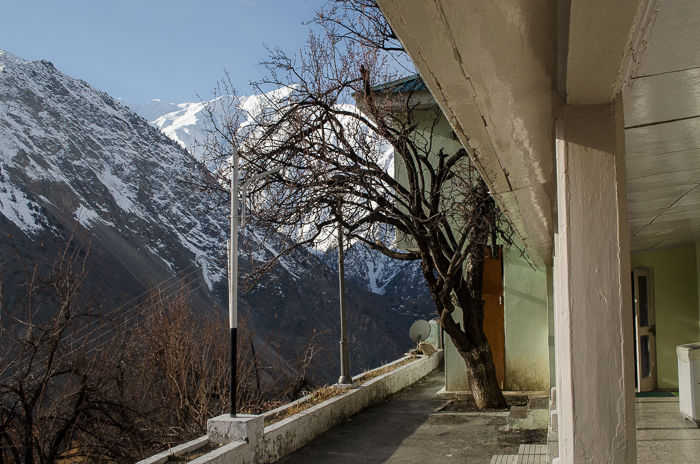 I was unaware about the remote village of Pooh, as I was visiting the place the very first time. All that I was aware was, it serves as a stop-over to the travellers who travel towards Leh or the well-known Kaza valley. However, while travelling towards Pooh, I noticed, the beauty was unignorably splendid and breath taking. The bus conductor, of the bus I took to Pooh, told me that there's a PWD guest house where the bus staffs stay, and I may get a stay in there, which as per their opinion was the only decent stay option in Pooh. Although, I had heard that there are few homestays as well in the village, but since it was dark by the time I reached Pooh, I never thought of exploring other options. It was 7:30 PM, pitch dark, and the entire village could be seen as few clustered stars in sky. I got into the premises, and followed the two gentlemen (bus driver and conductor) into the guest house kitchen, where the cook (who was also the immediate caretaker of the rest house) was busy preparing food for all. All three of us were immediately offered tea, which was a big relief to fight the cold waves which has the potential to freeze the blood if stood unshielded for quite a time. However, the kitchen room was heaven for all of us for obvious reason.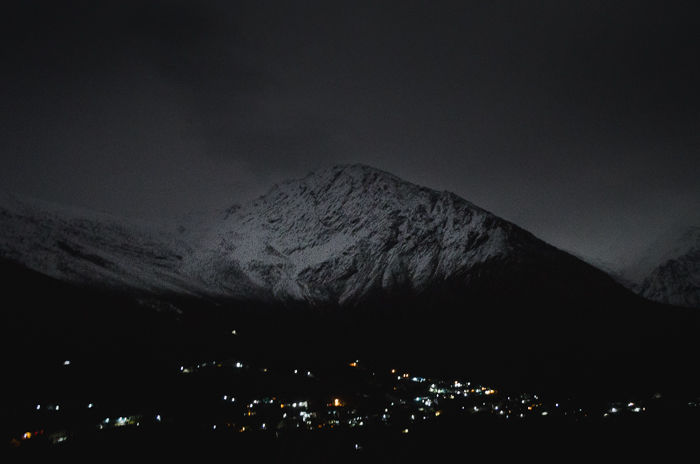 He (and fortunately all of us in the room) talks Hindi, so it wasn't difficult to understand his conversations. Very short hair, firm athletic physique, hard hitting palm, and his attire made me think of him being in army or ITBP force. It was 8:30, and upon asked by the cook, he told that he got late as he had to return back the earth-mover JCB to some distant place, and walk back from there. This had put me in more curiosity about his work. I thought, bluntly asking his name or being curious about his job may not feel good, so I remained silent and kept on listening the talks around. Soon, the bus driver broke a political conversation to which both the bus conductor and the cook jumped in, whilst, this guy kept silent. I found a good gap, and immediately cracked a question to him. Aren't you interested in politics? I asked, looking at him. Soon he said that he's not interested, the cook intervened and said "Is bar tabka nai mila na" (he didn't receive a recognition this time) followed by a loud laugh.
I did smell the irony in this, and showed my curiosity towards knowing more about it. Whilst this man burrowed his head deep inside, carrying a fake smile on his face (which showed his disappointment) the cook carried on explaining that BRO (Border Road Organization) is designated to clear off the snow every year in Spiti valley (of which Pooh is a small remote village). He continued, that however, BRO gets active in prime areas of Spiti Valley, Pooh remains the least bothered, hence they ask local people to help them out in clearing the snow in return of a minimum daily wage. The bus driver also joined in, and said that local people clear snow all day manually, and earth-mover JCB(s) are only given for clearing hard snow enroute. Clogging snow on road means no traffic, which is a very big issue for these remote villages of Himachal. The issues can range from food, necessary household utensils, schools, and medical emergencies as well. The national newspaper The Times of India carried an article on 19 March 2017, as how local villagers of Spiti valley complained about BRO being inefficient in their duties, and did cost 2 lives due to medical emergencies. The cook continued, that this man, among many local villagers, help BRO cleaning up snow from roads every year, and he received recognition from BRO and state government for last two years. Just while I was pondering as how much of a snow a single person could have cleared, I heard the cook asking the man "bata-bata kitna hataya iss bar" (tell, how much of snow you cleared this time). The person, after a long time, raised his head and again with a laugh and proud on his face, answered 4kms. The cook was a good story teller indeed. Soon he made a point, that for last 2 years he did 8kms, which is why he received the recognition. I asked if the recognition is in form of certificate, or a medal? This person replied that its a certificate and 1000 INR awarded to the one who tops in clearing snow, each year.
In year 2017, when a barber costs 100 bucks, and petrol costs 73/ltr, how much of value is an award of 1000 rupee for the one who devotes himself for weeks of work? Anyhow this chap does not seem to care about money, but only the recognition.
He adds, I'm sure next year it would be me. To this, I was very glad, and immediately I got a hint of the life of such people. They just fight for their own achievement and glory, irrespective of the fact that they are recognised by other people or not.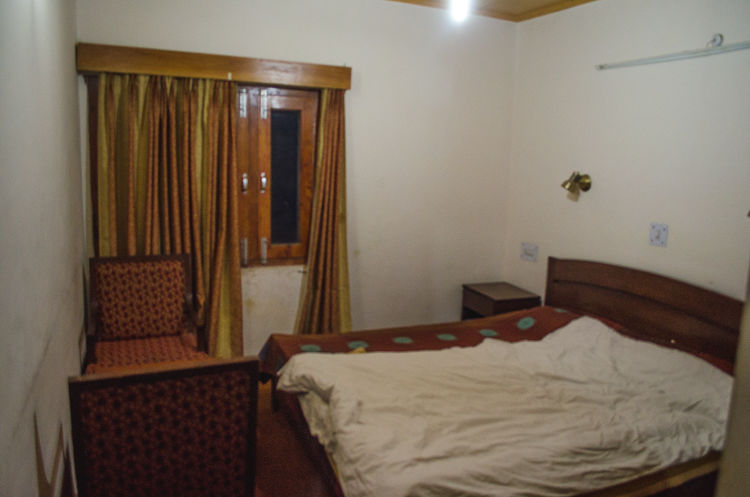 Meanwhile, the cook called all other guests for dinner. I was bit surprised to see him calling everyone rather than delivering the food to their respective rooms as a standard norm. I thought, it might be buffet. Soon I realized a room behind me, adjacent to the kitchen, which had a large dining table with 15 approx. wooden chairs. We all settled down, and all while having my decent north Indian dinner (which did cost me 300 INR), I was thoughtful and recalling his gentle words and gestures. It was 11PM, when I made my way towards the warm cosy bed. Even in the month of march, it was so cold out there that I was forced to take out another blanket from the cupboard. I couldn't expect any more (in good sense) out of a PWD guest house room for 500 INR, most importantly, without a pre-booking. Internet wasn't working at all, so there was no option to know the exact temperature. However, the feel was no more than -2 or -4 degree centigrade. I was not expecting this much of cold, but still I had my snow jacket with me, which worked quite well under two heavy blankets.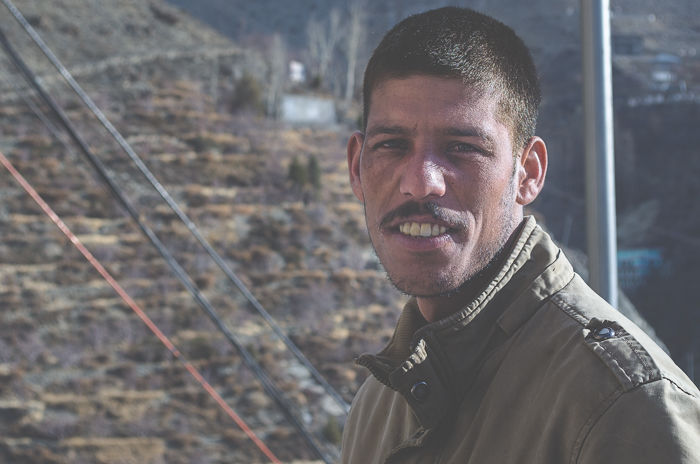 His name is Bahadur (of course his personality and attitude suits his name), and I took his photograph the next morning. Other than that he was blushing, and more that he was concerned about his unsophisticated jacket than anything else, my fingers were freezing like anything due to the chilled wind which has the potential to freeze even running water exposed to the wind. In the bright morning yellow sun, I see a shadow of self-respect on his face, and that everlasting smile.