It was the first snowfall of the season and the majestic hills of Mussoorie were beckoning to my vagabond soul like a perched cuckoo bird on a mango tree on a summer morning, in a sweet incessant melancholy. I stood at the threshold of my agile college schedule in Dehradun, looking at the ethereal sunrise with the singular thought of an ardent traveler, ditching the schedule and everything for just one day and give in to the calling of the hills.
The city of dreamers, writers, artists and poets Mussoorie is one of the most beautiful cluster of highland ranges of north India, it is said to be the Scotland of India for all appropriate reasons. The home town of the famous children's book author Ruskin Bond, Landour is a storybook landscape all in its general splendour, an inspiration for most of Bond's stories are derived from the serene valley and sliver skyline of Musoorie and Landour. The inhabited hill station looks like a diamond necklace after dusk from the city of Dehradun. The twin cities are within an expanse of 40km from each other, for which the easy traffic and less time for travel is an additional feature of feasibility.
The day was 20th of January, my one hand was freezing inside my blazer pockets and holding a warm comforting cup of tea with the other, when my friend Vartika ran across the street shouting at me, "We are leaving for Mussoorie first thing tomorrow". It was all planned randomly and we set off for the snow entrenched trails of the Queen of hills early the next morning. From the city of Dehradun the local government transport buses from Dehradun Railway station usually take around 2-3 hours to reach the reporting bus depot of Mussoorie mall road. My girls and I were sitting, uncomfortable in same position and attitude for a few hours, wishing the journey to be over with all our hearts. We started at 7:30 am from Dehradun, bypassing the spiral one way our bus kept climbing on to the peak of the altitude, steep slope on one side of the road and tall rock mountain on the other. We reached our destination, chatting, laughing and feeling nauseous every once in a while, by 10:45 am approximately. We were welcomed by a sheet of pristine white knee deep snow. Imagine the wonder, a temperate town girl felt when she saw such a mesmerizing landscape for the first time.
I was so deeply astonished by the beauty and surreal view that, for a while I lost the track of time and kept staring from the telescope point towards Dehradun city, with all its houses and buildings appearing to be tiny from there like the hobbit grassland. The seemingly endless discussions and mini arguments with my girls led to a decision of breakfast and tea ritual before starting for our trek venture in snow from Mussoorie mall road to Lal Tibba in Landour , the highest peak of Mussoorie. I agreed complacently to avoid wasting any more time. Post breakfast, at 12:00 pm we started our trek through the glistening snow laden slippery sidewalks. Focusing on our journey rather than destination, we swirled around in circles in snow fights with kids from local school. After a mile, I pulled an extra jacket each from my backpack as it was getting extra chilly with the open mountain winds than that in the main city which was packed with shops and tourists. The more further from the city we went the more virgin, solid and deep the snow was.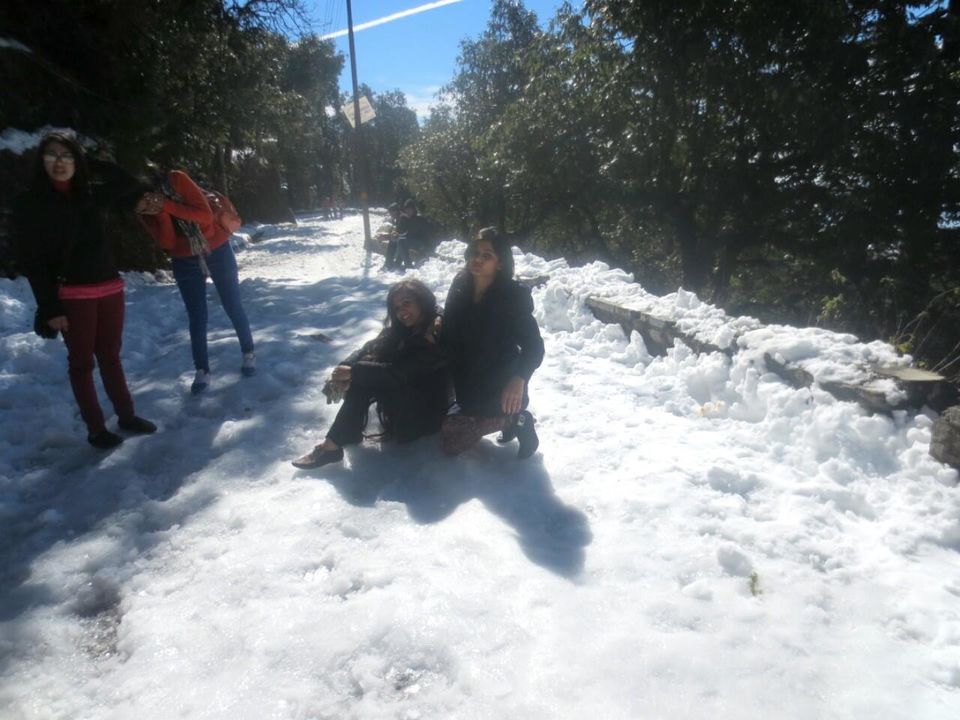 After a while the journey went too tiresome with cold sores on feet, energy drained due to steep hill climbing we decided to give it a halt, grab snacks and click some pictures. The overtly slippery snow was only adding to our woes when the inevitable happened, my friend's shoe got torn and all the melting snow seeped through her socks freezing her to bones. She started yelling and crying when we in midst of nowhere decided to mitigate the adversity with a trick rather than help, which was not available anywhere in the vicinity. We decided to exchange shoes and keep each other warm and everyone will take turn wearing the torn shoe so not one single person has to suffer.
This went on for an hour when we reached a beautiful catholic cathedral a little further from the main road. The 200 years old church has an one of a kind architectural charm. We walked into the campus through its creaking iron gate with an address plate that read: St. Paul's Church, Landour. The antique stone steps were covered with snow and as soon as you climb all of them, you will land onto this medieval wooden floor complemented with a mahogany brown carpet throughout the interior. We went and sat on the comfortable wooden benches, cherishing the warmth and the sanctity of the church. After a few minutes of rest we walked past the door beside which there was a prayer book placed, where you could write down your prayers and mention the date when you anticipate it to be bestowed. The intriguing tradition seemed queer to me but we all gave it a try nonetheless. Walking on from our current location we were only 300 meters away from our destination, we raced each other till the final spot and rushed giddily like frantic little kid.
We reached there exactly at 2:00 pm, giggled and played for an hour then headed back to the fast food corner where were ate like cows because we were starving after a difficult trek. Walked down through the city of Musoorie and did some useless shopping mainly for souvenir purposes, but who knew memory is the greatest and untarnished souvenir that one can ever keep.
Today three years have passed since that trip, but a series of flashbacks give me happy goose bumps at the back of my neck and also makes me nostalgic about what we loved and lost or chose to leave behind in the past because life has to move ahead and things have to be done. Travel, not only make us explore new places but with every new journey and experience we come home to our own selves. It helps us unravel the things about self and unfold many stories that could or would have been if only, you were brave enough to pack your bag and venture out. Life too is like an adventure to a new place, all you need to do is to have a little courage and a lot of backup plans.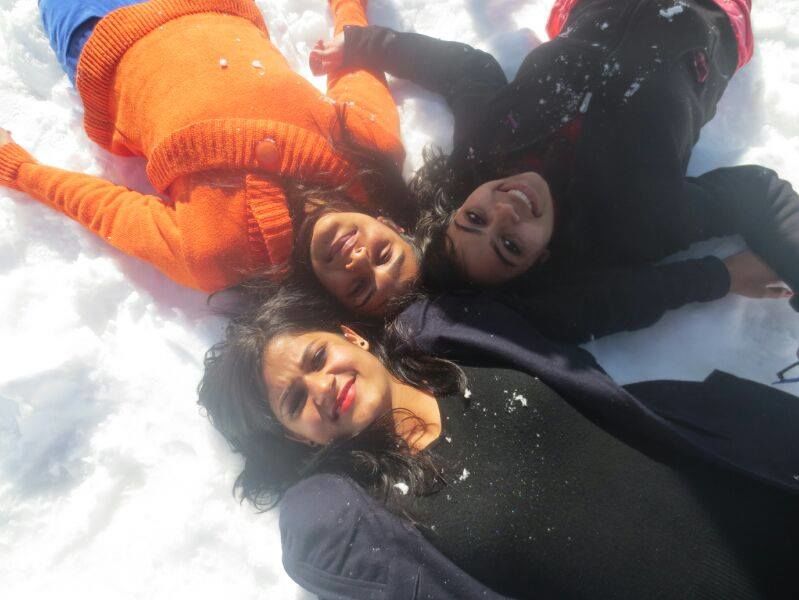 "Traveling—it leaves you speechless, then turns you into a storyteller." ― Ibn Battuta