Still wondering the root of the madness developed; maybe the motivational injections did work! All others stepped-out of the trip but I was an idiot. One has to kick-start their bucket list someday. It was concluded long back that 'One should not depend upon others for their own happiness'; I had to make that declaration. The excitement was ruling over me even though my budget was gliding out of my pocket. So being independent of others, I allotted myself to plan the trip to Ladakh, SOLO!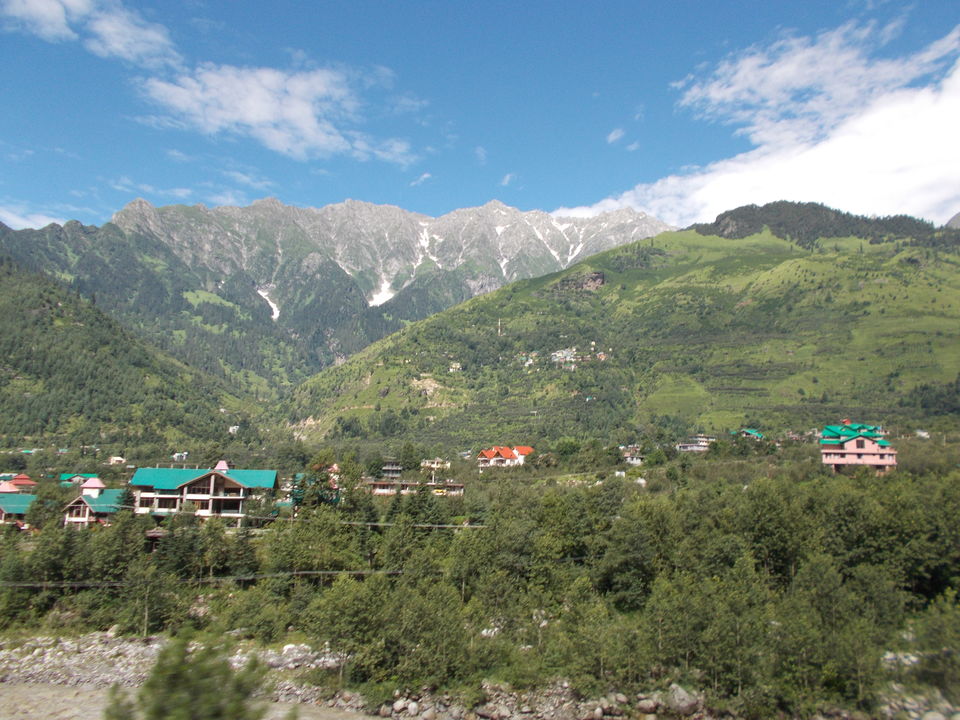 An evening before I was about to begin the expedition, we partied hard as my beloved seniors were closing-in their farewell. Dance, music, whisky floated everywhere. I was afraid had I fallen asleep, I wouldn't make it to the airport next morning & hence, I stood awake all night, red-eyed. Chandigarh was waiting!
25th July 2015: Chandigarh is a well-planned city, as they say. And rightly so, the air there was different. The malls, traffic arrangements, were near about ideal. The day there went well spent watching Bajrangi Bhaijaan and loitering around the Elante Mall. Must say, it was one of the best movies of Salman Khan in recent times. In the evening, I boarded the bus to Manali, my next halt; still not sleepy.
26th July 2015: An opportunity to roam around Manali went in no vain; thanks to the bus scheduled to Leh as it was delayed. Until then I had no idea that the journey of a lifetime was about to begin. It took us completely two days to reach the city of Leh (Capital to the ancient kingdom of Ladakh). The bus was boarded. The bus used to halt at popular spots for photo sessions and sight-seeing for tourists. ROHTANG PASS was first one in the catalog. I am amused with myself how I frequently asked other tourists to click my pics, as I didn't wanted selfies as the only option to get me clicked. Travelling solo has its pros and cons. Several other spots included (SARCHU, TAGLANG LA PASS, LACHUNG LA PASS, etc). The beauty of the Himalayas was speechless. Every look of it was spectacular, as if I was in a six-dimensional heaven! I already didn't want to return. At night we camped at KEYLONG (a small town with people leading their normal lives, giving no damn to the outside humanity), in tents. Excitement had already crossed borders with the new places I saw, new people I met & the quantity of stories I had to tell. I had gained few new friends: Delhites, a Keralite and couple of Frenchmen.
27th July 2015: A day when half of the passengers on board began feeling the altitude; the sickness was gaining over! I could still feel the last night beers and the Slovakian home-made wine. My head felt heavy and the ears jammed. The scenery began to haunt when we entered Kashmir, it was a cold desert with no vegetation & mist all around; next to the no-man's land. There was pin-drop silence in the bus for around 200 kilometers of the desolate path; the temperature was falling… Meanwhile the sight of roads in "Jab Tak hai Jaan" movie, purely blue lakes, snow-capped mountains & ample of trekking sights cheered our temper.
We reached Leh around 9:00 PM, tired, dusty and sleepy. All one craved was a cot to rest upon. We reserved a guest house, had some fine home-cooked dinner there and knocked-down to sleep. UNPLANNED FOR THE NEXT DAY!