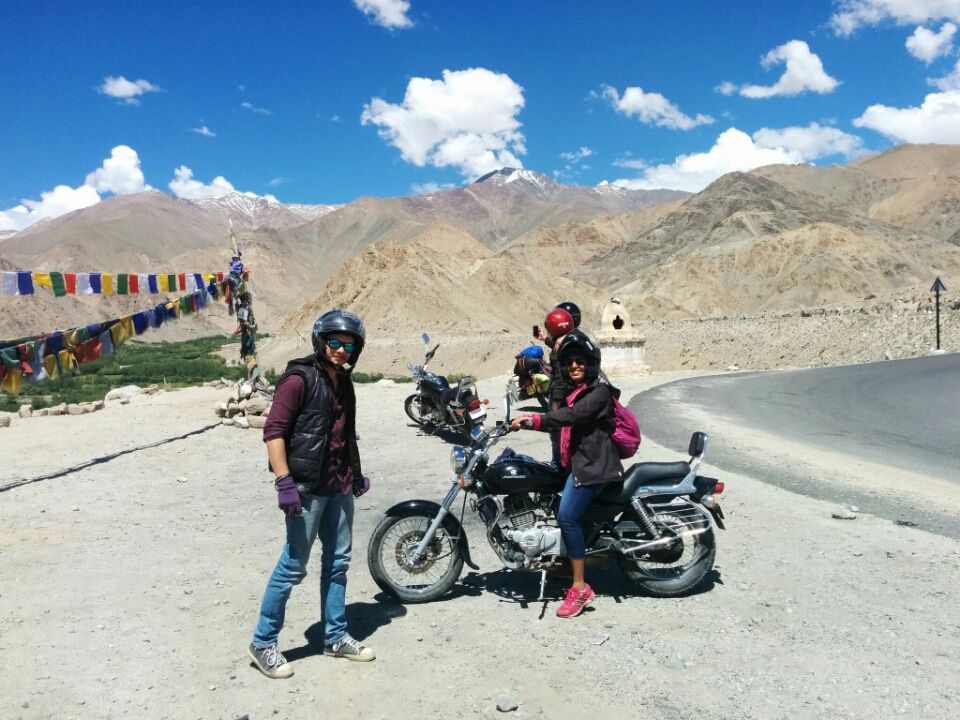 The head felt much lighter next morning; the curiosity was towering again. The owners of the 'Gultuk House' were a humble family, two cute kids with a dog. Without their help, we wouldn't have roamed anywhere conveniently. Mere their presence was a boost for us; who took care of all legal permits, etc. We, seven of us hired four bikes to NUBRA VALLEY and the KHARDUNGLA PASS (world's highest motorable road). The journey was as thrilling as never before. The atmospheric temperatures and the oxygen content dropped heavily as we neared the pass. I was literally winded riding the bike. The lips went dry, fingers stiffed and the eyes popped-out with the beauty of Northern Kashmir.
I just didn't want to miss the pleasure of riding a bike in the Himalayas; high slopes on one end & abyss-like ditches on the other. Snow-capped mountains now ran parallel to us as we gained altitude. Truly speaking, it was one of the most dangerous, adventurous and charming roads in the world.
The 270 km journey wasn't easy. Thankfully I had a partner to share the ride with. She rode almost quarter of the distance. We halted at the Khardungla Pass to have snaps, coffee and maggi soup. It's said that a person un-acclimatized to those conditions would fall sick within half-an-hour if not taken care of. The temperature there was already -6 degree Celsius in broad daylight, which dropped to -20 degree Celsius at nights. Salute to the soldiers who survive there, away from their families, just for civilians like us!!
At evening we reached the Nubra valley where we halted for the night and moved on to HUNDER, famous for its white sand dunes, double-humped camels and rides. It was a feast to the eyes as well. Minor sand squalls tried to decline our spirits but failed.
We returned to our place at LEH next date and relaxed for the day. PANGONG LAKE was next on the list.
250 kms East of Leh, lied the blue holy lake. As there were numerous landslides reported on its way we preferred a cab ride just to prevent any impossibility. Again, the beauty of the hills left us speechless. I didn't believe my eyes. At regular intervals, we encountered Indian soldiers chilling around. They graciously acknowledged our salutes, greetings and waved back at us when looked-for. The Pangong Lake was purely blue and rightly so, majestic. The serene ambiance on its shoreline was unbelievable. One of my friends had stated before leaving for the trip "If you go alone, either you'll build yourself or annihilate there, mentally and physically". Emotionally I wasn't in the mood to collapse. We stayed there for couple of hours and returned.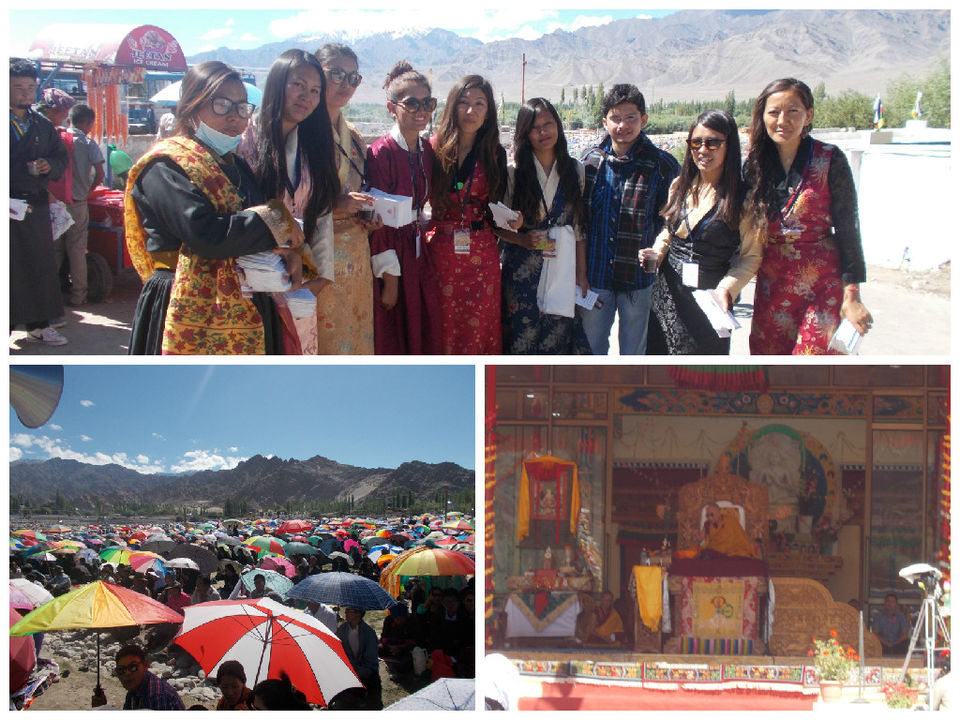 And yeah, though I didn't visit any monasteries in the region, I got the consolation of seeing The Dalai Lama himself, 'live'. It was a picnic where the local people with their traditional attires and huge umbrellas roamed around the park. The jolliness made me recall the scene from Kung-Fu Panda movie where the dragon warrior was to be selected. People in Ladakh are happy in their own lives and content with whatever they had; welcoming, helpful in nature.
That same evening I took a cab to DELHI where I rested for a day and had a small get-together bash with my college pals/roommates. It's always fun to be with them. On my way I also traversed through the highways of PANIPAT, but there was no turning nostalgic this time.
Next morning I caught my flight back to Mumbai. In short, the trip wasn't just a start to my bucket list, but a learning experience for me – both emotionally and practically. The memories of the entire week were reigning over. After all, I could scream out to the world and declare :::
WHATEVER I WANTED, I DID IT.
And I'll continue to do so, irrespective of the company I get. No one can make you reach your dreams until you yourself take a step forward.