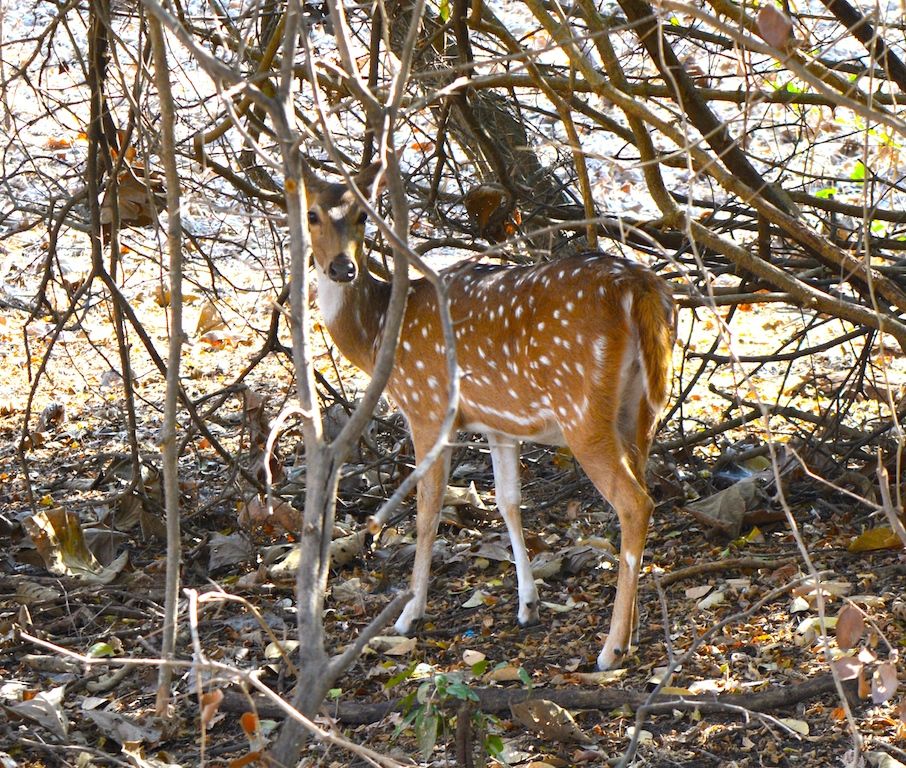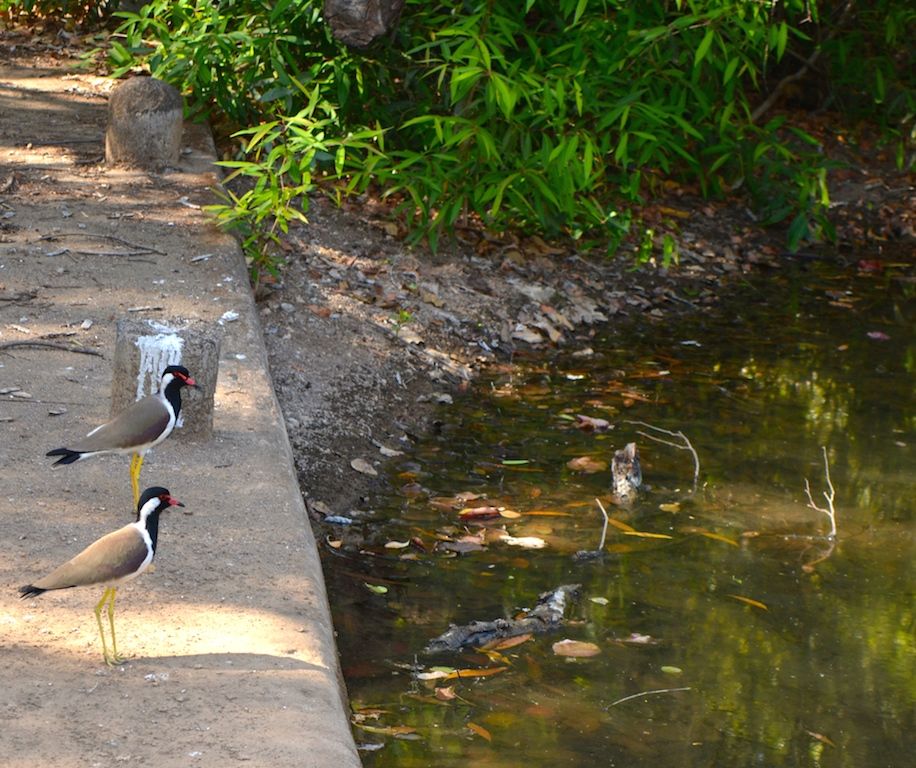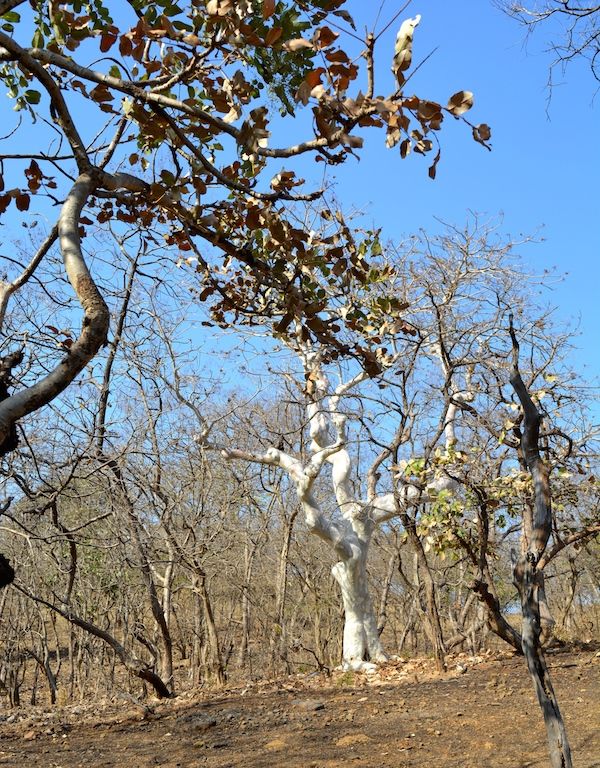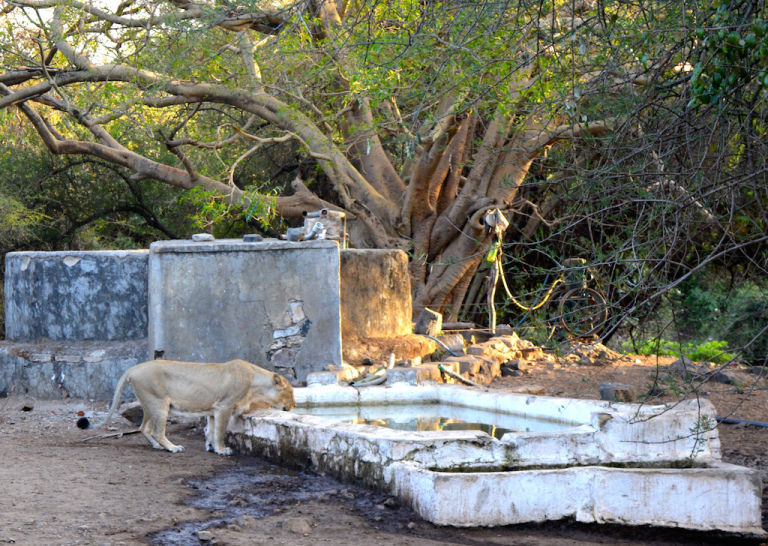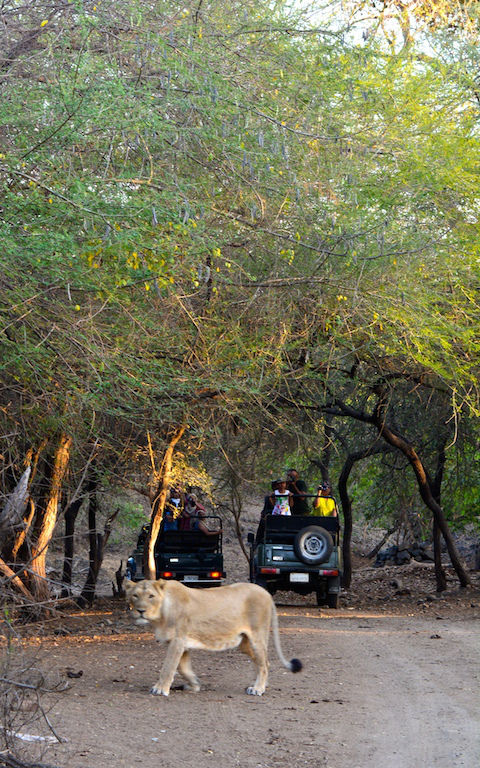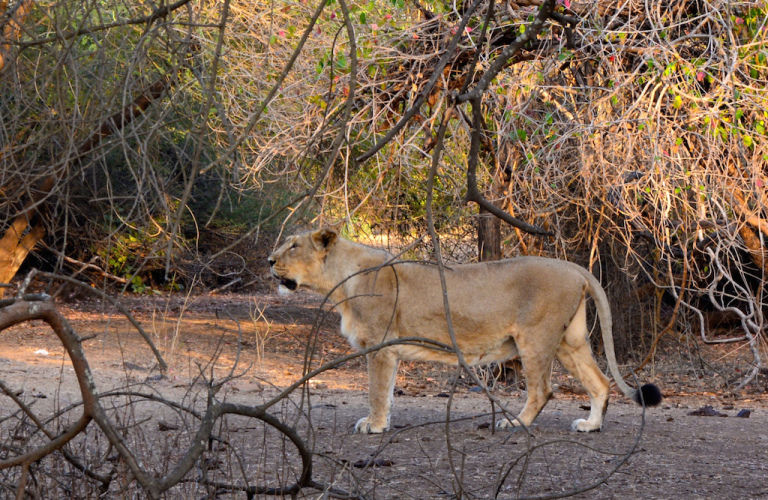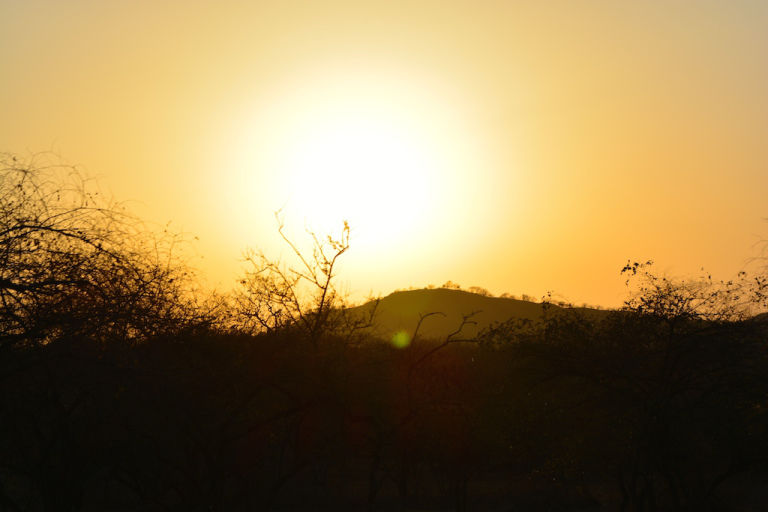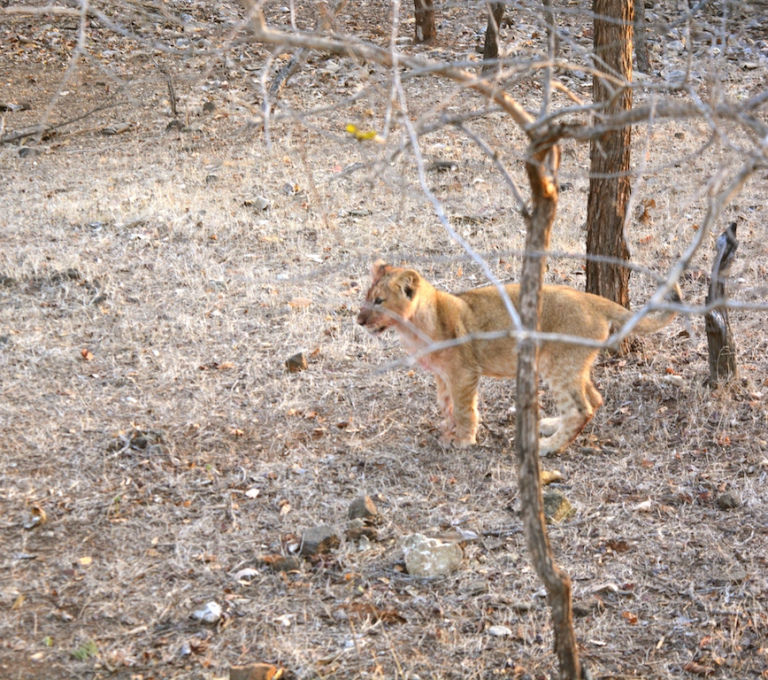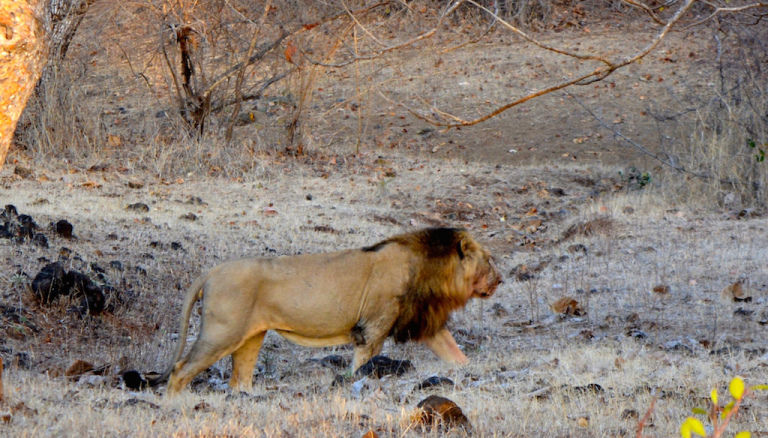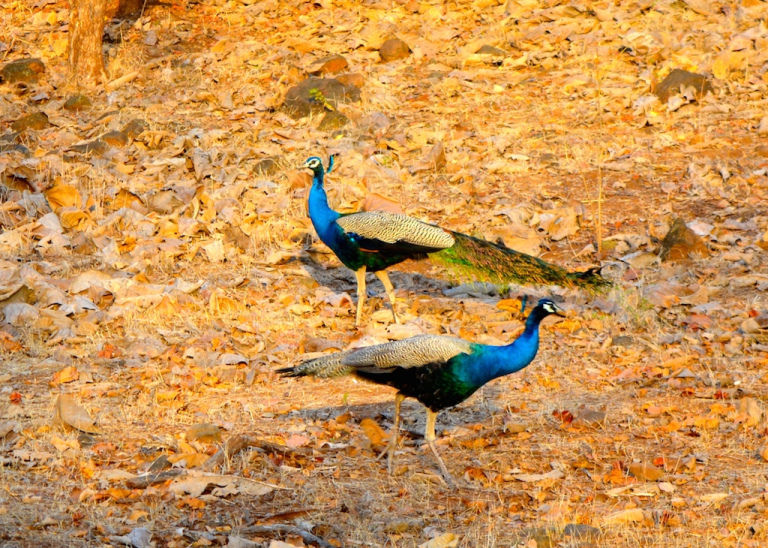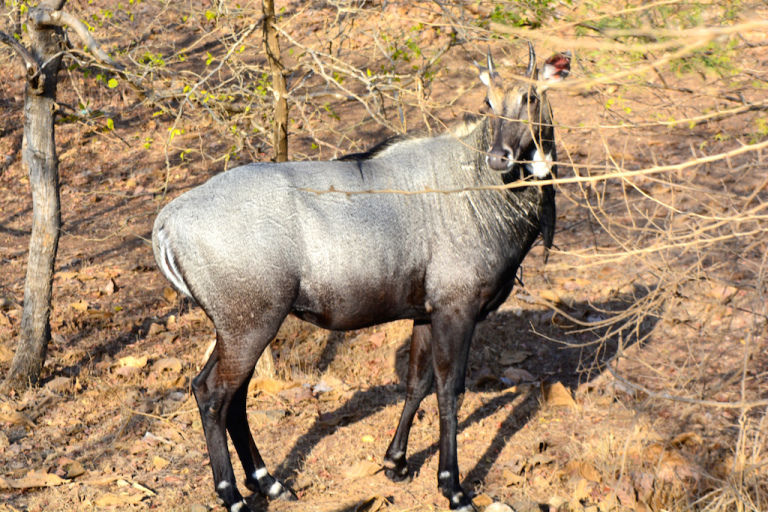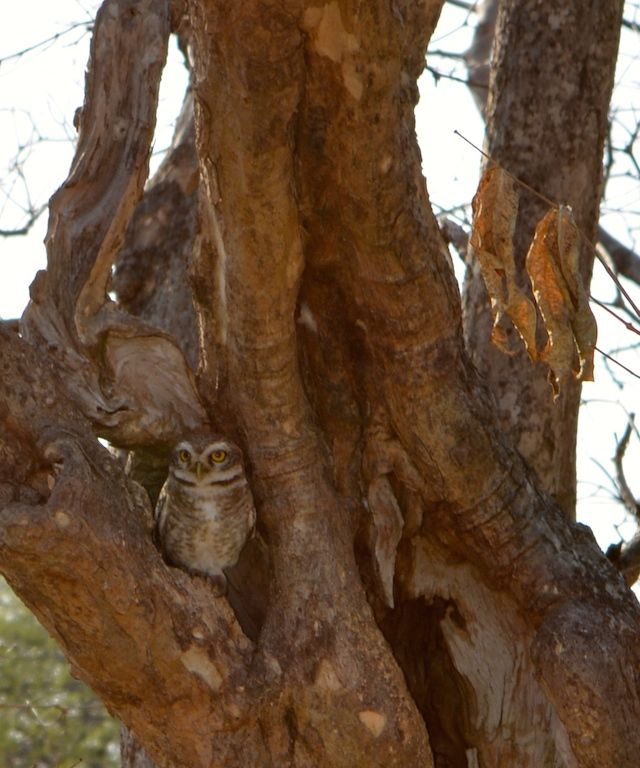 Utilizing the long Holi weekend, I began the year by going to the Gir National Park, one of India's oldest sanctuaries and home to the majestic Asiatic lions. 1400 sq. kms of protected area, which includes 250kms as the National Park and another 1150 sq. kms as the sanctuary with  470 sq. kms forming a buffer zone and unclassified forest area making this a whopping 1800 sq. kms worth of dry deciduous forest land.
The sheer beauty of the forest takes you by surprise. Tall towering trees with dense foliage, giving one a sneak peek into the busy jungle life. Whether its early morning or late evening y, the expanse of the forest looks stunning with the constantly changing natural light. I've never seen a sun-set or sun-rise so splendid. Full feathered peacocks strolling around with peahens, almost magical gum trees to the very patient spotted owls that rest patiently on branches. The forest is a treasure trove of birds and mammals. Antelopes and deer casually strolling past, with birds of every colour possible converse in a language unknown. You can't help but let your camera go at alarming speed, not wanting to miss a single moment of it. I have to say that the one animal that stole my heart was the blue bull or nilgai like they call it in Hindi. A bit of a bull, a bit deer like, I thought it was a unicorn coming to life and magical indeed because blue bulls only achieve their colour  when they grow. While Gir is most famous for its lions, the park is one of the most diverse places in Gujarat, both in flora and fauna.
Entry into the park is by a strict park entry format. I would recommend getting your safari permit much in advance, as the park releases only a limited number for each day, across different hours. The bookings run out faster closer to long holiday weekends when a lot of people visit the park. One can either book a permit directly online or ask your accommodation in-charge to book these for you. With 6 tracks open for visitors, each tracks ranges between 35-40 kms in total. It's a long drive indeed, one that you can't get enough of.
Our first safari in the evening was everything I had hoped for it to be. Needless to say the open gypsy is a thrill by itself! We first come across a snoozing crocodile, giant and sleepy, floating away in the corners of the marshes, waiting for dinner to come his way I suppose? While langurs  give us the "hello you pesky human look" it's the deer you want to cuddle. Our guide Prakash, is chatty and informative at the same time. The quiet of the forest is enchanting, with the sun setting and the breeze in my face, I'm blessed indeed. Almost feeling sad about not spotting a lion up close, I send out a quiet prayer to the universe. "From one wild one to another, make us meet the ones we've come to see, up close and personal." On our last lap of the drive back to the check-point, I hear a hushing noises, and voilà! In all her glory, was a lioness lapping up some water. She looks at us with disinterest, saunters around and walks back into the trees. While this moment lasted all of 5 minutes it gave me the joy I didn't realise I would experience. Grinning from ear to ear, it's a feeling I cannot explain, almost wanting to pet her like I would, a Labrador.
Tired yet happy, we make our way back to our tents, where I can't help but think about what the morning will bring.
Forest mornings are cold. The kind that penetrates into your skin and the wind factor only makes it stronger. With the sound of the birds and the dark sky, we are all set for our very very early morning safari.
If the evening skies are a blessing, the morning skies are magic. It's freezing and the open gypsy only adds to it. The discomfort however is replaced by the stunning views of the jungle first thing in the morning. From grey to warm shades of pink to the warmth of yellow, the sky dazzles you with a show of its own. I love them, the jungle noises. The animal kingdom's up and awake.  By now, we know its sheer luck and never a given that one would spot animals. I start my usual conversation with the universe on how I want to see lion cubs and a family would be great!" Enjoying the view none the less, we drive into the forest waiting to see what we have in store.
Lost in my thoughts, I hear the driver asking all of us look straight ahead. I feel our car slowing down and gradually stopping after a couple more cars. It's so quiet, I can hear the buzz of a fly around me! As I dart my eyes about ten feet ahead, my heart skips a beat. Walking like she owns the road is a mamma lion with her cubs out on a morning stroll. Fresh from her morning kill, they walk towards our car, gauging, watching, and judging maybe?
Mesmerizing, it's the only word I can use to describe it.  So close, 2 feet away and I can't stop looking at them. Yippppppeeeeeeeeeeeeeeee, almost doing the monkey dance in my head. The lioness is followed by her cubs and not too far away is daddy lion, walking in the trees, his eyes watching for the smallest of moves. Pin drop silence, 5 cars lined up one behind the other and not a word! Strolling like we don't exist, the family makes their way into the forest. I think about that moment even now and it's etched in my memory forever. Of course, the 100 pictures you take don't compare to the moment itself, it's something else.
I regret not having booked in advance, another safari for our last day. I would have loved to go visit the forest at least a couple more times. The forest, it leaves you wanting more. For me, I know I'm going back soon, it's only a matter of time.
Good to know:
§  Book your safari permits, much in advance at girlion.in or ask your accommodation representative to do this for you. The permit fee per safari is Rs 800/- (for 6 pax) on weekdays and Rs 1000/- on weekends. A car with driver and a guide costs approx. Rs 3500 /- . Insist on a receipt and go with an official guide. Rates for foreigners differ. Refer to the website for more details.
§  Book your permits before you book your accommodation. While you will find multiple options to stay in, it's the permits that sell out almost immediately. Carry your identity proof with you at all times, ideally use the same one through out.
§  All permits in person, can be procured from the Sinh Sadan Orientation Centre. This is also where you meet your guide once your driver picks you up from your hotel.
§  There are three entry timings for the park : 6 am to 9 am : 9 am to 12 pm: 3pm to 6 pm
§  Carry lots of water, it gets extremely dry and you'll want to keep yourself hydrated.
§  Wear  sunscreen and a cap, you'll know what I mean when the sun hits you. On the other hand, if you're going on an early morning safari, make sure you're carrying a thick warm jacket.
§  It's important that you respect the very core of mother nature. Please do not litter.
§  DO NOT tease animals even if it's a monkey! It's survival of the fittest, they only react to your behavior. Did I mention, it's not your private space? Refrain from loud conversations and making noise in general, animals scare easily.
§  Try and go on as many safaris as you can, trust me you only want to see more once you get there. If you don't spot a lion, don't lose heart, there's always another safari.
§  Last but not the least, watch closely and listen with intent.
Getting there: 
By Air: Fly into Rajkot and drive to Sasan Gir.
Our  drive from Rajkot was about 3 hours and the cost to rent an Innova is about Rs 5000/-  one way.
Where to stay: I stayed at the Lion Safari Camp, however there are many options one can pick from.
Accommodation Tariff: Rs. 13000/- per couple for 02night/03days which includes luxury tent accommodation on a double or twin sharing basis, all meals & taxes.
Child Policy :- (Nett Non-Commissionable)
§  Children above 12 is on 35% on package, with extra bed in same room on package.
§  Children below 5yrs are complimentary without an extra bed in same Room on package
§  Children between 6yrs to 12yrs is 25% on package, with extra bed in same room on package.
Note**
– All costs as on March 2015 and are subject to change, please check on the website and with the hotel at the time of booking
- Photos Courtesy: Neha Mishra