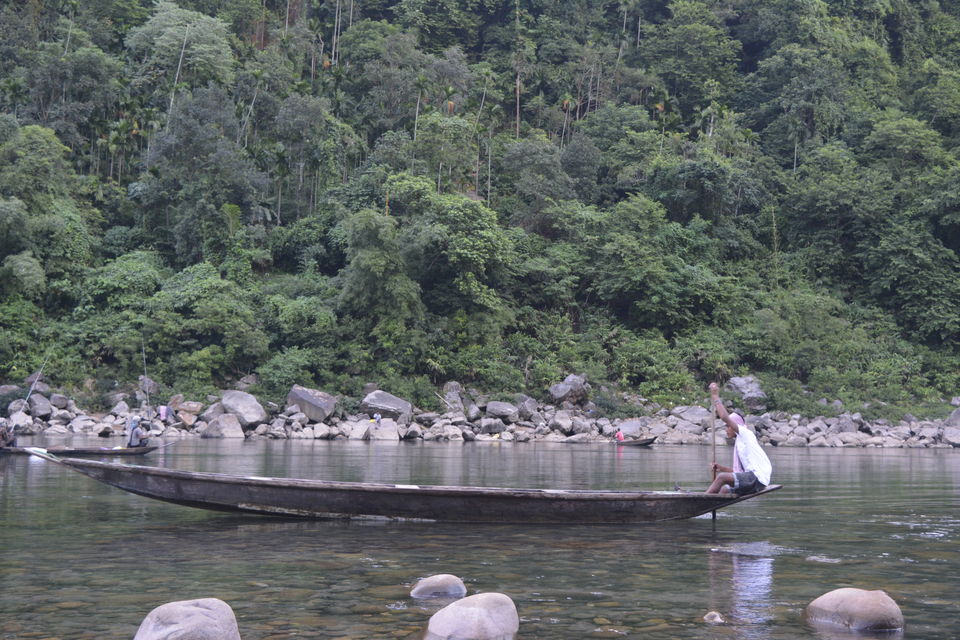 Meghalaya has exquisite beauty to offer for someone who wants to explore it more and more. One of such emerging destination for youngsters and adventure seeking youths is Shnongpdeng. Shnongpdeng is a small village in Jaintia hill present near Dawki. This village initially gained its popularity by camping near flowing Umngot river by some keen adventurous trekkers. Now it hosts camping sites for many tourists seeking adventure and sports activities. This place is a perfect to enjoy the serenity of Meghalaya. Away from mainstream Dawki which see thousands of tourists every day, this place has limited camps which you need to book in advance. Unlike most places in Meghalaya, shnongpdeng lies away from the highway and has muddy unpaved road in between.
We had our trip booked from "Chester's Tourist Services". On arrival, we were welcomed by Mr. Chester who was a very jolly and joyful person. It was already dark when we reached Shnongpdeng and we were welcomed by moonlight with sound of flowing river water in background. Super-excited we wanted to venture near the shore but were warned by Mr. Chester to not go near to river during night, as the current of water is high during night. Reluctantly , we had to wait whole night before dipping ourselves into the water. Meanwhile, we had bonfire with music and drinks on riverside, with dinner on rooftop of a wooden hut under moonlight.
Sunrise in North East states are early and so we woke at around 5 am to witness a surreal view of river canvassed with lush green plantation behind it. We stayed at camp and in front of it was a place full of water carved stones followed by a flowing river and behind it a land full of lush green plantation. We saw fishermen fishing here for their livelihood and a woman on boat serving tea to them!! The water here is more clear and clean than Dawki and you can indulge yourself into many activities here.
Where to stay : You can opt either for home-stays or in tents next to river. The cost of stay range from Rs 1000 - 2500
Not to miss : Bamboo boating, snorkeling, kayaking , rafting and zipping. The package costs you around 5500 with meals.
What to eat : Try fresh cooked fishes of river!
Enjoy and surrender yourself into the true beauty of this surreal place.