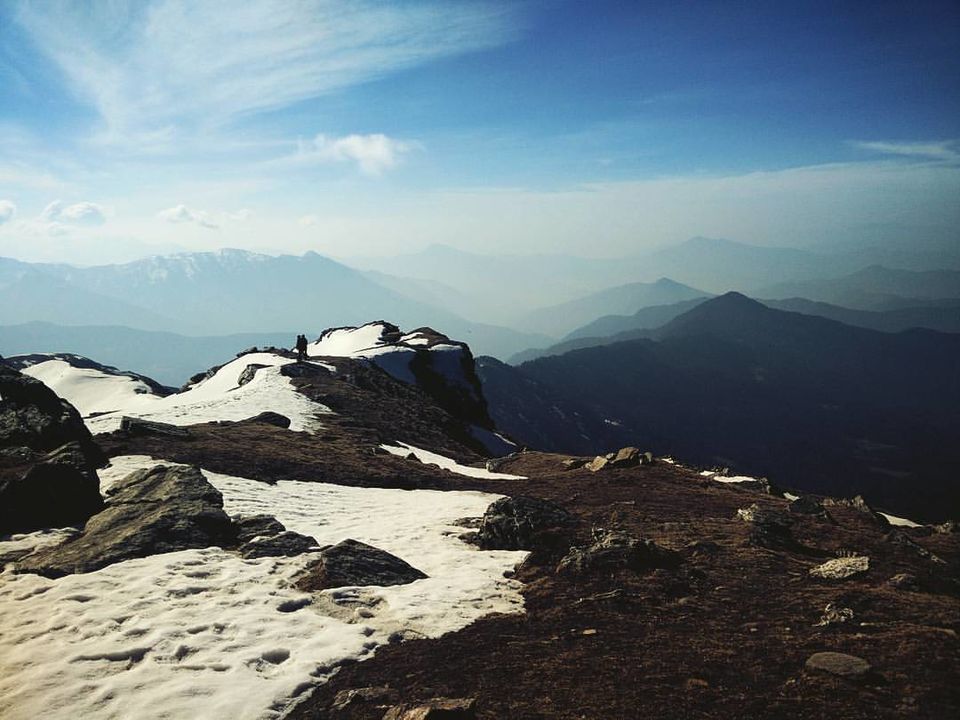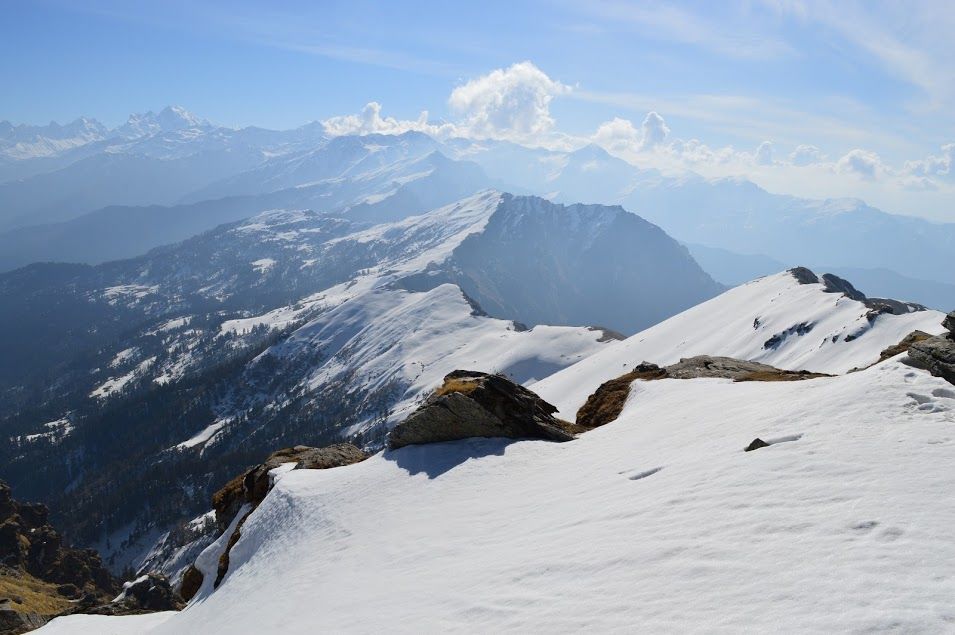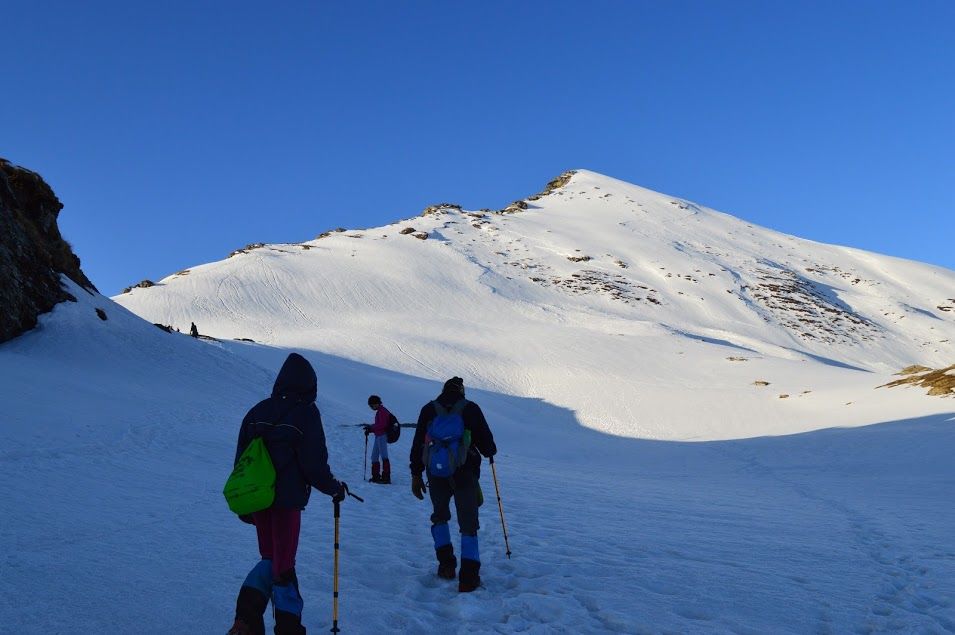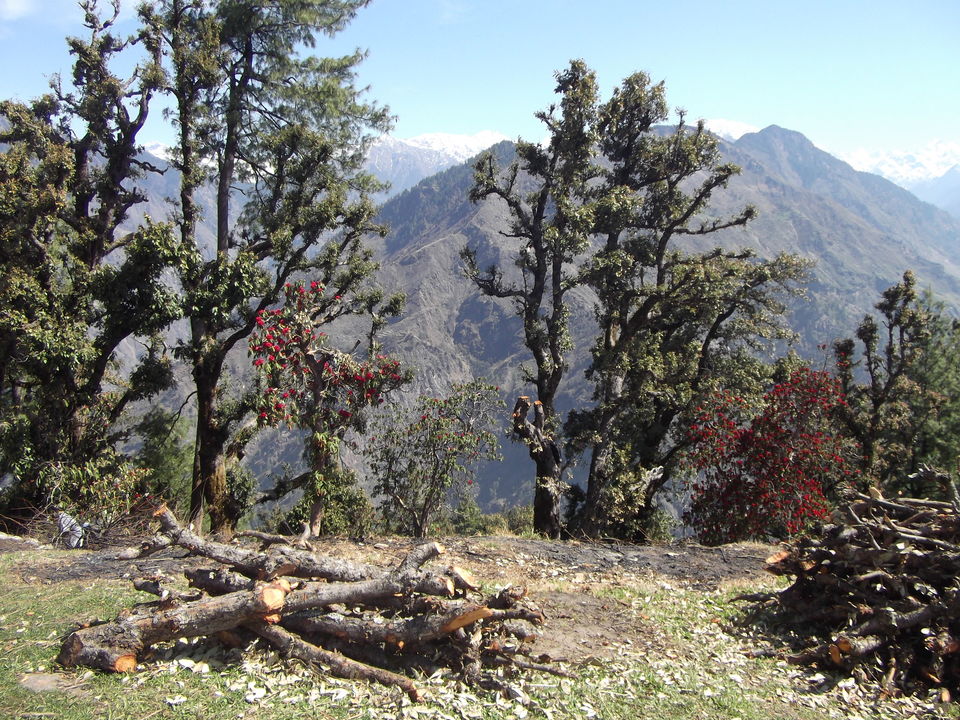 I have recently been asking myself (more over others) as to why do I want to trek; Why not settle for a luxurious vacation in a resort. I haven't found the perfect reply; but mountains are something that enchants me and I want to go closer up there to find.
But those mighty mountains are daunting and the thought of scaling the Himalayas is also scary at first.
Maybe you could start easy at first.
Kedarkantha (not Kedarnath) one of the trek in Garwal Himalayan range in Uttarakhand is a 4 day trek which could do as your first trek. The summit is at the height of 12,500ft, with an incredible view from the top. It is comparatively an easy trek in the Himalayas, where you can experience snow also.
March first week should be the ideal time to do this trek, when you can find snow and its not too cold also. So most of the trekkers complete the trek. But yes do some kind of fitness training a month before the trek, so you can enjoy the trek and not just huff and puff.
Also the reaching atop a mountain is a different high. Voila! A perfect trek for first timers.
I did the trek on March27th 2016, with India Hikes, this was my second Himalayan trek also with Indiahikes. It was a great mix of trekkers, age grouped from 10-40years! Yes there were some kids on the trek too with their parents, incredibly cool! And very energetic kids, certainly can make you question your fitness.
Base Camp: Sankri
We reached Dehradun by overnight Nanadadevi express from Delhi, since the pickup is from Dehradun station at 6am. From Dehradun it is 8 hour journey to Sankri. The road is very twisty, so if you are prone to road sickness be prepared.
On reaching Sankri, we stayed in the guest house which had an awesome valley view. After meeting our co-trekkers, we were briefed by our trek leaders on the trek. It is advisable(not compulsory) to take Diamox to help acclimatize the high altitude and it is better to be on safe side.
Juda ka Talab
Our next campsite was Juda Ka Talaab, which is basically twin lakes that joined together. It is an easy climb and on the way you see the Swarg Rohini peaks, where the Pandavas climbed to reach heaven. The weather had played good with us, but I was hoping for some snowfall. After reaching the campsite, we had good time to wander and explore around.
Also as it was vacation time for schools, there were too many groups trekking, so March beginning should be a good time. But Indiahikes has a fix campsite just next to the lake, which is scenic.
Kedarkantha Base Camp:
Today we were to reach the KK base camp, and yes we did find a few patches of snow around. Everyone was elated! On reaching the camp pretty early, we all geared up for snow fights and created snow man- To being kids again. Next day was going to be the summit day so we went into our tents early after having very delicious meal by the kitchen staff! Also they cooked a cake as it was one of the trekkers birthday.
Kedarkantha Summit:
Today, was going to be a long day. We started early at 3:45am so that we could see the sunrise from the peak. We made our way in dark, one step at a time. The last leg to summit is draining since it is steep and the snow is deep. Our legs kept burring in the soft snow, and it was fun!
But the moment you reach the top you cant stop smiling. A group of us reached the summit first and had a little celebration on top, one of us had got Coconut water (powdered pack) to toast! We smacked all dry fruits we had, on the summit. Luckily we got clear skies and we could see all the snow capped mountains round us in hues of blue.
Now, on the summit I climbed up a high rock to click pictures on my phone which I was using as camera; and it rang! Woah I got a message! Only Idea cellular network at Kedarkantha peak! ;-) I wasn't planning to call, but I did call back home, as did everyone queued up to call. Maybe it was the sheer joy to share having reached the summit.
The view is just mesmerizing! Only to be experienced. Also you can slide down the steep slopes for descend which is awesome fun!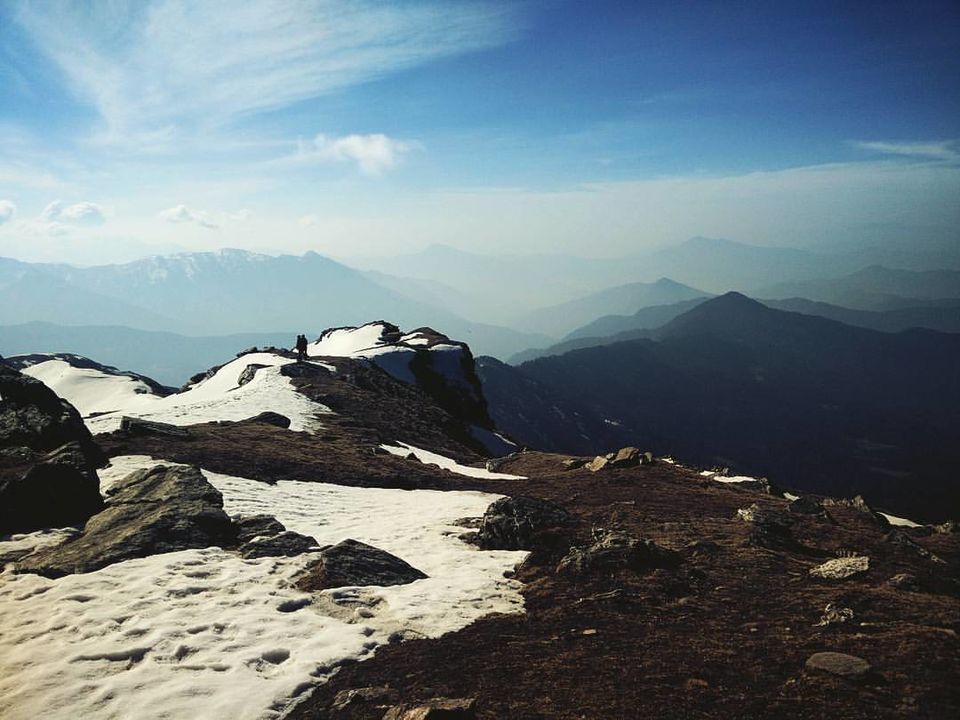 Hargaon:
After summit we came back to the base camp, had lunch and started to the next camp Hargaon. Everyone was tired after the long trek and Hargaon camp site was a very relaxing one. And later in the evening it was party with team serving us Chowmein, which was too tasty, everyone was around talking about their experiences and the urge to take a long break from work and come to the mountains was poking many of us. At night, the sky was clear and could see a burst of stars, if you brave the cold.
Sankri:
Next day we started trek back to Sankri and reached the guest house. Some of us left soon after lunch for Rishikesh, But we decided to stay back,relax and leave the next day.
Sankri is a small village with no cellular network, we went down to the Shiva temple in the village, roaming around. It's a beautiful village, were you can choose to spend a day to relax after the trek and see the valley view from the guest house.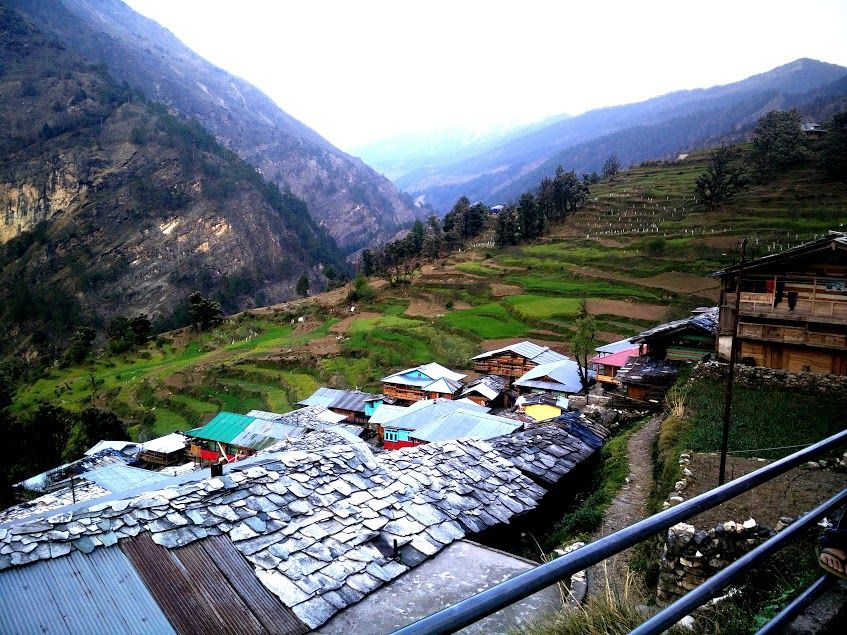 After the trek we went to Mussorie spent a day there and back to Dehradun to catch the early morning train- Jan Shatabdi to Delhi, and back to Mumbai.
Saying bye to mountains is always very difficult, more so because of the memories you created, friends you made. Every travel teaches you something, as if you left some part of yourself there. But maybe you found more of yourself. Travels help you grow. Cant wait to plan my next trek already!
Happy Travelling :-)