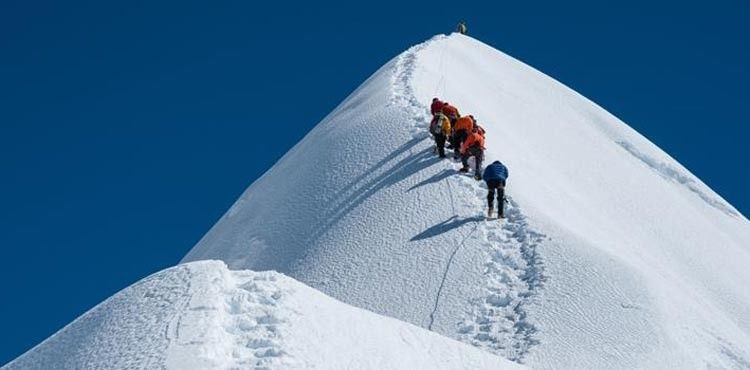 Trip Highlights
Island Peak is also known as 'Imja Tse', looks like an Island in a sea of Ice.
A great combination of trekking on main EBC trail and Peak Climbing adventure.
Offers striking views of world's popular mountain ranges including Mt Everest, Mt Nuptse, Mt Lhotse, Mt Baruntse, Ama Dablam and many other snow capped peaks.
Experience friendly Sherpa cultural villages in the midst of world's towering mountains.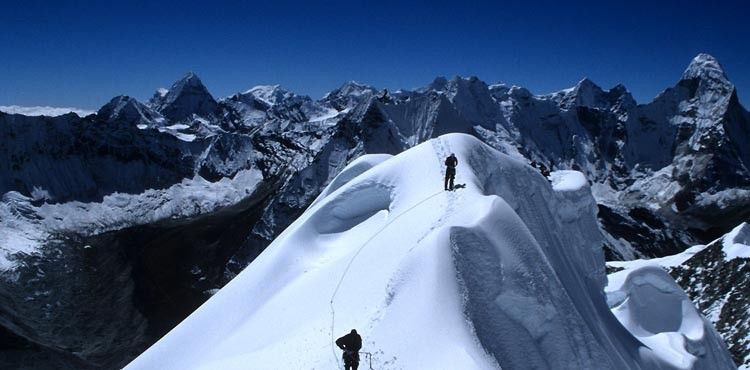 Trip Introduction
Island Peak is also known as 'Imja Tse'. It is an impressive peak that is located inside the Everest region of Nepal. It was named "Island Peak" by Eric Shipton and his expedition team in 1953. The peak contains massive ice coverage that can be seen from Dingboche. As a matter of fact, the first summit climb of Island Peak was made by Charles Evan, Alf Gregory, Charles Wylie and Tenzing Norgay as part of climbing preparation of Everest expedition. Apart from the adventurous climbing experience, the peak provides views of Mt. Nuptse 7879m, Mt. Lhotse 8501m, Lhotse Middle Peak 8410 m and Lhotse Shar 8383m. To its east is Mt. Makalu 8475m and Cho Polu. Similarly to its south rises Mt. Baruntse 7720m and Ama Dablam 6856m with countless number of surrounding high peaks.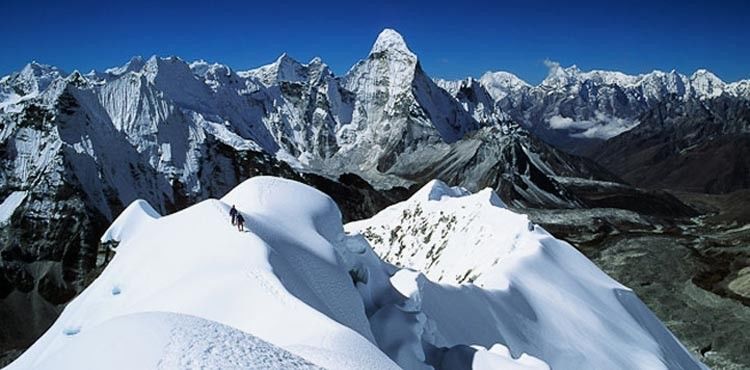 Island Peak Climbing adventure journey with Nepal Guide Treks and Expedition starts with a scenic mountain flight towards Lukla. Lukla is the gateway to Khumbu and entire Everest region of Nepal. After landing we gather our gears and begin our trek over gradually ascending main EBC trail that passes through Phakding, Namche Bazaar, Tyangboche to arrive at Dingboche. With proper acclimatization, we continue to trek as we approach Island Peak Base Camp. Before attempting the climb to Island Peak summit, we will do peak climbing preparation activities. Following the footsteps and guidance given by our experienced climbing experts, we will tackle several technical climbing sections and head towards the summit. Our tiring climb to the summit is rewarded with sensational views of world's towering mountain ranges. After the successful summit achievement of Island Peak, we will follow the same route to descend back to Lukla. Our amazing experience of Island Peak Climbing ends with a scenic flight from Lukla back to Kathmandu.