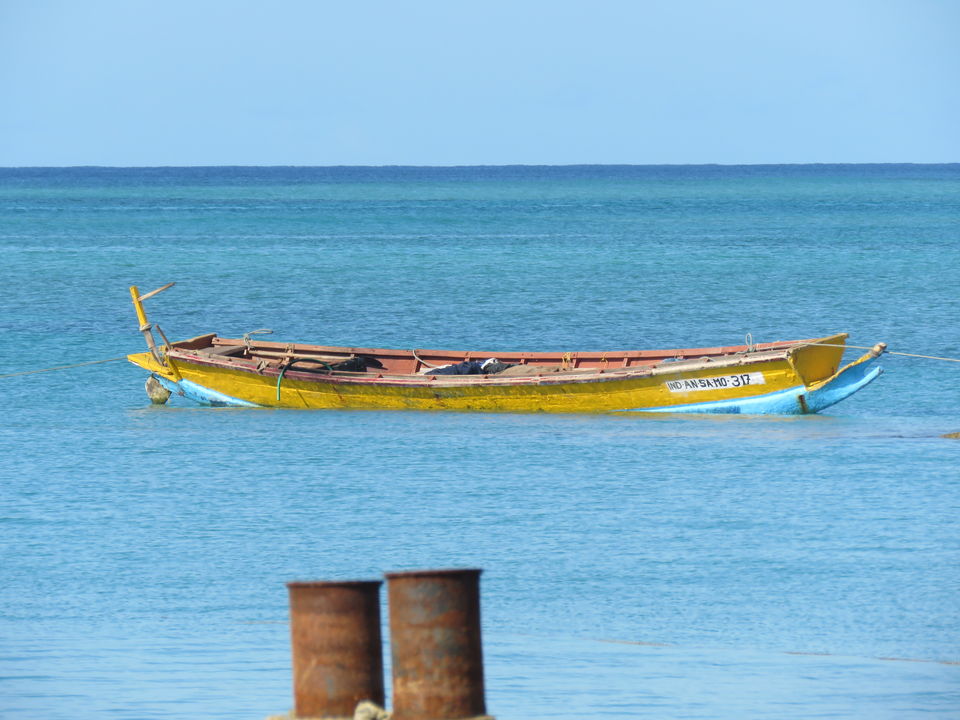 So here I finally sit to pen down our 2nd anniversary tale. We celebrated our anniversary in a way that many of us would call unusual, by scuba diving in Andamans. Why Andamans? Simple, off-season! Less people and less expensive.
As this was a pre-planned trip, we managed to get round-trip tickets from Bangalore at a good deal. We landed after three and half hours and heavy rains welcomed us. Pro-tip: Make sure you get the window seat, so that you won't miss the visual treat before the flight lands.
So we reached hotel Tango, our first check-in at the Islands in Port Blair. Tango is a decent hotel with basic facilities. The stay in Port Blair actually doesn't matter, as you will be out sightseeing most of the times. So going for a decent accommodation will help you save some bucks. After resting for a while, we set out on a beautiful walk and we caught a distant view of the largest bay in the world, the Bay of Bengal. We walked through a 'completely shut down' market place and found a nice little place to eat. When we came back to the hotel, we were informed that our plans of leaving for Havelock the next day might take a hit, as we hadn't booked the ferry tickets in advance. Since the access to network and Internet was almost nil we couldn't book the cruise tickets online. There are 2 ways one can travel to the neighboring Islands, government ferry or the fancy 'Mak Cruise', latter being clean and faster but expensive. But fortunately, the manager at Tango managed to get us tickets in the government ferry.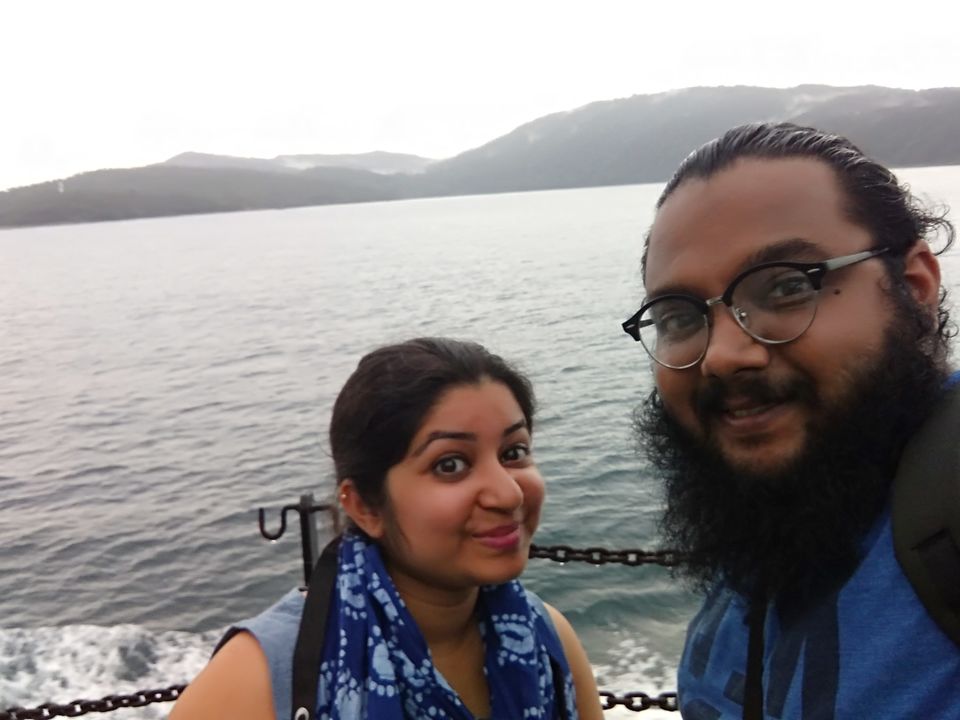 Day 2 - Havelock Island
We set forth for Havelock. We decided to climb up the deck to get a glimpse of the bay and it was just spectacular. We were surrounded by the the blue waters and we could see the islands far away. I had never seen anything like this before. As we began interacting with few enthusiastic fellow locals, we got to know that majority of the immigrants settled there were Bengalis, followed by Tamilians. We reached after more than 3 hours. As we de-boarded, we saw the clear water with a tinge of green - mesmerizing! We reached our next stay, The Eco Villa Beach Resort on Govind Nagar Beach. A lovely resort run by a loving family. The best part of this resort is, it is a divers' resort, you don't need to go anywhere else to scuba dive. Right from the bamboo houses made by the villagers to the beer bottles used in the foundation of the rooms, everything about this place was eco-friendly. Our room opened its door to the view of the beach. We couldn't have asked for more. The beach is so beautiful that you wouldn't mind just sitting there doing nothing. But we had rented a bike to visit the different beaches on the Island, so we rode to Kalapathar beach, a natural beach with white sand, at one end of the island. We were in awe of the many blue shades of the water, one of the best beaches ever.
Day 3 - Havelock Island
Enter anniversary day. So there we were, wearing our diving costumes, with masks on our faces, oxygen cylinders on our backs and weights around our waists, training to breathe under water. We got a proper crash course before we went diving. It was hilarious how we kept messing up the signs. Once the training was completed, two instructors inflated our floats and dragged us till the spot. To get us comfortable, they got us talking, slowly deflated our floats and turned us around and pushed us into the water. Suddenly it felt like we were on the sets of 'Finding Nemo'. Wow! 12 feet deep in the water, we saw a unique world, awesomely weird creatures, air bubbles and between all this we had to signal whether we were 'good' or we were 'not ok'. We saw hundreds of fishes, corals that were alive and kicking and a lot of rock formations. It was difficult for us to comprehend all that, but it was an unbelievable sight! Oh! Yeah, we did 'Find Nemo!' and it was so unreal, it looked as if it was photoshopped or like it was an animated character.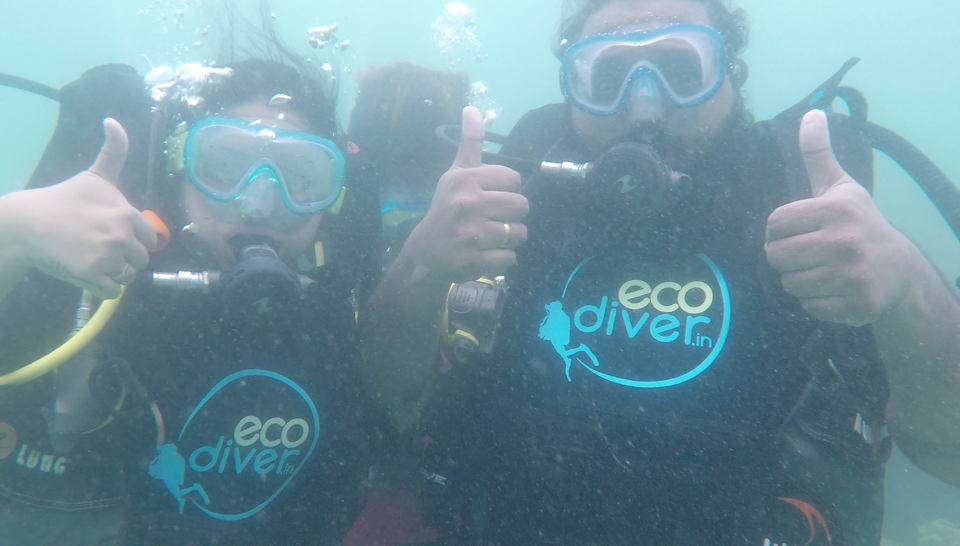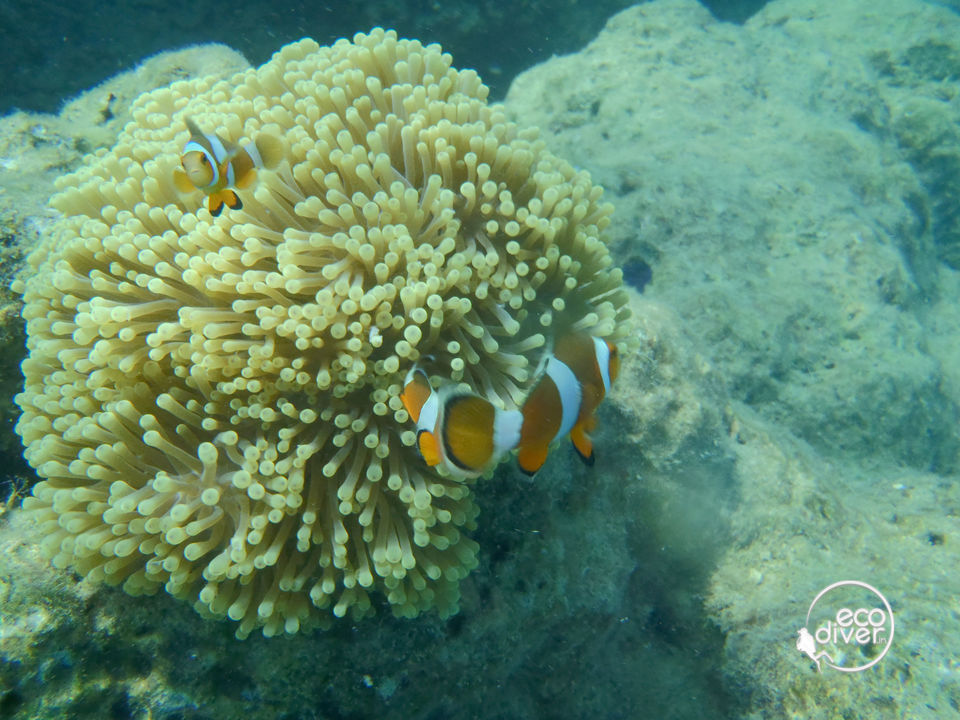 Since it was our very first dive we were tensed and nervous. We didn't know what to expect but our instructors were busy taking pictures and videos for us. Half and hour later we were back at the shore, alive! Considering the fact that I am an amateur swimmer and Ankita's (my wife) phobia of getting into the water, this was like conquering a mountain. I am very proud of us, her especially. She wanted to do it and did not change her mind. We definitely are looking forward for our next dive.
After the dive, we had lunch at the next-door restaurant, Something Different. The ambience and lack of options led us to the same venue for our anniversary-special dinner. They were kind enough to bake a special cake for us upon request.
Day 4 - Havelock Island
We decided to extend our stay at Eco Villa. This time we tried out a different restaurant for breakfast and relaxed by the beach. In the evening, with a hope to catch a glimpse of the setting sun, we left for one of the best beaches of the world - Radhanagar beach. We clicked pictures, made videos and imbibed all the good vibes we could. Later we went to a shady restaurant, just to get access to wifi and search for our next stay at Neil. It brought all my cyber cafe memories back to me.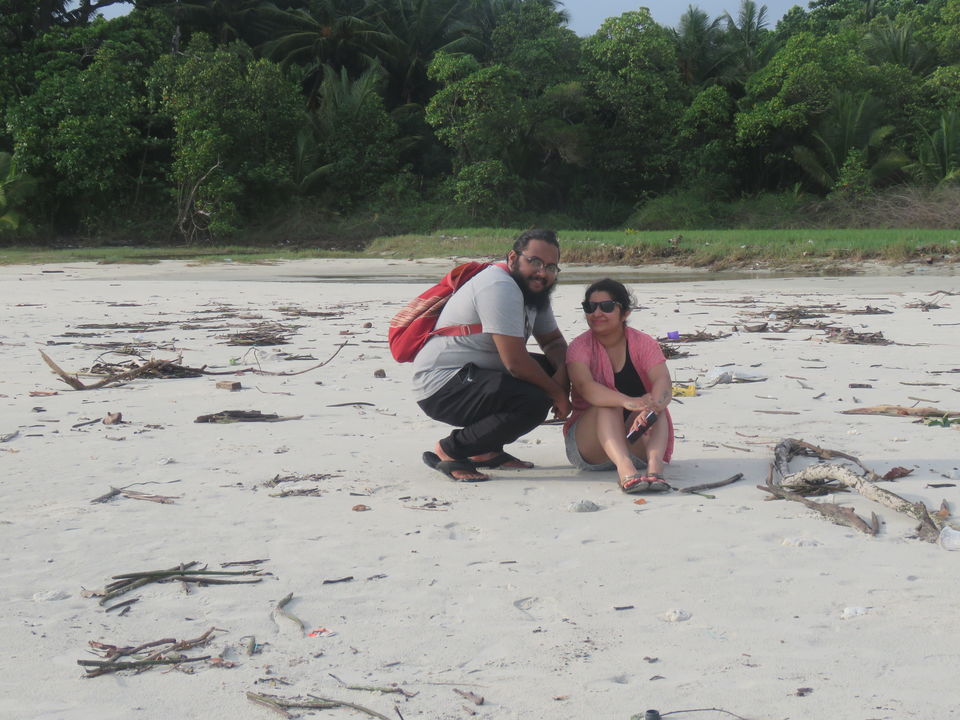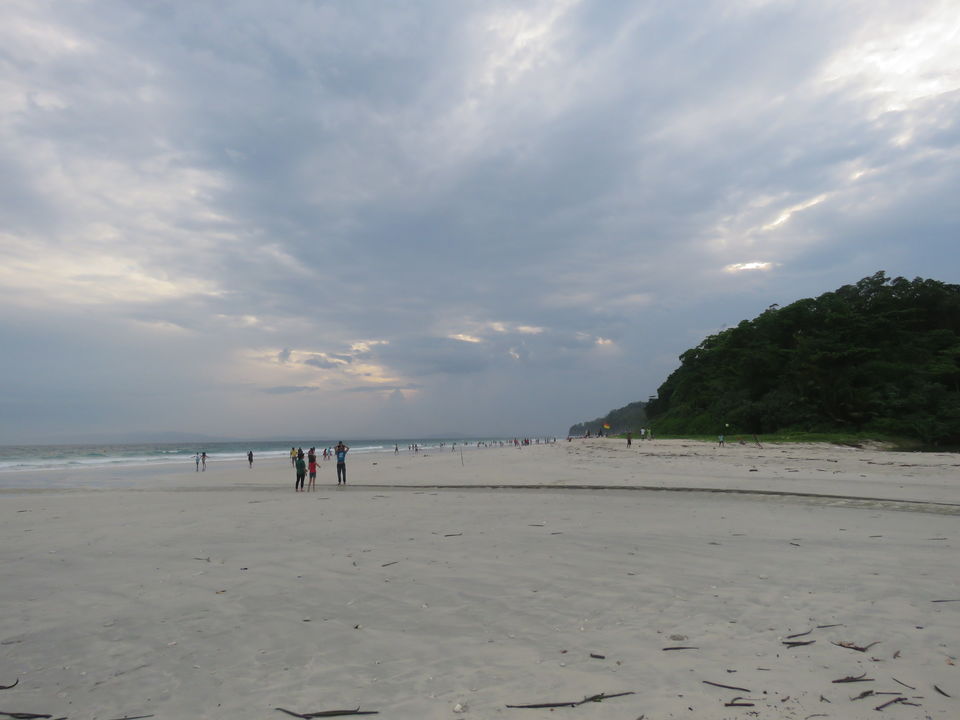 Day 5 - Neil Island
This time we took the private Mak cruise. We reached Neil in an hour or so and we checked into Tango Beach Resort, on Laxmanpur beach, one of the 2 oldest properties in Neil Island. Neil Island unlike Havelock is less commercialized and gives a bit more rural feel. But it is great! We rented a bike to find the setting sun and we reached one end of Laxmanpur beach, a beach with a triangular edge. Sadly we were deprived of the sunset, but we were high just by looking at the colours in the skies.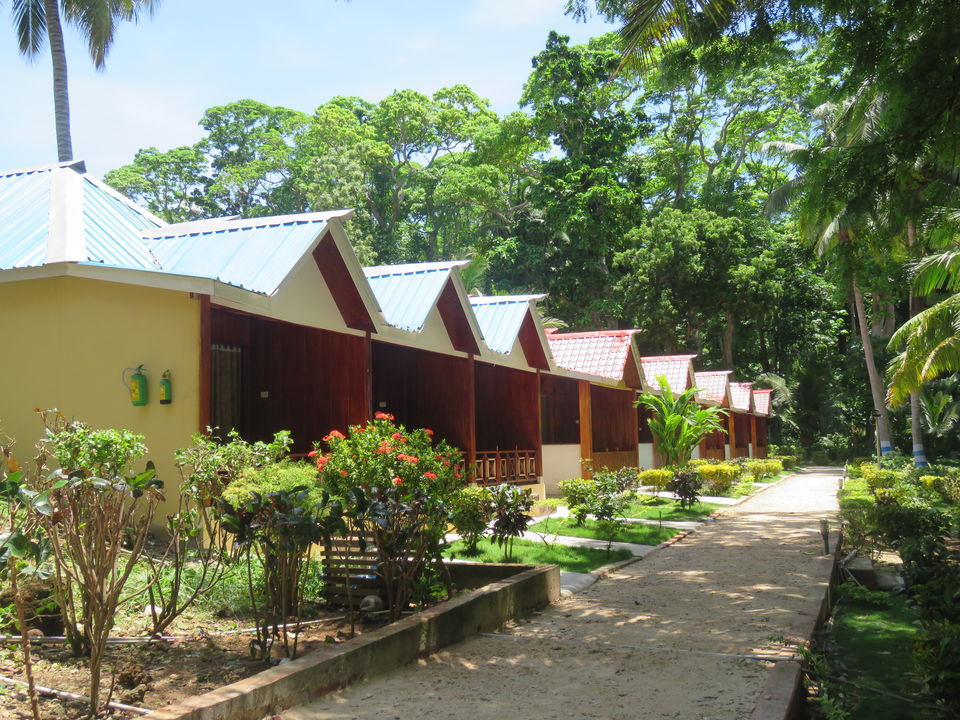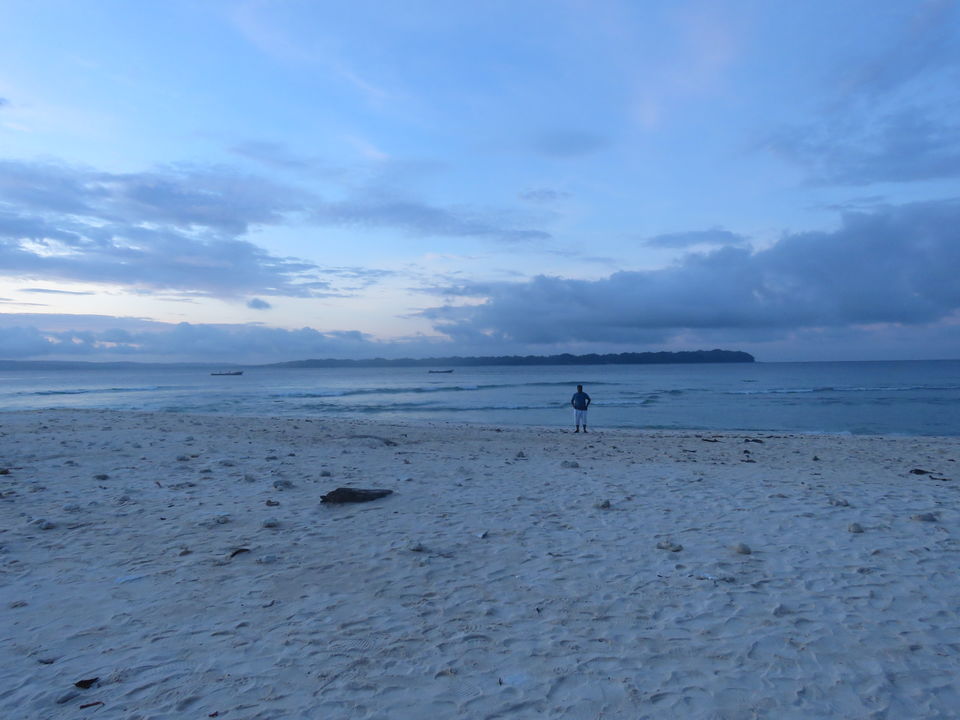 Day 6 - Neil Island & Port Blair
Natural Bridge
We realised the island was full of surprises when we witnessed the Natural Bridge, the next day. The natural Bridge, aka Howrah bridge locally, is a huge rock formation that looks like a bridge. You will keep staring at it the entire time. The blue skies, transparent water and brown rocks makes it picture perfect.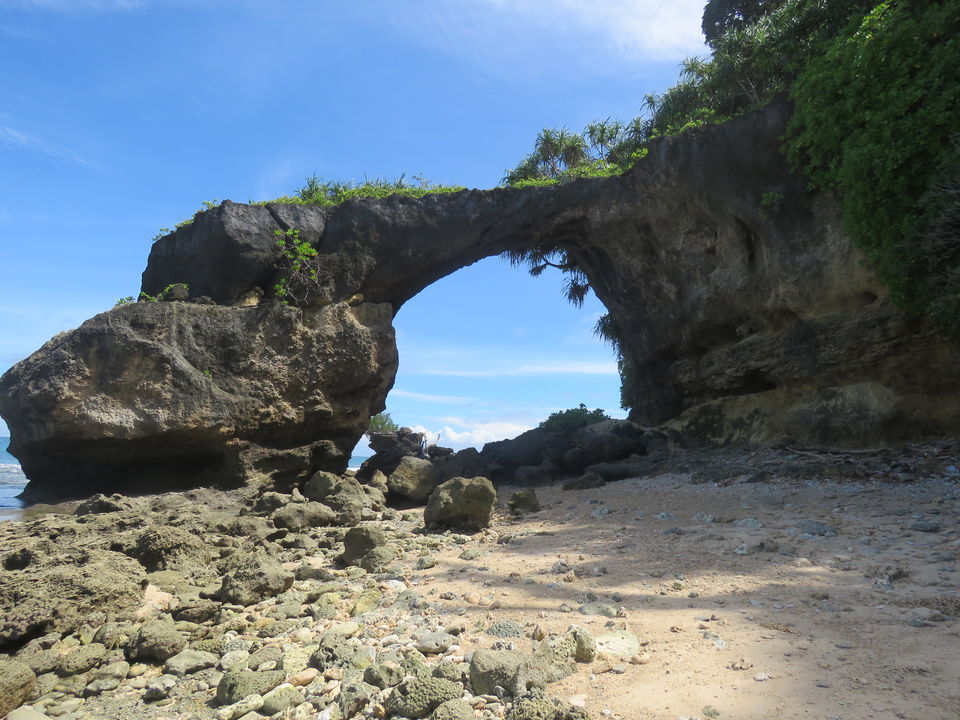 Bharatpur Beach
Bharatpur beach is the busiest beach in Neil. Thanks to the water-sports and diving activities. We decided to take the transparent boat ride. It was not as clear as we would have liked it to be, nonetheless, we could see the underwater life from it. It was awe-some.
Port Blair
Post lunch we took our ferry to Port Blair, again a Mak Cruise. At Port Blair, we decided to go to the backpackers haven, Ashiana Guest House. We checked in, got ourselves dinner from the New Lighthouse Restaurant, ate it and called it a night
Day 7 - Port Blair
Next day, we went to see the Cellular Jail. I could just hear Om Puri and Amrish Puri's voices in my head while it reminded me of the scenes from the movie Kalapaani. The guide showed us around and he told us the story behind the jail. Revisiting the history did bring tears in our eyes.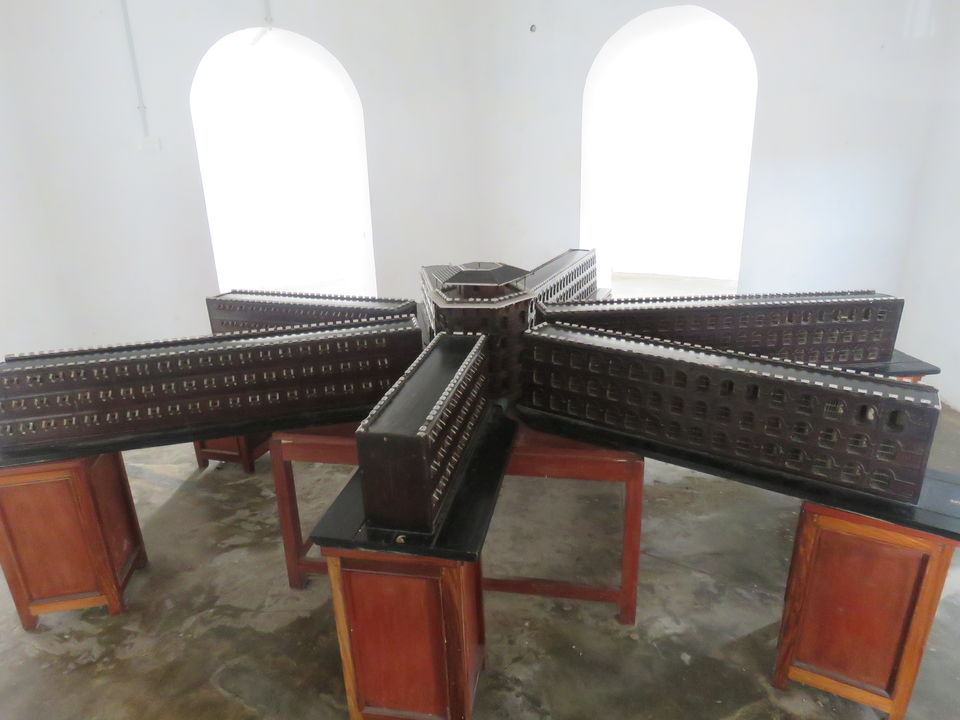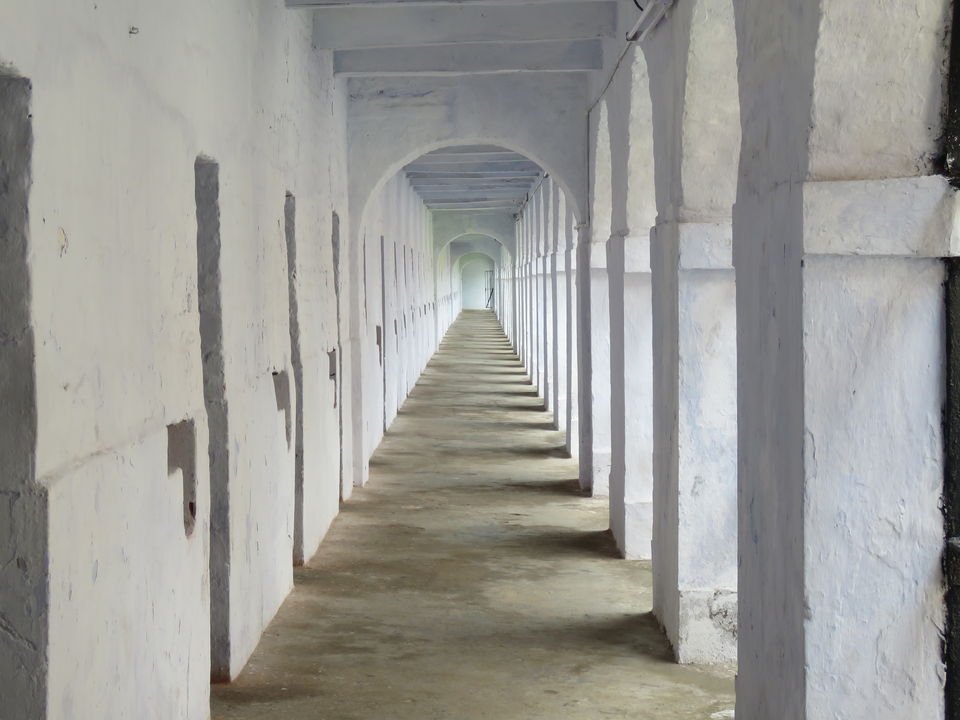 We reached the guest house and left for the airport. While heading back, we had mixed emotions. The good thing was we got an amazing break but at the same time we felt a little isolated without network and without being in touch with anyone. Blame our habits!
Something that started of as a celebratory trip turned out to be about facing our fears and experiencing something drastically different!
I hope you have such an experience too. Cheers!
Your Guide
Things to remember
Pre-book your ferry tickets - If you have an idea about the number of days you will be staying in one island, it is better that you book the ferry tickets online. There is a chance of them getting sold out during peak season.
No Network - There is hardly any network that has good reception. BSNL, Vodafone and Airtel are the only 3 network that has reception, but you won't be able to access 3G or 4G. So it is better to do a proper research about the place and keep details of the hotels you will be staying in beforehand. If you are a social media bug or are addicted to social media, you will have a tough time. At the same time it is great to cut of yourself from the outer world.
Do you suffer from seasickness? - Please note that you need to take the ferry to go from one island to another, there are no roads that connect the islands. If you didn't know this, keep this in mind and if you are seasick, don't forget to carry your meds.
Things to do
Scuba Dive -You will get to dive at most of the beaches of Andaman. And if you have never done it, you should do it at least once.
Recommended -Eco Diver, Govind Nagar Beach or ScubaLove, Beach no. 3 Havelock.
Water sports - Some beaches like Bharatpur have water sports activities like jet ski, banana ride, boating, etc.
Submarine ride - There is a special submarine ride that a service offers in Port Blair, it is to opt for this than taking the transparent boat ride at Bharatpur.
Beaches - Radhanagar (Havelock), Kala Pathar (Havelock), Laxmanpur (Neil), Bharatpur (Neil)
Trek To Elephant Beach - Something that we missed out on because of the rains. One can trek to Elephant beach, 2km, from a point which is midway from Radhanagar and Govindnagar beach.
Natural Bridge (Neil) - A must visit site in Neil. Don't miss it!
Stay at
Port Blair - Ashiana Guest House
Havelock - Eco Villa Resort (on the beach)
Neil - Tango Beach Resort (on the beach) / Holiday Inn (opposite to the beach)
Expenses
INR 50,000 (approx) for 2 people
You can follow our journey on marriedtoabeardo.com or follow us on instagram - @married_to_a_beardo
Or write to us at marriedtoabeardo3005@gmail.com