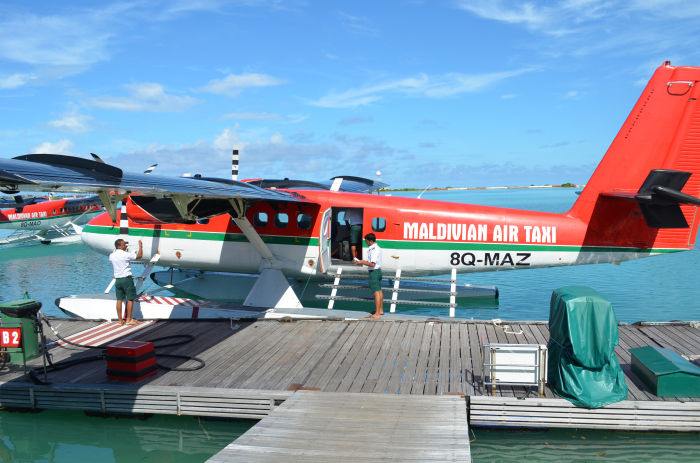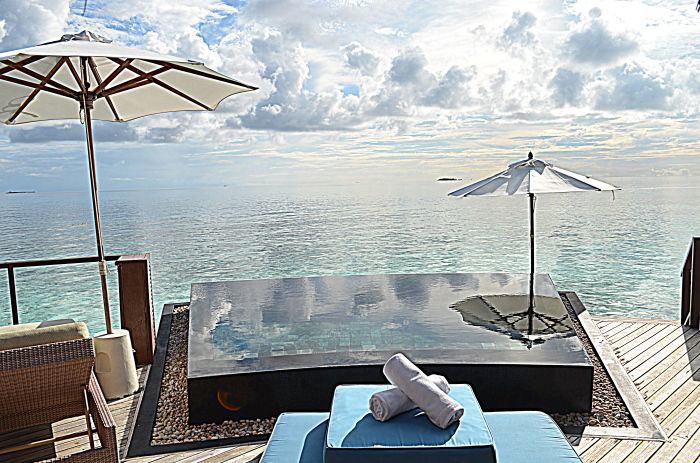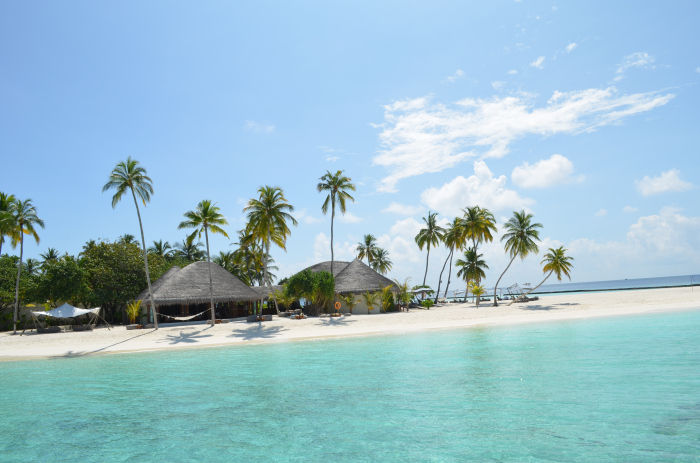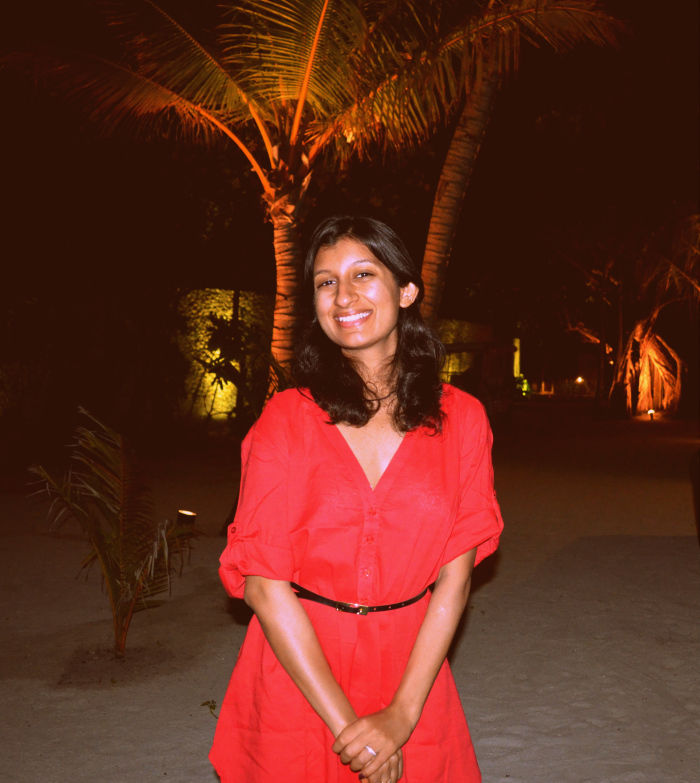 I am not a water baby. I don't know how to swim and seaside weather doesn't really suit my hair (I totally get Monica's pain from FRIENDS). Having said that, the only beaches I have been to have been in India and let's face it, you can find an entire grocery store in the sands. Given the paucity of time and the fact that Sid thinks Turkey is not really a 'romantic' place, we zeroed in on Maldives to vacation after our wedding. The good thing is, they have an on-arrival visa, language is not a barrier and it takes just 90 mins to fly to Male, the capital of Maldives from Bangalore, oops Bengaluru.
You can tell a lot about the destination of travel from the passengers waiting at the gate to board the flight. People clad in business suits and laptops – Hong Kong, London, Singapore etc. People with tons and I mean tons of luggage – USA. But, never have I seen a terminal with just couples. Majority of them – newly married! I found it extremely amusing because we all looked at each other with a sense of familiarity and every single one was sleeping during the layover. Indian marriages can take a toll on you!
Touching down at Male is a welcome like  no other. The airstrip is right in the middle of the ocean and the breathtaking view of the blue water and white sand as you get off the plane convinced me that choosing Maldives was not such a bad idea.  Maldives is a collection of several small islands and apart from the capital which itself is barely 1.7 square km in area and is quite densely populated, most other small islands have been developed by resort owners. We went to the Halaveli resorts and I have to say – it is the most beautiful place to be in. I would recommend it to anyone who wants a getaway. The only downside – it is expensive , but then if it's a special occasion, it is worth it.
After being warmly greeted by the resort concierge at the airport, we made our way to the Maldivian Air Taxi. These mini airplanes initially operate like a speed boat, pick up speed and then fly.
We saw some breathtaking views of the ocean; the numerous patterns that the varied flora and fauna on the water bed were making reminded me of all those super pretty wallpapers that seem too beautiful to be true. After a ride of about half an hour, we reached the Halaveli Constance resort and were warmly greeted by the staff. In lieu of the fact that several European people visit the island, most of the staff spoke English and French. In fact, to make sure that visiting guests are comfortable asking questions, the staff has people that can speak Japanese, Hindi, Tamil and so on so forth. Since, the resorts are on individual islands, once you are in it, you pretty much stay there. So, most resorts have water rides, sports and recreation facilities on the island itself. The rooms are all built on water with each room having a direct entry into the ocean apart from having private pools – which is a godsend gift for people like me who cannot swim even if their life depended on it. When me and Sid saw the room, we said in unison," This looks just like the pictures". The rooms truly are world class. I will let the picture do the talking!
The entire concept of the resort is so unique and so well executed that one feels relaxed in the environment. The resort literally pampers you with free-WiFi, movies on demand, excellent spa facilities and the list is endless. My one issue again as was with Japan – the food. Except for the breakfast which in itself looks like a feast, there are not many options for vegetarians for lunch/dinner. Or rather the value for money is less because Maldives is an expensive place. So, for people who are nit-picky about their food staying in a hotel on the mainland or closer to the mainland is a better option because there are quite a few Indian restaurants there.
The resort also provides its guests with options to indulge in water sports such as kayaking, snorkeling, deep sea diving etc. If these don't interest you then you can always laze around the beach, read a book and get a tan! Here's a view of the beach
Given how secluded and serene the place is, one loses track of time. In fact, the one week we spent there went by in such a jiffy that on the last day we had withdrawal symptoms. I had no intention of leaving the sun, sand and Sid, of course. To anyone who is planning for a quick getaway sans any visa/ticket hassles, Maldives is the place to be. Some pointers to travelers though
Load up on a lot of sunscreen. No matter what time of the year, being a tropical place, the sun is always strong here.
For vegetarians – no harm in packing some veg snacks from home and taking along because the last thing you want is to be hungry on a vacation. For non vegetarians – aah, why do I even bother. You are going to love all that seafood!
A pair of sunglasses, a beach hat and some nice flip flops are a must.
If you want to shop, it is better to make a trip to the mainland because the in house shops do not have all the variety and are pricier.
All those floral prints and bright colors that you don't get a chance to wear – well, pack them all because that's what beaches are for!
Both me and Sid loved the place so much that we have decided to come here again. This time perhaps, I will know how to swim!
This trip was originally published on The Round Trip Ticket.