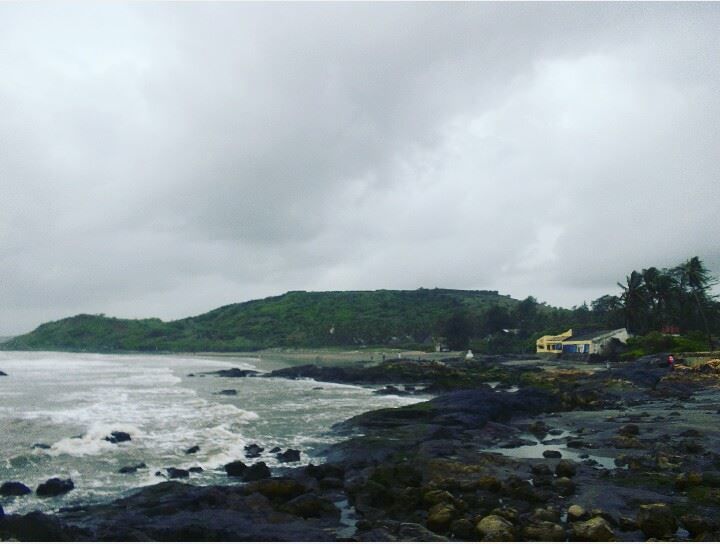 Beaches, Beer, rave parties, fenny, shacks, and some "over-the-top" fun. These may be few of the words that hit your mind, isn't it ?
But let me tell you that the real Goa, i.e. rural and hilly areas, still remain unexplored.
So, first things first, Goa is a state, a landmass and not just a collection of beaches. So, one must widen his/her mindset before visiting Goa.
Goa is beautiful. Its clean, its green, its soothing and the best attribute is that, it is laid-back. You will forget all the stresses of your life once you start exploring this beautiful micro-state.
As you enter Goa, the first thing to grab your attention will be the elegant Portuguese architecture. It is very classy in its own way, yet colorful. The RGB-like color vividness will be the next thing, Red being the soil, Green being the extensive flora and Blue being the clear sky.
We had pre-booked our rooms in Panjim, through a trusted aide, Travel Magician, who let us stay in the OYO premium: Manvins Hotel near the Church Square in Panjim. It was a smooth experience and with a 24-hour checkout window, we had no troubles in settling down and get freshened up for our expedition !
The day started with an early morning complimentary breakfast in the hotel itself, and then we headed out for renting out bikes, which are the best ways to explore a place at anytime. After getting hold of them, we were off to Aguada. Enroute, we decided to take a detour through the Goan villages. This took us away from the comforts of the highway and right into the middle of natural beauty of the post monsoon Western Ghats. The roads converted into muddy ways with pale-yellow huts on either side, with a church popping up every now and then.
The Aguada Fort, as expected is a grand touristy place with certain specific portrait and selfie-spots. We did roam around the Fort, which also has a huge lighthouse on it and then we decided to go into the depth of Aguada. And then we reached a dead end on a cliff, and that dead-end was housing the most dangerous criminals of Goa !
Yes, it was the Aguada Central Jail, in its final few days before being defunct. We were the only group there apart from another curious bunch of guys, trying to take a sneak peak inside. Although, there was nothing much to revere, but still the experience of finding something unexpectedly is a fun in itself.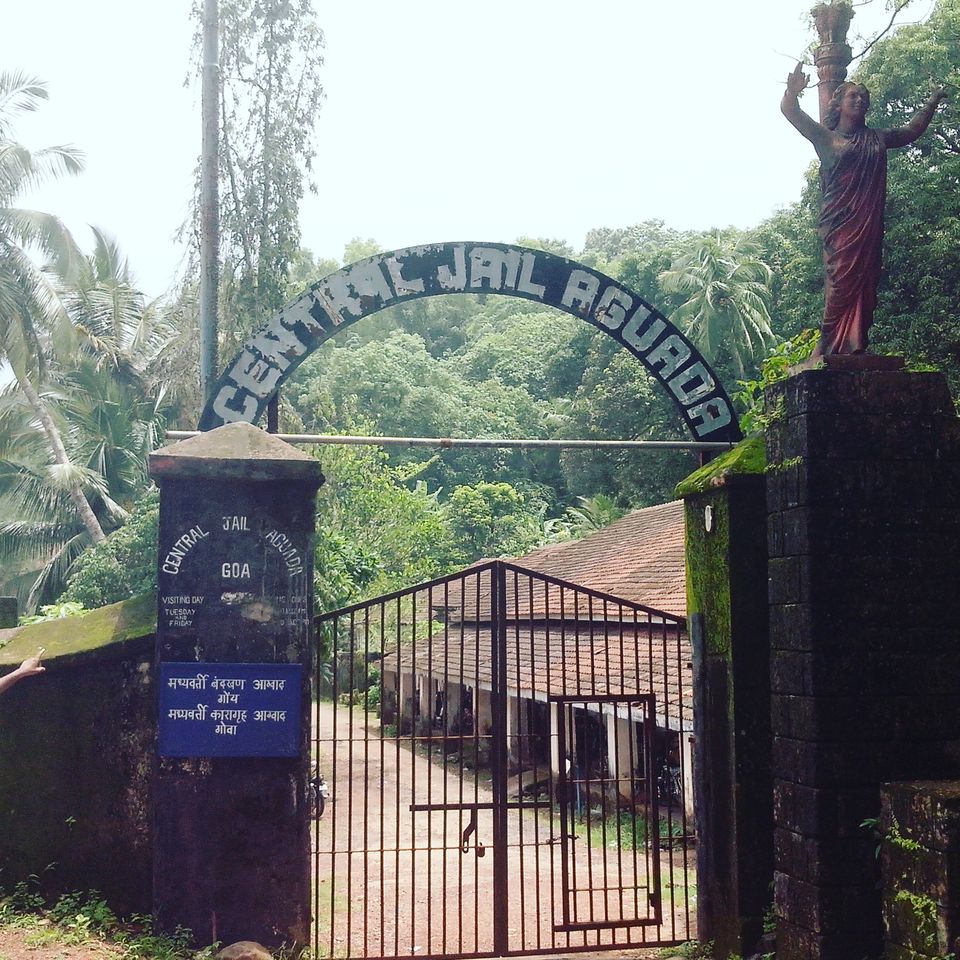 We stopped over Wok & Roll for lunch which served authentic Cantonese & Thai food with all the fancy cutlery from those countries. The food was tasty and after hours of exploring under the beating sun, a stomach-full of meal with a pint of beer is all you need.
After the relaxing lunch, we decided to hit the North-Goan beaches of Candolim, Calangute, Baga, Anjuna till Vagator, the last tip. All these lie on the same road just a few kilometers apart as shown below: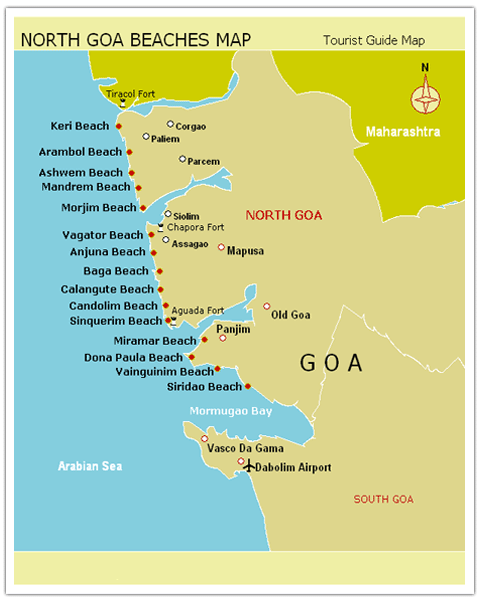 One thing you must keep in mind is that fuel is cheap in Goa, but the filling stations are scarce. So always get your tanks full, which will save you from buying petrol from road-side vendors at an All-India rate ????
Coming back to the beaches, Candolim is a small, laid-back beach with a few shacks and very few people flocking here and there. Calangute on the other hand is full of local shops, ice-cream parlors, tattoo parlors, people, shacks, and a lot of space to have your own private ecosystem within the beach.
After Calangute, there is the famous Baga Beach, has been home to many film and commercial shootings and is also pretty much commercialized. Many shacks are present in Baga, with a good bunch of foreigners in each one of them. Don't be surprised if you are denied entry in some of those shacks. The Baga beach also has a sort of a small river delta, where the river meets the sea, but you are not allowed to go in those waters, for safety purposes.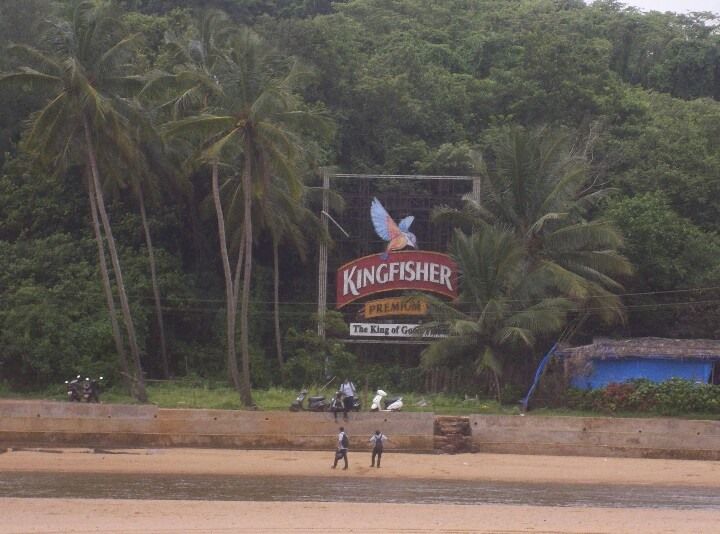 We skipped Anjuna Beach to prevent redundancy, which has an amusement park sort of thing there, but we were more excited for Vagator. And, it was worth it. That evening in Vagator was an evening you live for. Just a cool breeze, kissing your cheeks with a sense of unique calmness, even with the sound of humongous waves hitting the sea stacks rising from within the sea. Some locals were patiently sitting with their rods, fishing. Somehow we reached the top of the tallest stack, which had a catholic cross on it. The view was amazing, you are sitting on top of a rock, in the middle of the sea, with unforgiving waves hitting the rock, trying their best to bring it down, that thrill was just amazing.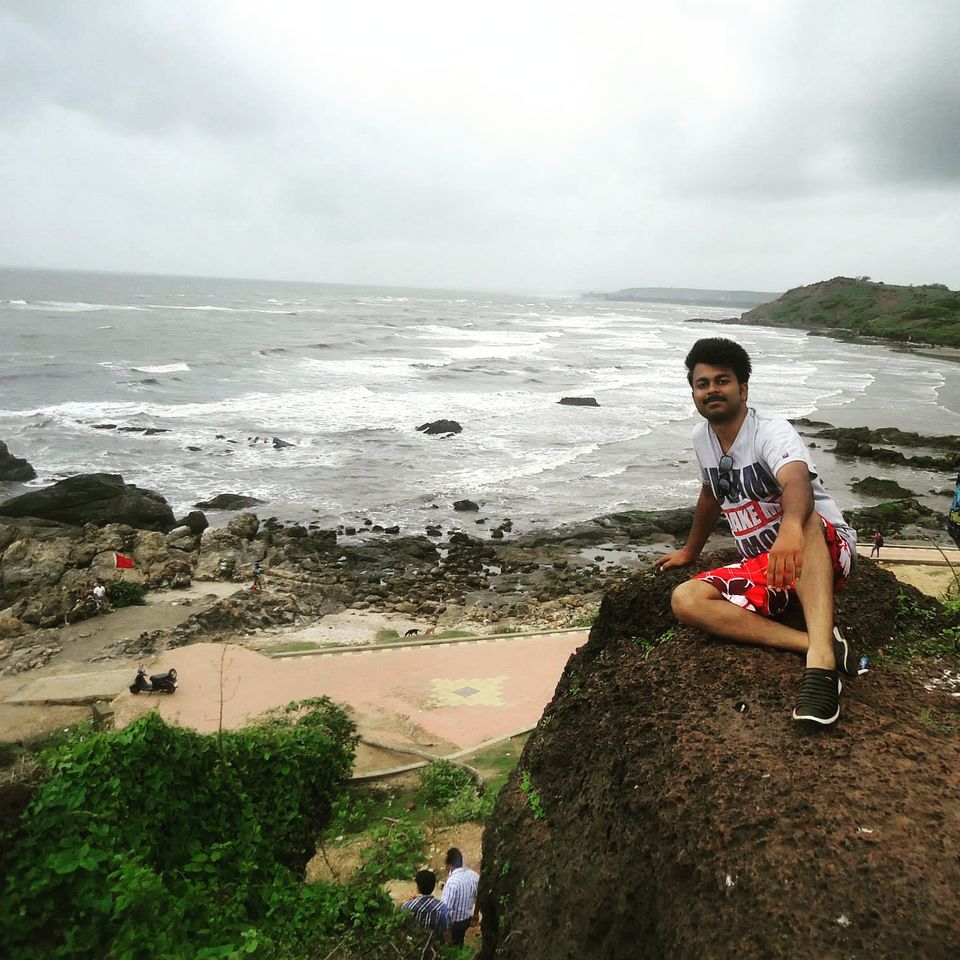 After this refreshing experience we decided to head back to our hotel via Baga Beach(as we wanted to experience some night-life), to retire for the day. We didn't go for dinner, as our stomachs were already full with the snacks we kept on having at every beach we visited.
On the next day, we were again satisfied with hospitality of the hotel and the Goans, who kept our room neat & tidy, even with our sand laden clothes & footwear lying all over the place.
We raced our bikes to Velha Goa, which is the Old-Goa and has the famous Basilica of Bom Jesus, which is a UNESCO world heritage site. The road to Velha Goa however, is a story in itself. The Pune-Bangalore Highway goes right beside the Mandovi River with small & colorful houses on the other side, and riding your bike on such a road is a treat. We enjoyed the views, both of the Mandovi river and the Basillica, which was quite huge with a fabulous architecture, and easily the biggest that I had ever seen.
From there we decided to head to our last location, i.e. Dona Paula Beach. It is famous for its water-sport activities, especially the Water-crafting, which is frightening (for non-swimmers) yet an enjoyable sport. This was it.
My friends wanted to buy some liquor from Goa, especially the Fenny as a souvenir, as its quite cheap over there. You have to get a permit from the liquor shop, in order to take the bottles out of the state. So, a liquor shop was our last stop before we headed back to Mumbai.