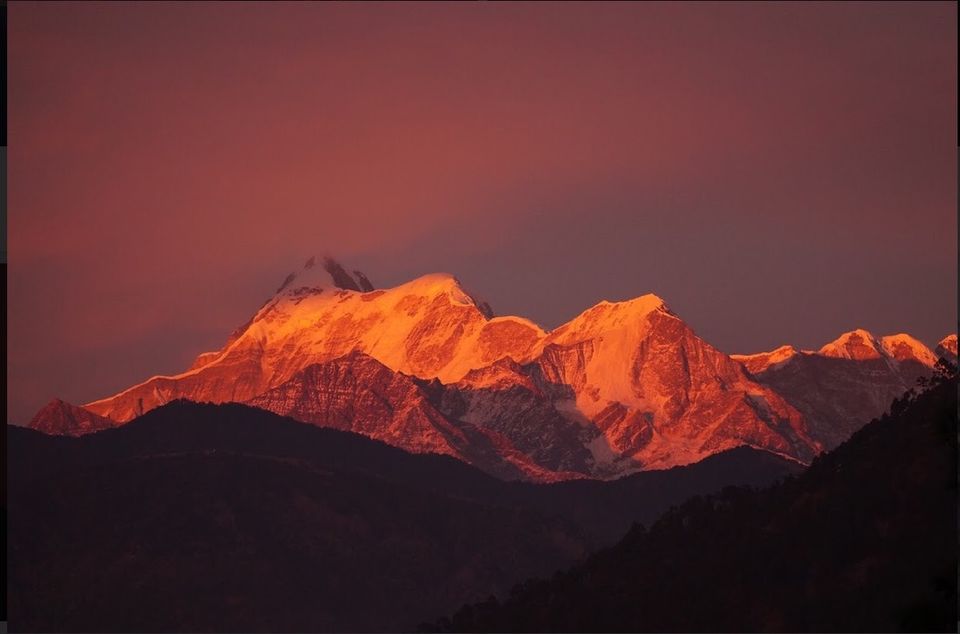 "I don't mean to brag but I won the trek to Brahmatal with Indiahikes through the Tripoto travel competition. I had always wanted to go to Brahmatal because I had heard that it is one of the best winter treks. I had always trekked in the summer before and I was all prepped for this to be my first winter trek. I knew that this wouldn't be that hard for me since I had already climbed Roopkund at almost 16,000 ft. I knew that 12,000 ft would be an easy feat. What turned out to be easy for me was however very challenging for my mother and I realised this later. "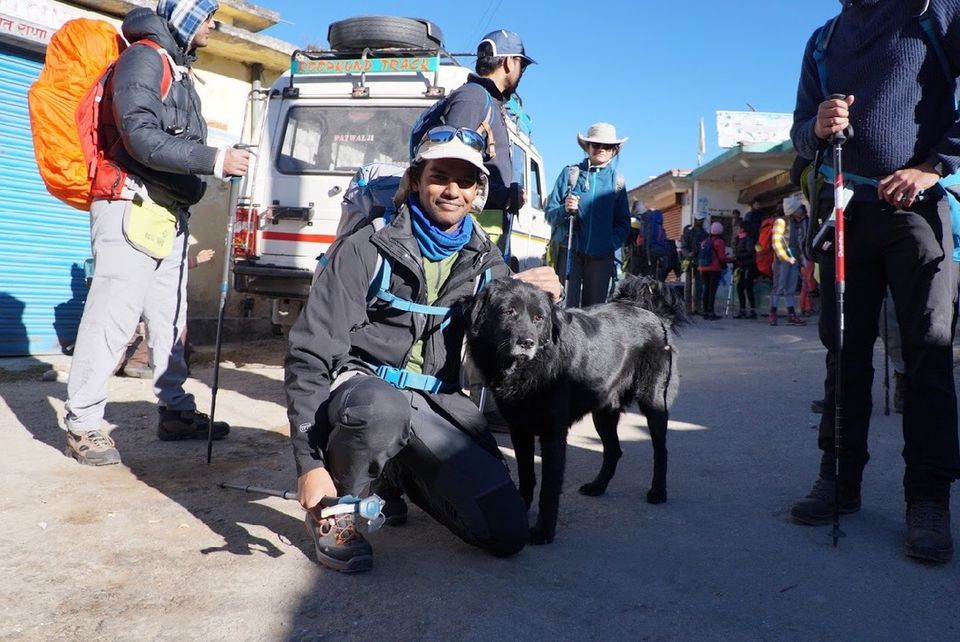 My favourite hobby at home is scrolling through the Indiahikes page and checking out which trek I want to do next. I knew that the next would be Brahmatal after looking at the beautiful page which Indiahikes had and the amazing pictures on their website. There was no doubt, Brahmatal was the winter trek for me. On telling my parents that I wanted to go, my mother decided to join in for the experience. She had always wanted to go, but this time she actually came. She was excited and began to try a fitness regime where she went for daily walks and jogs to get fitter. 
Delhi- Kathgodam- Lohajung
Delhi to Kathgodam is an overnight train journey. Since the tickets get booked, you should prebook them in advance. The journey began at around 11pm at night because the train was delayed and we reached at 6 am. I first reached Kathgodam railway station and we met the rest of the group here. After getting cozier and clicking a few group pictures, we began our bus journey to Lohajung. Lohajung was around 10 hours away. We reached Lohajung in the evening and it was a tiring journey. The bus stopped on the way because there were many dhabas with Kumaoni and Garwhali cuisines. Lohajung is also the base camp for Roopkund and I had done this trek previously. However, this time, the place felt entirely new with a different Indiahikes staff. After taking our oxygen-meter readings, we began to have dinner with the group. Everyone in the group was commenting on how it was getting colder and how we would need more blankets. My mother excited as ever, began to try the food and soon after eating and relishing the delicious food, we all fell asleep. The food which Indiahikes makes on the mountains is a lot better than the food I ever eat in my hostel.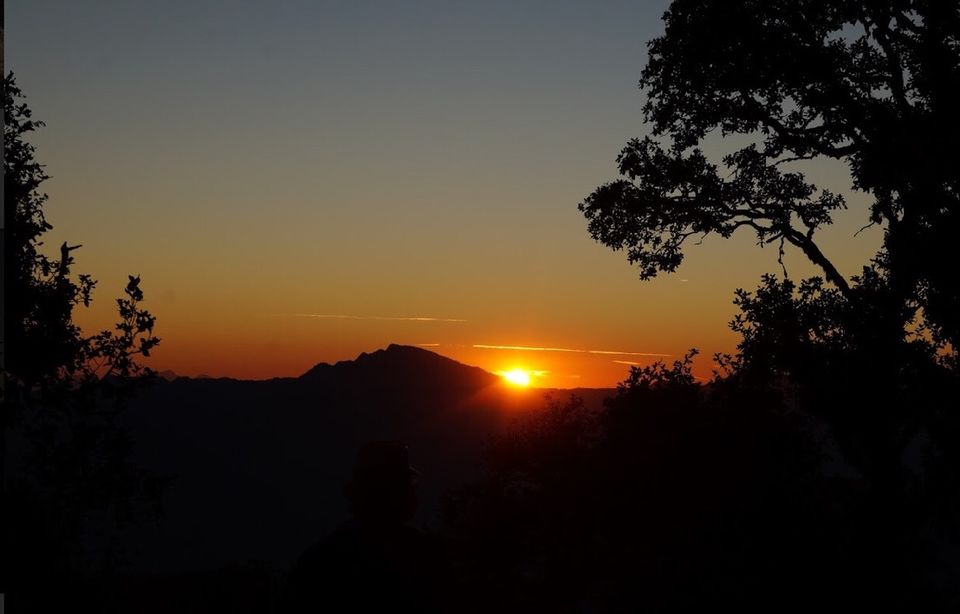 Lohajung- Bekaltal (Around 5km)
"5km sounds less but our legs almost gave up on the way till we chanted one step at a time as we moved ahead. The group effort increased and we were collectively trying to accomplish the day together."
The next day, early in the morning, we began our trek after the briefing. My mother had taken the porter because she would be unable to carry her bag whereas I chose to carry my bag. They also had options for us to rent the trekking gear near the Lohajung base camp if we did not want to buy it. Indiahikes promotes the idea of green trails where we carry our own green pouches and collect plastic waste in those. On the walk I saw that the views were beautiful and my mother kept walking behind me slowly. I noticed a glass bottle and threw it inside my green trail bag given to me by Indiahikes. The path was surrounded by trees and the mountains around looked like they were opening in the grandest ways to the sky. The group kept taking pauses, we found a waterfall on the way and filled fresh water inside our water bottles. Vandana commented on how the algae actually cleans the water and makes it drinkable. I was skeptical to have the water first, but I decided to give it a shot. It was extremely tasty, sweet and it actually tasted like Mana sent right from heaven.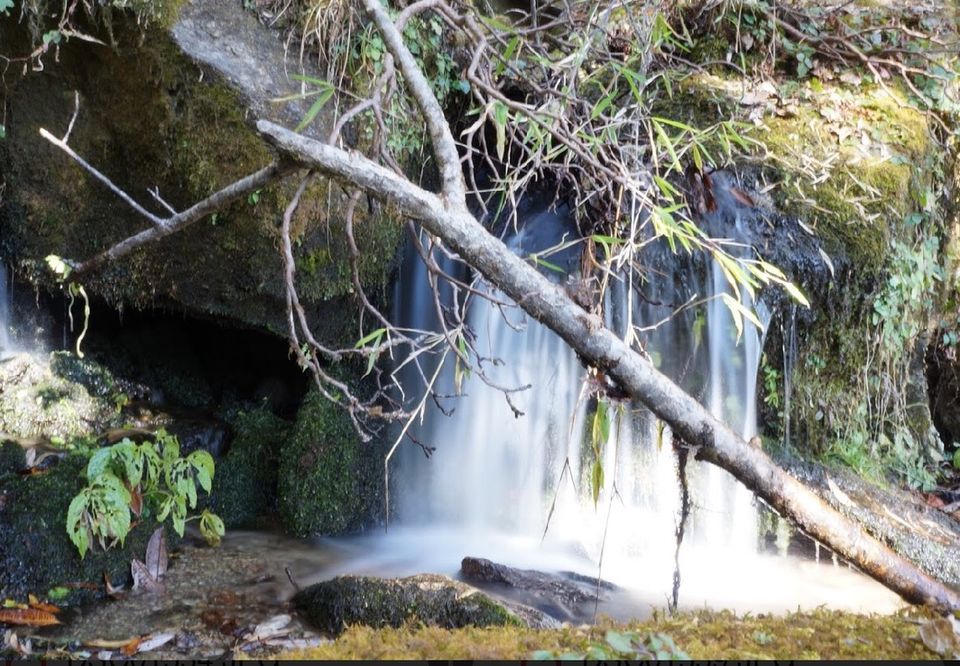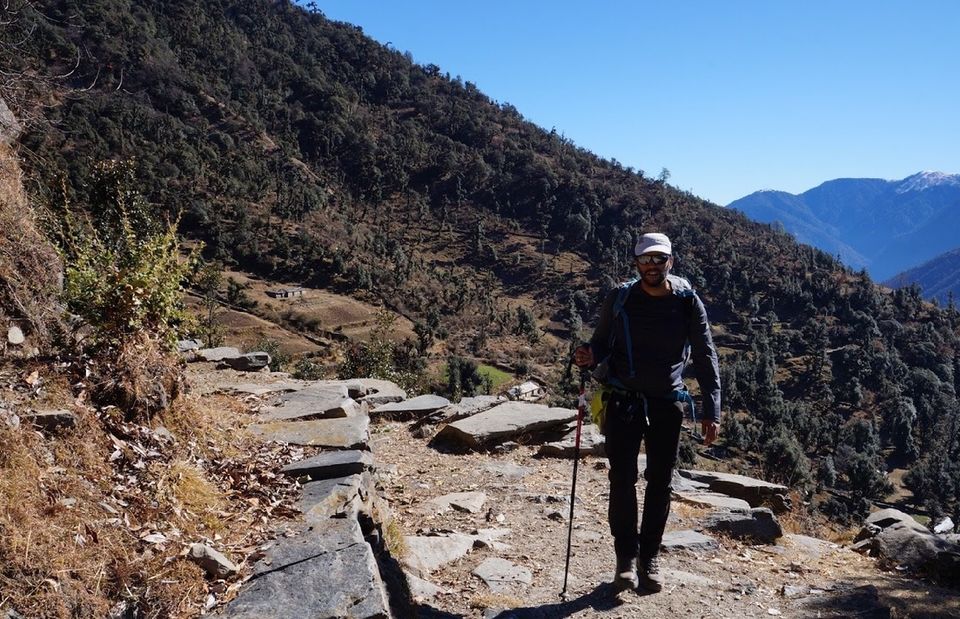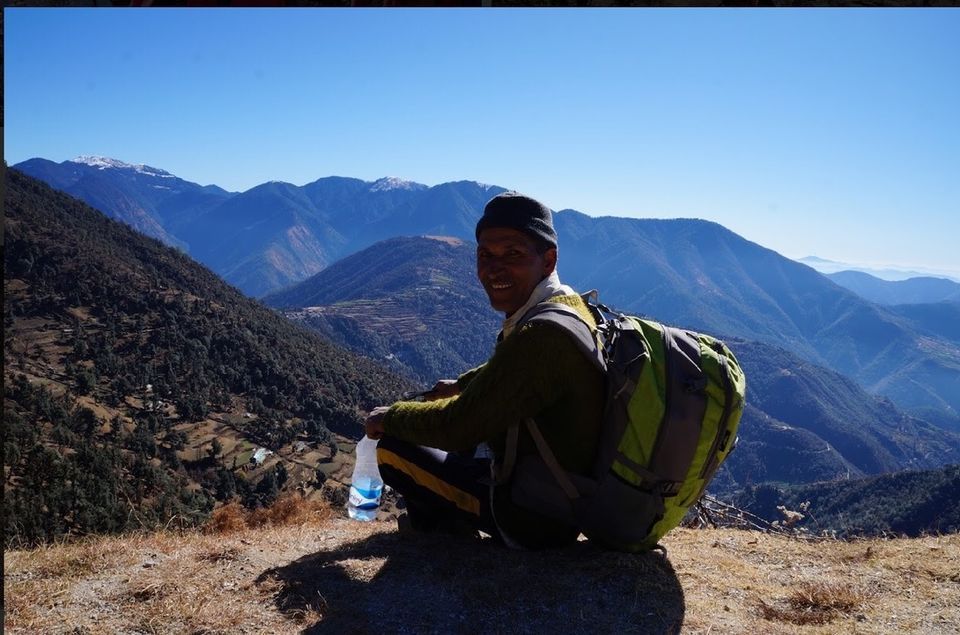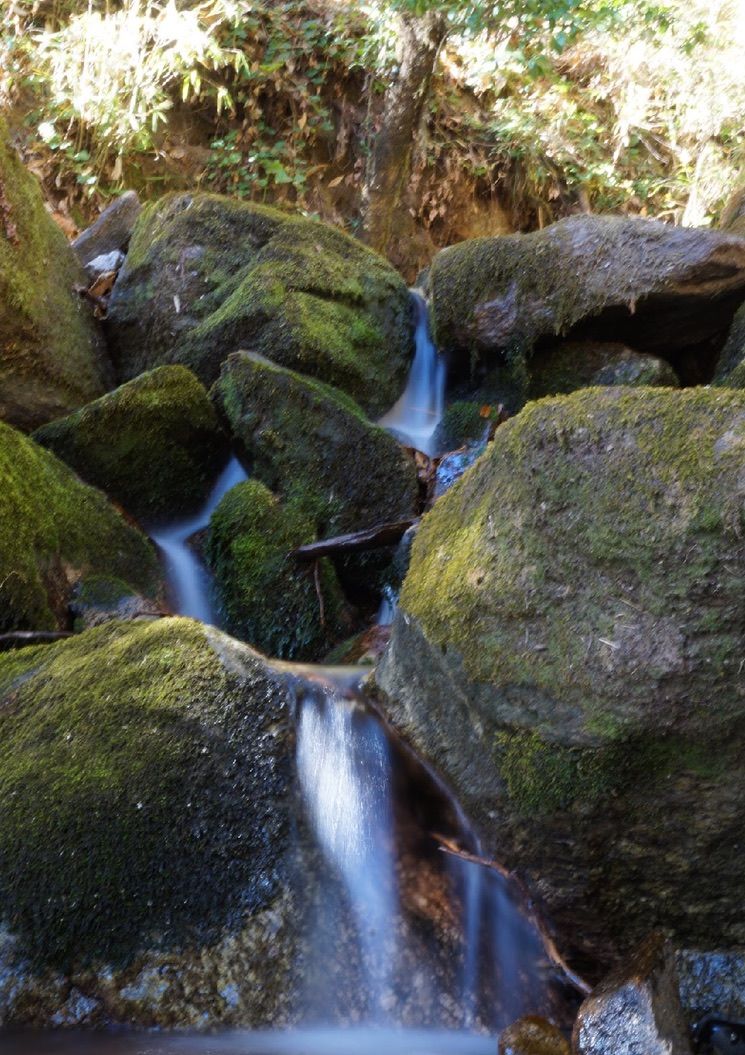 We continued to walk among the trees and bushes. Soon, we reached the place where snow had fallen and in no time our path was filled with snow. My mother was surprised and taken aback by this. Everyone had a common feeling of excitement here, the snow had changed everything. People began to take pictures. We were walking on the snow for around 45 minutes till we reached the campsite. Everyone was tired but we were served black tea as soon as we reached. The dog on the campsite began to bark and we realised that he was looking at a fox on a tiny hill nearby. Everyone was a little scared at this because we realised that we were now in the wild.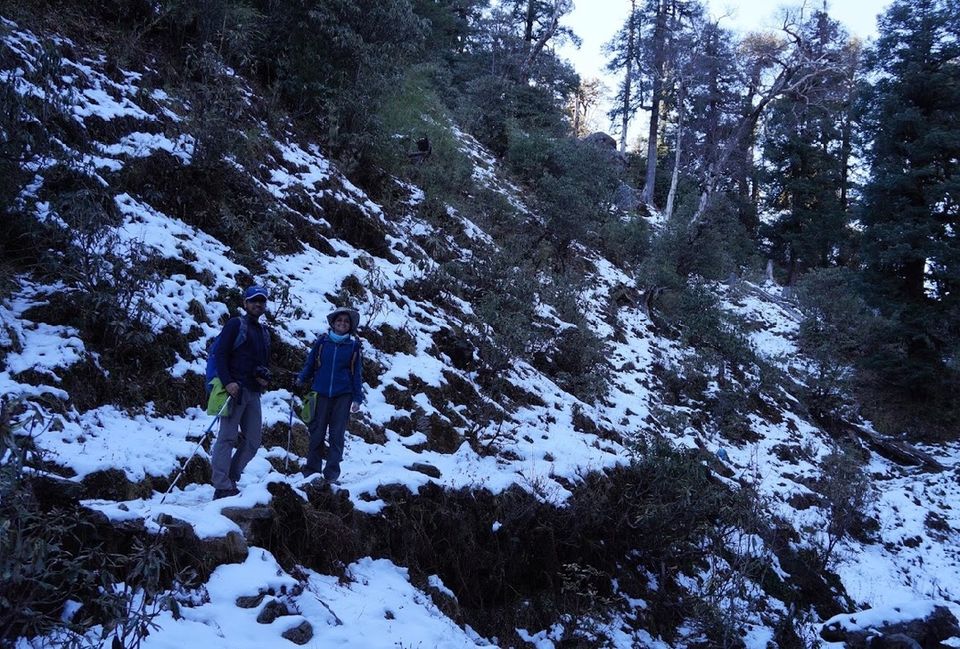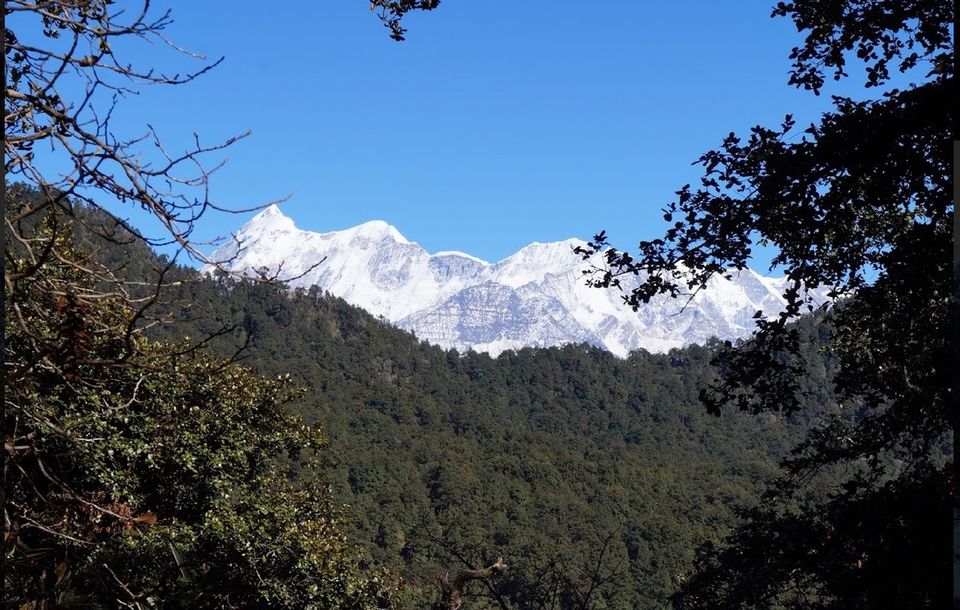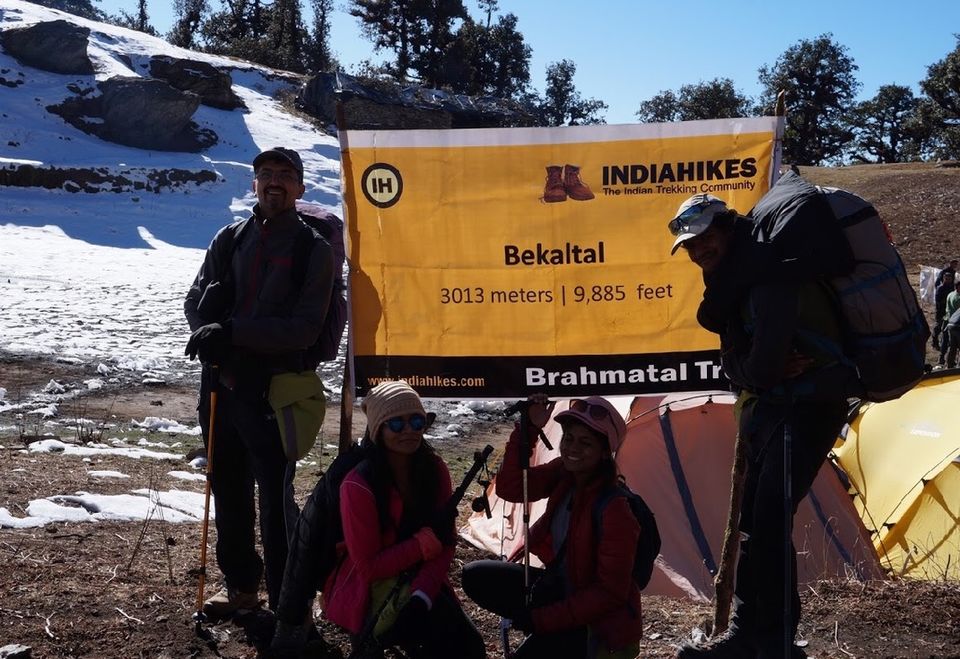 After having lots of carbohydrate rich rice, we moved to climbing near a small frozen lake nearby. We tried to hit stones in the lake. It was almost sunset time and the sky looked beautiful. The shades of blue had now turned to shades of red. We reached the campsite and started singing and sharing personal stories. My mother was tired but when we went outside the tent, the million stars in the sky inspired her. There were separate tents to pee and they were around 10 steps away from our sleeping tent, but in the cold, they too felt like they were far away. Soon, it was time to sleep. My mother was feeling very cold so she couldn't sleep. The trek leader Mahi was very experienced and had been the leader for Everest Base Camp and Annapurna trek with Indiahikes as well. He then came to the tent to help my mother and bought her a heat pad which helped her through the night. He took special care of her without which she wouldn't have been able to sleep at night. We slept in the tent in massive cold and this was one day down for us.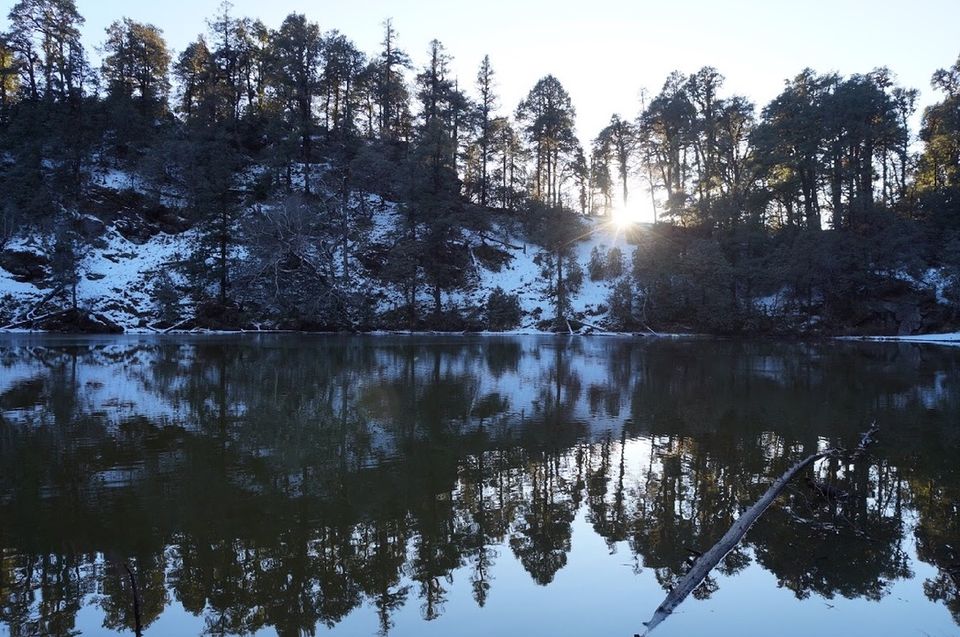 We slept under the stars waiting for what day 2 had in store for us. With the fox, frozen river, camping under the stars, the snow, water filled from waterfalls with algae, walking in trees in the forest to majestic mountain views, the first day had been adventurous and had helped me to bond closer to my mother and to myself.
Things learnt on day 1:
The trek leaders are very helpful and you can always ask them for help. If there is any issue, tell them immediately or it may affect your latter days on the trek.
The food on treks with Indiahikes is a lot better than food at the mess served in hostels.
Trekking is more about exploring yourself close to nature.
Day 2- The next day had a lot in store including near death experiences, a sky full of stars, and my mother falling miserably sick (almost getting AMS which is deadly on the mountains). Stay tuned to know more and for the pictures of the beautiful night sky!