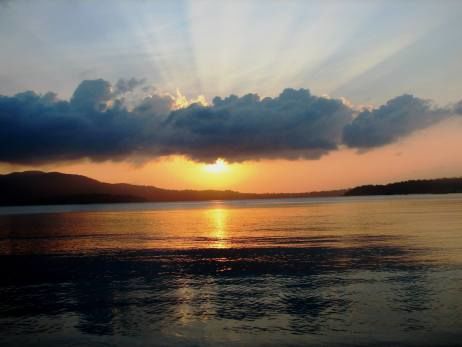 Day 1: Reached Port Blair Airport (Veer Savarkar) @ 1:15 PM. Checked in Hotel . Visited Cellular Jail for 1.5 hr,  Visited Rajiv Gandhi Sport complex and saw "Milan Samaroh", which was on its last day of completion. Enjoyed Light and Sound Show.
Day 2: Woke up at 5: 30 am. Got ready by 7 and left for ferry. Reached Havelock by 10 am through Makruzz. Checked into resort", enjoyed Beach no 5 "Vijya nagar beach". Roam around the havelock roads. Booked Scuba for next day morning from hotel itself (tie up with "ocean tribe") and had good sleep.
Day 3 : Got up at 5:45 am. Had long walk along beach 5 from our resort to dolphin and back.. enjoyed sun rise. Had great and life time SCUBA experience with ocean tribe @ beach no 3. Spent the evening at beach no 4 Kalapathar beach. Returned to hotel, ordered some evening snacks and enjoyed with my writing on  hotel's private beach's shakes.
Day 4: woke up around 5:45 am and had some yoga/warm up at Kalapathar beach. Headed for Elephanta beach after breakfast through Jungle trek , reached 10: 30 am at elephanta beach. Did deep water snorkeling over there. Spent & enjoyed sometime swimming on the beach. headed back around 3:45 PM and then moved to Radhanagar beach. Spent evening @ Radhanagar beach. Returned to hotel after collecting food and drink stuff from market (Super market stuff).
Day5: Started around 4:30 am, spent morning at Radhanagar beach, had breakfast in hotel , got ready for check out and spent 3-4 hour on Silver sand beach and shacks. Set out for Neil island using Govt ferry this time and reached Neil island around 4: 30 PM. Searched and checked into hotel , had dinner and called it a day early.
Day 6: Woke up around 8 am..had breakfast, took a bike on rent, visited and spent good time on Bharatpur beach, had a ride to Sitapur beach, came back to Laxmanpur beach for Sun set and enjoyed evening there
Day 7: Got up around 5 am, spent time on Sitapur beach, enjoyed Sun rise. Came back to hotel had breakfast, left Neil island for Port blair around 8: 45 am. Checked in Resort, Visited Aquarium , Samudrika, Naval Museum , shopping@sagarika and spent evening at Corbyn's Cove beach(7KM from PB center). Had dinner and back to resort.
Day 8: Got ready by 9 am, Visited Chattam Saw mill on Chattam island, then Mt harriot. Had lunch in PB and visited Chidiya tapu (famous for sun set) in the evening.
Day 9: Woke up late and spent time in the resort itself. Had lunch in the market, did some more shopping and boarded the flight for Delhi around 2:30 PM.
Expense(8 nights 9 days for 3 person)
Total Cost = INR xx/- (Approx)
Air Fare for 3 pacs (Delhi to PB to Delhi) : 33000/- (11000 * 3 )
Ferry for 3 pacs -Makruzz and Govt ferry (PB to Havelock to Neil to PB) : 4310/-
Accommodation: 37000/-
Shopping : 2000/-
Commute and travel: 5500/-
Food and drinks: 8600/-
Water sports (scuba and snorkeling) : 8000/-
More Costing, if it helps you
Jetty to hotel in PB's market :150/-
Auto internally : 20/- (all places near to market in PB)
Auto havelock jetty to silver sand resort in havelock(beach no 5, 7KM): 150/-
Radhanagar pick up & drop from 14 km hotel. : 500/-
Elephanta beach-naturl corals'glass bottom boat'(jetty-speed boat 600/-with snorkel or trekking -35 minute)
Guide to Elephanta beach trek : 500/-,also get ready for more to pay for snorkeling as your guide's commission. No guide recommended, trek your own and do bargain for snorkeling on the beach itself.
Auto pick up & drop from Neil market to Laxmanpur beach (2KM) : 200/-
Auto pick up & drop from Neil market to Sitapurbeach (4.5KM) : 500/-
Scooty on rent in Havelock: 300/- per 24 hr
Bike on rent in Neil : 400/- per 24 hr.
Car hired for Mt harriot in day time & chidiya tapu in the evening (almost full day) : 1800/-
Makruzz ferry : 900/- to 1450/- per person
Govt ferry : 370/- from anywhere (PB, Neil,havelock)
        Water Activities:
Sea walk : 2700/-
Scuba : 3500/-
Snorkiling@ Elephanta beach : 300/ for shallow water, 500/- for deep water. Deep water recommended.
Taking tube or snorkeling gear on rent : 100/- per pc
Accommodation used:
Nagri Inn (Delux with AC 1.5K per night)
Silver sand beach resort (9K to 14K per night)
Hawabill resort (AC- 1K per night)
Megapode resort ( 3.5 K to 7 K per night)
Things to be considered
It gets brighter early and darker soon. So use your time between 5 am to 5:30 PM effectively.
Most of the hotel have check out time 7: 30 am in the morning, so plan accordingly.
Keep Mosquito repellent cream, mats, hats, sunscreen lotion, goggles, Light/torch, beach wears
Buy your own snorkeling gear on these island, it cost around 650/- … so you can enjoy on most of the places.
Booking you makruz ferry online or from your hotel in advance recommended, if going in peak season. you can take govt ferry ticket on the same day or the day before from there. Take help from hotels or drivers in peak season.
        Port Blair:
Do purchase Light and sound show ticket on time. You can purchase the ticket around 4 PM for 6:30 show, 5: 30 for 8 PM show. The queue for 6: 30 show is generally longer. better to book it in advance with hotel staff or driver.
If you get any hotel in PB's market, rest everything will be nearby including Cellular jail, shopping, Rajive Gandhi Water sports, Anthropological museum, Aquarium, Sagarika, Naval Museum and more
        Havelock and Neil island:
If don't have much time at havelock, you can skip Kalapathar beach no 4. There is nothing to be missed.
There is a  shop with name supermarket @ havelock market, which is having everything to get on MRP. So don't buy anything on inflated rate as tourist surcharge

:)

Only two ATM (Axis and SBI) @ havelock and No ATM @ Neil, So Keep enough cash to complete your stay on these two island. There may be chances that ATM @ Havelock will not work.
Even 5 Start category hotels @ Havelock /Neil do transaction in cash. So no use of credit card, Keep cash with you
Only BSNL will work in Havelock and Neil completely. Vodafone starts working near market and Wild Orchid resort @ havelock.  Airtel works in Neil island.
No internet , No Wifi on islands
If you are planing to visit Jolly Buoy or Bartand, Get your permit 2 days in advance with any travel agent or your hotel staff. Fixed price from Govt.
Carry food and drinks with you, whenever you visit beaches. Few beaches don't have eateries shops around them.
Renting out scooty/bike is the cheapest and best way to explore the islands.