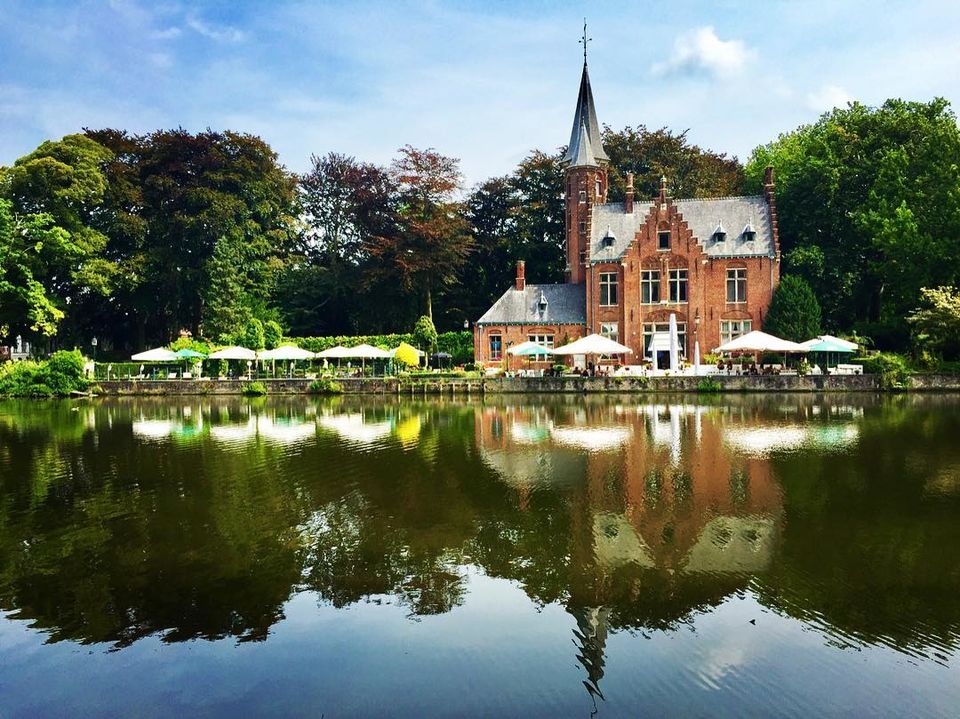 Whenever I speak to my friends who plan to travel to Europe they often mention countries like the Netherlands, Spain, France, Italy, etc. But when I ask them why don't you consider Belgium, they usually say "what is there to see in Belgium?"
Well, there are so many places that you can see and fall in love with.
Let me show you some hidden treasures of Belgium.
Dinant - Starting with Dinant, the place where the most romantic musical instrument was invented - Saxophone. The city also romanticizes the different shades of colors which makes it look vibrant.
Dinant is not that far away from the capital city of Brussels. It is around 90 km away from Brussels and you can drive to Dinant in almost an hour. And the drive to Dinant will make your jaw drop with some picturesque countryside landscape.
Located on the banks of the river Meuse, it's the perfect place to sip on your beer or read a book with some saxophonic music playing in the background.
Brugge: The other hidden gem which is starting to gain some popularity is - Brugge!
I can tell you, you can find the most delicious waffles in entire Europe in Brugge. If you are a waffle lover, Brugge is the paradise for you.
As soon as you enter Brugge, you will come across a small lake which is known as Minnewater lake OR it is also known as "Lake of Love".
I wanted to know the story of why the lake is called "Lake of Love" and here is what I learned.
A young and pretty girl named Minna was in love with Stromberg, a warrior of a neighboring tribe. Her father did not agree with her love and arranged her to marry a man of his choice. Minna escaped and ran into the forest. When Stromberg finally found her, she died in his arms of exhaustion. The lake was named after Minna and the bridge by the lake was considered the bridge of love, in her honor. Fascinating, isn't it?
It is said if you walk over the bridge and kiss your loved one, it will become eternal love.
One of the best things you can do in Bruges is to take a beautiful short walk along the ramparts with its windmills. It is nearby the city center, so after discovering shopping places, beers, and coffees, this is a great opportunity to explore the outskirts of the city. A few decades ago, there were as many as 23 windmills in Brugge but now there are only 4 windmills left due to urbanization.
Gent: From one beautiful city to another - Gent is another hidden gem of Belgium. If you are a graffiti lover, you will love this place. Art is the heart of this place. You will see many street artists roaming around with a bottle of spray color and putting their thoughts on the wall. You can see their thoughts popping out of the wall and speaking to you.
Antwerp: Well, Antwerp is known for the diamond market but it is a gem in itself. If you are a sucker for a city view, Antwerp offers one of the best ones. Antwerp is on the river Scheldt, and the view of the city is really good from either side of the river. If you want to spend a really quiet evening, grab a seat on one of the benches on the sides of the river and enjoy the view of the city or the sunset - both are equally pleasant.
Brussels: Bruuu Bruuu Brusselsssss... Who doesn't want to end the trip on a high! and Brussels offers just the right high - be it through sweet waffles or through more than 250 beers that Belgium has to offer. I am not a beer drinker, but I can tell you the beer tastes good here. There are so many flavors that you can choose from and even for a non-drinker like me, I liked a few of the flavors.
So, have I given you enough reasons to put Belgium on your itinerary for your next Europe trip?
Will be back with some more updates from my next trip.
Till then - Keep Traveling - Keep Exploring - Like a Tripster!
For more updates - You can follow me on Instagram - @the_tripster
Or you can follow me on facebook as well - The_Tripster