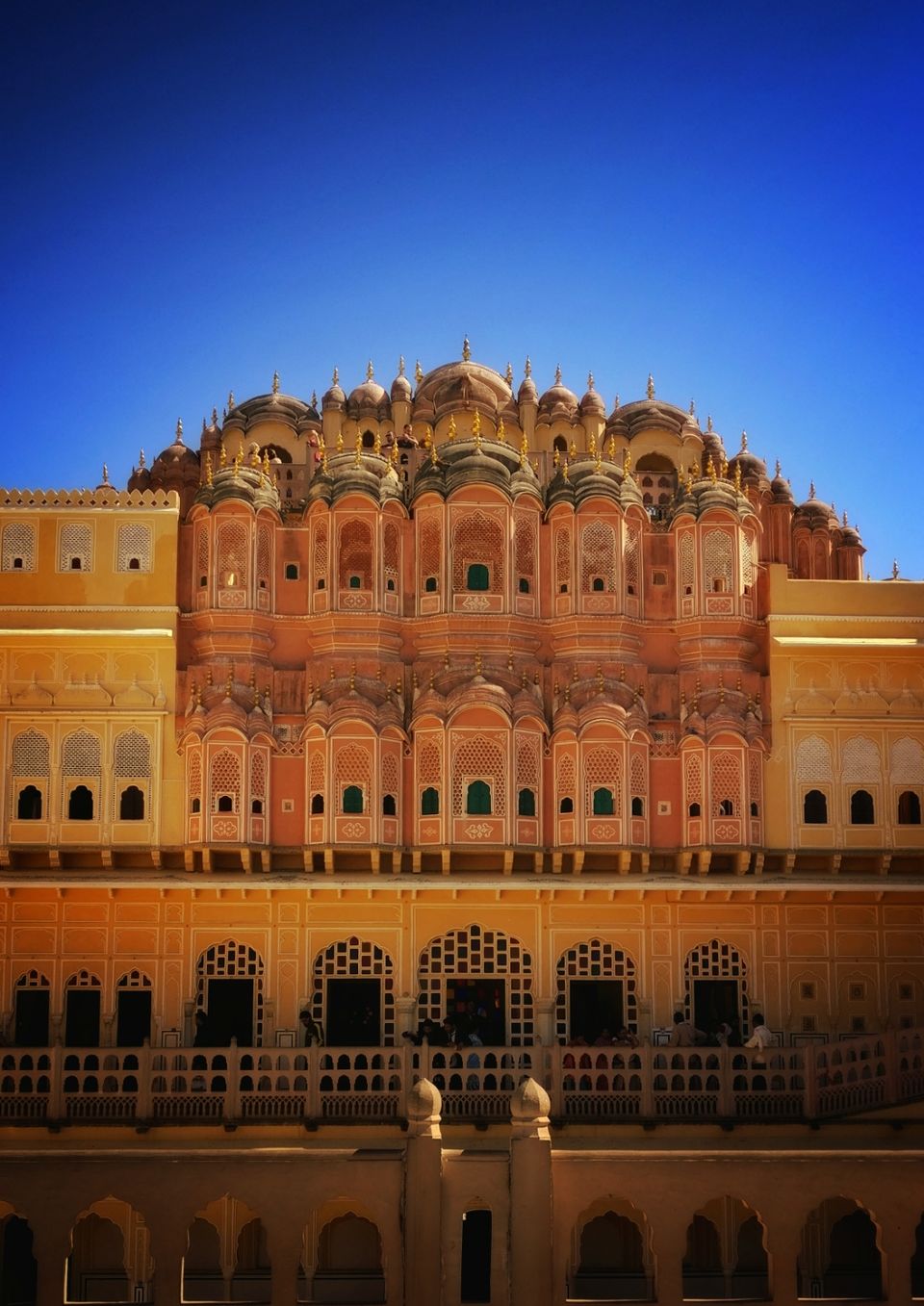 Much like most of my other trips, my trip to Rajasthan wasn't very extensively planned. We had barely 20 days before the famous Thar Desert Festival and Desert Trek when we decided to just hop on a flight and head to the land of the Royals.
We boarded our early morning flight (6AM kinda early) from Bangalore to Jaipur.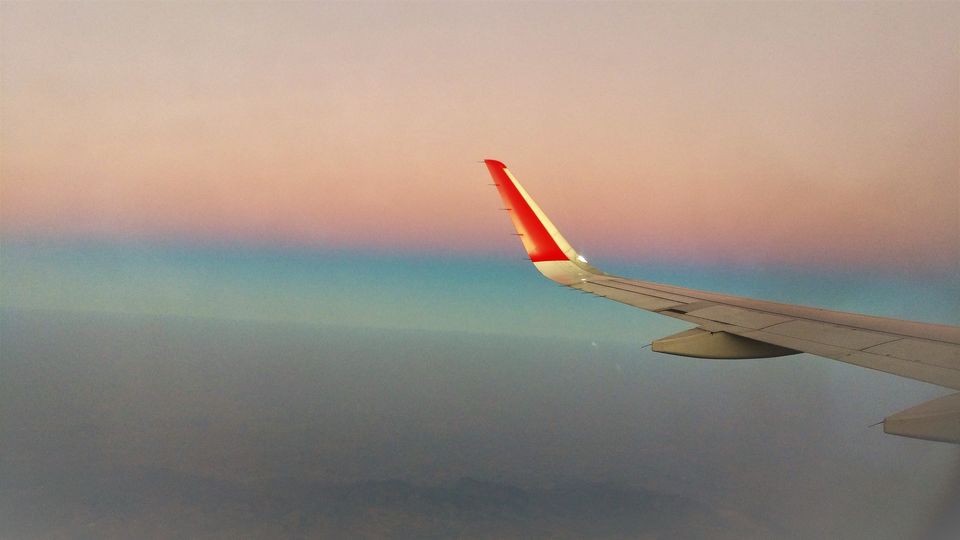 Landed in Jaipu around 8 AM and we were pleasantly surprised to feel a cool breeze welcoming us. We thought the entire day would continue to be this pleasant, but little did we know, that nature would turn the knob up on this stove as time progressed! :D
We checked into Hotel Metropolitan near Sindhi Camp Metro station and booked a cab ride with our hotel itself for Rs. 1500, which was alright considering we would get the cab for ourselves for the entire day.
We had breakfast at Rawat, on Sindhi Camp Road, famous for it's pyaaz kachori! You have got to eat that as well as their samosas. The kachoris are SO yummy and are served piping hot! Must try for sure! :) All set and refreshed, off we went to explore the pink city!
First Stop - Birla Mandir
Just like all Birla Mandirs, this also is a ginormous white marble temple. It is very peaceful on the inside. The idols in the temple are also very nice! This marble building keeps it so cool even in the scorching hot weather that you'd feel like it's winters. I'm not kidding. The temperature difference inside and outside the temple was mind boggling! ????
This temple is at the foot of Moti Dungri Fort. We were told that general public has no access to the fort since it's still owned by the royal family.
But on Ganesh Chaturti every year, people are allowed to visit the temple within this fort.
Next stop, Hawa Mahal!!
It is everything you have dreamed of seeing in a Mahal in Jaipur. Every window, every door, every hall and every floor of this palace is so beautifully made and so well maintained even now that this place instantly brightened my mood! I mean, look at all the tiny tiny windows on this place. If this does not bring out the child inside you to touch base with your goofy self, nothing can! There are a lot of ways you can explore and know about this place. There's guides (humans and books) as well as audio tapes to help you know the place, but you really should take time out and explore each nook and corner for yourself, you never know what would resonate within you and make you truly happy.
You just stand there and watch. People come, people go. And it still looks the same. Majestic.
Leaving Hawa Mahal was not easy for me. But then, Jaipur has so much more to show.. Read on.
Our next stop was the scientific marvel - The Jantar Mantar.
How our ancient astrologers, astronomers, mathematicians and everyone smart used tools, stars, planets, the sun and the moon to decide things is what this place symbolizes. You definitely need a guide to understand the place. Things are so delicate around here and yet have stood the test of time and still bear witness to the times when India, on her own, shone in the scientific universe.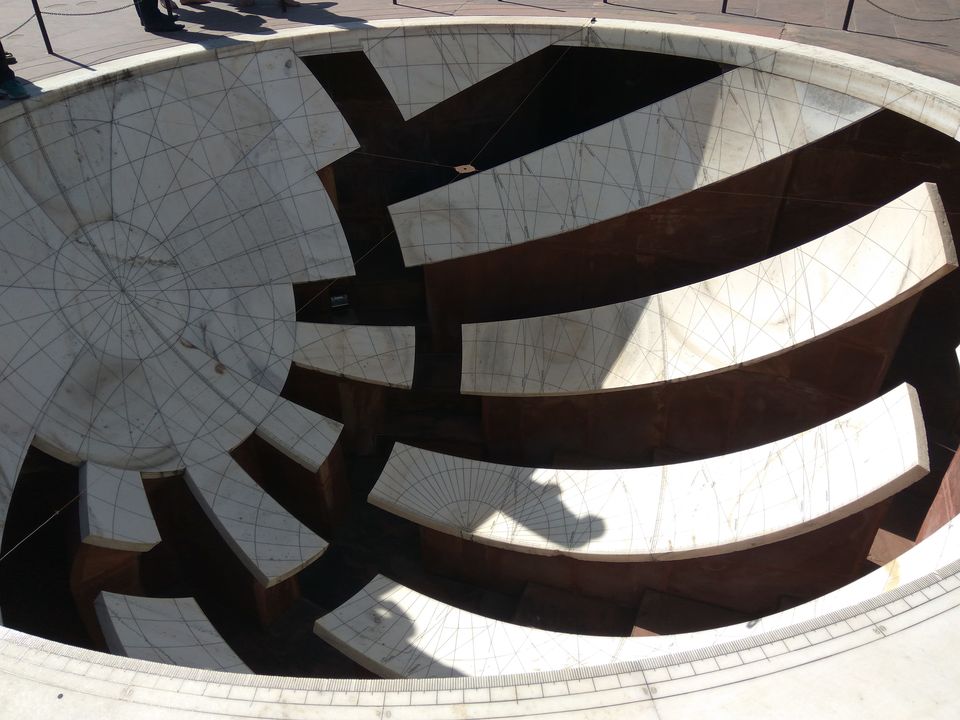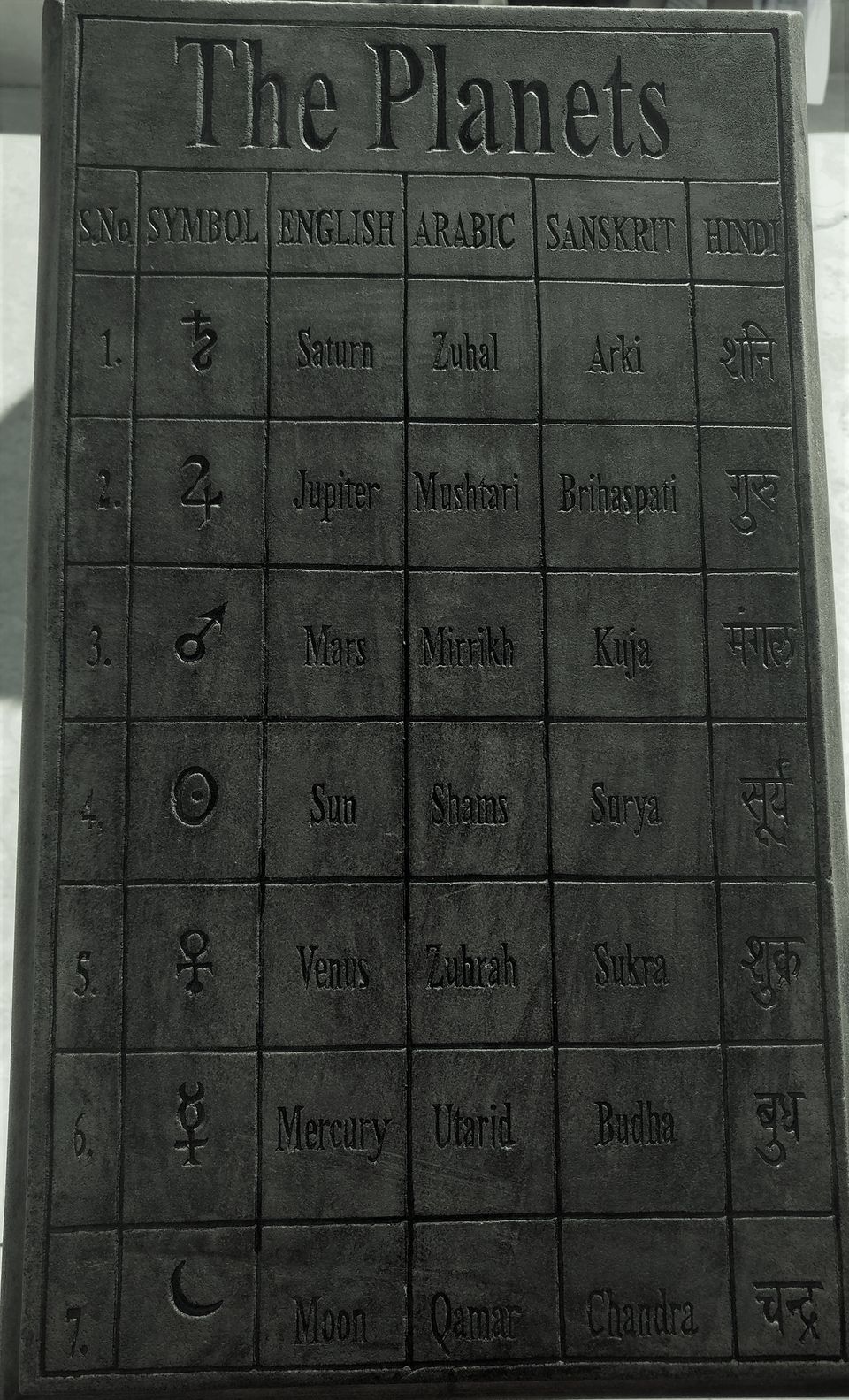 Do try the kulfi right outside Jantar Mantar! It offers you a much needed respite from the sun!
Our next stop, of-course after lunch at a Punjabi dhaba (yes, Punjabi Dhaba in Rajasthan, but we ate South Indian food. Because, secular country..) was the ultimate treat to the eyes and soul, Amer Fort.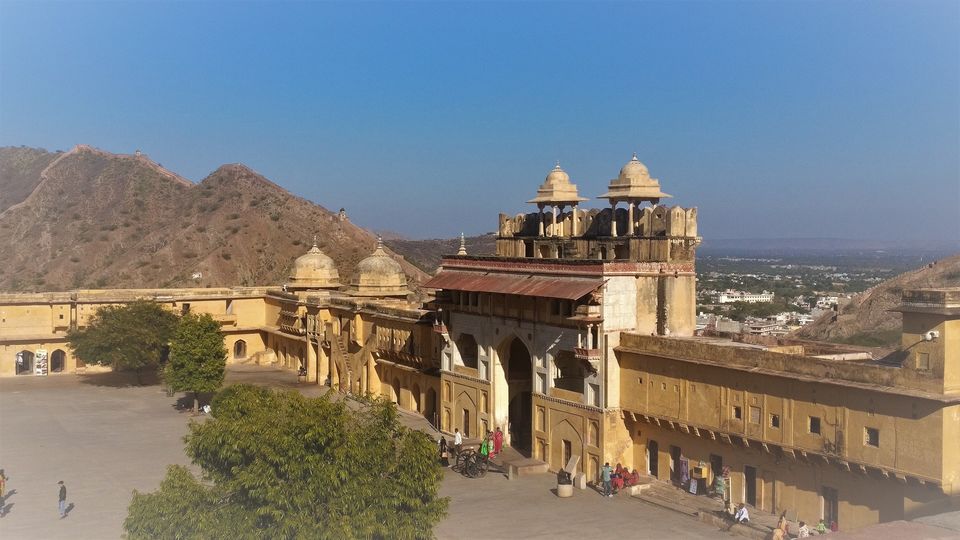 Do not make the mistake of not hiring a guide here, because you absolutely NEED one! You cannot, I repeat, you CAN NOT afford to miss out on the history this fort holds close within her walls. Amer Fort alone needs a minimum of 4 hours to explore. You need to give yourself that much time and energy to be able to truly capture this marvel so that it does not escape your memories. Fortunately enough, we hired a guide (paid 200 rupees - totally worth every penny) and boy-oh-boy were we pleased with the stories he told! It was akin to hearing grandma's stories, the major difference - you are in the story, at the place where the story happened! Trust me you will feel so if you hire a guide. And make sure you check his ID card to see if he is a Government authorized guide :)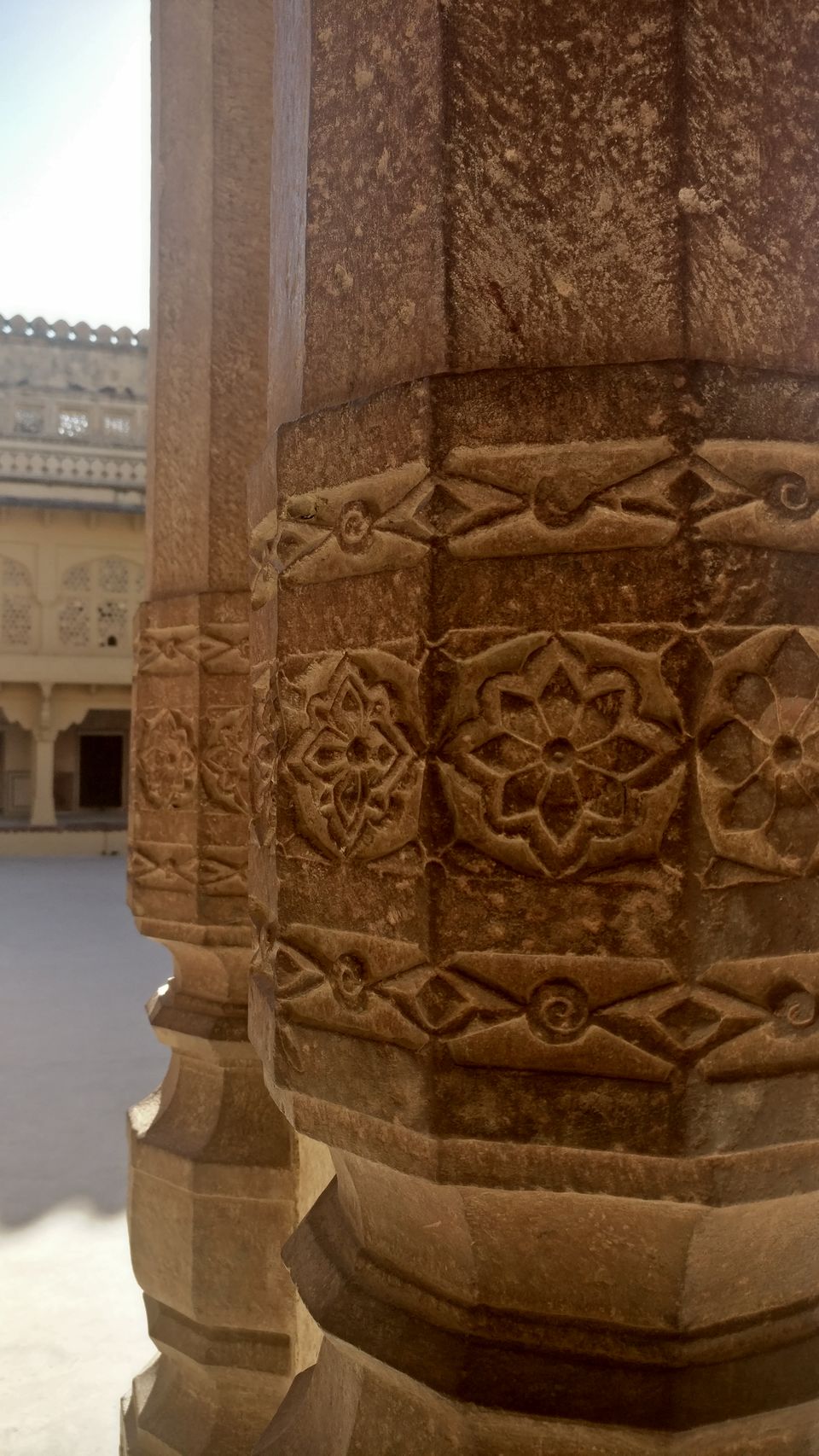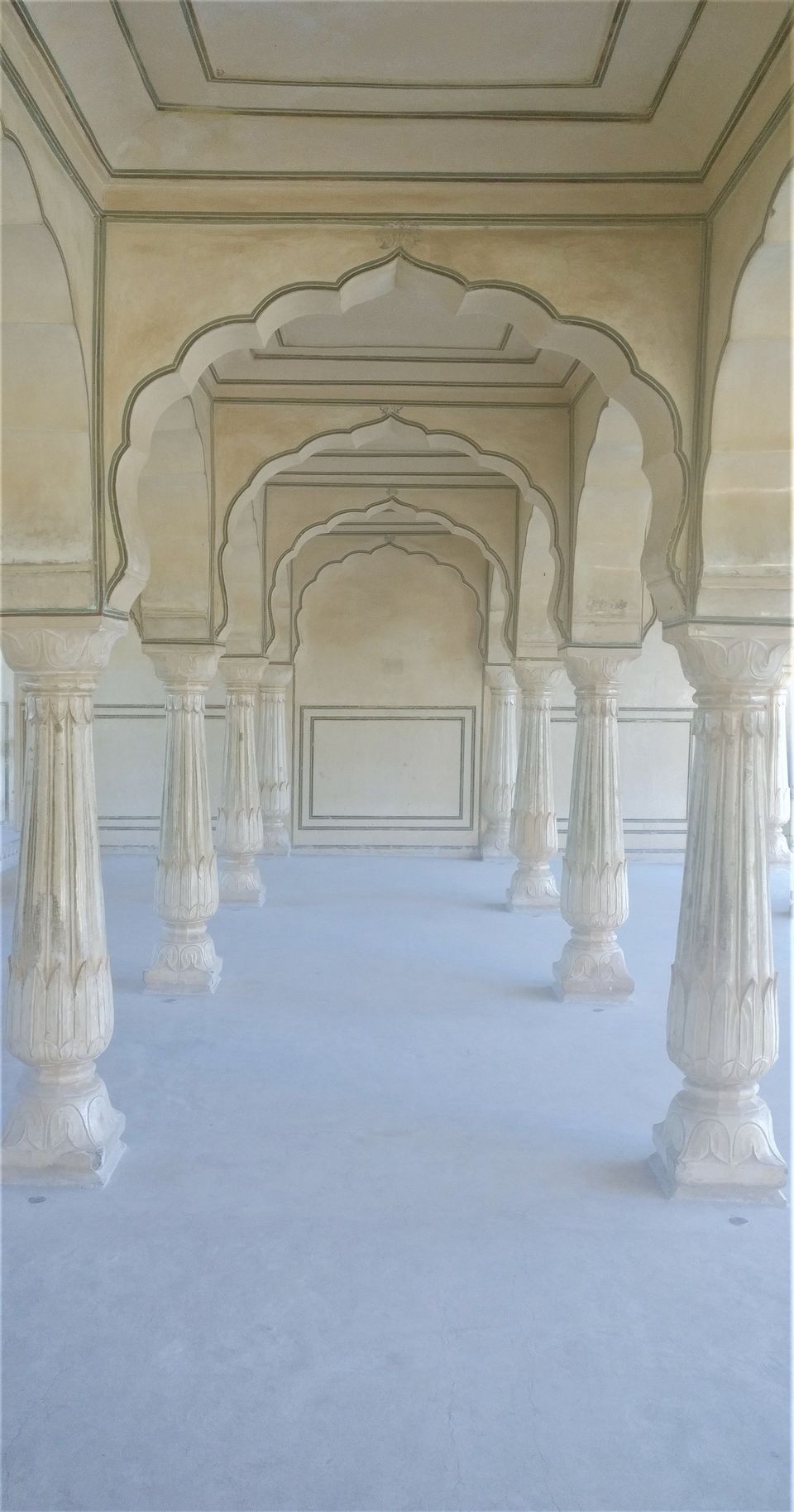 Out at the back, you can even view the saffron garden the royals tried to cultivate in the premises, but which did not flourish much owing to the harsh weather conditions..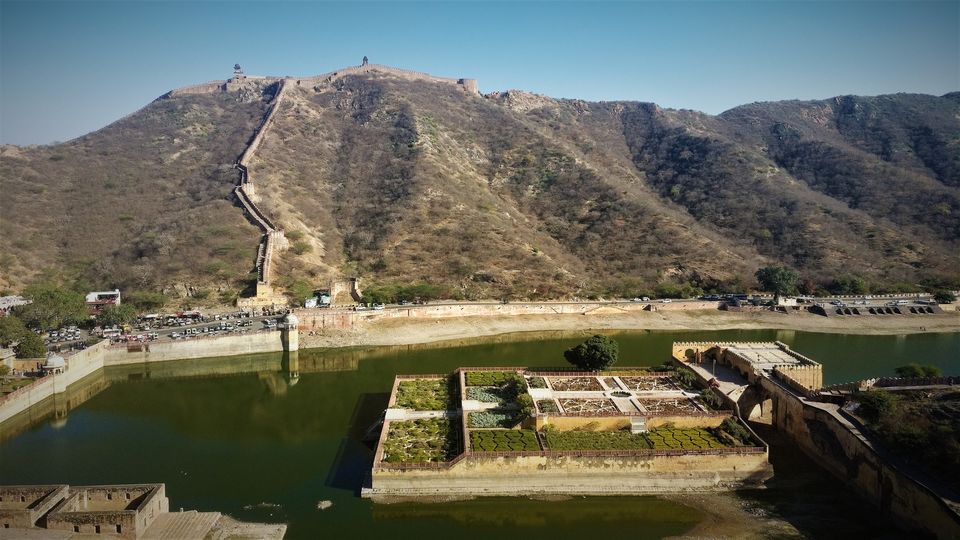 Amer hosts a variety of small small Mahals inside. For example, the Sheesh Mahal. This is a mirror wonder! Kings back then would host visitors from across the country and even across the world and this is where dancers would cast a spell on the visitors! There are so many mirrors in here, it was utterly hard to keep myself from squealing every time our guide showed us some or the other magic trick playing with lights and reflections!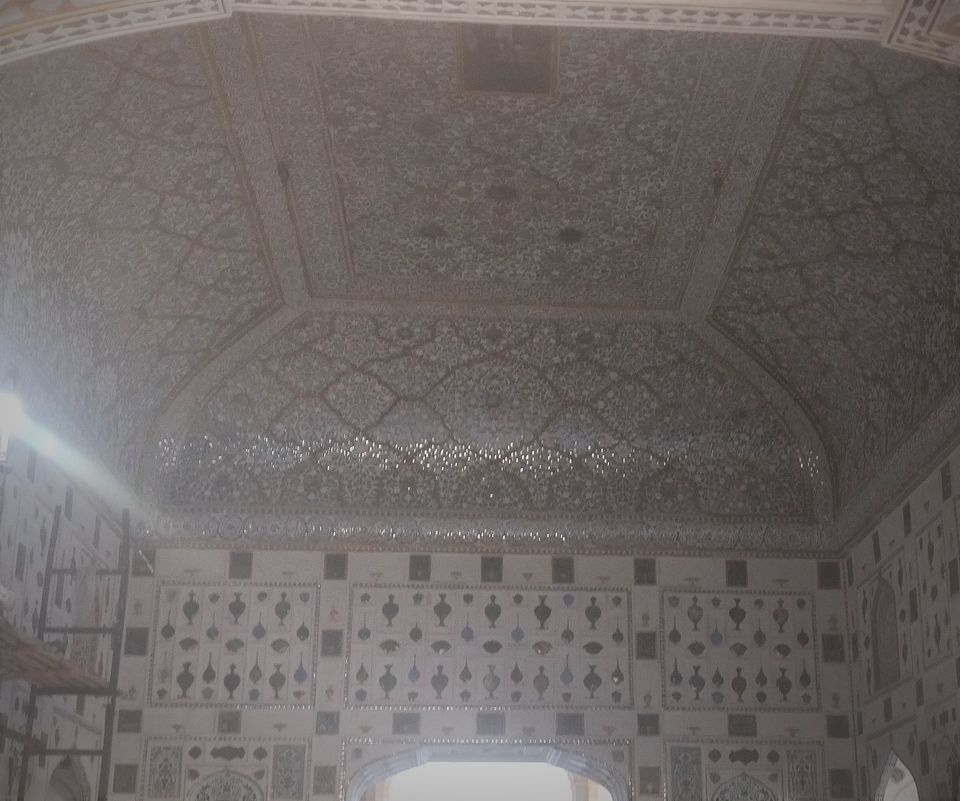 Kings used to get walls painted with gold, back then and here's proof!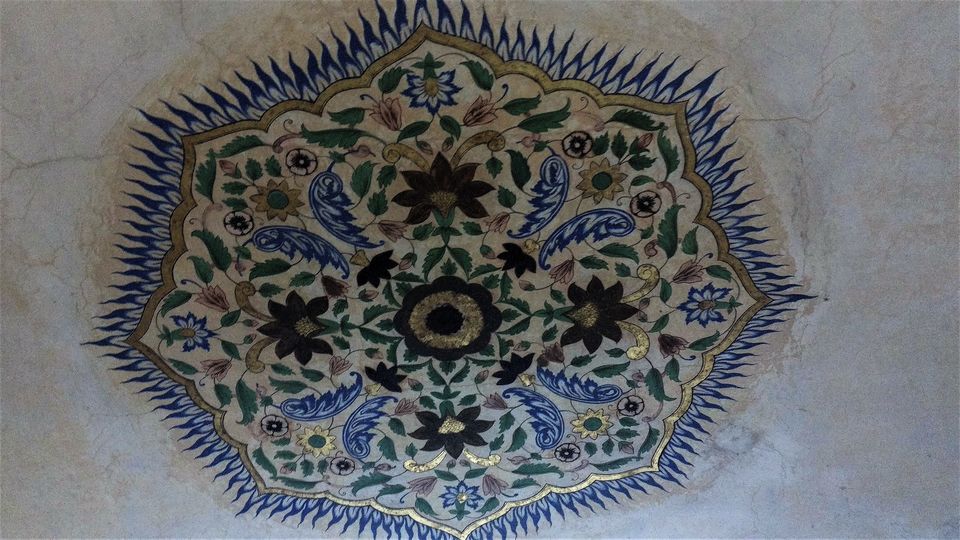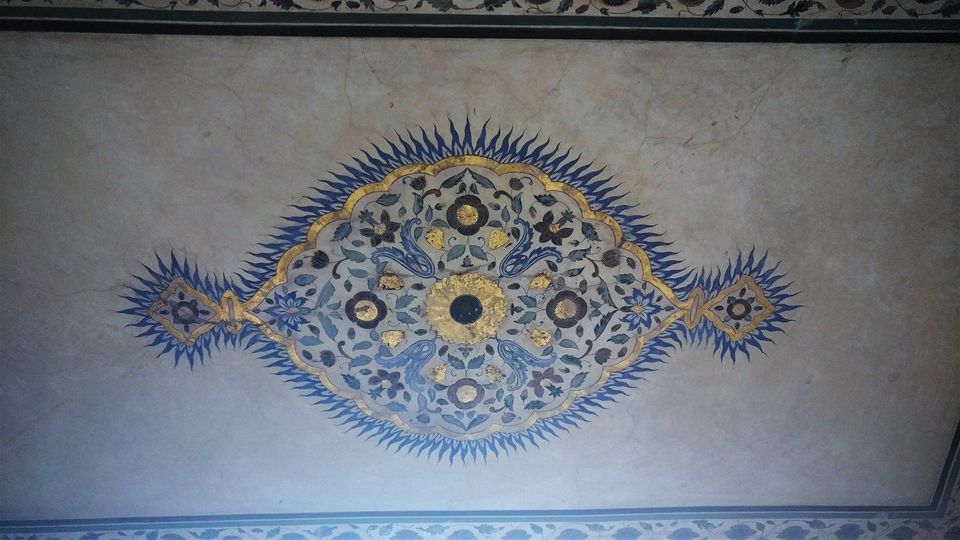 There are so many stories about the King and his many Queens! You will really have to hear it from a guide. Let all the stories you hear sink in and it will raise so many questions in you, believe me.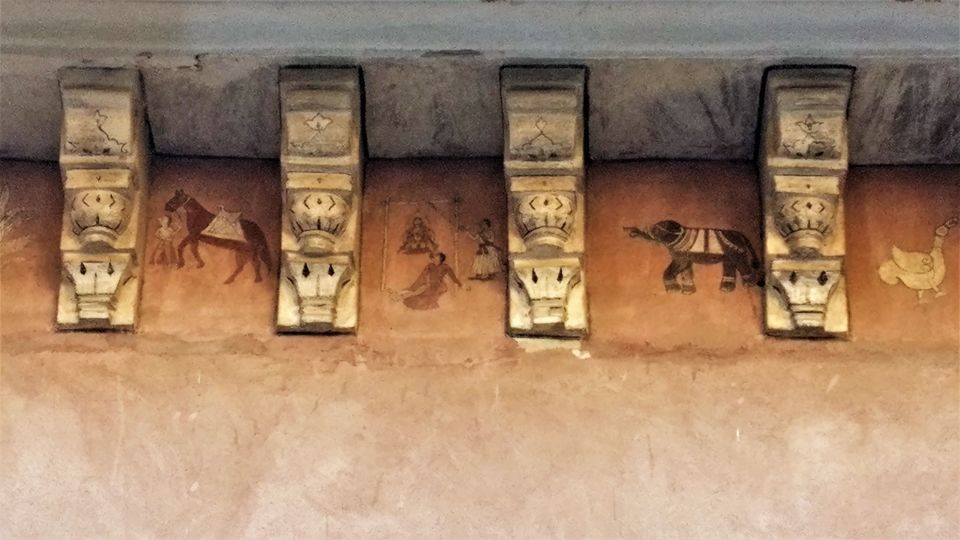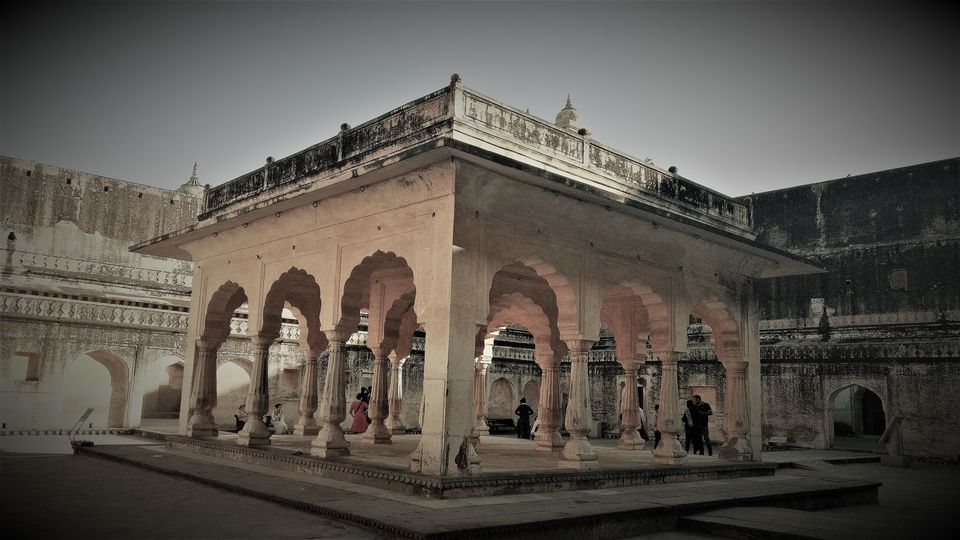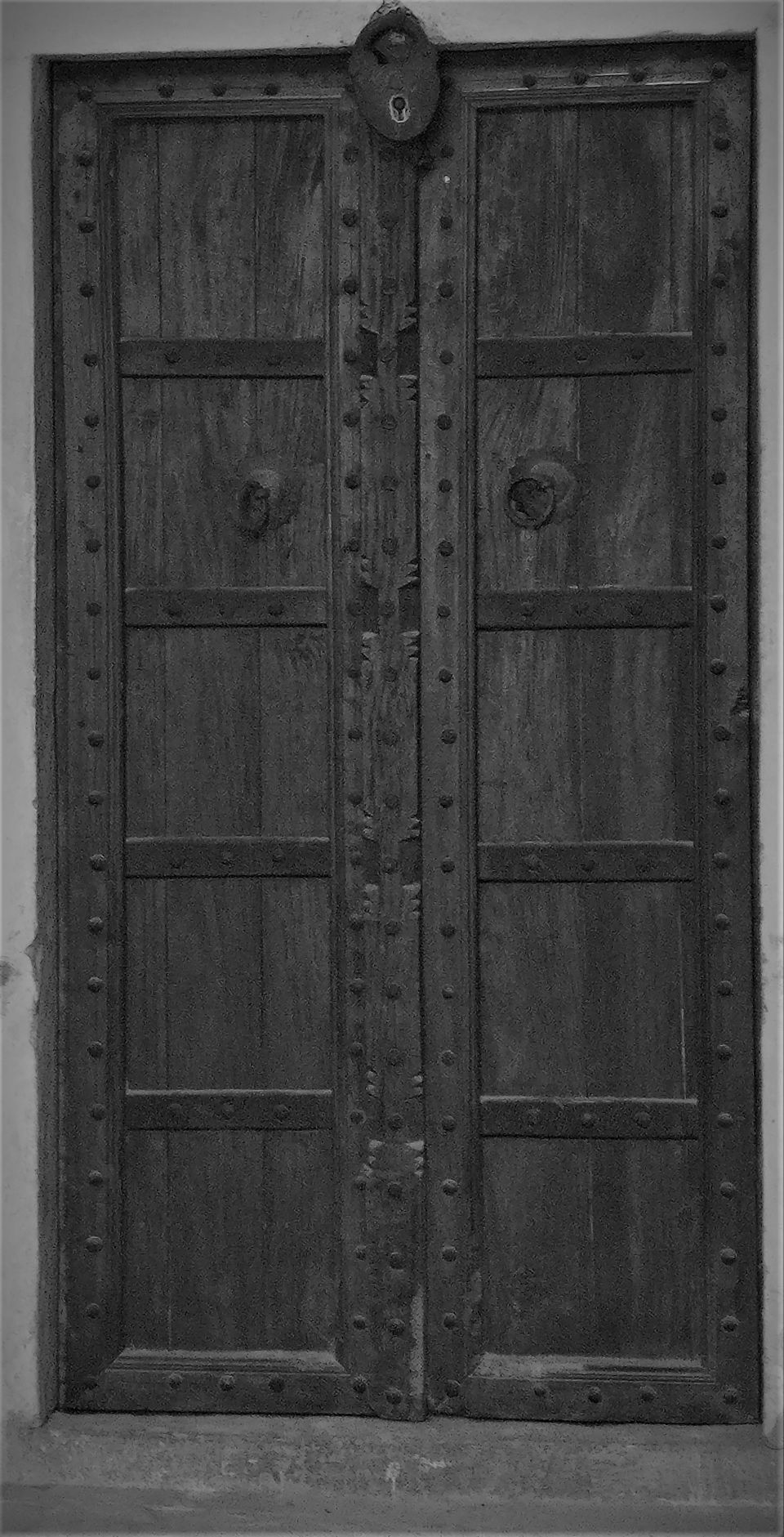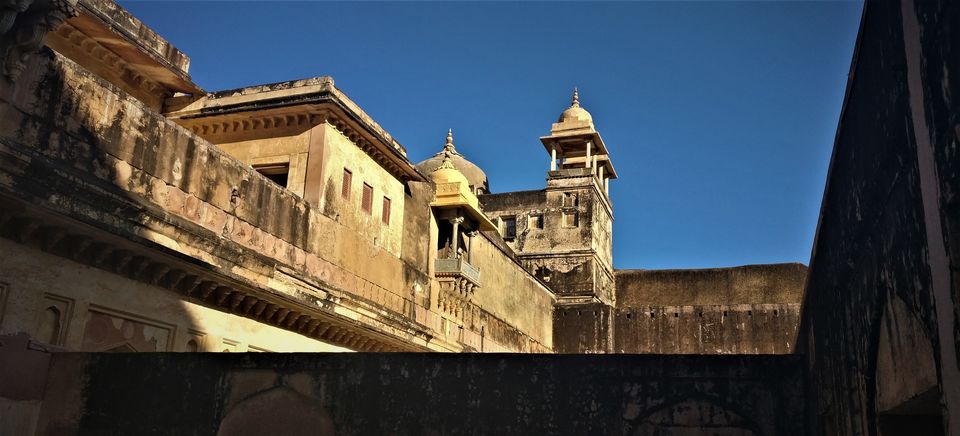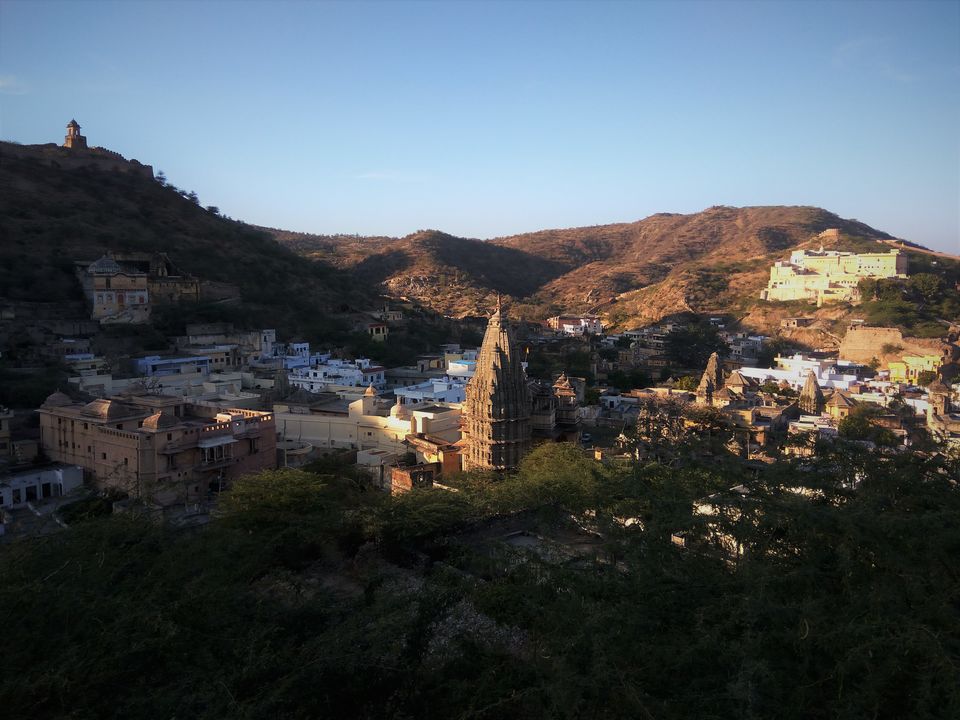 Driving back after being completely saturated with Amber Palace's stories, we passed the Jal Mahal. This is supposed to be the most beautiful sight at night, but we only had a few minutes to admire this lovely sight at sunset.
A nice walk in the evening, in the old city market area (the real pink city) showed us how much of a hustling bustling city Jaipur really is. We boarded the bus the very same night and headed to Udaipur, which was a completely different experience in itself!
All in all, one day is not sufficient to digest all the history and story Jaipur has to offer. There are so many more places, Albert Hall Museum, Nahargarh Fort, Jaigarh Fort and so many bazaars, it's tough to choose which ones to see and which ones to park for another trip :)
You need to spend at-least 2 days here to truly soak in all that the city has to offer.