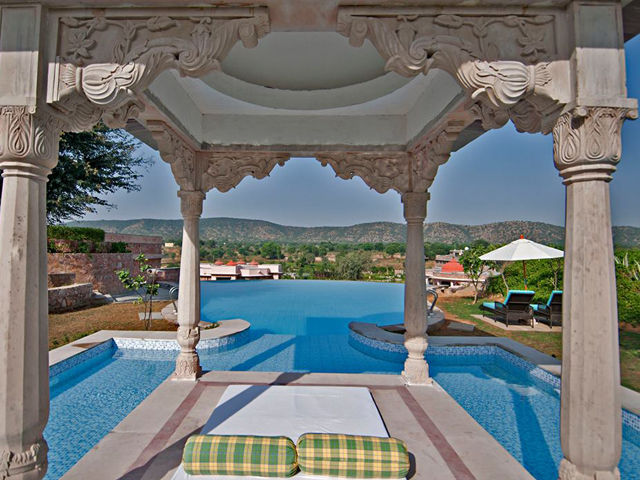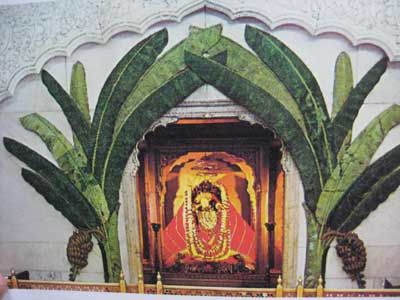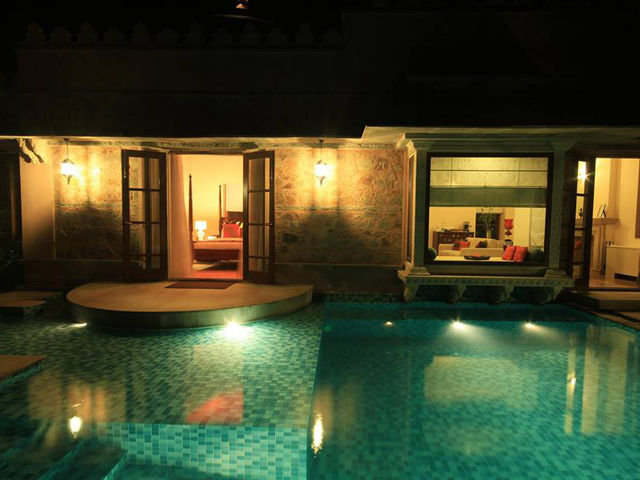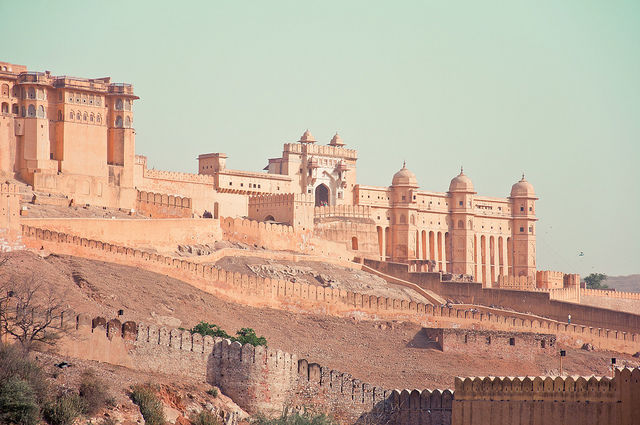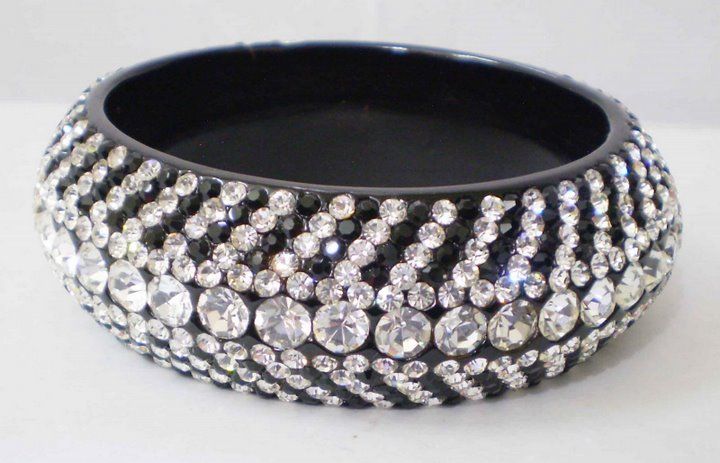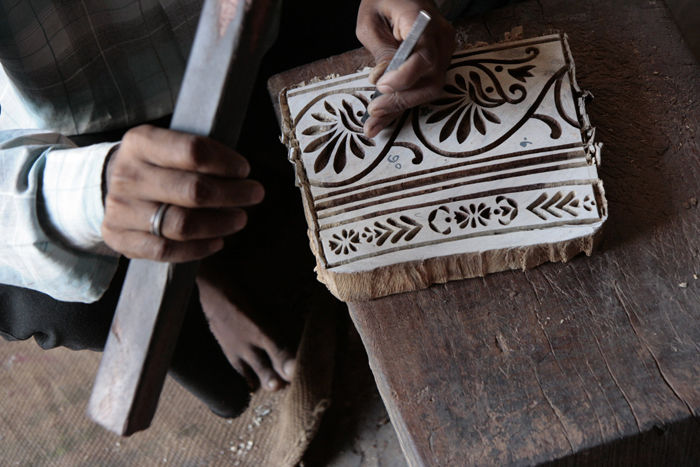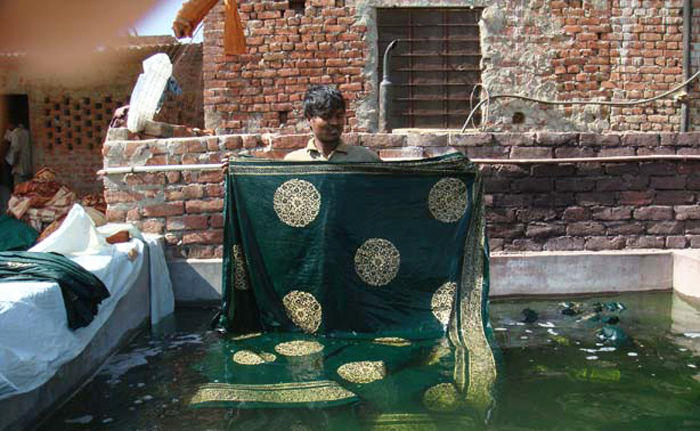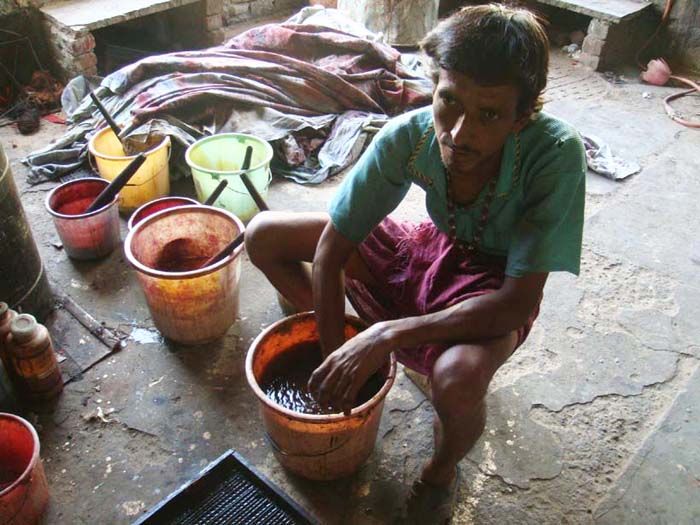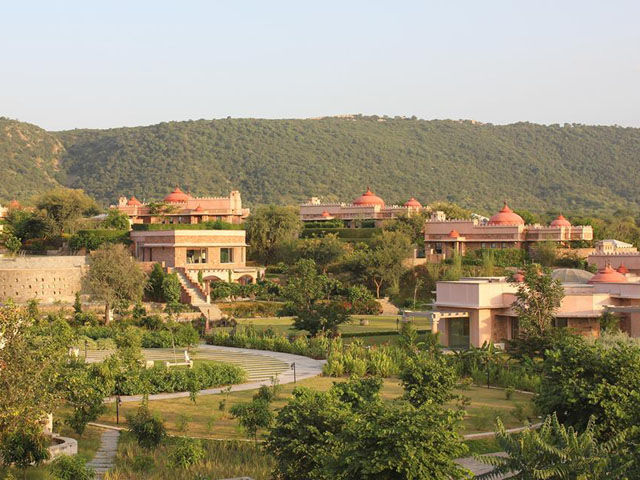 Jaipur. The Pink City. A city of contradictions where historical mahals, floating palaces and Polo culture live astride plush resorts, restaurants and malls. The city never fails to excite me. On my last visit to Jaipur, I boarded Shatabdi from Delhi at 7 a.m. and prepped myself for a five hour journey. It was pouring that morning, and I was worried about the train getting delayed but thankfully, it stopped raining as we crossed Gurgaon. The journey was comfortable with me charging the smartphone and laptop in the plug points next to my seat in Executive Class and indulging in a full breakfast of tea and biscuits followed by cornflakes, egg and toast, samosa and lassi! 
At the station, I was received by a luxury car sent from Tree Of Life where I was staying overnight, and drove down to the resort on the outskirts of the city. Spread over hilly terrain, the resort has a traditional Rajasthan vibe due to the interior design yet is the epitome of contemporary luxury. After checking into a pool villa, I ordered 'Herb Crusted Basa' for lunch—it came with a side of mash and vegetables and was delicious! Reclining in the shade of an umbrella with my feet in the pool, I was deeply relaxed and eager to head back into town. Now while most tourists mount robed camels to take selfies, go boating around Jal Mahal or visit Hawa Mahal and City Palace, I drove to 11TH century Amer Fort where I was awed by Shila Devi Mandir which belongs to the Shakti cult of Hindus who worship Durga as goddess of power. I was awestruck when the surrounding hills reverberated to the beat of huge drums during a puja!! Walking around the fort, I impulsively headed up to Jaigarh Fort atop Cheel Ka Teela hills. As I made my way up a narrow path, the ruins of a walled city appeared. And, of course, I clicked a selfie with the world's biggest cannon on wheels, Jaivana. The stuff of memories!!
My next stop was the workshop of Soma — a brand that has transformed the craft of block printing with stunning on-trend ensembles while providing formal training and economic security and to artisans hired from rural communities. Having heard so much about the brand, I was thrilled to meet craft conservationist and founder RadhaKrishnan Nair. "I launched Soma in 1984. Since then I develop unique designs by working directly with the artisans. After 30 years in the business, my wife and I have succeeded in injecting traditional block printing with modern design to create prints that appeal to both Indian and overseas markets" he revealed. He then took me through the production process spread over four floors of creating blocks, hand block printing, dying, packaging and retail. Fascinating!
No trip to Jaipur is complete without shopping, right? So I stopped at local market Bapu Bazaar (I prefer it to plush boutiques that have outlets in Delhi!) for light quilts, lac bangles, block printed tunics, emerald green and tangerine leather ballerinas with metallic or beaded embellishment and an assortment of fiery achaar! Whoa!! It was 7 p.m. by the time i headed back to the resort and changed for dinner at the alfresco restaurant. Choosing a table under the starlight, dinner began with sumptuous 'Amritsari Fish Tikka'. For the entrée I chose 'Pan Seared Polenta' and shortly closed dinner with 'Baked Yoghurt'. Walking up the flight of stairs cut into the hill I was back in the villa at 11 p.m. and fell asleep in a bed overlooking lush foliage. Awake at 7:30 a.m. the following morning, I ordered a breakfast of eggs, sausages and pancakes and then it was time to check out and head to the station to board the Shatabdi to Ajmer!