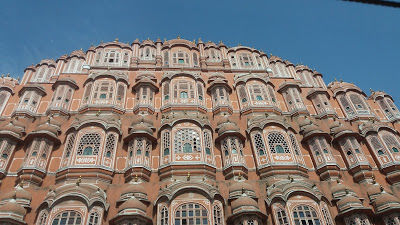 Read the complete story with details and pictures @ : padharo_mare_desh

Jaipur! The touristy pink city. You will feel the pinkness all over. A beautifully planned clean and a neat city. One of the earliest planned city of India. Jaipur was founded by Jai Singh.
Chokhi Dhani, our first stops in the city. We went to Chokhi Dhani on the first evening upon arrival. Thoughts of visiting Jaipur in April was making us mentally feel warm. Evenings however to our surprise were quite pleasant. A is a super luxury resort in Jaipur. The place helps you enjoy the true spirit of Rajasthan. Like a crash course into Rajasthan's culture. With the padharo mare desh greeting ;) by the staff at the entrance. The puppet shows, Bhavai and a number of other traditional Rajasthani special performances happening all around.
The setup is truly charming with lanterns and diyas beautiful all over making the evening more pleasant. It is here we tasted variety of authentic Rajasthan cuisine too. The dal baati churma and several others. They also had a fantastic automatic roti marker machine to server you hot chapatis.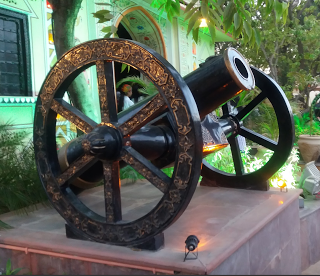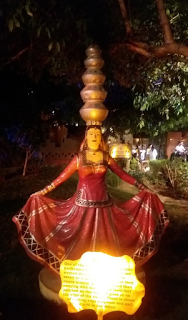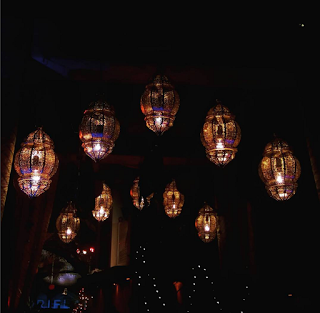 Day 2 :
We planned to visit the pink city bapu bazar and the Hawa Mahal and several others around. It was a Sunday the markets were all closed. We took a cab from Crowne Plaza where we stayed to the pink city. It was a long 40 minute drive. This 40 min drive made us admire the planned pink city more. Straight broad good road. We walked around the bapu bazar area. A few steps later we spotted the beautiful pink Hawa Mahal, an iconic landmark of the city. We then stepped into the Lakshmi Mistan Bhandar for lunch. LMB is a very popular traditional restaurant in Jaipur, the thali here is king size and extremely huge. (Thali - A huge plate with big variety offering). We dint go for the thali as we we not very hungry rather tried the Paneer paratha's and ghewar( a Rajasthani sweet) and some Malai kulfi. After lunch at LMB we continued to walk the Bapu bazar streets. Picked up some Jaipuri embroidery jackets from one of the few shows that were open. After trying hard to beat the scorching sun, were we looking for a place to relax and quench our thirst. A quick search on Zomato to find our oasis and we then checked in to Tapri Tea House.
A short Review on Tapri Tea House:Tapri a beautiful setup.Stylish version of the road side Tapri's, a very popular tea house in Jaipur was our oasis. Free Wifi yes ;). This place serves variety of hot and iced versions of tea, Bun Mask, Chai with Parle G. We tried the upgraded Firangi maggi with mushrooms and sun dried tomatoes. You will find a lot of young crowd in this cafe. We loved this place so much that we were here thrice during our 4 days in Jaipur.On a solo trip ? Want to relax for a while you should head to Tapri and enjoy some time off with your favourite novel.
We then came back to the hotel to enjoy some amenities there. Crowne Plaza screen's the IPL matches at their pool side screen. Enjoyed a swim in the pool watching the IPL match.Day 3: We decided to see jaipur the touristy way. Took a bus tour to explore the city. Our first stops today was the Jaipur Palace. We reached the palace well before 9am. This place opens at 9.30. We waited about 30 minutes outside the palace where we spent time clicking pictures. We Stepped in to the seats of the Maharaja. We walked through the palace visiting the Diwani Khas, Diwani Aam the public audience hall of the Raja. This typical museum like place will help you indulge in the life of the kings who ruled Jaipur. A glimpse of the stuff they used a moment into the luxury they lived. An experience you should not miss.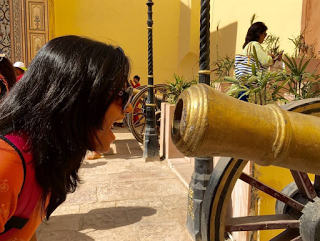 Our next stop was the Amir Fort, Jodha's residence before she married Akbar. Scenes of movie Jodha Akbar have been shot here. If you have taken a guide to help you know about the place, he will keep narrating instances from the movie Jodha Akbar.
Get mesmerised at the Sheesh Mahal in the Amir palace. While driving up the Amir fort we spotted the Jal Mahal in middle of the Mansagar lake. Our tour guide then took us to the shopping area. Mostly a pricy place. However we learnt the art of block printing there upon arrival.Day4 : Our last day in the city. Jaipur is also popular shoppers paradise. We went about shopping this day. First visited a saree shop with variety and huge collection of bandhini sarees which we bought to cherish the jaipur days once home. Then on to bapu bazar and this time it was all open. Colourful salwar suits, sarees, bright cottony bed spread, bags, traditional jaipuri jackets and jhoote were all over. Amidst clothes you will also spot shops with fabulous collections of gems stones and amazing collection of handmade delicate jewellery. After hours of shopping we spotted a pani puri stall in one of the lanes of bapu bazar. Amazing indeed. The crispy puri with spicy potato stuffy. Simply one of the best pani puri's I have tried so far.Tea at Tapri was our last stop on the way to the airport as we bid adieu to this beautiful pink city.
Indulging in the hilltop forts, regal palaces, vibrant streets, bright turbans, bandhini sarees, heritage hotels, camel ride and enjoying endless charm of the Pink City. Thus ended our 4 day Jaipur trip.
#Pinkcity #padharomarodesh #colors #heritage #forts #amirfort #jaipur #rajasthan #jaipurdairies
Read the complete story with details and pictures @ : padharo_mare_desh