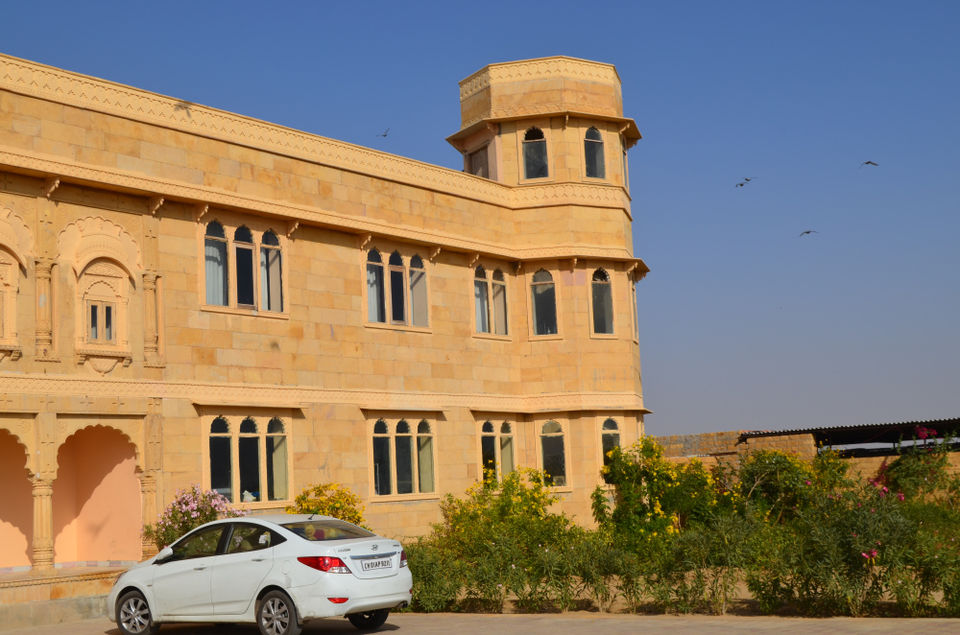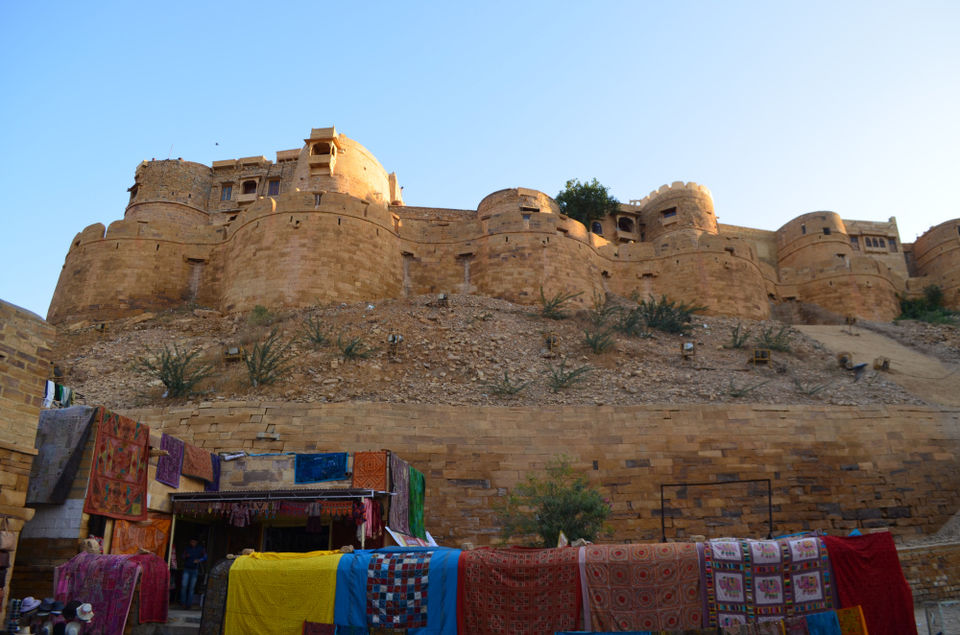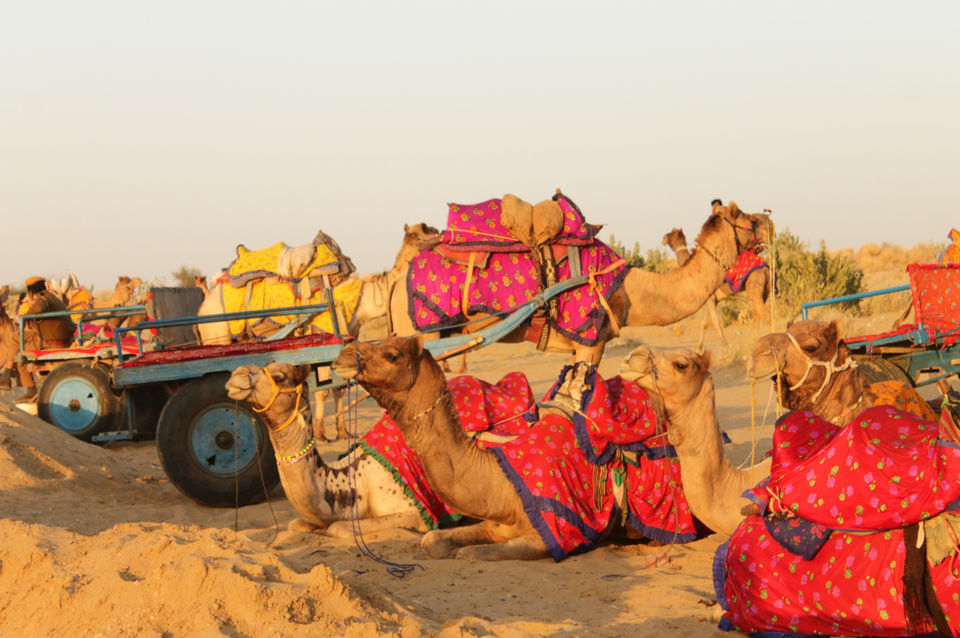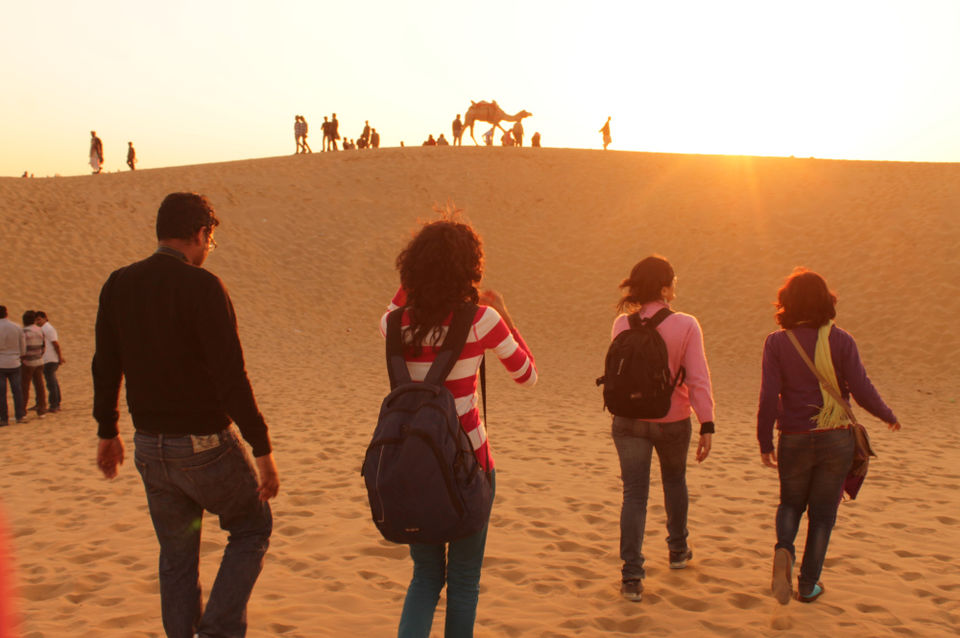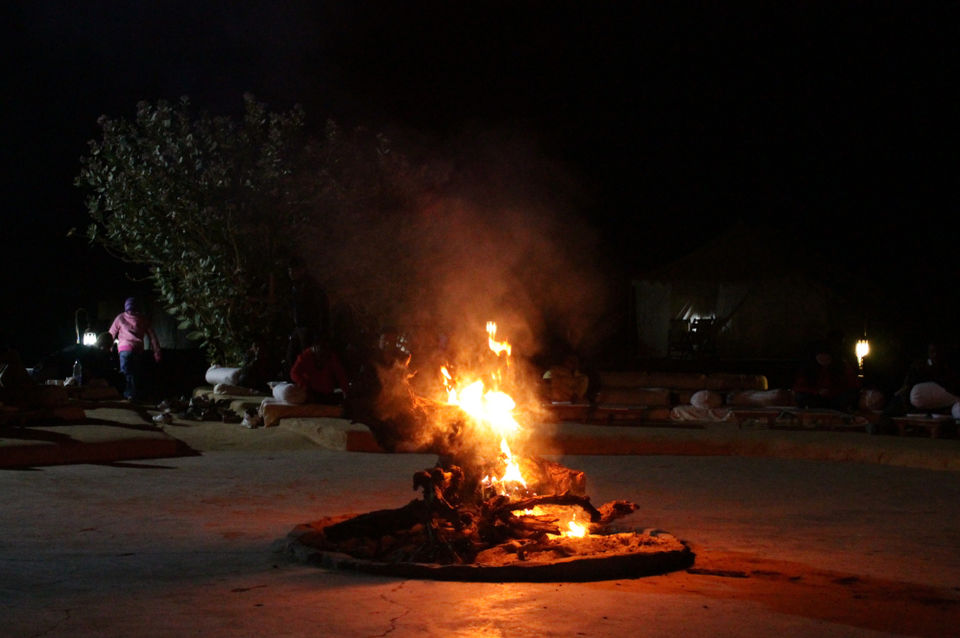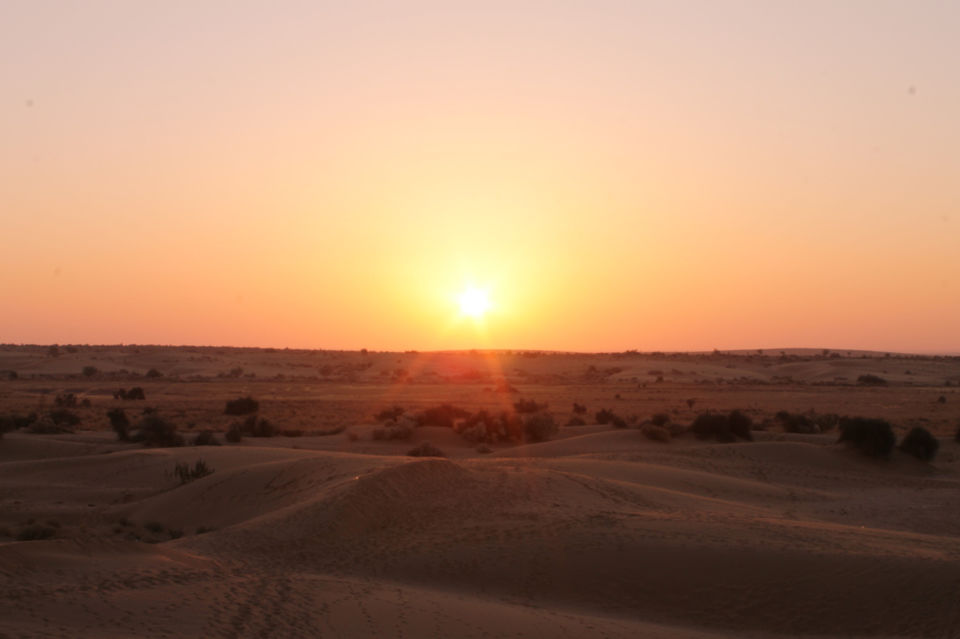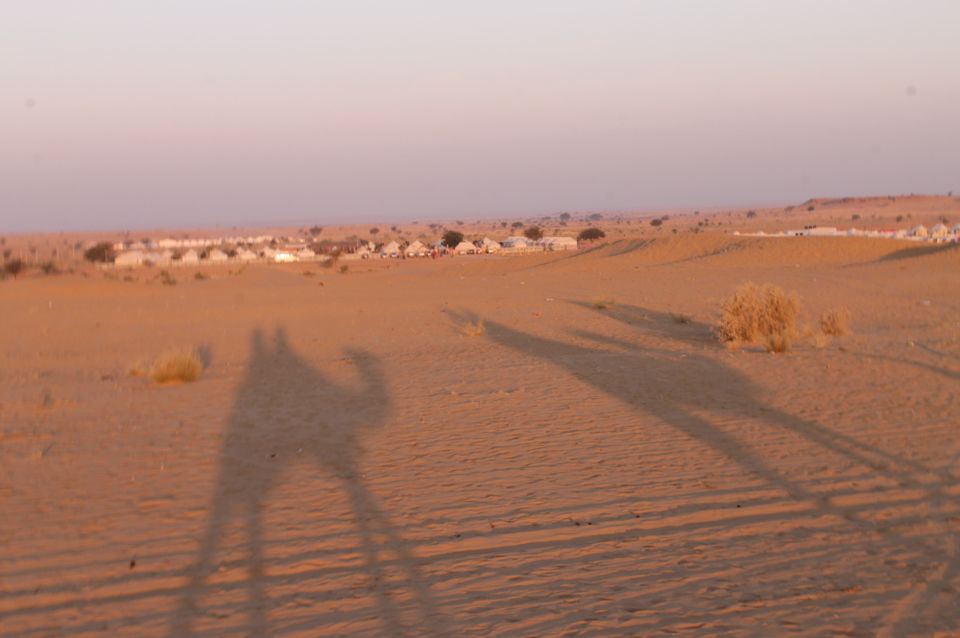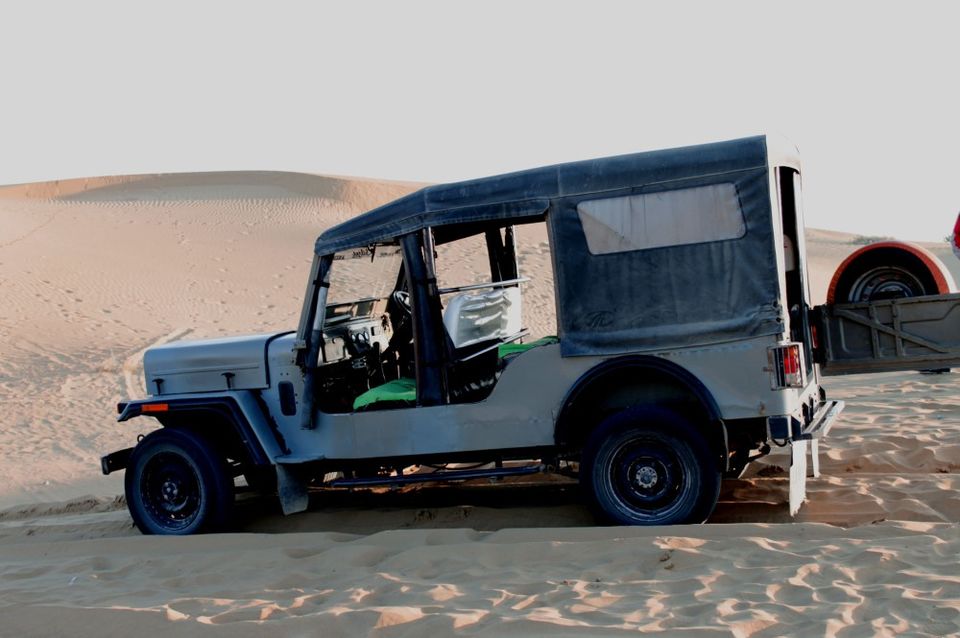 There are a plenty of things to see in Jaisalmer. But you won't meet the picture postcard Jaisalmer — the way the show in the movies, ads and brouchers: men wearing red turbans, vast stretches of sand, camels, etc — until you move away at least 50 kms from the city. Till then it's a usual city where modern buildings have taken over the original landscape, the local drivers are waiting to loot tourists, etc.
If you are impatient, like I was, to explore the popular places to see in Jaisalmer in its 'true' form, you should directly head to either Sam Sand Dunes (where we went) or Khuri (apparently less commercial) where you can camp in the desert. Or you can take time to see the main Jaisalmer city by staying for a night at a hotel. We booked Hotel Thar Vilas which deceivingly informed us on the website that it's only 5 minutes away from the city. It was half an hour away. But we decided to forgive the hotel for the laal maas, chicken and biryani it served us. The property is good; the food extraordinary. And the cost good enough (see below)
Sam Dunes: 
This tops the list of things you must see in Jaisalmer. Located less than 50kms from the city, it's here where you stay in the tents, take camel ride to the desert, come back and enjoy bonfire with some folk singers and dancers dancing to the tune of songs like Padharo maare des. 
If you are not an early riser, be one just for a day and catch the rising sun. The sight is completely worth it. Amuse yourselves by asking the name of the camel you ride on. Five of us sat on 'Hrithik', 'Shahrukh' and 'Salman'. Exciting as it was, a long ride on the camel, however, can strain your thigh muscles! An alternative then is the jeep safari, that is if you're adventurous.
Tip: Bargain hard, especially if you, like us, go during the peak season. You can visit nearby villages and explore the local culture and witness various shades of the life in a desert here.
Lot of tourists skip the city tour which includes:
Forts and Mansions
Hire a cab which will take you all around. It costed us approx Rs 1600 which wasn't bad considering our hotel was far off and it was divided amongst five of us. Even if history doesn't interest you, go here for a splendid time on rooftop restaurants. The view is amazing!
Our first stop was Patwa Haveli. Wealthy trader, Guman Chand, built it for his five sons in the 19th-century. It looks very authentic from the outside with its fine carved-stone decoration. But the inside is a disappointment with modern objects like telephone and contemporary furniture. "They are there just like that," said our guide, who was already doing a very bad job of taking us back into history. Only two areas of the premises fascinated us: The outside gallery where you can have a cup of chai, admire the picturesque façade of the mansion; and the terrace area, offering a memorable view of the entire city.
The 800-year-old Jaisalmer Fort, popularly known as the Golden Fort, appears to come straight out of an Arabian fairy tale. One of the world's largest forts, it was built by Bhati Rajput Naharawal Jaisal. With narrow winding lanes, small restaurants and cafes and vendors selling trinkets and souvenirs, bikes roaring past us, it is one of the liveliest areas of the city.
Salim Singh Haveli was named after its first owner (Diwan of Jaisalmer). The haveli was meant to display his stature in society at large and the royalty in particular. Ironically, it is now infamous for its poor maintenance.
Nathmal Haveli, built by two brothers in the late 19th century, is still partly inhabited. The exteriors of right and left wings look identical at first glance, but a guide can help you spot the differences.
The Haunted Village: Kuldhara
This comes on the way when you're heading to the dunes. So you can take this trip the next morning. The story goes that 170 years ago, residents of 84 neighbouring villages including this one vacated the town overnight. This was because Salim Singh had a lecherous eye for the village chief 's daughter and he was keen to add her to his harem, failing which he would impose unreasonable taxes. To keep their pride and honour intact, the chiefs decided to walk away leaving behind a curse that whoever tries to live in the village would perish. Interesting!
COST: 
We didn't get train tickets. The long bus journey (16hrs) costed us Rs 3000 (round way per head). Hotel: 2 rooms with breakfast, discounted massage treatment, camel ride and dinner at the dunes: Rs 13000 approx.
THINGS YOU MUST DO AND SEE IN JAISALMER
• Dine at rooftop restaurants: We recommend Trio restaurant at Gandhi Chowk for lovely views and delicious food. Sit on the terrace for an outstanding ambience
• Eat laal maas: It is worth all the hype.
• Brave a bhang lassi: An intoxicating traditional yogurt drink laced with cannabis, it is legal in Rajasthan and is sold at government approved outlets.
• Desert camping:To explore it to the fullest, stay at Sam or Khuri for at least three nights.
• Jewellery shopping: From local to exquisite silver jewellery, you can find yourself a good bargain at the local markets.
• Click, Click, Click: The entire city is picturesque especially at dusk and dawn.
GETTING THERE
• By Bus: The bus from Delhi starts from Bikaner House (on Pandara Road  Tel.: +91-11-23383837, 23386069, 23381884). You can check timings and catch the bus in Gurgaon, like we did.
• By Air: Several airlines are linked well between Jaisalmer and Jaipur, Jodhpur, Delhi and Mumbai.
• By Train: The railway station is 2 km east of the city.