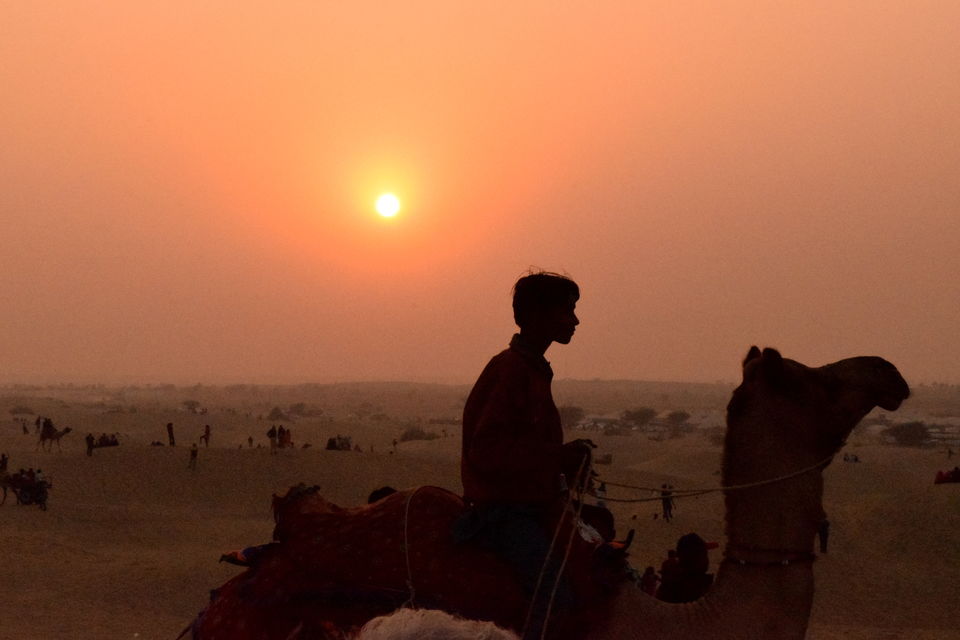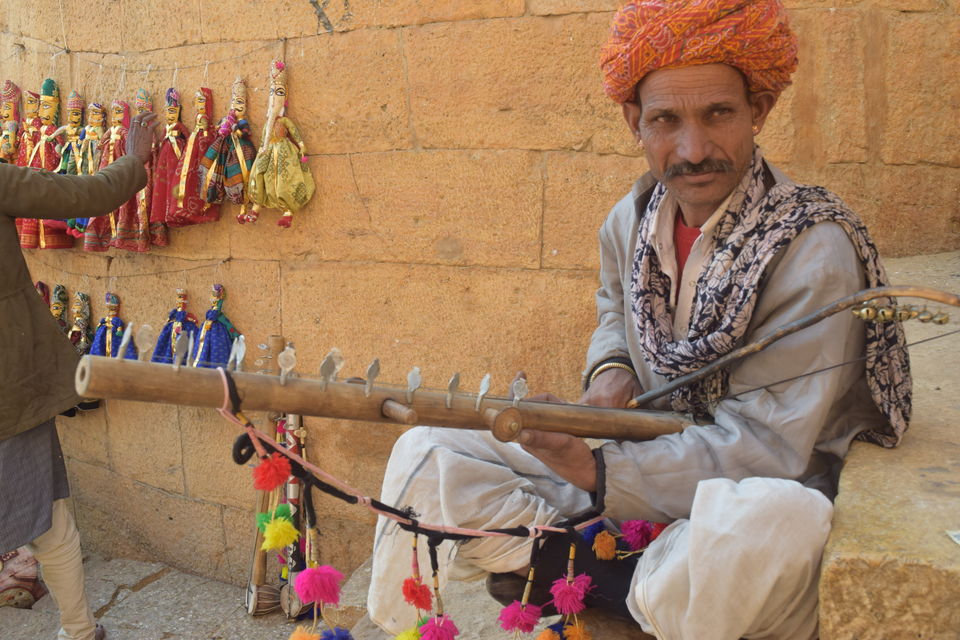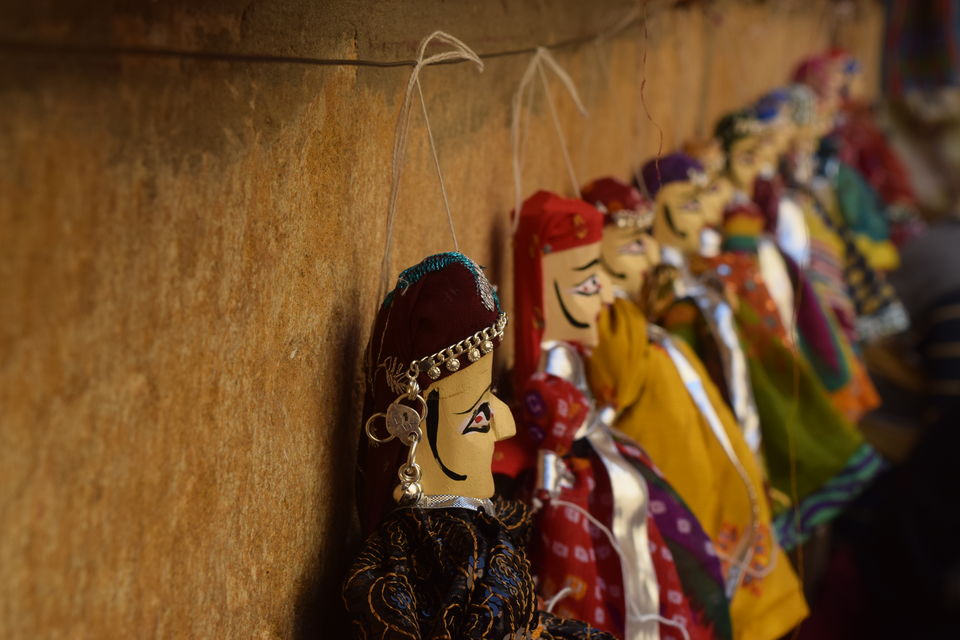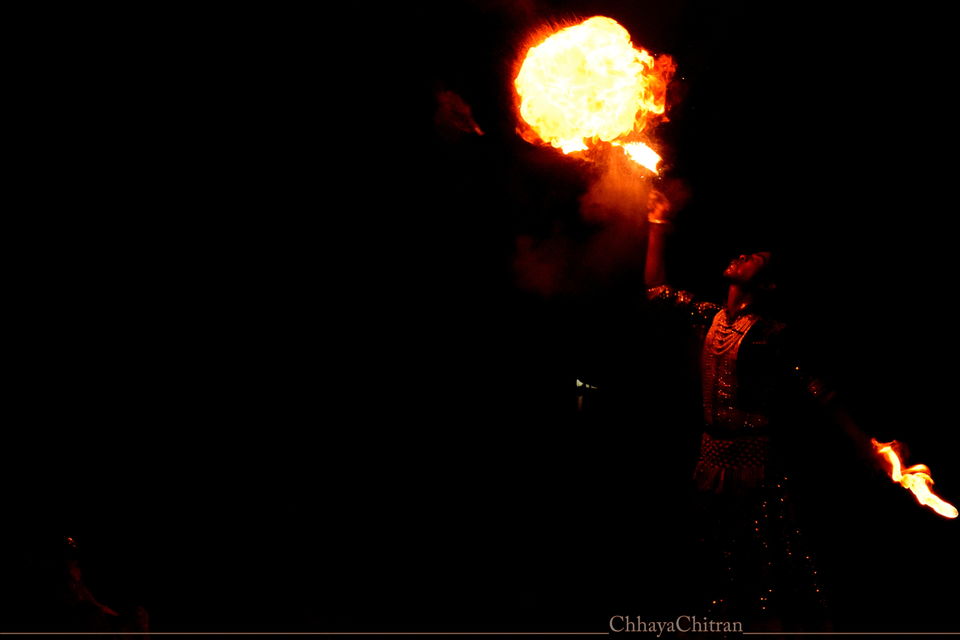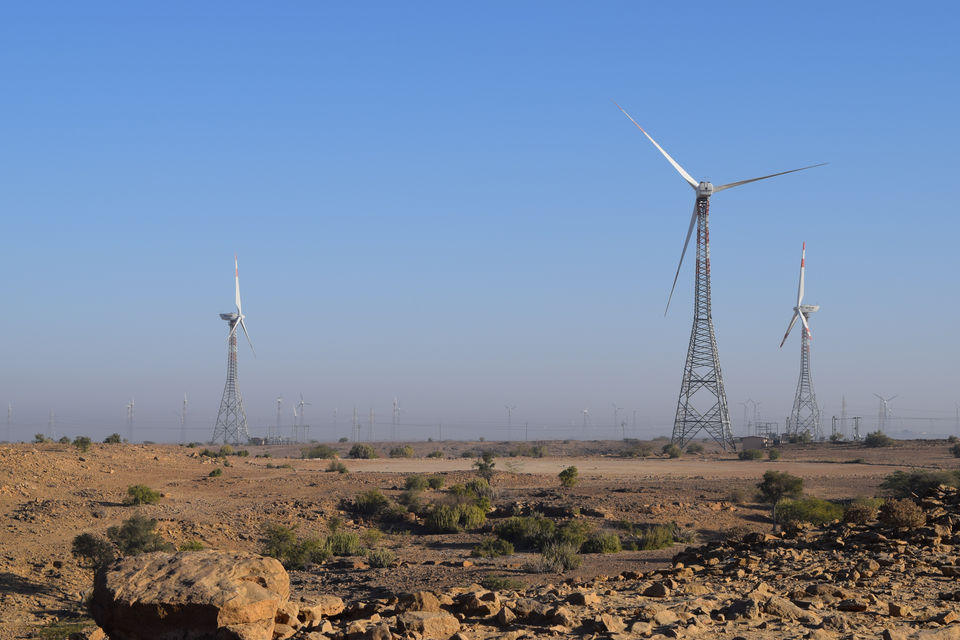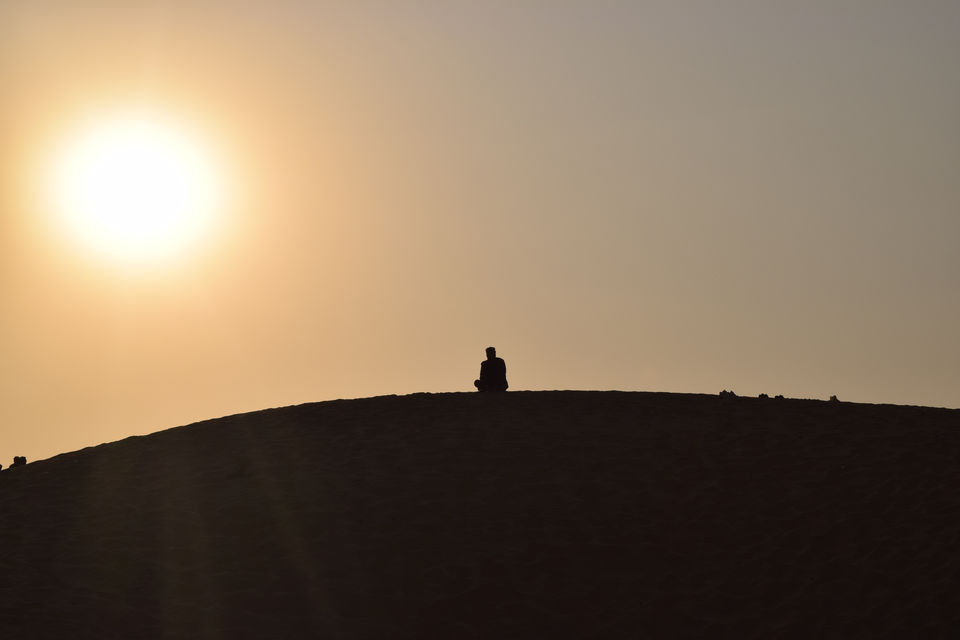 Jaisalmer, The Heart of the THAR desert. I started my journey from my hometown, Hanumangarh Town . Though Jaisalmer is just two districts away from my hometown but this stretch is almost 550+ km long. It was a non-stop 10 hours journey.  
In this blog I am going to write all tourist attractions near to Jaisalmer and Inside the Jaisalmer . 
Two days are enough to visit all places in Jaisailmer.  
Day -1
First I start with The crown of the city, Sonar Quila or Golden Fort, Its massive yellow sandstone walls are a tawny lion colour during the day, fading to honey-gold as the sun sets, thereby camouflaging the fort in the yellow desert. I visited this place in the early morning and it took almost 4 hours to cover this place. Raj Mahal (Royal palace) ,Laxminath temple ,4 massive gateway, Merchant Havelis are some major attractions inside the fort.

Interesting Facts- 
    It is one of the few historical monuments in India where large populations still reside within the premises. Outside many of these houses, I found some thing interesting. Large, painted wedding invites, right next to the front door, chronicling all weddings in the family!
Rating
    6 out of 10.
My second destination was Patwon Ki Haveli, This place is an interesting piece of Architecture and is the most important among the havelis in Jaisalmer.
This is Pricisely of two things,it was the first Haveli erected in JAISALMER and secondly,it is not a single Haveli but a cluster of 5 Havelis.
Rating
 5 out of 10.
My Third destination was Gadisar Lake.Its about a kilometer from the fort was originally built as water reservior for the fort.Lost in the time,it is now more of a big pond with muddy water. The only good thing about this lake is Boating.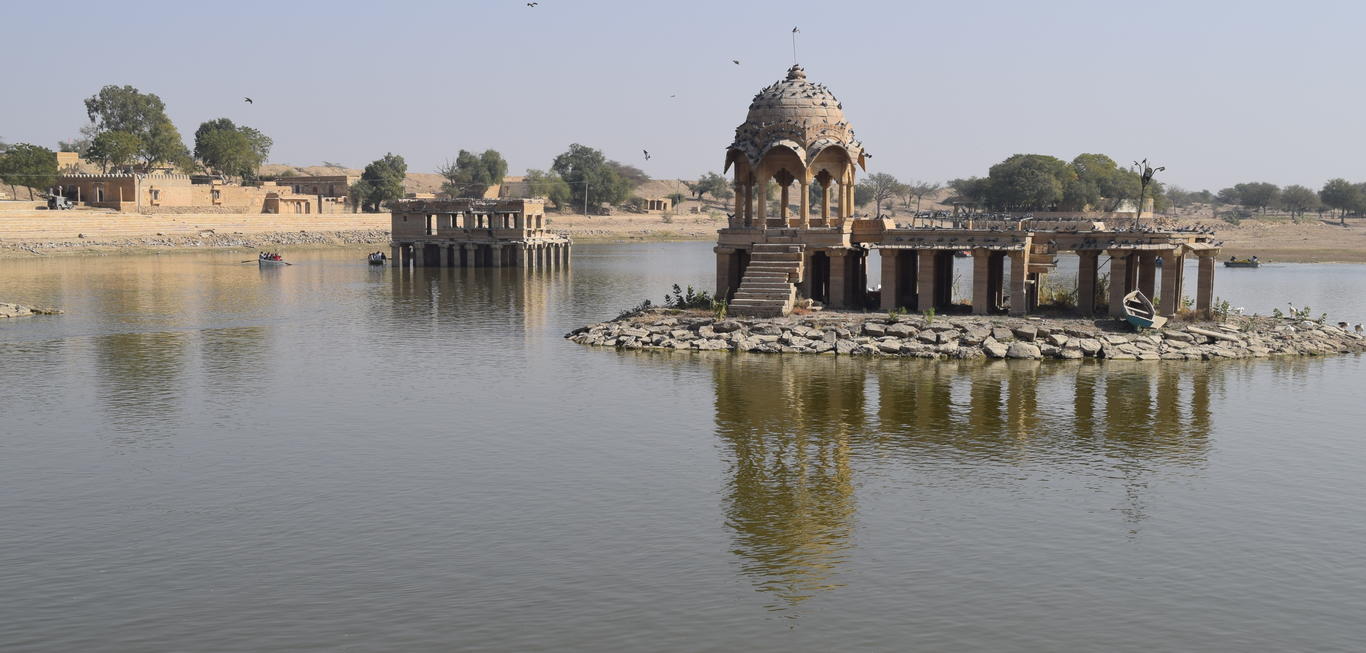 Boating is not too expensive.Time require to visit this place is hardly 15 to 30 minutes without boating.
Rating
 4 out of 10.
 My fourth and last local destination is BadaBagh. It is a garden complex which is almost 6 km away from the city. It contains a set of royal cenotaphs, or chhatris of Maharajas of Jaisalmer State, starting with Jai Singh.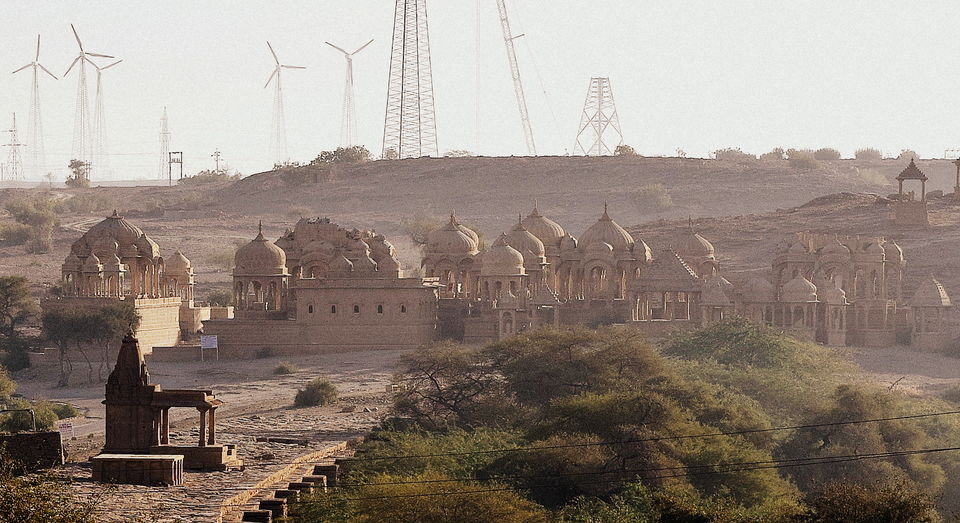 Rating
    7 out of 10.
Day - 2
                    " Sometimes you don't have words to explain the incredibility of places. You can feel only when you are there."
             So,Now the next destination was "Sam sand Dunes" which is almost 42 km away from the main city.It was a 45 minutes journey. It was around 4.30 PM,when I reached in Sam Village. There are several private camps situated at that place, other than "Sam Dhani", which is a Government authorized campsite. We booked a package which includes around Jeep safari, traditional food and folk dance and music. We didn't have night stay due to some time constraints. But I recommend to have night stay.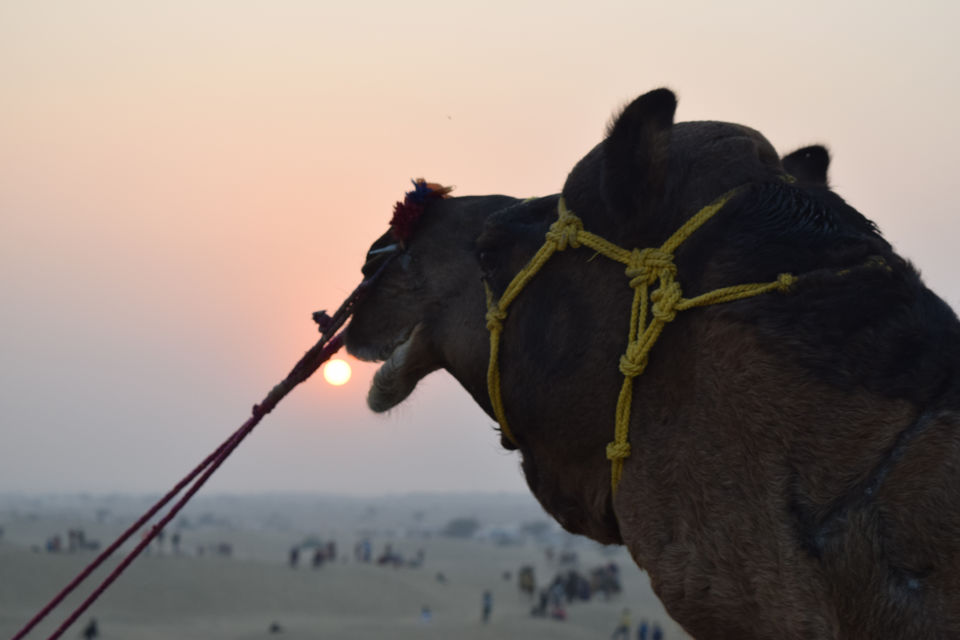 So here are some guidelines for travelers to Jaisalmer:-
1. Pack some warm clothes if you are planning to visit jaisailmer in Winters.
2. Pre-booking of camps is advised if you are planning to stay overnight.
3. November to March: These months constitute the winter season in Jaisalmer. It is also an ideal time to visit Jaisalmer.