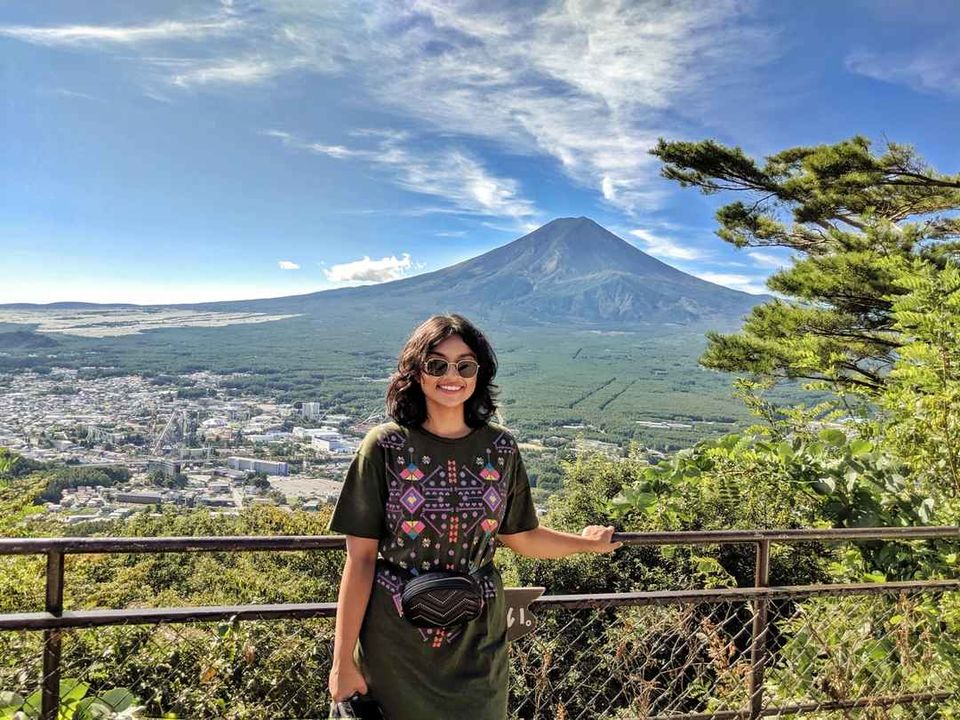 Japan - the land of rising sun, Asia's most developed nation. I was definitely a little intimidated before making it here. The country that has gone through so much, and still holds its grounds and how! Just returned back from our 10 days trip here and god knows, that the most asked question is about itinerary. That is what I plan to do in this article, along with a few photos from this gorgeous place.
Day 1 - We landed in Narita international airport. It was a 4.5 hours flight from Hong Kong. And took us equal amount of time to get out of the airport and reach the city! Firstly, we had to do a couple of things. Get a sim card, get some cash and our currency exchanged, get our Japan Rail pass activated (this is a pass to access the bullet trains) and then finally take a train to make it to Tokyo. Narita airport is pretty far the city and takes about 2 hours by bus and 1 hour by the train to get into the heart of the city. As you can imagine, we had no energy left by then, and just spent the rest of the day exploring Shinjuku area and eating Japanese food
Day 2 - This is when we took the bullet train to go from Tokyo to Hiroshima. It is a 4 hour journey and we made sure to buy enough food from the Tokyo station to get us going through the train journey. Passed through some amazing sceneries, and once we reached Hiroshima, we just enjoyed our Japanese style Airbnb, got some delicious food from the convenience store and did nothing! You could not be like us and explore the street food situation in Hiroshima today.
Day 3 - This was our full day of sightseeing in Hiroshima. I had strategically booked our Airbnb within walking distance to the Peace park, which is the main reason why people come to Hiroshima anyway. Early morning, kept our luggage in their locker rooms and spent about 4 hours exploring the campus, the museum, reading up about the atomic bombing in Hiroshima and checking out the A-dome, remnants of one of the buildings from that time.
Later, we took a ferry to a nearby island called Miyajima. If you have JR pass, the ferry is free, but we had to take the train to ferry station. The ferry is just for 10 minutes, and gives a beautiful view of one of the Orange Tori gates standing tall in the middle of the water. Unfortunately for us, the Tori gate was undergoing construction when we visited, but we spent some time there with the deers roaming around, and trying some of the street food (oysters and this snack called Momiji is really famous), and visiting a shrine over there.
Later that evening, we took a bullet train to Kyoto, which was a 2 hour journey. It was very late by the time we reached, so got ourselves some convenience store food and relaxed a bit.
Day 4 - Early morning, we made our way to the Kinkakuji temple in Kyoto (or Golden Pavilion). It is a beautiful sight, but expect as much crowd as the beauty of this place! Spent some time walking around, and then made it to a nearby Ramen shop to try our first full Japanese meal of the trip. The shop is called Tokyo Ramen, had some vegetarian options in case that interests you, and had the most amazing Ramen ever!
Later, we took a bus and went to Nijo Castle. This place was huge, and really did not blow my mind. Had a very high entry ticket of JPY10,000 too. I would recommend skip it if you can, but by all means feel free to explore if you feel like, because it IS a famous site for sure.
From Nijo castle, we went to Gion district, just walked around the hustle and bustle and bought some souvenirs for home (things like Japanese dolls, Japanese fans, magnets, etc.) Hanamikoji and Shirakawa are popular streets here. Both beautiful, though I liked Shirakawa a lot more because it had a canal running in the middle, was really pretty with all the trees and little restaurants along the side. Later, had our food (some Udon noodles) in one of the restaurants at Gion.
Day 5 - Had a really early morning start (by that i mean 5 AM wakeup call) and made our way to Fushimi Inari, probably one of the most photographed places in Kyoto (or may be even Japan). It has thousands of orange color Tori gates lined one after the other and is a 2 hour hike up and down. Somewhere in the middle when you have reached 75% to the peak, there is a lookout for aerial views of Kyoto. Most people make it only till there, as apparently there is nothing much beyond that point. It was a beautiful start to our morning!
Later, we had lunch at Coco curry, one of the restaurant chains which has quite a few vegetarian curry options, and spent time roaming around Pontocho alley, went and tried some crazy food at Nishiki market and had a great time!
Day 6 - This was our last day in Kyoto. Early morning, we went out and explored a few shrines near our Airbnb. Basically just walked around. Our accommodation was in the Higashiyama district which meant shrines and Tori gates within walking distance. Then we took a train to Nara
Nara has a lot of shrines, but the most spectacular is the Deer park. Here, if you bow to the deer with a cracker in hand, they bow back to you before grabbing their food! How cool is that!! Bowing deer! There is a famous shrine called Todaiji temple nearby, but we never made it till here.
Later, took a train to Osaka, which was another 30 mins from Nara, kept our stuff at our Airbnb, before making it to the Osaka castle. What a gorgeous sight. There is a museum inside, but we skipped that, because the caste looked gorgeous enough from the outside. More because, by this time we realized we had not seen the Yasaka shrine in Kyoto and wanted to go back to check it out! Crazy times, but thank god for Japan Rail pass we did not have to think twice before doing so.
It was a 20 minute train ride to Kyoto, we walked the Yasaka shrine area a bit and fell in love. I would strongly suggest to check this place out while you are in Kyoto and not be like us :P You can easily spend an hour or two walking around and trying the food, and checking out the shrine.
Later, made it back to Osaka, and spent a little time walking around Dotonbori area. It is one of those places with a lot of neon lights and crazy amount of street food. Perfect for ending the day with a drink, or shopping from one of the popular Japanese stores, such as Uniqlo or Wego or GU. We tried some famous Okonomiyaki and Takoyaki here!
Day 7 - Today we made it to Universal Studios in Osaka, as early as 9 AM and had a gala time on crazy roller coasters, Harry Potter world and eating Minion cookies. Happiest day ever! Also longest day ever, because we did not make it back till 9 PM. For anyone who doesn't know, Universal STudios is a theme park, very similar to Disneyland, but the ries are much more thrilling, and have all these hollywood theme sections, such as Harry Potter, Jurassic Park, Despicable me, Spiderman, and so much more!
Day 8 - Time for Mount Fuji!! How can you not go to Mount Fuji if you are in Japan, right? We had to make a couple of changes and took about 5 hours to reach Mount Fuji area (we chose Lake Kawaguchi) from Osaka. Luckily for us, we had booked a hotel which had a Mount Fuji view. Also, the last leg of the journey in a slow train gave us enough glimpses of the grand Mount Fuji (or Fujisan as the locals would call 'him')
On reaching, we had to give the famous Hoto noodles a try. It is a type of handmade noodles found only in Lake Kawaguchi area, and is supposed to be vegetarian! Make sure to order 1 for 2 people because it comes in a HUUUUGE pan and we were struggling to finish it!
Day 9 - We had bought a one-day bus pass and made most use of this today. Firstly, got up at 5 AM to roam around the Lake Kawaguchi, devouring gorgeous views of Fujisan and watching the sun rise. Spent about 2 hours doing this while clicking infinite amount of pictures.
Later, around 9 AM, we checked out of the hotel and took a bus to Kachi Kachi Ropeway. It is a cable car and takes you up to an observatory point for Mount Fuji. Had some food here, came down, and boarded the next bus to Saiko village. This place is near Lake Saiko (Fuji area has 5 lakes) and is more like an open museum. There are 20 huts, and each hut has something to do. The setting ofcourse is gorgeous with Fujisan towering the village.
After that, we made it to the Chureito Pagoda. It is a little away from the main lake area, but totally recommend not missing it because what views!!! We almost did not make it, but glad we eventually did, because otherwise, what a loss it would have been! Best 400 stairs I have ever climbed! Once back, we went to Oishi park, and watched the sun go down. By then, Fujisan had started to play hide and seek with us, sometimes peeking out of the clouds and sometimes hiding back in.
Anyway, later, we took a bus back to Tokyo; it was a 1.5 hour ride, but take notice that tickets need to be booked in advance. Ended the day with the best bowl of Ramen I have ever had at Ichiran.
Day 10 - we had a really late start because tiredness had started to kick in, but on agenda today was to explore the different crazy and quirky neighborhoods of Tokyo. First stop, the anime district of Akihabara. What a crazy place with all the anime figurines and gaming arcades. Played games and shopped for Anime figures (despite not knowing what they were, because mostly were Japanese) for a couple of hours, before heading to Shibuya.
Shibuya has the world's busiest crossing. Checked out all the people roaming around like insects, and then spent another 2 hours at Don Quixote. Such a crazy souvenir shop. DON"T miss out if you want to buy all the flavors of Kitkats that Japan has, buy candies for your office colleagues and relatives, and a lot of Japanese skincare products.
Day 11 - We had a flight back home in the evening today. So in the morning, we started with a very heavy Japanese fluffy pancake breakfast, and then spent the day walking around in Harajuku area. The neighborhood that is known for its crazy fashion and pop culture. You NEED to take a walk along the Takeshita street, which is super busy. In the morning before shops have opened, all the closed doors have some crazy graffiti on them. And later when the shops have opened, you can gawk at all the outrageous fashion stuff, shoes, dresses, and eat a lot of colorful and crazy desserts, because this place is full of them!
We ended our day eating some Kakigori, a popular Japanese shaved ice dessert. Trust me, it tastes nothing like Gola!
That was our 10 day trip to Japan. Japan is an expensive country to travel to. While we have our wallets almost empty, we have come back with our hearts full of crazy and beautiful memories :)