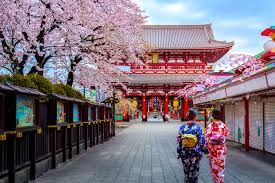 Hey all , this is a brief itinerary of how we spent our 13 days in Japan
Hope you find some useful inputs which you can incorporate into your wonderful journey too.
Lets start !!!
Day 1 :
Osaka airport, proceed to hotel.
We started by landing into osaka airport and then heading onto Kyoto and Tokyo.
But alternative would be to do a round trip from Tokyo if that fits into your airline fare.
We got the Yokoso Ticket as it gave us a ride into the city from the airport and also a one day all inclusive travel.
More info :​ Yokoso! Osaka Ticket
This ticket gives a discount when traveling from Kansai International Airport Station into Osaka City, including a one-way ticket for the Nankai Electric Railway train to Namba Station (which can also be used one way on a Nankai train other than Rapi:t), and a one-day all-you-can-ride pass for Osaka's subways, new tram, and buses. You can also enjoy Osaka's sightseeing spots at a discount, by showing a ticket that you've used that day for discounts at tourist sites within Osaka City.
For info on other passes for OSAKA , try this link which is beautifully written in detail :
https://osaka-info.jp/en/page/travel-passes
Even if you only manage to fit in one day in Osaka, I guarantee you'll leave Japan's second biggest city with every sense satisfied.
Day 2 : Explore osaka! Night in Osaka
Full Osaka 1-Day Itinerary
9am: Start the day at Osaka Castle.
10:30am: Stroll around the Kita District. The real must-see sight in Kita is the district itself, and all the great shopping to be found there. Three great shops to check out are Yodobashi Camera, Grand Front Osaka, and Hankyu Department Store.
11:30am: Eat an early lunch in Kita. 1pm: Start exploring the Minami District. From Kita, take the Midosuji subway line south from Umeda Station to Shinsaibashi Station. Take exit #2 from Shinsaibashi Station and walk for a few minutes to Tokyu Hands, one of the best hobby and gadget shops in the world. Next, cross south over Nagahori-dori Street and walk one block west to enter Shinsaibashi-suji, one of Osaka's famous shotengai (covered shopping arcades). Walk south through Shinsaibashi-suji. If you didn't eat lunch in Kita, you'll find plenty of good restaurants in this area.3pm: Explore the Dotombori area. Walk south through the Shinsaibashi-suji arcade and you'll eventually get to Ebisu-bashi Bridge over the famous Dotombori Canal. This is the most iconic sight in all of Osaka. Pause on the bridge to take some pictures and to soak up the atmosphere. Then, walk a short distance south and you'll find yourself in the Dotombori arcade.
4:30pm: Visit Hozenji Yokocho. A short walk south of the Dotombori Canal is the incredibly atmospheric Hozenji Yokocho, a narrow pedestrian-only lane lined with traditional restaurants. Be sure to check out Hozen-ji Temple, where you'll find the moss-covered Mizu-kake Fudo statue.
5:30pm: Walk through Doguyasuji Arcade. Another short walk south of Hozenji Yokocho, you'll find Doguyasuji Arcade, Osaka's famous kitchen-supply street. Here, you will find an almost endless variety of kitchenware and tableware.
6:30pm: Eat dinner in Minami. Minami has the greatest concentration of good restaurants in Osaka. 8pm: Evening views from the Abeno Harukas 300 observation decks in Tennoji. The sunset and evening views here are absolutely awesome!
Day 3 : Head to KYOTO .
Take the early motning train ride into the beautiful city of Kyoto. Its only 30mins journey.
Kyoto is best explored by bus, you can purchase the pre-loaded Pasmo/suica cards at one of the many convenience stores before you start off to explore Kyoto.
10:30am: Kiyomizu-dera Temple
The closest bus stop is Gojozaka. Walk up Gojo-zaka, which is the main street that leads east, up the hill, to Kiyomizu-dera Temple. Most likely, you can just follow the people. Halfway up, you can bear right up Chawan-zaka, which gets you away from most of the cars and buses. Enter the temple and fully explore the temple. Don't forget to visit the wonderful Tainai-Meguri.
12.30 pm Sanjo Dori
Lunch at downtown Kyoto Sanjo dori street
2.30pm Yasaka Shrine
One of the oldest shrines in kyoto which still has a old world charm .
4.30pm Ginza
Exit the beautiful ginza station and stroll around for some Geisha spotting on the streets who will be heading for their evening performances . Ginza has small alleys with beautiful tiny restaurants tucked away. Do try them for dinner.
6.30pm Nishiiki Market
after the sumptous dinner at the ginza inns, head to nishiiki for some retail thearpy at the famous Takashiyama store or the many luxe brands line up. Even take a peek into the small shops in the old market all lit up in glory.
8.30pm
Retire to hotel
Day 4 : KYOTO
Arashiyama Bamboo groove and Fushimi Inari
10am : Tenryu-ji Temple
First, explore the superb Tenryu-ji Temple, being sure to check out both the inside of the main hall and the expansive stroll garden.
11:00am: Arashiyama Bamboo Grove
Leave Tenryu-ji by the north gate (accessible through the garden), and take a left, which will bring you into the famed Arashiyama Bamboo Grove. Take your time savoring the magical atmosphere here, while working slowly uphill.
12.00 pm Take the scenic sagano train ride from arashiyama , its a beautiful train ride into the valleys and streams of the area.
1.00 pm Lunch, explore the many options at the JR station food outlets, bet there is something for every palate !
2.00 PM Manga International Mueum/ Nijo catsle
4.00 pm Kinkaku-ji Temple
This is the the famed "Golden Pavilion" in Northwest Kyoto.
6.00pm : Fushimi-Inari-Taisha Shrine
Exploring the shrine during the sunset time is a glory in itself. There are not many people and the view is amazing. The way is clearly marked from the station. Walk out of the station, take a left and walk up the hill. After crossing one relatively major street, you will see the first torii (gate) of the shrine. Walk up through this and you'll shortly get to the main precinct of the shrine. We don't suggest doing the whole route on this day, but going up as far as Shin-ike Pond is a good idea.
Dont forget to stroll on the street which leads to the main shrine for some Japanese style street food.
8.00pm Dinner around Inari area and head to hotel , good night !!
Day 5 : KYOTO
8.00 am Hein Shrine
Start your day early before the crowds at the beautiful hein jingu shrine . The gardens are at their fulllest glory early in the morning. dont misss to take a stroll through the gardens after your pay your respects at the shrine.
10.00 am Kyoto zoo / Rohm theatre / Kyoto Library
explore the area around Hein shrine - Kyoto zoo / Rohm theatre / Kyoto Library
11.00 am : Kyoto handicraft center
The Kyoto Handicraft Center: Art and craft emporiums and souvenir centers are usually tacky and touristy affairs, but this place is actually pretty good. I particularly like the woodblock prints , origami art gifts and the japanese wooden dolls here.
01.00 pm Lunch
2pm: Ginkaku-ji Temple
After eating lunch, head east along Imadegawa-dori toward the Higashiyama mountains. It will take about 20 minutes to walk up to Ginkaku-ji Temple, which is at the base of the mountains. Enter Ginkaku-ji Temple and explore.
4.00pm: Path of Philosophy
After exploring Ginkaku-ji Temple, walk about 100 meters down the hill and walk south along the famed Path of Philosophy (Tetsugaku-no-Michi). It's the canal that has a pedestrian path running alongside it. If you want, you can take a short detour up the hill to visit the lovely Honen-in Temple.
6.00pm: Eikendo shrine
Spend your evening in Kyoto at the Eikendo shrine which is beautifully illuminated during the winter evenings and is a breathtaking sight not to give a miss.
8.00pm : Dinner
Dinner around Kawaramachi area, stroll along the river and enjoy a drink . retire to room.
Day 6 : KYOTO : Day trip to Miyama Town
Miyama is a remote, rural, highland area 30km north west of Kyoto city and best known for its traditional thatched (kayabuki) houses. Most of these are local people's homes, but some have been converted into museums and places to stay.
Beautiful, off-the-beaten track Miyama is ideal for outdoor pursuits including hiking in the mountains, cycling, river rafting and fishing (Miyama's rivers are famous for their ayu sweet fish).
Kayabuki no Sato ("thatched house village") has the most buildings with kayabuki ("thatched roofs") - around 40 - as well as the Miyama Folk Museum, with exhibits of local farming implements and information on how the traditional houses are constructed. The original building burnt down in 1912 but was reconstructed as a museum in 2002.
Very close to the Miyama Folk Museum, the Little Indigo Museum features the art of Hiroyuki Shindo.
There are a number of small atmospheric shrines in and around Kayabuki no Sato including Suwa Shrine, which is over 600 years old with many ancient trees.
Day 7 : KYOTO : Day trip to Kinosaki Onsen town
The easiest way to get to Kinosaki from Kyoto is to take the "Kinosaki" Limited Express for a one-way fare of 4320 yen. This train runs a direct services between Kyoto Station and Kinosaki Onsen Station three times a day. There are three return journeys too.
If these times don't suit you, then that is not a problem. At other times you can simply take a Limited Express from Kyoto Station as far as Fukuchiyama Station, and there transfer to a train for Kinosaki Onsen Station. It will take a little bit longer, but the fare is the same.
10.00 am Bathe in an Onsen :
The town has seven famous public bathhouses and it is common for visitors to sample each in turn. Of course every hotel in Kinosaki has its own hot spring bath for you to enjoy. However, it would be a shame to miss out on the bath house tour.
12.00 pm Stroll : After trying 2-3 onsens , change into yukata( traditional summer japanese robe ) , pull on some geta style wooden sandals and take a nostalgic stroll through the streets. Dont miss the fancy Man-hole covers which are too adorable, so not to miss clicking a picture with them.
1.00pm Lunch : Eat Crab or Tajima Beef
If you travel to Kinosaki between November and March you can enjoy snow crabs fresh from the sea. Actually, Kinosaki is so famous for its crab that it is pretty hard to avoid. You'll even see crab décor everywhere, from the moment you step outside Kinosaki Onsen Station.
2.00pm Mount Daishi :
Take the cable car up to the top of Mount Daishi. Halfway up there is a temple called Onsen-ji, which literally means Hot Spring Temple! At the very top there is an observatory with fantastic views over Kinosaki, the surrounding mountains, and the Japan Sea beyond.
4.00pm : Public Onsen
End your kinosaki tour by soaking up those aching muscles in an onsen before you head back to Kyoto.
6pm Train from Kinosaki station
9.00pm Return to Kyoto hotel
Day 8: Tokyo
6.00 am : Catch the early morning Shinkansen ride to Tokyo station.
9.00 am : Tokyo Station
Have your breakfast at Tokyo station with a million options to choose from.
Do purchase a Tokyo Subway 72 hour ticket at the Tokyo Station as there a only a few stations where in it is available for Sale. A one day pass will cost you about 800 yen, but a 3 day pass will only cost you 1500 yen.
10 am : Imperial Palace
Just a stones throw away from the tokyo station is the beautiful Imperial palace building with beautiful gardens to relax after a long journey.
12.00 pm : Head back to Tokyo station for Lunch
From bento boxes to confectionery to fast food there are so many options here at Tokyo station.
Eating would be a big part of my Tour de Tokyo. Do checkout :
* Tonkatsu (fried pork)
* Yakitori (grilled chicken on a skewer)
* Sushi (need I say more?)
* Udon
* Soba Ramen
* Okonomiyaki- Mochi (Japanese savoury pancake)
* Tempura (Fried chicken style)
* Sashimi (Raw fish/meat)
* Miso soup
* Onigiri ( rice triangles filled with deliciousness)
* Terriyaki
* Gyoza (Japanese dumplings)
2.00pm : Kitte
Do some retail theraphy at the upscale shops here at Kitte. Hit the post office and send some postcards to your dear ones after scanning through the many post card options available at the Kitte store.
3.00pm Tokyo International Forum
for a look-see. Make sure to drop by the upper floors to check out the astounding curves built with steel and glass
5.00 pm Roppongi Hills
Arrive in Roppongi and visit the Roppongi Hills complex. Take the elevator up to the 52nd floor Tokyo City View observation deck of the Mori Tower to see the city. Eat dinner in Roppongi, have a drink in one of Roppongi's many bars.
8pm : Back to Hotel
Day 9 : Tokyo
8.00am : Meiji Jingu
This shrine is widely considered to be Tokyo's finest, and I can do nothing but nod my head in agreement to that statement. Keep that in mind in terms of how to plan your Tokyo, Japan itinerary. There aren't that many Tokyo itineraries which this would be left off of.
11.00 am : Yoyogi Park
Yoyogi Park, a great spot for people watching. The best day for people watching is Sunday. Yoyogi Park filled with artists, musicians and cosplayers in fancy costumes. After having your fill gawking at the people, you can head to Harajaku.
1.00pm : Takeshita Dori- Harajaku
Also nearby is the famous Harajuku neighborhood. The main action is at Takeshita Dori, which is a short pedestrian walkway. Here you will see shops selling clothes for teens, and lots of Japanese youth and girls wearing Harajuku style.
3.00pm : Omonte sando
If you enjoy window shopping take a walk on Omotesando which is a broad, tree-lined street that houses various top designer boutiques.
5.00pm : Shibuya scramble :
Shibuya's pedestrian crossing is something to behold. Basically, you stand by and watch as people walk through an intersection from 7 different angles. I can almost guarantee that you've never seen anything like it.
Ways to see the crossing : Starbucks across the street or the top floor observatory deck on the Magnet -by Shibuya store(best) .
Hachiko dog :
While you are at Shibuya do not miss the statue of Hachiko. The statue is a popular meeting point for Tokyo residents. The statue was erected in honor of Hachiko, who was a loyal dog that faithfully came to fetch his owner at the train station each day (even after his owner passed away).
8pm : Dinner in Shibuya
Day 10 : Day trip to Hakone ( Mt Fuji )
Its extreme popularity among tourists is also because of the incredible view of Mt. Fuji you can see from Hakone. The splendid beauty of nature is also evident from Hakone. It's definitely recommended to squeeze a day in to travel to Hakone after you travel to Tokyo. It is located not very far from Tokyo and it's the perfect place for a day trip away from Tokyo.
The Hakone Open-Air Museum
Japan's first open-air museum opened in 1969 with thousands of artworks made by Picasso, Henry Moore, Taro Okamoto, and many others. Here, you can enjoy the 120 sculpture displays outdoor, with a view of the mountains of Hakone. There are also 5 indoor exhibitions in addition to the outdoor sculpture displays.
Lake Ashi
Here, there are ships operated by Hakone Sightseeing Cruises that connect the three ports on the lake. You can experience many different activities and attractions. 10 minutes away from the Hakone-machi and Moto-Hakone ports, there is Onshi Hakone Park, from where you can enjoy the incredible scenery of Lake Ashi and Mt. Fuji. At Togendai Port, you can enjoy meals while viewing the lake.
Onsen
For day visits and a small road where you can walk along the shore.
Hakone Shrine
A shrine located at the shore of Lake Ashi with a history more than 1200 years. It is popular as a power spot and as a marriage shrine where many women come to pray. It also has a small museum, which includes 5 items regarded as national Important Cultural Property.
Owakudani
Created when the Hakone volcano exploded about 3000 years ago, it is now a popular tourist spot for its scenic views, volcanic activity, and especially, Kuro-Tamago -meaning "black egg" — a local specialty of eggs hard-boiled in the hot springs. Here, powerful outbursts of smoke and sulfur can be seen up-close.
Return to Tokyo
Day 11 : Tokyo
8.00 am : Sensoji Shrine
The area is highlighted by the Senso-ji, which is a very popular Buddhist temple that dates back from the 7th century.
The walk to Sensōji, Nakamise Dori, is lined with small shops selling various souvenirs. This is a good spot to knock out your souvenir shopping.
10.00am : Tokyo Skytree Since you're already in Asakusa, the Tokyo Skytree is just a few stations away.
11.00am Boat ride from Asakusa pier to Shinjuku
1.00 pm Shinjuku Gyoen Park
Pack your Lunch and head to Shinjuku Gyoen Park for a laid back lunch experience
Tokyo can be hectic so visiting a park is a nice way to spend a couple of hours during your time in Tokyo. One of the most beautiful parks in Tokyo is Shinjuku Gyoen National Garden which consists of three different types of gardens: traditional Japanese, formal French and an English garden. Home to a large number of cherry trees, it is a popular but also peaceful spot for hanami (cherry blossom viewing) during the spring cherry blossom season
3.00pm : Reatil therapy
Lumine mall,NeoWoman, Uniqlo ,GAP , H nd M, Forever 21, Flying Tiger , Miniso
5.00pm : Tokyo Metropolitan Government Building
Free observatory deck.
7.00pm Golden Gai for Dinner and Drinks
Golden Gai is essentially six narrow alleyways connected by a slew of even narrower passages that lead everywhere and nowhere. These alleyways are chalk full of delicious restaurants, seedy bars, and an unlimited supply of Japanese business men who wanted to sneak in some sake before going home. It's just one of those places that isn't all that hard to add to your Tokyo itinerary, so take one evening or night and do a little exploring. While you're there, don't forget to sip on some Japanese beers. Both Sapporo and Asahi and crisp, cool, and delicious.
Day 12 :
7.00am :Tsukiji Market
Unfathomable amounts of tuna and other delights arrive at the market each morning. Stroll through the markets and have some Breakfast from the Fresh produce.
9.00am : Hama Rikyu Gardens.
Walk to Hama Rikyu, which is a short distance from Tsukiji along Shin-Ohashi-dori.
11.000am : Explore Akhihabara
Anime/Manga/Gaming /Electronics( Even second hand )
Akihabara has to be the most unique and bizarre area in Tokyo. It's the headquarters of Japanese gaming culture. You've got neon lights everywhere, and plenty of shops devoted to anime and, Maid-cafes and well anything you could possibly imagine.
4.00pm Ginza
Last minute souvenir shopping and retail therapy
7pm Early Dinner
Pack your bags
Day 13 :
Flight back !
See the options in the link here
https://tokyocheapo.com/travel/transport/cheapest-transport-to-and-from-narita-airport/