Jog Waterfalls is one of the highest waterfalls in India. Location of this scenic beauty surrounded by dense evergreen forests is in the state of Karnataka district Shimoga. Jog falls Karnataka is a major attraction place for tourists and a perfect weekend getaway destination. Jog falls Shimoga is created by the river Sharavathi falling from an altitude of 830 feet and have a cascading effect on the step sections named as Raja, Rani, Roarer and Rocket leading to the depth of the falls and vaporous sprays from the rocks. Adventure seekers can also slope down from the view point to the bottom of the falls through the 1500 steps built by the tourism government.
Jog falls Shimoga being one of the tallest waterfalls in India is also a major hydroelectric plant in India built over Linganmakki Dam across and have a capacity of 120MW to generate 6700KW of power.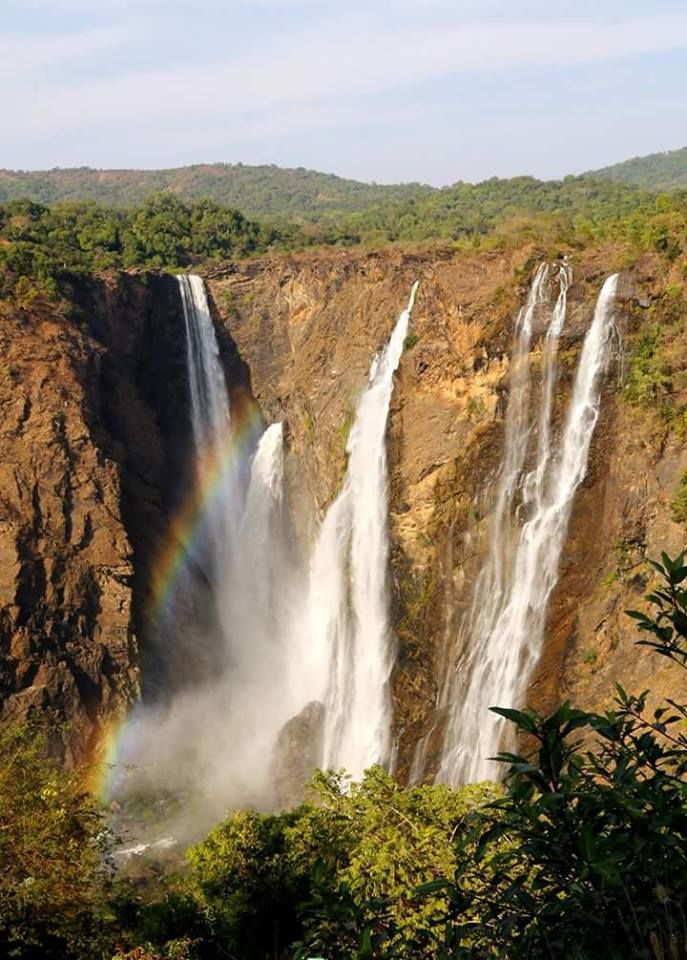 Source: Facebook
Jog Falls weather
Jog falls weather is pleasant over the year, but monsoons are bit unfavorable for people who want to trek and want to go down the hill as the steps are quite slippery. Apart from the months post monsoon, jog waterfalls have become a great attraction for a large group of tourists to enjoy the flow, weather and its beauty in months of November-February.
Best time to visit Jog falls
Winter is the best time to visit Jog Falls as the sky will be clear of the mist and will give a great picturesque landscape for the tourists and photographers.
Summers can be a good time too, but backpackers in the surrounding states prefer to ride in the cold and breeze of winter for better and smooth trips.
How to reach Jog Falls
The nearest airport to Jog Waterfalls is Bangalore and the distance from Kempegowda Airport Bangalore to jog falls is near about 400 km. If anyone else questions "How to reach jog falls", answer them through road via national highway 4 or 48, a perfect getaway destination for people in Karnataka, Maharashtra and Andhra Pradesh. Bikers tend to move solo or in a group from Mangalore and Bangalore to jog falls. Local buses too ply from places like Kolhapur, Goa, Hubli, Mangalore and Bangalore to jog falls. Tourists visiting jog falls Karnataka can also stay in budget hotels available in and around Shimoga, Sagara, Hosanagara and Shikaripura.
Nearest Railway station to jog falls
The nearest railway station to jog falls are Sagara and Talugappa. Other nearest railway station to jog waterfalls is Honnavar which is in the way of Mumbai-Mengaluru Konkan Route.
Other Notable places Near to Jog Waterfalls are
Gokarna (112 kms, 3 hr drive)
 A perfect replica and an alternative of going Goa is Gokarna. A small town in Karnataka is known for its heritage and a pilgrimage center of temples and attracts tourists hosting people from Russia and European nations. Known for its clean beaches and gets crowded in the months of December and January. A good picnic spot for all ages and also a large statute of lord Shiva is must see apart from the beautiful beaches.
Murudeshwar (87.4 km, 2 hr drive)
A popular pilgrimage town and place known for largest Shiva statue (249 feet tall). Apart from being a pilgrimage it's a great getaway option for people in Mangalore, Mumbai and Bangalore. Clean beaches is of white sands with silvery effect and a view of the Western Ghats is a view to see. Other places to see in Murudeshwar are forts and numerous beaches and not miss out on the delicacies near the highways across cuisines.