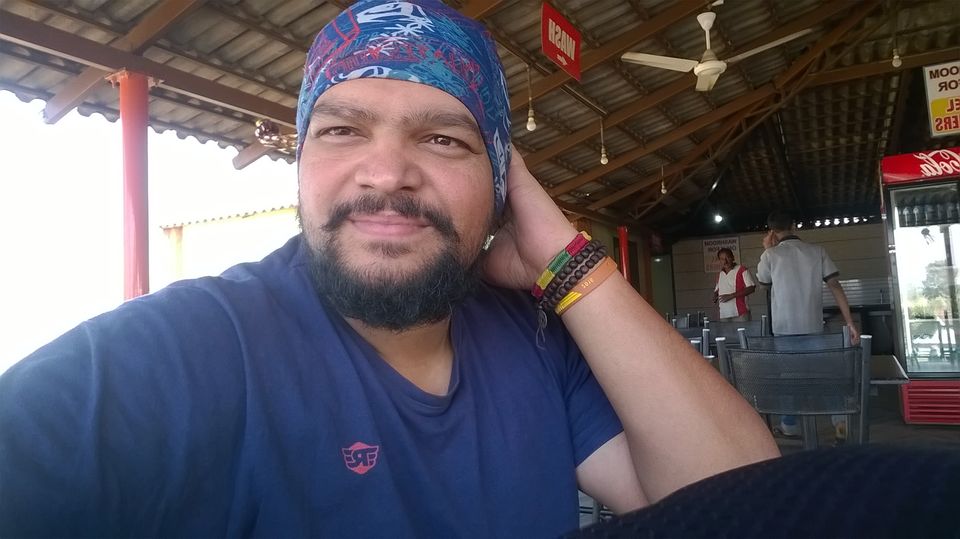 "JUST START OFF…AND THE ADVENTURE CARRIES YOU AWAY"…..very well said (don't know by whom). This blog is in continuation of my Solo Motorcycle journey to Kerala and covers Day 1 of the ride to Candolim (Goa).
The Route: Today I had to cover a total of 428 km, hence the route planning had to be good with stopovers and breaks. The idea was to leave early and reach early, doing this…..one gets a couple of hours of sunlight to manage in case of any breakdowns or to recover from physical stress. I usually avoid riding post sunset and would recommend all solo riders to do the same from a safety perspective. I didn't want to complicate the route this day and took the standard NH4……Pune – Satara – Kholapur – Nipani (Turn right from Goa Vaz Hotel) – Amboli – Sawantwadi – Candolim. The roads are very good with beautiful surroundings till Nipani as it's a four-lane National Highway so one can cruise at 100 / 110 KMPH comfortably with a great view of clouds in the Western Ghats, blue sky, and lush green sugarcane farmlands. If you love eating sugarcane, you can stop over and enjoy fresh sugarcane straight from the farm, its super sweet and juicy.

Managing Time: This was very critical mainly because I was riding solo, I didn't have any interest in enjoying the countryside, click photo's or to explore the unexplored as I had been through this routes many time with my riding mates. NH4 was the route we had taken year after year to attend Royal Enfield Rider Mania in Goa. The key was to leave early, and I had decided to start by 6:00 am to ensure I am out of Pune before the traffic hits the roads and also it's great riding early morning. I had also planned my breaks well to ensure I am keeping myself hydrate and fuel for the body consistently, this was very critical to stay in top riding condition throughout the day.
The Journey: I was all excited to start my first long distance solo ride covering 2000kms to Kerala. I was indeed excited, but there were some other feelings which were going on inside me, I was anxious / scared / unsure / worried. So many emotions ran through me at that point it's complicated to explain. I was all set to roll, my saddle, tank bag, etc. were loaded unto the bike tightly to ensure nothing falls midway.
It was 6:30 am, and while the world was still waking up, I with the company of my motorcycle were out there in the wilderness starting our motorcycle journey. The riding conditions were supreme with slight cold weather, excellent road conditions, less traffic which meant that I could ride fast with fewer stops……I was riding on the highway at 100 – 110 kmph throughout and in-between also clocked 120kmph with ease. The performance of my RE – Electra (Twin Spark) was just impressive, it adapted to the riding conditions very well without any difficulty.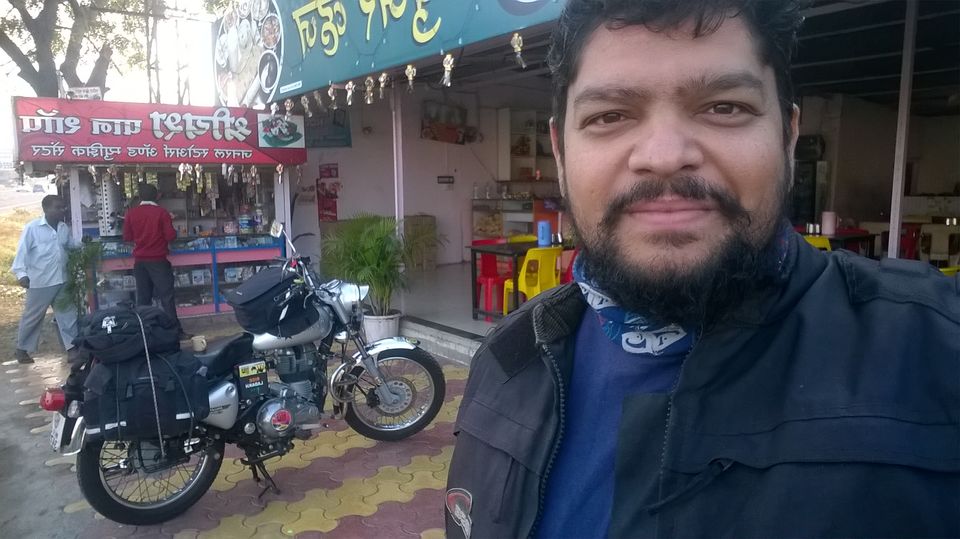 My first stop was at 8:30 am for breakfast, I had done around 140 km and was hungry. Stopped at a small joint to eat "Misal Pav" ( along with some Tea and Cigarette, spent 45mins just relaxing and fueling up my body and mind. After a good breakfast and rest, I rode for another 120 km nonstop, and it was time for my second halt for a quick water break. This is when the craziest thing of my journey happened; I had to attend to an urgent nature's call (I am sure most of you have experienced it). I had to park my bike on the highway with all my expensive gadgets/luggage and had to find a place in the sugarcane farm from where I could see my bike and belongings. So much travel I had done in the past so had experience of carrying essential things of which one was tissue papers, and that was my life saver . It was a fantastic experience of surviving in the middle of nowhere and I believe that these incidents make such journey so exciting.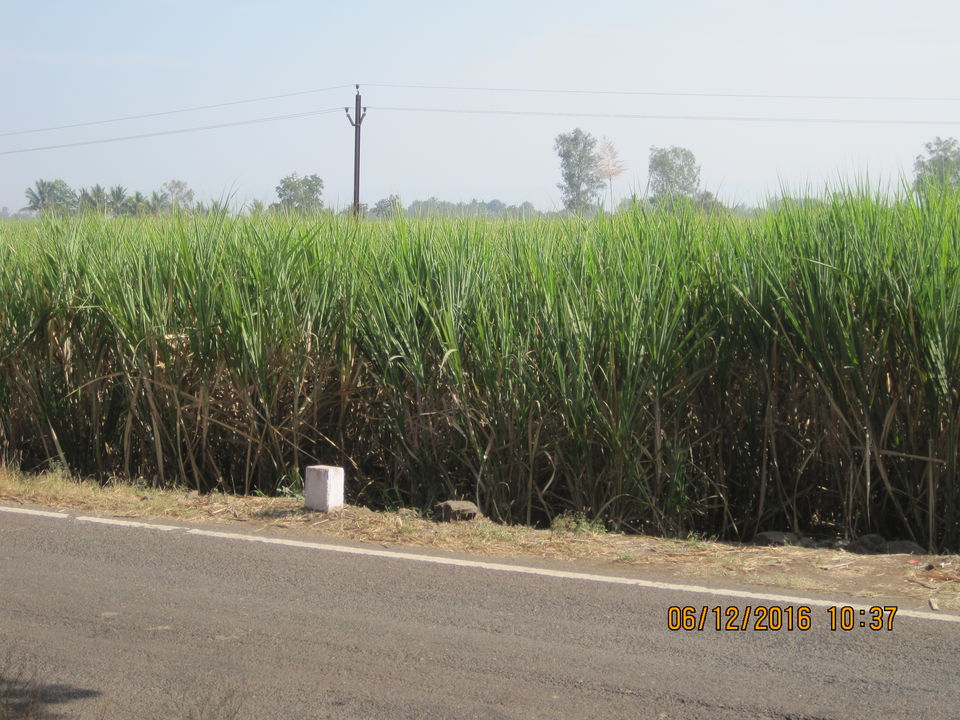 The next stop was at 12:00 pm for lunch halfway @ Nipani…….this has been the regular stop over whenever we traveled to Goa, the place is called GOA VAYZ. It was a great stopover midway for food and some rest, but to my surprise this time the food was very bad which was disappointing. After a 45mins break, I wroomed again with a thought of riding nonstop. Crossed the famous Amboli ghat were you enjoy the art of cornering on the mountains.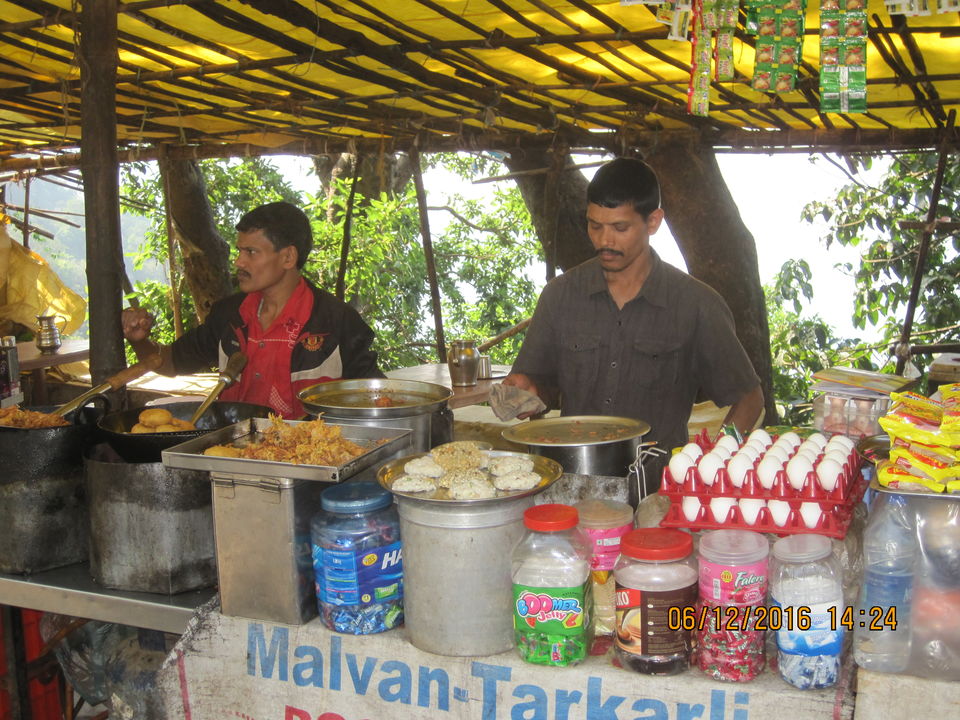 The objective was to reach the destination as early as possible, reached Candolim (Goa) at 4:30 pm covering 450 km in 10hrs. After some good rest, I went out exploring Goa and it's nightlife which took me to Baga beach. After looking at a couple of options I went into a club called "Kamaki Club" where I meet a guy (forgot his name), he was working there as a steward. He spoke to me to understand where I was from and how I traveled, I told him my journey plans which made him very excited. He gave a great place to sit in terms of view, a place from where I could see the beautiful woman passing by. We spoke for some time as the guy started serving me chilled drought beer, he was damn curious to know how I had planned my journey, my fears, etc. I had a couple of beers at Kamaki listening to some cool music @ Kamaki. Left the restaurant early to get some good sleep as I had to start early next day and had to ride 380 km to Mangalore.