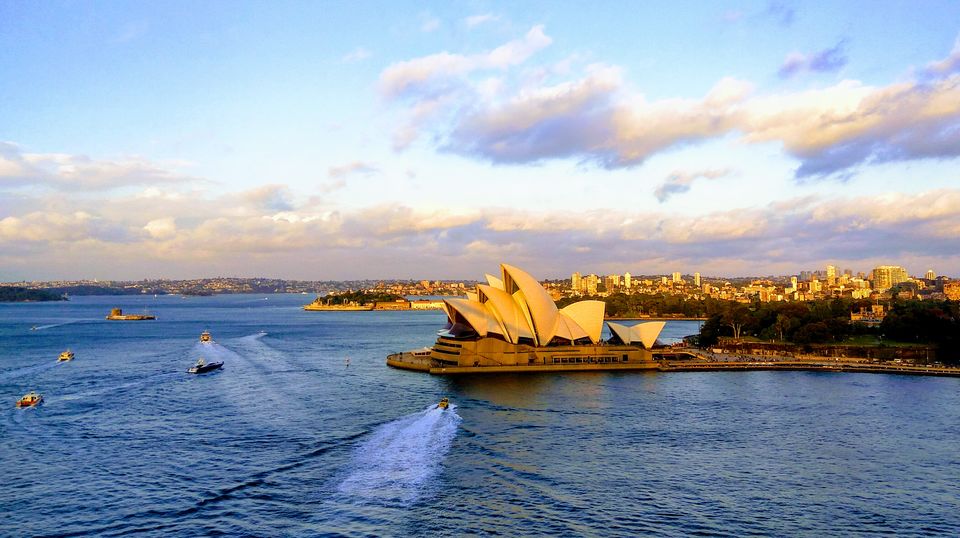 Prologue
Wife, in Gurgaon, staring at the world map in her living room. Husband, in Mumbai, lying down on his pulled out sofa-cum-bed and starting at the ceiling. Both on a call with each other, separated by miles and miles of India's landmass.
Wife: I want to go on a vacation. Any suggestions?
Husband: How about Australia?
Wife: Hmm. Would it not be expensive?
Husband: I trust you to find us a way to go down under.
Two months later. She landed at Kuala Lumpur International Airport and walked to the gate of her next flight. In the rows of uncomfortable seats in from of the gate, there he was, with his earphones on and looking out at the flight landings and take-offs. As she walked towards him, he turned and smiled at her. They were going on a journey to a mysterious island.
Walking our way through Sydney
The starting point of every trip has to be a travelogue and I had found the best one to accompany me during my trip to Australia. "Down under" by Bill Bryson, grew on me and through his stories and witty observations, instilled in me a familiarity with Australia even before my touchdown in Sydney. To be frank, the other reason for carrying the book along was because for our long flight from Kuala Lumpur to Sydney we were flying with Air Asia and as most would be aware, budget airlines do not believe in entertaining their passengers. The flight took us over most part of the island continent, entering Australian airspace from its northwest corner and making its way to the east coast. Most of what I saw was red rocks, sand, and wilderness. I must admit that I was not expecting Australia to be this big, after all, it was only an island. So, I curled up in my window seat, made myself some white coffee, resorted to my travelogue and settled into the recurring views of the Australian outbacks. The sun rose for us in Malaysia and decided to set when we were somewhere in the middle of Australia and finally it was night by the time we landed in Sydney. As a welcoming gift, Sydney had decided to light up her proudest structures and our eyes feasted on the colorful Harbour Bridge and the Sydney Opera House, courtesy the annual festival of lights called Vivid. Talk about unexpected coincidences. We never planned to be part of these festivities, but here we were, being welcomed into this new country with all the pomp and show that they had to offer. After procuring a map of Sydney along with metro rail information, we sped our way to the King's Cross station to drop our luggage at our hostel and go check out the grand finale of Vivid.
Having had a chance to go to London the year before, the maps of Sydney confused me. The stations, parks, and streets had the same names as some of these in London. After 15 mins of disorientation, I concluded that the Brits got lazy naming places in Sydney, despite having traveled such a long way to colonize it. Or maybe it was nostalgia that made them do that, but let the names not fool you as Sydney's Hyde Park, Kings Cross station, Paddington borough and more, may sound London-ish, but these places are nothing like London, hell, the whole city was nothing like London. An interesting fact about Sydney is that it was colonized by the British in the 18th century to be used as a penal colony for prisoners. Since then, obviously, a lot has changed given that Sydney has bays that conducive for shipping ports resulting in it being key in quite a few shipping routes. However, it would be safe to assume or rather hope that the city has recovered from its criminal past and moved on unless criminal minds is a genetic condition.
Being an expensive continent, we decided to stay in a hostel to save quite a few bucks. While the hostel itself was located in a fairly hip locality and had comfortable beds, its most predominant feature was a 40-year-old dorm mate of ours who gave us the creeps. He seemed like a grown man, out of a job and living in his little corner in the hostel. While we did not know his story, what we knew was that he thought that it was perfectly okay to watch tv-series without his earphones, late into the night when people in the dorm were suffering from severe jet lag. Dropping our luggage at the hostel, we made our way to the Circular Quay to enjoy the fireworks and the closing ceremony of Vivid. Since we had a chance to get a glimpse of it from the sky, we were not expecting to be wooed but standing below the Harbour Bridge and taking in the enormity of it all, we were wooed alright. After the splendid displace of light and music, we roamed around the Circular Quay and The Rocks area for a while before we decided to turn in for the night.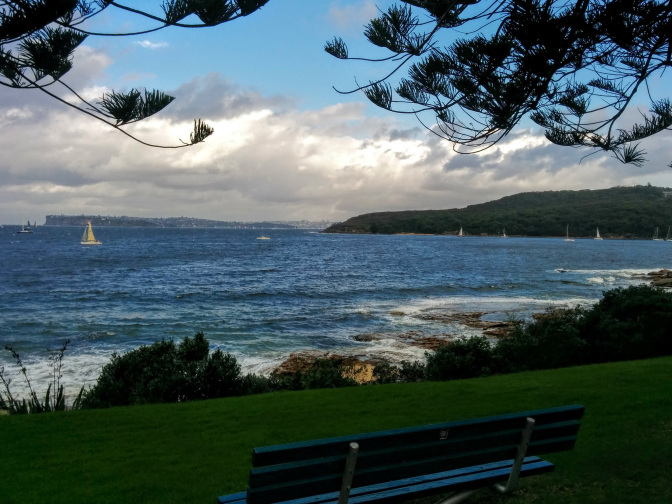 Walks, walks and lots of walks. Sydney was all about walks. Of course, Sydney is undoubtedly a vibrant city with cafes, pubs, clubs, skyscrapers, parks and some more. But then if that was all I wanted, I would not have traveled this far into the southern hemisphere. What I loved about Sydney was the crazy number of coastal trails it had to offer. With the South Pacific Ocean cutting into the city's heart, it gave Sydney the unique advantage of having an extended bay and as an extension an extended coastline with equal parts of cliffs and beaches. Being a huge fan of coastal walks, for day 1 in Sydney, we decided to do the 10 km trail from Spit Bridge to Manly beach. After taking a bus to Spit Bridge, we started our walk with a bay view filled with extremely expensive-looking yachts. The trail was well marked and before we knew it, we had started our journey to Manly beach. The walk was a good mix of sea views from a cliff, sea views from a beach, forest paths, backyards of fancy condos and paths that said: "Watch out! Penguins About!". While I enjoyed the walk, I must point out that my husband was not a fan of walking for 4 hours without food. To make matters worse, while we went through the patch of forest, Mr. Thor, being an Australian himself, decided to rain down on us and make his presence felt. What surprised us the most was the fact that despite the rain and the slight chill in the air, Australians did not let the weather pull them down. This would partly explain why they were all so strong, muscular and athletic, both men and women. I say partly because I want to blame their tall height and rock hard calves to genetics rather than hard work so that I do not have to be guilty of my barely 5 feet high body and jelly-like calves. After 4 hours of walking along the coast of the Pacific Ocean, we entered the town of Manly and proceeded to Manly beach. The beach was a surfer's paradise and the town was a quaint little beach town. The brick-laid main street, "The Corso" as the Aussies call it, led us to the beach and was dotted with ice cream vendors that were hard to resist. With salt in the air, chiseled to perfection surfers trying to ride the waves, and ice cream melting in my mouth, we walked around the beach for a while before taking the ferry back to the Circular Quay.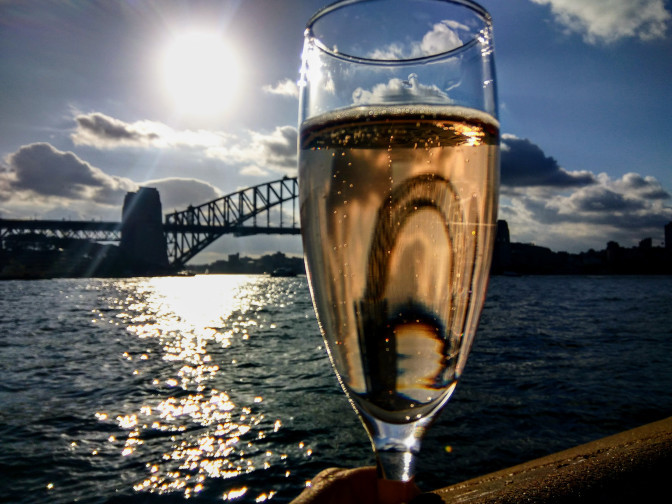 I must admit that the ferry back was a lot more fun that the walk, simply because of the rough oceans and waves crashing into the bow of the ferry where we were standing. Refreshed with all that seawater splashing on our faces, we off boarded the ferry and decided to walk around the Circular Quay yet again this time heading to the Opera House. Sydney Opera House, with its iconic design, was no doubt the best view from the quay. After checking for affordable shows at the opera house, we decided the most affordable thing to do was to enjoy the sunshine, a glass of pink Moscato and the view at their outdoor bar. After lounging around for a while and absolutely enjoying my Moscato (it was my first time with this wine and I fell in love, hard), we left the quay buzzed and ready to explore some more of the city. As far as vantage points go, the view of the Opera House was definitely the best from the top of the Harbour Bridge. After crossing over the Harbour Bridge, we decided we had earned our right to a heavy meal and decided to give our legs a break and boarded a metro and then took a light rail to Chinatown. My husband's research indicated that eating here would be the most affordable local experience and we entered Chinatown with high expectations and hungry growling stomachs. As we entered, we spotted a bakery called Emperor's Garden Bakery which had a long line of customers queuing up for something called the cream bun. After contemplating for a while, we decided to join the queue to find out what made the locals so crazy about these buns. After waiting for close to 45 mins, we finally managed to gets our hands on their freshly made cream buns and I must admit that it was slightly disappointing. Not sure if it was the anticipation and wait or if it was the bun itself, but I did not want to have more that one of them and we headed to the food court in Chinatown to have something savory before we headed back to the hostel.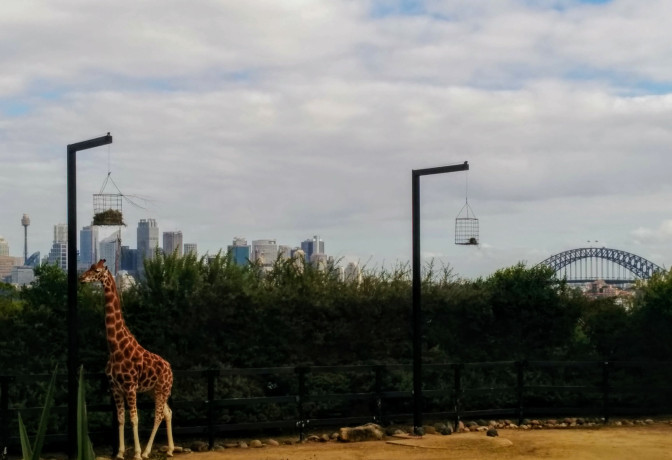 Jet lag is helpful when I fly to the west, but it the exact opposite of helpful when I fly to the east. After struggling to wake up at a decent time, our initial plan of going to a national park on the outskirts of Sydney had to be discarded. With time on our hands and my need to see Koala bears, we decided to go Taronga zoo after walking around the Central Business District of Sydney. Taronga zoo was a ferry and a cablecar away and is one of the most beautifully situated zoos in the world since even their animals have a view from their living quarters. With animals in their natural habitat, it was interesting to see animals that one would not see anywhere else in the world. I wondered why marsupials like Kangaroos and Koalas were not seen elsewhere in the world and I am still searching for that answer. After walking around the zoo, which was more like a large park with animals running around, we made our way back to the quay to enjoy a drink or two before we called it a night. Walking around a city aimlessly has its own charm and we enjoyed the chilly Sydney nights by hopping pubs and sipping on Moscato whenever we got the chance. We ended day 2 by having a long conversation with a fellow hostel mate as we sipped our drinks on the rooftop of our hostel, with a good view of Sydney's skyline.
Cities have an effect on me that in two days I feel like I am already a cog in their smooth running, well-oiled gears of the city. Being a city girl all my life, I feel all cities adopt me as their very own humble-shelter-seeking-refuge sooner than later. The nod of the around-the-corner-convenience store owner when I pick up my junk stash for the night, the confidence with which I board the trains without even glimpsing at the rail network map, the daily leisurely walk along the quay holding my husband's hand to enjoy the street artists and drinking what the locals drink and eating what the locals eat are just few of those things that make me feel comfortable at home in a city as large as Sydney. By this point, in my book, Bill Bryson was going on about how inconsequential the capital of Australia, Canberra, is and how people in the rest of the world often tends to forget the very existence of Australia. Three days in Sydney is barely enough to scratch the surface of what the city has to offer, but the corporate world offers limited vacation days and I owed it to myself to ensure that I utilize them well. Since we had a late afternoon flight to catch on our third day in Sydney, we woke up early to do the Bondi to Coogee beach walk. Our bus dropped us off at Bondi, where my husband wolfed down burgers from McDonald's to avoid the same fate as he faced on the Spit to Manly walk. Stomach filled, we embarked on our last walk in Sydney.
Well, I did harp on how amazing these coastal trails are and how they are all over the city, but what I haven't yet done justice to is their large public swimming pools that are located right on the beach, sometimes almost in the ocean and sometimes on the cliff that plummets into the ocean. So apart from their physique and height, the other thing I envy about the Aussies is definitely these their access to such scenic public swimming pools. These swimming pools are a constant in all of Sydney's coastal walks and the walk from Bondi to Coogee was no exception. We started the walk at the Bondi skating park and along with which the slight drizzle also decided to start. Unlike the Spit to Manly trail, this one hugged on to the coastline with little deviations. The walk took us through a cliffside cemetery, beachside pools, and beaches, and for the most parts of the walk, we were on the wooden boardwalk path that embraced the cliff hangers. After 2 hours of an easy walk through slight rain, chilly weather and brilliant views, we descended into Coogee beach just in time for our journey to the airport. These coastal walks and trails made it very difficult for me to bid farewell to Sydney, but with a heavy heart, I left behind the city of Sydney to travel into the tropical city of Cairns.
Swimming with Nemo in the Reefs
The first thing I felt when we stepped out of our flight in Cairns was the humidity. The weather in Cairns was nothing like the weather in Sydney. Since we went in June, the weather in Sydney was slightly chilly and gloomy that is reminiscent of London winters, but thankfully Cairns presented us with better weather which was a relief since we were planning to dive in the Great Barrier Reef. Having landed in the evening, we checked into our hostel and decided to explore the slightly sleepy town of Cairns. What became apparent as soon as we stepped into the hostel and then later into the city was that this city existed only as a gateway to the reefs and there were divers and diving gear all over the place and that salty smell in the air which is partly due to the seawater soaked clothes hanging around and the seafood aroma that was plaguing the place. I can not emphasize on how laid back the town of Cairns was. Continuing the outdoor pool concept from Sydney, Cairns town had a big free public pool right on the beach along with free to use outdoor electric grills. If I thought the beachside parks of Dubai with their coal grills were the perfect picnic spot, then this area in the center of Cairns town was definitely utopian. For some reason, we kept gravitating towards Chinese food for no fault of ours since all the cities that we visited in Australia had a strong East Asian influence. So after a Chinese seafood meal and some churros, we decided to call it a night since we had an early start.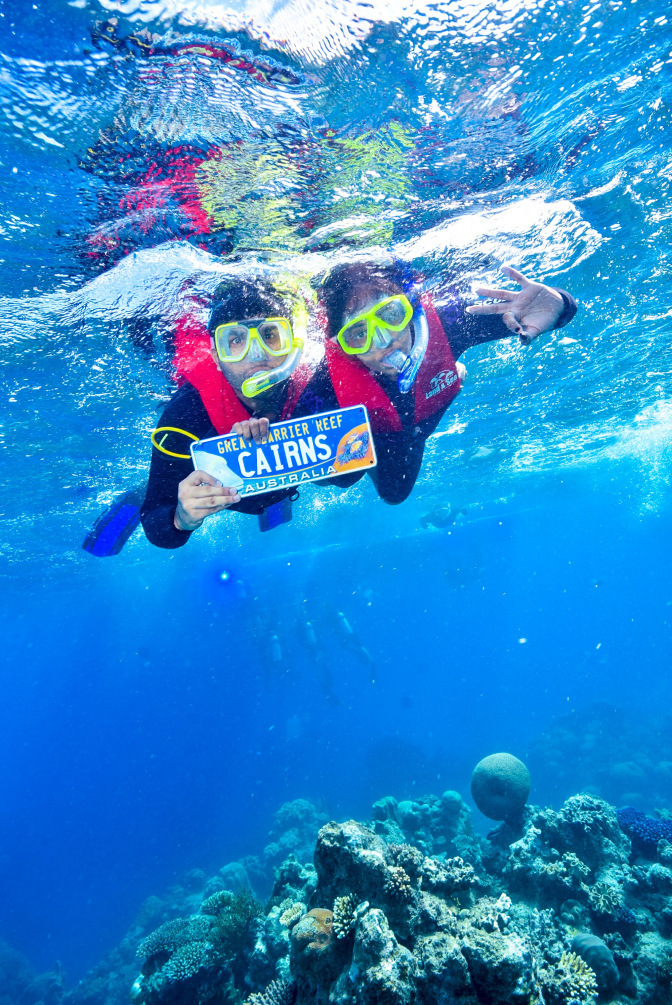 We had booked a full day dive and snorkeling trip with a tour company and we were picked up from our hostel as per the scheduled time. What we did not expect was the unscheduled rain that was almost going to ruin our day. After we boarded our craft, the captain of the ship informed us of a slight delay due to the rains and thankfully in a short while decided to brave the rough seas into the Great Barrier Reef. The Barrier Reef is one of nature's wonders and is so widespread and at a shallow depth that one can see these on the satellite images of the earth. We journeyed into the Pacific ocean for what felt like little more than two hours before we were told to get into our wet suits and prepare for a dive. It was not my first dive, but the fact that we were literally the only boat in the middle of nowhere with absolutely no sight of land anywhere, made me panicky. I guess it did not help that Bill Bryson was going on about a couple who went missing after being left behind in the barrier reef. Others around us jumped into the ocean like they didn't have a care in the world but when it came to my chance I hesitated. The scuba diving gear was weighing heavily on me and they were just beginning to make us go through the safety drills before plunging into the depths of the pacific. As I stepped on the steel ladder that was supposed to take me into the depths of the ocean, I felt the weight of the entire ocean on me and I freaked out. The water was weighing down on me so hard that I found it difficult to even breath through the scuba gear. After 15 mins of trying to pick up the safety drill, I decided I would rather not dive under such duress. So I sat back up on the edge of the raft, watching my husband disappear into the blue waters of nothingness. Seeing me sit there with a gloomy face, a very hot man from the tour agency suggested that I try snorkeling. Still unsure about jumping into the middle of nowhere, but not having the heart to say no to the hot Aussie, I exchanged my scuba gear for snorkeling gear and jumped blind into the Pacific. The hot Aussie male was replaced with a hot Aussie female who then took me and another noobie around to the "must-see" coral reefs. Global warming and climate change had left most of the corals dead, but the one or two alive ones in the middle of vast expanses of coral carcasses encouraged me to keep swimming and exploring.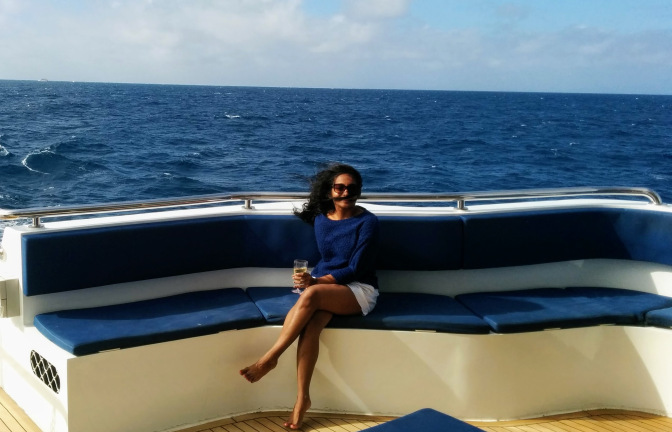 It was my first time snorkeling and I did not expect to love it the way I did. It was an easy swim along the surface and I was very comfortable in the snorkeling gear. The seabed was clearly visible and so were the hundreds of fishes of all sizes, shapes, and colors swimming and playing hide and seek around the corals. It was the first time I had encountered a clownfish, famously known as Nemo, and probably the first time I had seen many other fishes whose name I would never find out. The fear of being left behind still continue and since I was on my own, without even my husband around, the fear was only increasing as I wandered farther away from our craft. I joined up with a group of fellow snorkelers to avoid getting lost but when I started snorkeling and exploring the corals on my own, I swam with the fishes rather than my group and often found myself alone, away from the crowd. After our first dive spot, we got back on the boat for a quick light lunch and headed to our second dive spot. This one was slightly scarier than the previous one since we could not see the corals from the surface. This meant that the seafloor was further down, but this did not stop me from jumping into the ocean. I got quite comfortable snorkeling and was confident enough to be on my own that this time I was the guide to my husband as I took him around to explore the corals and colorful sea life. The rain clouds had cleared up even before our first dive site and we got the chance to stay in water for over four hours before the tour company started hauling everyone back to journey back into Cairns. Sun-kissed, Nemo-kissed and Ocean-kissed, we got back onto our craft with a heavy heart and heavier wet suits. With free-flowing wine going around in the boat, we quickly changed into our dry wear to enjoy the setting sun on the deck. Sipping wine, we waved goodbye to the reefs.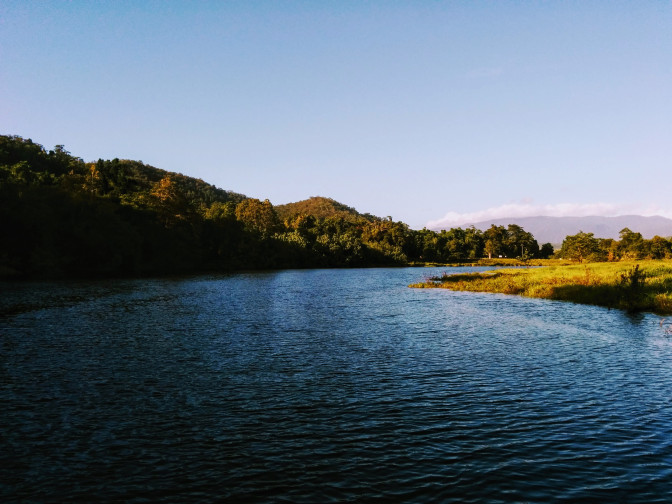 After spending over four days in the coastal towns of Australia, it was time for a change in the scenery before we headed to Melbourne which was also a coastal town. Still along the northeast coast of Australia, but slightly off the coast was the Daintree rainforest and we decided to spend a day in the rainforest before heading south. With multiple day tours from Port Douglas, which is an hour away from Cairns, we stayed the night at Douglas to visit the Daintree rainforest. Our first stop on the tour was a river cruise on the Daintree river to check out their saltwater crocodiles. Saltwater crocodiles are supposed to be much larger than their freshwater counterpart, but to my husband's great dismay, the saltwater crocodiles we wanted to check out turned out to be allusive in nature. While we did get a good look at a couple of them, we were not able to stay longer to watch them go on about their day-to-day business. After spending over two hours on the river, we had a brunch of freshly baked scones served with soft butter and a thick hot chocolate, in a pretty little restaurant in the middle of the rainforest. Tummies satisfied, we jumped onto our minivan to our next stop, Cassowary waterfalls. After getting to a point in the minivan, we boarded a 4X4 for our off-road drive to the waterfalls. Being a rainforest and all, the rains had created a ruckus the previous night and trees were blocking the dirt track that we were to take to the falls. We would have had to turn back, but Aussies being Aussies and the family with us being Aussies, decided that they would trek to the waterfalls and back. After a short impromptu hike later, we found ourselves at the base of the waterfalls. I wanted to jump right in but the cold waters got me thinking otherwise. I entered waist-deep into the pool that formed at the base of the waterfall before I decided that the chills were not worth it. We spend the rest of the time there feeding the fishes before we trekked back to our vehicle. After getting back to Port Douglas, we still had time on our hands, so we walked around, enjoying the quaint little beach town, lying around in the park next to the beach till our time was up in the North coast of Australia.
Leading the city life in Melbourne
Melbourne! Where to start and where to end. The gist of the story is that I absolutely loved Melbourne. If I am told to shift to Melbourne tomorrow, I would pack my bags and leave on the next available flight. Though it was winter there, the weather in Melbourne was not as gloomy as Sydney and as a result, I got to spend three glorious days in Melbourne, filled with sunshine, laughter, and aimless wandering around.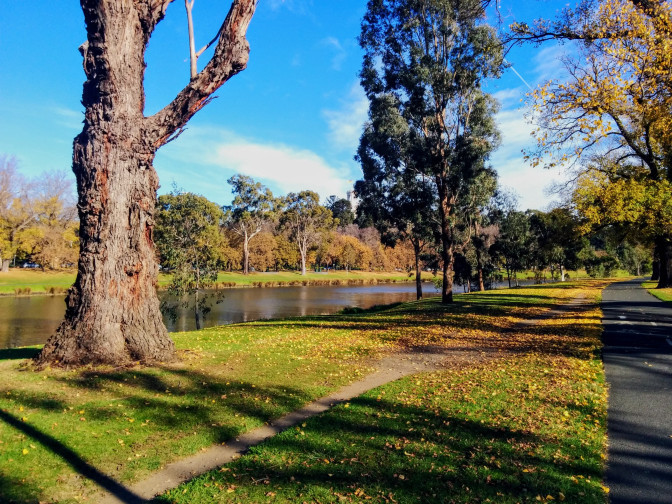 Our first day in Melbourne was a bit tricky since my husband wanted to go sky diving while I wanted to explore the city on foot. Since he was supposed to go early and come back before lunch, we decided to fix a rendezvous point for lunch before we headed out our separate ways. Despite Melbourne being a coastal town, the most dominant feature of Melbourne was the Yarra river that fed into the Port Philip Bay. The river ran like an indispensable artery through the heart of Melbourne and a lot of the city life is centered around the river. After walking around the commercial north bank of Melbourne, I crossed over to the south bank at the Kings Street bridge and walked along the river for a good 4 km. The walk was not without pleasing sights and sounds. At first, the walk was on a very bustling promenade with happening cafes, pubs, and clubs which were a part of some new-age buildings that were built on the edge of the river. As I kept walking, I crossed the Queen's bridge and the Princess' bridge and reached the Melbourne Boat Club. Not sure if it was the rowers with their punts in Yarra, but this side of Melbourne reminded me of the university town of Cambridge. The change in scenery after the boat club was sudden and the path took me through the Royal Botanical gardens, still along on the side of Yarra. After spending little over an hour trailing the Yarra river and with changes in landscape from skyscrapers to gardens, I crossed over back to the north bank to meet up with my husband. We were planned to meet in front of Princess Theater but when I got there in time for our rendezvous, I was not able to place him. Desperate, I walked around for free wifi before I landed up in an McDs to catch a signal. He had dropped a message saying he would be delayed by an hour and so with an hour more to kill I headed out to explore the surrounding neighborhood. Melbourne has no dearth of colonial buildings and parks and I spend the rest of my hour wandering around the Fitzroy Gardens, Treasury Gardens, and Spring Street. Thankfully the next time I went to our rendezvous spot, he was waiting for me with a not so happy face since his sky diving had got canceled due to the winds.
To cheer him up, we decided that our next stop would be Melbourne Cricket Ground or what is famously called MCG. Being an Indian, I guess I ought to be passionate about cricket the same way most Indians are, but truth to be told, I am not a big fan of the game. I knew just about the basics of the game and I had gone to one too many of these matches too. But stepping into MCG had a different feel to it altogether. The air there reeked of old school gentlemen only clubs where men had to adhere to strict dress codes and where they spend their time sipping bourbon and smoking cigars. Since we were clueless about the place, we joined a tour of the facility which was led by a 70-year-old man himself who was a member of the Melbourne Cricket Club. He claimed that he had to wait 20 years before he got himself a membership at the club and now he enjoyed spending his free time recounting stories of some great moments in cricket history that the MCG got to witness, for the benefit of visitors like us. After spending over two hours there, we headed into the heart of the north bank to look for food. We found ourselves, yet again, in Chinatown, waiting in line to enter a ramen shop for dinner. Given that ramen is usually made in beef broth, I spend that time staring at my husband eat. Since only he had his stomach full, we then decided to walk around for something that even I could eat when we chanced upon a small shop serving Pho that was bustling with customers. Thankful for having found a cheap yet edible option for myself, I wolved down a bowl of pho before we continued prancing around the city, late into the night.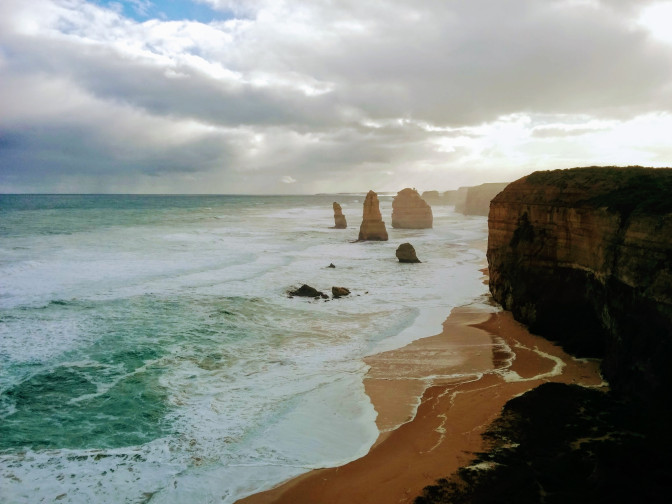 I guess the image is a dead giveaway to what we did on our second day in Melbourne. For those who can drive internationally, I guess renting a car and driving around is the best way to explore the famous Great Ocean Road. The Great Ocean Road is an Australian National Heritage listed 243-kilometer stretch of road along the south-eastern coast which has incredible cliff views of the extremely rough oceans. What is interesting was that the road was built to provide jobs for the servicemen returning from WWI and it turned out to be one of the most scenic routes in the world. Since we were not driving, we signed up for a tour and strategically placed ourselves on the side which would have the cliffside views. While the ultimate destination was the Twelve Apostles, we were to go up to the Loch Ard Gorge before we turned back and took an inland route back to Melbourne. Since this was a long drive, we had two pit stops along the way. The first one was interesting as it was another chance to interact with the Koalas in the open. Unfortunately, Koalas are not the smartest of animals and they tend to eat poisonous and low nutrient eucalyptus leaves and then has to sleep for 20 plus hours in a day to ensure that they conserve energy. So, long story short, Koalas tend to be in hibernation across all seasons. After spending some time with sleeping Koalas, we proceeded to the Twelve Apostles. No number of photos can prepare you for what you would you end up seeing and feeling at the sight of the Twelve Apostles. While these are obviously the most famous rock formations around the coast, the rough clashing waves have also sculptured many such rock formations along the entire coast including the Loch Ard Gorge. This coast was also nicknamed the 'Shipwreck Coast', due to the hundreds of ships that have crashed into the rocks and thousands of lives that the coast has taken within it. After over four hours on the Great Ocean Road, we turned around to head back into Melbourne. To break the monotony of the journey through the forests, we had a quick one hour walk through the rainforests that were found on our route back to Melbourne. The rainforest had a wooden walking path that made it easier to navigate. As we walked along the path, our guide pointed out to trees that were over 300 years old. Some of these trees had roots forming caves that looked like a cozy home for rainforest dwelling animals. After stretching our legs and breathing in the fresh forest air rather than the sea air, we were refreshed as we journeyed back into Melbourne.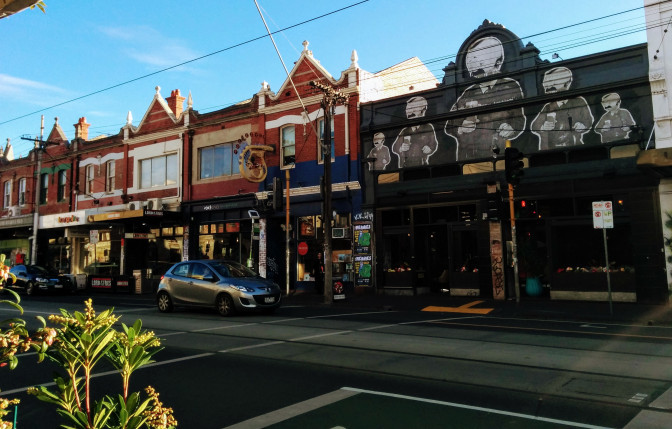 Our third and last day in Melbourne was a confusing day. There were too many boroughs to cover and too little time. If you got the impression that Melbourne was just about Yarra river and a bustling commercial hub, then I owe it to myself and my readers to prove you wrong. Among the multiple facets of Melbourne, the one that I loved the most was its colorful bohemian side. Up first was Kilda beach, with its beachside markets and Luna amusement park, Kilda has a beachy yet hippie vibe to it. Since it was a Sunday, they had beachside shacks serving alcohol and food and the locals were out on the beach with their dogs and cats. After walking around Kilda for a while, we got a chance to ride the old-school tram around the area. Further ahead from Kilda was Brighton beach, known for its colorful bathing boxes. Due to paucity of time, we decided to skip Brighton and spend more time in Kilda and walking into the pier we were pleasantly surprised by the Penguins running in and out of the rocks that were meant to break the crashing waves. After walking around with the Penguins, we found our way back into the city and decided to explore the eclectic Fitzroy district of Melbourne. Known for its bohemian bars, colorful street graffiti, and boutique shops, this was definitely the highlight of my time in Melbourne.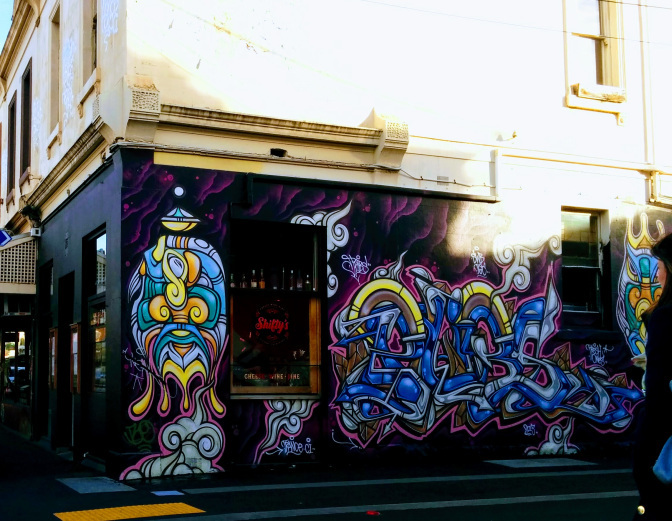 Every street corner had such vibrant street art that it was hard to not stop and click photos at every possible location. Given that we had only half a day left in Australia, we decided to celebrate the end of our vacation with drinks from unique bars around this area. We started off with mulled wine at a cafe which had its walls covered in graffiti and we sat there at a table, staring at the crowd walking past the cafe. As we made our way to the next bar, I chanced upon an old book store which was calling out to me. After sifting through hordes of old and used books, I picked up a travelogue titled "Australian Adventures", written by a woman, who traveled through Australia in the early 20th century with her daughter. While the book was a rather slow one, it was interesting to see how Bill Bryson's view of Australia differed from Constance Helmericks' view of the same continent, just by virtue of the years that separated them. After enjoying the hot wine on a chilly late afternoon, we had a sumptuous meal at a famous Thai restaurant. Given that the whole trip was on a budget, this was the first time we splurged on food and it was so totally worth it. After a very early dinner, we walked around some more in the area and had a couple of more drinks at bars that looked unique. Some very gothic, some very Mexican and some very plain old weird, but by the end of the night, we were two very happy people, enjoying our last couple of hours in Melbourne before we had to board our long flight back to Delhi.