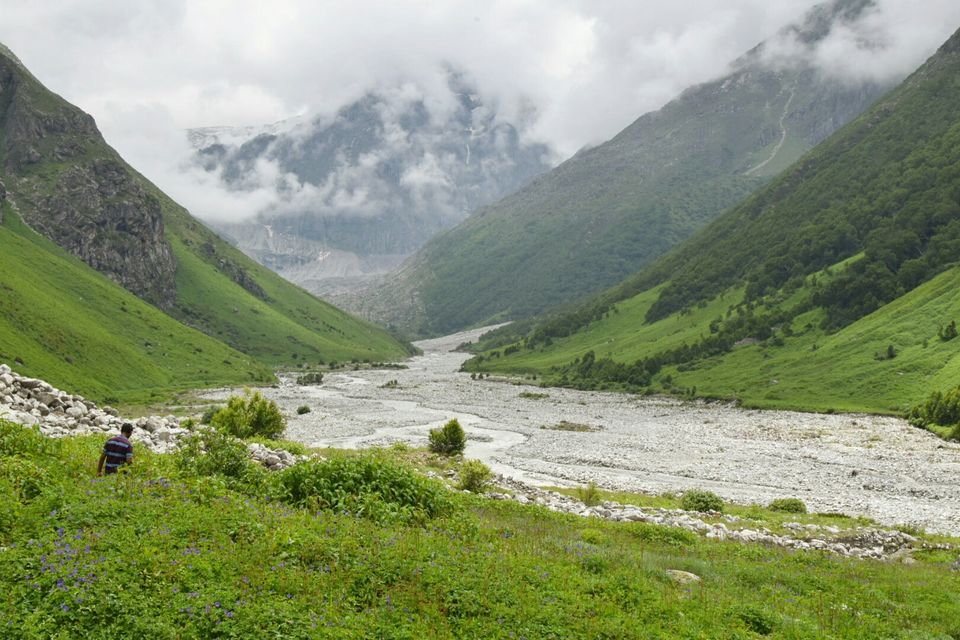 Valley of flowers was in my mind since a long time but as we say there is always a right time to do everything. The time had come, we planned it and made it happen.
A dream journey to heaven, the god's own place. We never planned much about the journey just thought of some extra days to be there if in case and booked our tickets to Rishikesh from Delhi.
We started our journey to Rishikesh in UP roadways bus we booked the tickets in advance which was around Rs. 350 per person for AC bus after having discount from red bus.
We were so excited about the journey that most of all we all friends met after a long time of around 6 months, that was really gonna be problem for the co passengers traveling in the bus.
After 4 kms finally we entered into the valley, it was like, heaven under our foot and also over our heads. Beautiful valley of flowers, flowers of different colours were there all around us.
As we were very early we enjoyed our time at god's own place.
We went till the end of the valley to see that snow covered glacier, but as we reached we just looked at it and clouds covered it. We just captured that into our eyes and unfortunately bad luck for our cameras.
All they could see was
We were happy and enjoying our day in valley, we too rest for sometime and came back to Ghangaria.
We were very tired after trekking of around 20 Kms, we had dinner and discussed about our next day's plan to Hemkund sahib.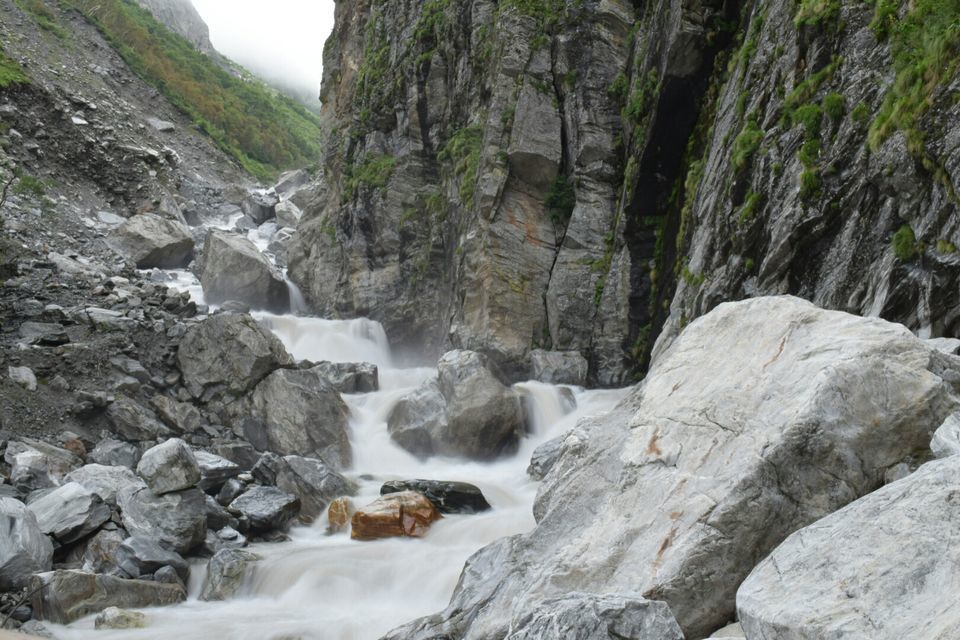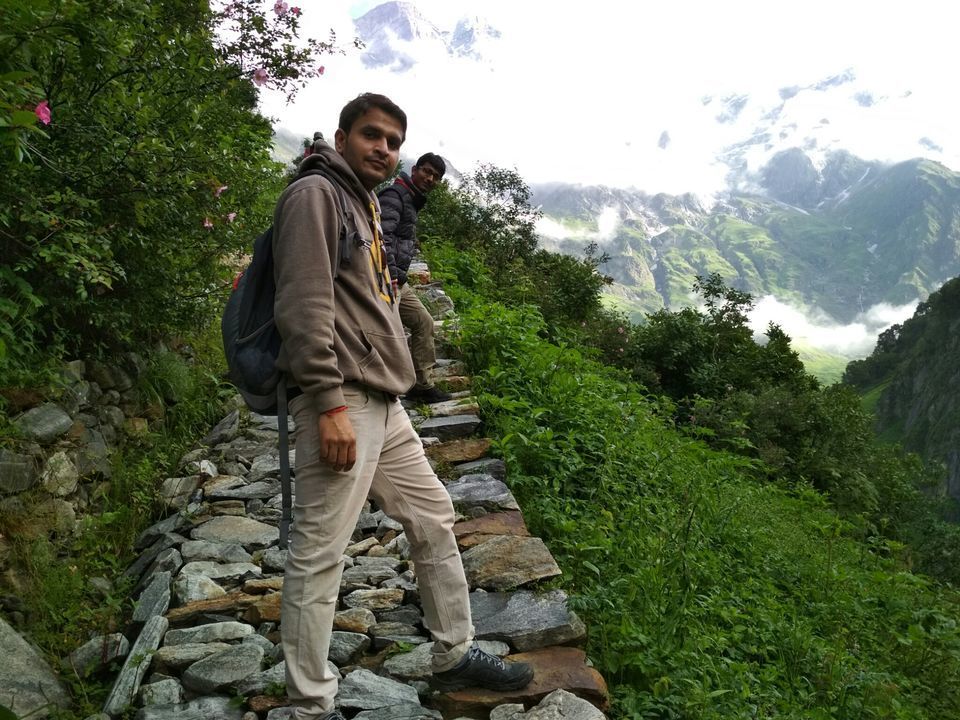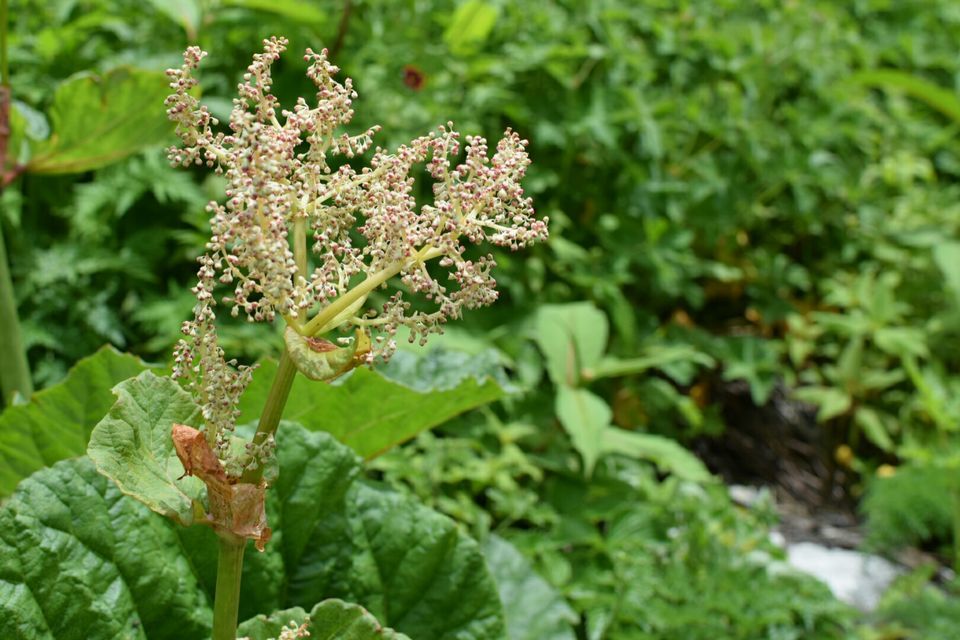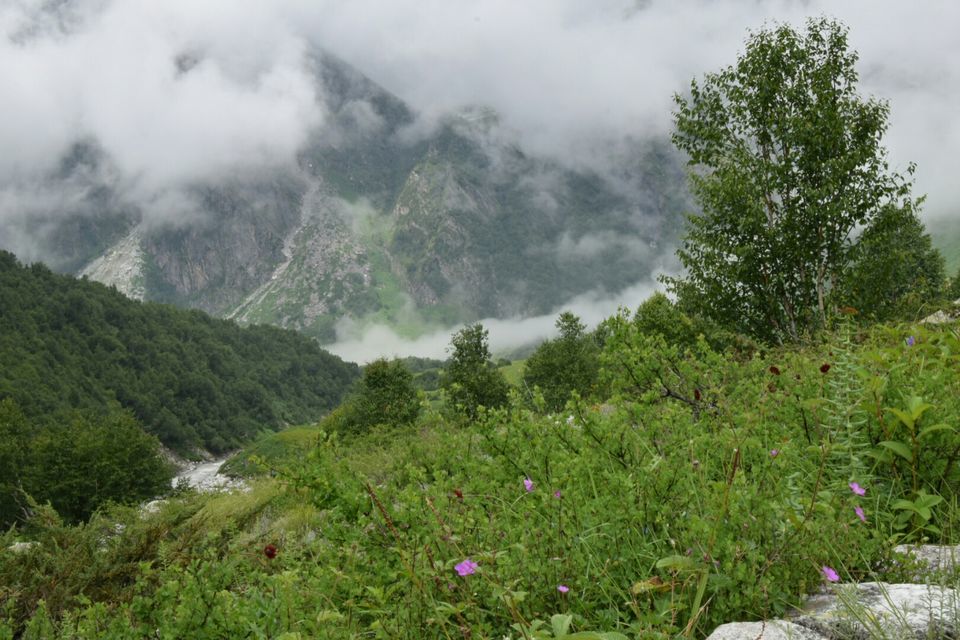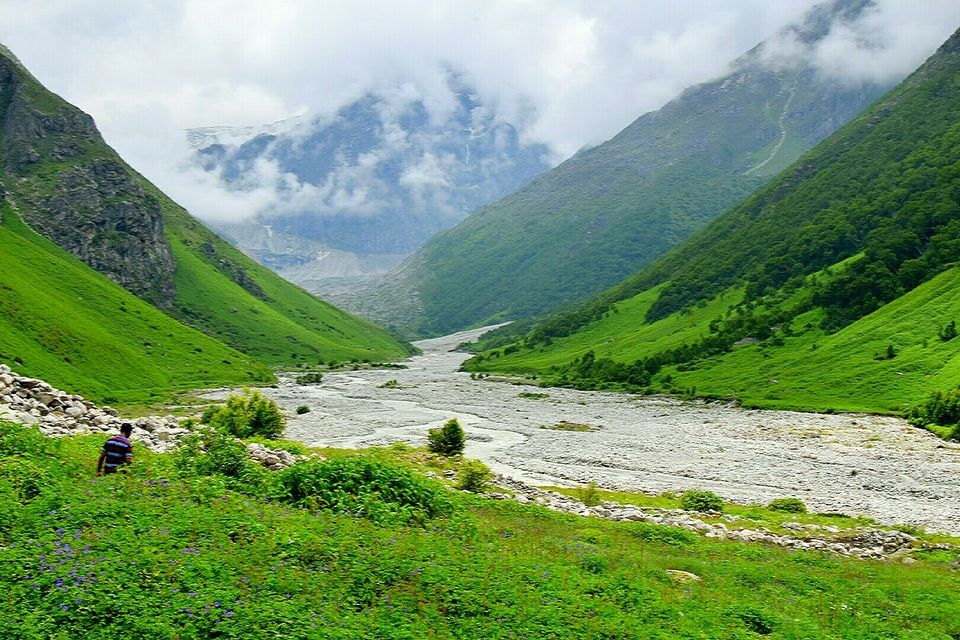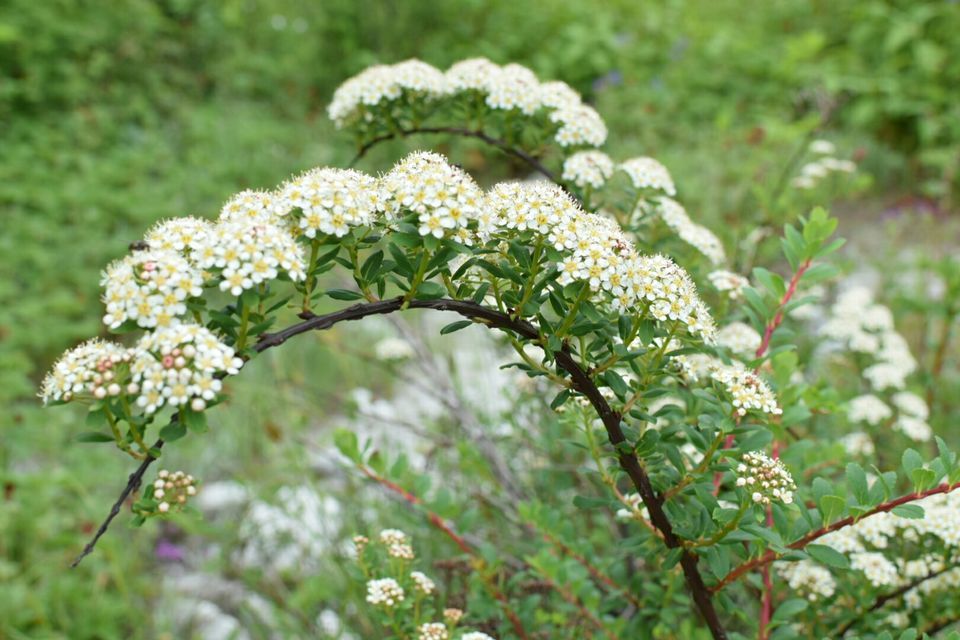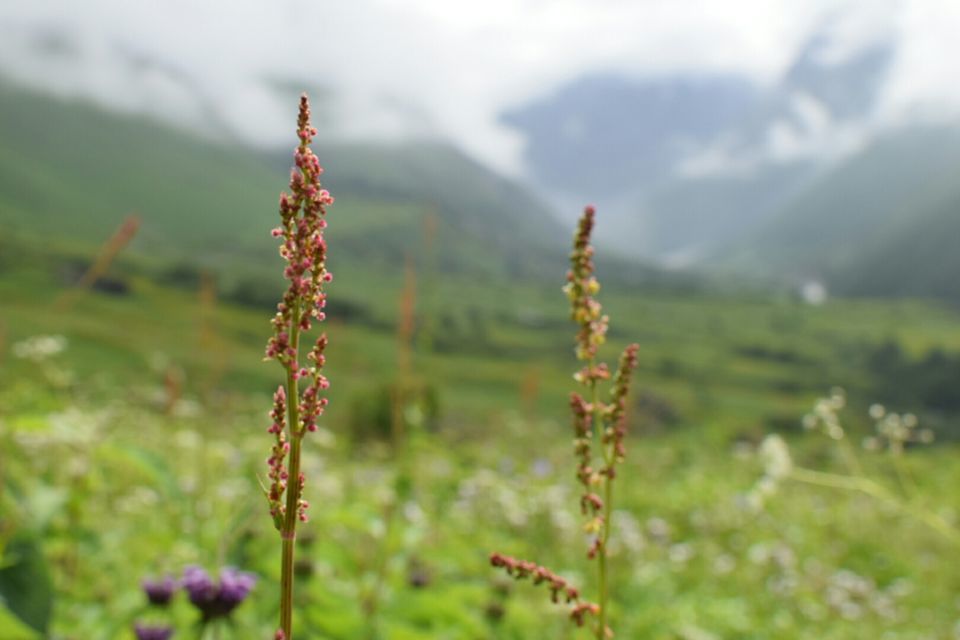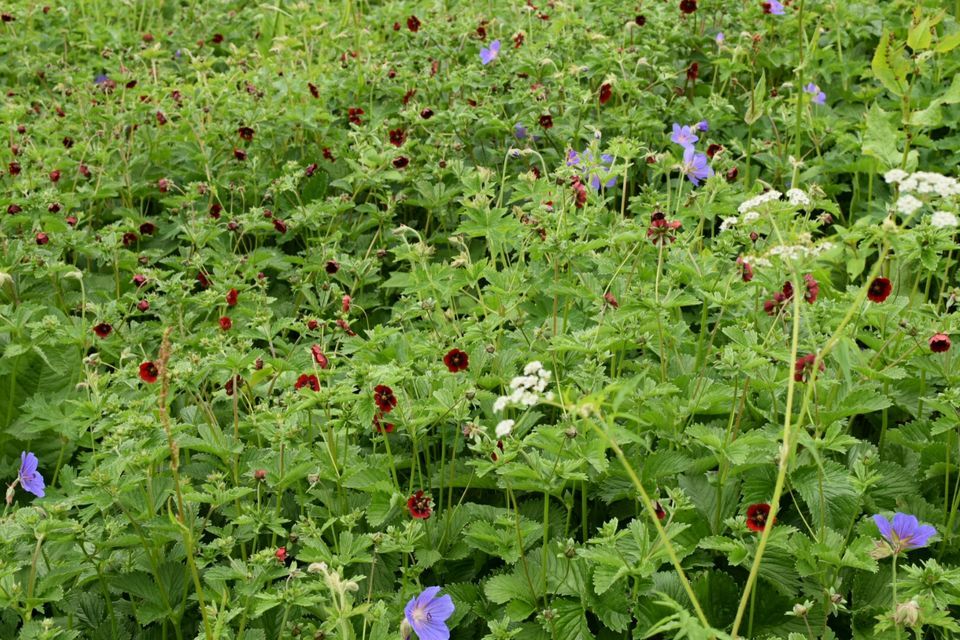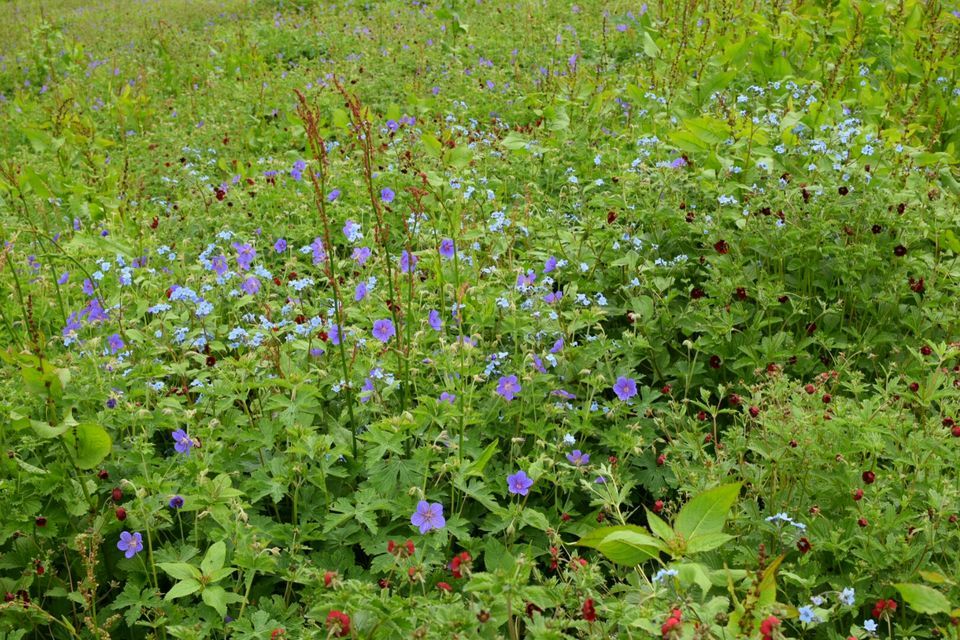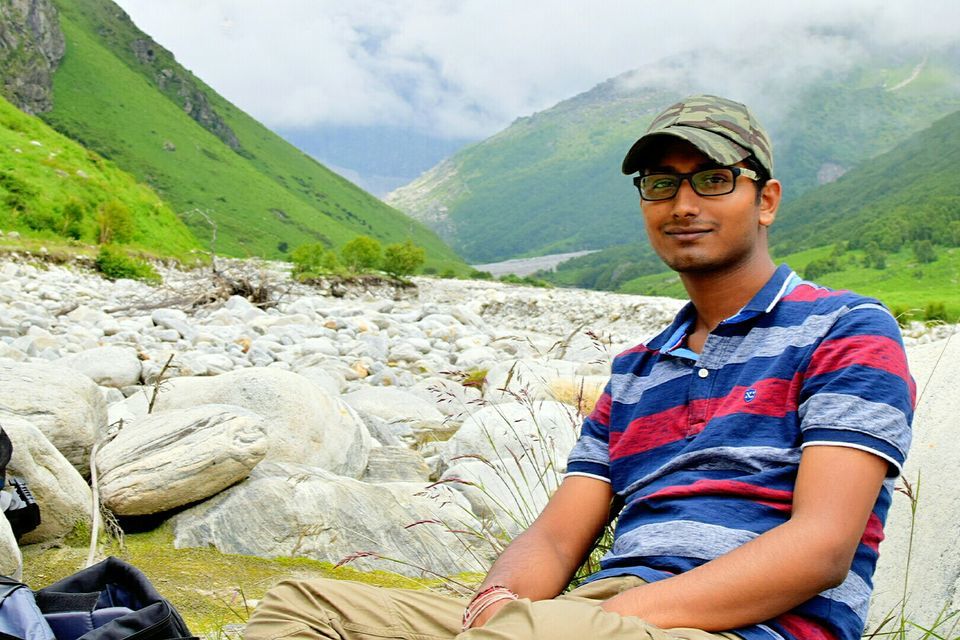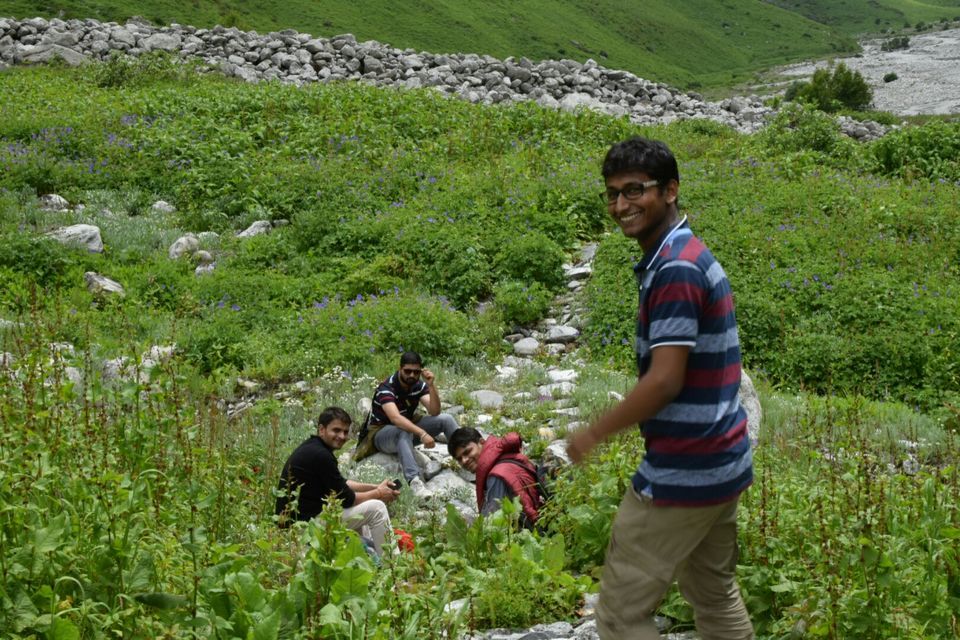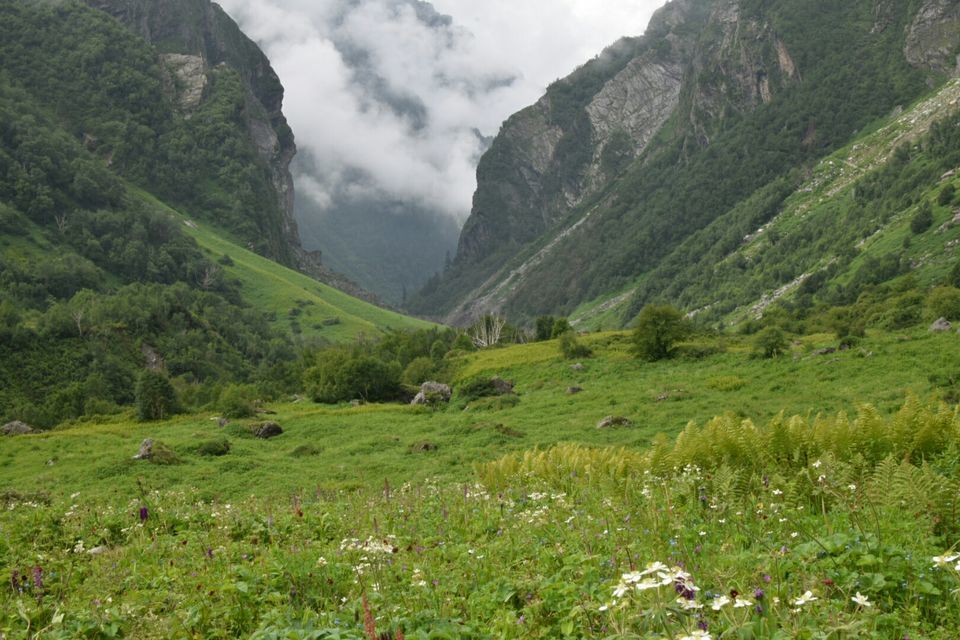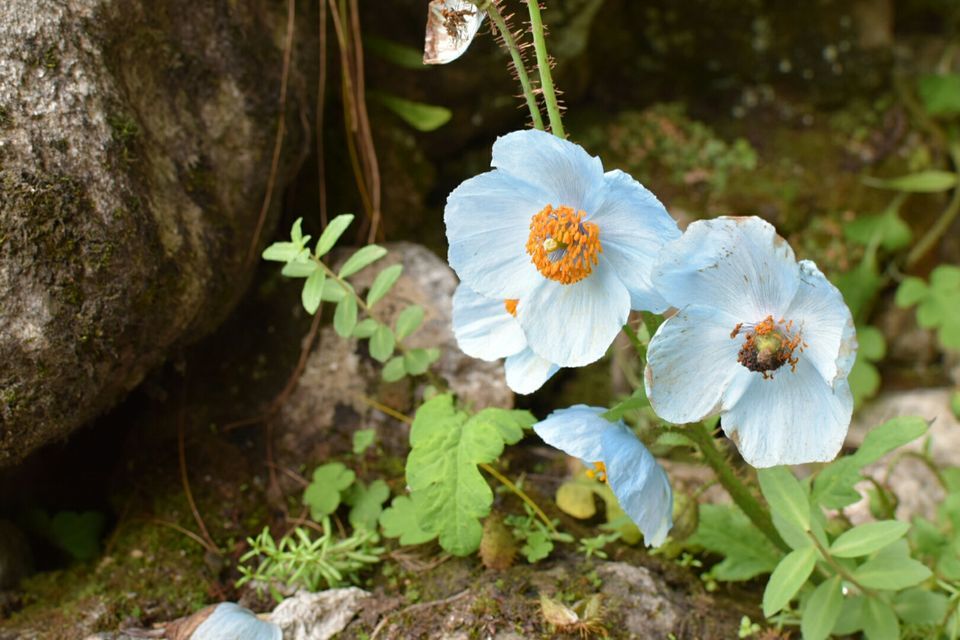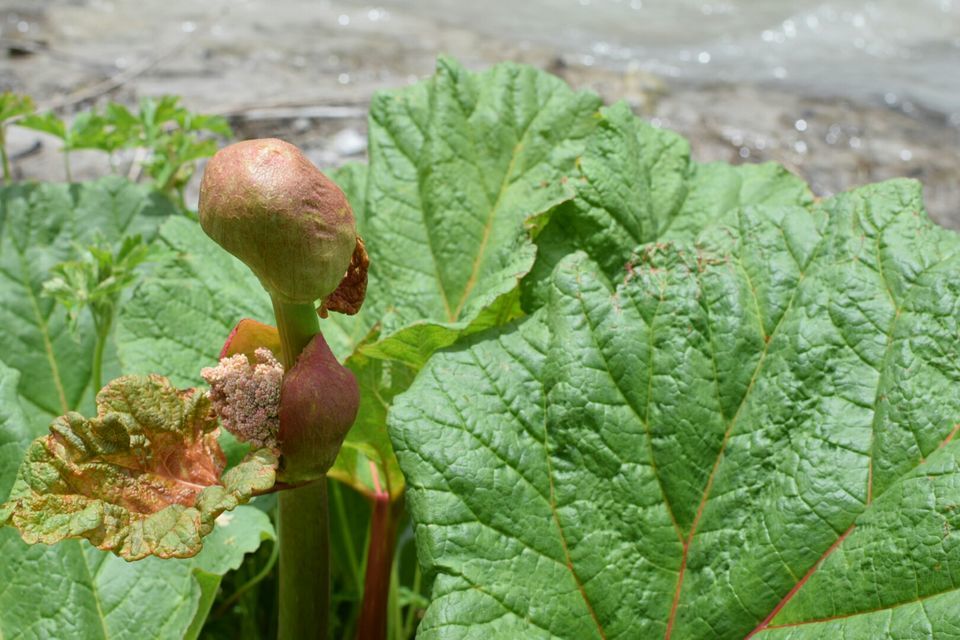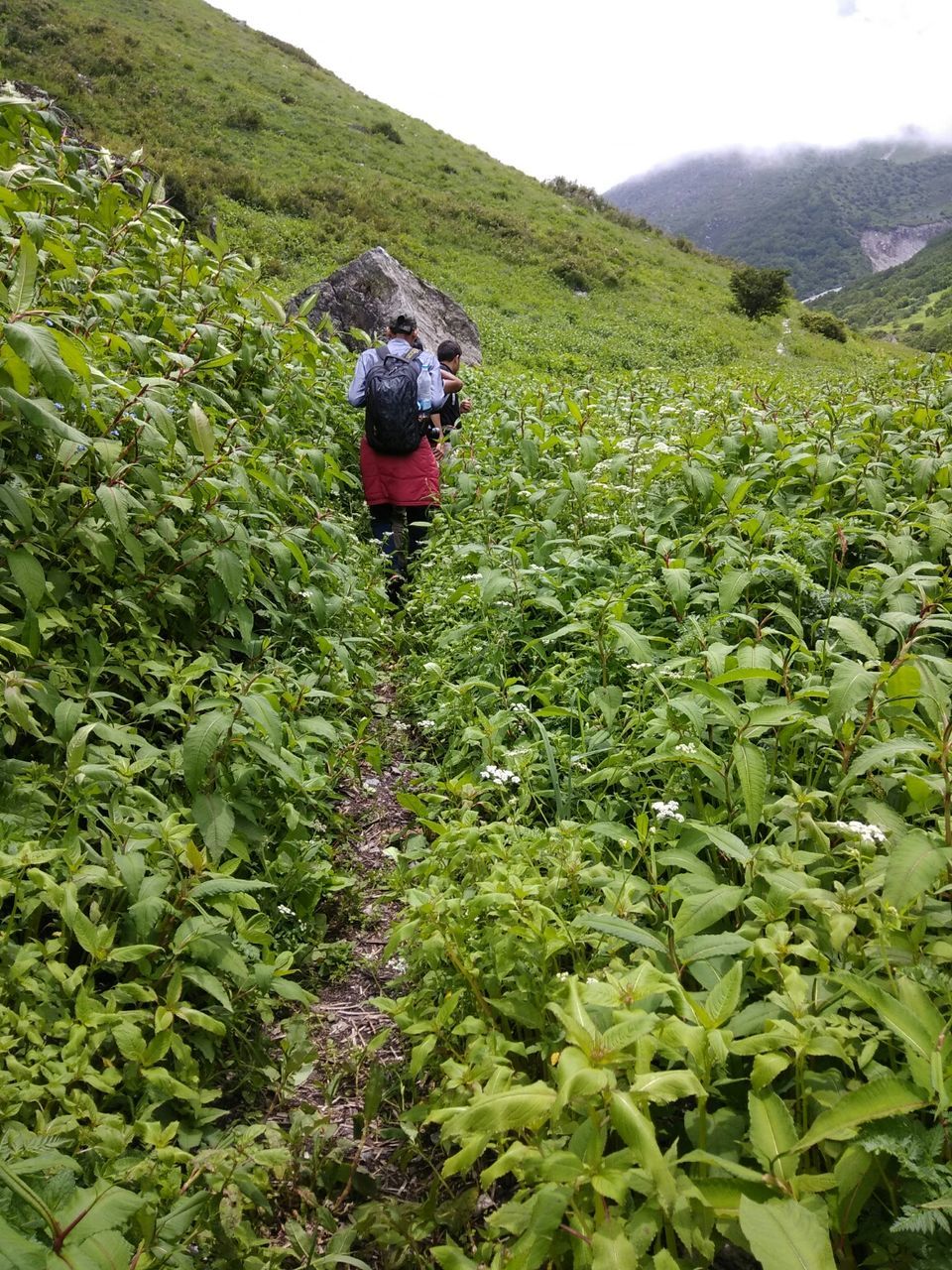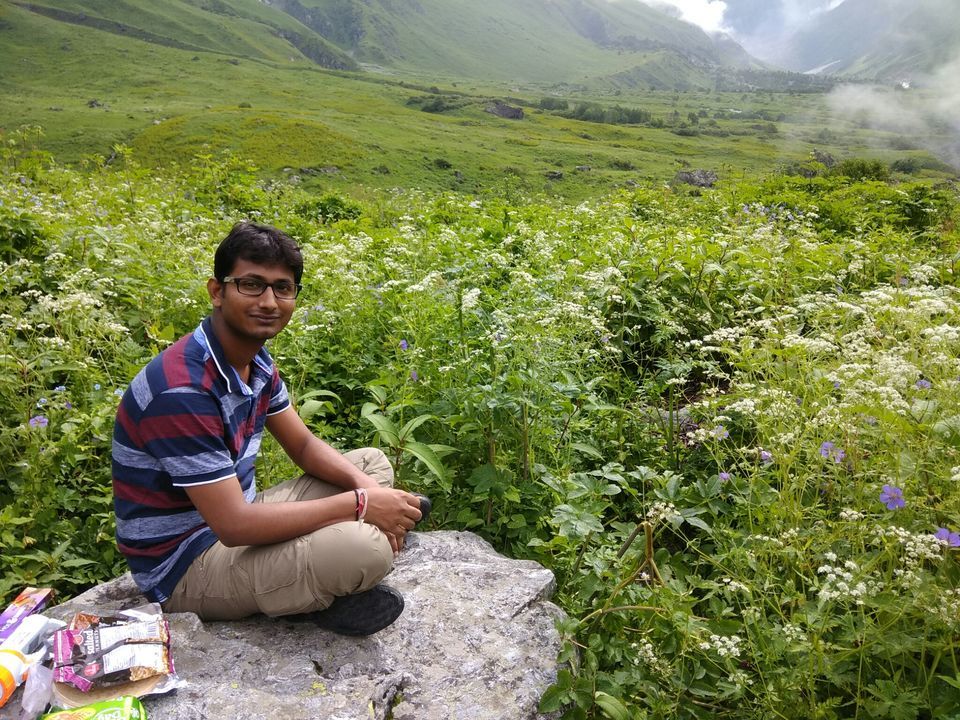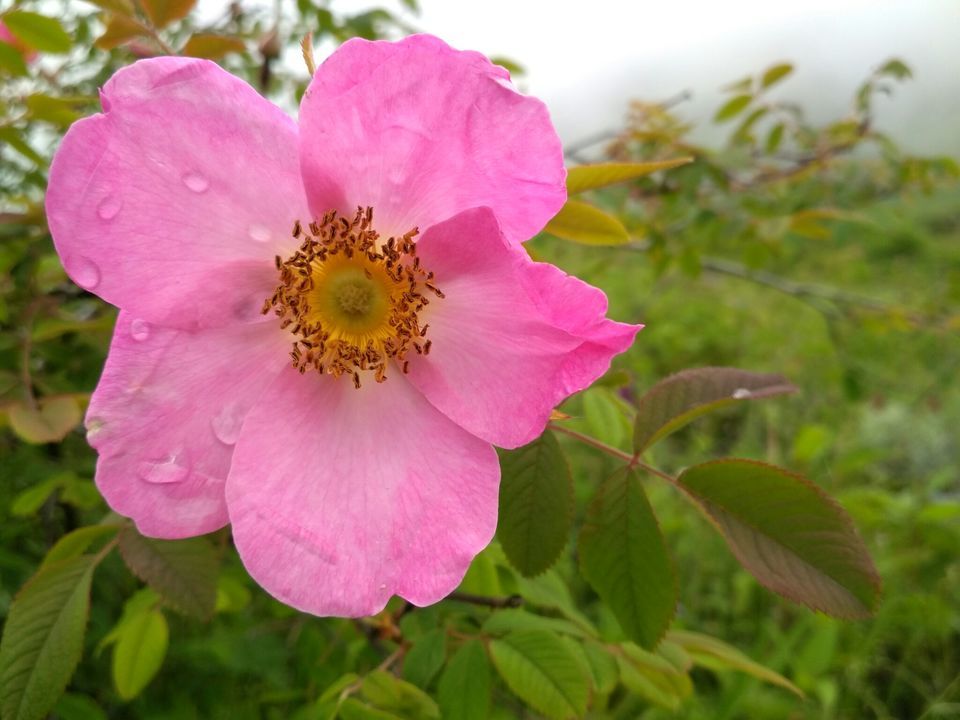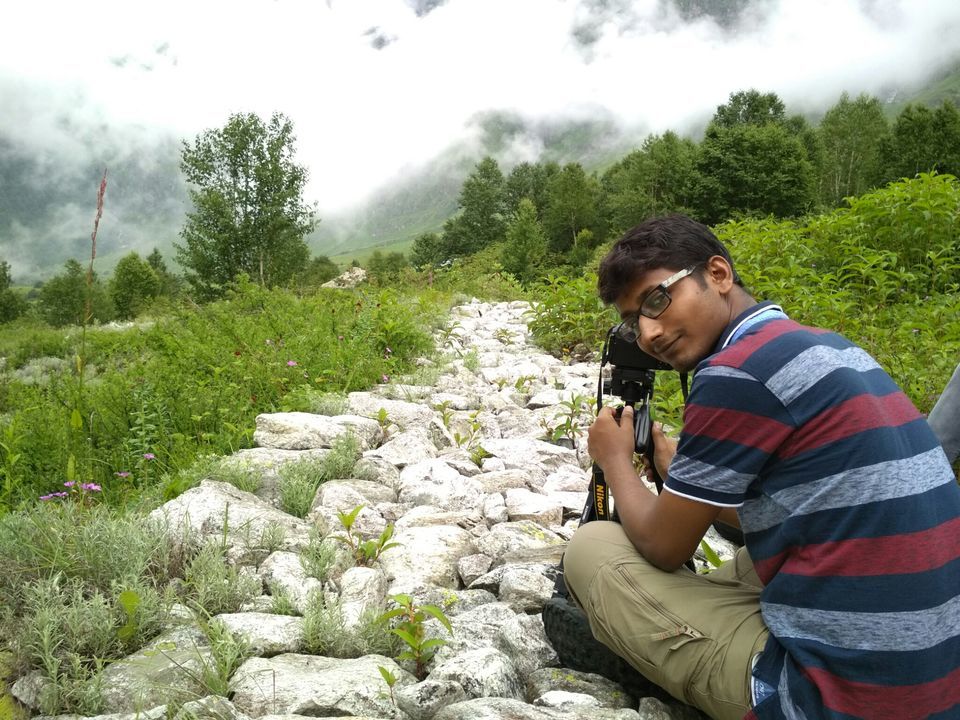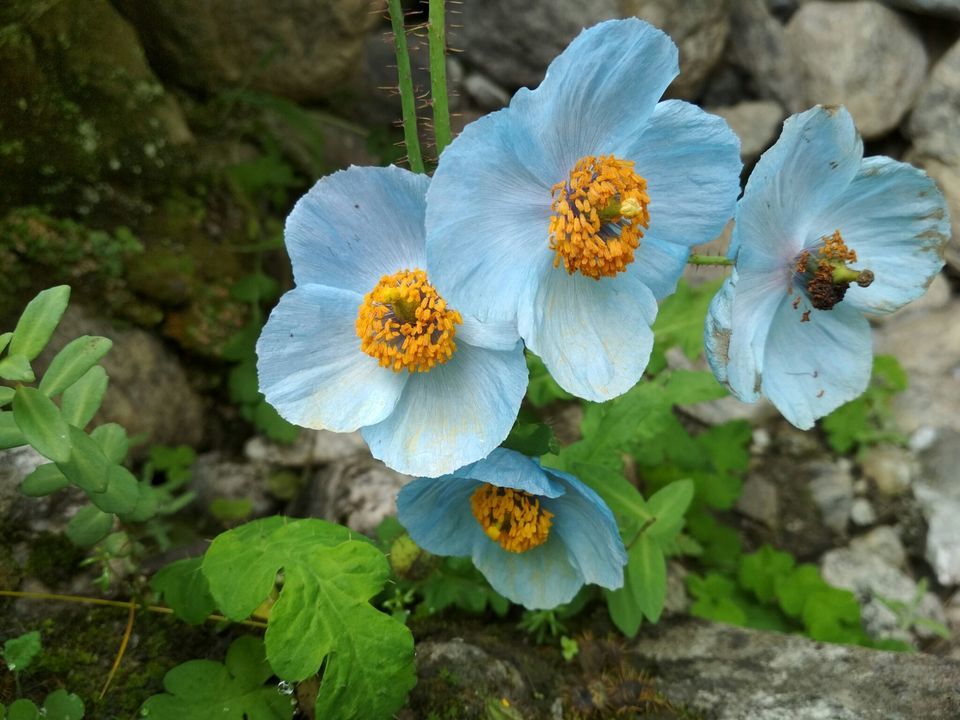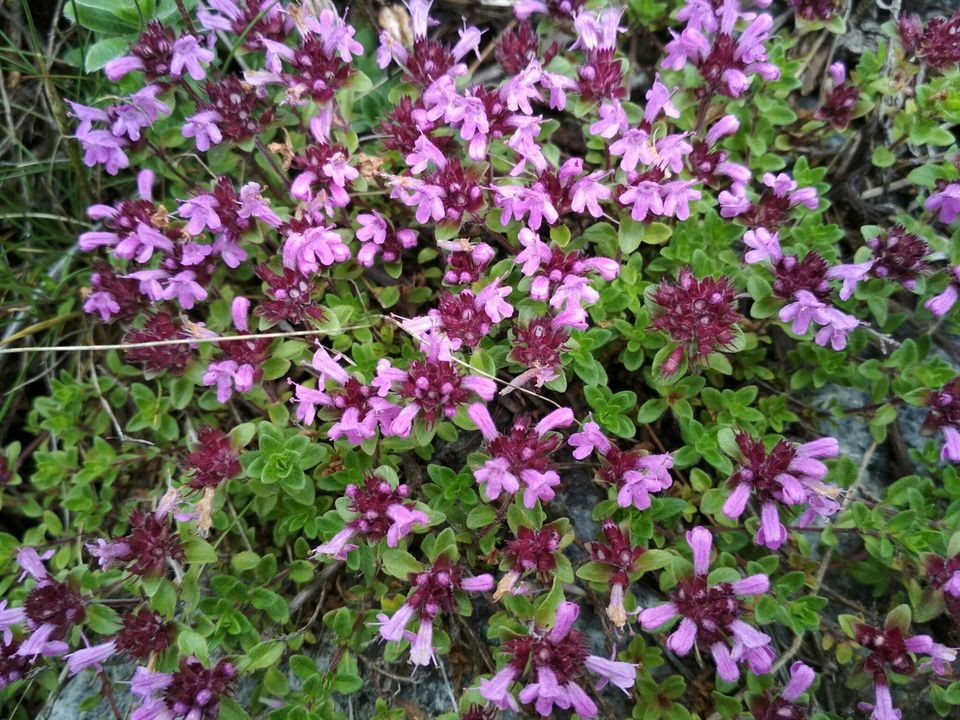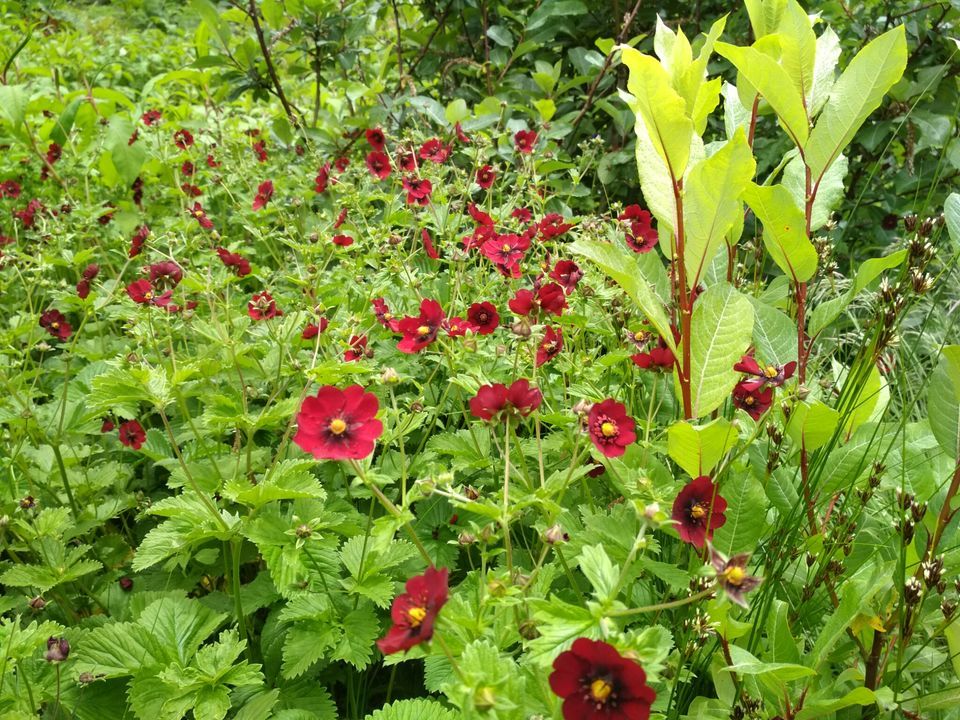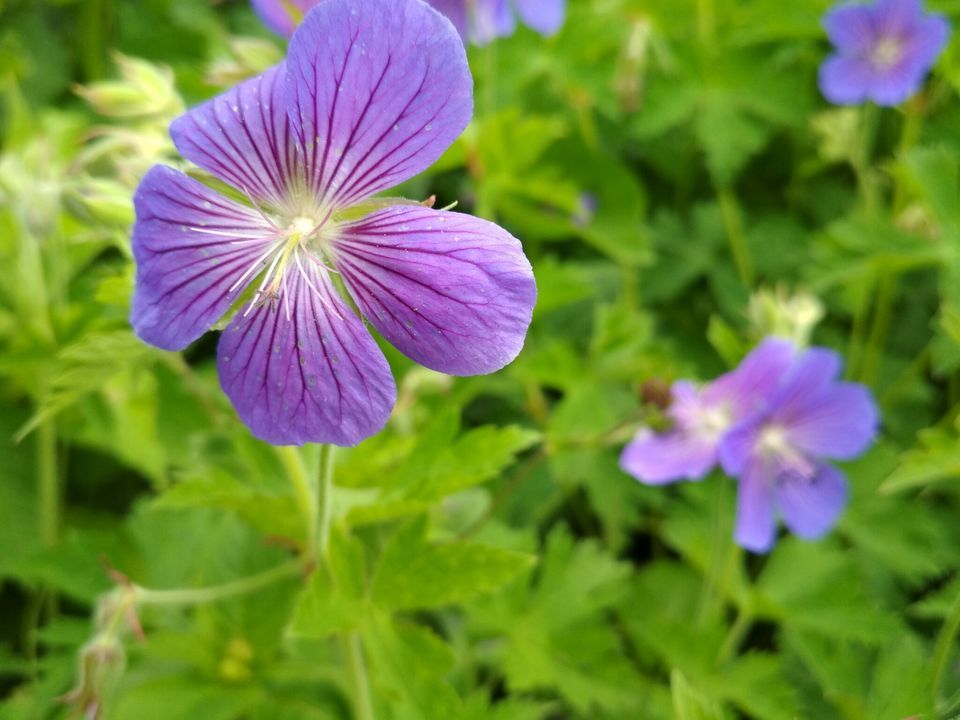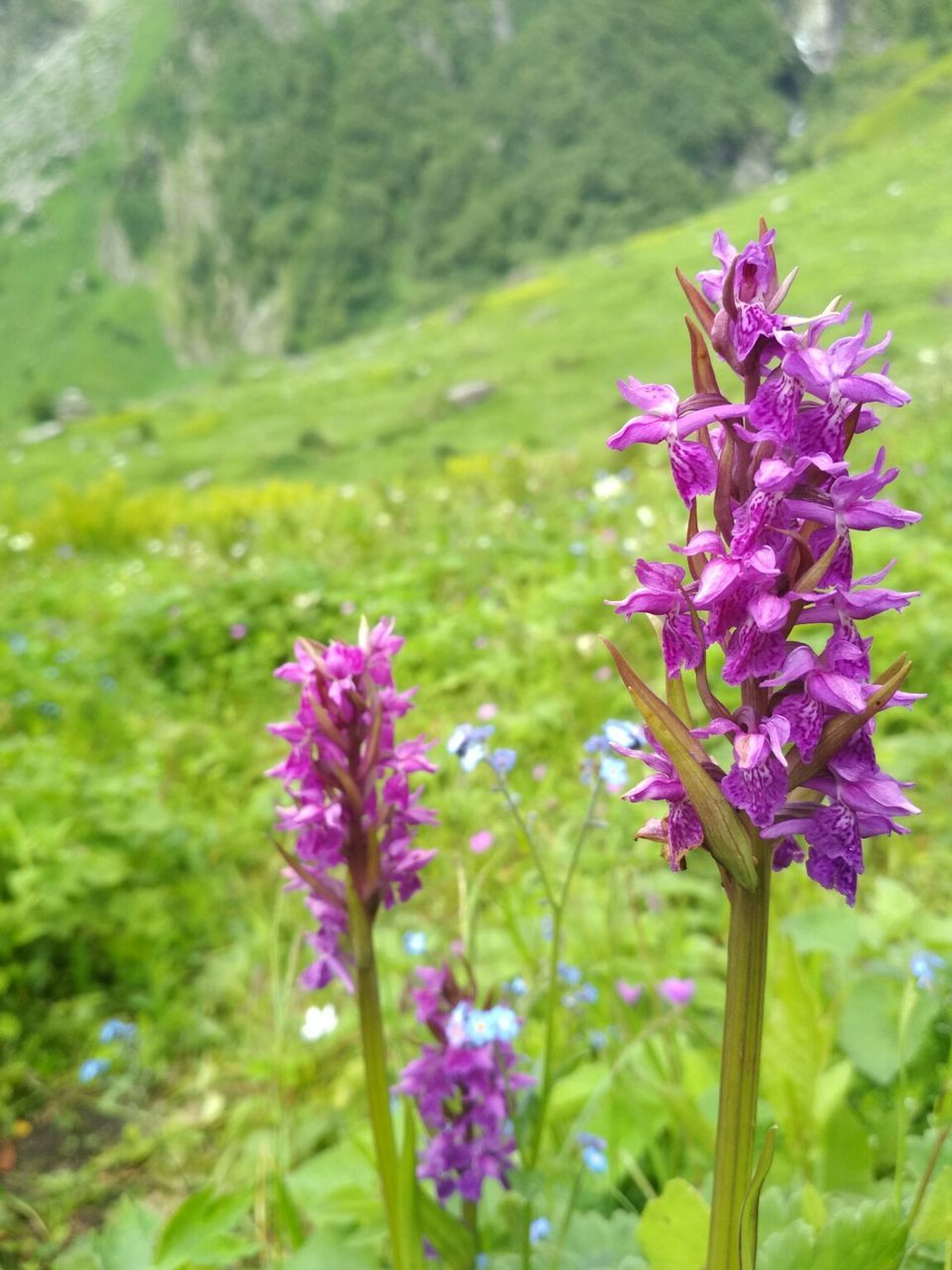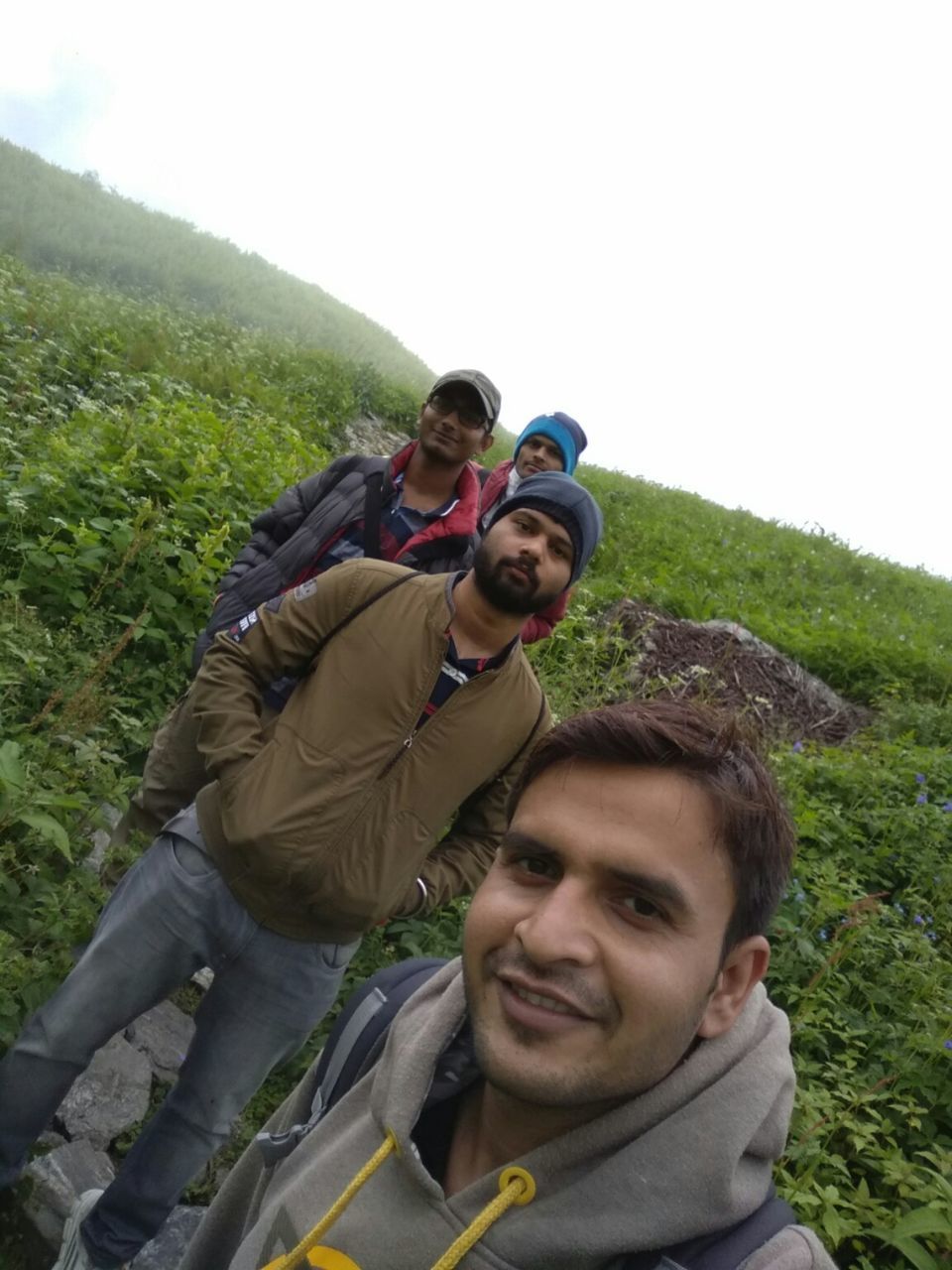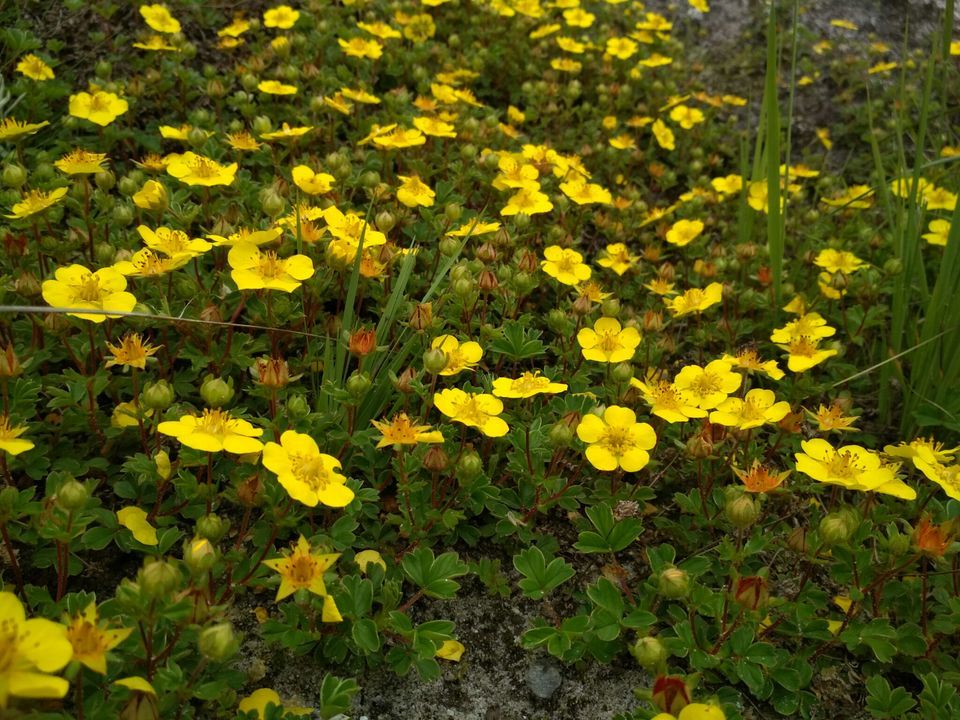 Day 1: Dated July 08, 2017
The short journey to Rishikesh we started at around 9:30 pm reached around 3:30 am, we took tea and started searching for bus to Govind Ghat straight away, we got the bus just outside of Rishikesh bus stand. It was around 4:30 am when we started our journey to Govind Ghat. Charges of bus was Rs. 400 per person.
This journey to Govind Ghat of around 300 KM was very beautiful surrounded by beautiful mountains and spiritual people going there but too long and tiring too. It took around 11 hrs for us to reach Govind Ghat.
We were already feeling like we are just few more steps ahead to our destination.
Govind ghat itself is very beautiful place where Gurudwara is there at river side surrounded by really solid rockey mountains, which gives free accomodation to People going to Hemkund sahib. We also took accomodation there for free and thought to give some money to Gurudwara as Seva there.
After refreshing for some time we went out to Riverside, walked there and spent some quality time, did some mad things like throwing stones into the river and all.
So as a foodie you always search for good food, and trust me we did not find any there in Govind Ghat.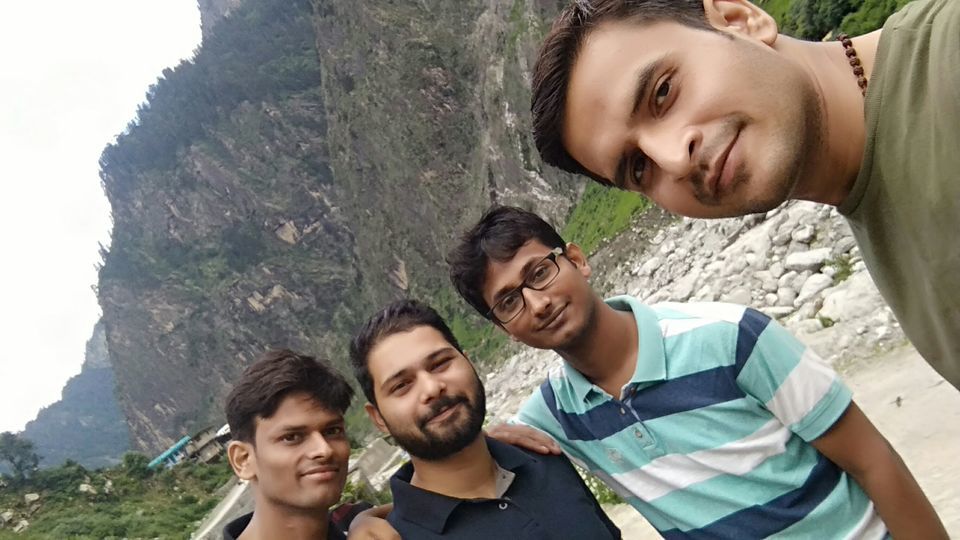 Day 2; Dated July 09, 2017
We woke up early in the morning and got ready to our next destination that was Ghangaria or Govind Dham. We left our rooms at around 4:30 in the morning, you can put your extra luggage to the lockers available in gurudwara at Govind ghat for free.
The total distance from Govind Ghat to Ghangaria is 14 KMs.
We took shared taxis which drops you to the starting point of trek it changed Rs. 35 per person.
Here we were at the staring point of the trek to Ghangaria. Trek was easy and total distance from there to reach Ghangaria is around 9-10 Kms.
Trek was very beautiful surrounded by mountains, Waterfalls and also some beautiful flowers in midway and enjoyed trekking there. We reached Ghangaria ay around 11:30 am. Some of the photos of the trek are..
As we reached there we were feeling very tired and what we thought was 2 of us will be searching for hotel.
We found hotel Priya there, after some bargaining we finalized the room for 4 people for 3 days at Rs. 1000. It was a great deal you have to be good in bargaining there in Ghangaria. Trust me, all hotels there in Ghangaria are more or less same. We all were very happy because we were short of cash and we found so amazing deal of hotel.
We took rest for sometime and ordered our lunch in the same hotel, food was good but not that much but as we were hungry we had a lot.
In the evening we went to Govind Dham Gurudwara, spent some time to talk to local people and came back.
Day 3: July 10, 2017. The Valley Day.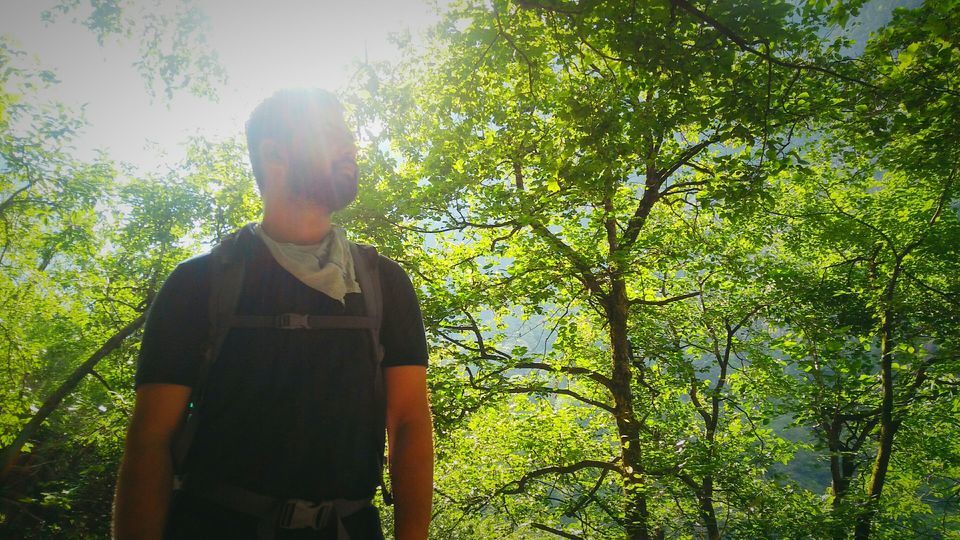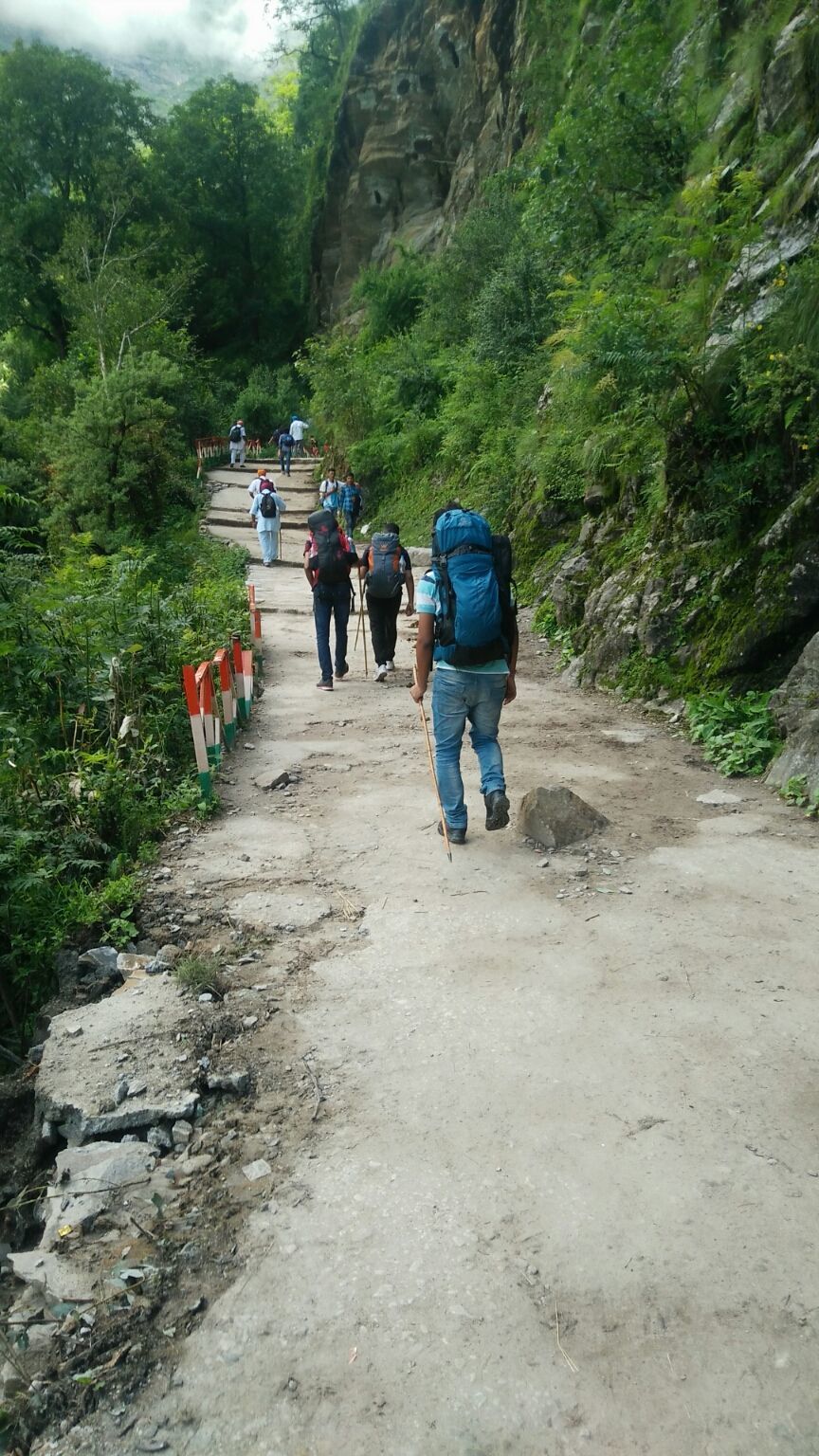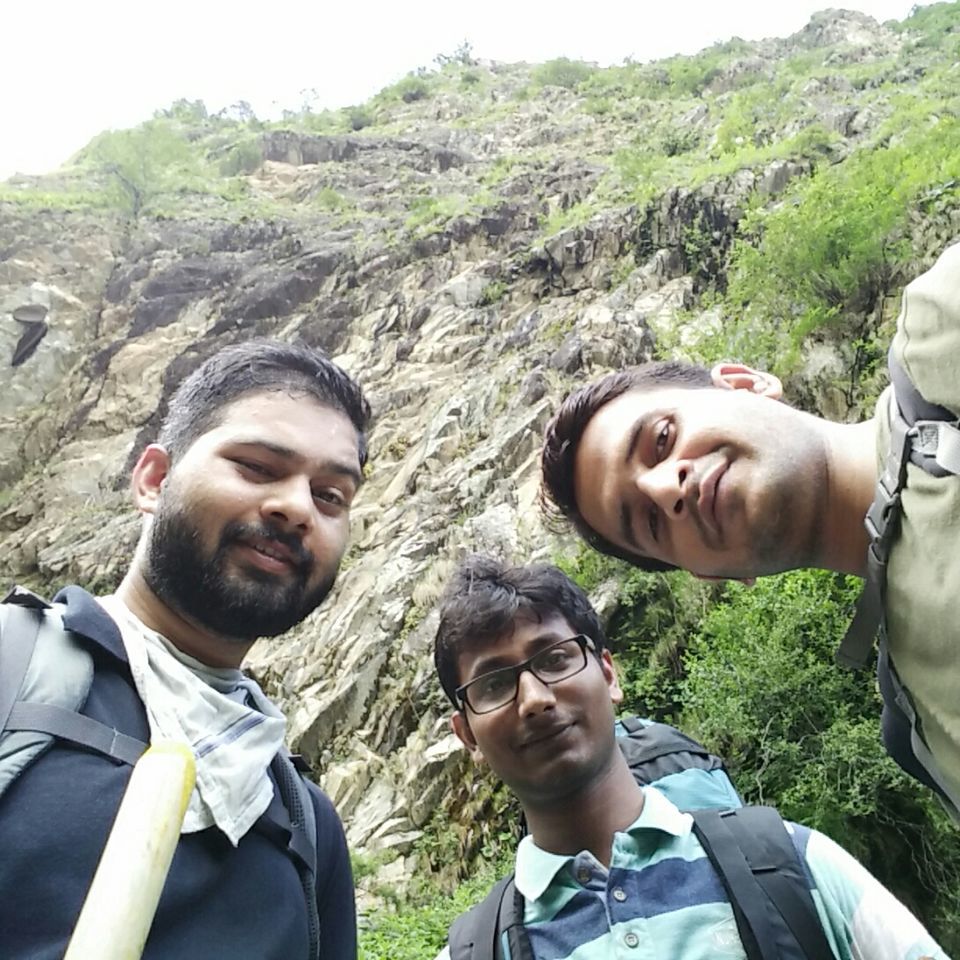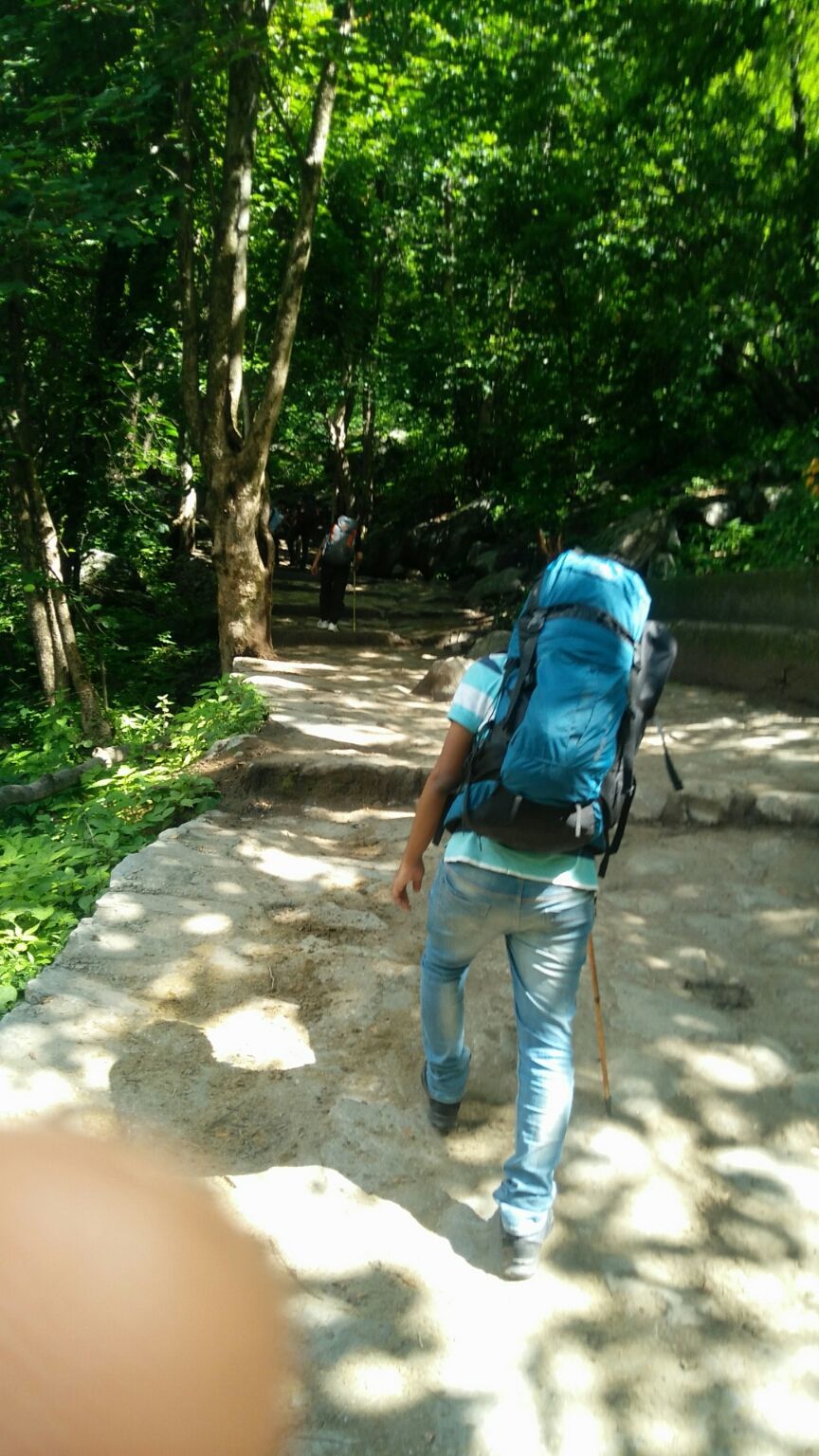 As we did some research already, we knew that valley is starting after 4 kms from Ghangaria, and entry time in the valley is from 7:00 am.
We started early at 5:00 am packed essentials which may require in our daytime into the Valley and head towards the valley.
After half of km we found the entry counter to the valley, it was only 5:30 am and nobody was there who can give us the tickets. We were stuck there.
So we thought that we should go back 100 meters where a small police chawki was there. They said the you people can go to the valley and we will tell the people of valley that 4 people were entered into the Valley early morning and you can take your tickets in return. The entry ticket to the valley is of Rs. 150 per person.
We were happy because we were the first person to enter into the Valley of today. We were heading towards the Valley by singing songs and talking to each other about the today's journey.
The trek was so beautiful that it can not be explained in words, please go and see it yourself. Luck was already in our side the there was no rain that day.
Some views in between the trek before we entered into the valley.
Day 4: July 11 2017, Hemkund sahib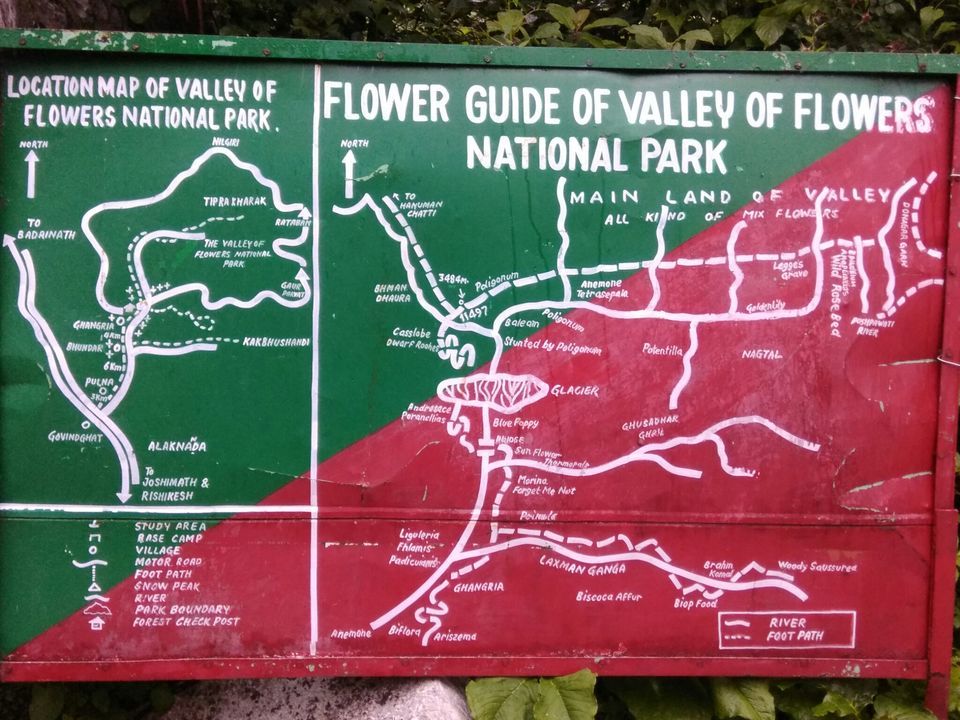 We were tired so we got up late a bit today, a lazy morning had breakfast and we were ready to our next destination.
It was around 11:30 am when we started our journey of 6Km to Hemkund sahib.
In between the journey we got to know that we were very late as Gurudwara will be closed around 2:00 pm. But we were pretty sure that we can make it and as we have started the journey we can not move back, we decided to finish our journey.
As it was raining there that day we could not move fast and trek was also not that easy it was steep and moderate. In last one Km we took stairs to reach Gurudwara.
We were very tired and it was 3:10 pm already.
We requested the manager there to open gurudwara, he was very kind he just asked that where you are coming from and he opened the doors of gurudwara for us.
It was amazing feeling that there was just four people there in this spiritual place and we were managed to do that after so much negativity in the journey.
We spent some time there, clicked some photos, took khichdi and chai from Hemkund sahib gurudwara and started back to Ghangaria.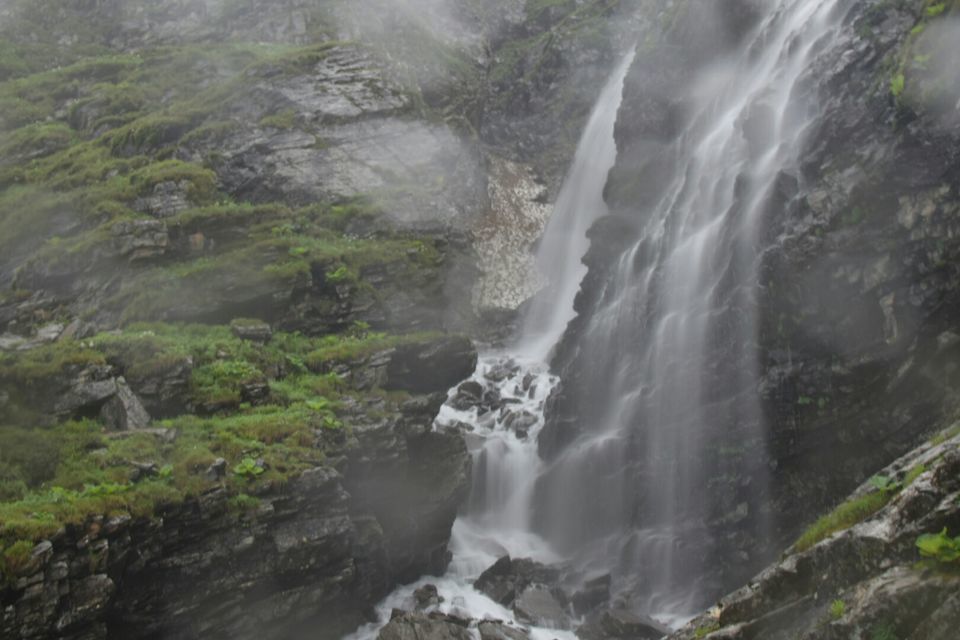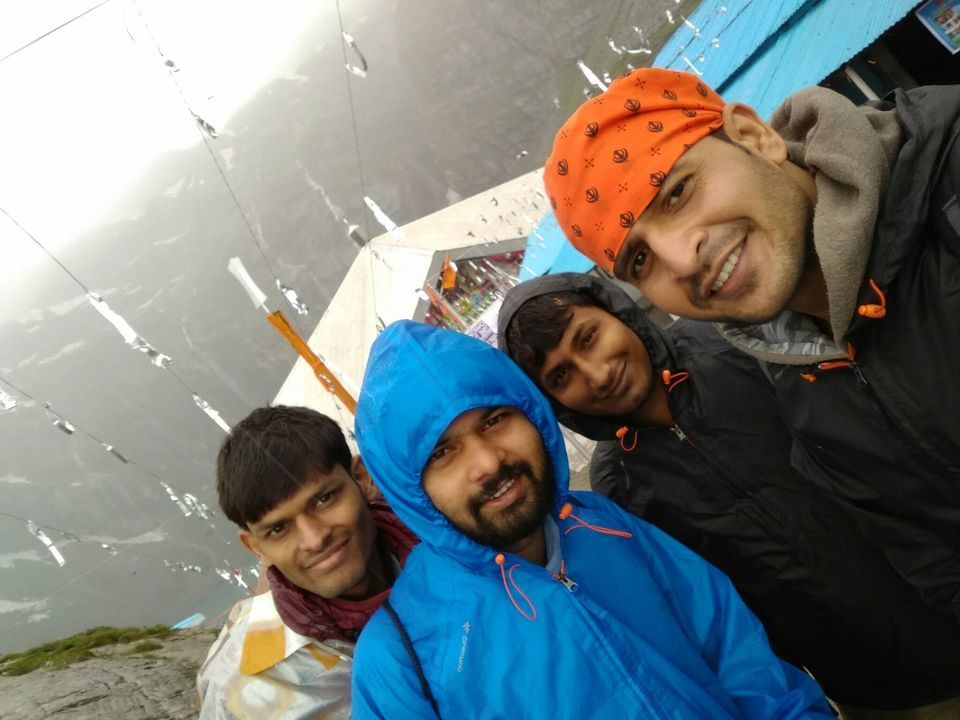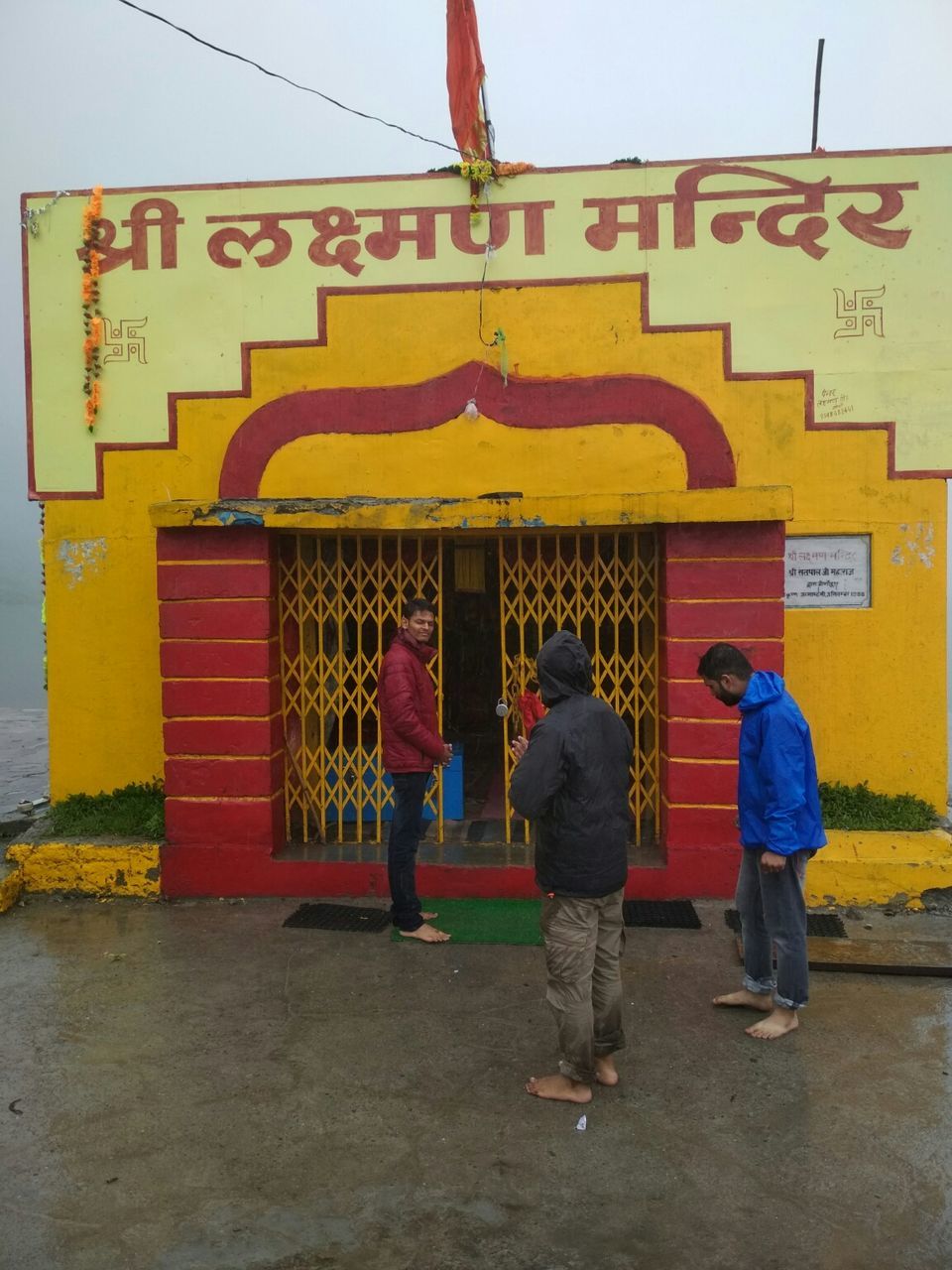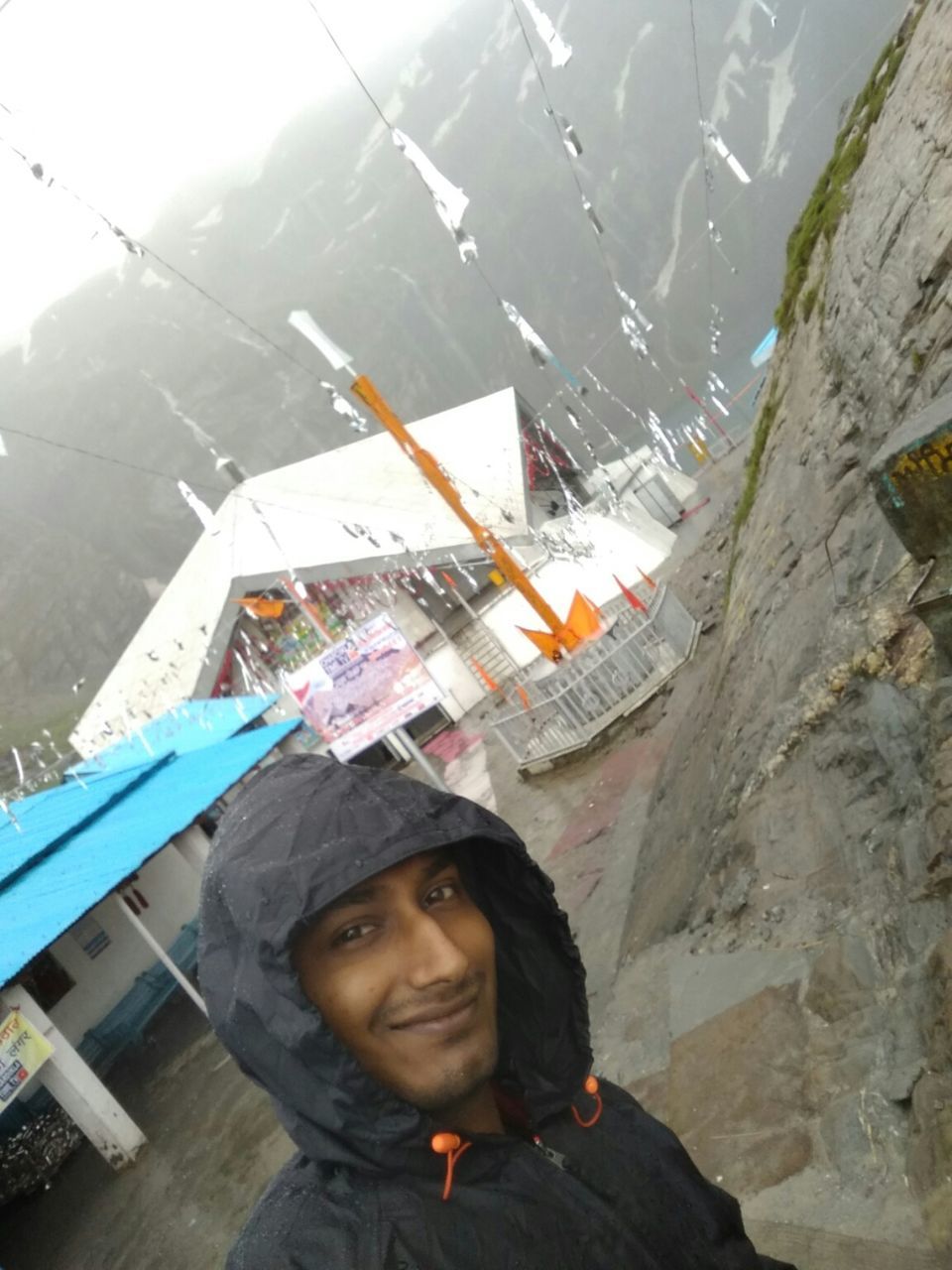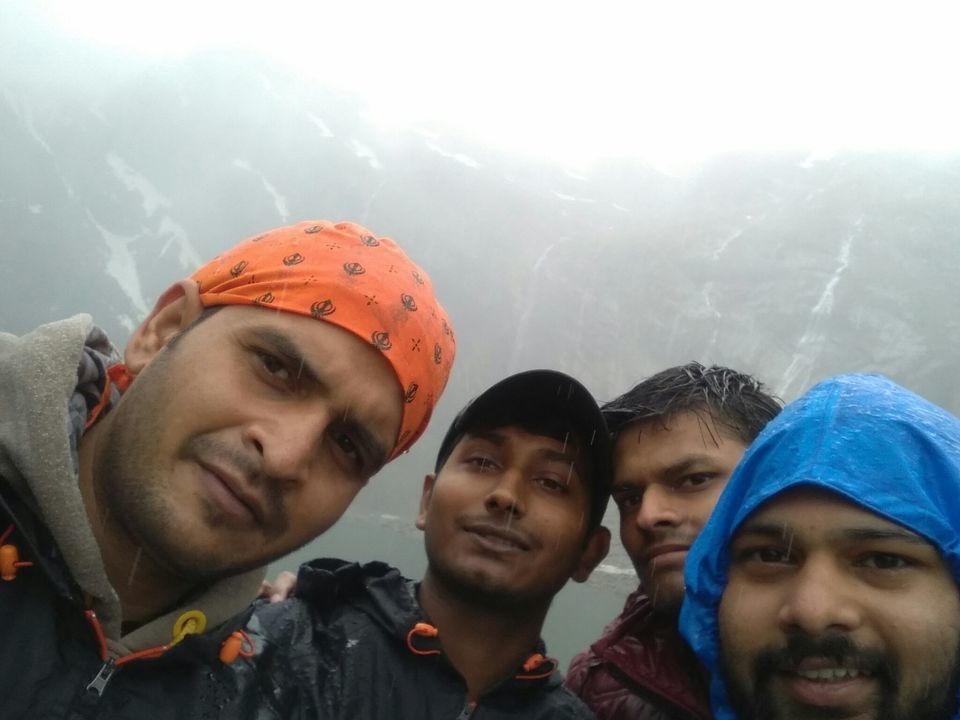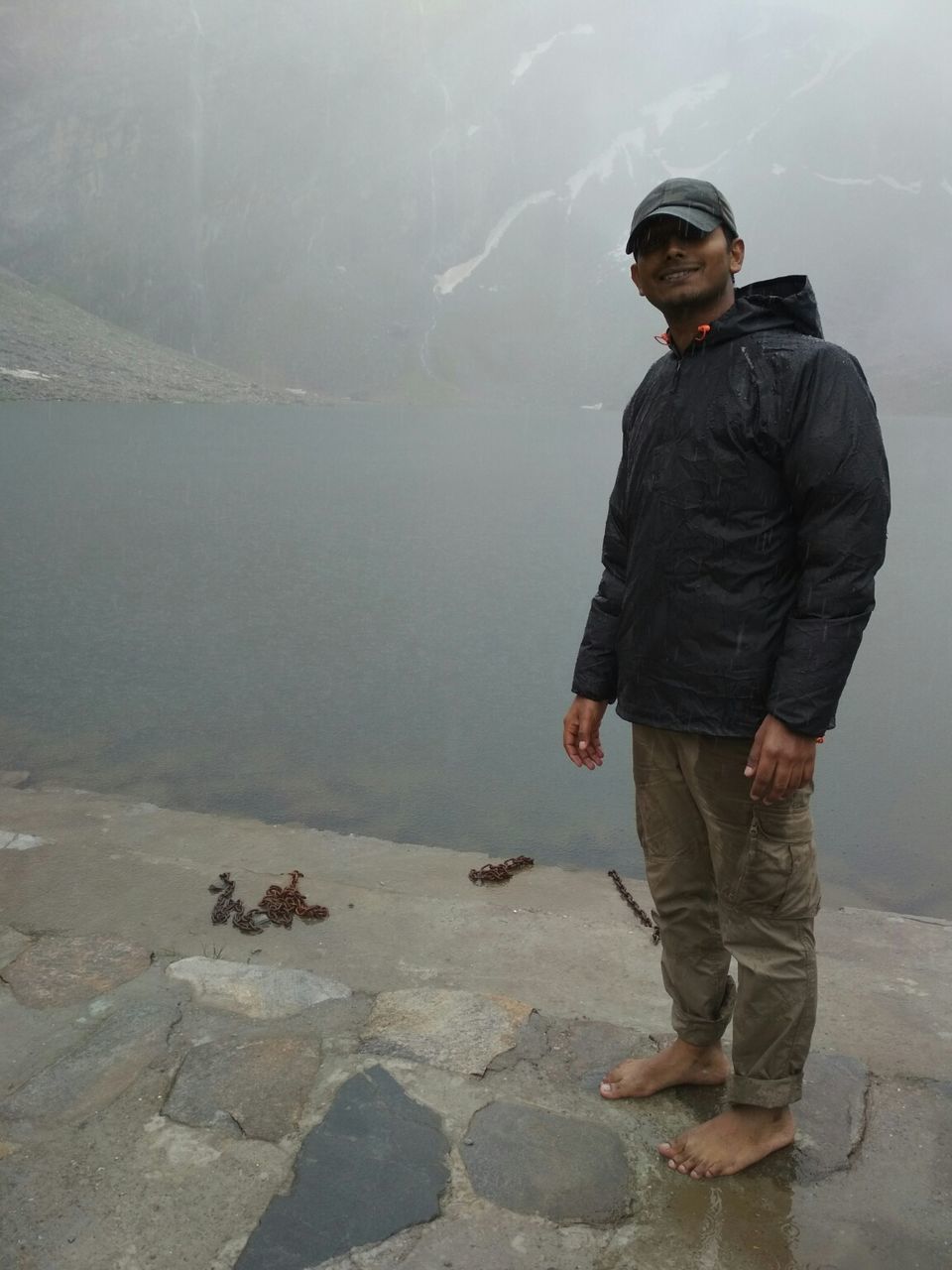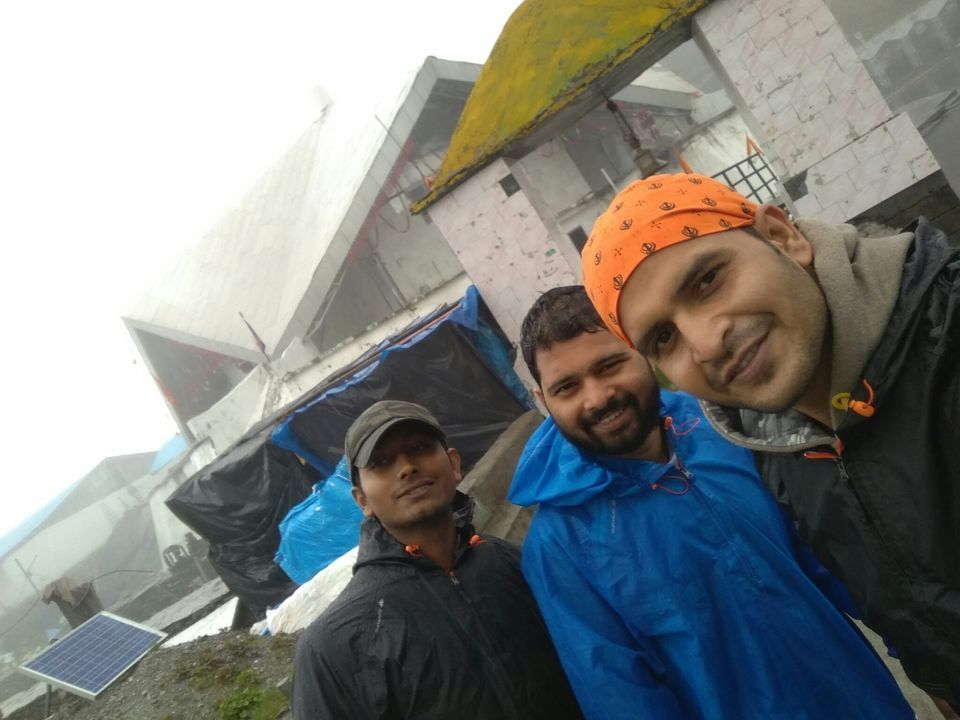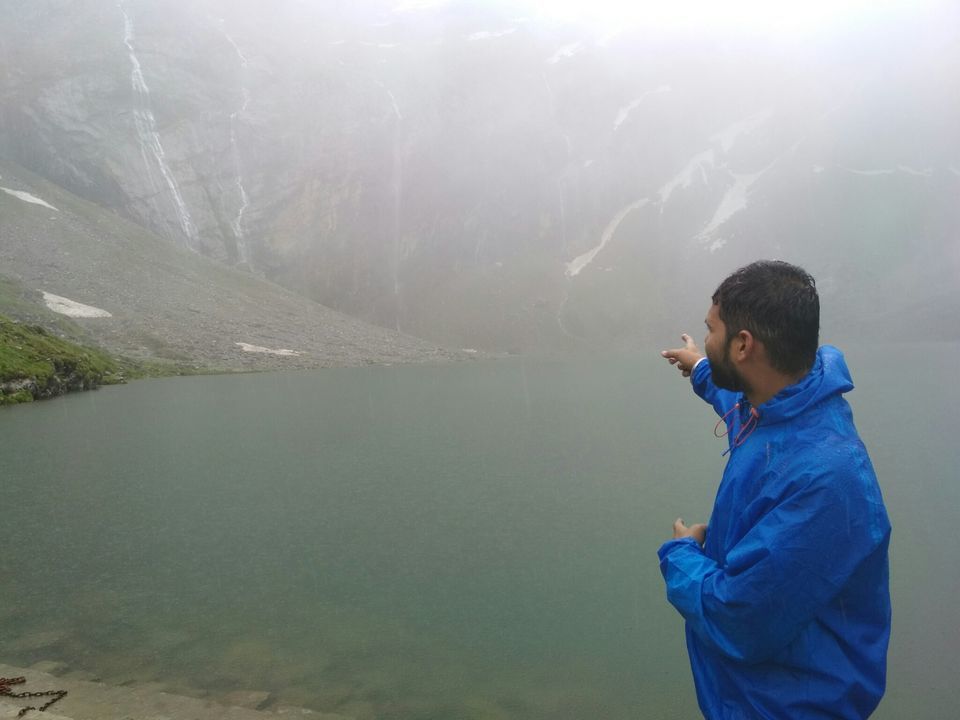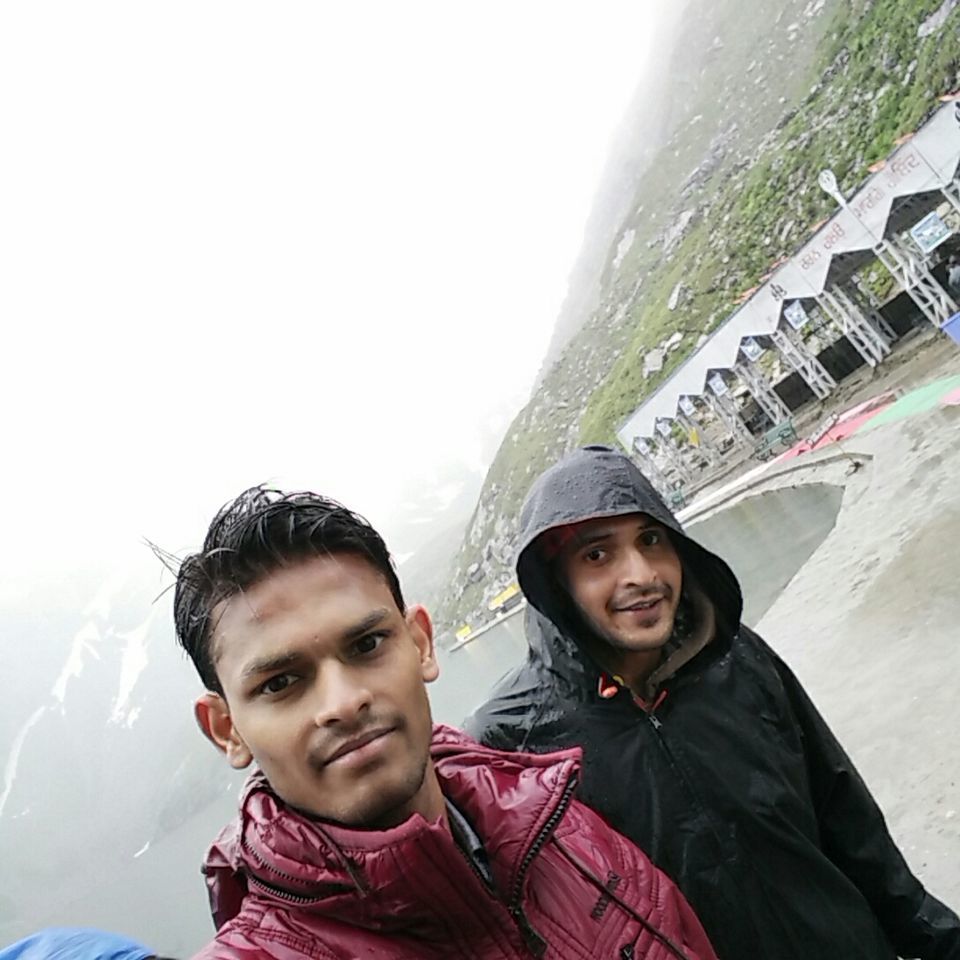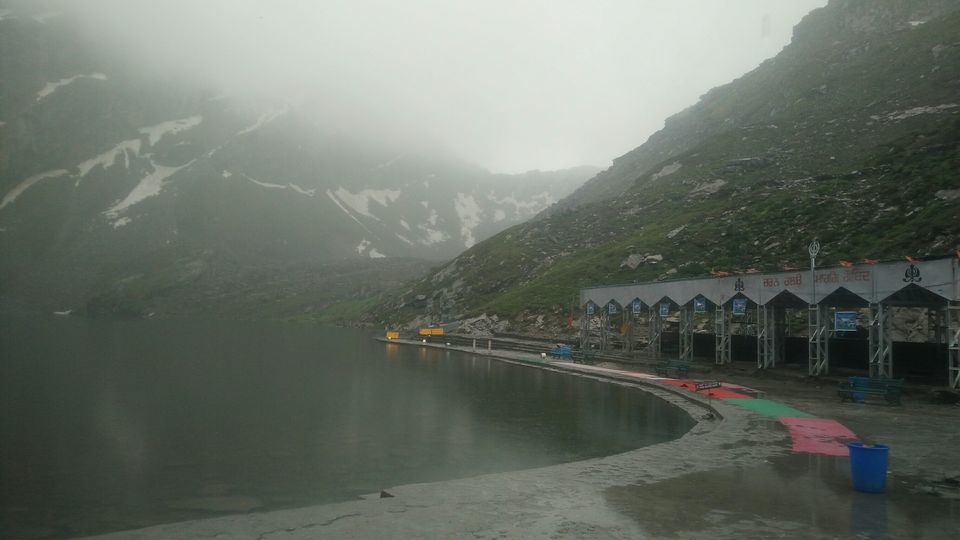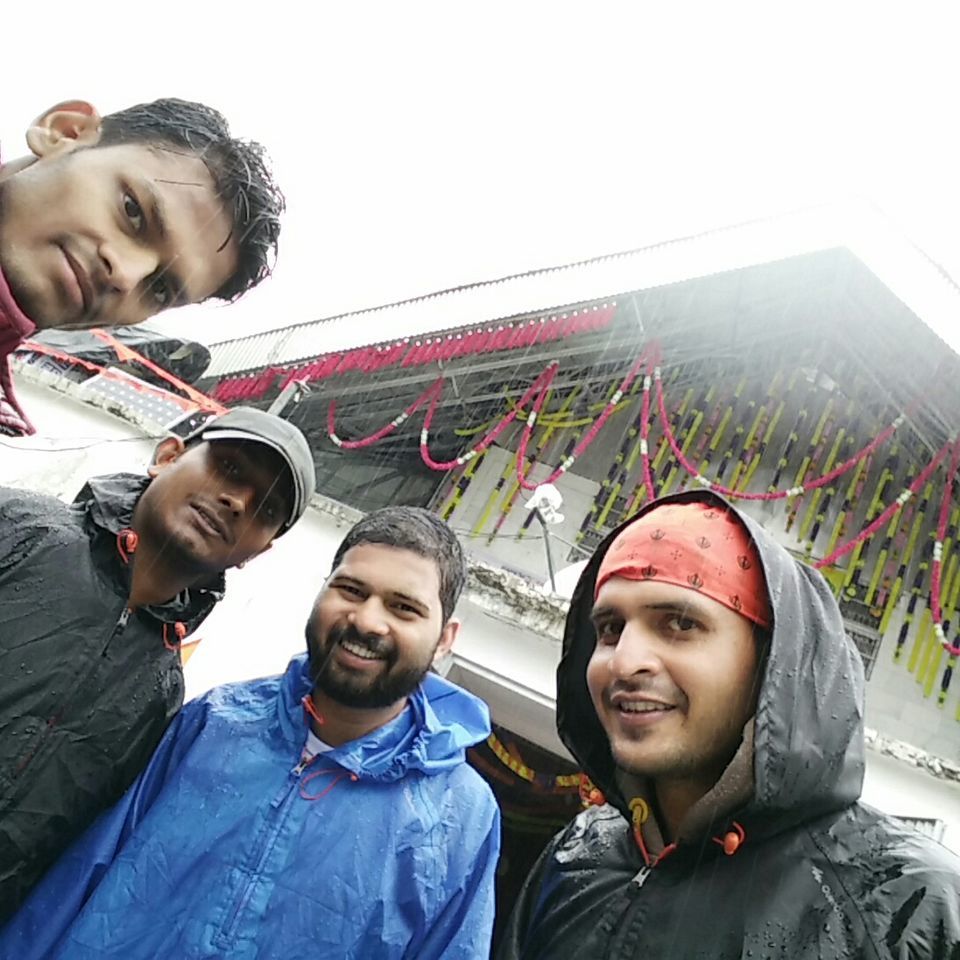 Day 5: July 12, 2017
After having lots of memories we were finally going back, and we started trekking down to Govind Ghat. We reached there and again took a room in Gurudwara.
As we were on time we planned to go to Badrinath next day as it is 25Kms away from Govind Ghat.
Day 6: July 13, 2017
We heard a news that road to Badrinath is blocked due to landslide, and our plan was just failed. We thought what we can do now we thought that we should go to Rishikesh and try Bungee jumping. So we talked to jumping heights and they were not open during the monsoon season.
Now we thought to pack the bags and go back to delhi as we did not have any other option.
Time was already 10:30 am, we were late to take the bus to Rishikesh. There was one shared taxi available asking for Rs. 700 per person. We took that as there were no other option. We waited for other people to come and join so that taxi can be filled and start towards Rishikesh.
What we see was that vehicles from Badrinath are coming towards Govind Ghat. We checked with them and got to know that road is now open to Badrinath.
And here we go, plan changed we just turned our heads and hired a taxi with the people who were bargaining with the other taxi driver.
200 per person in which he will go to Badrinath and will also drop us back to Govind Ghat.
So finally we reached to Badrinath, spent time there and came back.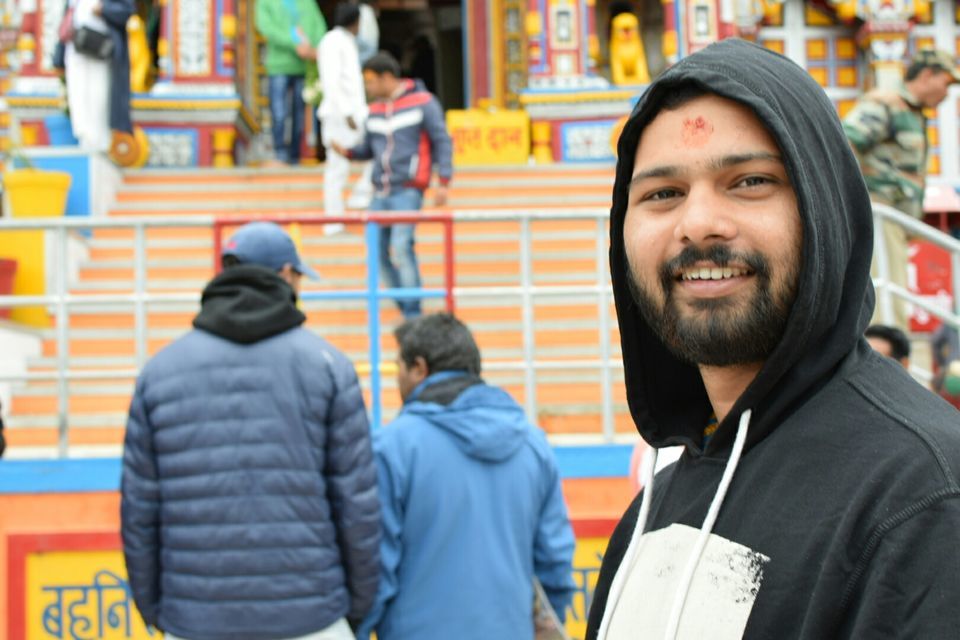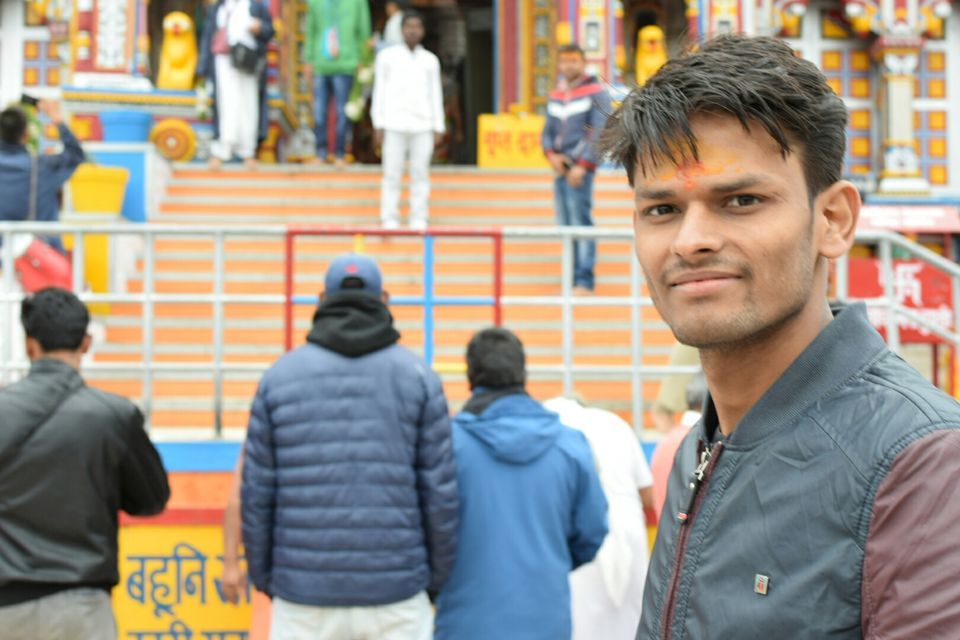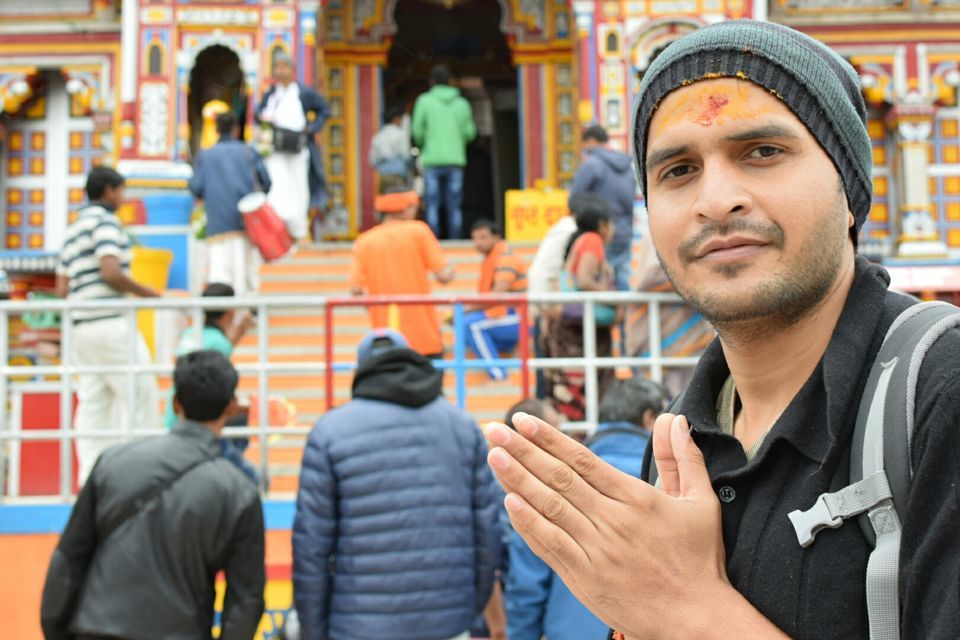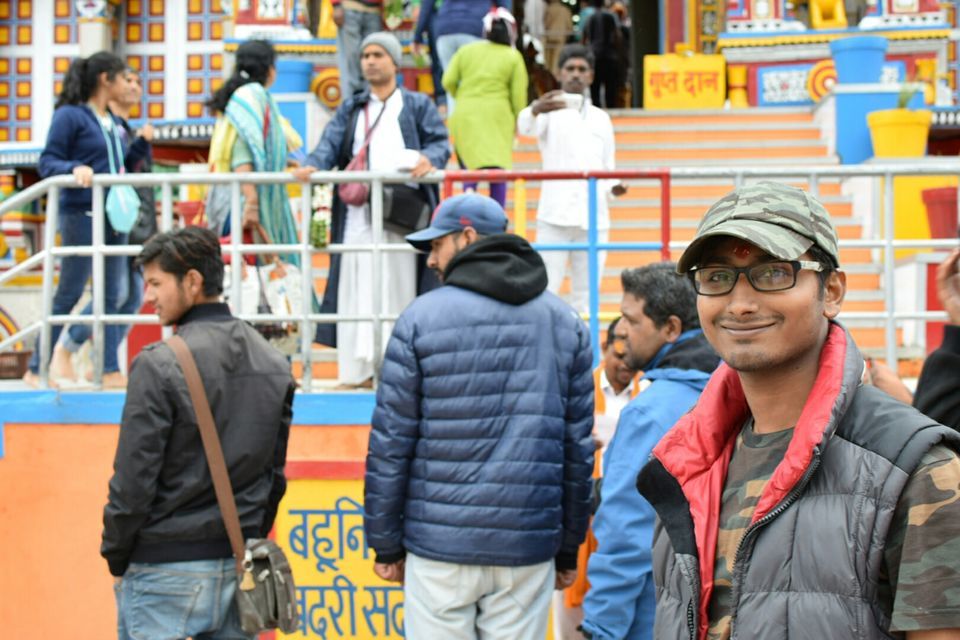 Day 7: July 14, 2017.
So as they say "enjoy the journey", we moved towards delhi via Rishikesh. We were feeling like home there in Govind Ghat. We promised to see that place again and moved.
It was the journey that i will always remember, I have come back from that place but really lost something there.
Last words we said to the place was "See you soon Valley"