#SwipeRightToTravel. Hello everyone, My name is Abhishek Mittal and here I want to tell you about my amazing Amarnath Yatra 2014. As you know Amarnath Yatra is a hindu's pilgrimage in southern kashmir. Every year lakh of devotees from all over the world are coming here. There is not any sculpture, idol, or pindie in Amarnath but only a ice lingam that is made from water drops in the cave. This cave is founded by Buta Malik when he was on the way to his home with their sheeps and today half of the total devotion goes to his family.
Now, M going to tell about my journey. I was done this unforgettable journey with my family. First, I've booked our train tickets in tatkal in Jammu Rajdhani and board the train on 29th June 2014 and deboard at jammu Tawi. My brother-in-law previously told his friend for recieving us at the station, so he is available there when we de-board the train. He took us at their home and provide space for some rest and later he offered breakfast. After took the breakfast we're leaving for taking taxi to Amarnath Yatra. He was a very nice person & help us alot. He was took the pain for us. He found a good tour operator for providing a taxi and it was fixed at INR 18,000/- for overall tour(i.e. Jammu-Srinagar-Sonmarg-Baltal-Amarnath-Jammu). After taking the taxi he told to the driver for on the way stops like Kud(famous for Patisha-sweet) and other but i don't remember.After crossing the Jawahar tunnel we're entered in Kashmir valley and what I'd saw a view point name Titanic View Point-first view of Kashmir valley. We're took some photos and leave for Srinagar.
We're reached Srinagar at 8 Pm on 30th June and that was our luck there was no traffic on the way anywhere because nobody knows where we could stuck in the traffic on national highway. Driver was also good person and help us everywhere. He took us to the hotel (Kohlee's Hotel) which was already booked for us. After that we're took some rest and go outside for dinner at nearby dhaba's. We're took dinner and walk around market for some time and get back to hotel for rest.
Next Day we're go for Srinagar sightseeing. Before this we never come to Kashmir so didn't know anything. Taxi driver took us to Shankracharya Temple - a temple of Lord Shiv. There is too much stairs to reached the temple and nobody can't took mobile, cameras etc. to the temple premises. After darshan of Mahadev we're go back to our taxi and took some photos. After that we're go other temples, Pari Mahal, Chashmeshahi, ride in a Shikara in Dal Lake etc. and get back to hotel because next day we're leave for Baltal. But in the evening we go to market and bought purse, shikara, suit, jacket as a memorable thing of Kashmir and at last took the dinner.
In the early morning we're leave for Baltal. Baltal was approx.110 km away from Srinagar. There was a natural scenic beauty on the way to Baltal. On the way we took tea and left for Baltal. When we entered in the Sonmarg we saw the snow capped mountains. We're late so that's why didn't stop our car in mid of the way. After crossing Sonmarg we entered in the Baltal and what i'd saw there was long que of cars and buses for checking. The soldiers checked each & every lugguage of each & every vehicle. It was took more than 4 hrs to cross it and the time to start the Amarnath Yatra is 5Am -11Am after that nobody can't start the Yatra. So we're late for it . After entering Baltal we found a tent for overnight stay because there was too much cold. The tent persons was also very nice and co-operative and provide space for stay. In the evening we took tea and here Lord Shiv sent some good peoples for helping us because they took Amarnath Yatra every year but on that time we don't know that they will meet us when we start Yatra. They were from Meerut. After took tea and some snacks we're sit in the Kirtan which was amazing. After that we took dinner and go for sleep but the sleep didn't come in our eyes because of too much cold and fear for how to start the yatra & spent the full night with fellow devotees in the night with talking.
In the early morning we got up at 4 Am and go for fresh and took breakfast. As soon as possible we leave the tent for start the Yatra. After checking the Yatra permit by security persons we're commenced the Yatra and after 10 minutes of yatra the persons who met us in the tent suddenly in front of us and said come with us & we'll take you to the Amarnath cave. I don't believe that Lord Shiv sent them for us because we didn't have any experience about yatra. I never forgot that persons. Now they are very good friend of my family. Most important thing is they were took my sister with them till last. There was too much scenic beauty on the way like glaciers, snow capped mountains, frozen rivers, ice bridge, waterfall etc. We're walk on the way by chanting Om Namah Shivaya and took many photos. We can't trust on weather there because nobody's know when there was raining or snowfall or chilly waves. It's a 14 Km long track to the cave & we reached nearby the cave at 6 Pm and there we took a tent for overnight stay. That was our first experience how to sleep on snow which was converting into ice. We're totally tired and fall on the mattresses in the tent.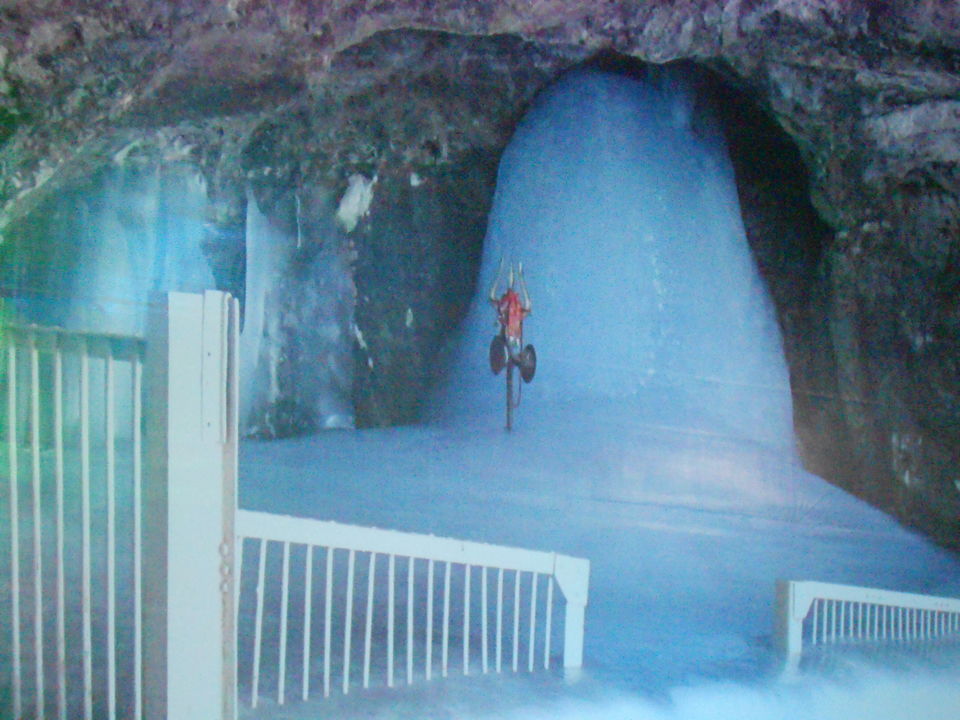 After taking the taxi we're leave for Jammu which was approx.450 km from Baltal, i don't remember exactly. We reached there at 11 Pm and took a room in the hotel and lying on the bed because of tiredness.
Next morning we start sightseeing for Jammu for full day. After finish the sightseeing we get back to hotel and took our lugguage and go to railway station & board the train for Delhi. I want to tell you here that God sent some persons for helping us and that was the persons who help us alot. God bless them.
So, thats my unforgettable journey to the heaven on earth. ;) :) Please tell me how much you like it?
In the early morning we got up start preparation for ahead yatra. Some of us took bath on the snow that was an amazing experience and start our ahead yatra. There was only snow every where. We reached the cave at around 12 Pm and took the darshan of Ice Lingam which was 8-10 foot long on that time. That was a totally amazing. I don't have words for expressing that feeling. In all of us I'd took darshan 2 times and I was very happy. After that we take Charnamrit in bottles and get back to our tent took some food on the way. When we start our journey to Baltal at 3 Pm, so it was raining and landslides on the way and glacier burst. Soldiers told to everyone again and again please don't stop only continuing your journey. It was 10.30 Pm when we reached to the Baltal and go for a sleep in the tent. Next morning we saw Shrine board had cancelled the yatra because of poor weather conditions and we took our lugguage from the tent and get back to our taxi. On the previous night we were seperate with our friends of Meerut but we already took contact no. of one of them.