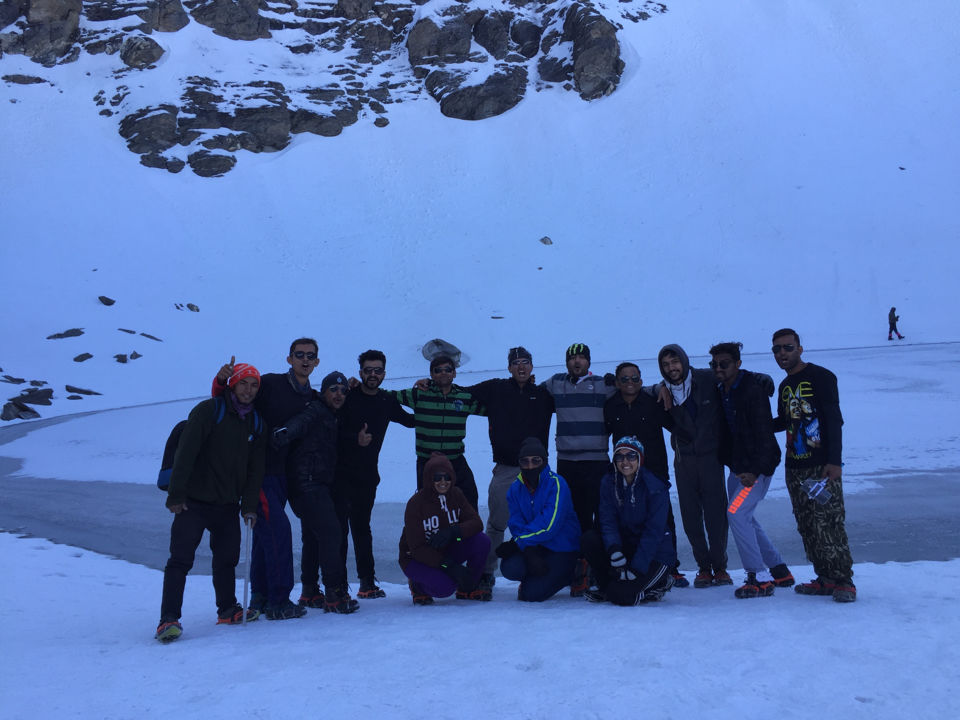 DAY 1
24 Friends , 1 Destination & it's Roopkund ( 15696 Feet ) Located In Himalayan Range Of Utrakhand .
Journey Starts From Lohagunj ( 7700 Feet ) . It Is Sitauted at The Base Of The Garhwal Himalayas ; It Is a Small Village Located In Chamoli District , In The Interiors Of Utrakhand . On Date 16/5/2016 , We Started Our Mysterious Journey To Didna Village ( 7662 to 8045 Feet ) Around 7Kms Continuous Walk Through Himalayan Village & Its Beauty . The Climb Is Steep and Goes Through a Verdant Forest . We Reached At Didna Village Is a Quint Little Hamlet Where You Can Either Enjoy A Homestay . There Are Amazing Wheat Farm at Didna Village . That Amazing View , Campfire and Played Antakshari With Besties Was Not Forgottable .
DAY 2
Morning Walk and Exercise At 6:00 AM Was Amazing , That Refreshing Clean Air Was Superb . We Started Walking Around 11Kms From Didna to Ali Bugyal At 8:00 AM ( 8045 to 11320 Feet ) . ALi Bugyal Is Arguably The Largest Meadow In India And Surely The Most Beautiful . Continue Climbing Up On The Ridge , All You Will See Is a Vast Expance Of a Lush Green Meadow Kissing Sky , This Is Ali Bugyal . The Attenuation Of Green Shade Was Obtained By Blessing Of a Cloud Covered Sky On The Day Of Our Visit . Night Stay In Culturally Rich Villages . Widespread Alpine Meadows . It Is Long Climb Inside The Forest But The Pure Mountain Breeze Makes It Pleasent . 
DAY 3
We Started Walking Around 8:00 AM From Ali Bugyal To Patar Nachauni Around 7Kms  ( 11320 to 12818 Feet ) .Today was the "easiest day", because not much climb was involved . We Saw A Bedni Kund On The Way . "Bedni" is derived from Vedas . According to Inderjit ji , it was here that Maharshi Ved Vyas (Vyas means "to divide" or "to split") segregated the single Veda into three sacred Vedas . The lake is actually an embankment built to catch rain waters and small streams . Excess water discharges naturally in the form of a stream , which then joins numerous other streams to form the Neel Ganga River .It was a pleasant walk onwards, mostly through the fog . 
DAY 4
Patar Nachauni To Bhagwabasa ( 12818 to 14177 Feet ) . All Things Are Going Good  , We All Feeling Happy And Exited To Summit Roopkund , But God Has Decided Some Other Plan To Our Few Trekkers . One Of Our Friend Suddenly Feeling Nervous Due To High AMS . He Is Totally Unconscious Till Next 23 Hours . 2 Friends( + patient ) Have Decided To Go Back Down At base Camp . The Local People Are Very Co-operative And HelpFul . They Reached at Van Village Around 8:00 PM and Moved To Hospital at Tharali Around 11:00 PM and Started His Treatment .
DAY 5
Bhagvabasa To Roopkund ( 14117 To 15755 Feet ) . This is a completely Isolated Place in The Middle of The Scattered stone blocks. It is situated on the edge of a mountain and from here , one can have the panoramic view of high altitude Himalayan Peaks . The whole area is uneven , no arrangements of the fire, water is nowhere in the vicinity and then , you have to survive a chilly night . Camping at Bhagwabasa is not a fun , but that's the thrill at such a high altitude . Our guide told us to eat early and sleep early, so that we could start our final climb to Roopkund at 03.00 AM in the morning. It seemed too early to us for that 3 kms trek . He said that early start is very necessary , because one needs to climb on the trail while snow is still hard. After 09.00 AM , the snow becomes softer and feet start to sink in . In that case, walking without a technical gear could be difficult. Finally, we agreed to start at 03.30 AM . When I woke up in the early morning and looked outside, it was completely dark with freezing cold . Nobody wanted to step out from the Tent . I looked above the peaks and it was an amazing moment . In the complete dark hours , those high Himalayan Peaks was shining like silver in the moonlight.
Than We Reached At Roopkund Around 7:30 AM , a lot of mystery and natural charm is in store for you . It is also called Skeleton Lake due to the human skeletons , which have been discovered in and around it. There have been various theories on who these skeletons are of and when did they die . Some say that they belong to Japanese soldiers who died here during WWII. Studies have determined that they are of people from an Indian tribe, who died here in the 9th century because of a severe hailstorm . Locals Also Told One Mythological Story For Skeletons Which Cant Tolerate . And Yes We Cant Forget Our Ice-Cup With Tropicana Juice , It Was Awesome . Than We Reached to Bhagwabasa Around 11:30 AM .
Than We Reached Bedni Bugyal Around 6:00 PM ( 14 Kms )  . Atmosphere Is Just Amazing and We Have To Face a Heavy Storm There . But Cant Forget a Pakoda Party Given By One Of Our Trekker .
DAY 6
Bedni Bugyal To Lohajung . In Our Last Day's Journey We Cross A very Beautiful Wan Village . Situated at a height of 8,000 feet above sea level , the village is home to about 300 families who live in small hamlets spread in an area of about 10 sq km. The people grow potatoes , soya beans , kidney beans and wheat in abundance along with herbs . The green pastures above the villages are ideal for grazing and many people are engaged in cattle and sheep rearing . Than We Travels To Lohajung By Vehicle And Reached 4:00 PM  SAFELY  .
A Lots Of Up Downs , Happy Moments , Sad Moments and Full Of Adventurous , Trip Comes To End . But We Are Enjoy Each and Every Moments Of Our Trek .
Written By :- Nirav Nimavat
Photo Courtesy :- Himanshu Amrutiya