After signing off from Kashmir I took my flight to Leh from Srinagar Airport on 9th of Sep 2015. Finally I am going to live my long held dream of visiting one of the most beautiful, most talked back packers paradise "Ladakh". The thought itself excited me to the core and can't wait to see the heritage villages, beautiful landscapes, monks, monasteries and much more.
Because of the high altitude and lower oxygen levels one need proper planning before starting their trip to Ladakh and in that proper acclimatization is the most important part. One may come across a number of forums and travelogues detailing about Ladakh but the best of all and my personal favourite is Dheeraj's "DOW Devil on Wheels" .The forum not only gives u a detailed picture about Ladakh but also give u step by step guidelines on how to plan your trip in Ladakh in the most efficient and effective way. The best part of the forum is it has a travel calender where one can search for travel partners and also can upload your proposed travel dates so that like minded travellers can contact you and share the journey. It helps a lot in sharing the cost and also meeting new enthusiastic travellers from different parts of the globe.
Before starting my journey I had uploaded my dates in the travel calender of DOW and finally three people namely Sandeep Arun and Sheethal expressed their interest in travelling together so that we can share the cost. We formed a what's up group and started discussions on how well we should plan the trip. We made a basic itinerary and booked our rooms in Khan Manzil Guest House based on reviews in DOW.
My fellow travel mates reached a day before my arrival in Leh and started exploring the nearby places. I landed on 9th Sep morning and the taxi took 15 to 20 minutes to reach the guest house Khan Manzil. About the guest house, it's a closely held property run by Mr.Zaheer and his family. Very humble and friendly people and they took best care of us in Ladakh. Zaheer Bhai is young smart and always ready to help. When we showed him the basic itinerary we planned, he gave us very valuable and time saving advices and also suggested some modifications so that we will have the best trip to cherish. With his contacts he also arranged us a known driver with a Innova Car so that we can have a Plesant and comfortable journey.
"The road less travelled and the place less touched will always give you many reasons to smile".  Keeping that in mind we started our journey 
Out of the available 8 days we visited many monasteries namely Shey Palace, Thiksey, Hemis etc to understand the life of Monks and the culture and historic importance of Monasteries. We also visited Stok palace where the present royal family resides. The palace also have a good collection of royal dress, antique utensils and tools etc. Thiksey  is the most beautiful monasteries of all. All the monasteries are having one thing in common a peaceful and calm atmosphere and one can really feel it by spending some time there inside.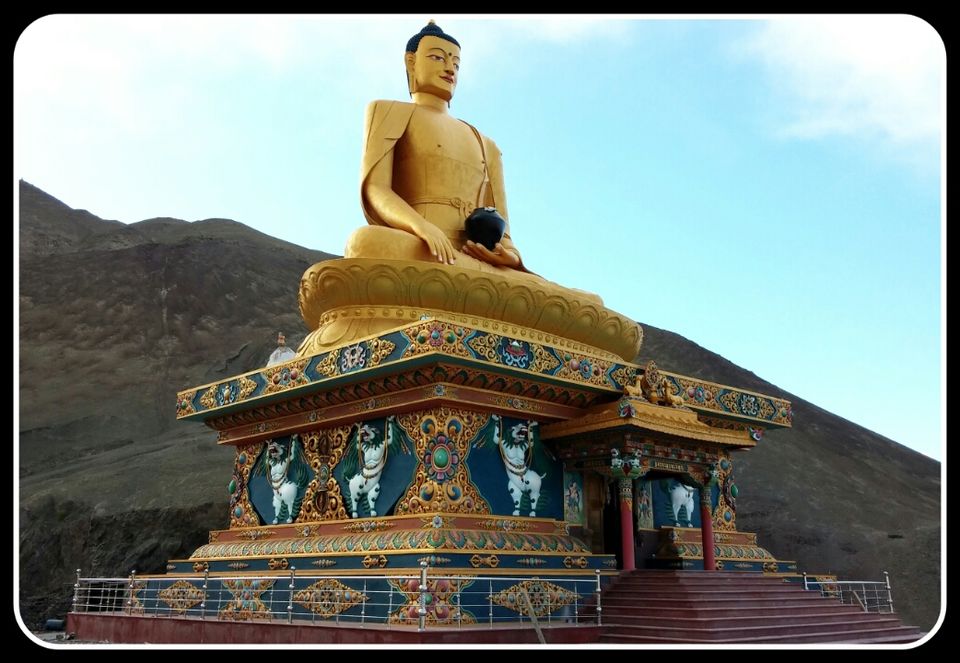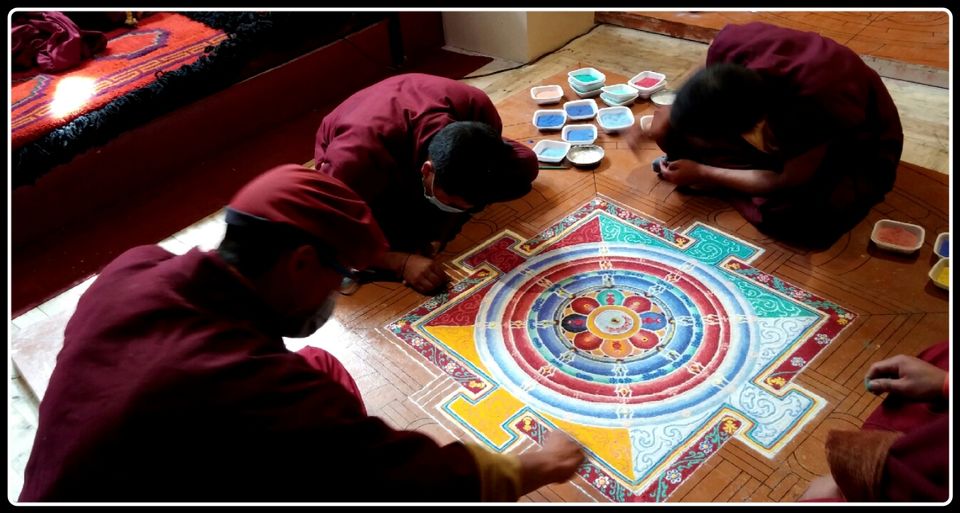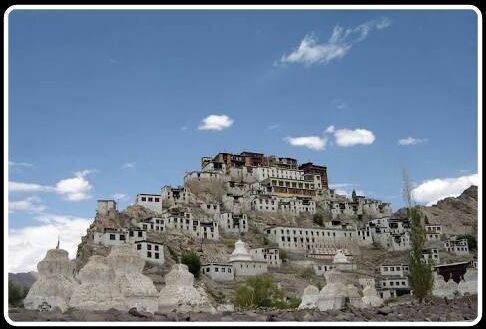 The best part of our trip in Ladakh begins from 10th Sep. After a filling breakfast we started our Journey to Turtuk which is 205 KM from Leh town. Turtuk is a small beautiful village situated in the bank of Shylok river and is very close to Indo pak boarder. Turtuk is the last place having civilian access before the boarder. The village was under the control of Pakistan till 1971 war. 
The journey to Turtuk was really a memorable one, since we had to cross Khardungla Pass which is 18380 feet above sea level and is also the highest motorable road in the world. The view from Khardungla was breath taking and cause of low oxygen levels it's not advisable to spend more than half an hour there.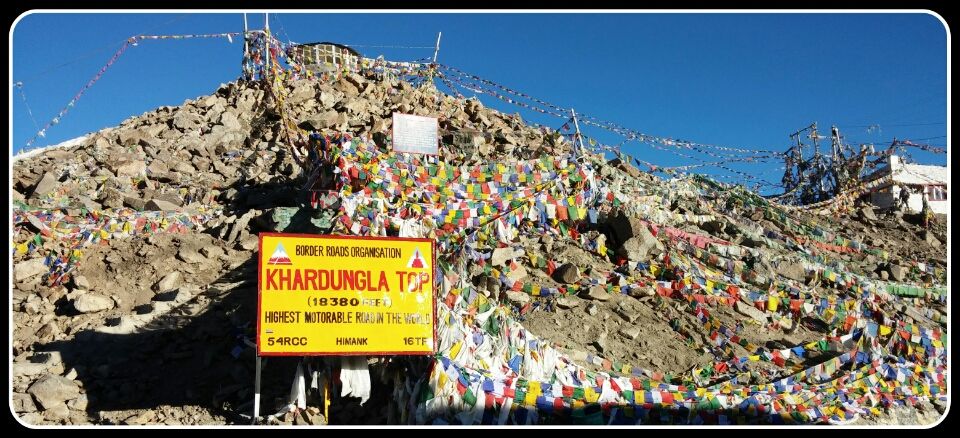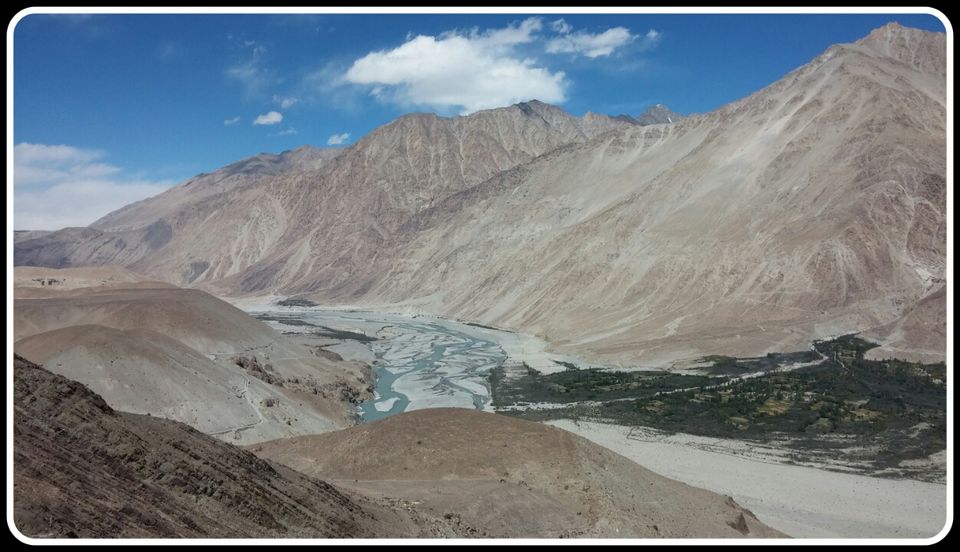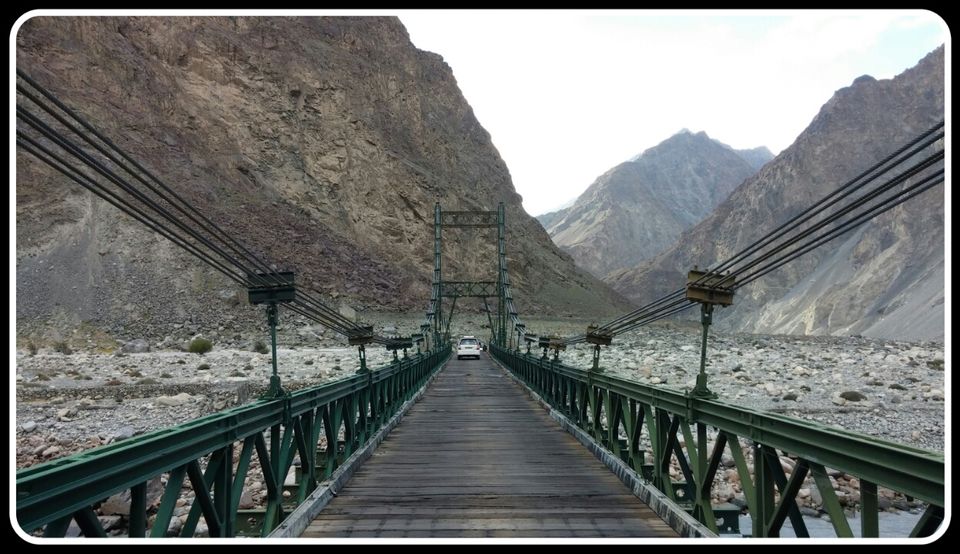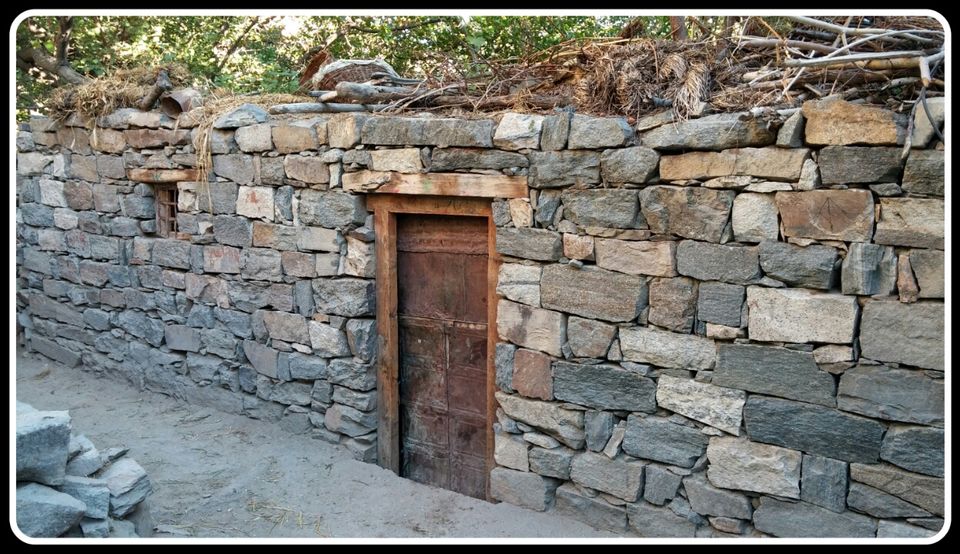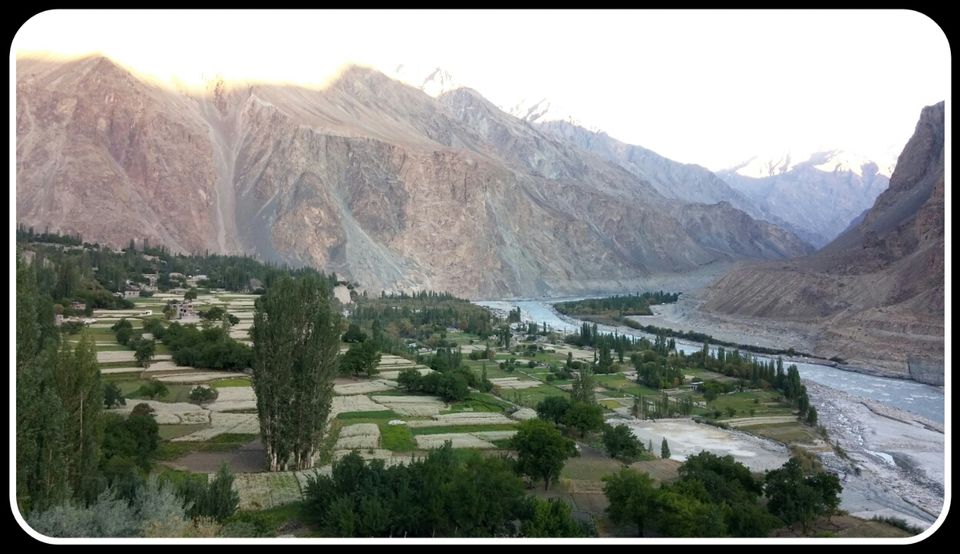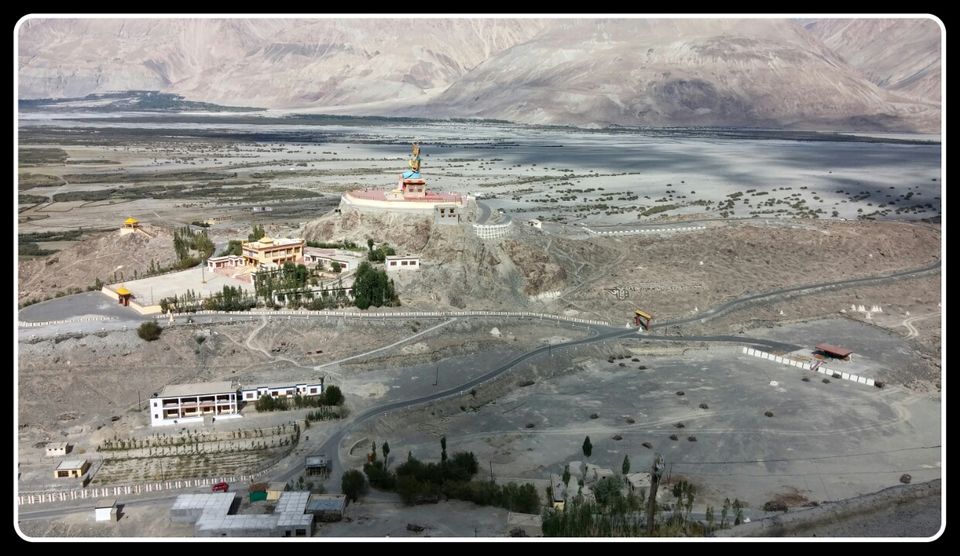 After crossing Khargungla Pass and places like Hunder which is a small sand desert where one can enjoy camel safari we reached Turtuk in the evening. Out driver Sher knows a family in Turtuk who runs a home stay and our night stay was arranged there. A small beautiful village house with adequate facility. When we stepped out in the evening after fresh up, we could see most of the houses were made of polished stones and the home garden have vegetables like Tomoto, Carrot, Cali flower etc apart from flower plants. The major livelihood of people is Agriculture and Agri related labour works. One can find lot of Apricot trees in the village and can also buy it from the villagers for a reasonable price. 
After having a homely dinner and a sound Sleep early morning we went for a small trek to the top of the Gompa to see beautiful sunrise and a clear view of the Shylok valley. The views were amazing and the cool breeze in the morning gave us a fresh start.
Our next destination was Pangong Tso which is a high altitude lake situated at a height of about 14270 feet above sea level and is also 134 KM long extends from India to Tibet. The lake is such a visual treat to the eyes having light blue colour. During winter the lake freezes completely. Sitting on the lake side will surely give u goose bumps because of its natural beauty. We walked for some time through the side of the river to really experience the feel of it and then headed back to our home stay.

 
The another two places which find place in our itinerary is Tso Moriri and Tso Kar. Both are beautiful high altitude lakes. Tso Moriri is India's largest of the high altitude lakes at an altitude of 14836 feet above sea level. The lake is situated in a beautiful village caped Karzok.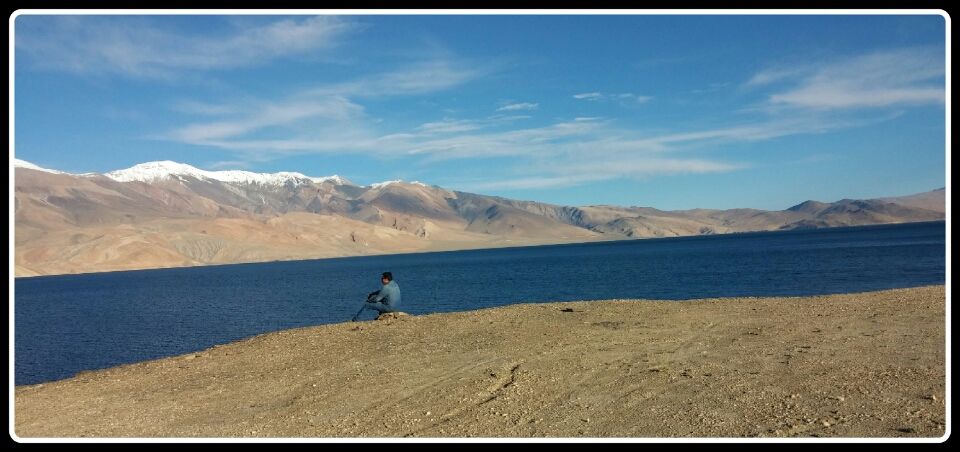 I personally feel that the evening spend sitting at the river side was one the best thing I have ever done in my life. It was such a rejuvanating experience cause of the awesome breathtaking views of the river and the cool breeze had a greater impact on mind body and soul.
One can go on and on and write a lot about this beautiful place on earth. Ladakh is special because of many many reasons which is best known to the people who could make it. The hospitality of the people is extra ordinary and they give personal attention to us irrespective of the difficulties. The mesmerising views of the snow caped mountains and barren lands and beautiful villages will surely remain as a wonderful chapter of life's journey. No wonder why Ladakh tops the list of many travellers travel book and of course cause of the number of ways it shows that a trip to Ladakh is "A journey of a life time".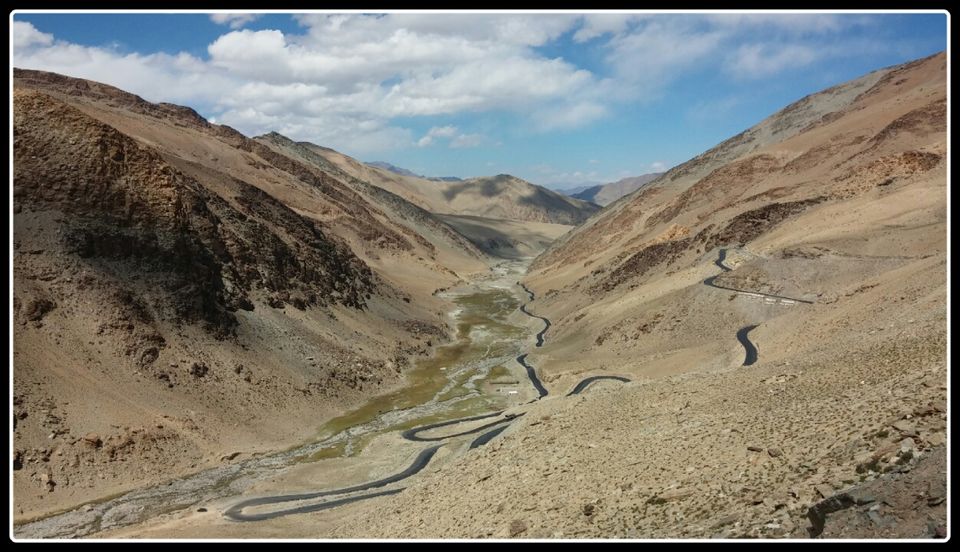 Juley Ladakh :( Phir Milenge