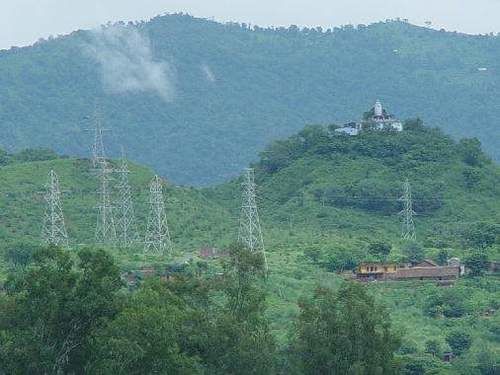 Julfa Mata Temple is located in the small town of Nangal, in the Rupnagar district of Punjab, in Northwest India. It's one of the Shako Peethas (fifty-one Shako Peethas). According to local folklore and religious academics, it is assumed that the deity's hair fell at this location. It's an ancient Hindu temple in North India with a lot of religious significance. This shrine is situated at the top of Shivalik hills' Nangal — Hambewal road hill range. Because this temple is well-connected by road, many devotees and visitors regularly visit to seek the deity's blessings for better personal and professional life.
According to the legend, demons were chasing gods across the Himalayan Mountains. They were chosen by the gods to be destroyed. Lord Vishnu was leading them. The Gods concentrated their energies into a massive flame that surged from the earth. A tiny girl named Adishakti was born from the ashes of the fire (means the first shakti). She grew up in Prajapati Daksha's home. Parvati or Sati was her name. Later on, she married Lord Shiva.
Prajapati Daksha once made a snide remark about Lord Shiva. Parvati was unable to accept this and committed herself as a result. When Lord Shiva learned of her wife's death, he was filled with rage that knew no bounds. While holding Sati's body, he began stalking the three worlds. The other Gods sought Lord Vishnu's assistance because they were scared of Lord Shiva's wrath. Lord Vishnu shot arrows at Sati's body, shattering it into fifty-one pieces. The fifty-one sacred Shaktipeeths were created wherever the chips fell. Sati's hair is said to have fallen at the Julfa Mata temple. Hair is referred to as julfa.